I looked at my old Brikwars cards and found that they were terribly ugly. So I downloaded a CCG card maker and started to redo my old cards.
The rules
Making a deck
Every player needs a deck of an arbitrary number of cards, but the same amount as everyone else. The deck can not include more than 4 copies of any single card, except for standard Brikpiles and Creations marked as Common.
Starting the game
Everybody shuffles their deck and draws a hand of 7 cards. The players make a What I Say Goes roll to determine who goes first.
Phases of the turn
1. Start of turn
2. Draw
3. Untap
4. Minor
5. Attack
6. End of turn
Start of turn
Your turn begins! Awesome!
Draw
Draw a card.
Untap
All of your tapped cards are now untapped.
Minor
This is called the Minor phase because the Attack phase is obviously the main phase. During this phase you may do any of the following as often as you like:
- Play a Brikpile (only once per turn). Put it into play.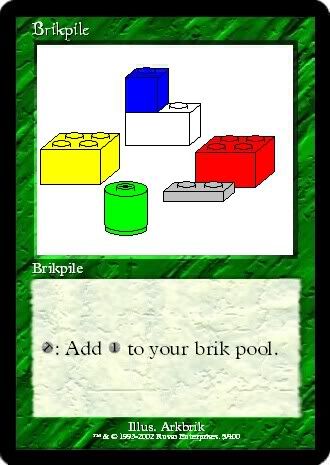 - Play an Event. Pay its cost by tapping that many Brikpiles, do what it says and discard it to your corpsepile.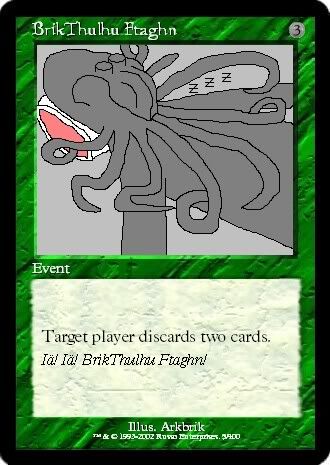 - Play a Creation. Pay its cost by tapping that many Brikpiles and put the card into play. Creations come in three different main types: Creatures, Vehicles, and Buildings.
The two numbers in the bottom right corner are stats: Fight/Awesome. If the Awesome of a Creation is ever reduced to 0 or below, it is so lame that it is immideately destroyed.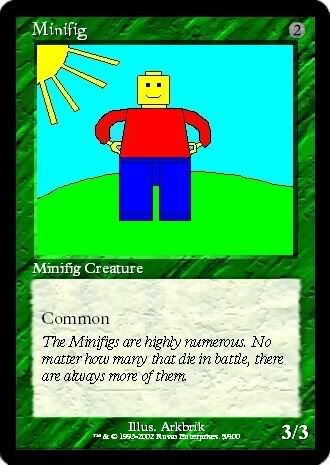 Attack
In this phase any of your untapped Creations can attack your opponents' Creations. Announce which Creation attacks and what enemy Creation it attacks. The attacking Creation is immideately tapped. Both players roll a D6 and add their Creation's Fight to the roll. The lower scoring Creation is destroyed. If the scores are equal, both Creations are destroyed.
The player with the winning Creation receives Victory points equal to the Awesome of the loser or winner, whichever is lower. The player with the losing Creation receives 1 Victory point. If the battle was a draw, both players receive Victory points equal to their own creation's Awesome.
End of turn
Your turn is over now.
Actions
Actions are a special type of card that can be played at any time, even during your opponents' turns. To play it, you need an untapped Creation which can take the Action. Some Actions have restrictions as to what Creations can take them. An Action costs nothing to play, but the Creation taking it is immideately tapped. Do what the Action says and then discard it.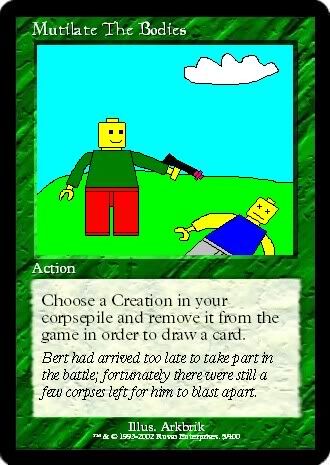 Heroes
Heroes are a special type of Creation. If a Hero is played and there is already a Hero of the same name in play, the old Hero is destroyed.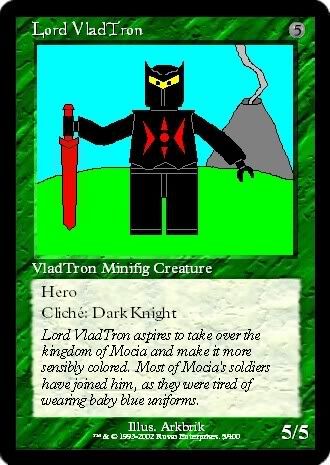 Heroes can take a special type of Action called a Heroic Feat. This works like a normal Action, but one of the Clichés of the Heroic Feat must match the Cliché of the Hero taking it.
Heroic Feats can fail. When one is played, the player who used it and another player both roll a D6. If the player who used it scores equal or higher, the effect under 'Success' occurs. Otherwise, the effect under 'Failure' occurs.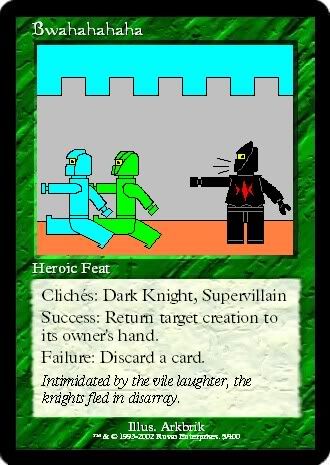 EDIT:
Link to the album.