Rise and Fall of Nations: a civilization forum game
Table of contents:
1-Introduction
1.1-Introduction
1.2-Sign up
1.3-Nation Traits
2-Map and Units information
2.1: The game map
2.2: Infrastructures and Units
3-The game turn
4-Combat
5-Economy
6-FAQ
Point 1: Introduction
Point 1.1: Introduction
Rise and Fall of Nations is a game invented and designed by me (pesgores). The objective of the game is to triumph over the opposing teams, either by conquest or economic domination. Each square represents a territory.
In each territory, you can build infrastructure and units can pass through them. The action takes place on those territories.
The game will start on September 1939 and will advance at 1 month per turn. Last turn will be August 1945, which will make a total of 60 turns.
How to win:
-Conquer all of the opposing teams' territories (even if they don't have any cities or units left, they can rebuild with their remaining Kash).
-At the end of turn 25, three factors will be taken into account; the nation with better results on at least two of those factors wins the game; if all factors have different rulers, the winner is the one with the highest GDP:
-----GDP, Gross National Product(Kash per turn/total number of territories)
-----highest Kash per turn of the map
-----total number of territories
Point 1.2: Sign up
You may choose one of the following teams:
-Germany (grey)
-British Empire (white)
-USSR (red)
-France (blue)
-Italy (purple)
-Iberia (yellow)
-Balkans (dark red)
-Danish Countries (rose)
-Poland (beige)
-Turkey (brown)
Point 1.3: Nation Traits
Each player may choose 2 additional traits (bonuses) for their nation.
Bonus list:
-Agressive:
+1 damage in all Attack situations
-Defensive:
+1 damage in all Defense situations
-Charismatic:
Infantry have 6 Action Points per turn instead of 4
-Industrial:
Tank and Artillery cost 20% less
-Nationalist:
enemy units suffer from attrition inside this nation's national territory, and have to roll 1d6 each turn they are in that territory, and are destroyed if they roll a 1
-Imperialist:
gets 2 free Infantries each time it conquers an enemy city
-Expansionist:
only needs 10 territories to build a city instead of 15 (NOTE: In this scenario this trait isn't very useful, avoid it if you want to)
-Economist:
Cities generate 7 Kash instead of 5 and Factories generate 4 instead of 3
-Filososophic:
upon conquering an enemy capital, all of that enemy's Cities pass under this nation's control
-Creative:
roll 1d6 every turn for each enemy territory that has a land border with your whole nation; on a 1, that territory passes under your control; if both nations have this trait, then it's nullified between them.
-Spiritual:
all enemy traits that affect them directly are unnefective (Agressive, Defensive, Nationalist, Filosophic and Creative)
Point 2: Map and Units Information
Point 2.1: The game map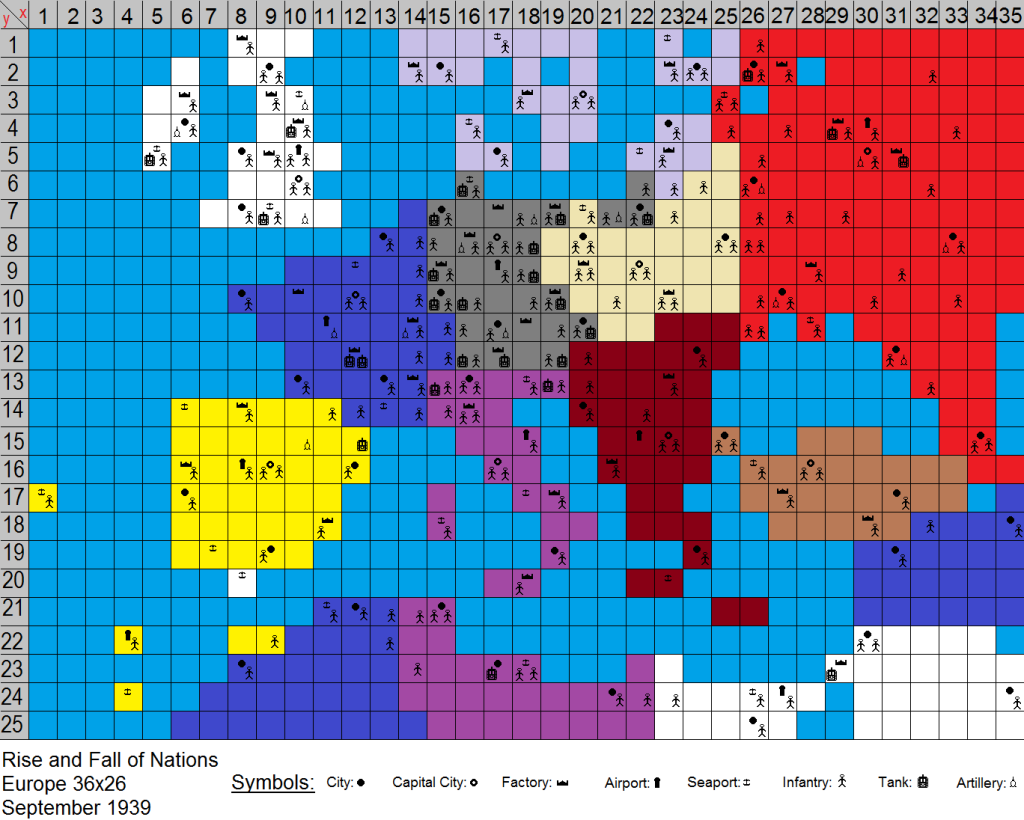 The action will happen there. X and Y axis will help players with their orders.
Ponto 2.2: Infrastructures and Units
Each territory can only house one type of infrastructure and only 2 units can be in one at the same time. The map shows how the units are represented (lower-right corner).
Each unit has Action Points (AP), which allow the units to::
-Move: 1 AP
-Attack defended enemy territory: 1 AP
-Conquer undefended enemy or neutral territory: 1 AP
-Perform paradrop mission: 2 AP
-Move through water: 2 AP
Unit List:
-Infantry:
most basic unit..
AP:
4.
Movement:
2 territories.
Attack Damage:
1d6.
Kash cost:
10.
-Tank:
motorized and strong unit.
AP:
4.
Movement:
3 territories.
Attack Damage:
2d6.
Kash cost:
20.
-Artillery:
strong but slow unit. Cannot defend; if directly attacked the attacker captures it.
AP:
4.
Movement:
1 territory.
Attack Damage:
3d6. Can bombard any territory in a radius of 2 territories.
Kash cost:
30.
Infrastructure List:
-City:
Cities are wealth and prosperity centres.
Kash cost:
10 x number of existing cities
Kash per turn:
5
Informations:
to build another City after the capital, the nation needs to own 15 territories. To build another City, it needs another 15 territories, and so on...
-Factory:
these concrete monsters produce everything you need.
Kash cost:
30
Kash per turn:
3
Informations:
all units are produced and spawn here. Each factory may produce only one unit per turn.
-Seaport:
readies units for seatransporting.
Kash cost:
50
Kash per turn:
2
Informations:
any unit can move through water tiles if they first pass through a seaport owned by them or their allies. That unit can move at 6 tiles per 2 AP, and can unload into land for 1 AP.
-Airport:
transports Infantry units by plane.
Kash cost:
70
Kash per turn:
3
Informations:
Infantry units may paradrop to any tile in a 10 tile radius from the airport tile, for 2 AP. To move between airports, it takes 3 AP, and the unit can go to any allied airport on the map.
Point 3: The game turn
The turn order is simple:
1-
At the beggining of the turn, the nation receives its income (taxes, treaties, etc.).
2-
Then, it will use the Kash as it sees fit.
3-
Now the nation will use its units' AP the way they want to. Some situations will have an uncertain outcome, so players should specify possible case scenarios when sending their orders.
4-
At the end of the turn, the following nation will repeat the cycle.
Point 4: Combat
Combat occurs when two hostile units meet on the same territory. The attacking unit is the one that moved to that territory, while the defending unit is the one that "suffers" the attack.
The units roll their respective damage rolls. The unit with higher number will win and the defeated unit will be destroyed. In case of draw, the attacking unit is blocked untill the end of the turn.
Two units may attack from the same territory at the same time and combine their damage, but if they lose, they are both destroyed. Defending units attack at the same time if they are attacked by two enemies and two are present on an attacked territory, and will also both die if they lose.
Damage from different territories can't be combined.
Naval Combat:
units travelling along the sea that encounter will engage in battle as well. Proceed like you would for a land battle, exactly the same way.
Point 5: Economy
Economy plays a major role in the game. With Kash (the game currency), you can produce units, build Cities and Factories, forge treaties, bribe other nations, etc.
Each unworked territory produces 1 Kash per turn, and other infrastructure present on that territory will produce their amount of Kash as said in point 2.2. Territory Kash and infrastructure bonus aren't combinable (a Factory present in a territory will produce 3 Kash per turn, not 4 as if the territory basic income would be added, which it isn't).
Point 6: FAQ
-I'll be waiting your doubts.
PS: I am looking for someone to make me a cool banner for this game.