Ok, i started playing this game on saturday and have played everyday since.
IT IS AWESOME!
The combats great, but a bit odd, you can't steer but you choose your target and it's all in realtime and a bit of a challenge to control.
But at the same time it's not too hard to play.
Untill later.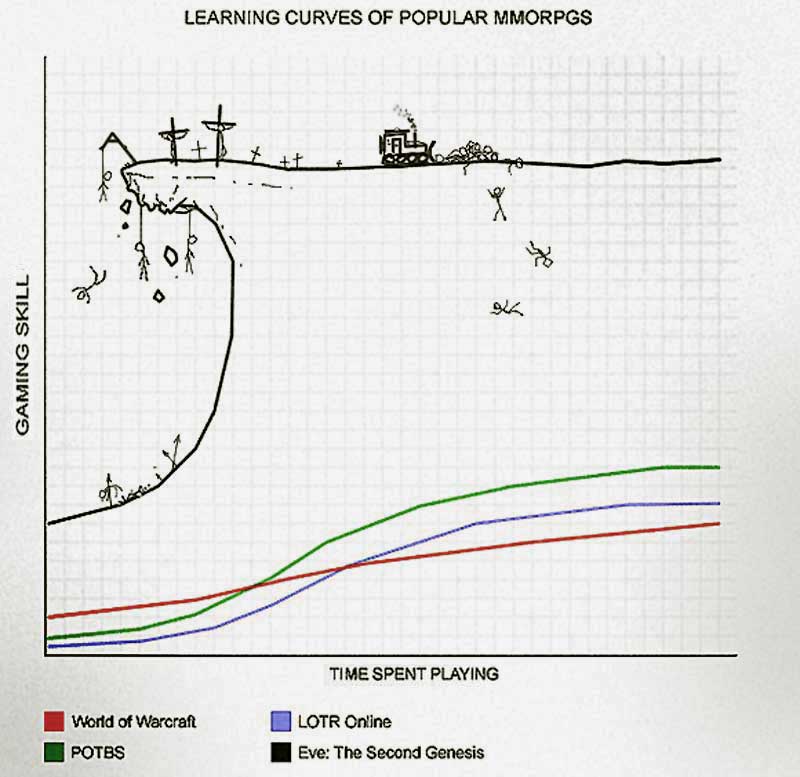 It's not really a learning curve...more of a cliff.
Don't let that off put you!
And the players are unfeeling bastards
Arius Myxoma > man i just got that ship...
J3tt > i just got that ammo
J3tt > you don't see me complaining
And also completely mad
<Cro_Magnus> what I don't get is why people bother with "mm" as a caliber after 1000... I mean... 1400mm, why not call it "Mobile car launcher" and have done with it?
<Cro_Magnus> 1400mm shells basically equate to the ship firing volksvagens at high speed
<Cro_Magnus> knowing minmatar that's probably what they *are* firing too
<Wrangler> except they are projectiles, not cars, and explosive
<Cro_Magnus> car @ several thousand meters per second = projectile
<Cro_Magnus> car loaded with fuel impacting ship = explosive
<Cro_Magnus> your point?
<Fenria> GAAAAH Captain... there is a beetle heading our way at 18kps
<Wrangler> OMG! We're being attacked by volkswagens!"!
<Fenria> DAMN THOSE GERMANS
* Wrangler fires counter measure trabants
Their are massive ships that can do 2,000,000 damage.
people have carried out heists for levels of money that are large in real life (over $16,500 USD!)
http://eve.klaki.net/heist/
The only thing against the rules is hacking the servers or using bugs to get a unfair advantage. but people can still hack others to get their internet to shut down (as such removeing big ships from the combat).
It is truely amazing.
Oh and too get the idea of the size of the ships:
http://www.youtube.com/watch?v=S0O3Xl6a ... re=related
mine is in the size region of those on the table...