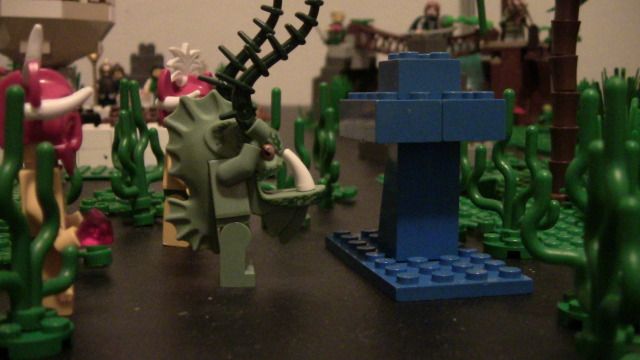 Pa'Topu begins raising water from the ground. His fishy powers provide an excellent boost to this skill.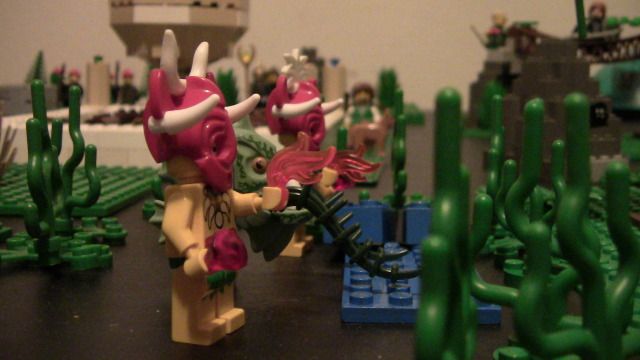 As he finishes moistening the ground, his shamans run forward and begin shooting flames at the jungle next to them.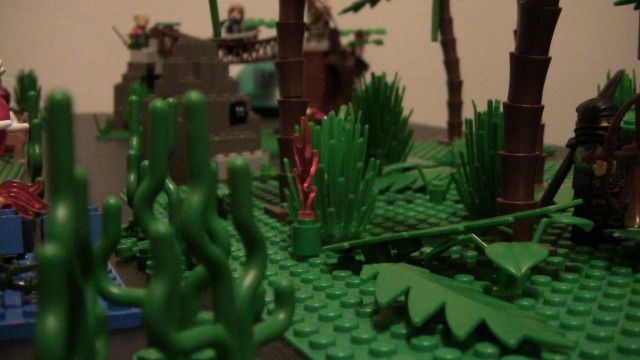 One of them rolls successfully, and a spark begins near a bush.
Danthor is no fool. He sees the shamans and orders his archers to take them out.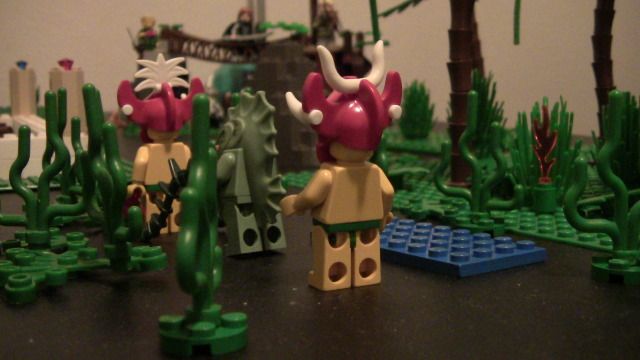 Sadly, the archers miss and Pa'Topu advances toward the chicken.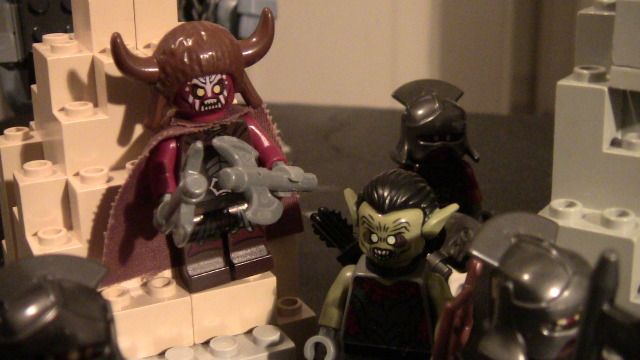 "Break pillar! I want chikin!!!!!!!" orders Gaffalk to a goblin archer.
The goblin willingly runs toward the Air Pillar...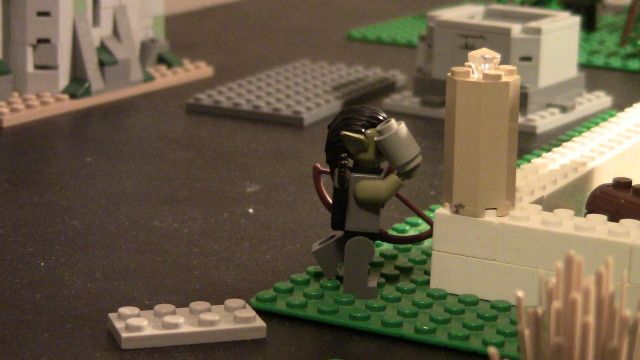 ... picks up a rock to break the crystal...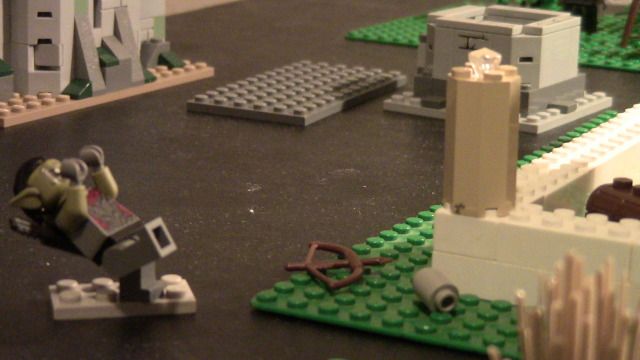 ... but is pushed back by a mighty gale. It seems as if it'll take more than brute force to destroy a pillar.
The other goblin tries to get the Red Scarf Monks' attention...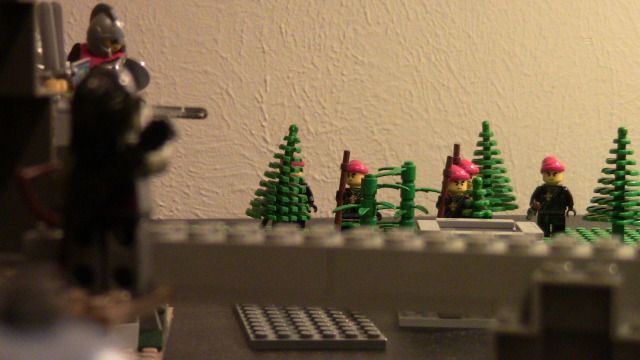 ... but he's a bit far away.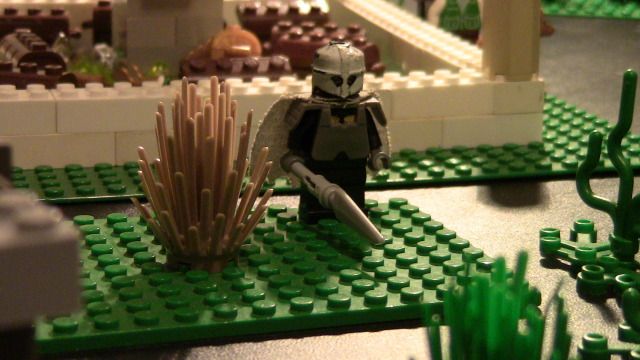 Kelex realizes he can not fight alone.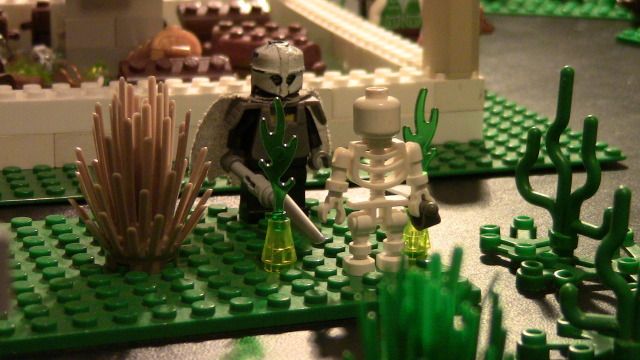 He raises a skeleton to do his bidding.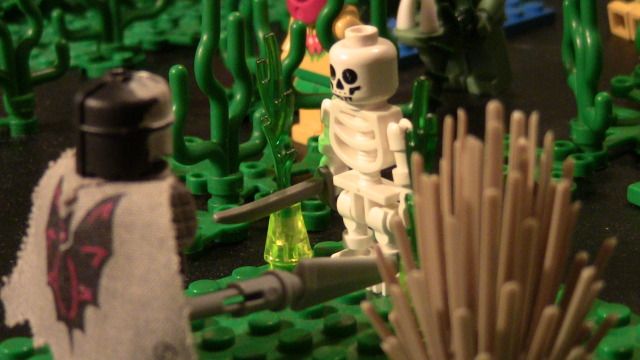 Skeleton Swordsman
Movement: 5"
Attack: Physical 1D6+1
Can not think for itself.
"I say, gentlemen, let us go down into the fray!" says Sir Cedric the Conceited.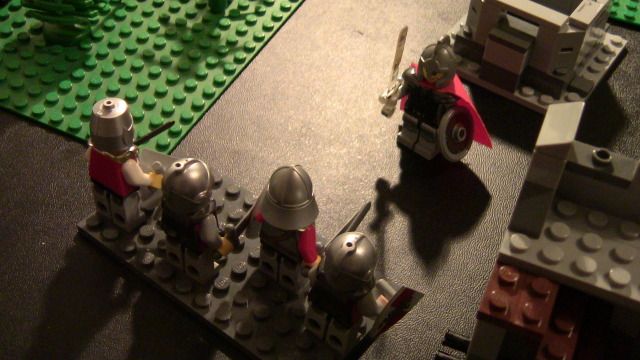 He forms his men into a squad and attempts to give a rousing, good speech.
"The enemy is vast, varied and voraciously ugly! But we shall overcome, just as we have always overcome! I do not ask for your ears, good sirs, but for your hearts, your unfailing courage and the strength of your sword arms to lay down these vermin and bring honor to yourselves, your families and your fellow countrymen! The chicken awaits us! Shall we make ourselves late for this engagement? Perhaps, but if we are late, then it will be for the cause of justice to rain down on our foes! What say you? Shall we brave this storm?!"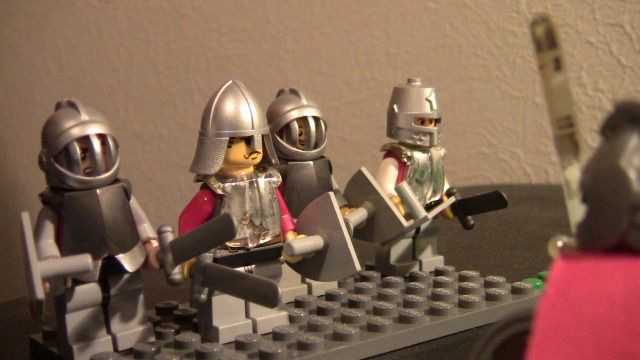 "Hmm... well...."
"Huzzah!!!!" By rolling a six, Cedric has inspired his men to have +1 to all rolls next round. The men decide that if any neutral or evil factions attack them, they will destroy them.
"Excuse me. Though my brothers and I are neutral in this conflict, we have decided to offer our services. Is there anything we may do for you?" asks a monk.
"Um..." Cedric is caught a little off guard.
The other monks make their way to Corphu to offer their assistance.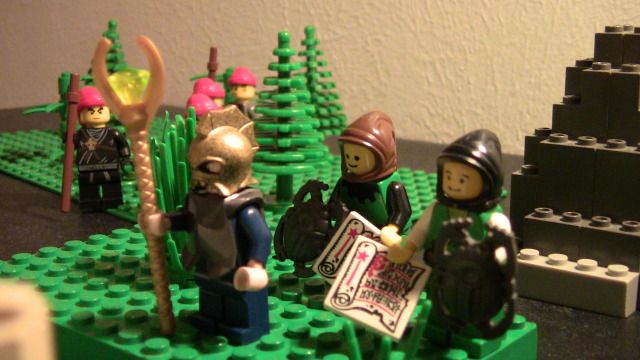 Corphu and his acolytes don't notice the monks and decide to find better equipment in the treasure pile before them.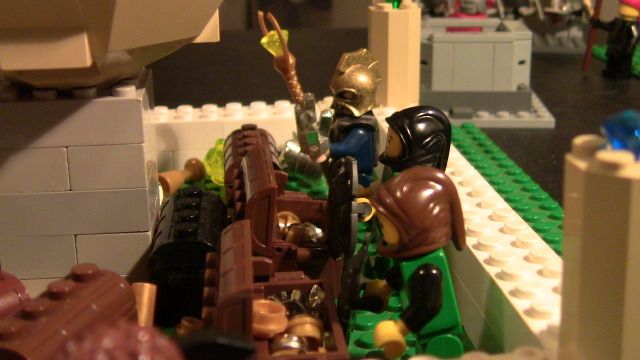 Having created the pillars himself, Corphu is able to pass freely through the barriers. He has taught his followers the passwords to enter.
Solira and her fighters know they can't win this fight alone. They sprint towards Corphu, but have just barely missed them.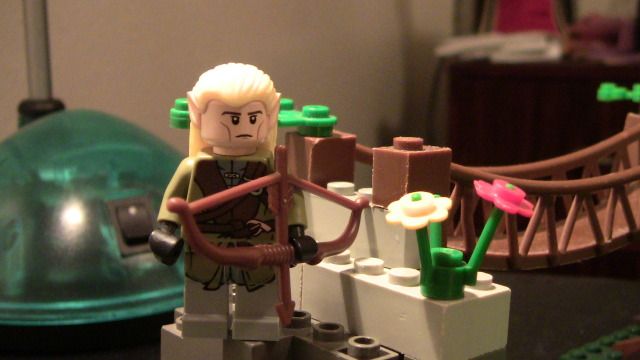 "What's that guy's problem?" asks an elf.
He was asking about Chris MacDonald, who has not stopped screaming since he mysteriously arrived.
"AAAAHHH!!!!"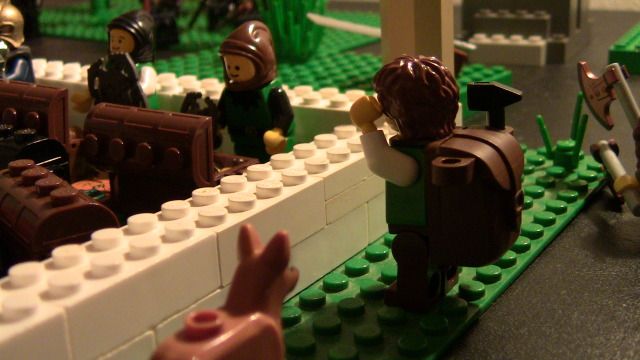 "AAAAAHHHH!!!!"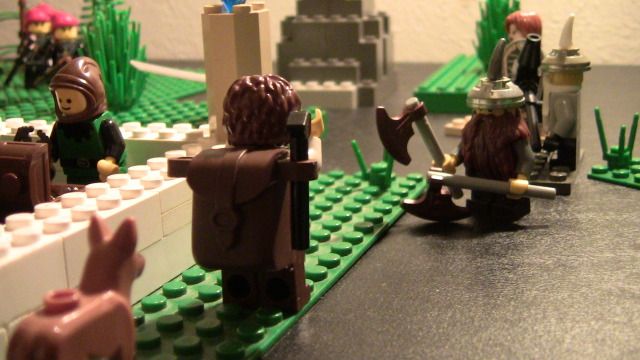 "DWAAAAAARRRRFF!!!!! AAAAAHHHHH!!!!!!"
"Aye laddie, and a proud one at that!"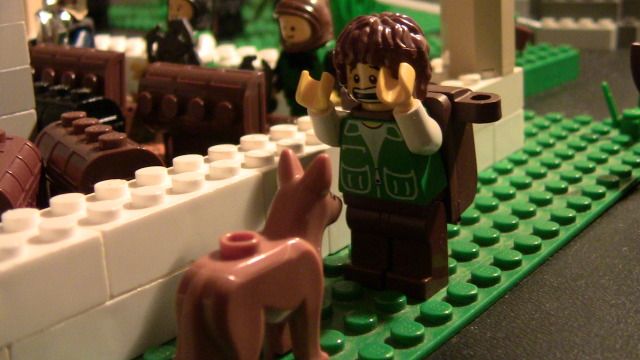 "Milo! What do we do?!"
"All I have is this hammer that I found on the Isle of Skye, but I don't know-"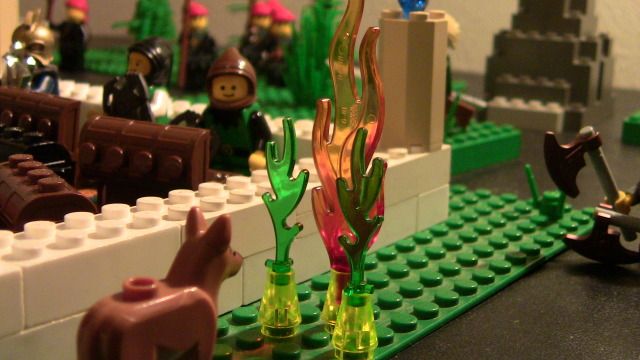 His sentence is cut short as he disappears in a burst of magic.
"Bark! Bark! Bark!" says Milo intellectually.
Overwatch
Submit orders for round 2 please.