After his victory and the re-assembling of the White Dragon Knights, Sir Garth moved onward towards the Phineus the Necromancer's Black Citadel. Facing constant undead attacks, he resolved to split up his army, hoping this would allow at least some of his forces to sneak through the enemy ranks for an assault on the Black Citadel before they would be overrun by the countless undead...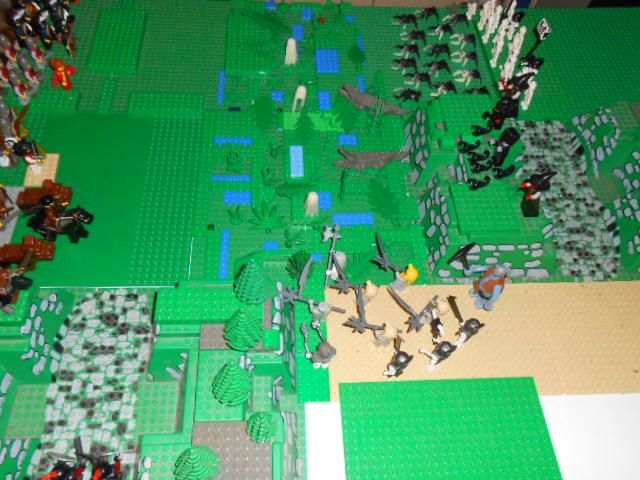 Welcome to the Devouring Swamp, the second leg of Sir Garth's campaign.
Leading this part of the invasion is Sir Konrad and his Wolfpack.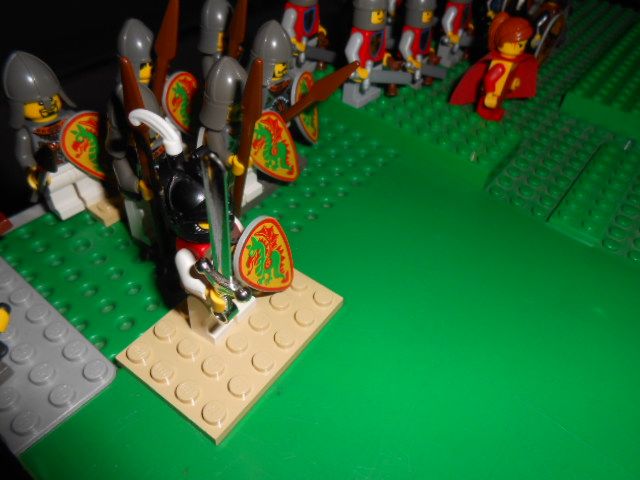 They are supported by a group of White Dragon Spearmen that are led by an officer.
Some of the remnants of the Royal armies who fought in Blood in the Sand have joined them. Sorceress Mordra leads 6 pistoleers of the Golden Lions while Voytek brings 6 Bull Elites to the fight.
how they managed to find and gain on Sir Konrad, but it is assumed Zahru had something to do with it.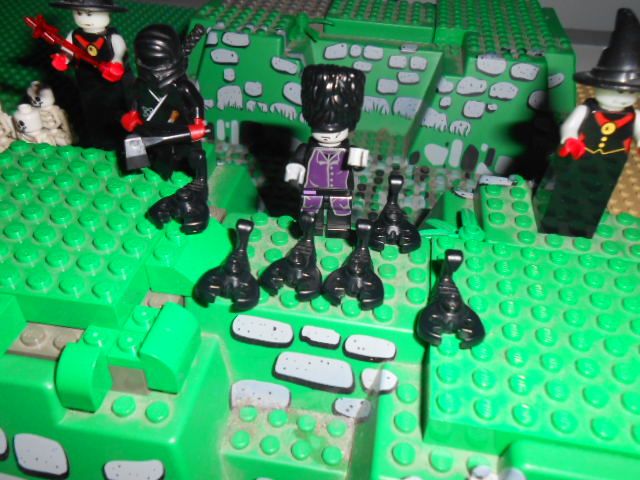 Their opponent will be Aelcar the Shadow Wizard, one of Phineus' dark generals...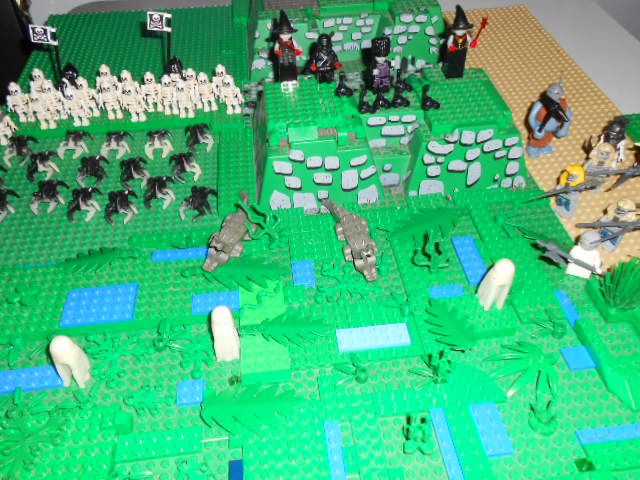 and his horde of magical creatures.
Another cause for worry is this band of Crimson Knights who have been following Sir Konrad for a while and see this as the ideal time to strike.
The area in the middle is the Marsh, which slows down your troops to 2" movement. Units that get disrupted in the swamp are also devoured.
Objective:
The
Kingdom forces
should attempt to break through the lines of the undead and cross into the territory beyond. Surviving heroes and units will be able to partake in the last battle of this campaign which will be the assault on the Black Citadel, dead heroes cannot (unless they're brought back as undead, muhahaha). If the situation gets too dire, the heroes may call off the attack and retreat through the passage the Crimson Knights are filing through to fight another day. However, if you manage to destroy Aelcar, he won't be there in the last battle either.
You're vastly outnumbered, so this'll be harder than the first battle of the campaign.
Factions:
Sir Konrad (heavyfishcannon)
Sorceress Mordra (Silverdream)
White Dragon Knights (IV)
Voytek (Zupponn)
Zahru (Zahru II)
lawmaster (???)
Aelcar (NPC)
Crimson Knights (NPC)
Stats will be sent / posted here once the sign-up is done.
Stats