Round 4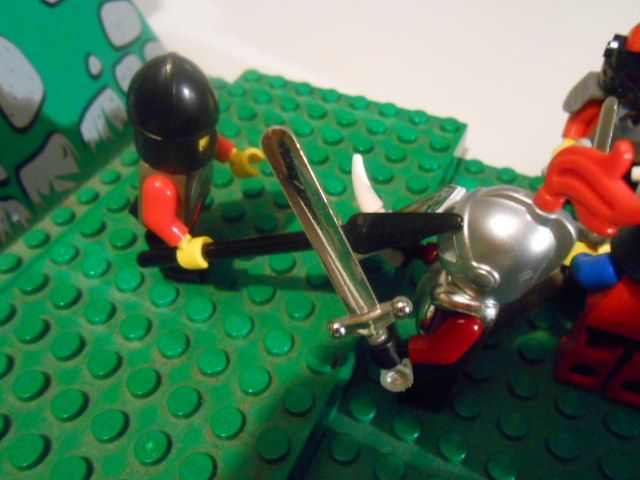 Lord Godfrey is stabbed and takes 5 damage... his helmet is all that saves him.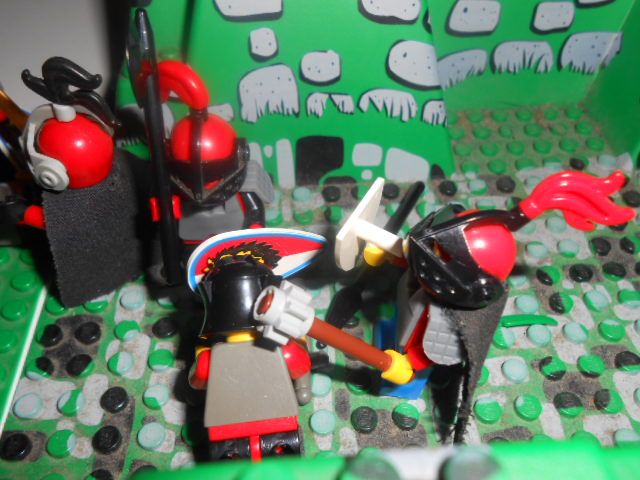 The Falx swordsman is parried, and Sir Jarvis takes the cheap shot to bash in his skull.
(Marcriss +1 G, Jarvis +1 XP)
A Black Knight kills Godfrey's opponent.
(Godfrey +1 G)
The guy who stole the banner swings, missing Lord James, who strikes back but sees his sword glance off his opponent's armour.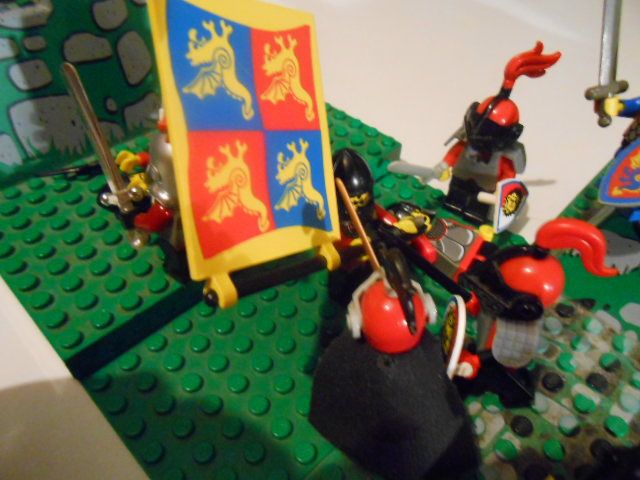 Marcriss and James attack the banner carrier almost simultaneously on their round, but he fends them off.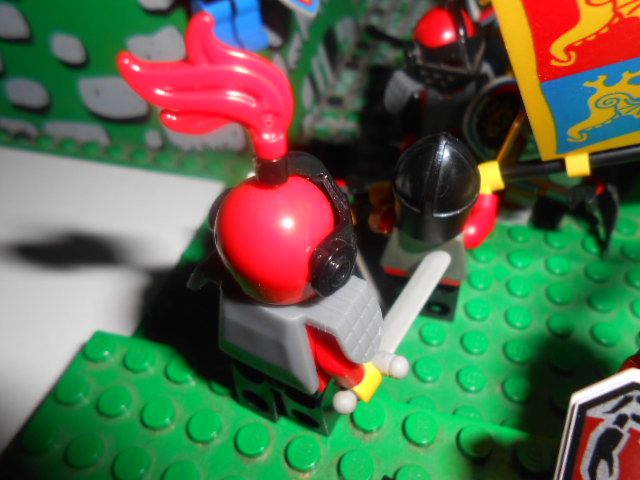 He even survives Sir Egon backstabbing him.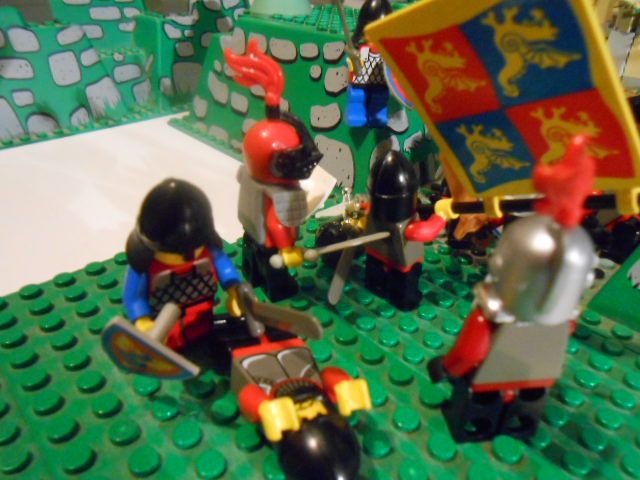 With three guys already attacking the soldier, Lord Godfrey resolves to throw his sword... and misses.
Jarvis tries the same approach. He hits, but equals his adversary's armour.
It's all up to Almond now! Almond actually went missing for a while (I accidentally put him in the Falx polybag and had no idea where I left him for a while), he sure is pissed.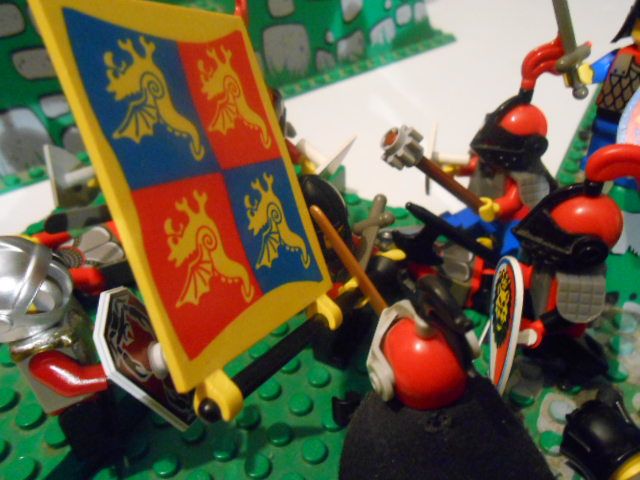 Range is ok, the attack roll is too, but damage is not...
Bored with the situation, the soldier who's already killed three Falx decides to lend a hand. I didn't even bother to picture how his throw equaled the Falx armour...
Not wanting to waste a round just killing this guy, I looked on ahead to see what would happen on the NPC's turn...
The soldier thrusts past Lord James, missing...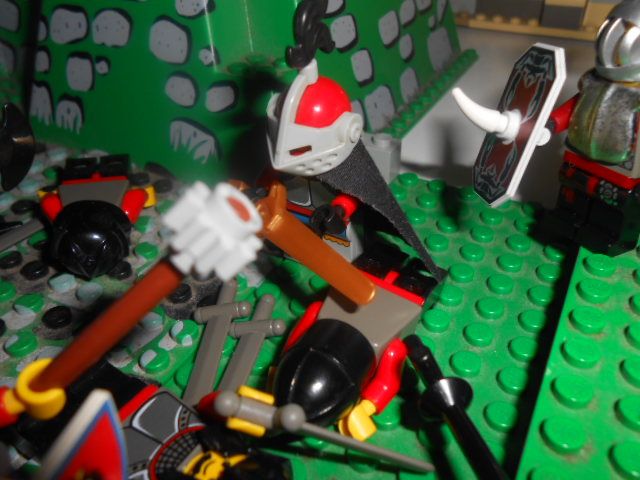 ... and is struck down!
(+1 G, +1 XP to Lord James)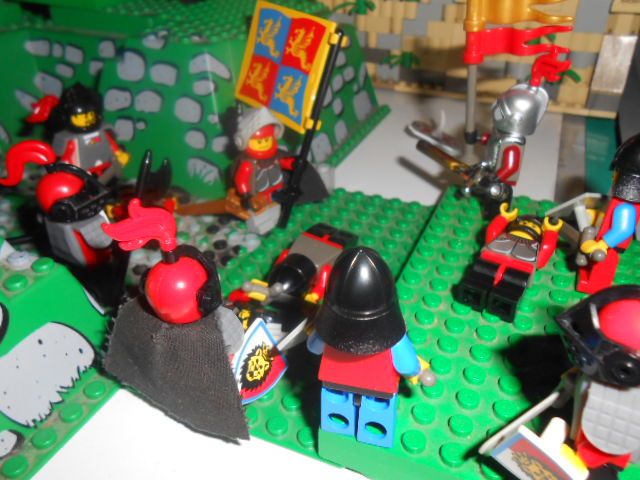 James the Black quickly reclaims his standard.
"What are you looking at me for like that? These Falx fought like slaughtered civilians, I could've handled them myself. Do you want a reward? Just take anything you can loot off these fools. Now leave me be, I have business with the queen..."
The main quest
'Ambush'
has been completed. Marcriss, Egon, Almond, Jarvis, James and Godfrey all receive
5 xp and 5 gold (the loot)
. Lord James gets an additional
5 xp
for fulfilling his personal objective (surviving).
The
'Kill the scouts'
,
'queen's gemstones'
,
'queen's treasure'
and
'King's Sorrel'
quests are now free game. You've all leveled up, so you can travel to the neutral zone to apply your skillpoints if you wish. Queen Lara may also have a couple more quests. Remember you can string several orders together if you want a couple of things done in a row.
Now, to Zupponn...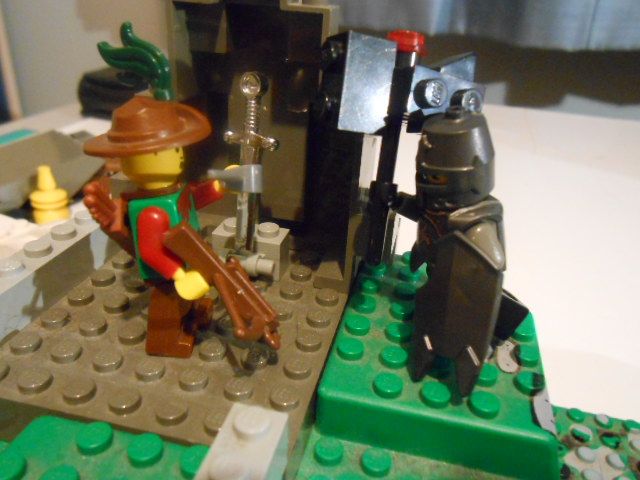 "Okay let's do this LEEEROOOY JEEEENKINS!"
Don't ask me how, but the scout parried it.
Alerted, the other scouts close in and aim, relying on their marksmanship to take the risk of hitting their ally...
They all hit, damage isn't so high, but Stubhammer fails his parry.
Stubhammer is incapacitated. Doh.