Meanwhile, as Queen Lara is preparing to enter the Falx portal, Sir Garth is leading the bulk of his White Dragon forces over an icy, mountainous landscape, onward to Phineus' Black Citadel...
Brockram: "Cold, cold, cold. We're going to freeze to death in our armour here. Tell me why did we have to choose
this
path?"
Garth (chuckling): "That's so unlike you, Brockram. You almost sound afraid."
Brockram: "The
banner carrier
is afraid of
nothing
!"
Garth: "I chose to come here personally because, if what I found in the Magus Guild's vaults was correct, we might be meeting someone here I'd rather face myself..."
Brockram: "You mean Maloch? Hah! He's been gone for ages, he's nothing more than a fairytale now."
Garth: "Yeah, so was Phineus..."
Brockram: "Ah, who cares if he lives. I could use a little fight to get my muscles warm."
Soldier: "Sir, look!"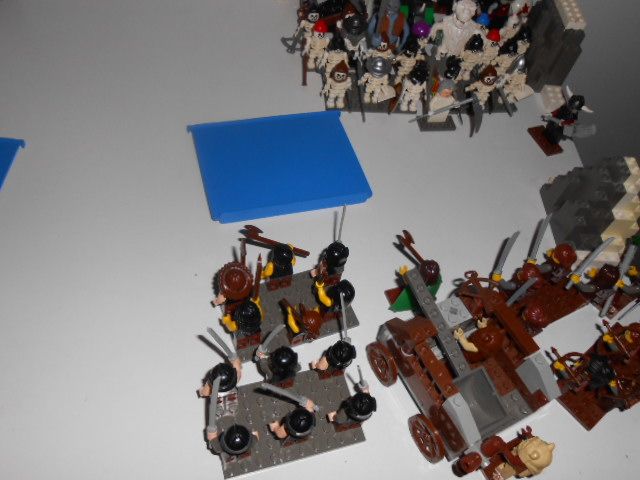 Garth: "A battle! You and your big mouth are going to get us all killed one day, Brockram..."
Brockram: "Those... elves don't look like they're going to make it on their own. I should go help them!"
Suddenly, the very ice itself began to tremble under the sound of many galloping hooves. Out of the veil of snow a large cavalry force came riding, with a demon plated in black steel at the front. His malicious eyes found Sir Garth's company quickly.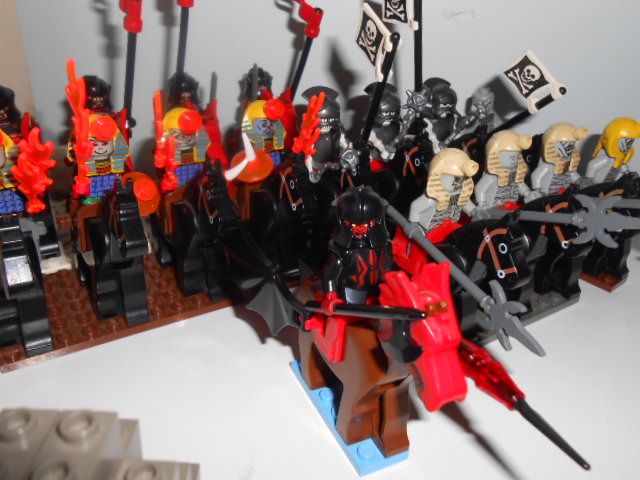 Maloch of Blacklance: "Aha. More lambs to the slaughter."
Sir Garth: "Alright men! We don't know who they are, but we have a bigger chance of breaking through the lines of the undead if we help the elves!"
Brockram: "Sir! Behind you!"
Garth: "Skaie?
*
You joined up with Junatan despite my warnings! Why are you here? Have you come to finish me off?"
(* See 'Desperate Alliances' and 'The Fords of Gelron')
Skaie: "I have a lot of things to explain Garth, but it'll have to wait until after this battle. Suffice it to say, I've realized I was wrong in serving Junatan."
Garth: "Hmm. Seems like I don't have a choice. Okay, you may help turn this tide, but at the slightest sign of betrayal I'll run you through, understand?"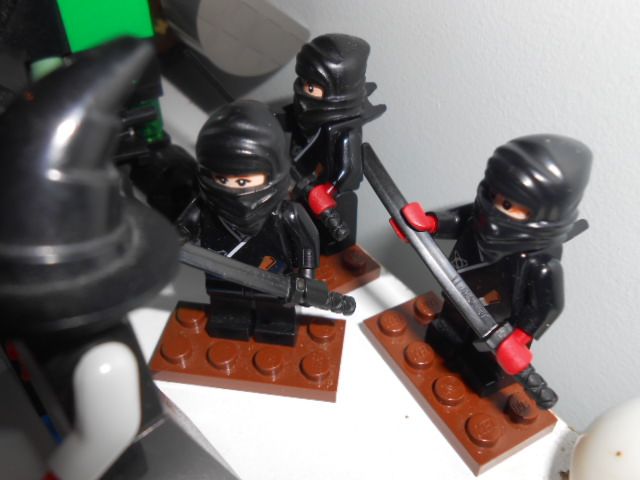 Nimoë: "Remember, do not get distracted by this senseless struggle. We're here for their leaders."
To make matters worse, the hulking Baron Demorte, forever restless and forced to fight in as many battles as he can, lumbers onto the battlefield.
Available factions
Maloch's Victims
An assortment of undead warriors who have fallen to Maloch in their former life, commanded by the White Reaper.
1 White Reaper (Hero)
1 Skeleton Magi
2 Bitchy Witches
2x Undead Warriors
1x Ranged skeletons
1x Pirate skeletons
1 undead ogre
1 Yeti
1 Nightmare catapult
1 Ballista with 2 Lost Soul operators
Objective: Kill the Elves, Kill the WDK's.
Maloch's Elite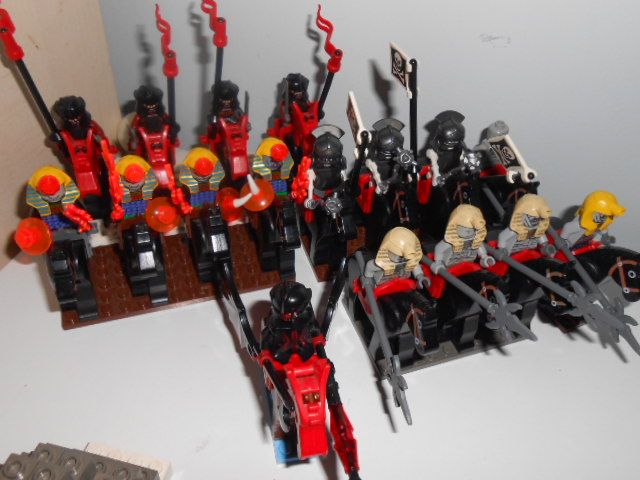 A huge cavalry force, commanded by Maloch of Blacklance himself.
1 Maloch (Champion)
4 Demon Knights
3 Death Knights
4 Fire Wraiths
5 Temple Warriors
Objective: (same as Maloch's Victims)
Dark Elves
Three mysterious individuals, they could be mistaken for Shades, but they are clearly still alive. They do not show much interest in the battle, but are here for a specific purpose.
1x Nimoë (Hero)
2x Shadowstalkers
Objective: (will be PMed)
Baron Demorte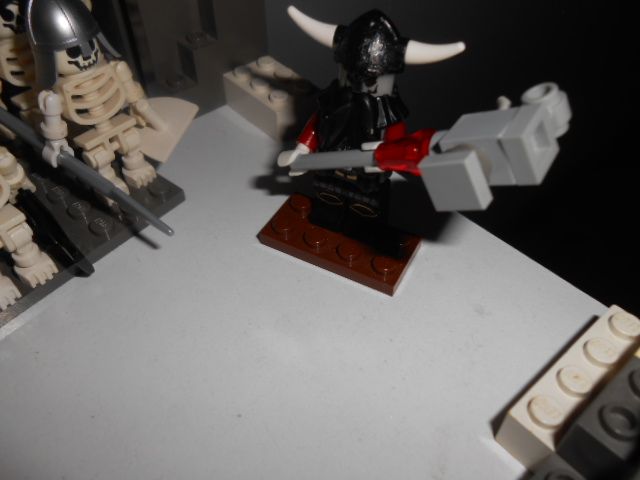 The elected leader of the Undead forces, in the absence of Phineus, himself.
Objective: Shared with Maloch.
Woad Elves
Tribal half-elves from further down South, these people have been terrorized by Phineus' undead for ages, and are yearning for vengeance.
1x Landor (Hero)
1x Nimra (Hero)
1x Elite Warriors
1x Elite Archers
2x Warriors
1x Catapult (with 2 Furbeast operators)
Objective:
Kill Maloch.
White Dragon Knights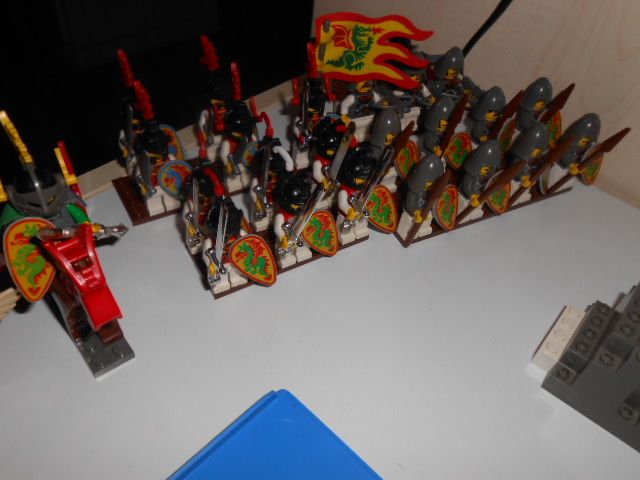 "It's times like this I wish I hadn't sent my cavalry with the other forces..." Sir Garth mutters quietly to himself as he prepares for battle, confident in the skill of his men.
1x Sir Garth (Champion)
1x Brockram (Hero)
1x Longswords
1x Shortswords
1x Spearmen
1x Crossbowmen
Objective: Defeat the undead to break through the Shard Plains of Srael, towards Phineus' Black Citadel. Try to keep Skaie and the Elves alive, they could have vital information.
Skaie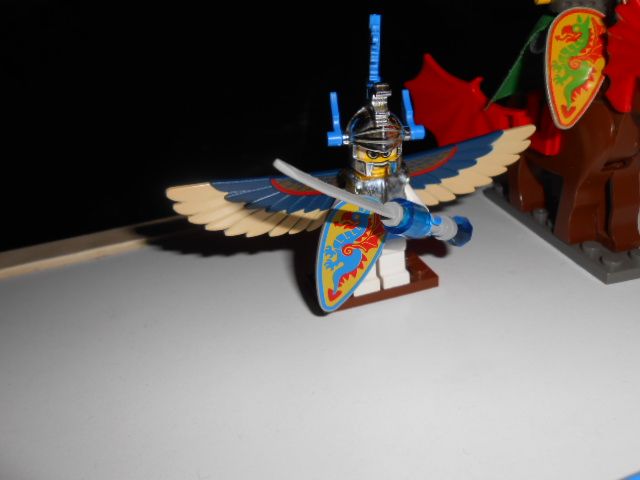 A mysterious warrior who has just resurfaced, and once again switched sides. Why, no one knows.
1x Skaie (Champion)
Objective: Same as Garth's, only you care less about the Elves and more about Garth.
(Shoddy) Overwatch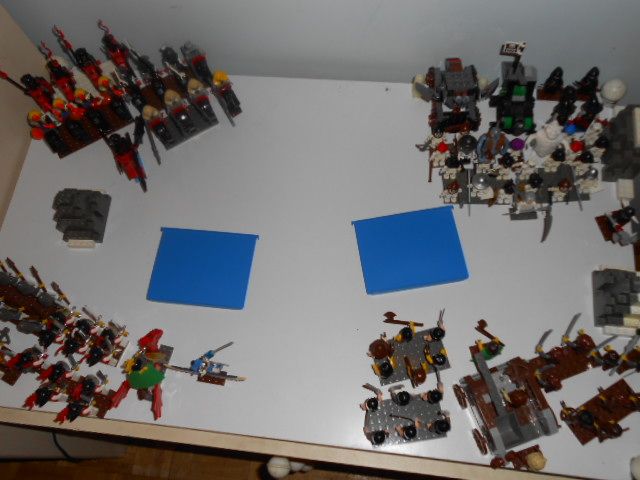 For this battle, turn order will be fixed like this:
6. Maloch's Victims -
Cythe
7. Woad Elves
- Scratch
8. Maloch's Elite -
darkpaladin
9. WDK's
lawmaster
10. Dark Elves -
PlutoniumDeath
11. Skaie
- Silva
12. Baron DeMorte
- Zupponn
The blue things are water which will limit your movement, or drown you if you're too heavy. I'll send stats once all spots are filled.