Previous Thread
Lost?
Click here for the top thread!
Torquemada
- motorhead fan
The man-o-war moves into a safer position and unleashes its fury on the ogres, killing two of them.
Torquemada backs away and casts corrosive mist around Gurn, lowering his armor.
Gurn's Horde
- Zupponn
Gurn tries to knock Torquemada away, alas he only succeeds in knocking Torquemada down (-1 hp).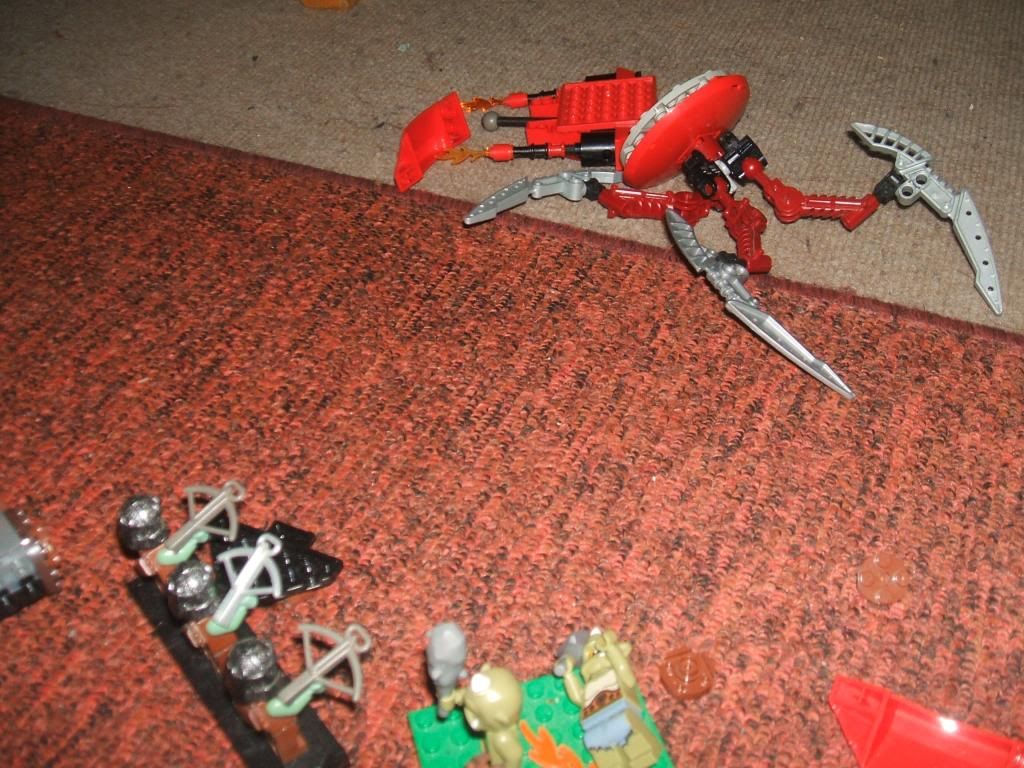 His crossbow orks are more successful though, as they finally take down the dreaded contraption.
Those out of range unleash their fury on the ogres, killing two more.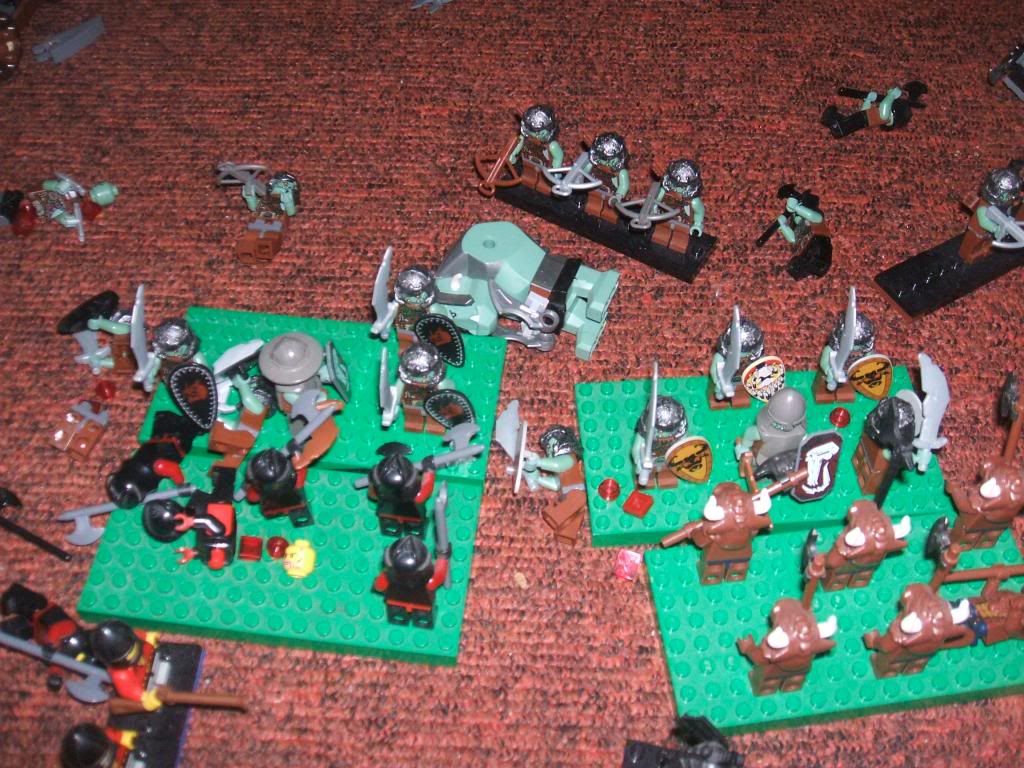 The far left of the battlefront remains the same, only one Falx trooper dies in the melee.
Barthelomeo's Team
- Brickguy0410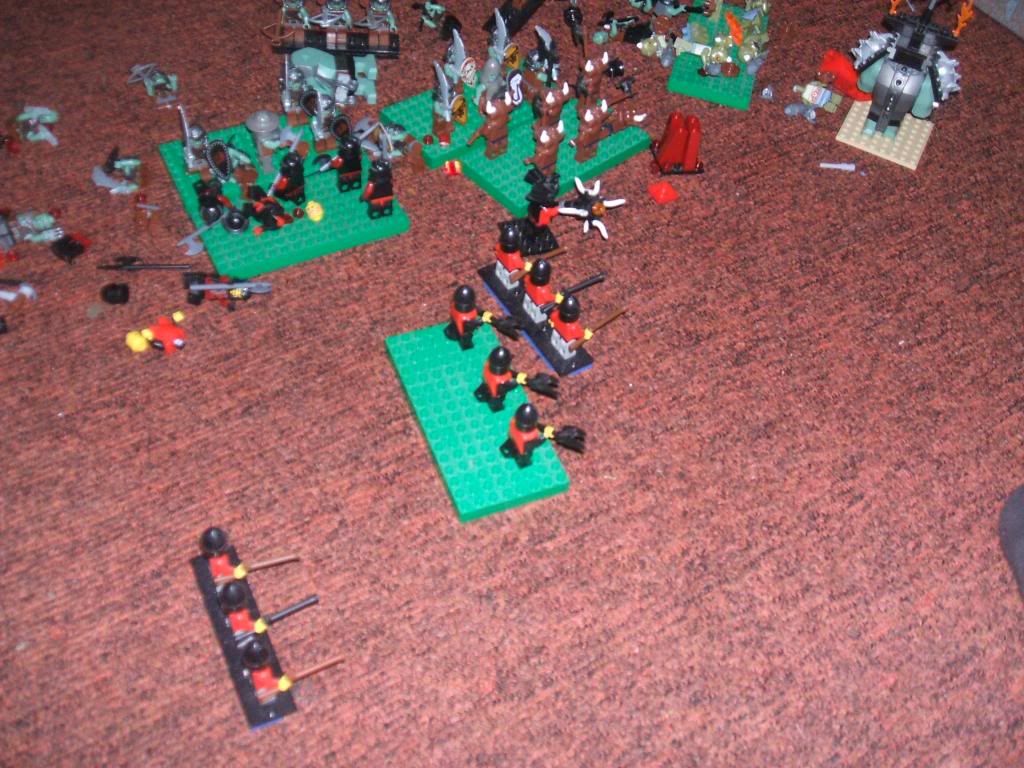 The Falx make a mad dash towards Gurn but fail to reach him...
... all but Barthelomeo, who musters all of his strength to dash at the green scourge.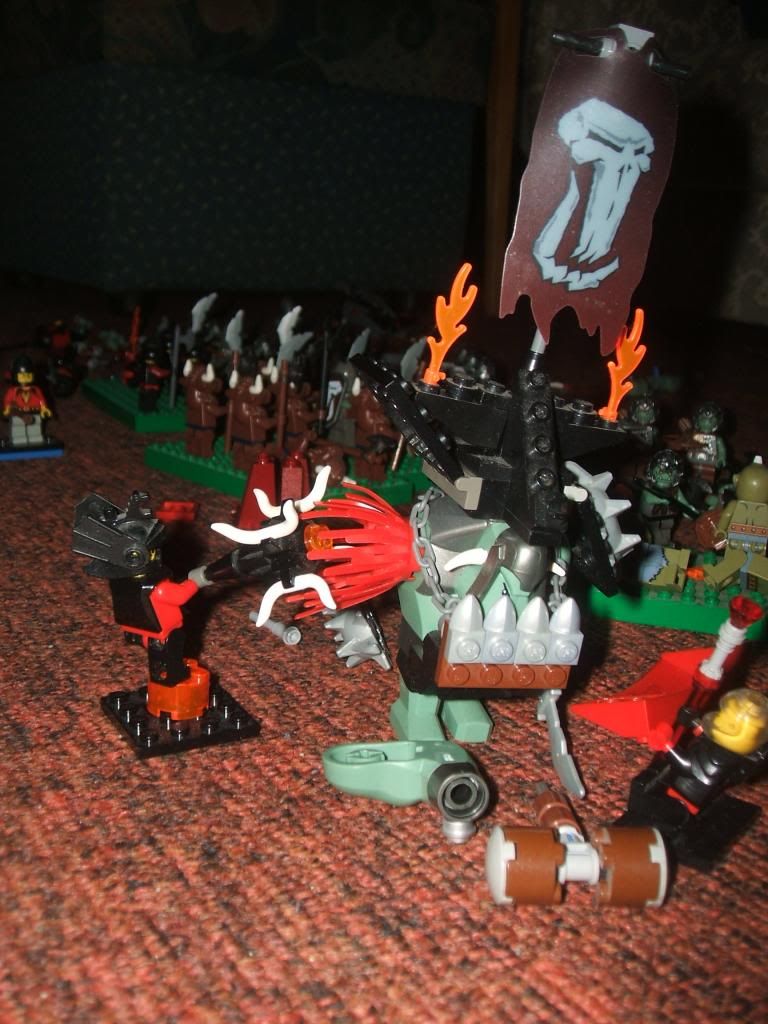 With a decisive strike, he annihilates Gurn. Objective completed!
Gurn:
'But... my... horde...'
Beastmen
- Scratch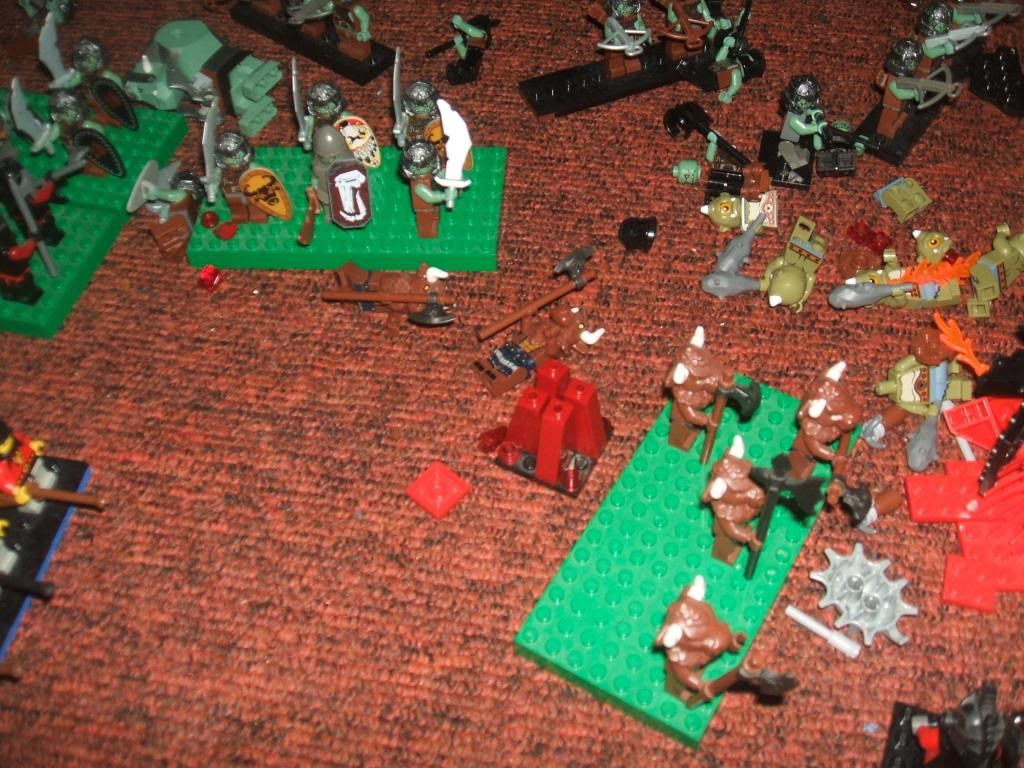 Beastmen break free to assault their former enslaver, Torquemada.
However, only the last ogre could reach him, and for good measure, he bomps him down to 1 hp.
With the Falx succeeding in their objective, the battle is over! Falx Victory!
(sorry Scratch, thought it would pan out a little more.)
Final Overwatch:
Kills:
Zupponn - 14
Brickguy0410 - 9
motorhead fan - 10
Scratch - 1 (bonk)
Epilogue:
Ogre:
'Yous pays for me brethren!'
Barthelomeo:
'Get away from him, filth!'
Torquemada:
'Thank you Barthelomeo.'
Barthelomeo:
'Don't thank me wizard, the device is broken! We will get overwhelmed by these wilderbeasts and greenskins!'
Torquemada:
'Fear not warlord, I have one final trick up my sleeve.'
Torquemada grabs the banner which broke off from Gurn's armor, climbs on the troll's carcass, and prepares for a magically-enhanced speech:
Torquemada:
'Listen up, orks! Your warlord lies dead!'
Torquemada:
'However, we are not your enemies! We share a common foe, the Imperials! That is why I've rallied these people, to tear them down!'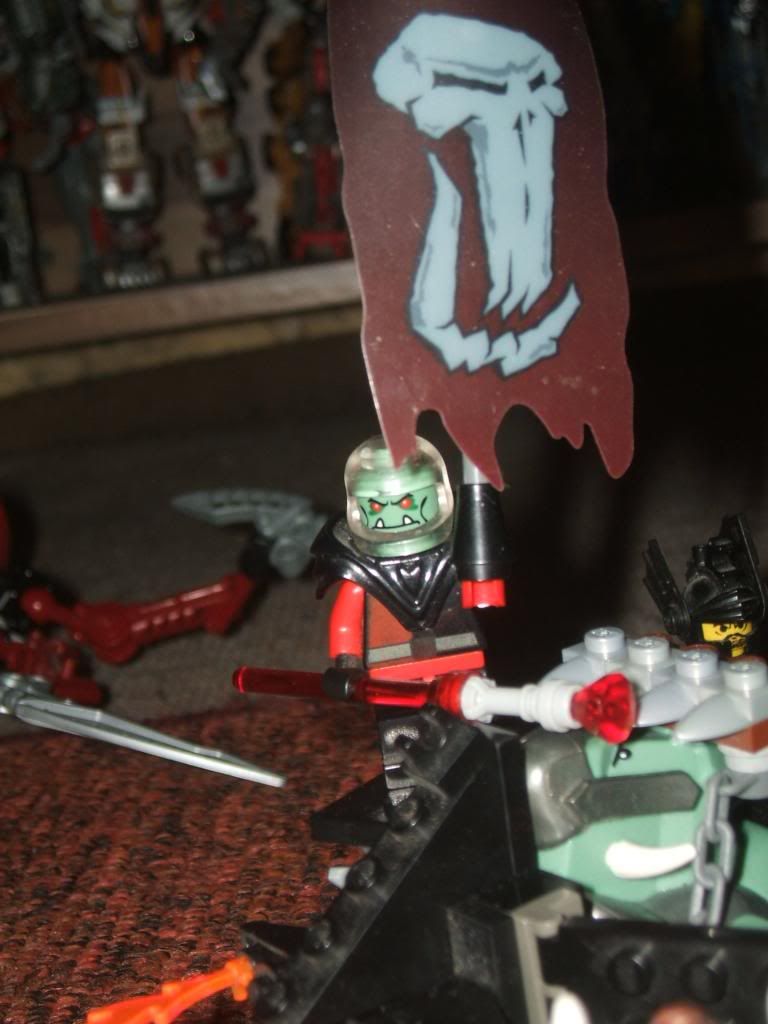 Orkemada
(from the enthralled orks' perspective): 'Yous and Iz are not that different, bruddas! Togeddur, we'd be strong and unstoppable! Show yer willingness to slaughter Imperials by culling these bullmen!'
The orks are convinced enough in Torquemada's act to aid the Falx in blasting the bullmen into pieces.
Orkemada:
'ARITE, Now wes march against one of their bastions and show them our might!'
Barthelomeo:
'I can't believe they are falling for this stupid charade!'
The orks let out their warcry and along with the Falx army move out.
Later, at Portal-Fortress Domination:
Confused ork:
'Oi, this ain't no Imperial stronghold!'
Torquemada:
'How observant you are. Just as I am no real ork. Now, Isabella!'
Isabella:
'I thought you would never ask! It has already arrived, I just kept it at the staging grounds! Opening the rift!'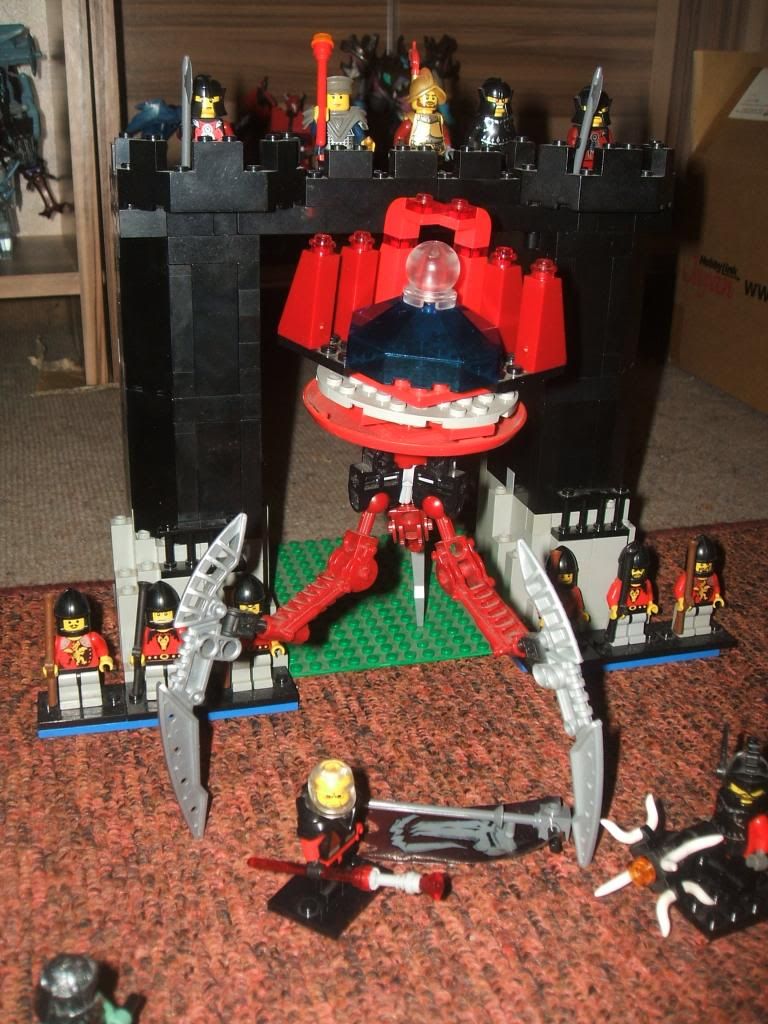 Through the titanic Portal-Fortress, another man-o-warlike creation emerges, gazing at the puzzled orks.
Confused ork:
'YOUZ LIED TO US! GUT 'EM LADS!'
Barthelomeo:
'Alright men, stand ready if things get ugly!'
Torquemada: 'ENOUGH!'
The machinery starts to glimmer and then unleash a blinding blast of light!
Torquemada:
'Now ork, answer me: who do you serve?'
Enslaved Ork:
'Wez only serve the Falx. Falx are our master!'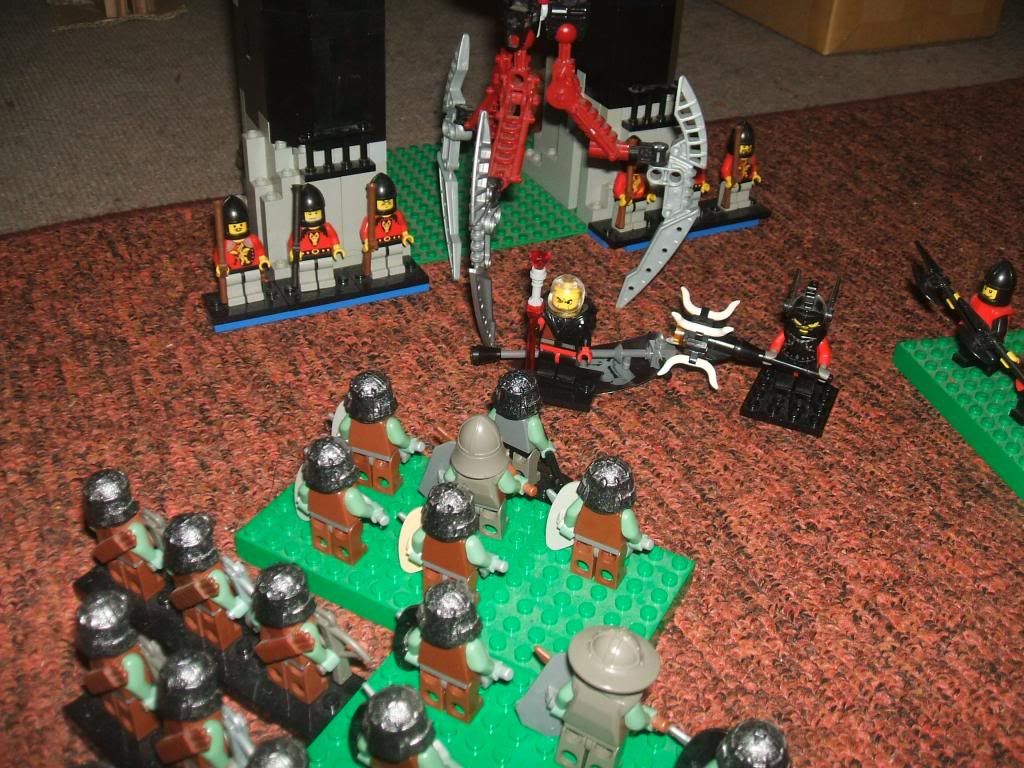 Torquemada:
'Very well. I assume you know where the rest of the ork encampments are. You will lead us to there. After all, there are many more of your kind who needs to be... subjugated.'
That wraps up Subjugation! Thanks to all who participated, the Falx Invasion will continue soon!