Round 2:
viewtopic.php?f=16&t=12163
Round 3
1 - Dark Elves - Silverdream
"Death to the uncivilized ones!"
The dark elves get at least some payback, hitting the giant for 1 HP of damage. His counter fails.
The third dark elf jumps Mudi, who fends him off with his pickaxe.
Combined fire from the grave wraiths gets the dwarf engineer, however.
"Would you please join us?"
The skeletons, accompanied by the undead giant, keep heading down.
Two get close enough to overcome a light ranger.
2 - Rangers - Brikguy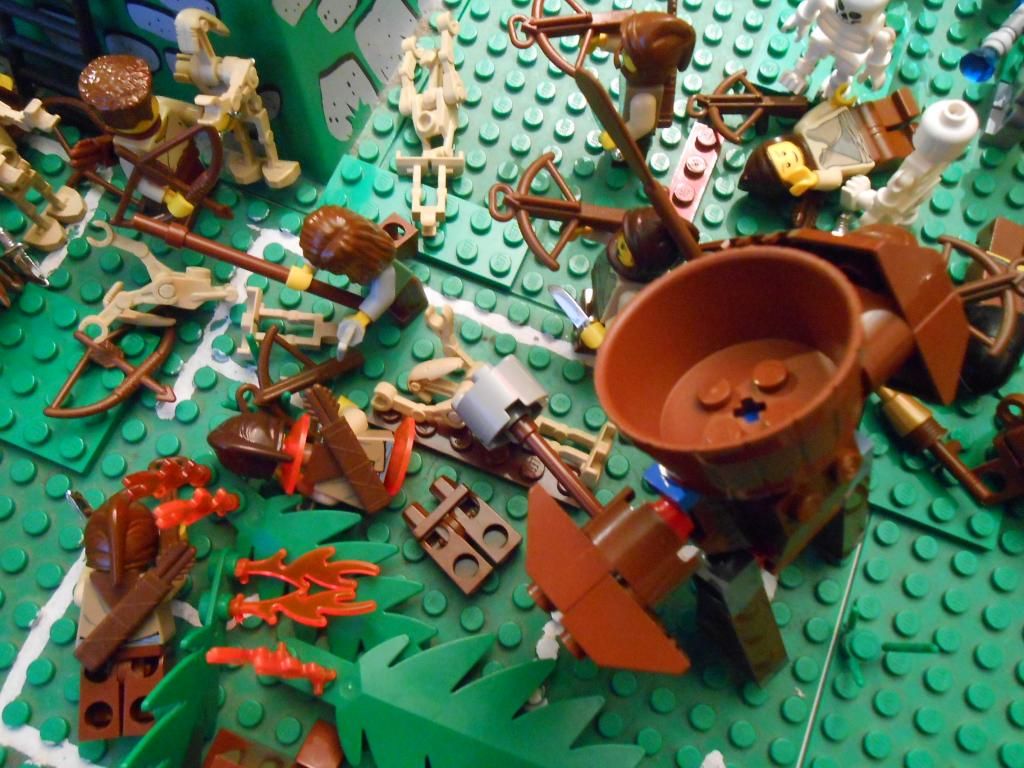 The mech (which can function on its own), hurries over to Miranda and smashes a ghoul. Miranda also dispatches two ghouls with some plowthrough damage from her fighting staff.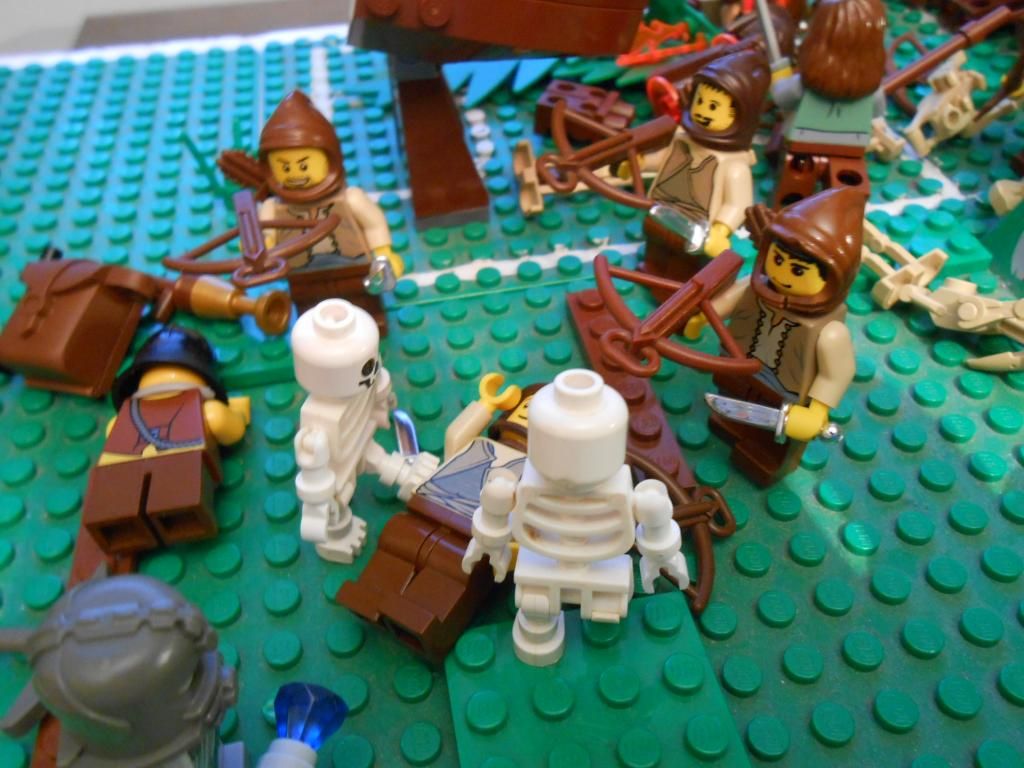 Light rangers fire at their closest enemies, but skeletons aren't very susceptible to arrows.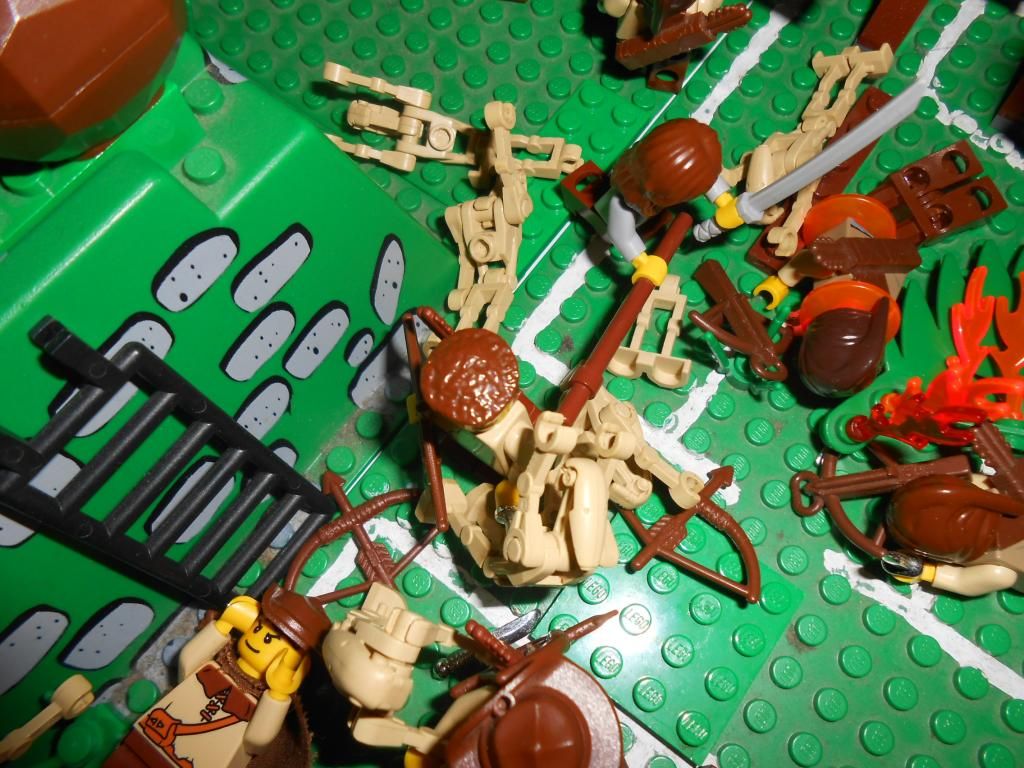 One of the elite rangers dispatches another ghoul. Miranda goes for some of her fallen comrades...
... and tries to resuscitate them.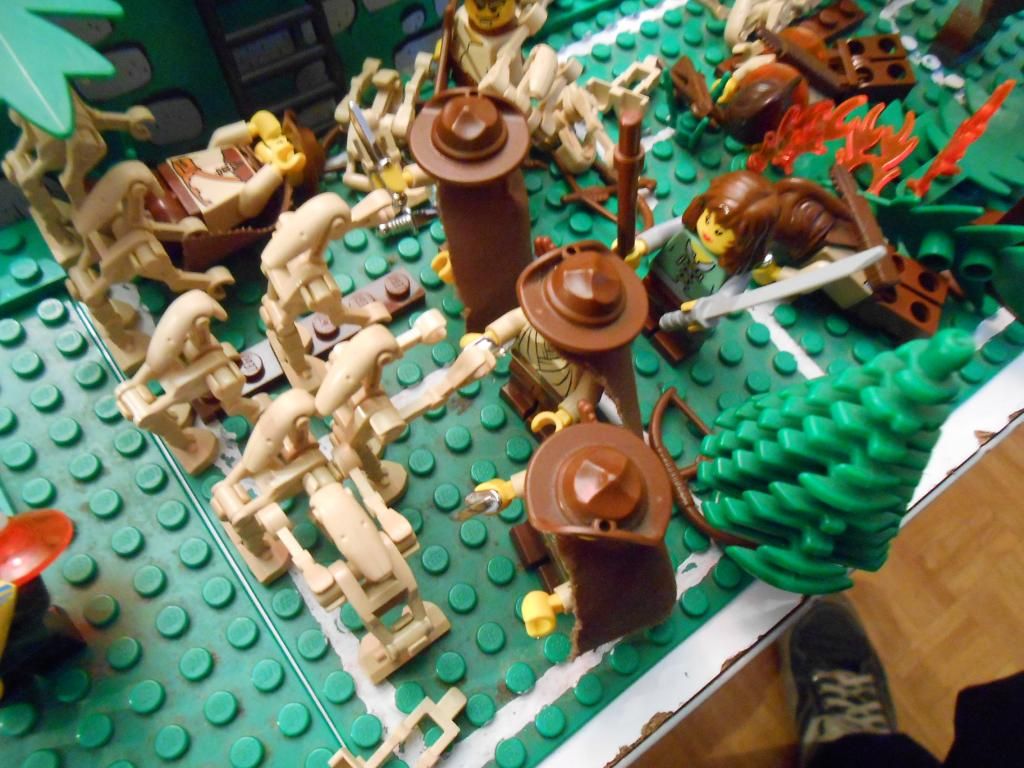 A critical success puts two of the elite rangers back on their feet again!
3 - Chicken Man - Colette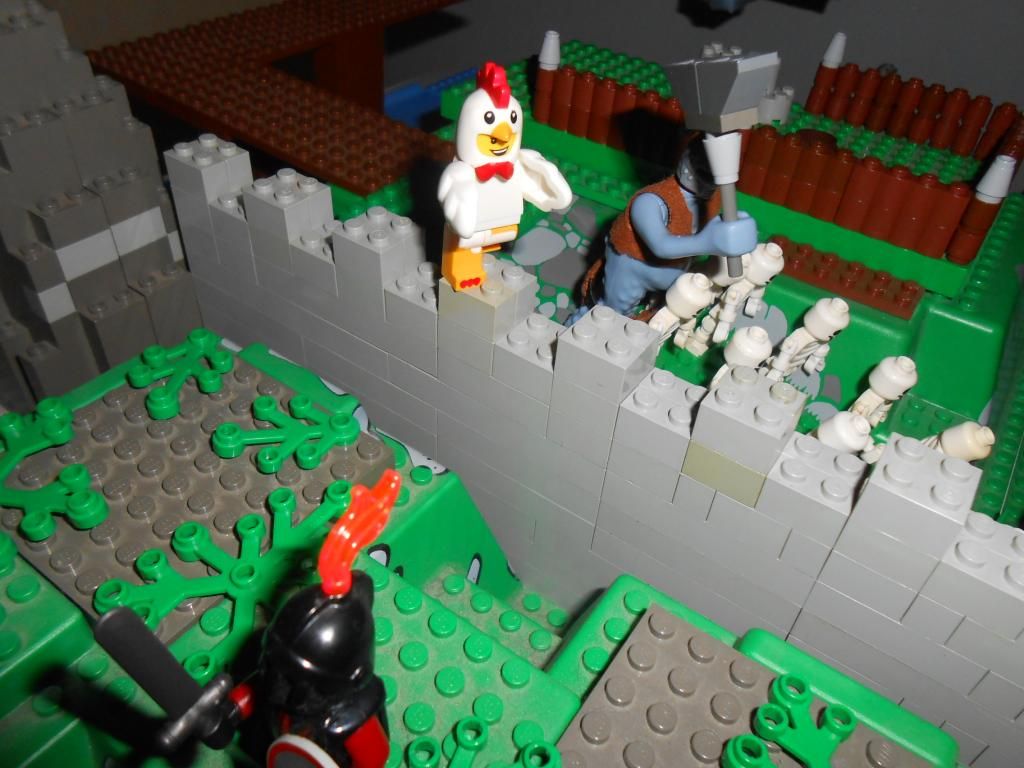 Undetterred by his previous faliures the Chicken Man jumps onto the wall, cawing noisily and flapping his wings at something far off in the distance.
"CAW! CAW! CAW CAW CAW CAW!"
Critical success!
"WHAT DID YOU SAY ABOUT MY MOTHER?!"
Kamos is so pissed off he gets -2 skill on his next turn. He also wants to kill the Chicken Man now.
4 - Woad Elves - Scratch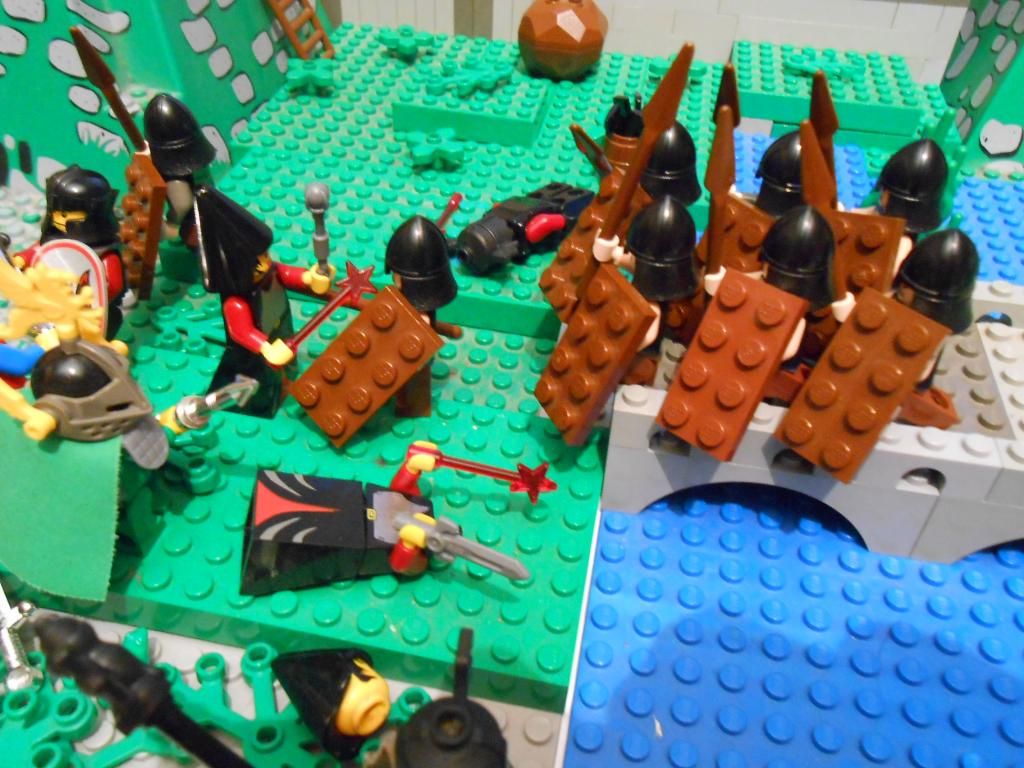 Woad Elves cross the bridge, sprinting as far as they can. Sadly some get stuck behind a couple of guys in the front who only got a '1'. One manages to attack an iron grannie.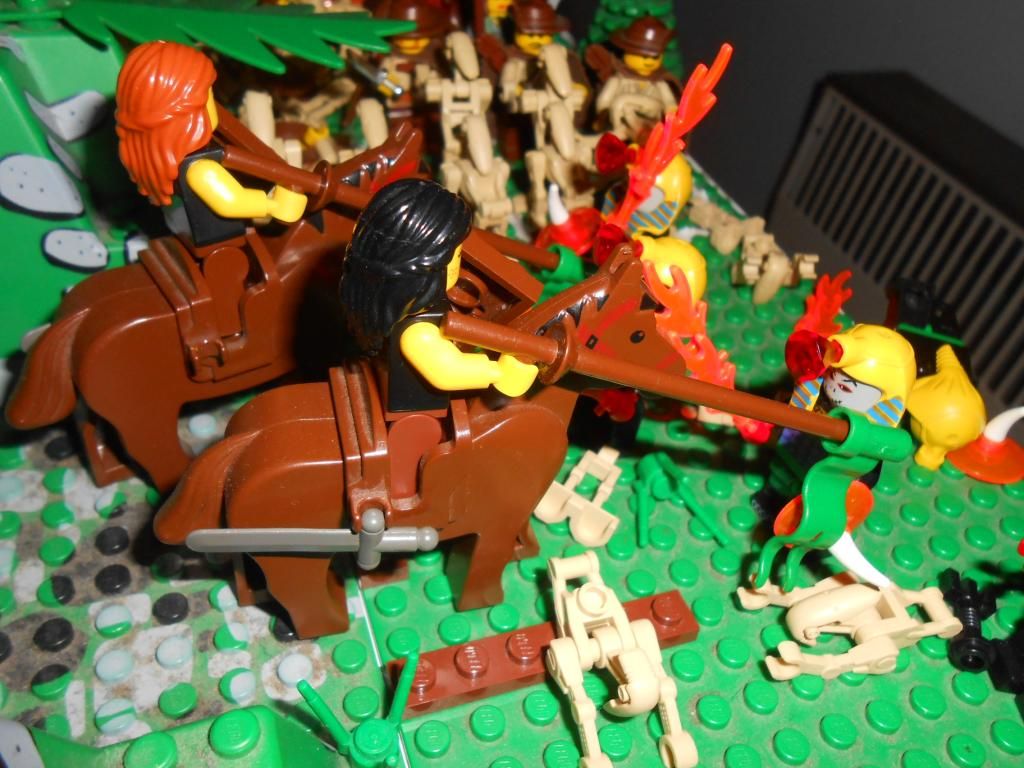 Amazons keep on charging, but both crit fail.
One pays for her failure as a fire wraith takes her down.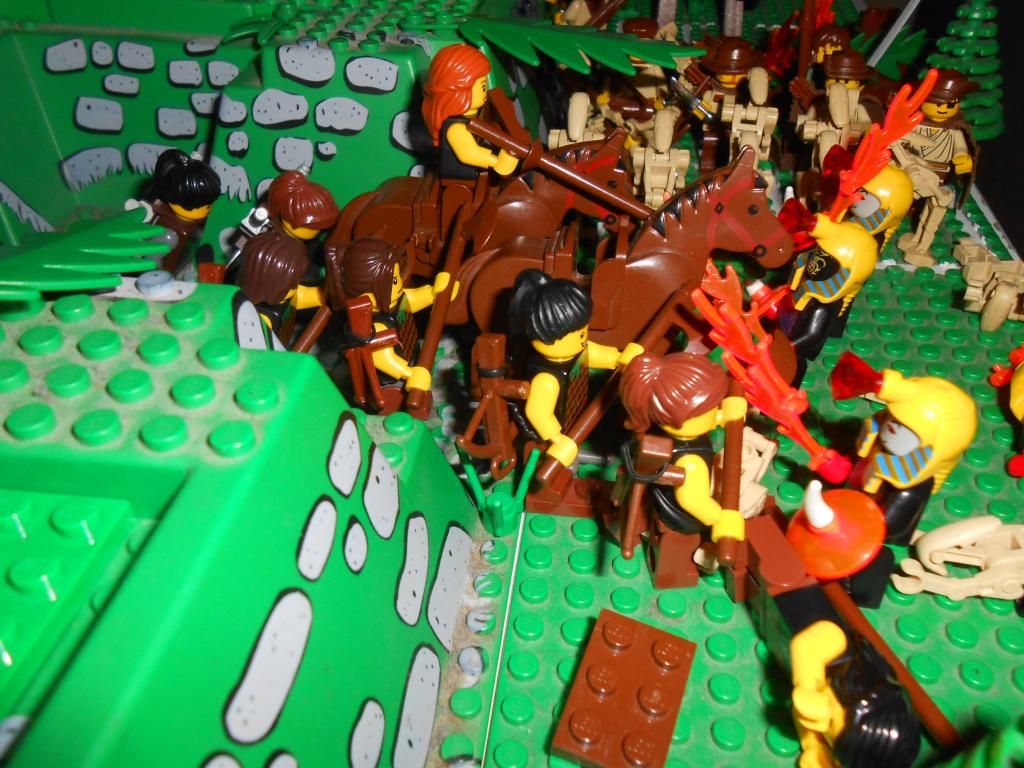 The infantry follows suit...
This fire wraith is on a roll. A hunter falls to his fire sword.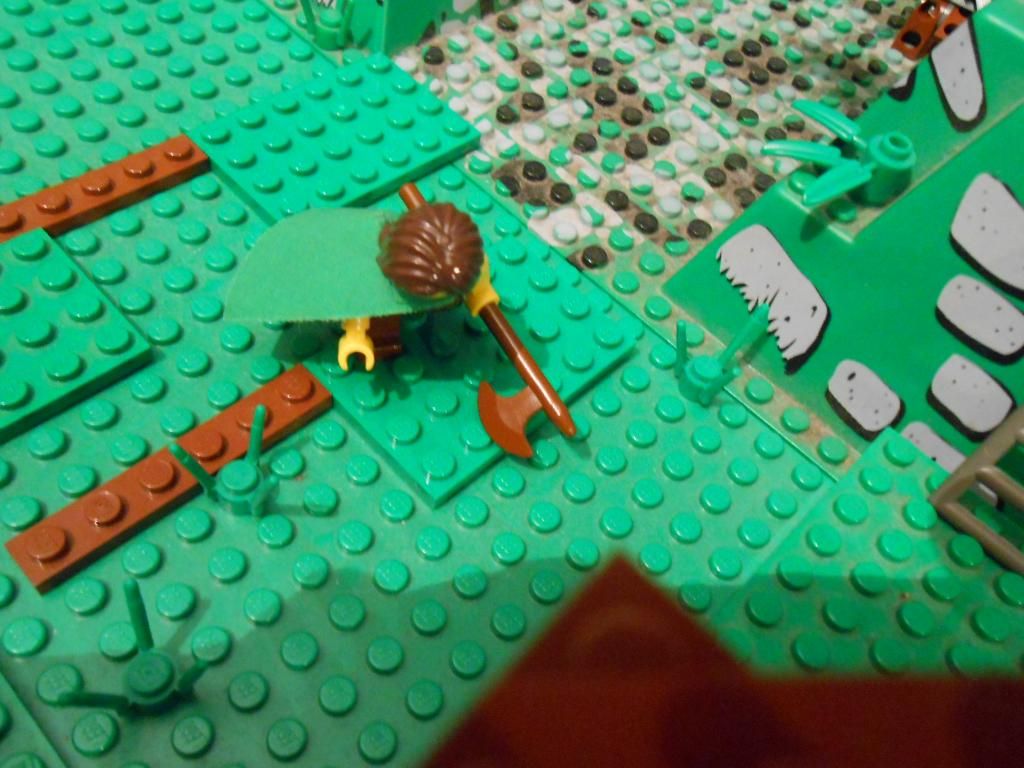 Landors sprints...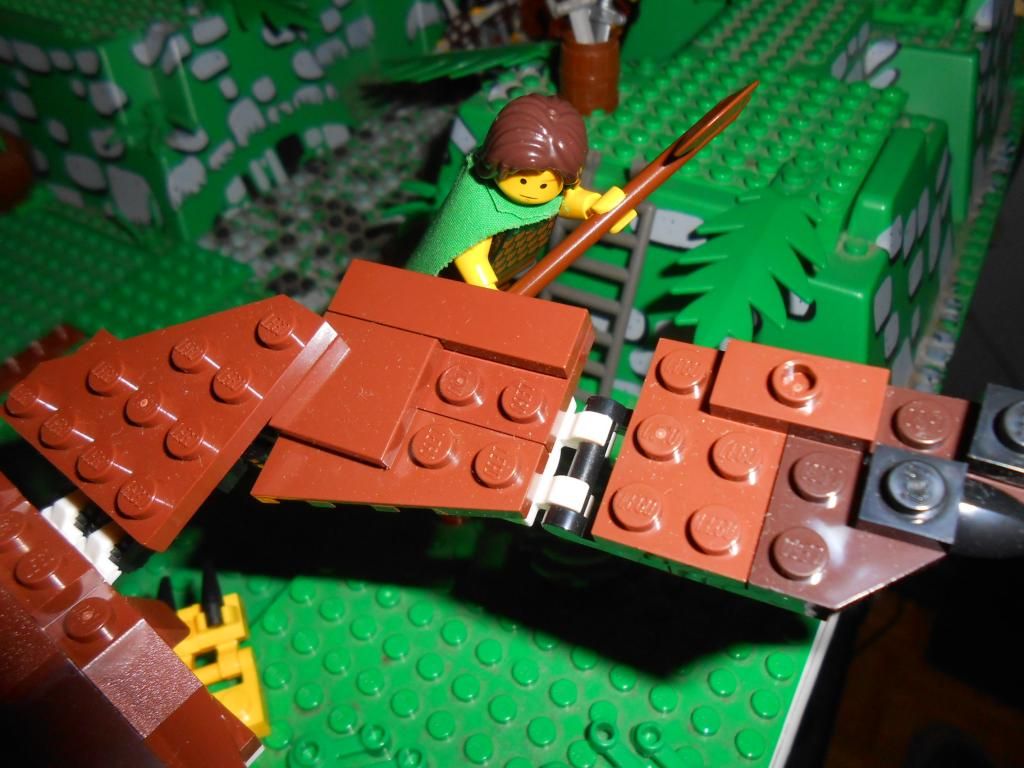 Leaps!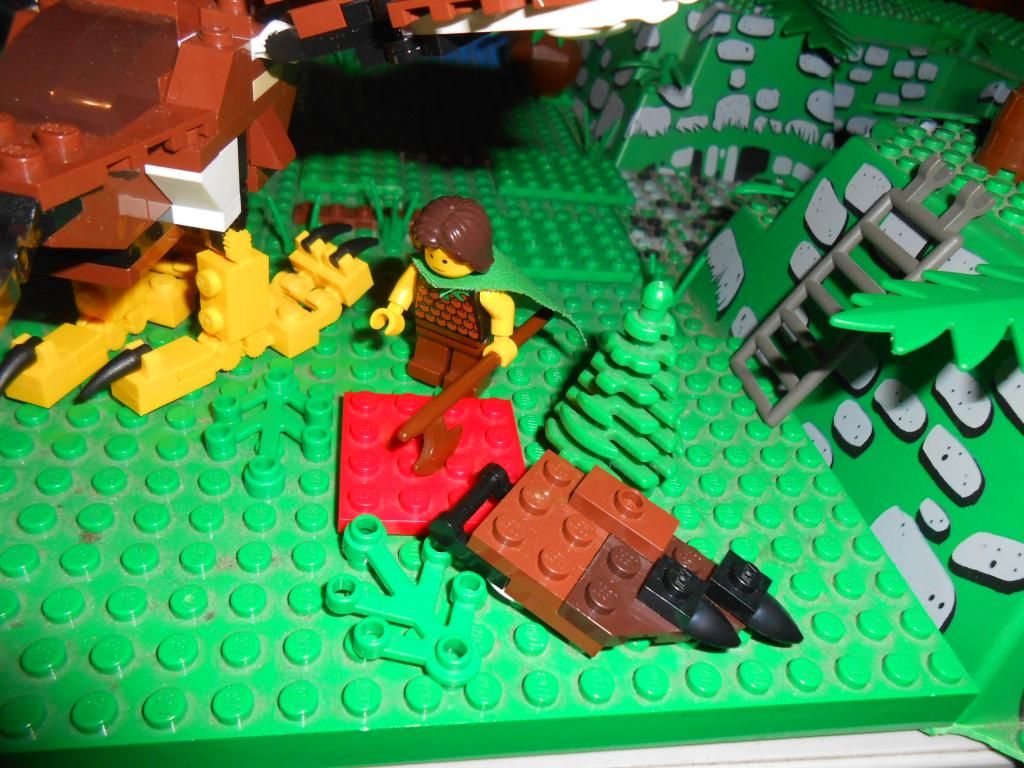 ... and with a critical success takes off one of Kamos' wings, also damaging him in the process (-1 HP). This means Kamos can no longer fly!
5 - Inferno - Zahru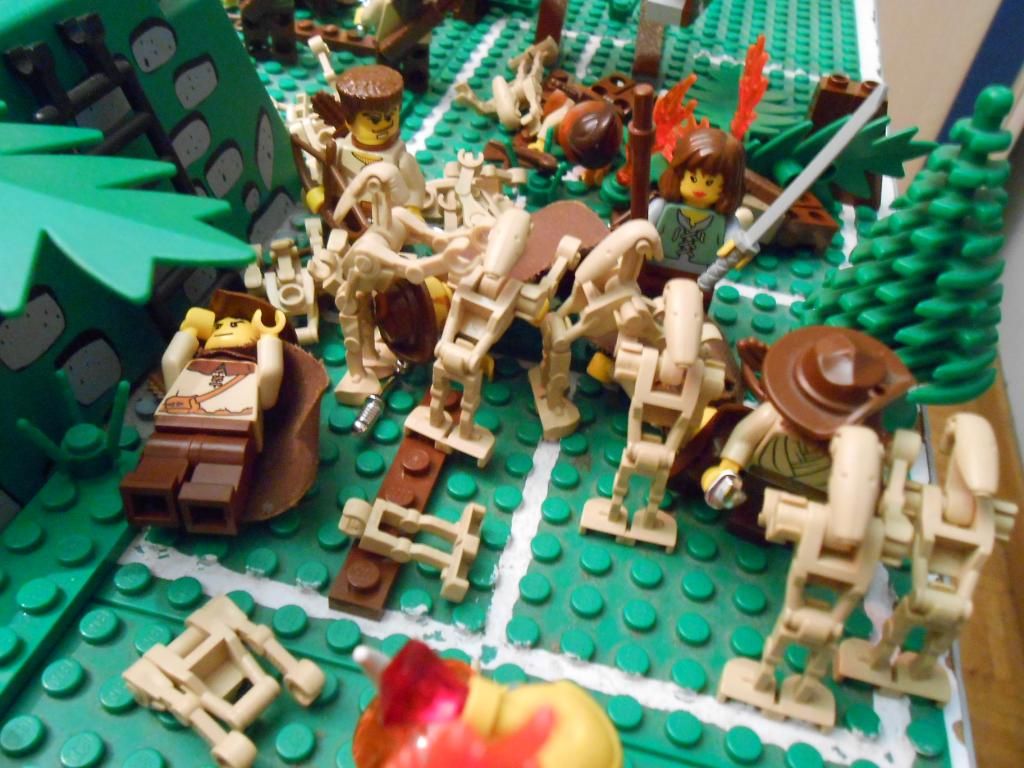 The ghouls re-kill a ranger and one of his mates, losing one of their own in the process.
Fire wraiths combine attacks on the second amazon, killing her.
Inferno charges...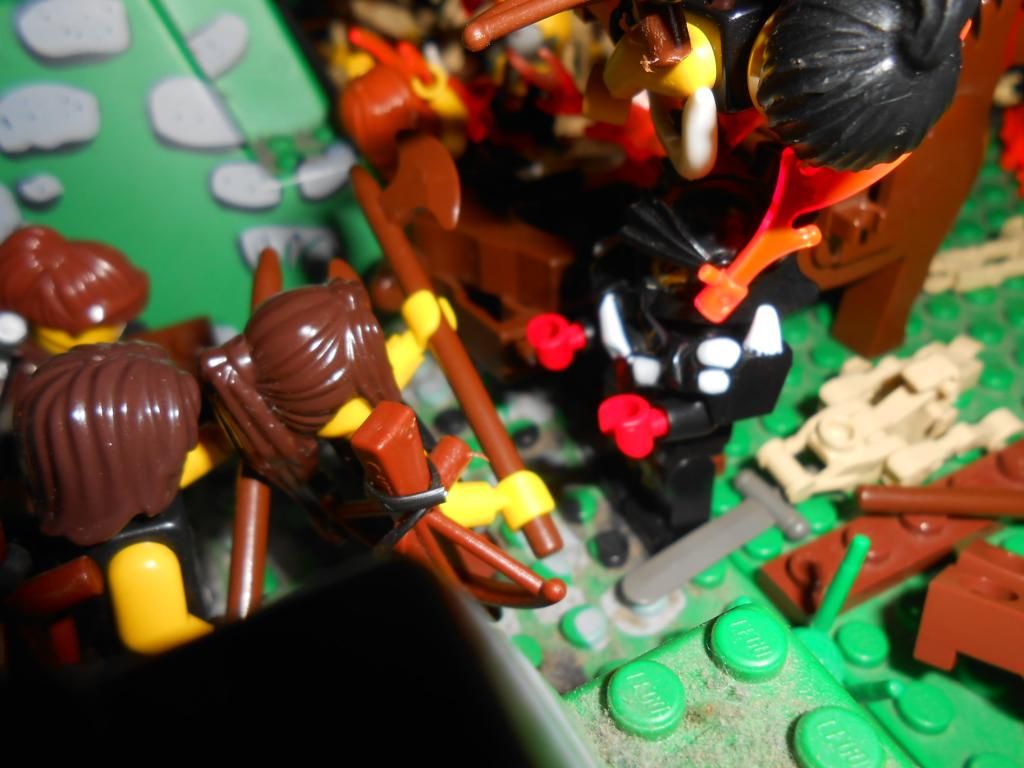 He scoops up a hunter, killing him, and then tries a feat... But the feat fails, and he's lucky not to take any damage from the surrounding hunters.
6 - Crimson Knights - Battlegrinder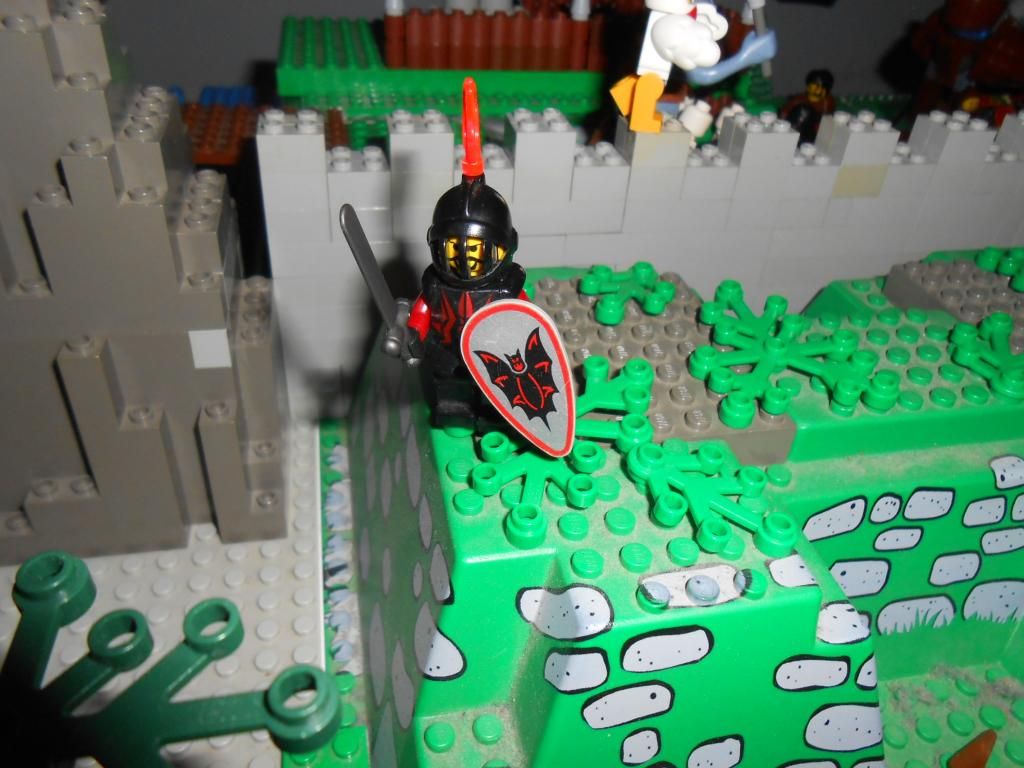 This guy isn't sure how to get down the slope. He could jump and risk some falling damage, but I figured I'd leave that up to you.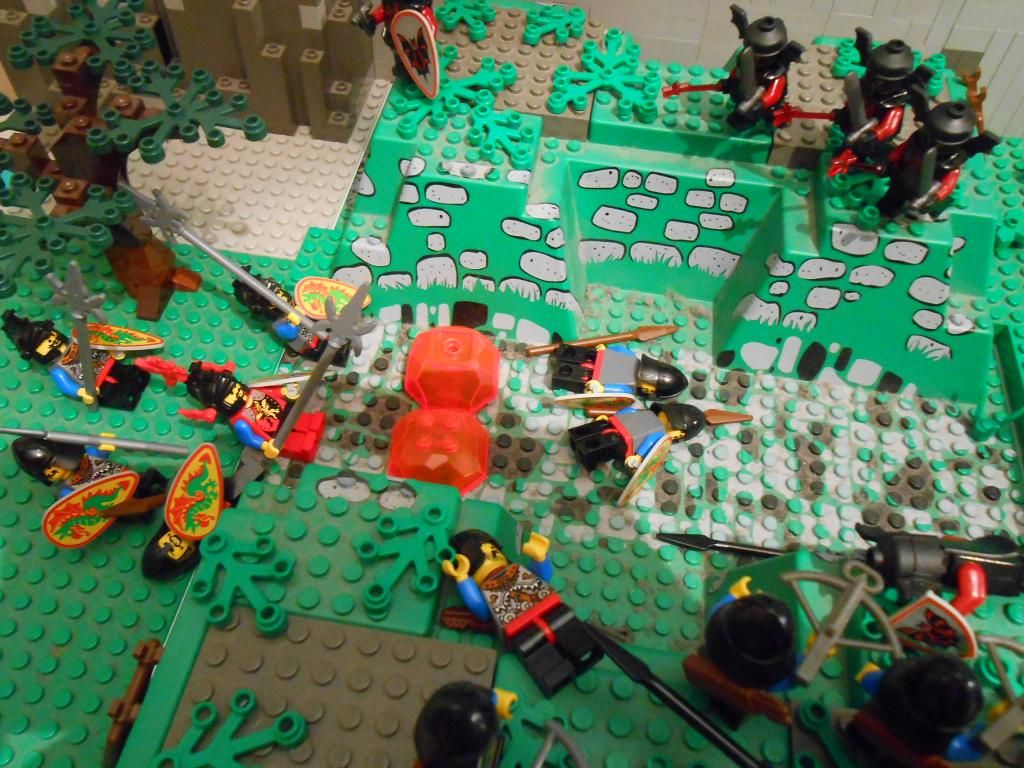 Battle mages combine their efforts to create a 2d6 explosion which knocks Brockram and his men back and disrupts their formation, but isn't powerful enough to kill anyone. 1 or 2 points of damage extra and that would've been a serious mess.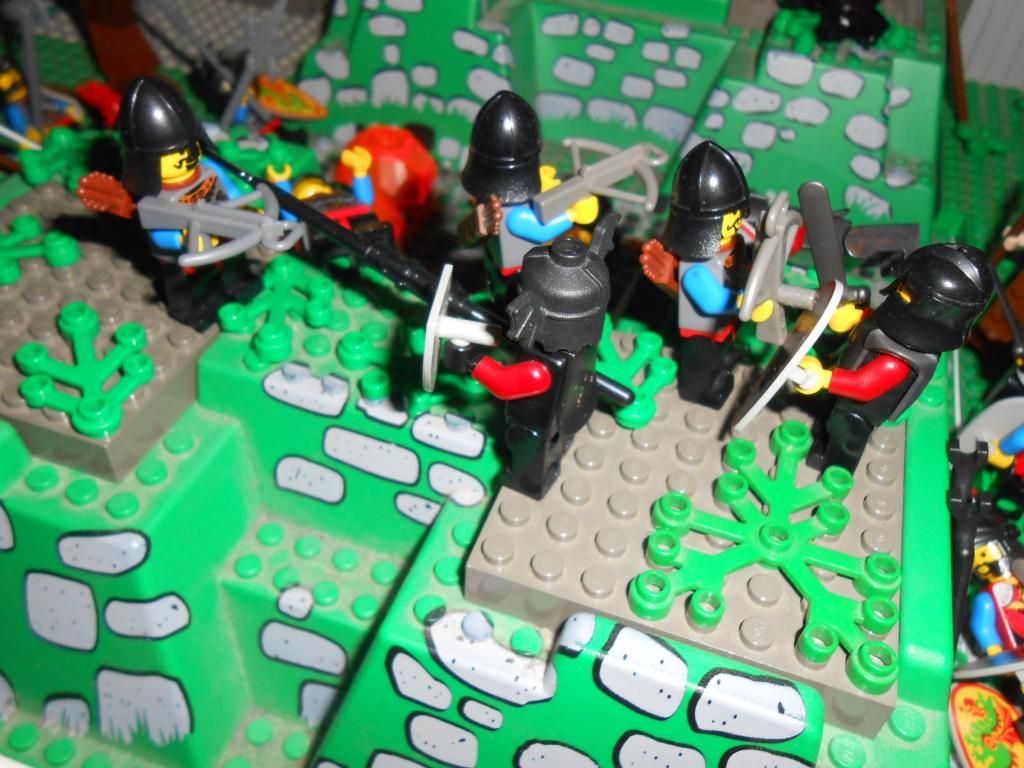 The crossbowmen keep getting lucky, but how long can they last?
Cassandra casts a spell on Garth...
A warband mistakes him for an enemy and charges the knight. Garth instinctively defends himself and kills the woad elf, only realizing what he's done after the unfortunate warrior hits the ground. A dragon knight also loses his head.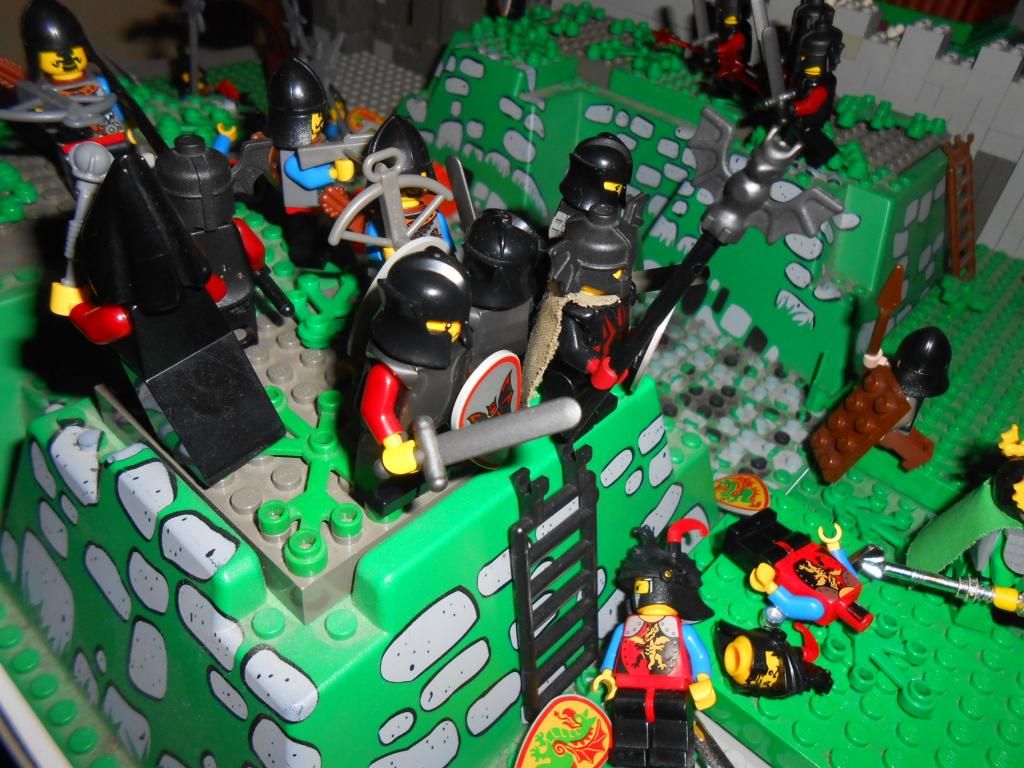 The crimson knights use the distraction to rush onto the slope.
7 - Kamos the Skylord - Coriolanus
"O GAIA, GODDESS OF EARTH, SEE HOW THIS IRREVERENT HAF-ELF PROFANES YOU. GIVE HIM HIS JUST CHASTISEMENT AND PUNISH HIM THROUGHOUT ALL AGES HENCE."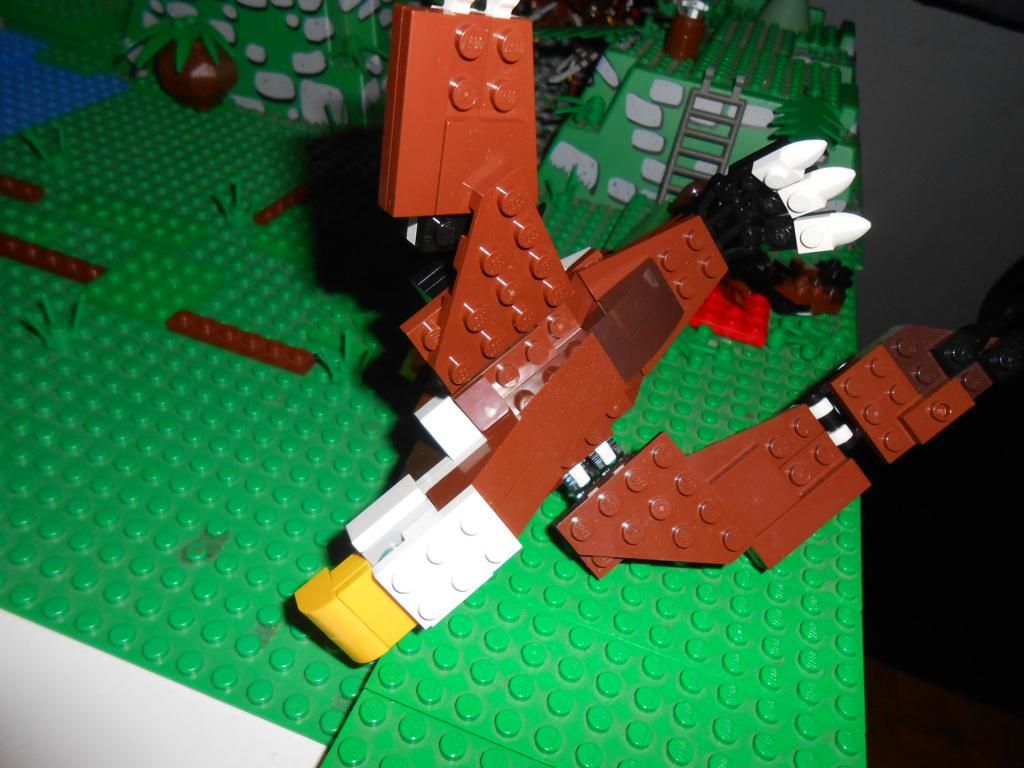 The Goddess is not amused that Kamos would ask his help with such a trivial matter and sends a tremor that knocks him onto his side.
8 - Dragon Knights - Alex (NPC'd)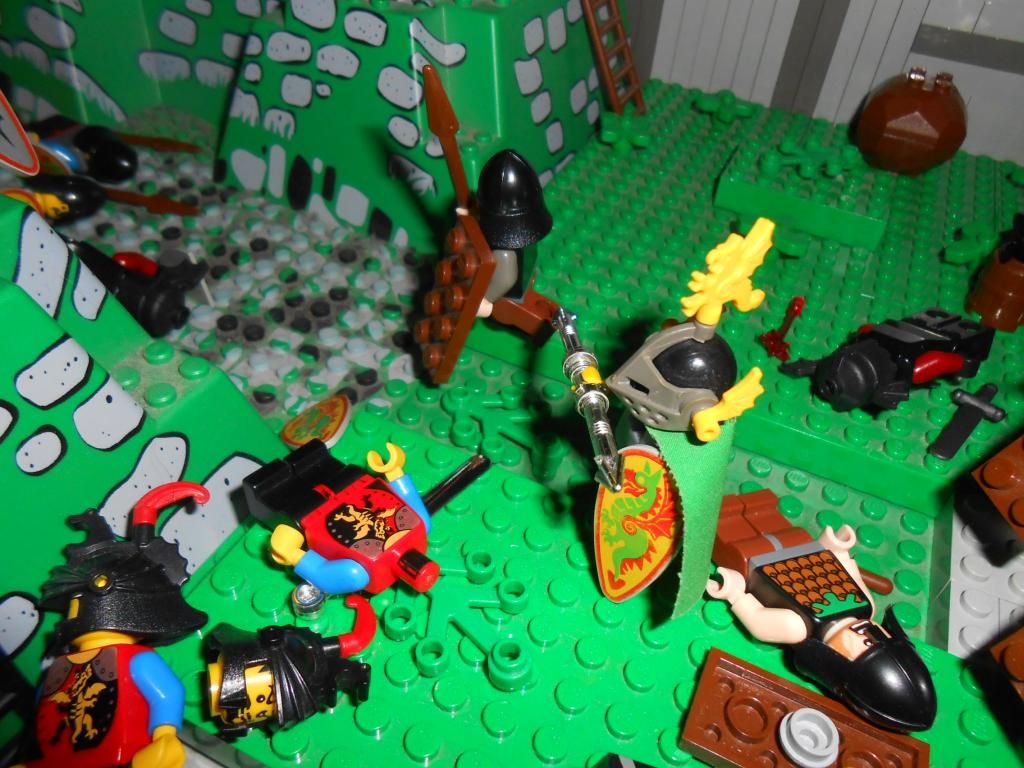 Garth calls for his crossbowmen to make a safe retreat.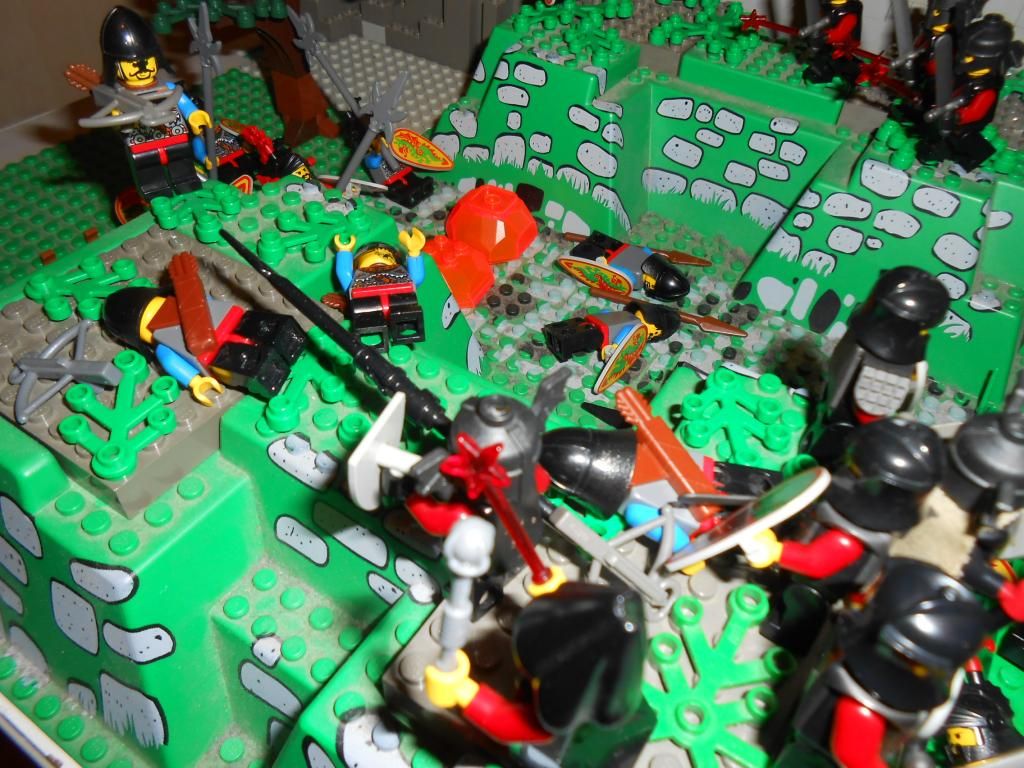 The feat fails and they get slaughtered horribly... The sole survivor opens fire, but can't get any payback.
Brockram and his disrupted men pick themselves up and retreat away from the battlemages' deadly crossfire.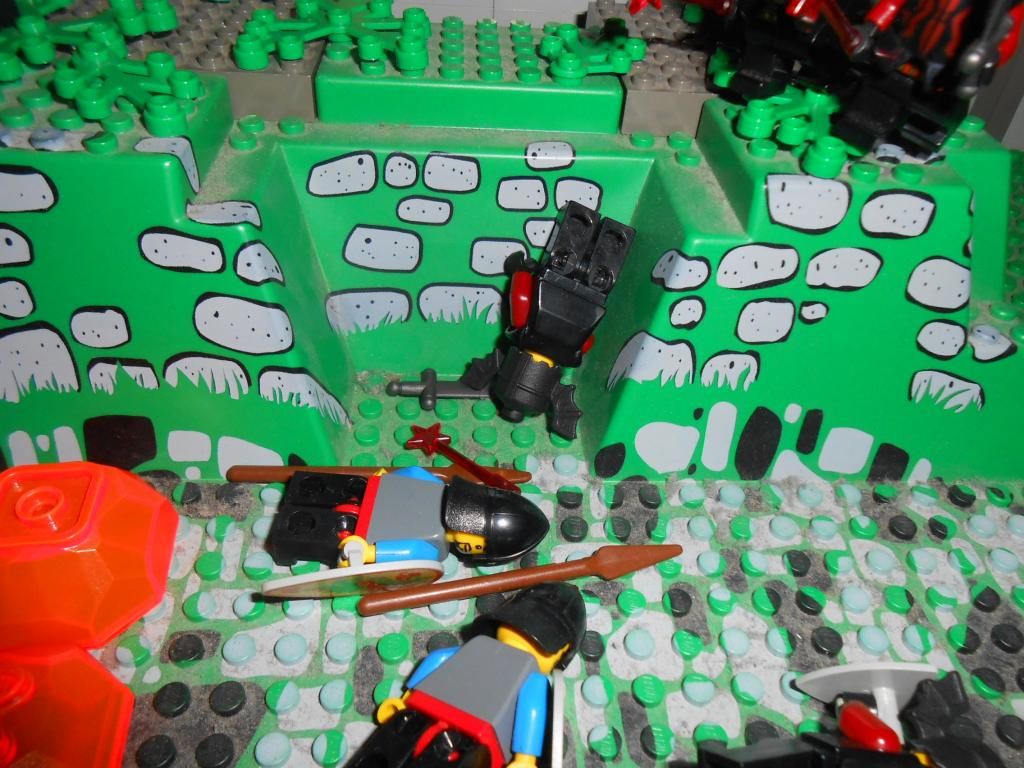 Brockram gets lucky (successful feat) as one of his adversaries slips, falls down and breaks his neck.
Garth tries to reach this slope.
Overviews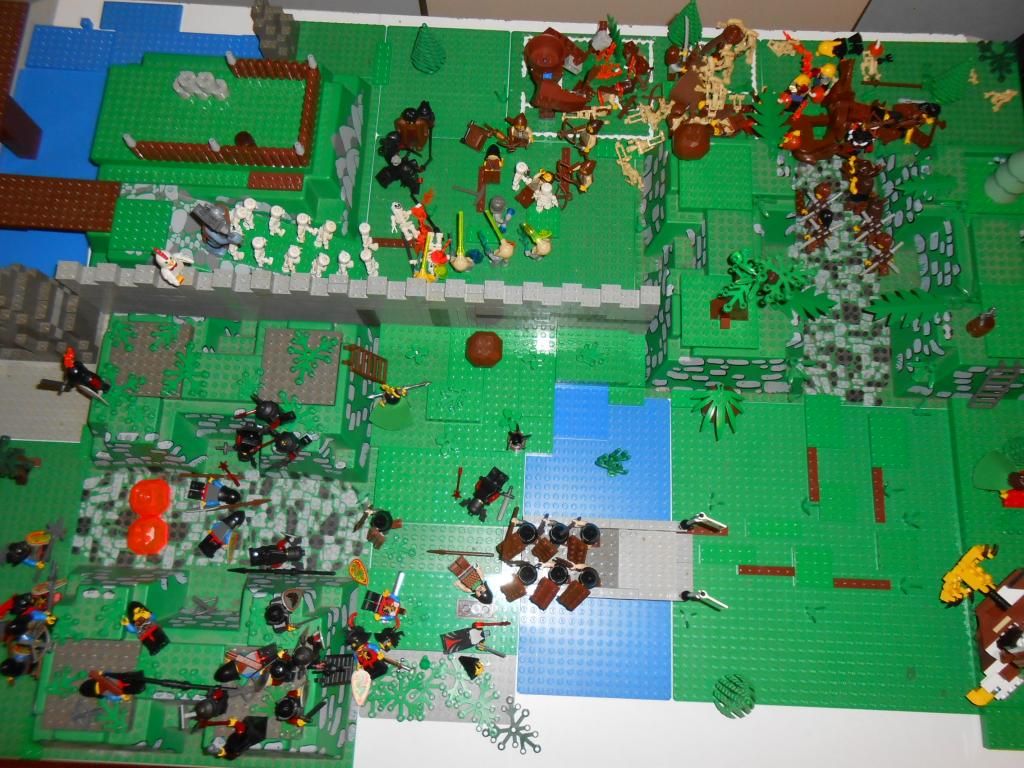 Kills:
Rangers - 13
Nimoë - 3
Inferno - 11
Woad Elves - 1
Dragon Knights - 3 (+1 friendly fire)
Crimson Knights - 6 (+1 friendly fire)
Damage:
Garth (2 HP)
Giant (1 HP)
Mudi (0 HP)
Kamos (2 HP)