Many lives were lost to dice explosions this round.
Strike Team: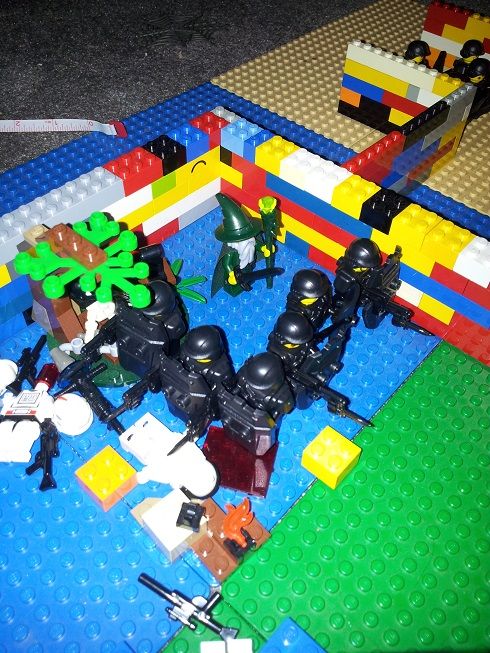 Bartholomew clambers over the wall to join his men, and order them into an infantry square. The riflemen attempt to target the enemy hero, but none of them have a shot, at least not one they could take without moving into a very vulnerable position.
Bartholomew creates an entangling web in front of the orks, which will cut their movement down by half as the cross it.
The right wall of the square targets the fleeing soldiers. With their SN dice switched over to damage, they inflict heavy losses on the retreating enemies, including using overkill damage to pick off an extra target.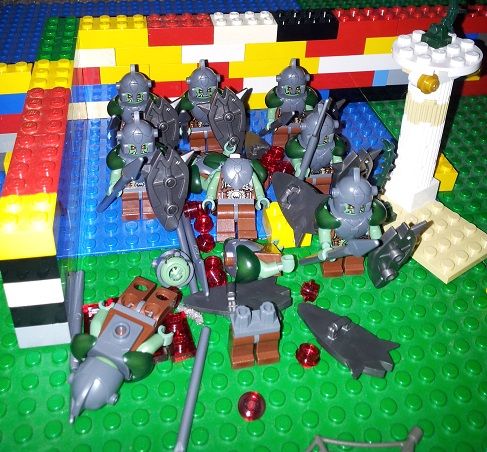 The front rank targets the orks, aiming to weaken the inevitable charge. A whopping 21 damage from the leftmost riflemen is enough to drop 3 orks from the center of the formation (if not for their armor, the entire center of the squad would've been wiped out), while his less bloodthirsty companion on the right takes out only 1.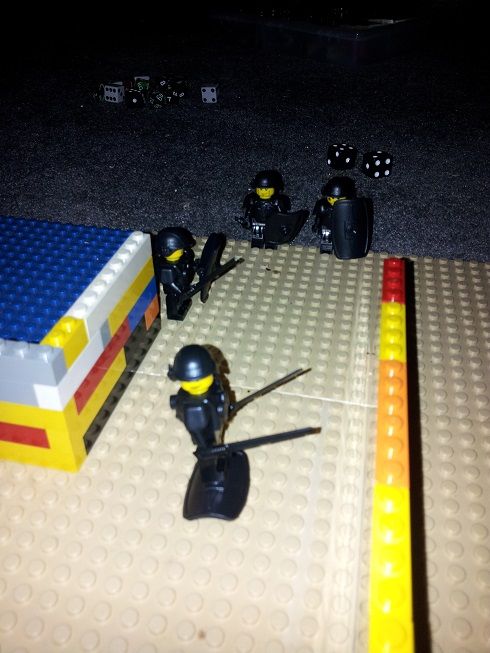 At the entrance, the melee troopers decide to try something bold. One of them grabs a pair of swords and then stands atop his shield, while two of his comrades prepare to make a sprinting shove and launch him toward the orks.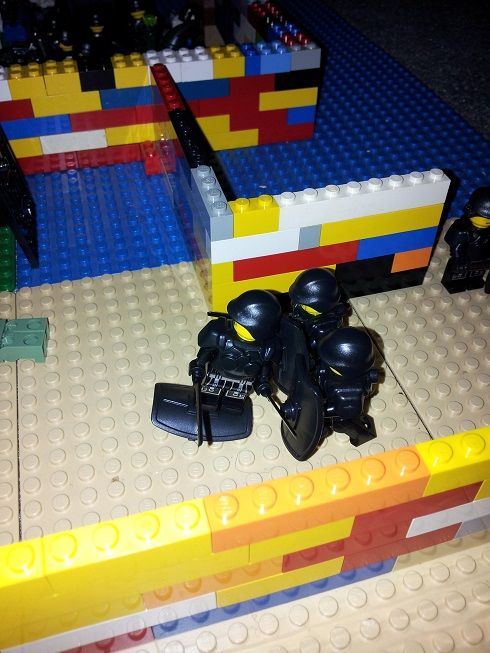 Even with bonus movement die, the two soldiers barely manage to get enough speed built up to launch their buddy. Overcoming the weak rolls, they manage to pull off their end of the stunt.
Halfway to the main room, the shield surfer hears the faint sound of armed figures moving about. Before he can relay his findings, something else grabs his attention.
Secret Faction Activated: Mind Controlled Scout squad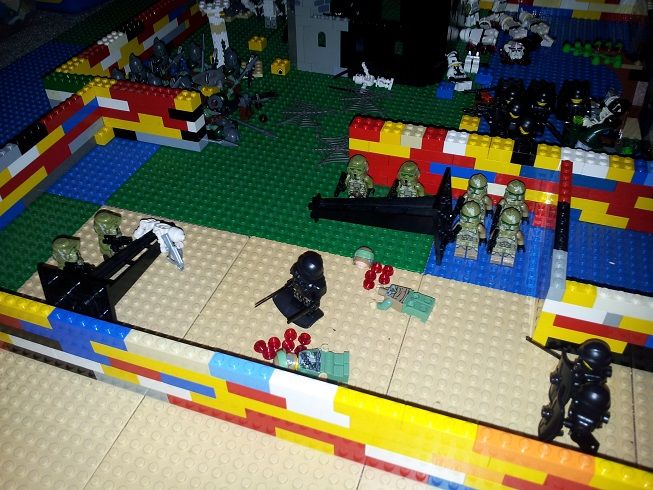 3 of the the scouts open fire as the surfer crosses into their kill zone, and the combined damage is enough to drop him.
Scouts: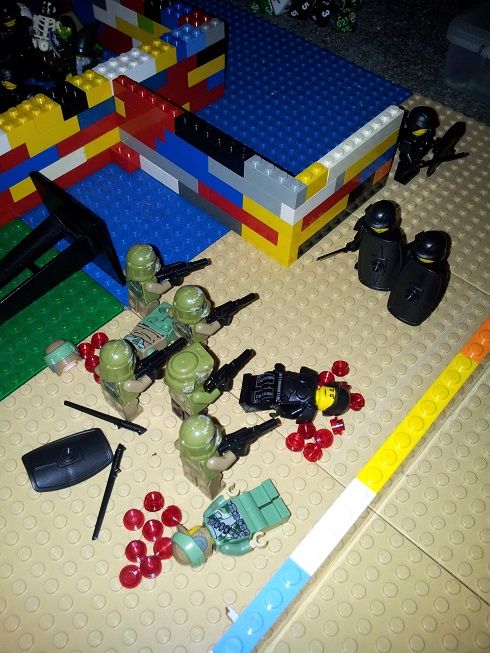 The rest of the scouts advance on the Rangers standing in the entrance, who (having already used their actions during the failed shield surfing) are helpless to resist.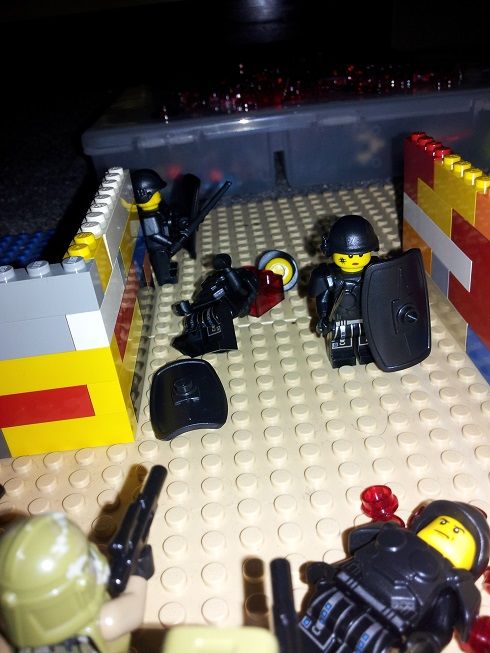 They manage to drop one of them.
Defenders: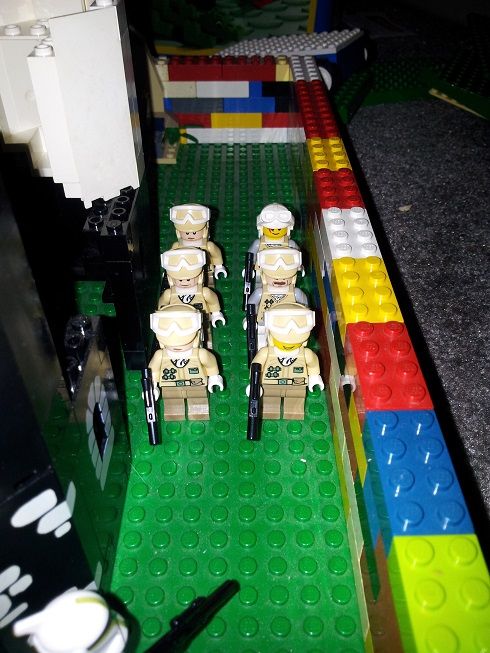 The group of troopers continue their advance.
The surviving soldiers grab a pair of rifles from their late squadmates, then continue their retreat.
Linking up with the new guys, they hand the first two soldiers rifles.
The orks charge, but the webs manage to slow them down enough to prevent them getting into CC.
The team's hero does nothing. Again.
Battlefield Overwatch: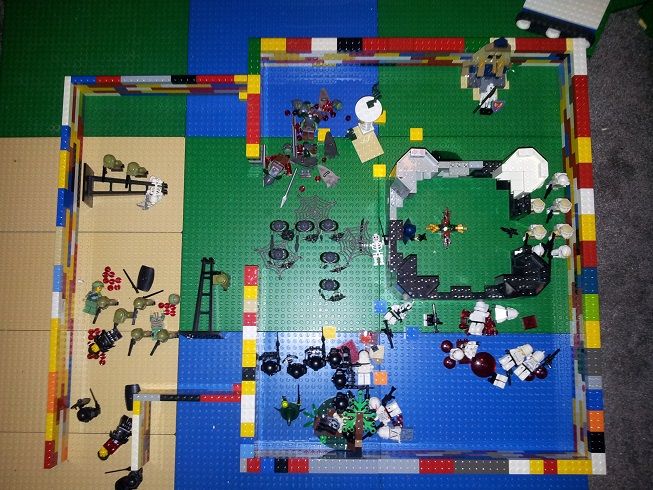 A few notes:
Motorhead fan, you have a hero. You might want to do something with her.
Silent-Sigfig: I'd appreciate some precise orders regarding SN dice, especially for the guys in the the infantry square. How those dice get used could really alter how that skirmish plays out.