Project Presgore
Round 5
Faction list:
(turn orders is as shown in this list)
-Droids - controlled by

IVhorseman

eliminated on Round 4
-Galactic Empire - controlled by
Ross_Varn
-18th Century Soldiers - controlled by
birdman
-Townspeople - controlled by
jifel
-Mistery Faction - controlled by
Theblackdog
-Overpowered Mysterious Faction - controlled by
pesgores
Galactic Empire
The clone with the cornershot readies to attack someone who might come on him.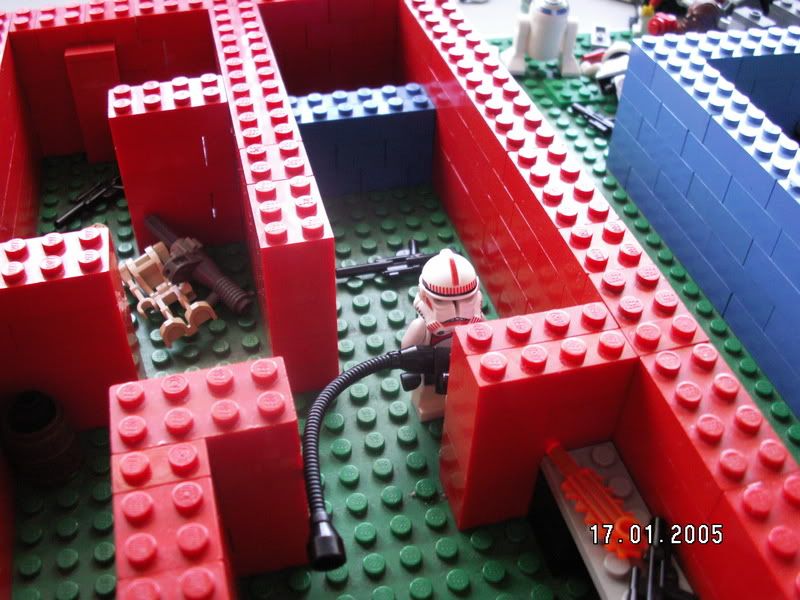 A Stormtrooper grabs the RPG-7.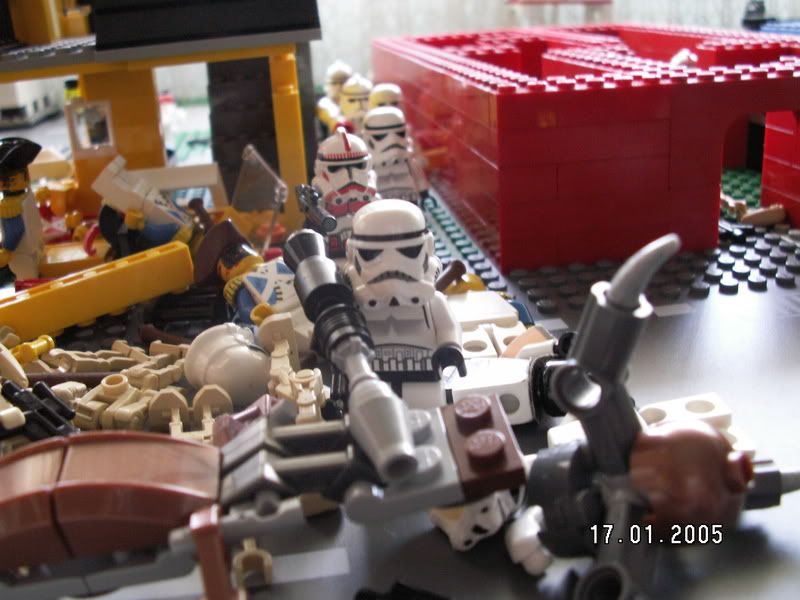 All imperial forces move out.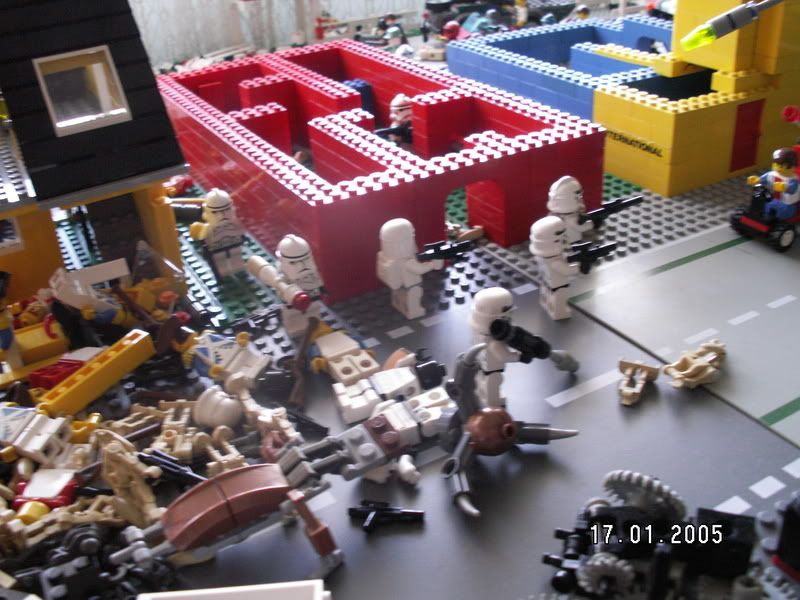 «Eat rockets.»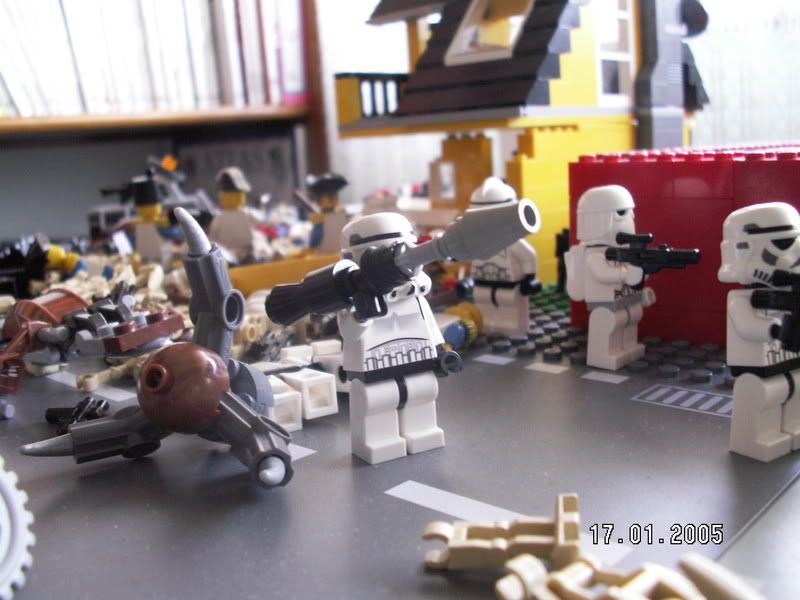 *TFFFFF*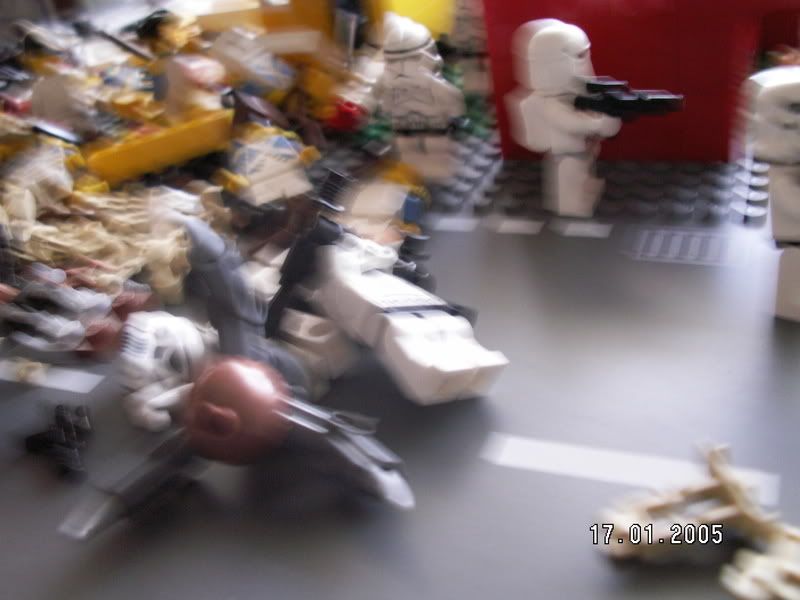 «Did it hit me?» I said.
«Whoa, it did. Nothing serious though.»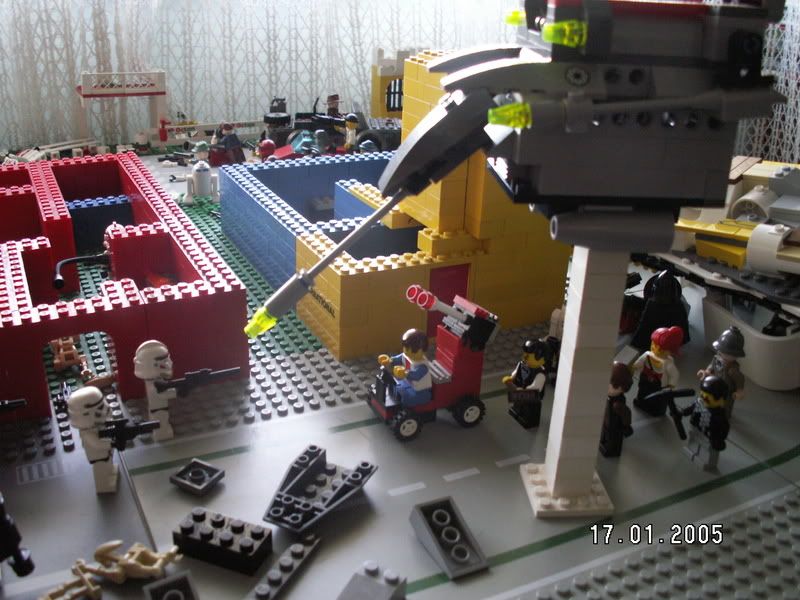 Time for some shooting.
2 Townspeople down.
Overwatch shot.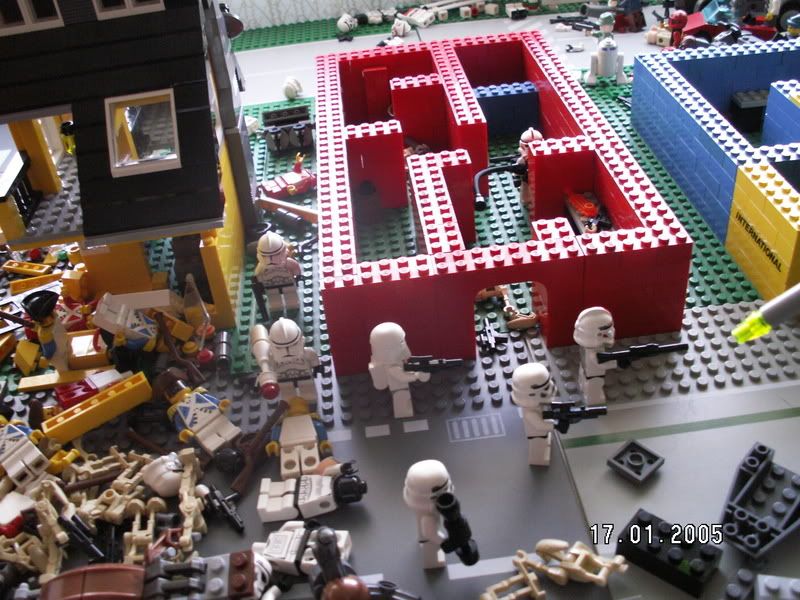 18th Century Soldiers
Here are the three remaining soldiers.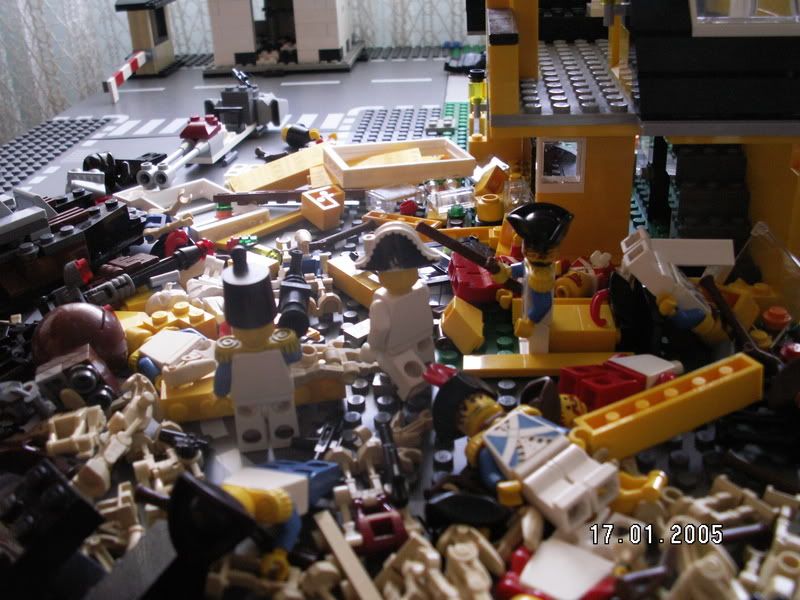 «Turn around and go for the Townspeople! The Empire is still on our side, right?» shouted the General.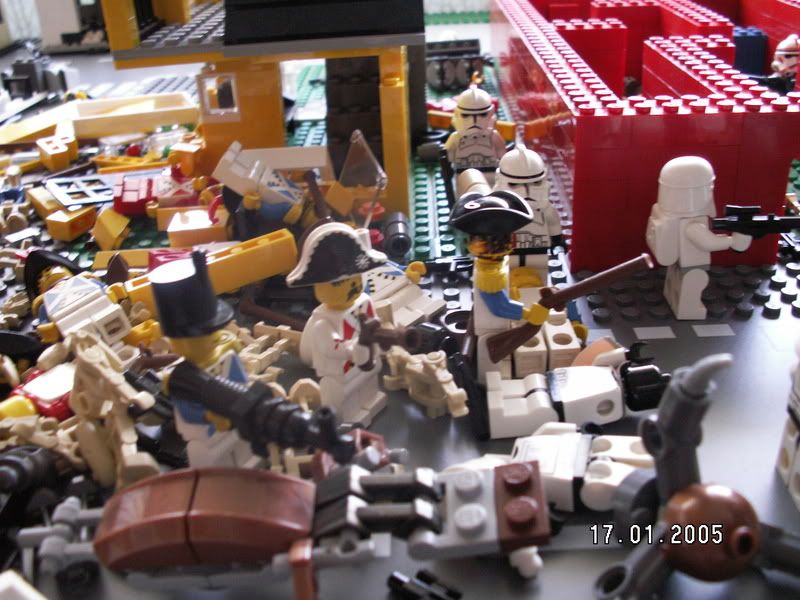 Only 1 kill.
Picture.
Townspeople
Turn begins.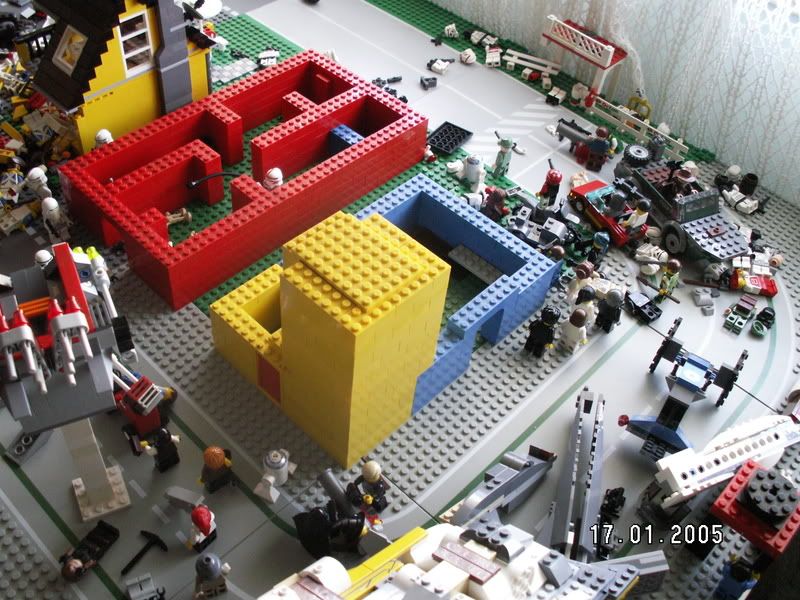 One guy picks up the plasma gun.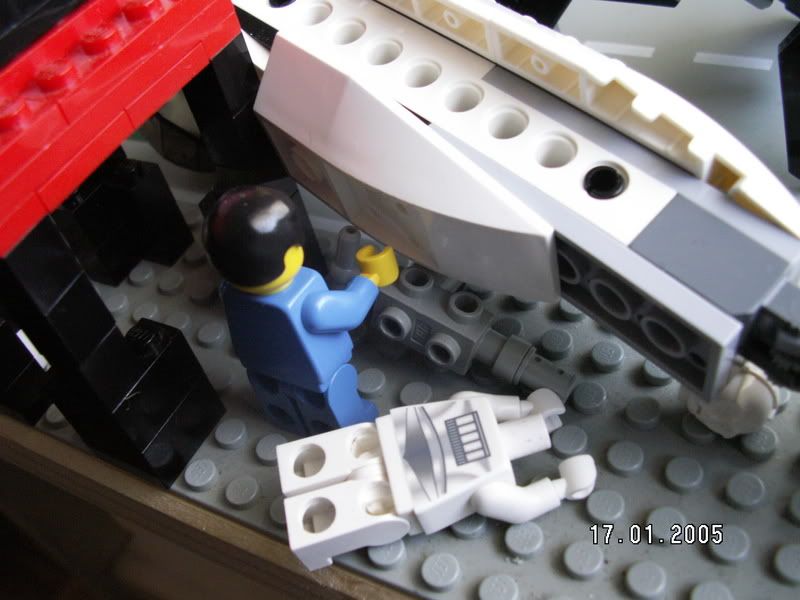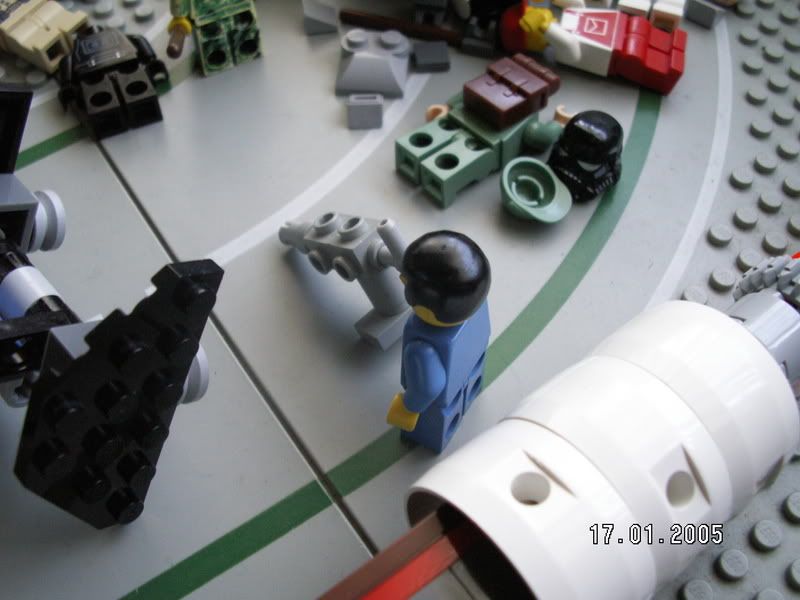 R2-D2 tries to point out something unusual. He stops by a red building's wall and beeps.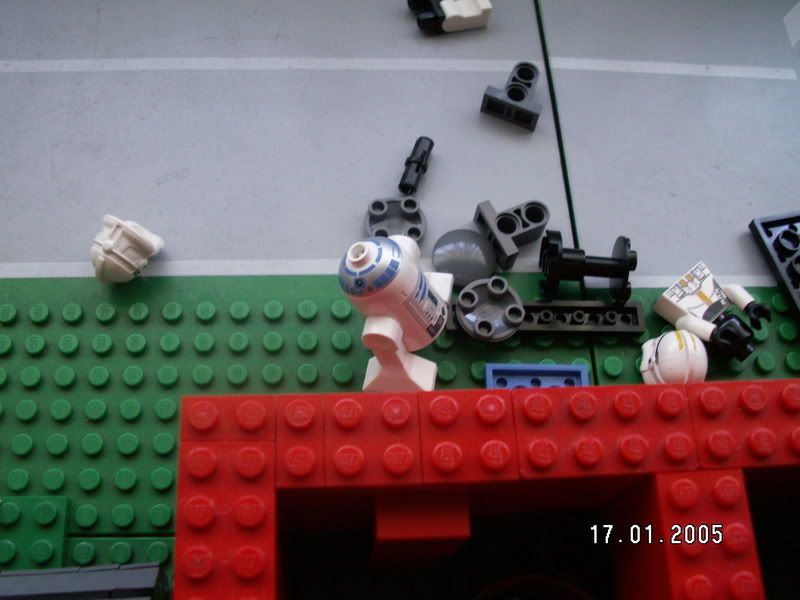 Plasma guy tries to shoot at it, but the target is too far away and he can't do anything.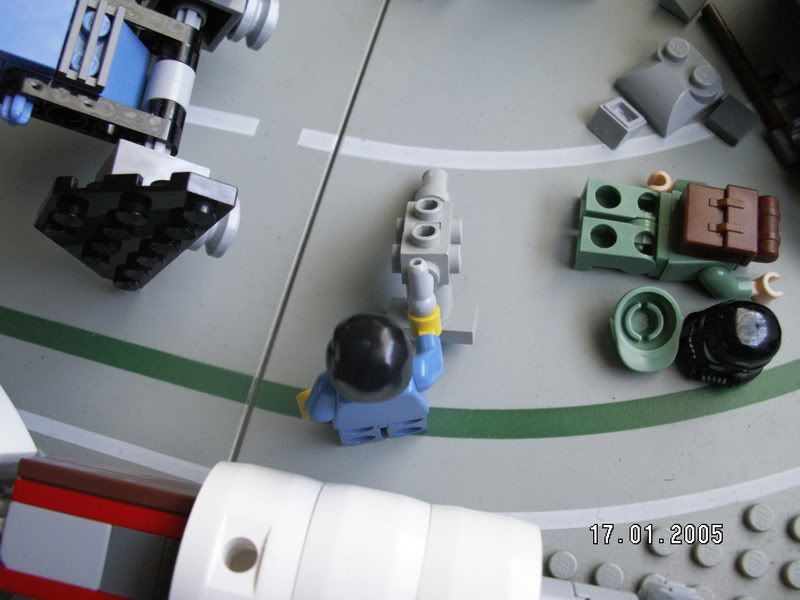 Movement phase on Northeston Ave.
Time for some ramming action!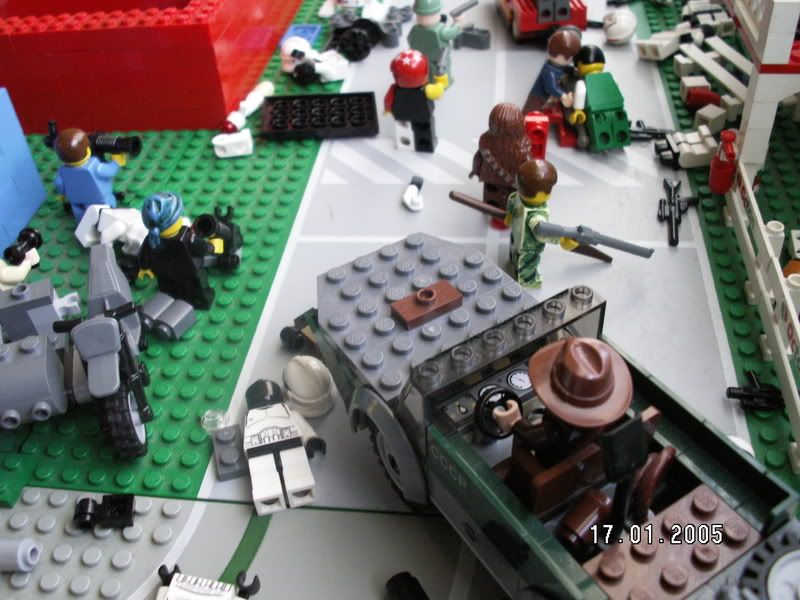 *BLAM*
Success!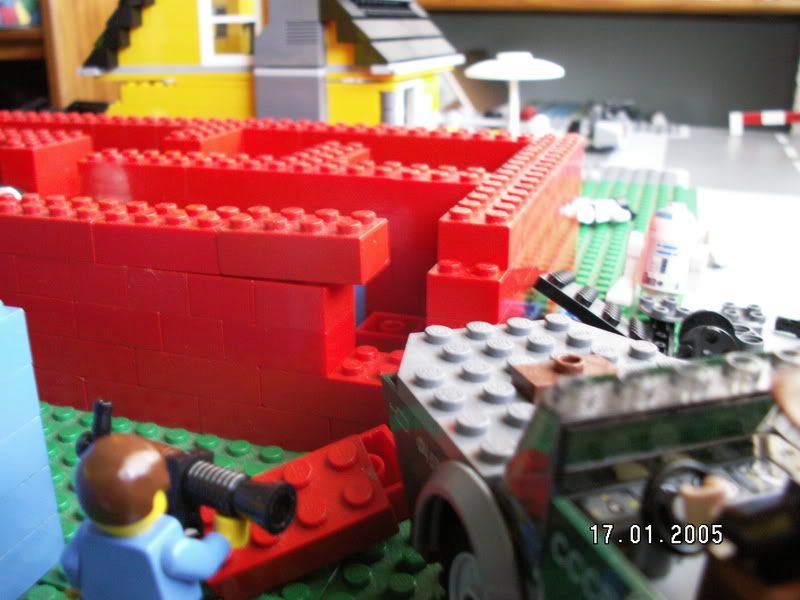 All armed townspeople shoot at the place on the wall where R2-D2 beeped.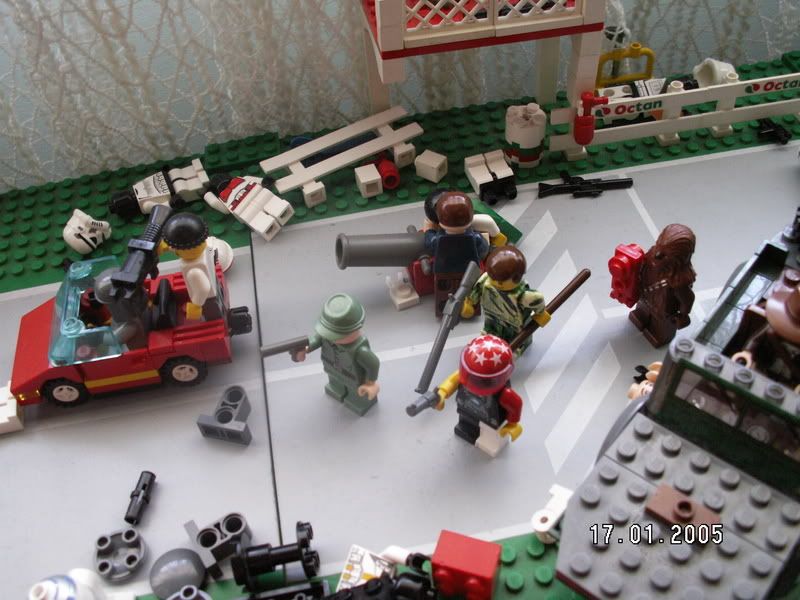 This is all they can do.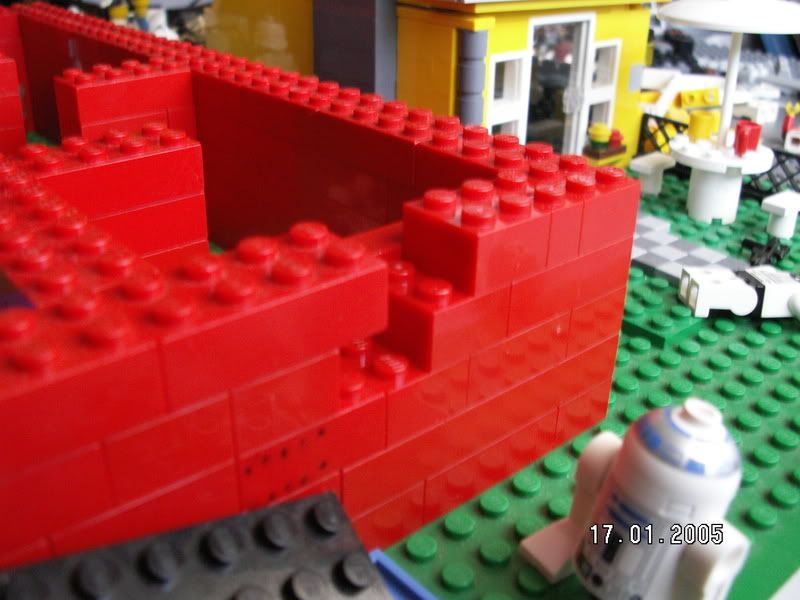 Whoa! Someone hit R2! He cannot move untill someone repairs its leg.
Unarmed Townspeople move through Westington St in search for some weapons they can use.
Sir Henry Jones Sr is a bit curious about that yellow building...
So he can't resist and he opens the door...finishing his turn.
Moar movement by the Townspeople.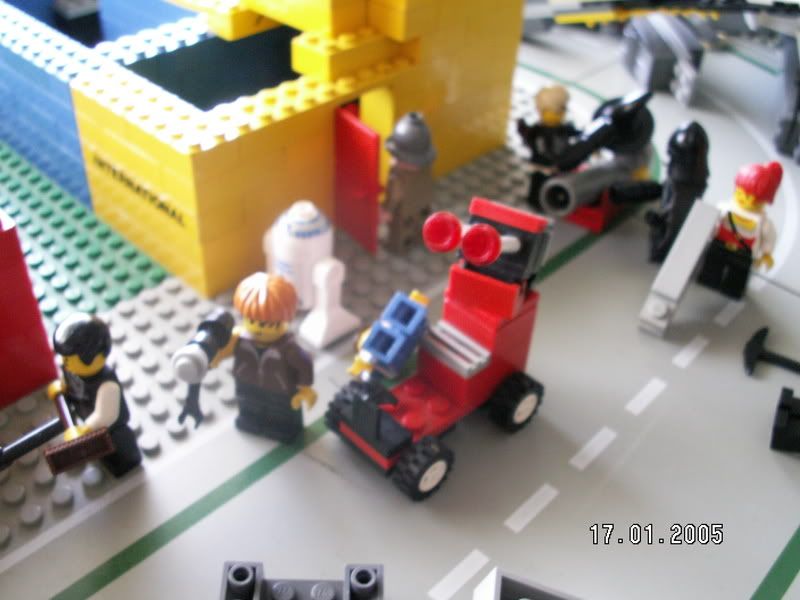 Luigi, the cook, kills a Clone trooper with a broom.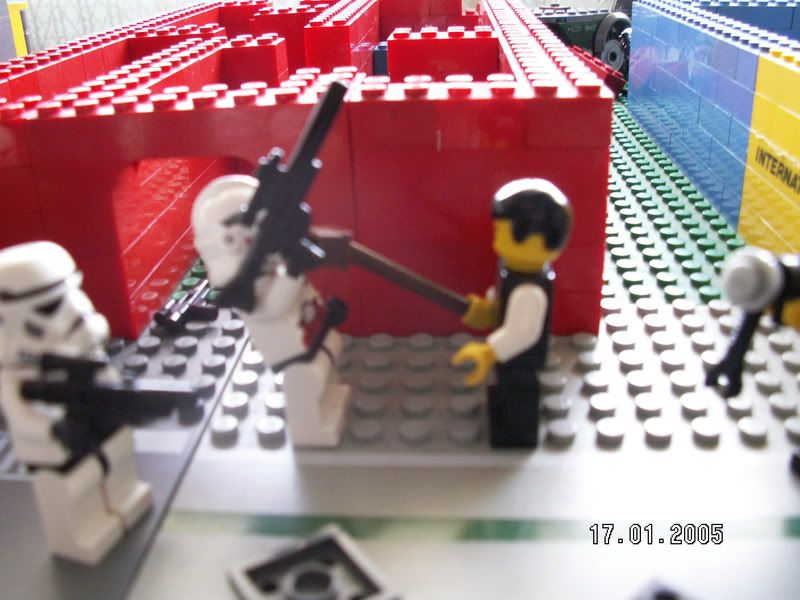 And John Brown Jacket fires an Uzi against a stormtrooper.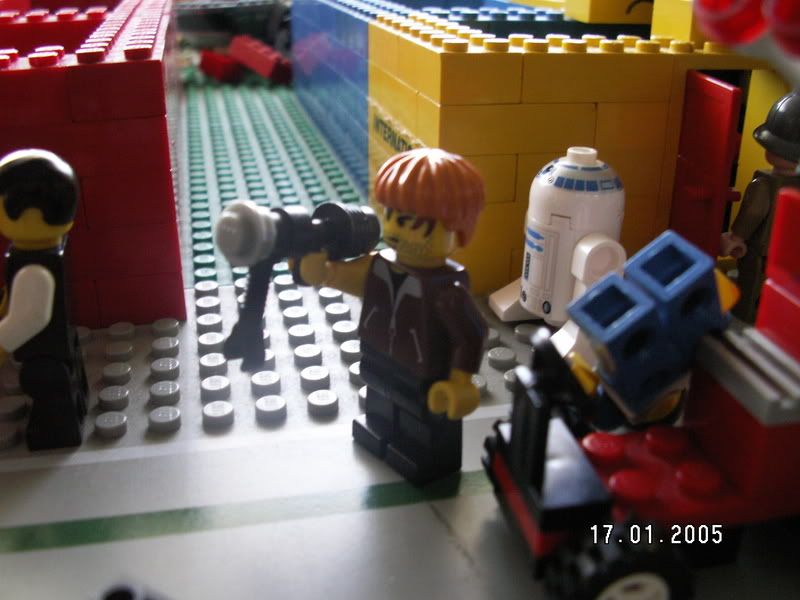 He goes down.
Angelina fires her Rail Gun against GOOSE's head.
*KA-BOOM?*
Ha-ah! Looks like my shields protected the engines against the explosion!
Turn End Overwatch.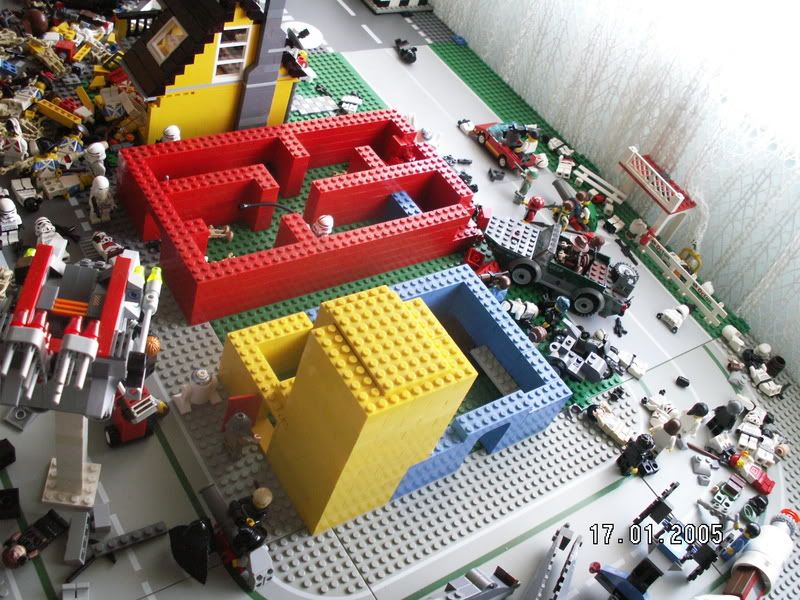 Wait! Bad Russian saw something moving inside the red building!
Metal Gear GOOSE
Since my engines are exposed, I decide to camp on the top of the yellow building's tower.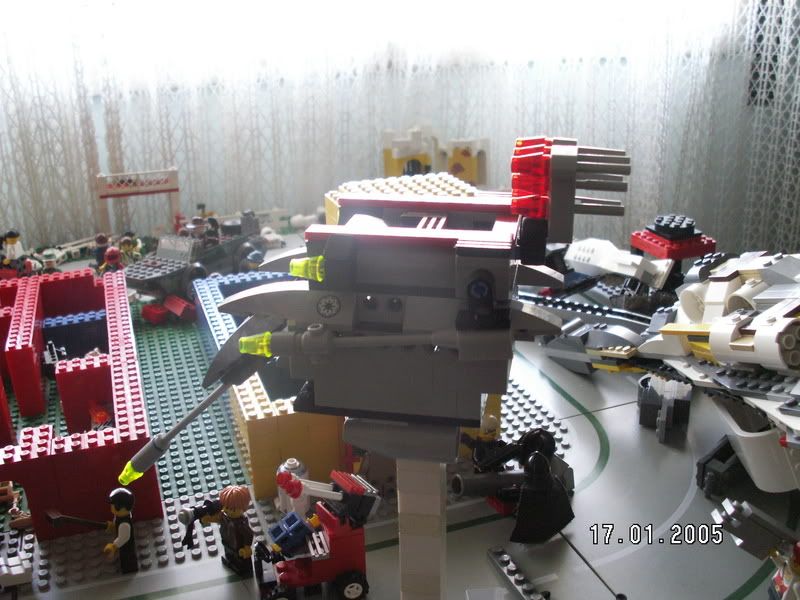 There! Much safer! Now, let's explode something!
*KA-WAAAM*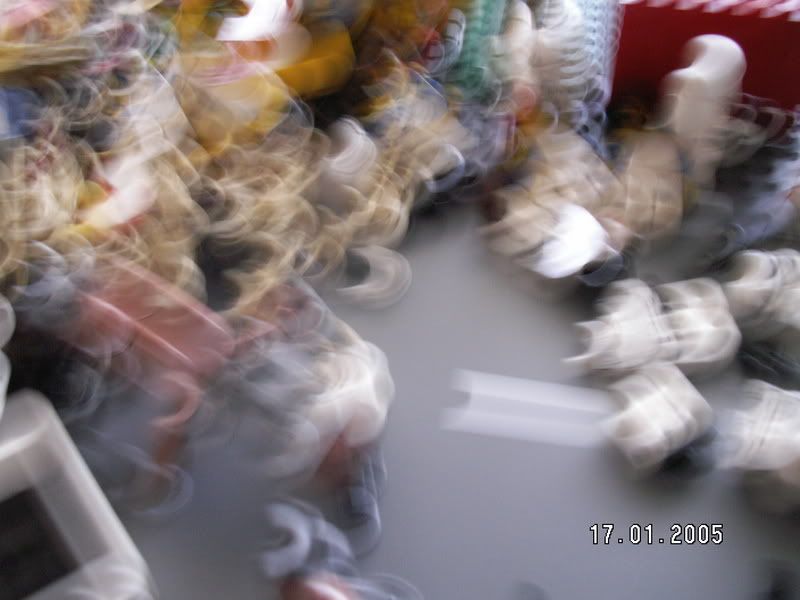 Is this it?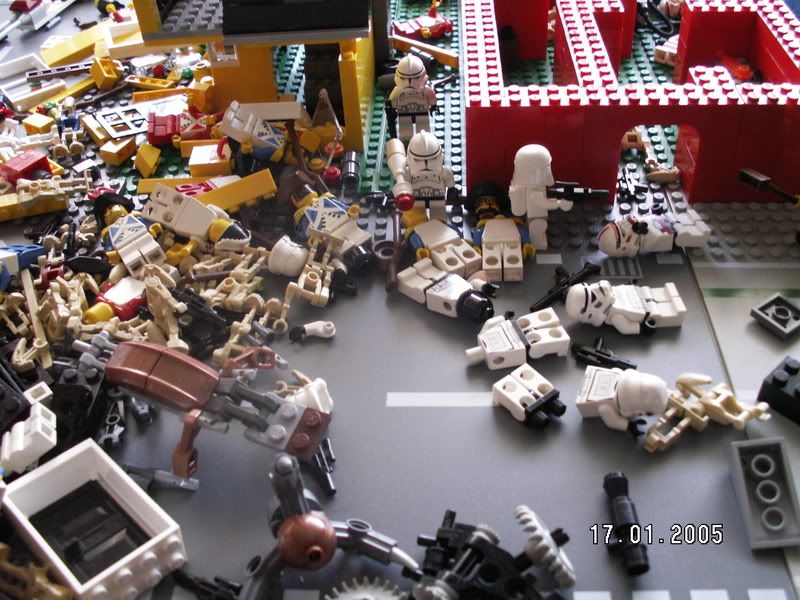 Damn! 2 18th Century guys down, 1 Stormtrooper down, but that General is still alive! He lost his right hand, though, and he has a -2 skill penalty from now on.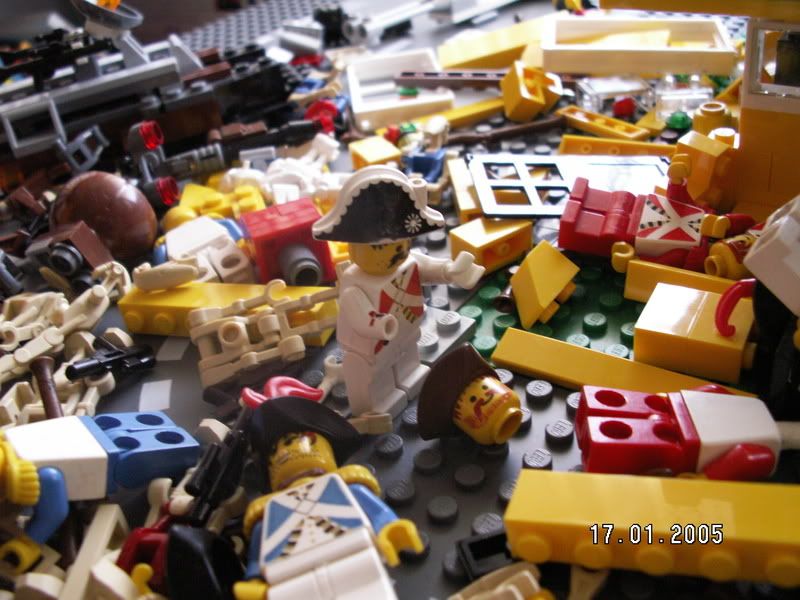 Round Overwatch.
Note that the Clone trooper with the Cornershot is dead!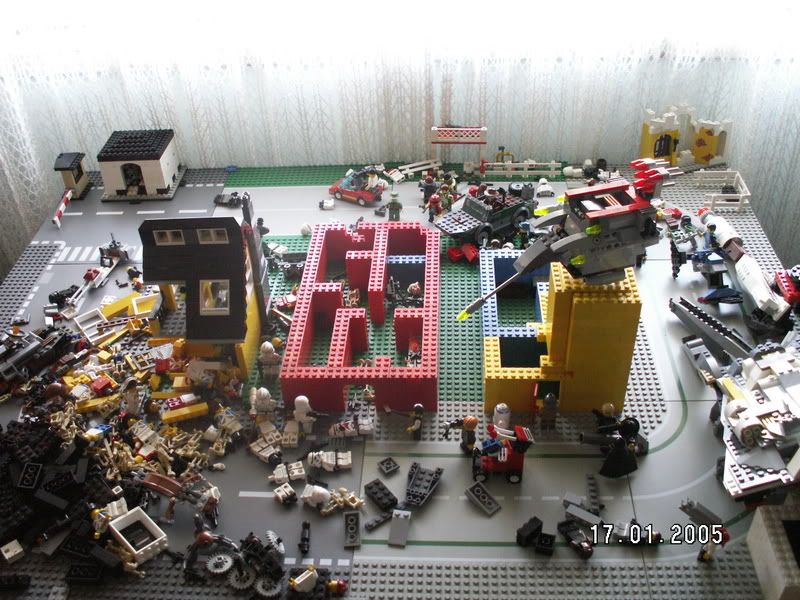 CASUALTIES:
-Empire - 3
-18th Century Soldiers - 2
-Townspeople - 3
Awaiting orders for next round.