I was shocked as 2 factions were eliminated this round - one of them i was most unpleased about. Please forgive the small pictures - for some reason my default was set to small and when i uploaded them in the bulk uploader it uploaded them all small.
Quick Overwatch of last turn...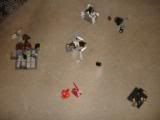 Gravious' Drones Turn: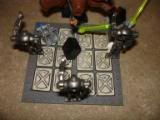 The drones surround the ceberus so they are almost touching...
...And self-destruct! - No drones are spared but two of the ceberuses two heads are blown off! Why would the drones sacrifice their faction?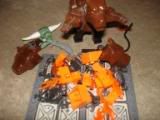 ...The flames are welding Gravious back together!
Gravious is back - but who will he attack first?
Gravious moves away from his original killer and moves up behind the King...
I don't like where this is going...
With an attack roll of 8 against 7 - the King is decapitated.
All the evil and darkness flows out of the Crown as the King is dead for good.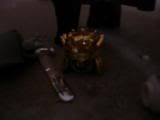 Fenix's Turn: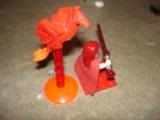 Lord Fenix and the Phoenix decide to do a combined fireball to overkill though Jeeves and kill McBucks. They miss by 5 inches.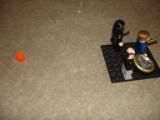 Draak's Ceberus' Turn:
Looks like the ceberus liked the taste of Gravious and he is hungry for more.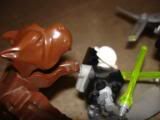 Once again Gravious is ripped to shreds with a roll of 11 against 5 - Gravious is out for good this time.
Mr Skul's Turn: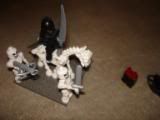 Half the black guardian decides to join the skelly squad.
Mr Skul and Co move over to Draak's corpse.
Mr Skul tries another revive spell.
Draak is revived with a revive roll of 5 against 2.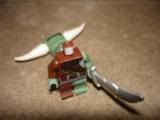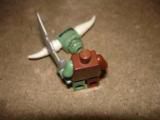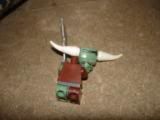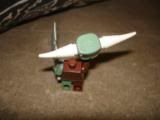 McBucks turn starts with his agent Creamy Vanilla calling military support.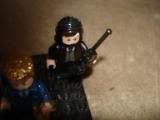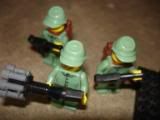 They open fire on Fenix.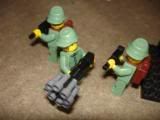 They miss Fenix...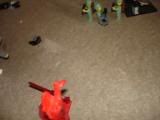 The Phoenix isn't so lucky...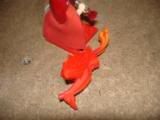 Only the ashes remain.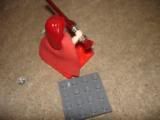 Final Overwatch
So Gravious and The King are eliminated for good. Once again I am sorry about the pictures - I promise you that next time they will be perfect.
Wait a second whats this?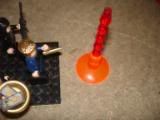 The Terminator has teleported in!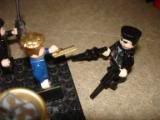 "Hasta La Vista, Baby!"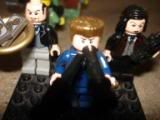 With The Terminator's guns actually
touching
McBucks' head, there is no need for a accuracy roll. Lets see the attack roll against McBucks' armor rating of 4...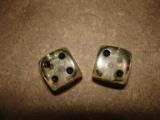 *Gulp* looks like McBucks is dead meat...But wait whats this!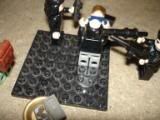 Jeeves sacrificed his life to save his master - and to think that he wasn't given this month's pay cheque!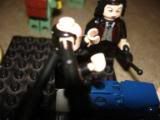 Ouch...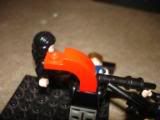 Final Overwatch (for real this time!)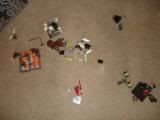 Tune in next time for what could be the end of the Conflict for the Crown...
PS for those playing - removing the Crown for someones head and Putting on the Crown takes up a whole action for your whole faction.