Turn 1
THE SMITH'S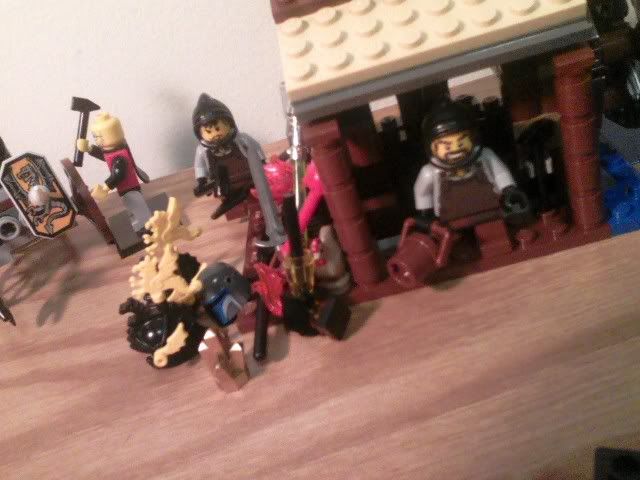 Preparing for his usual jaunt through the yard, Mr. Smith's eyes go wide. From his porch he can clearly see the marching lines of two warbands approaching his humble hovel..."Pops! Jr.! Y'all best git yerselfs a-movin! We gon have sah compny reel soon, y'hear? Crank that bella's!"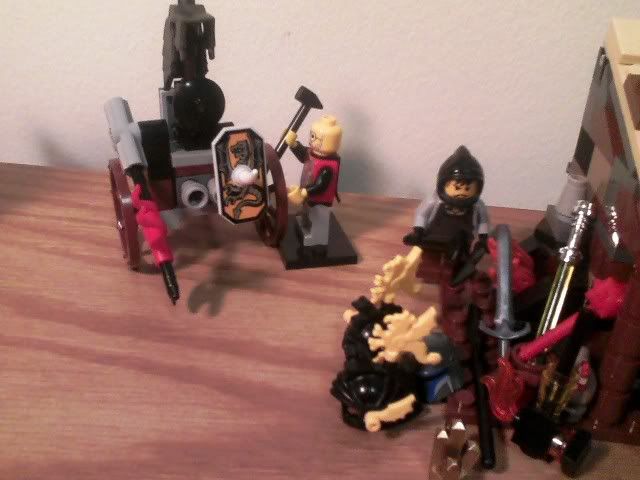 In no time flat, the Smith smithery is alive with the sound of blaring flame and ringing hammers. Jr sets to work by the forge, fashioning and ferbishing a plethora of weaponry. Old Grandpa Smith takes himself out back with a pile of scrap and begins assembling a wicked sort of contraption...
RAVENBANE DRAKHIRRI
"Soon, very soon, comrades! The Gold, eet vil be ours!" Fuhrer Ravenbane issues the command, and he and his highwaymen move toward the river.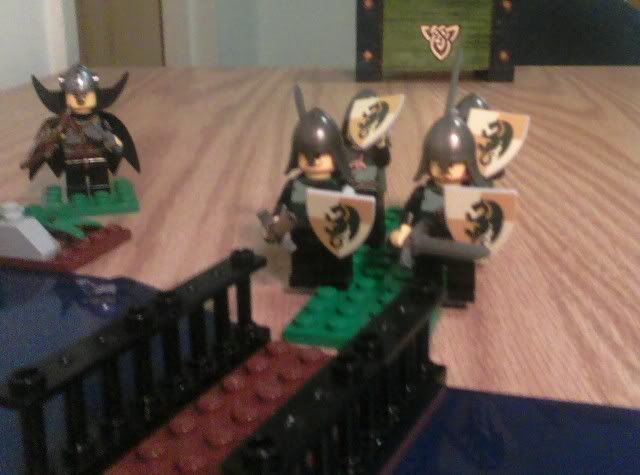 The Longswordsmen sprint toward the bridge itself and assemble the best shieldwall possible...with really small shields...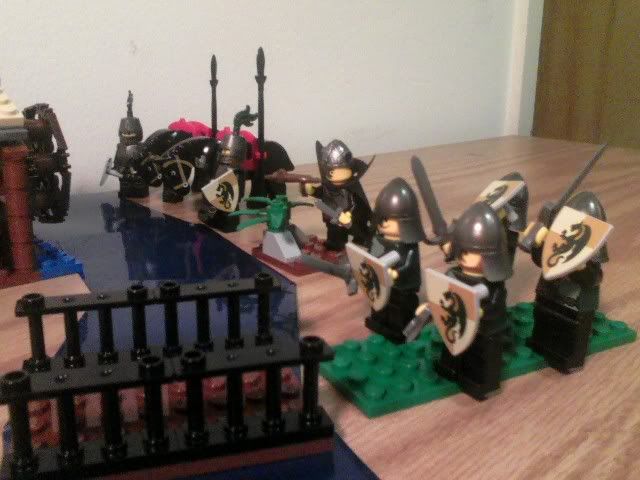 Ravenbane camps behind a set of shrubbery. He gives a whistle, and his outriders approach the river as well...
The river appears too swift to ford willy-nilly. The outriders dismount and prepare to lead their chargers across behind the Blacksmith Shop.
DARIUS' TREASURE HUNTERS
"Alright men, our first priority is the protection and transportation of this treasure. Be on your guard. I myself will repel our foes!"
Darius boldly approaches the bridge from the south. Out of nowhere, a quarrel twangs and thuds into his breastplate! A small matter; he receives hardly a scratch. "Riffraff of Wyvar! None shall pass this bridge while I, Darius Horselord, hold this bank!" With a loud Hurrah!, Darius stares down his adversaries on the opposing bank.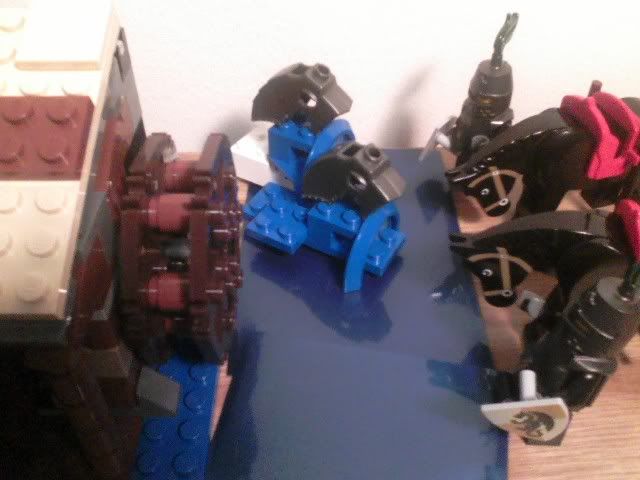 ...But that is hardly ALL that Darius does. Being Horselord and all, he begins to chant an ancient song to the horse-spirits of old time (A ritual much revered in Intermediate Terra). Those spirits begin to bubble up briny-green far up the river where the Drakhirri have dismounted
...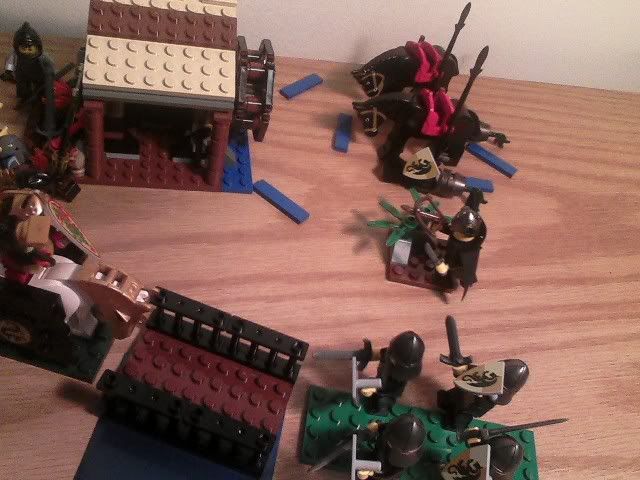 In a raging torrent, the horse-spirits go wild, sending water raining over the banks and downstream. Darius opens his eyes, knowing immediately that something is amiss and that his incantation was botched somehow. The downpour disrupted the Drakhirri outriders, but the riverbed upstream has become completely dry...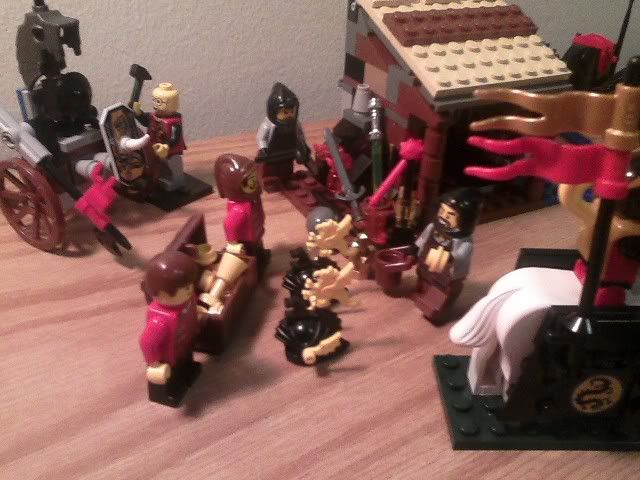 "Prepare for the impending assault!" Shouts the horselord. On cue, his treasure-bearers shuffle forward, making several quick transactions with Mr. Smith.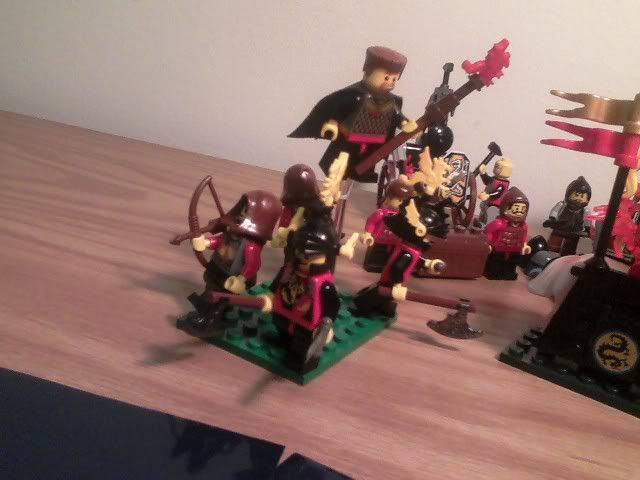 Darius' remaining forces cautiously approach, donning their new, refurbished armor (+1 to Slayer and Archer armor). The Dragon-mage weaves an incantation which enchants the Horse-Lord's own armor with fiery properties (+1d4 extra armor / fire damage to enemies when in CC / mage dicepool reduced by 1d4).
After taking up their positions, one of the archers notices a chilling sight; the number of potential adversaries on the mesa has just multiplied...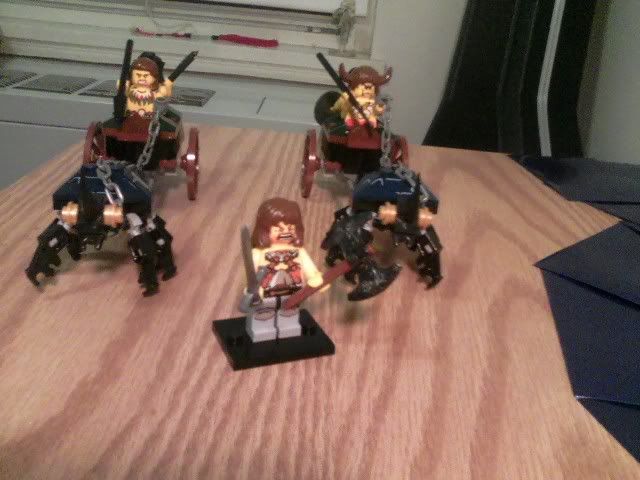 Hiimboredagain Raiders Revealed!
Overviews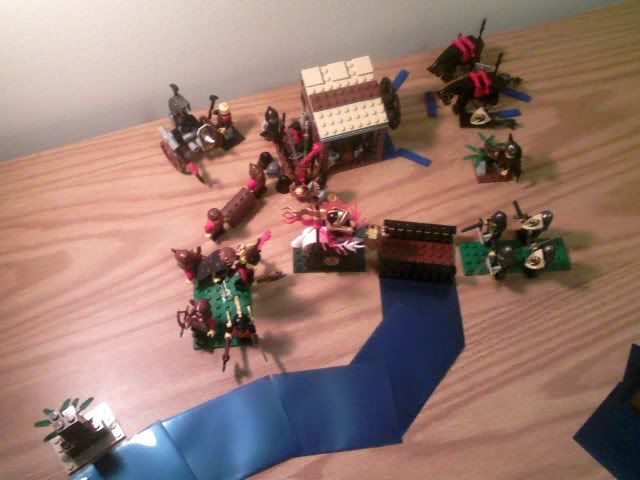 Kill Chart
Darius - 0
RavenBane - 0
The Smiths - 0
Barbarians - 0
Secret Faction 2 - ?