I have been hinting at this for a few weeks now, but I finally have enough to show you what I have in mind for this new faction at Pekab. So without further ado or adon't, Here is my embryonic Prussian Empire faction:
Heroic General with Waldhuter (Rangers / Scouts, basically):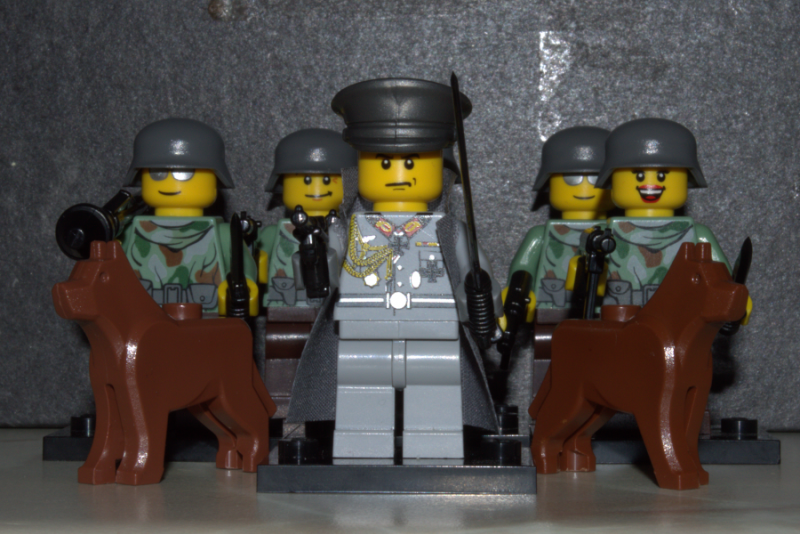 Heroic General on his own:
I think he shall be called Gunther Grass, or something similar. He is made by
BRiCKiZiMO
, and has been armed with a Luger and a Tactical Sword.
Waldhuter Trooper:
Waldhuter Squad Leader:
Waldhuter Panzerfaust:
I am going to keep things simple with this one by having several different unit types and pre-set options within them, rather than a whole bunch of characters like I did with ASAG. As you can see, the torsos for the Waldhuter are Star Wars Rebels of Endor that have been depeached with a simple hand-swap. The units will be as follows:
Waldhuter: Rangers / Scouts
Jagerkorps: Infantry
Feldjager: Military Police (might treat them like WH40K Imperial Guard Commissariat - who knows?)
Panzergrenadier: Mechanised Infantry
Panzerjager: Tank Hunters (Probably squads of three with two panzerfaust and a spotter)
Panzersoldaten: Tank Crews with their tanks / APCs, etc.
Sturmpanzer: Possible unit type for BIG tanks.