As promised, the True BlackTRON Legion (TBL).
General over-view:

Infantry and lurking in the background: the legendary
BlackTRON Battle Bus
:
The TBL originally had a pretentious name like, "The BlackTRON Battlemover." However my fellow Brikwarriors took one look at it and said, "Nice battle bus, mate." The name stuck.
The Battle Bus's main job is to drop off the two Size 3" BlackTRONium rockets onto enemy artillery, ferry troops into the thick of battle, then act as mobile cover or a battering ram until destroyed. Last battle it managed to blow the front off a similarly sized enemy vehicle with the rockets, had the contents of the cockpit reduced to soup by enemy fire, leaving a very angry AI to ram an enemy biker into low orbit. Good times.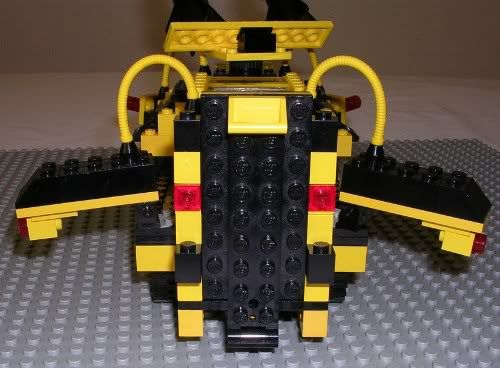 The rear roof canopy is linked to the rear door so that the whole back opens up, done mainly for practical reasons so that mans could easily be placed, moved or removed. The rear compartment can hold about 4 armed BlackTRONs, though Hammerstein's hammer does take up an entire person's worth of space if the big man decides to take the bus into battle.
There is also an opening hatch either side of the Battle Bus just behind the cockpit, space enough for 3 more armed BlackTRONs.
The Battle Bus is driven by two Engineers and an onboard AI.
The Wolf Mark II
has not yet seen battle - it is primarily a flashy, disposable distraction. The Wolf Mark I was rapidly dismantled as it looked like a coffin on tiny wheels, very poor.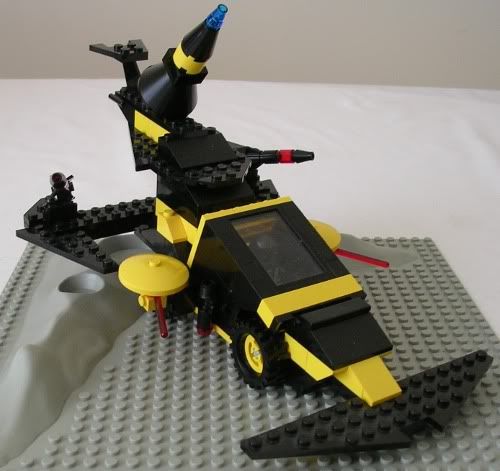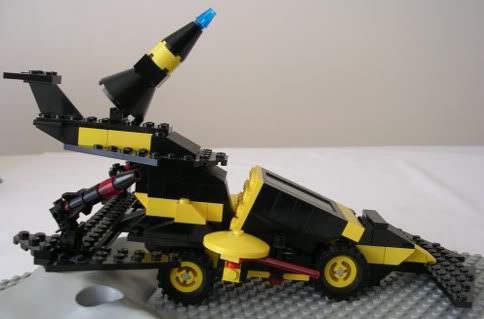 The armoured cockpit is a result of running out of decent transparent canopies - I leant all the non-black-and-yellow pieces to the two fellow Brikwarriors whom had few or none of their own bricks.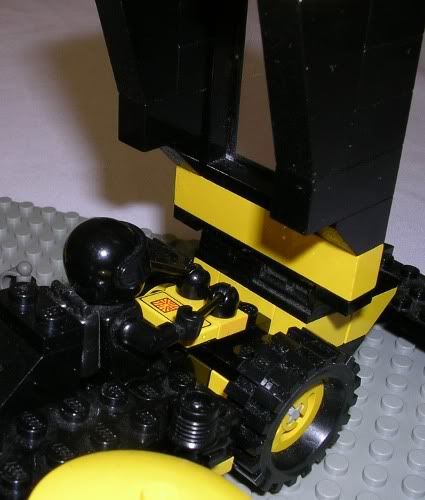 The WaspTRON Wing
has proven to be the most annoying of the TBL forces. They are innevitably blown apart in short order, but not before getting in a few choice stings with their Size 3" stinger blasters.
The WaspTRON Pilots are aerial elites, marked by their white left arms. As a kid I was a fan of givening Blacktrons different roles by swapping in different colour minifig parts for different functions - blue helmets for Sea Blacktrons; gold arm, leg-mount and gold helmets for Commanders, etc.
They cling on to the handlebars for dear life as they zoom around the battlefield - when they crash or bail they grab the spanner as a small melee weapon and search for revenge. Sadly WaspTRON pilots on foot have an even shorter lifespan than their mounts.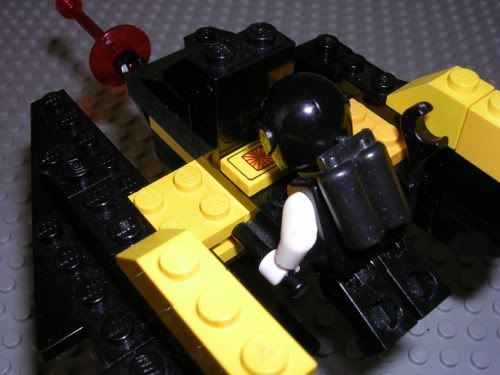 The TBL Special Units
: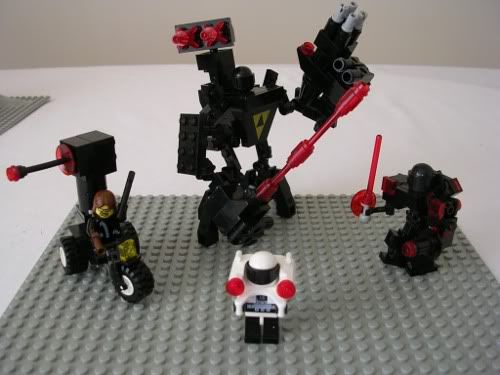 (left) Traitor Trike Rider Jones - humans sell out to the BlackTRONs for all sorts of reasons. Revenge, carnage, the false promise that they can be turned into a BlackTRON and live forever. All Traitor Jones wanted was a sweet trike and a chance to cause awesome explosions in a working environment where his choice of hairstyle would not be questioned.
(front) StigTRON - some say that he is secretly made of 50% megabloks and amphetamines, and that he prowls eBay looking for Hello Kitty merchandise. All we know is, he's called The StigTRON! Usually seen piloting one of the TBL vehicles, today he can be seen modelling a recently found jump pack.
(right) RoboTRON - With no regard for copyright the BlackTRONs perform cybernetic experiments on each other with alarming frequency. This is one of their few successes – the rest are excellent YouTube material.
(back) BruteTRON - Occasionally the BlackTRONs scrape up their greatest and craziest fallen warriors with a spatula and pour it into the meanest looking combat chassis they can build on a budget.
Hammerstein's Elites
- Pure melee combat monsters wearing heavy armour, wielding heavy melee weapons and shields, led by the TBL Villain currently heading their armies. Unusually Hammerstein himself is not a True BlackTRON, but no-one dares disagree with the Supreme BlackTRON's orders.

Another close-up of Hammerstein because he is quite possibly my single favourite minifig I have built so far.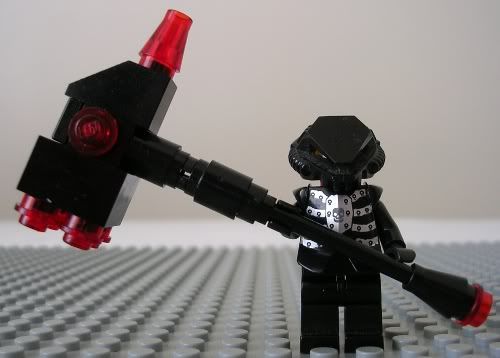 Sadly Hammerstein's training regime involved repeat viewings of Bad Boys. Consequently they are unable to perform any actions without shouting, "Hurr!" or using spinny camera shots.
Bloody Scarr's Shock Troops
- standard BlackTRON infantry kitted out with short ranged pistols and small melee weapons.

Sometimes there are disputes over whether or not OTChainsaws or angle grinders are the most awesome melee weapons with, as the ancient scrolls say, hilarious results. Scarr himself is another traitor human, rumoured to be a Futron reject.
Ogel Clone 1676's Heavies
- a refugee from a distant genre, Ogel Clone 1676 was dug out of a collapsed volcano lair and resurrected with BlackTRON technology. He has a particularly hatred for aquanauts.

The heavies camera left are GunnerTRONs carrying long ranged assault cannons, the right are RocketTRONs carrying launchers with three reloads represented by the orange cones/cylinders for convenience.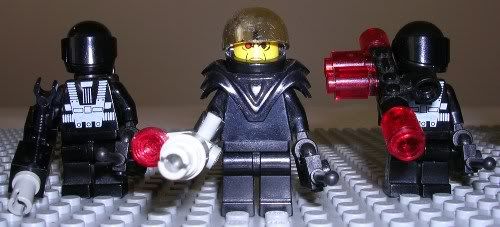 And finally, for a laugh: the
SpiderTRON
.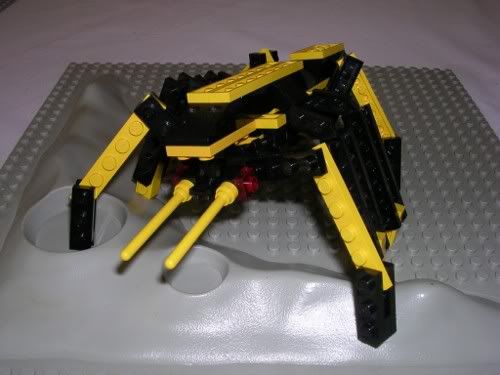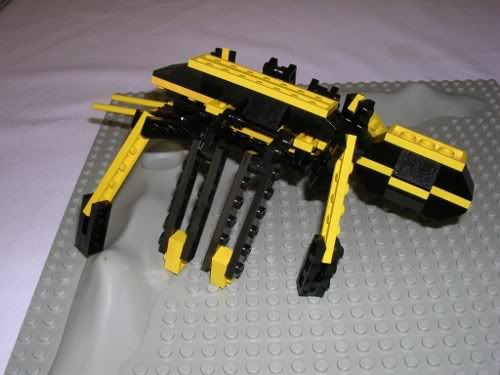 Originally built as an automated ore extractor as part of a King of the Hill scenario involving capturing a BlackTRONium mine, the thorax has a control on it that minifigs could make an easy skill check against to take control of the construct for a turn. Now the BlackTRON use it to extract enemy brains from skulls.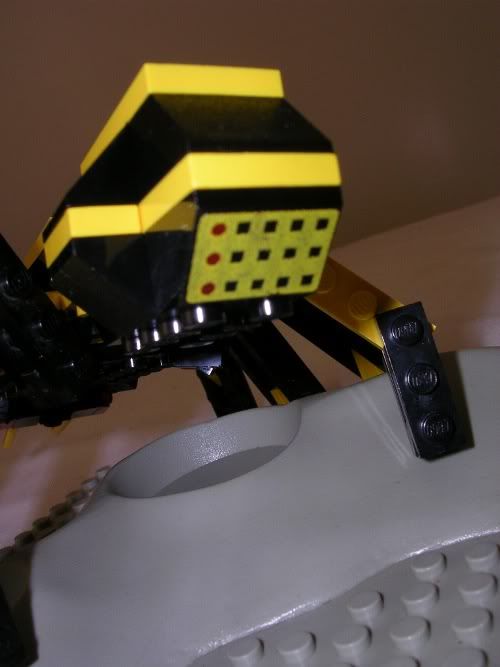 Things I learned from taking these photos are that I need to dust my LEGOs a bit more, and probably work out how the flash on my mate's camera works.