here we have a catual real life (not LDD) crimson thunder.
Although origionally a infantry transport, the dispropotionate amount lego demands for LDD models forced it into carrying smaller things, which was probably going ot be its primay aim anyways.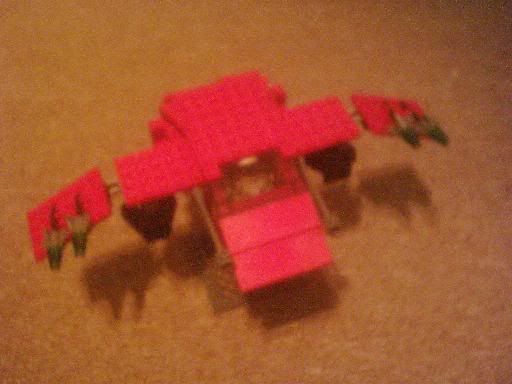 the ships weapons are easily visable, and easily destroyable, with a pair of W-31 (MK3) guns and four W-12(MK1) missiles, It's probably overarmed.
the Wing design, clearly intended for launching weapons from.
although the gunship has a good cargo capacity, that is rarley used, The Infernal Empire does arm infantry with limited ammo weapons, consquently it spends most of it's time dropping explosives on stuff.
which makes you think, is it a gunship or a bomber?
here we have my pilot, who clearly is lightly armed for an emergency (giant zombie radioactive ants spring to mind). even though he gets a chainsaw and a Laz0r (not lazer) pistol, he regulary dies very quickly in a stupid and pointless way.
Edit: redesined my wesapon naming system, the first number is now the weapons version, te escond number is the type (gun, rocket, ect)