The
Inquistadores
are a sizeable space faction that concentrates its power on their massive mother planet of Dios and the surrounding systems as well as holds some colonies on desolate parts of the Brikverse that are valuable to its economy. They worship their mother planet and regard it as a god. All of the men are raised into the army, administrative functions are handled by women or those men that are too old or incapable to fight. Slaves, captured on the frequent raids
Inquistadores
hold across the Brikverse, are responsible for the manual labour.
Inquistadores
are a highly hostile faction that hardly have any friendly contact with other space nations and are at odds with many of them. Peaches, Brittanians, followers of other religions, atheists and any kind of aliens are amongst their prime targets. Since they only sporadically try to increase their territory, when they have amassed enough slaves to colonize it, they have been managing to keep this up and avoided huge conflicts.
Inquistadores
are infamous for their outright brutal way of approaching warfare.
Here you see an admiral marshaling his forces.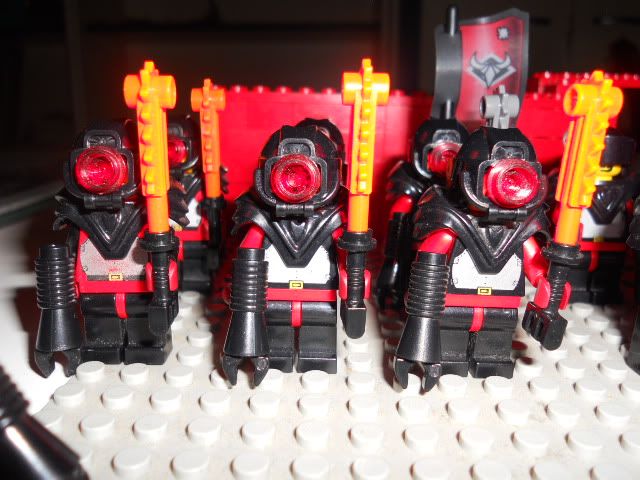 Cyborg shock troopers are genocidal maniacs taken from the lowest classes of society and from the criminals. Their minds and bodies are literally programmed to kill and obey, and they also have enhanced aggression. In short, they are more like beasts than men, and used on the frontlines with heavy armour and OTCs to break up enemy formations as well as pulse guns that may either be set to laser rounds or pulse drives to knock over and momentarily stun enemies so they can execute their bloody business...
Regular shock troopers, who form the second wave of an assault, are actually worse than the programmed Cyborgs since they are still able to think consciously about their position in the army. Since all those that can't be of use as slaves are to be killed in an assault, these men and their chainsaws have been responsible for some of the worst genocides seen across the Brikverse.
Space conquistadores are usually the final wave of an assault to arrive, when the expendable shock troops have already taken the brunt of the punishment. These are armed with machine guns and armoured in anti-blaster plate and mail. Their unit also carries the main banner. Note the flag guard with the Brittanian-style heavy laser.
More space conquistadores, this time armed with miniguns. They are heavy troops that can confidently force a breakthrough or hold a position against most opposition.
Elite chainstaff guards make sure their commanders stay safe. They also pilot the vehicles.
"Admiral, the emissary from the Immortal Empire is here."
"Very well. Let him reveal himself, then."
A VoL heavy trooper arrived.
"Hail. I speak in the name of the Immortal Empire, of which my own empire of the VoL is a part. The
Inquistadores
are to aid the mighty Immortal Empire as they conquer the Brikverse. Stand against them, and you will be destroyed. Think well, we will only offer you once."
"You can spare me your threats, barbarian. Inform your leader the
Inquistadores
are willing to fight at the Immortal's side in the coming conflict."
It was a logical choice for the
Inquistadores
, since they suspected it would mostly allow them to continue doing what they were doing and most of all it should keep the conflict away from their planet of which they are so fond. Even though it would force them to side with some 'less than desirable' allies self preservation outweighs principles with these people and they were certain they would be able to gain the Emperor's favour rather than any of their inferior newfound 'allies'...