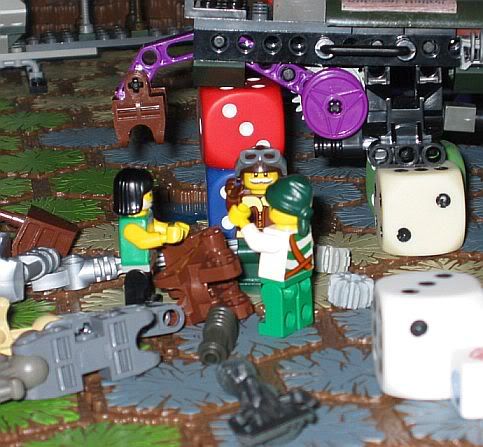 Well there's certainly been a lot of arguing about it going on.
The thing is the 'Hunter' is way better with those big three toed purple feet because she's a lot more stable from the point of view of wading across mashland & etc. Bionicle feet (or the ones that I've got anyway) are too small and shoe-like for serious cross counrty work. The second thing is the 'Hunter' would be much faster and manoverable on two legs. Four legs is wot you'd find on a cargo hauler, not a hunter-killer type machine.
So anyway what Biggles McCree, Mad Jim and the scrapyard owner have discovered is that it's possible to fit certain Bionicle limb parts onto the Russian clone purple feet by an entirely unofficial and unapproved way of clipping them together. This is just plain much better because now the 'Hunter's' weight will be right over the middle of a big widespread three toed foot instead of stuck at one end of a shoe-like foot. It means I'll have to paint the feet, but that's Ok.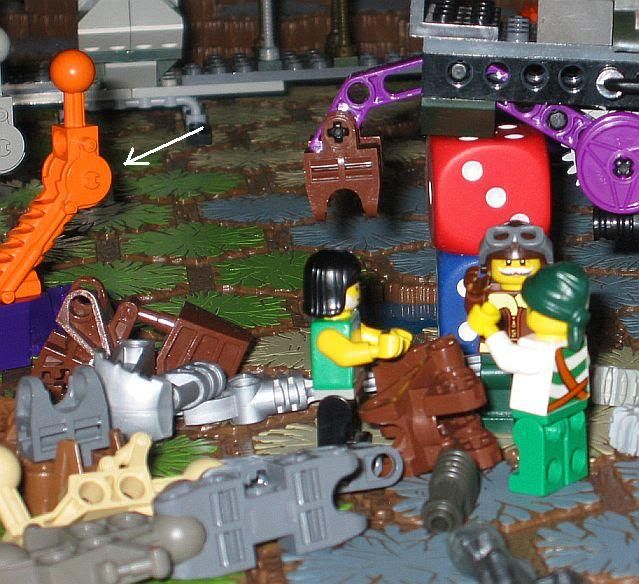 Something I've been doing is reading all the Bionicle fluff I've been able to find in an effort to discover what the Bionicle backstory is. So far I've been severely underwhelmed by wot I've found. Using names and words taken from Polynesian languages with the Bionicles doesn't really wash much in my book. Because living as I do out on the edge of Oceania and having lived in one of the major centres of Polynesian culture in New Zealand I can't find anything that fits a bunch of biological mechanoids with this part of the world.
Even the Russian clone Bionicle robots I've been buying have a better backstory that the one Lego wrote for their mechanical wotsits!
However I do think a lot of the parts are very nicely made and that they are much better for making for steampunk walkers than some kind of hybrid cyborg mechanoid. I get the feeling that Bionicles are disapproved of on Brikwars, so I'm hoping that Steampunk versions and rebuilds of them are going to be looked upon more kindly.