Yeah, and apart from that he failed all his feats and sadly died...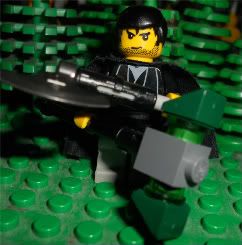 Drakensy has a better mace now. The ominous green actually fits the night theme imo.
I swapped Rolys' torso because I could think of no reason for him to be a Wolfpack dude. It also looks better, I think.
Elmagnifico wrote:Aloysius Black, ROYAL ENGINEER

Westeron has always favored magic over science, with gunpowder and clockwork being looked down upon as "dirty" and "uncouth", unworthy of serious pursuit. Gunpowder weapons were instead adopted by Starcapes, Hitokiri and Scallywags, further tarnishing science's reputation with the Powers that Be. Hence, mage-blind Aloysius, his mad inventions, and delusions of officialdom went unheeded by all, despite his development of a multi-round, semi-automatic arquebus. The incursions of the Falx, and their use of science and magic in tandem piqued Aloysius' interest, and seeing this as a chance to finally win actual backing, he volunteered for the spot. Only time will tell what his jaunt on the Crimson Crusade will produce. Pics when I have them.
Aloysius Black the engineer, widely praised for accidentally exploding a self-made grenade in the face of his sister Rebecca on a good friday. He's one of the rare people left aware of the secret of gunpowder now that the Starcapes are (un)dead. He'll have to convince Queen
Lara
of his ability as an engineer, giving me a perfect opportunity to rip off one of Elmagnifico's designs. I really want to make him some kind of rolling steam-fortish thingy to fight from.
Mo: 6" Sk: 1d6+1 Ar: 6 Engineer: can craft many useful things on the spot, or already has them with him if lucky. Needless to say, he's very proficient at wielding them as well...