Once upon a time, on the magical world of Ekvestria...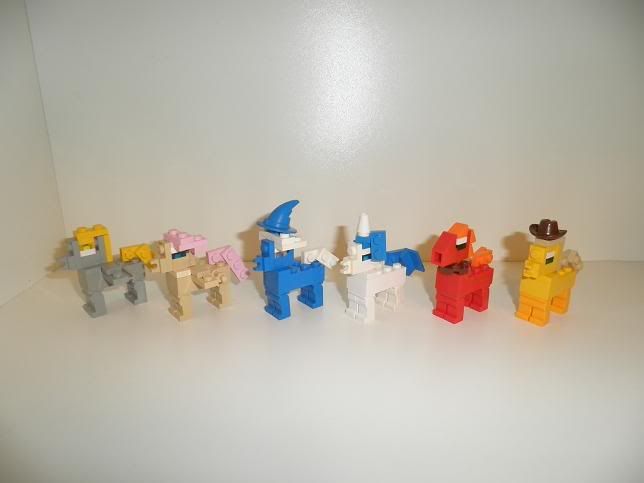 A new race of bloodthirsty creatures are about to descend upon the Brikverse - the Pwnies. They believe that friendship is magic, magic is power, power is subjugation, and subjugation is warfare. So they befriend their enemies through massive warfare and killing.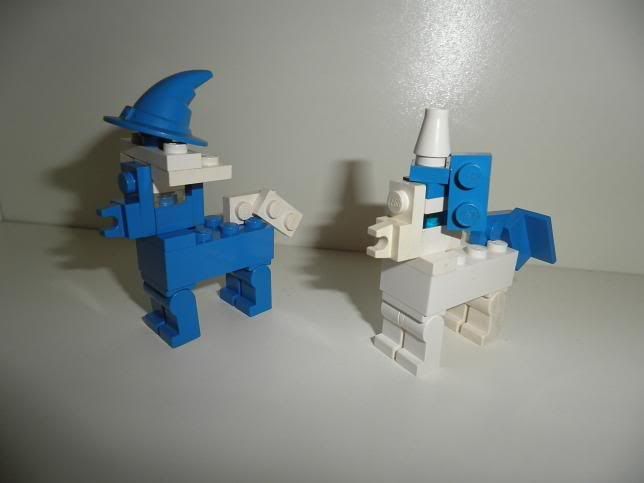 There are three distinct breeds of Pwnie. First there are the Horny Pwnies. These Pwnies have a (constantly hard, in case you were wondering) horn in their forehead, with which they make magic happen.
To the left we see The Great and Bighorned Dixie, who hides her horn under a wizard hat. When asked why, she replied "It's because my horn is so big, it would drive everyone crazy if they saw how big it is. It's not because my horn is tiny or anything. Oh no."
To the right is Scarcity, a Pwnie with massive and inexplicable sex appeal. She has been known to seduce not only Pwnies, but also minifigs, dogs and even dragons. How such physically different species can feel attraction to her is a mystery.
Here are a couple of Kamikaze Pwnies. Seldom long-lived, the job of these winged Pwnies is to crash into the enemy lines from the sky, taking as many foes with them as possible.
To the left is Offensive Hooves, whose fondness for ableist, sexist, racist, and homophobic humor makes everyone uneasy around her. This got her pulled from kamikaze duty and placed in the propaganda ops, allowing her to survive long enough for this photoshoot.
To the right is Flutterdie, a Pwnie adored by all animals. So adored, in fact, that she has been able to train them to kamikaze for her. And if some poor little animal can't fly on its own, it doesn't need to feel left out - Flutterdie will lift it up into the sky and drop it on the enemy! While conservative generals might consider this cowardice, no one can deny that Flutterdie's kill score is much higher than most kamikaze Pwnies (seeing how they rarely last more than one mission).
And finally, we get to the Redneck Pwnies. They are good at... uh... they make booze and get drunk a lot. And have big families. Yeah.
The one to the left is Appletack. She's your average Redneck Pwnie. Like all of them. She likes apples, booze, and hanging peaches from the closest tree.
The one on the right is Big Wackintosh. He's one of the rare male Pwnies - much like how the vast majority of minifigs are male, almost all Pwnies are female. Big Wackintosh is Appletack's brother, son, cousin, and sweetheart.
Old stats:
See more Pwnies and updated stats in
this post
.