WARNING: This post contains 80 pictures. If you have dial up, then this is really going to suck.
To give a bit of back story, the Menggu were key players in the destruction of Avalon and are trying to reconcile their guilt by locating Semaj Nagirrac, who they believe may still be alive. They received a few leads stating that certain members of the Third Alliance knew Nagirrac's location, but to find that information the Menggu would need to access the Third Alliance's databases. Rather than wait for permission, the Menggu decided to storm Database 32, located within the Kingdom of Bavaria in a very old compound.
I played the part of the Menggu, while my hot wife played the part of the Third Alliance defenders.
The Menggu. Also, if you've been wondering this whole time, Menggu means "Mongolia" in Mandarin. Not the people, but the place. I chose this name because the Menggu are supposed to be a particularly brutal race. The character names in the story aren't Mongolian, because its a story and not history.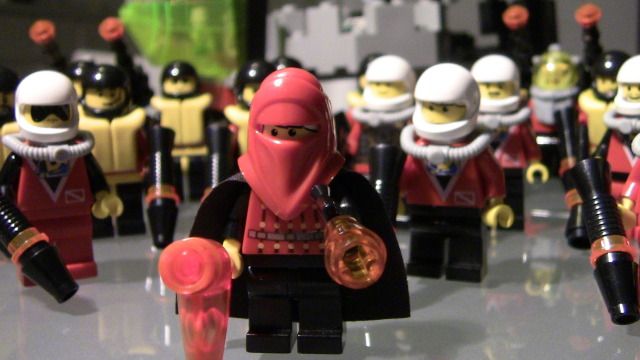 The Menggu commander is an old Slasher veteran from the Avalon invasions. He can't wait to get his pure OT sickle wet with the blood of the Third Alliance. He carries a blaster just in case his sickle doesn't reach.
Menggu Line Infantry in standard uniform and stolen Avalonian gear.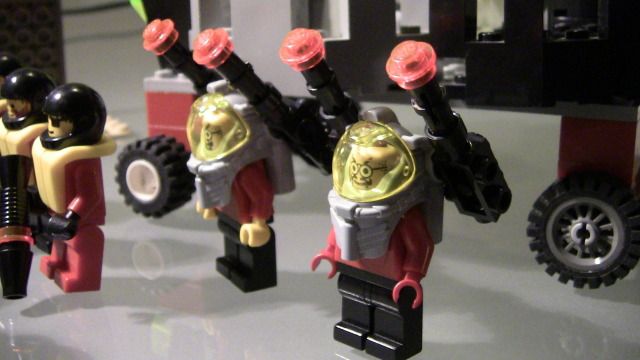 Hardsuits make another appearance in this battle.
Presenting the truly Brikwarsy CASTLE ARTILLERY!!! Complete with wheels, a very long gun and parapets!
The Castle Artillery is manned by two soldiers, but is guarded by four others. It is capable of blasting anything into obliteration and is perfect for hit and run situations.
Third Alliance Defenders. A joint task force of Bavarians, Fynns, and Prussians.
Prussian Commandos. The leader of this Third Alliance outpost is a Prussian commando. He is accompanied by two snipers in heavy armor. The location of this outpost is in the Kingdom of Bavaria, but falls under the jurisdiction of the Third Alliance itself, thus a Prussian was placed in command.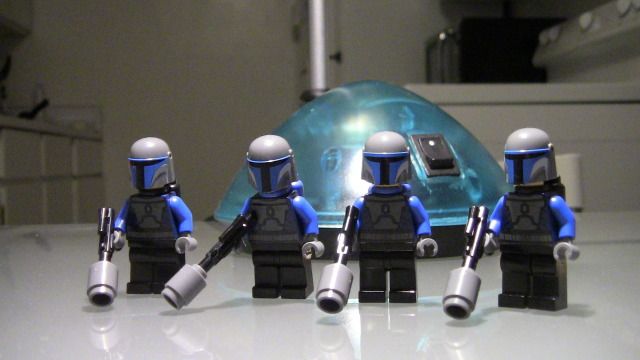 Bayerische Truppen. Strong, hardy and willing to get revenge for their Avalonian allies.
Bavarian Actors Guild. This comedy troop was putting on a piece about the current Bavarian-Britannian War. Then the Menggu showed up and now all citizens must do their part. Some actors are still in their Britannian costumes.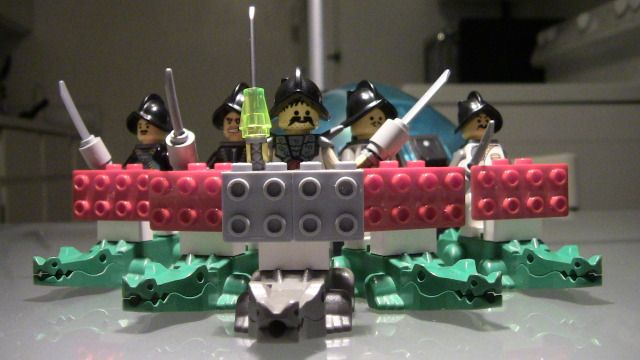 Fynnish Hakkapeliitta (Hakkapells). Hailing from the snowy world of Fynnland, these cavalrymen are armed with pressure swords and ride their loyal crocodile steeds. And armor plate is placed in front of the rider to protect from laser blasts.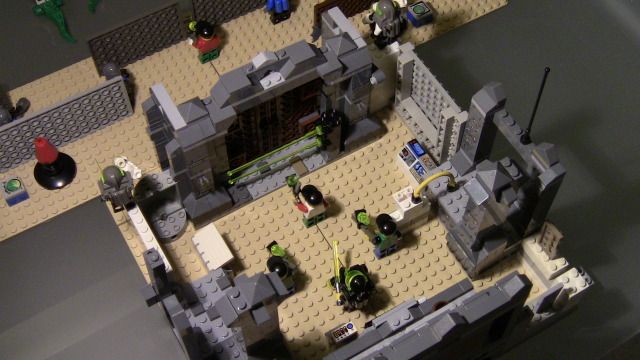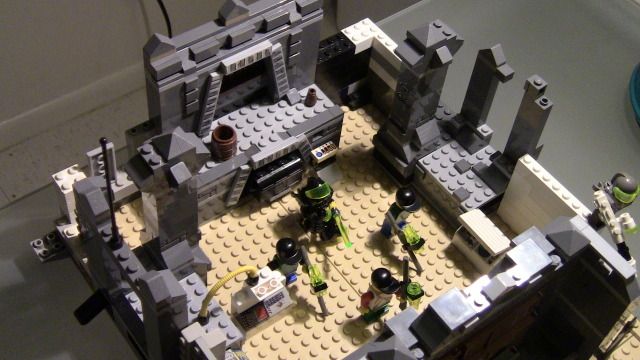 Database 34. Two rockets can be launched for defense. The database itself is built from an old Norse outpost (the Norse being the father race of the Germanic races in the Brikverse. Their history is long and they successfully colonized many worlds). The microchip storing the information the Menggu want is in a chest in the center of the base.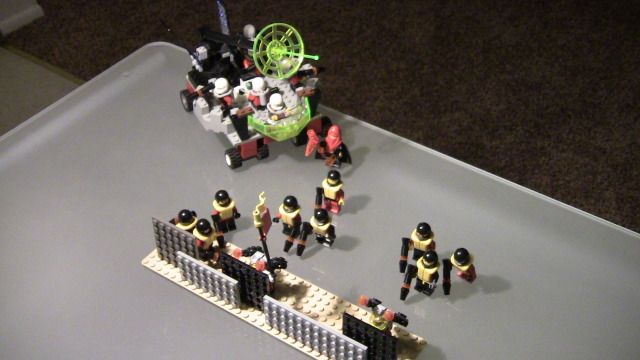 The Menggu Staging Ground. Light barricades have been thrown up. The biggest challenge here is crossing the open ground between the opposing armies.
ROUND 1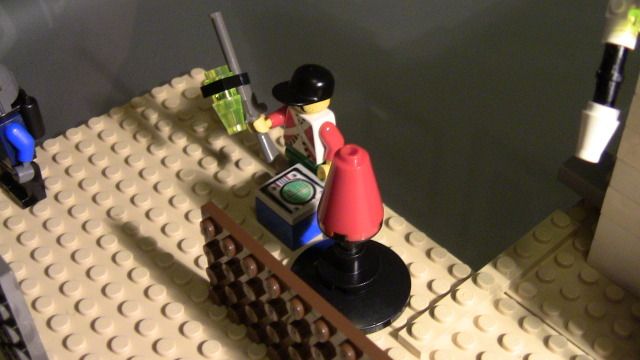 My hot wife rolled a six and got to go first. She directs an actor to launch one of the rockets. She had another actor try to launch the other rocket at the same time, but he didn't know which button to press. She managed to get one to launch.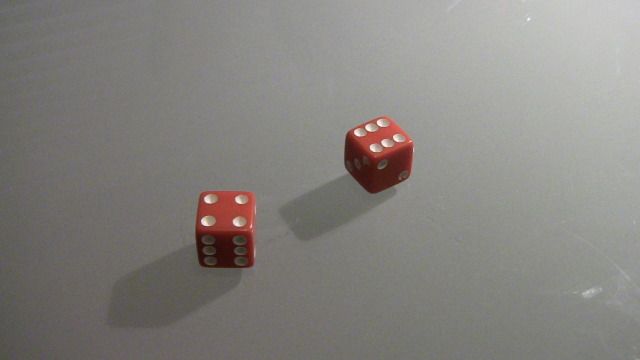 I really didn't want it to launch, so I rolled against her. She won. (Her dice will be on the right.)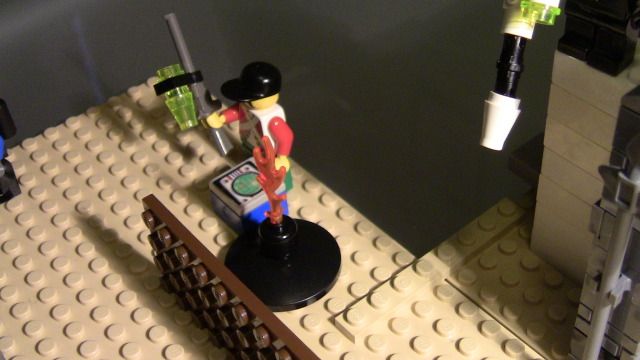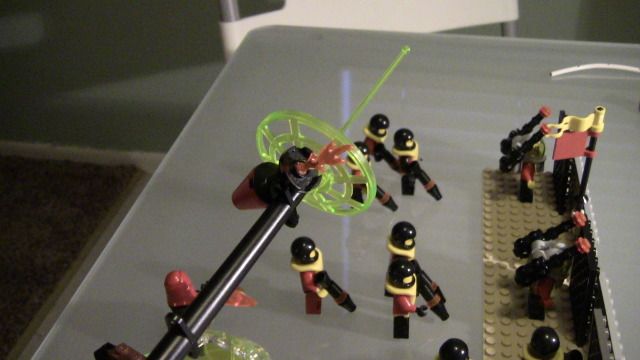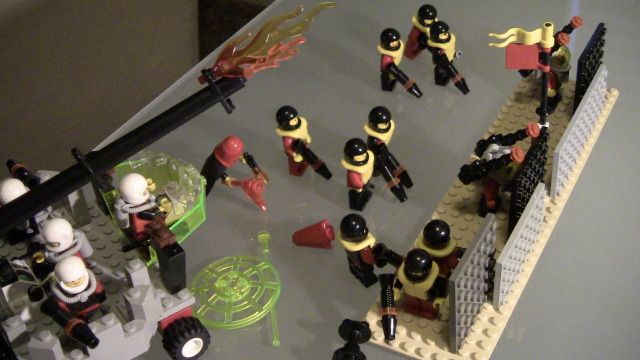 She disabled the artillery.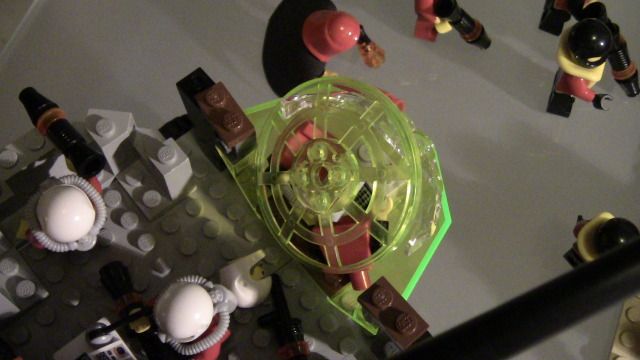 And the large dish from the gun killed the driver. Oh well, at least another soldier could replace him.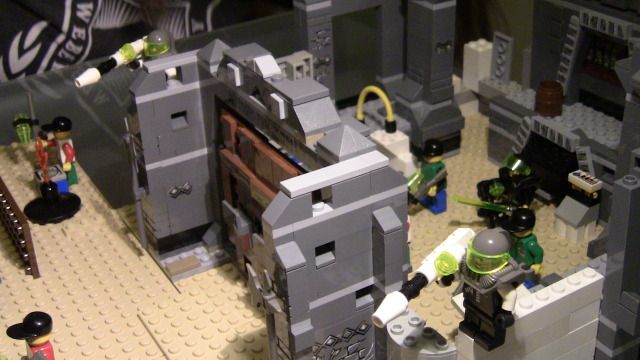 Her Prussian snipers were placed wisely in high spots. They aimed for one of the gunmen on the Castle Artillery.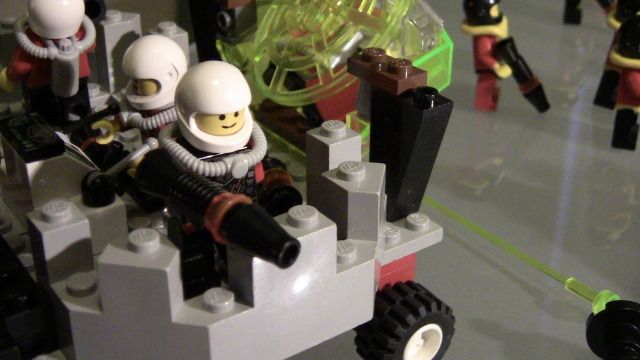 But missed.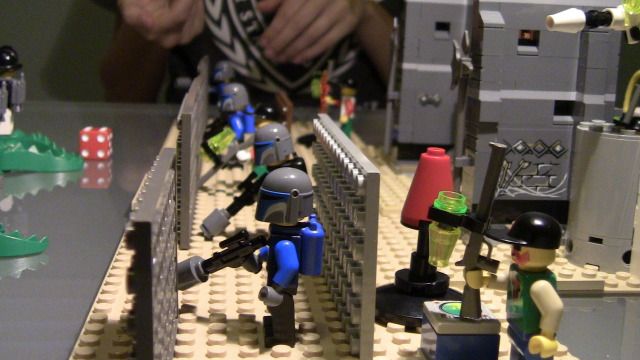 Then it was time for the front line to open fire.
A Bavarian rolled a six.
And the gunman died. We decided to disable the blood effects for this battle to save time.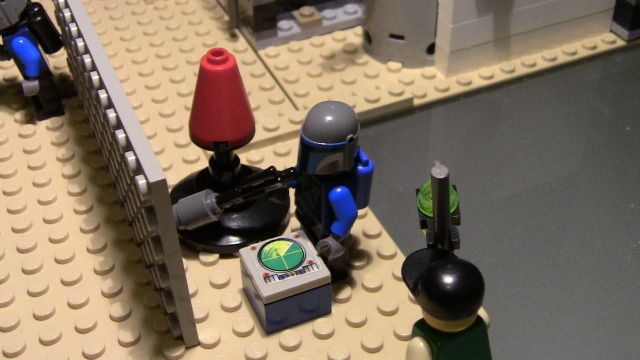 A Bavarian mans the rocket that didn't fire earlier. She decided to aim this rocket at my Slasher commander.
Yippee... another six... Luckily, she allowed me to roll for the commander's dodge. I also rolled a six and since we play "ties go in the defender's favor", I didn't have to lose my hero.
So she chose where it actually landed. I kinda wish she had taken the commander.
Yeah, I really wish she had taken the commander instead. With a direct hit to the center, the Castle Artillery is destroyed. The four men remaining on it are killed along with a soldier standing nearby.
A Bavarian tries to kill a soldier...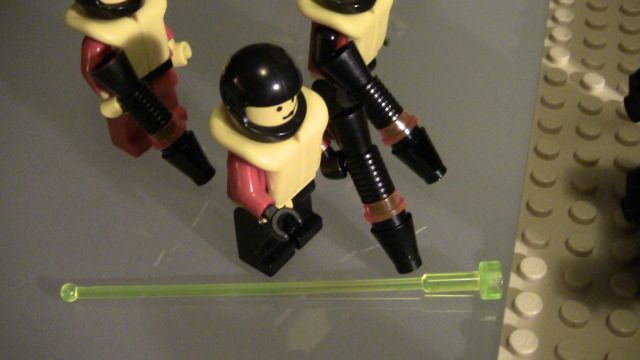 But he misses.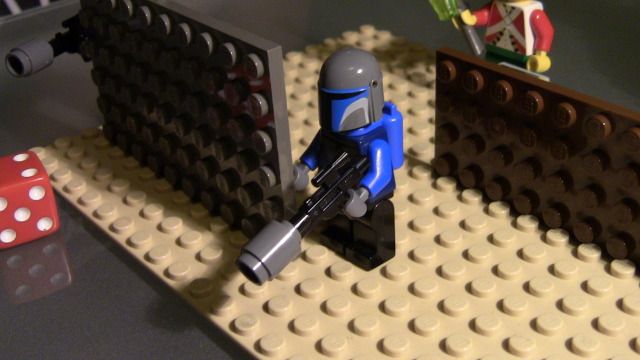 So another Bavarian tries to hit a different Menggu...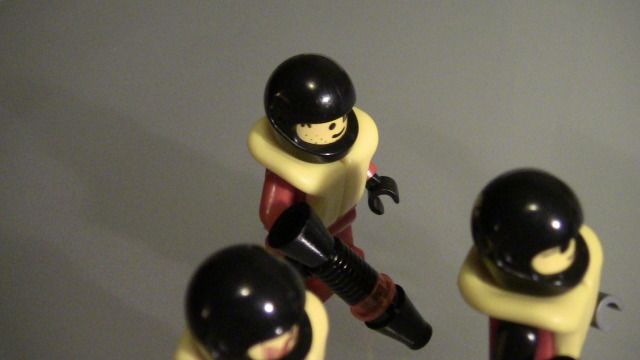 But he misses too.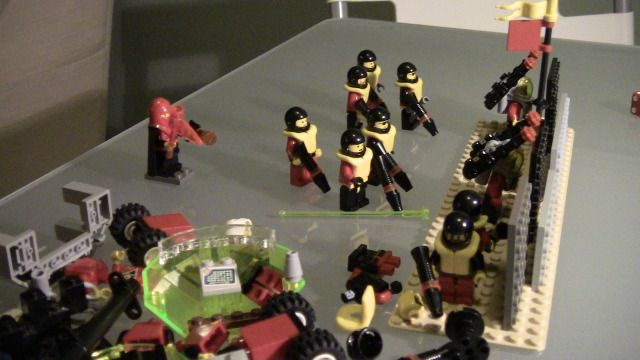 Its my turn
...
I order my hardsuits to fire a volley at some Hakkapells and troops behind them.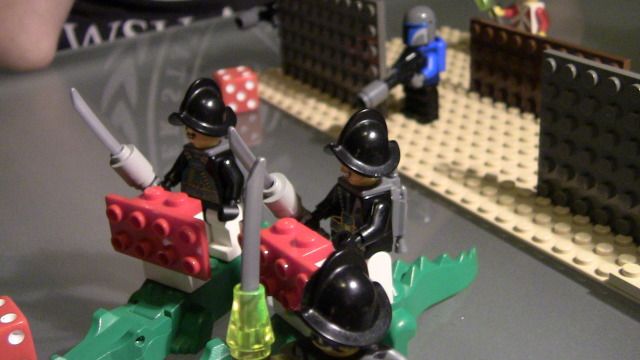 One of the cavalrymen sees the blast coming his way.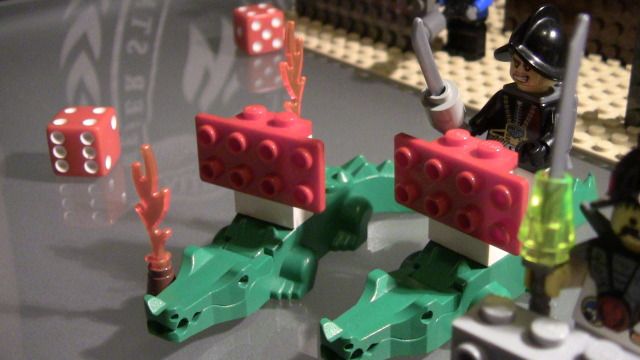 He's able to bail with his jet pack, but his mount is lost forever.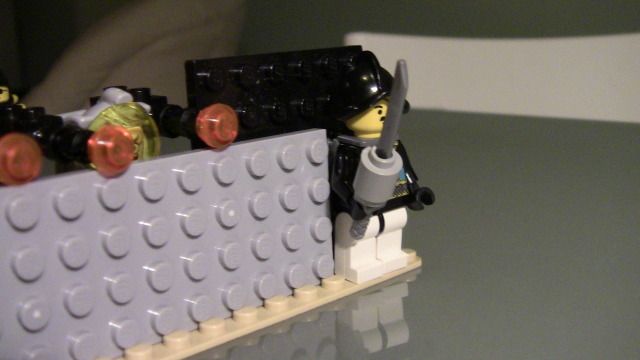 The Hakkapell lands directly in front of the Menggu barricade.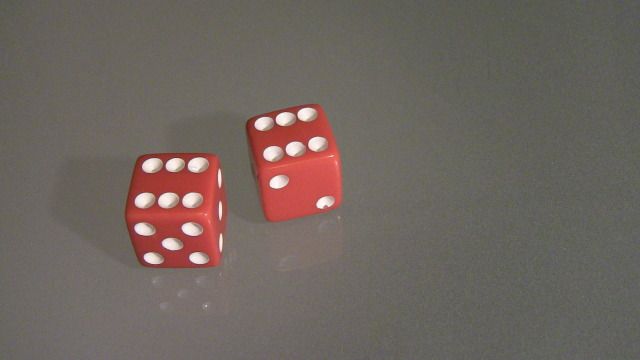 Then my hot wife rolled another pair of sixes for her soldier's defense from the other hardsuit.
They lived and she was glad.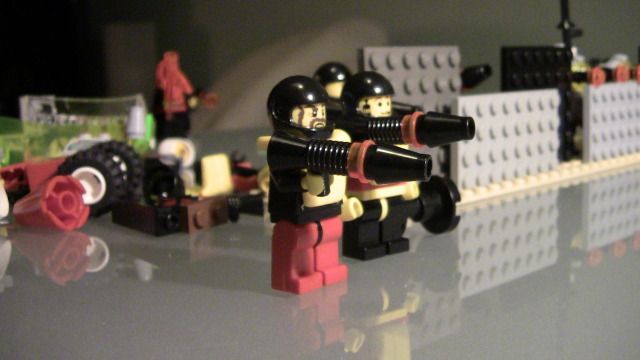 I moved some infantry men up and began shooting at one of the Prussian snipers.
The sniper went down...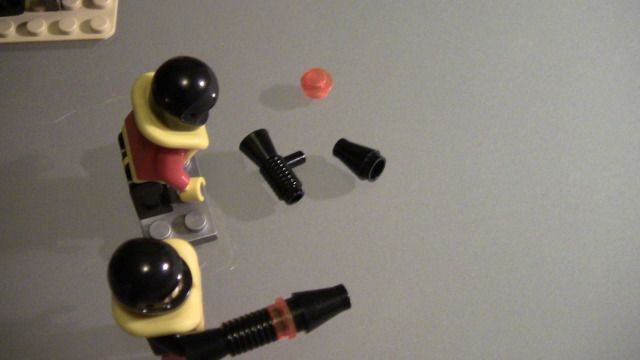 ... but one of my guys rolled a 1 and his gun broke.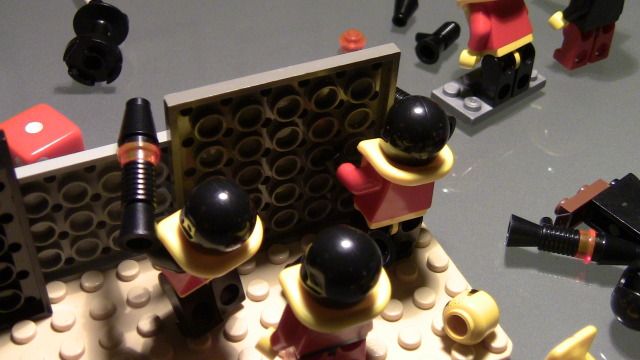 More Menggu soldiers fired at the other Prussian sniper.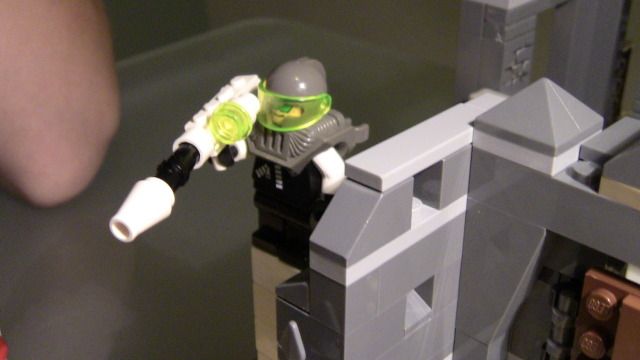 "Oh, you can't hit me from that far..."
Oh yes I can!
I moved more soldiers around the barricade to catch the Hakkapell. This is where I realized that if I had been playing as Avalonian soldiers, I would have taken the man captive. If I was playing against Avalonians, I would have still captured the man, but used him as a hostage as Avalon would have negotiated for a single man's life.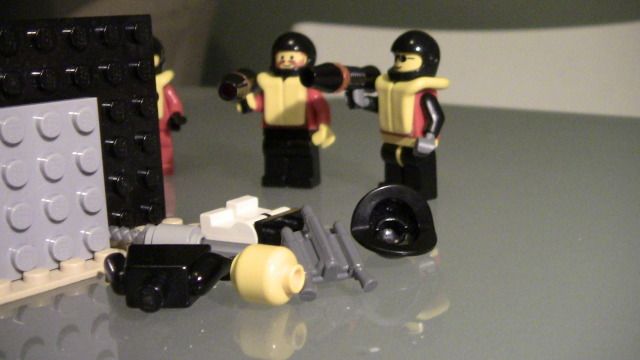 But this is the Menggu Army!! No prisoners!!
This guy wanted to take out a Bavarian.
I finally got a six and my hot wife only got a one.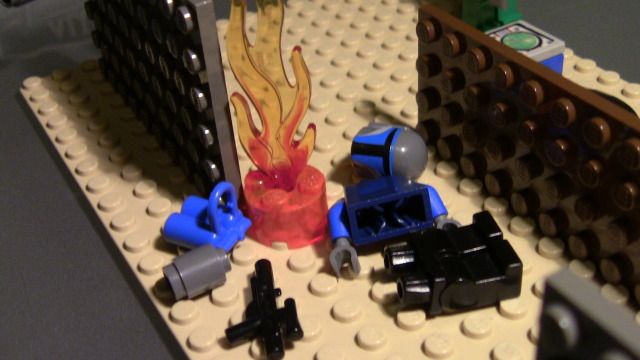 Tschuss!!!
The Slasher moved forward.
ROUND 2
Upset that I had taken out a few of her men, she ordered a Bavarian to open fire.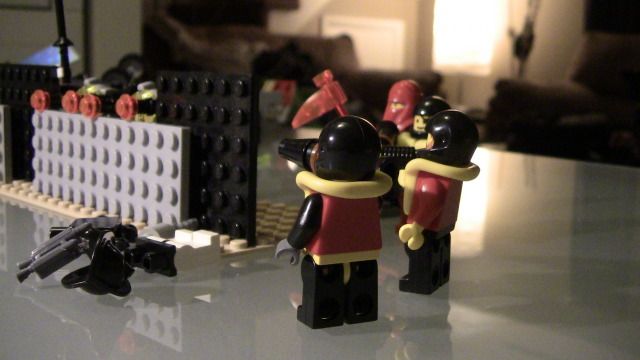 "Ha ha! Can't hit me!"
"What was that you were saying?"
"I wasn't saying anything..."
The men wisely moved behind cover.
An actor had a Menggu in his cross hairs...
... but he missed.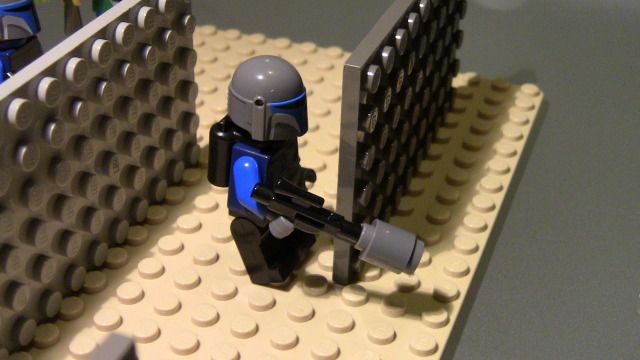 Another soldier aims at the enemy.
He misses.
"Seriously, how did you get in the army?" says an actor to the soldier.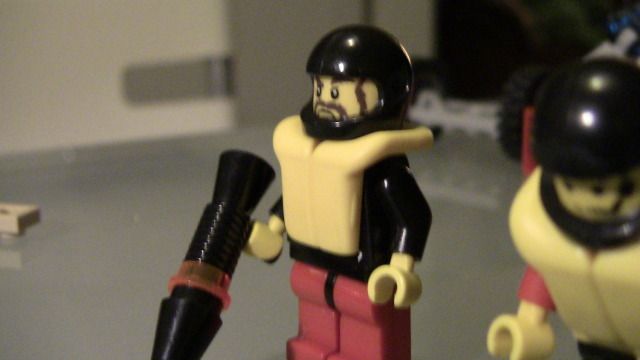 "Now what are those heathens up to?"
BOOM
The soldier that launched the rocket destroying the Castle Artillery moves up to take a shot.
"It was in my hand, then suddenly-"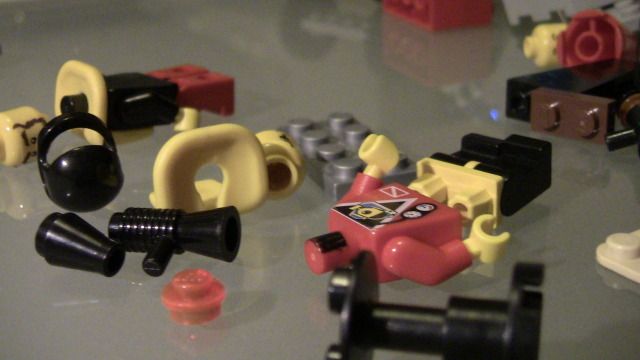 BOOM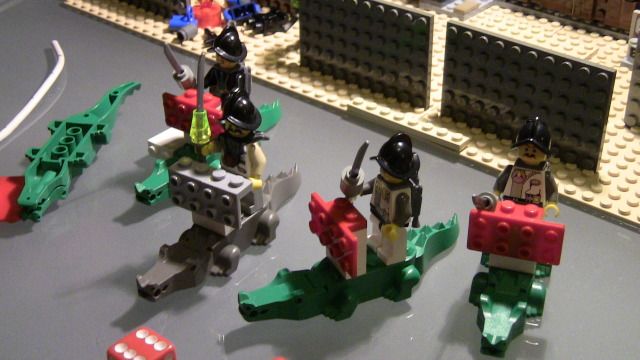 The Hakkapelitta decide its time to advance.
Something special about these crocs that the Menggu should have known about...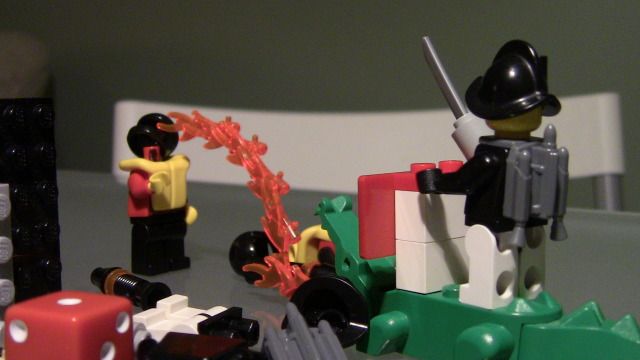 ... they're fire crocs. Suckage for me has been brought to a new level.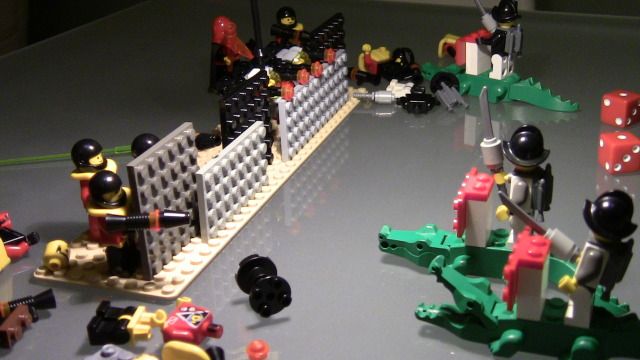 The other hakkapells move forward and try to melt the foundation of a barricade and let it fall on the Menggu.
Their rolls weren't sufficient. One of them decides to moon my men instead.
The Hakkapell hero moves forward and targets my commander.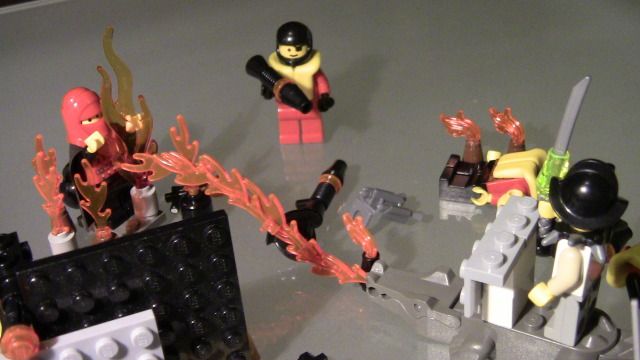 Don't piss off Fynnland (Finland in the real world). At this point, its appropriate to mention that my mother-in-law is a Finn and my wife has been back to the Father Land twice. I don't know what she learned over there, but I learned tonight that you should never, ever, ever, ever, ever, EVER, try to break a Finnish defense. You think I would have known about the Winter War of '39-'40.
Overwatch. My side. Destroyed.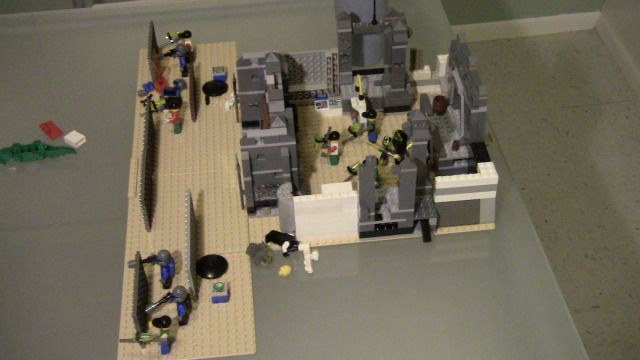 Overwatch. Her side. Happy.
I'll post the conclusion tomorrow.