So, earlier today, Strider and I got together at a local game shop and Brikwared.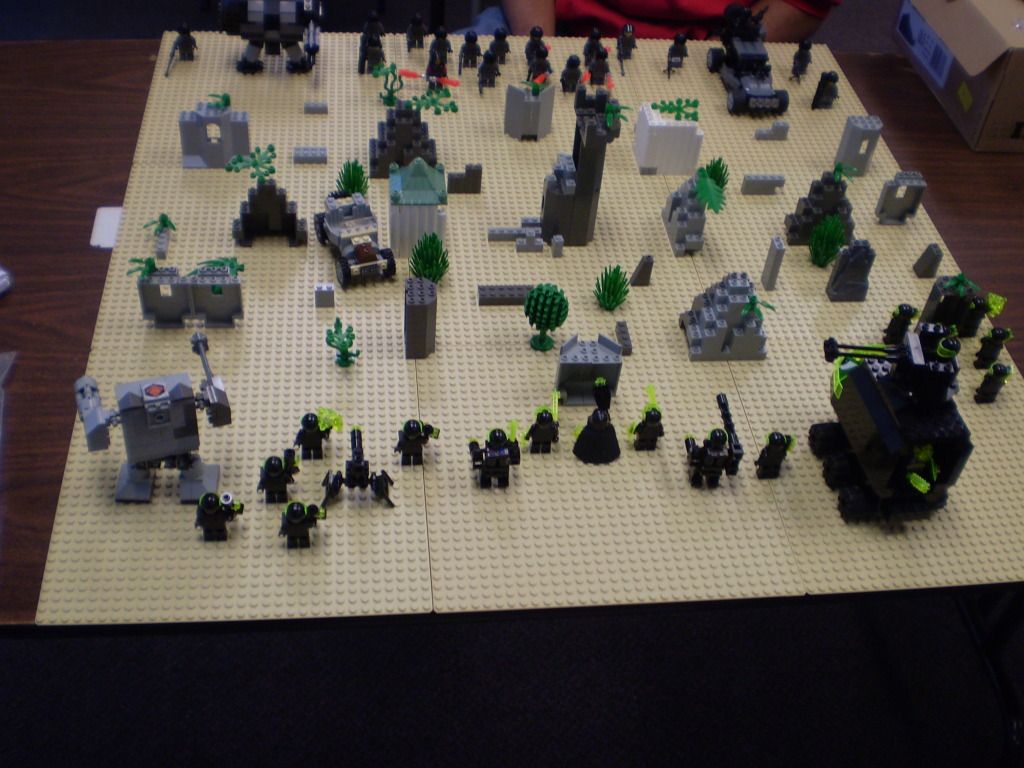 Here's out initial setup.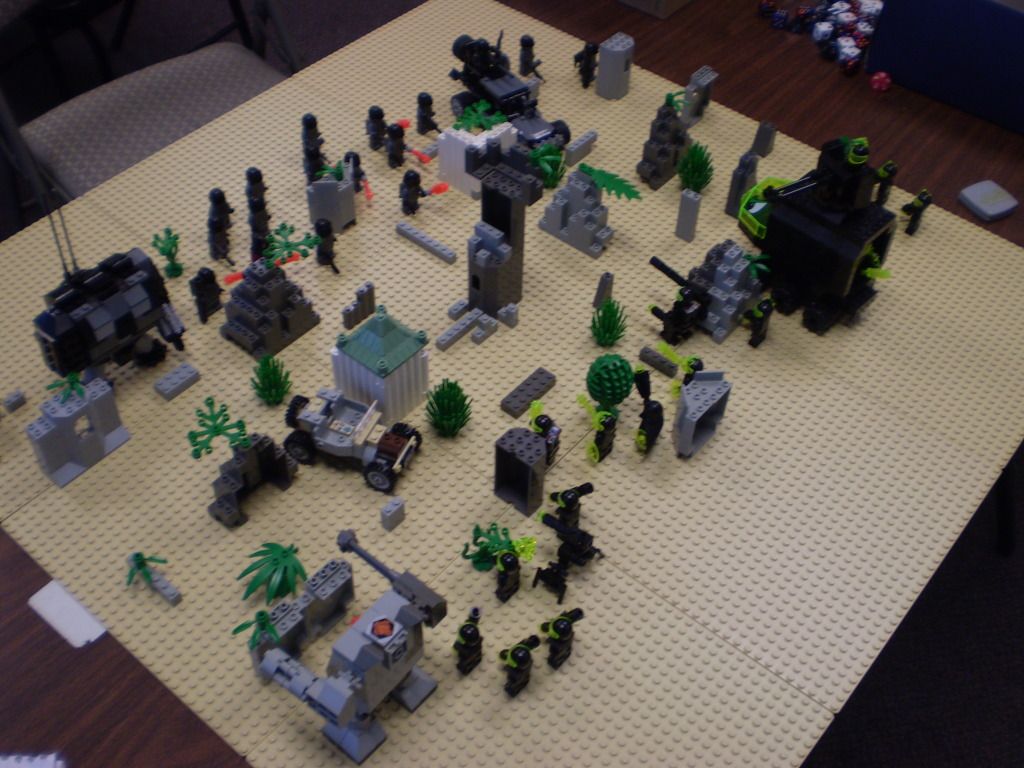 After turn 1, we both had moved up and neither side had taken any casualties.
After I managed to do 1 point of damage to Strider's Dune Buggy, he scored first blood by taking out one of my Berserkers.
Zupponn preformed a heroic feat to knock the tower in the middle down, crushing one of Strider's jetpacking commandoes. He then was attacked by two other commandoes, but a redshirt saved him.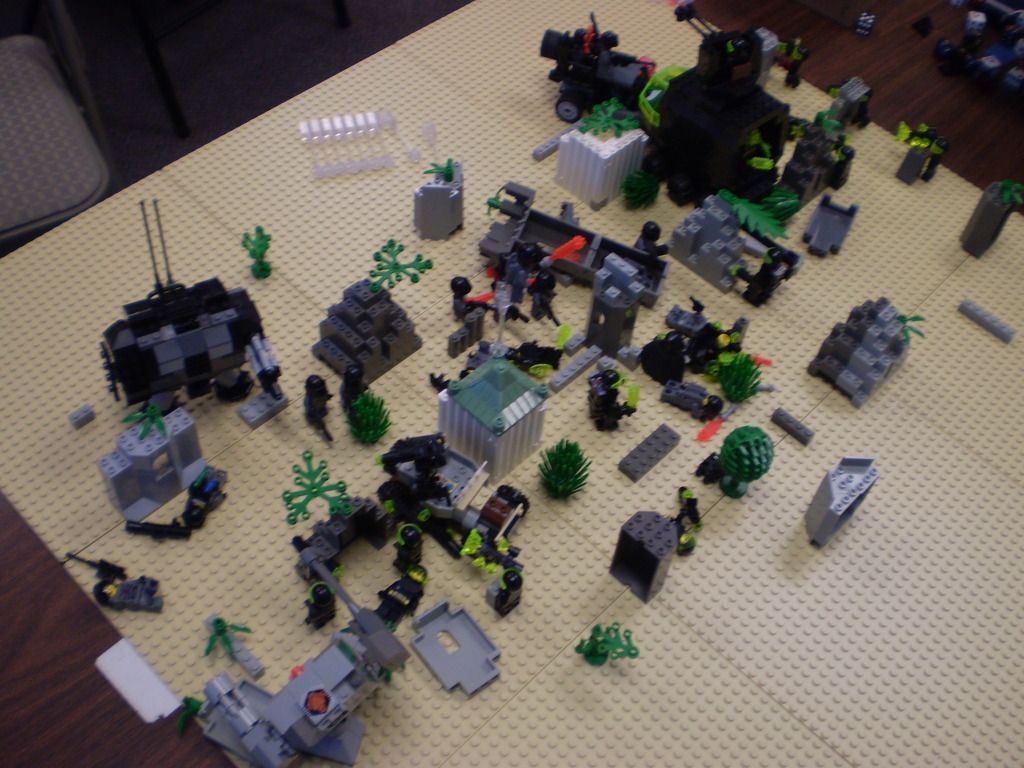 More casualties were had by both sides as my Bullet Bill transport vehicle rammed the Dune Buggy for no damage.
As you can see, Strider has pretty much taken the middle, while I'm having more success on the sides, especially my right side, which I pretty much blocked off with the Bullet Bill. The left side was a duel of Dreadnuts, neither of which had too much success against the other. I also had the trops in the Bullet Bill empty out this turn.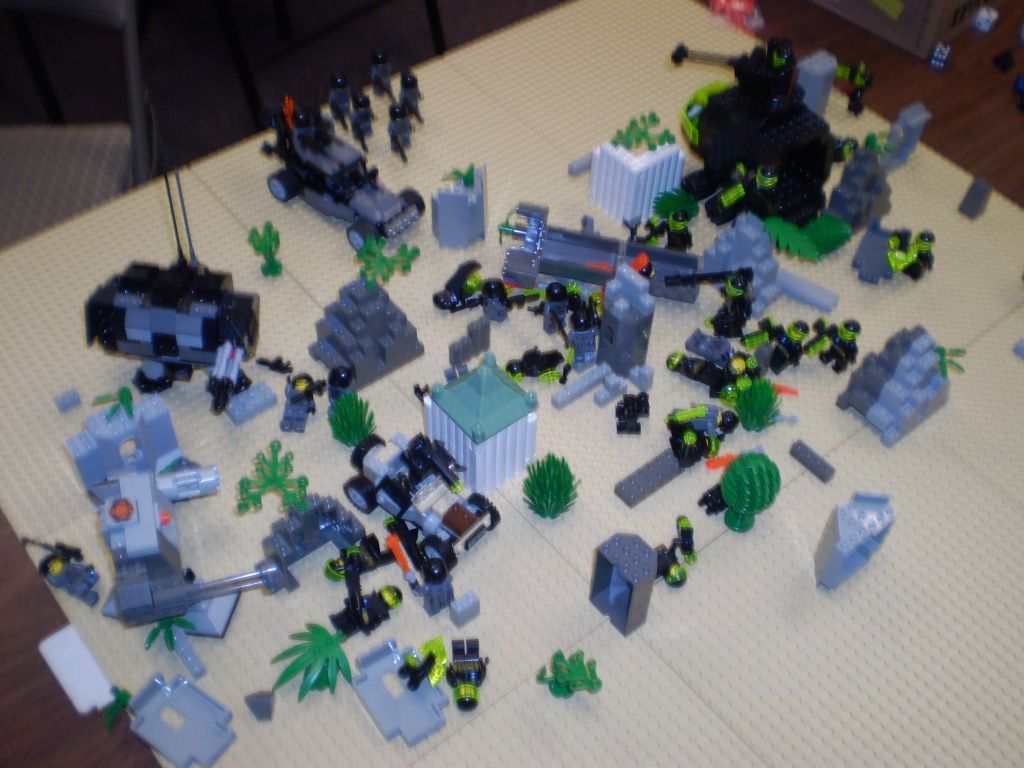 A little bit of a blurry pic, but in this turn, Zupponn failed his redshirt roll and was gunned down. We also had reinforcements arrive on Strider's side since he was taking some pretty heavy casualties.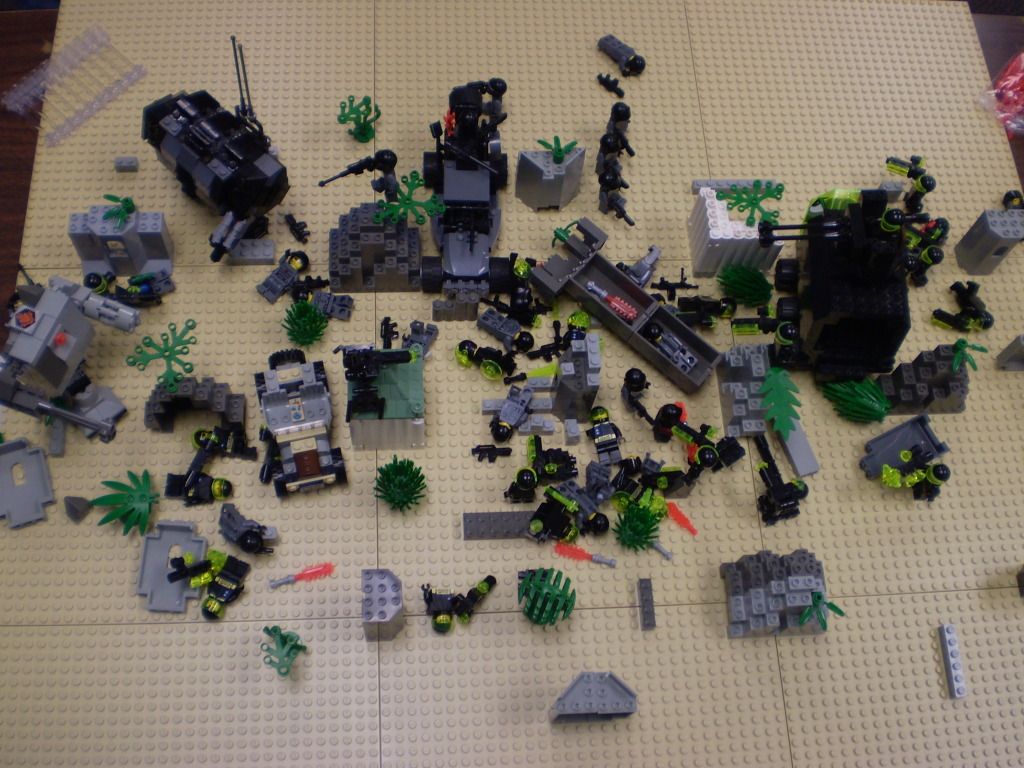 While Strider's hero wrecked havoc through the middle of the battlefield, my infantry powered through the right side, attacking the new reinforcements with ferocity. Strider's hero had killed both of my hardsuits at this point.
More casualties on both sides while I slowly took out the troops around Strider's hero, taking away all the potential redshirts.
And here's a blurry pic from Strider's point of view, where we can see that his hero has jumped on top of the Bullet Bill where he failed to take out the gunner and one of my soldiers has jumped on top of Strider's dreadnut to avoid its weapons.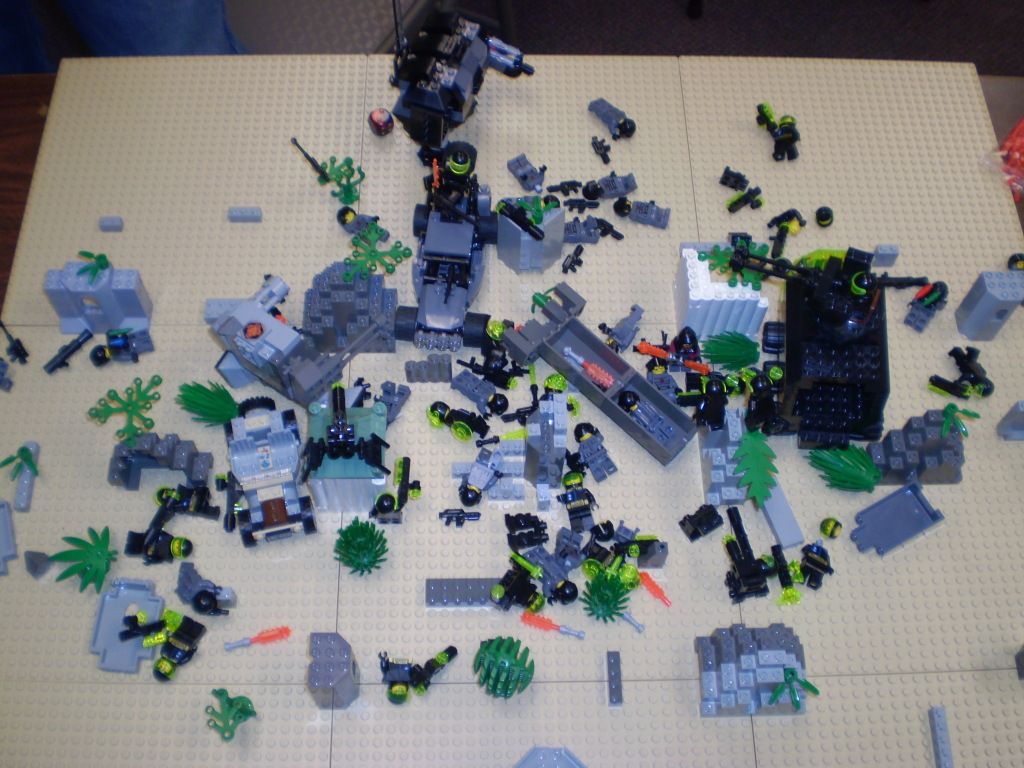 After being knocked onto the ground by the Bullet Bill's swiveling guns, Strider's hero got up. My soldier who was on top of the dreadnut took the empty gunner's spot in the Dune Buggy. Strider's dreadnut also fired a grenade that killed 2 of my troops.
I did another point of damage to the Dune Buggy and took out Strider's hero this turn. Things were not going well for him.
The Dune Buggy kamikazied itself into my Dreadnut, doing one point of damage to it and killing my guy in its gunner seat. The driver managed to bail in time, but was gunned down shortly after.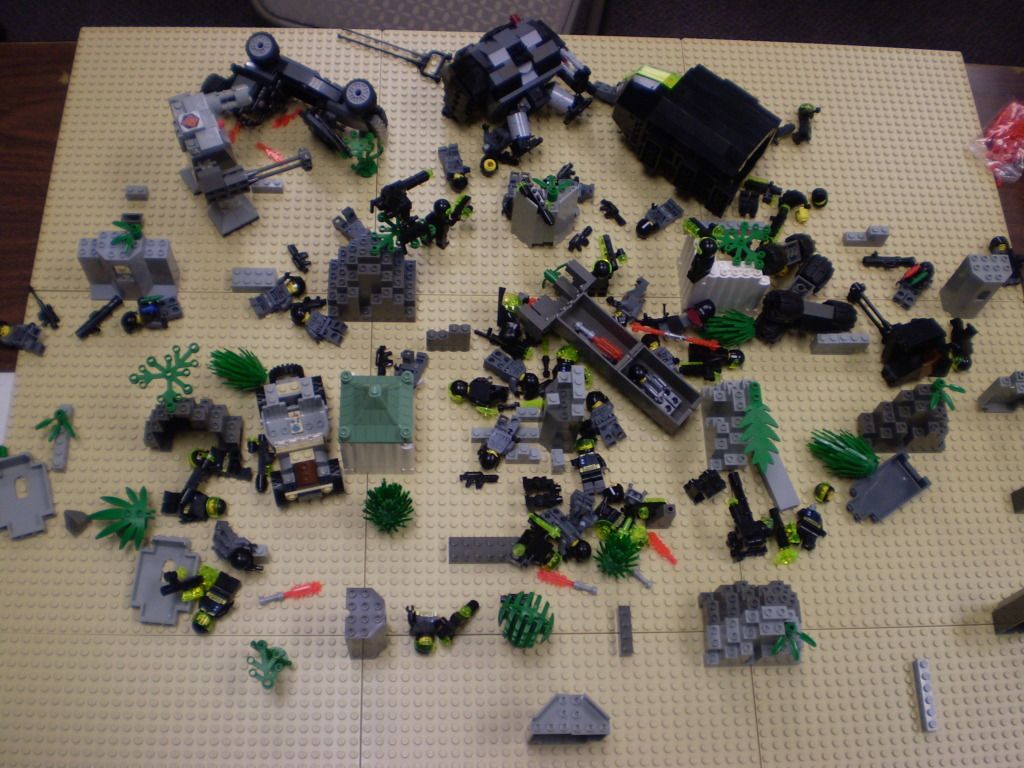 After a couple of more turns, the Bullet Bill's turret was shot off by Strider's Dreadnut, so it dropped its wheels and rocket boosted itself into it in full Bullet Bill style. Both machines were destroyed in the process, leaving me the victor.
We had a good time and created a lot of casualties, so we were happy. Hopefully we can battle again in the future.