It's 2 years after the events of the Battle For The Jade Fire Extinguisher.
The leader for the Invaders, Basil, has left, gone straight, and joined the police force, taking some of his commanding officers with him.
The Invaders are now weak. The castle dwellers have been trying to destroy them ever since. Now, the Invaders will get their revenge on Basil, by whatever means neccesary.
A normal day at the station.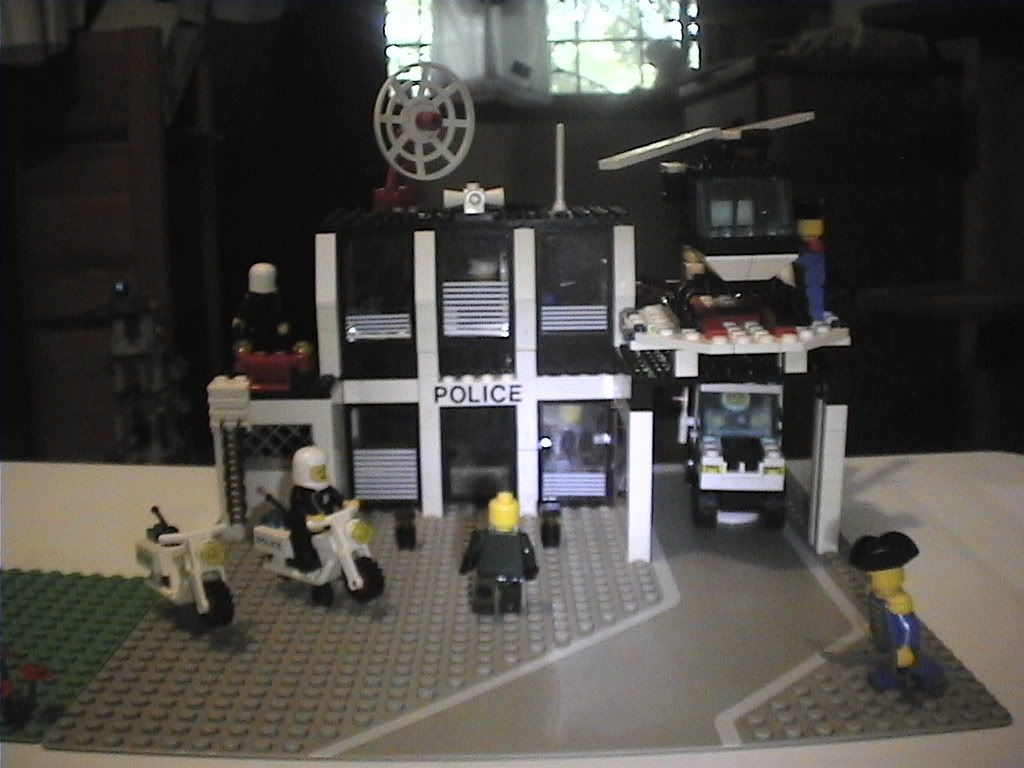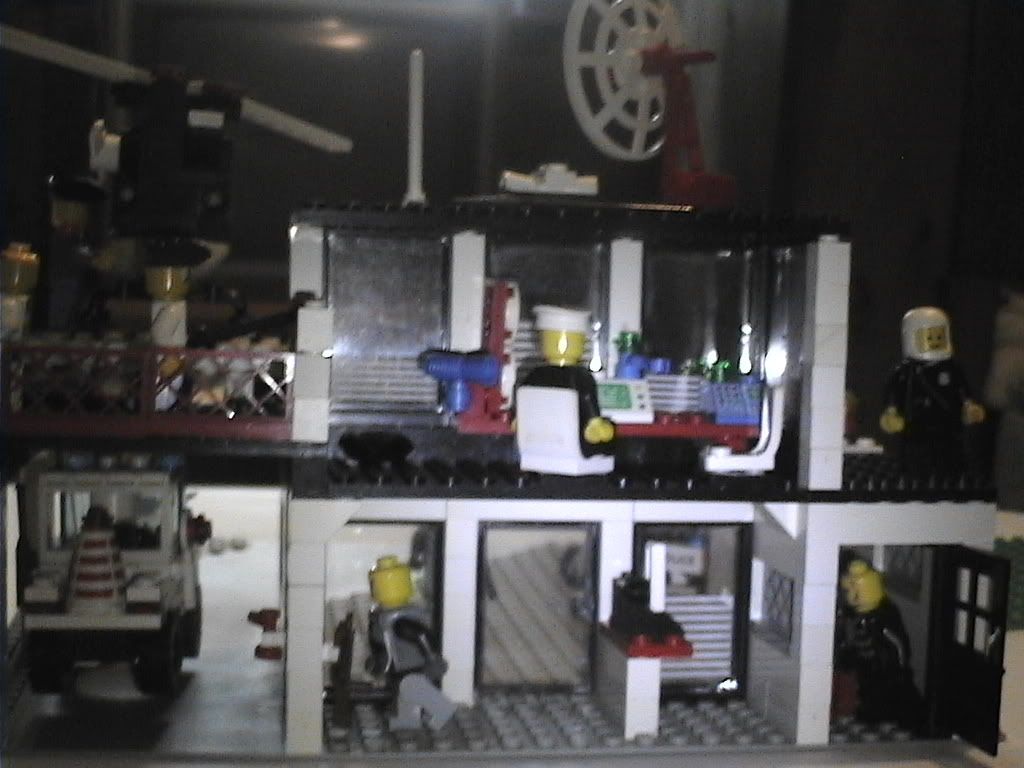 The Invaders appear.
They move, 2 of them going for the horses... That's odd.
The Skull Policeman shoots out one of the garage supports with his Ion blaster.
The Invader Hero tries to shoot a Space Marine point-blank, but misses and cause the ground next to him to bleed and catch on fire.
One of the Imperials from the Heli-pad is shot, falling to the ground.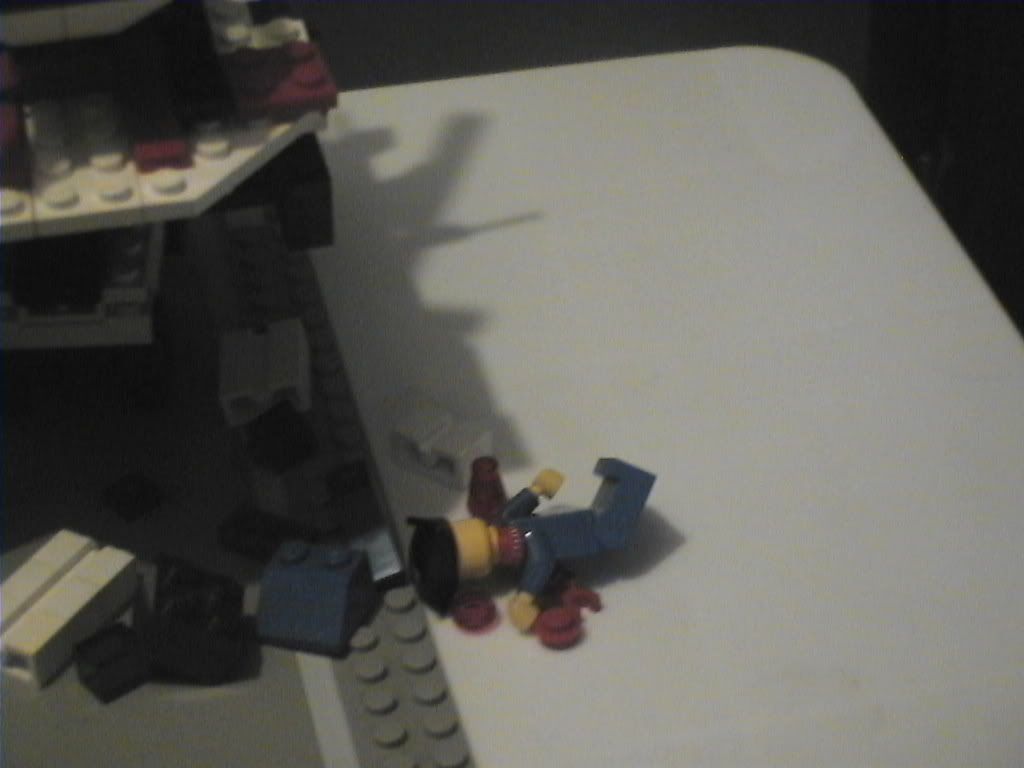 The Policemen move. View from the backside. Basil leaps onto the 2nd level, A stormtrooper gets on the heli-pad, a policeman starts to round the corner, and a knight blocks the door with a coffee machine.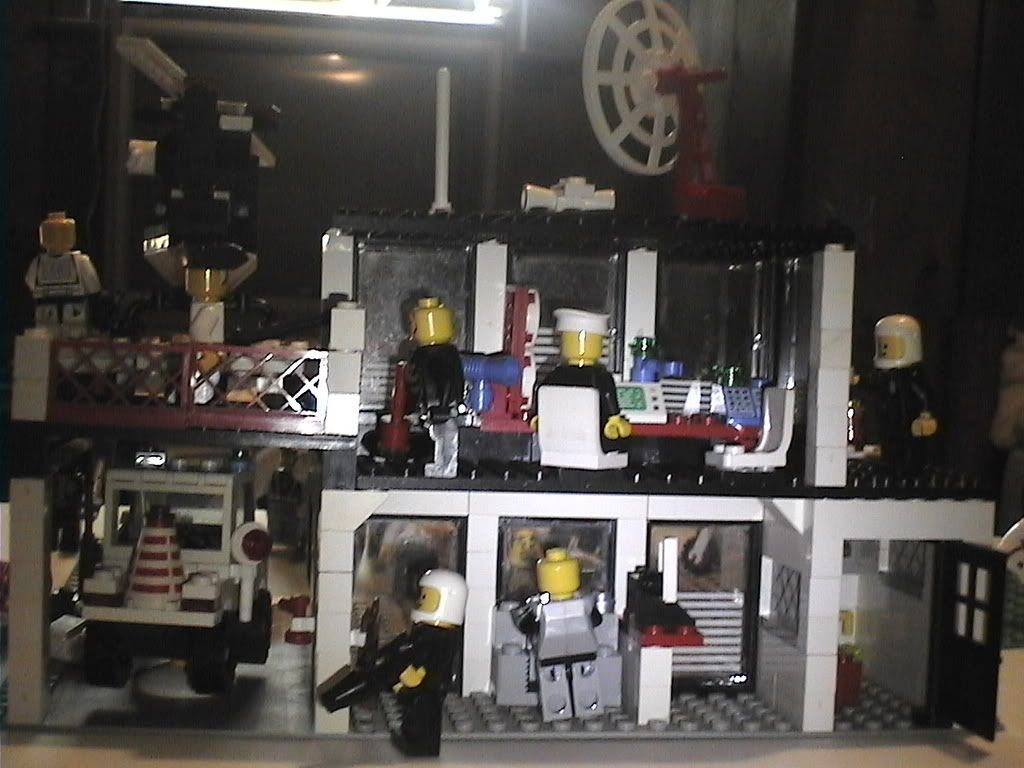 View from the front. All policemen run for the garage.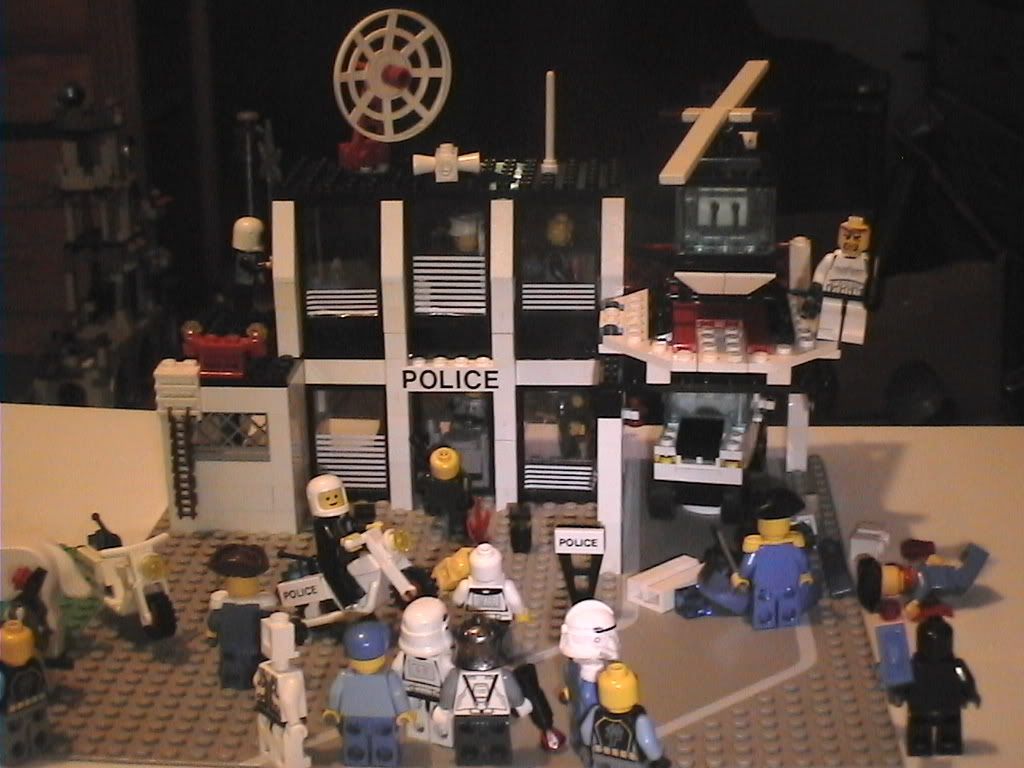 I love minifig-view shots.
An Invader is shot.
Invaders move. All attacks fail.
Policemen move. Backside. One of the imperials on the heli-pad drops to the floor for no specific reason. A knight grabs his crossbow and starts to move.
And movement view from the front.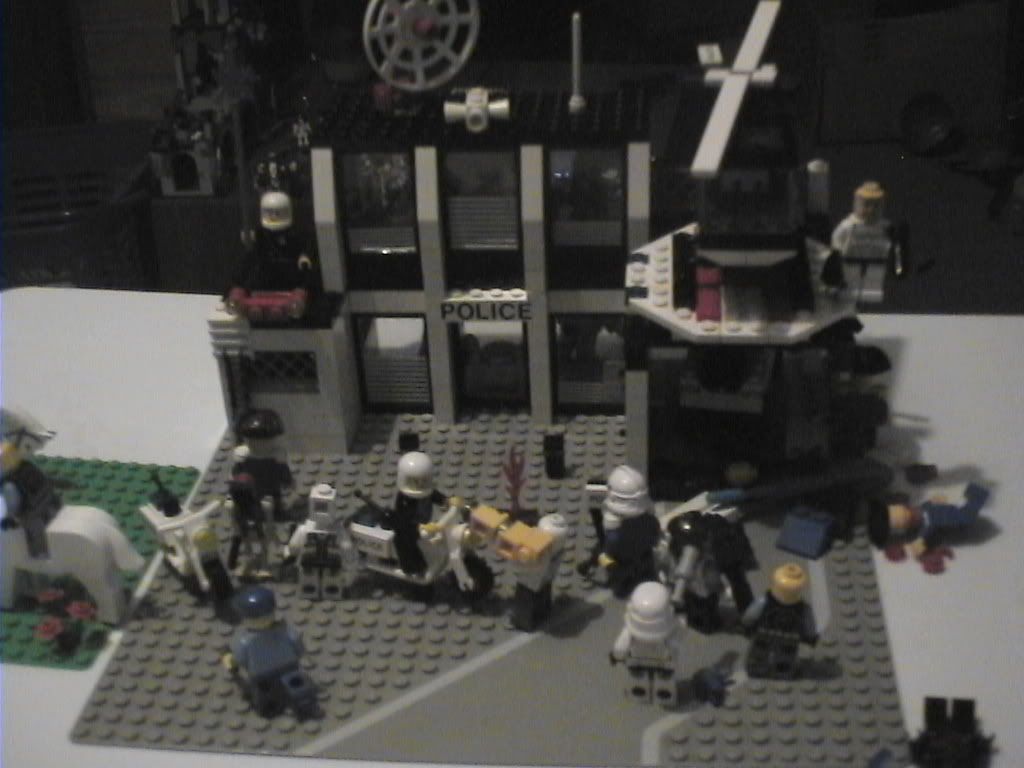 Detail of the above picture. Seeing that he can't get through the blocked door, the space marine jumps through a window into the garage.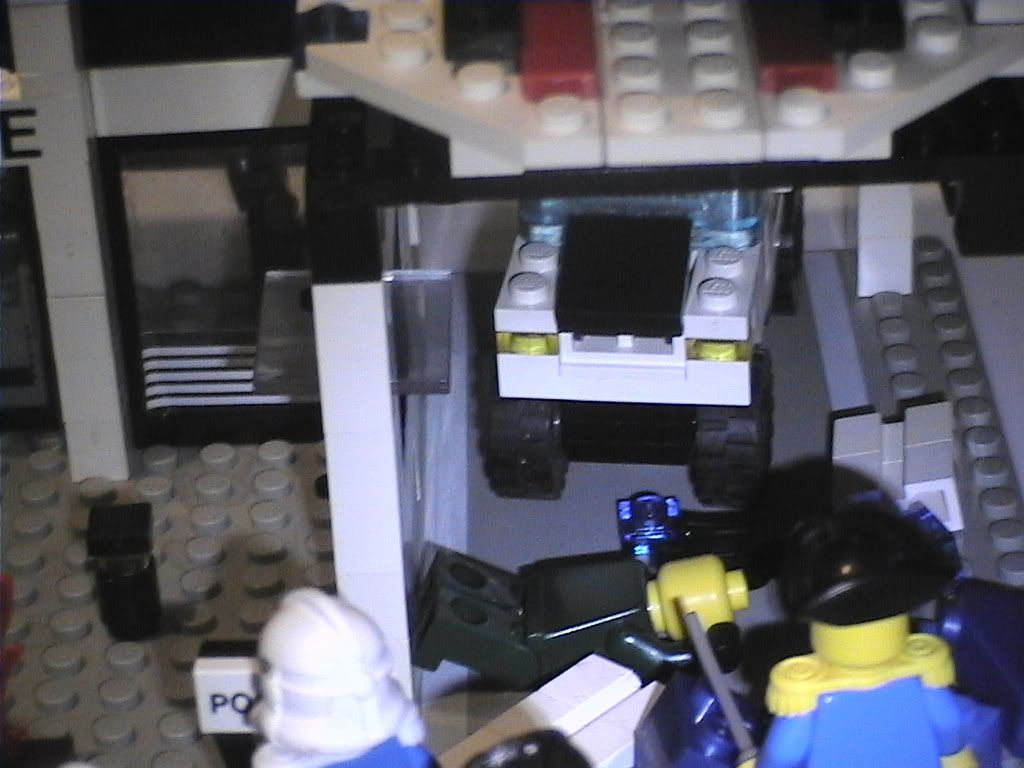 The Sherrif drops a bomb into the parking lot.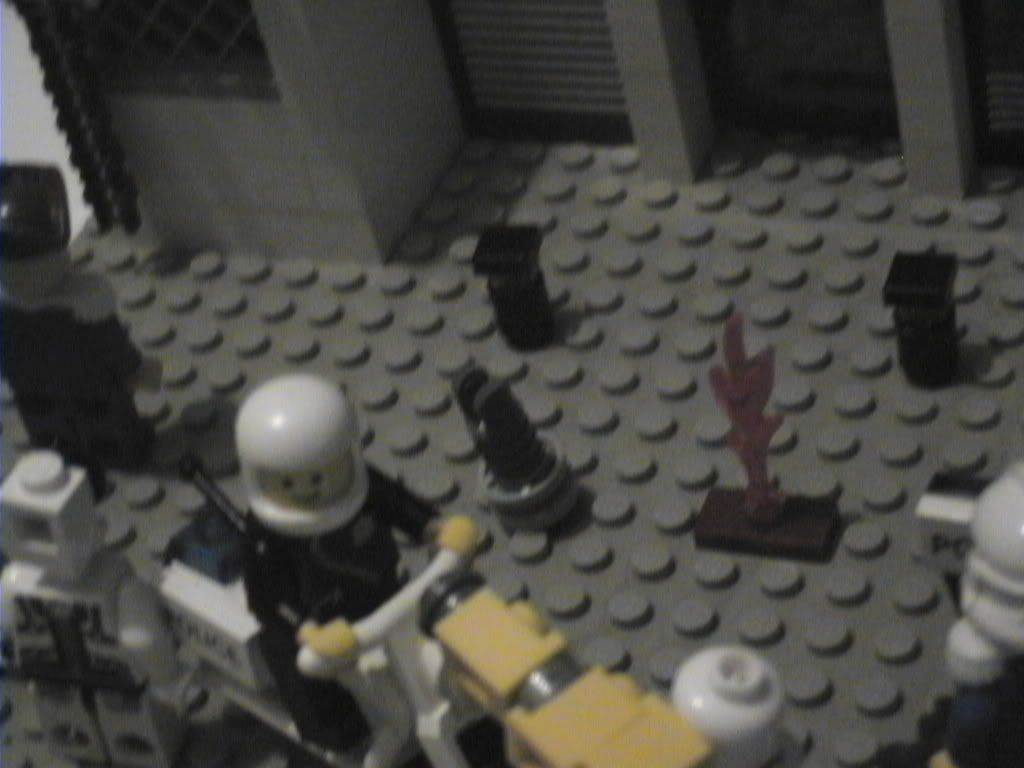 Invaders move for the garage. An Invader Imperial makes it up the ladder.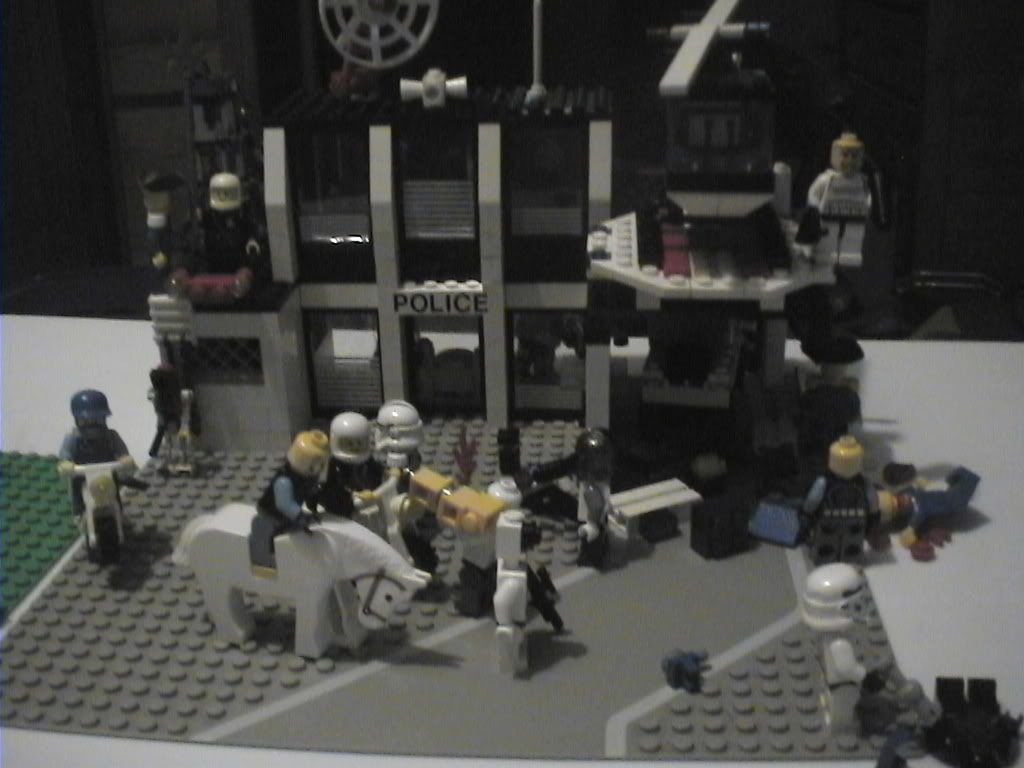 He fails to kill the Policeman, insted knocking himself off the platform.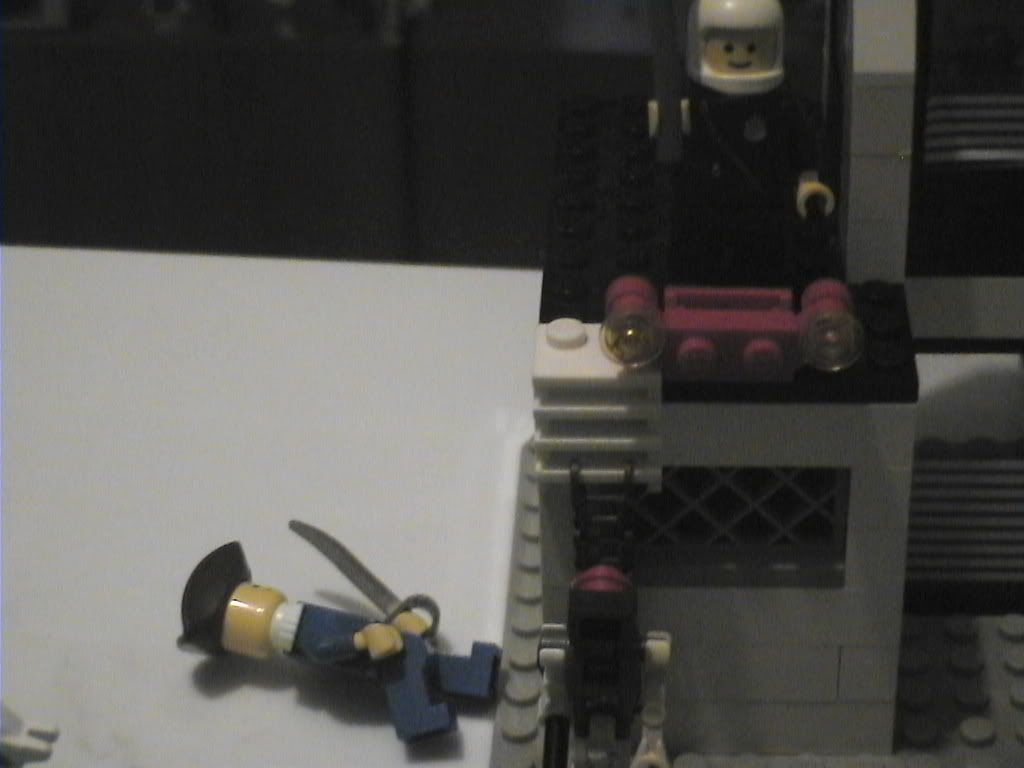 An Invader triggers the bomb, but it only knocks him back.
Backside view of the policeman movement. A ladder mysteriously appears. The sherrif presses a button. I wonder what it does...
AAARRRBHOHwg THE HELI-PAD FELL OH MUH GOD. It kills 3 enemies and one policeman.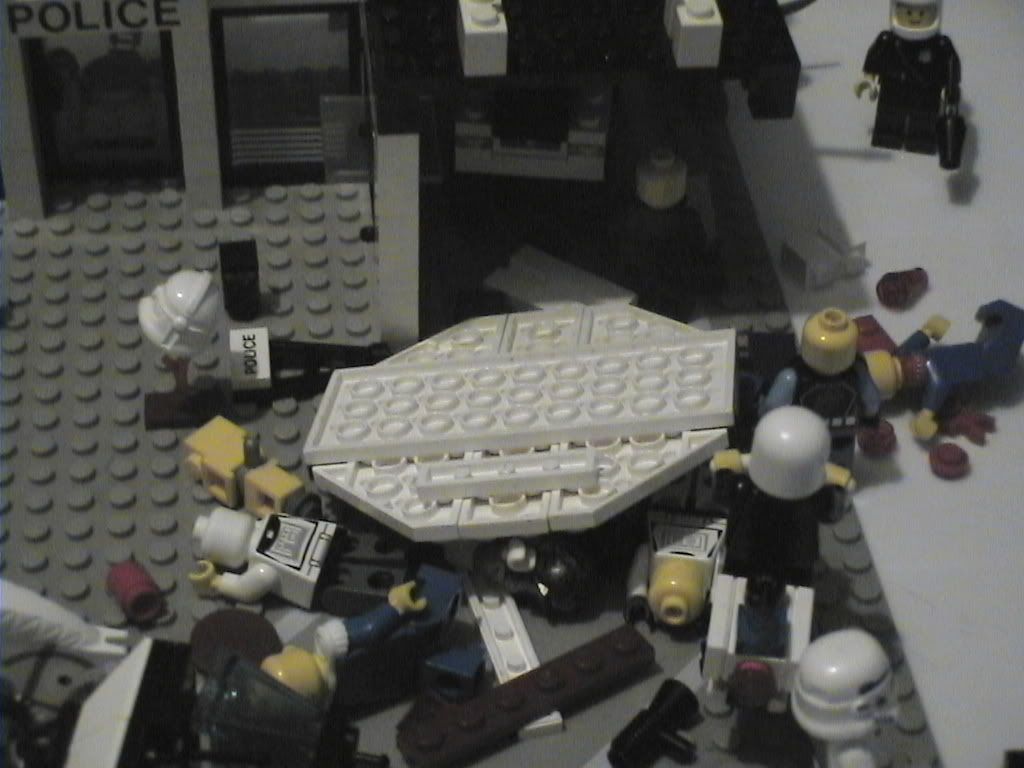 The policeman next to the ladder tries to throw his spear at the janitor, but misses.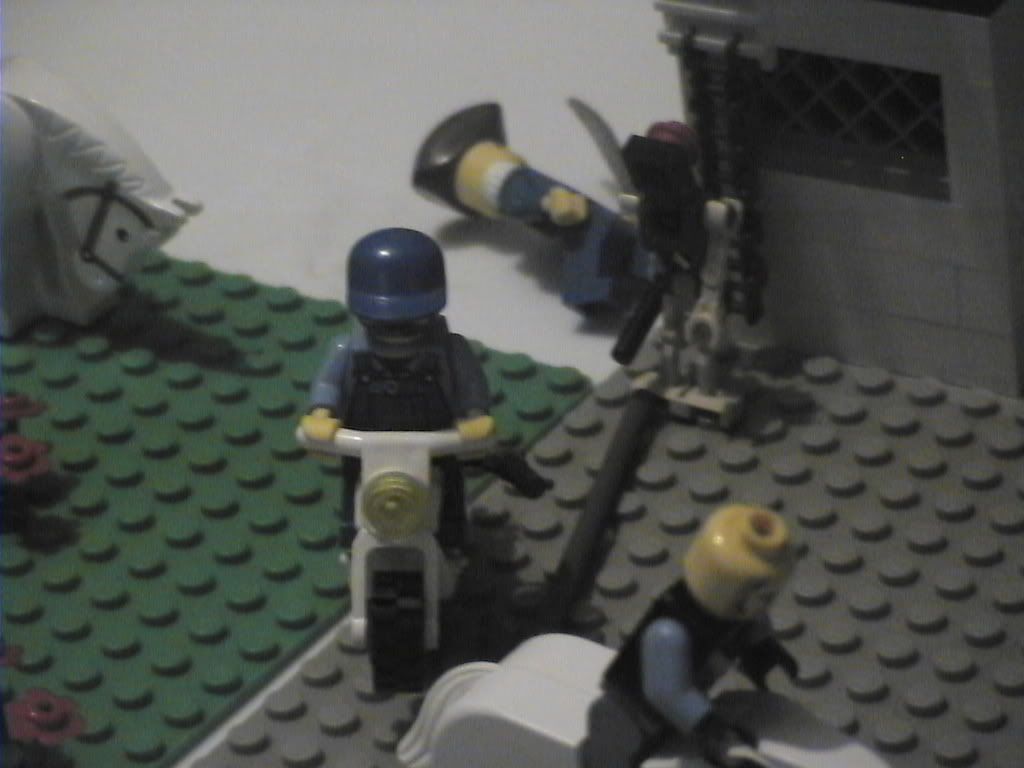 Invaders move.
A policeman is shot.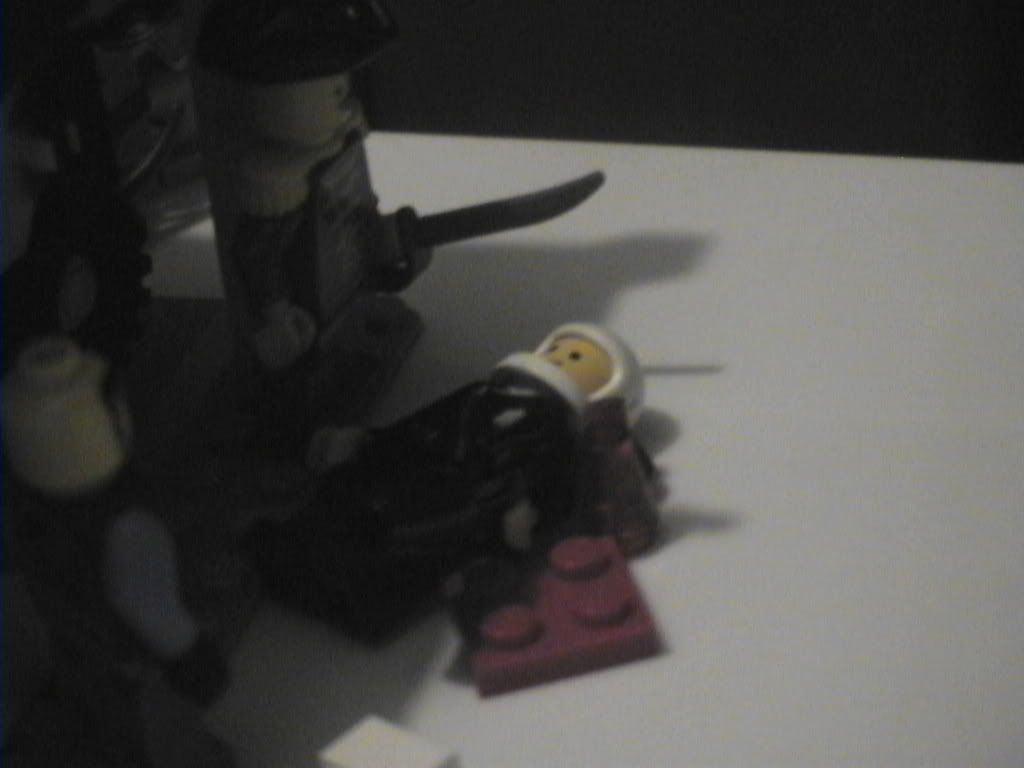 Policemen move. (Sorry about the bad picture.) Basil uses his heroic feat to jump up on top of the platform.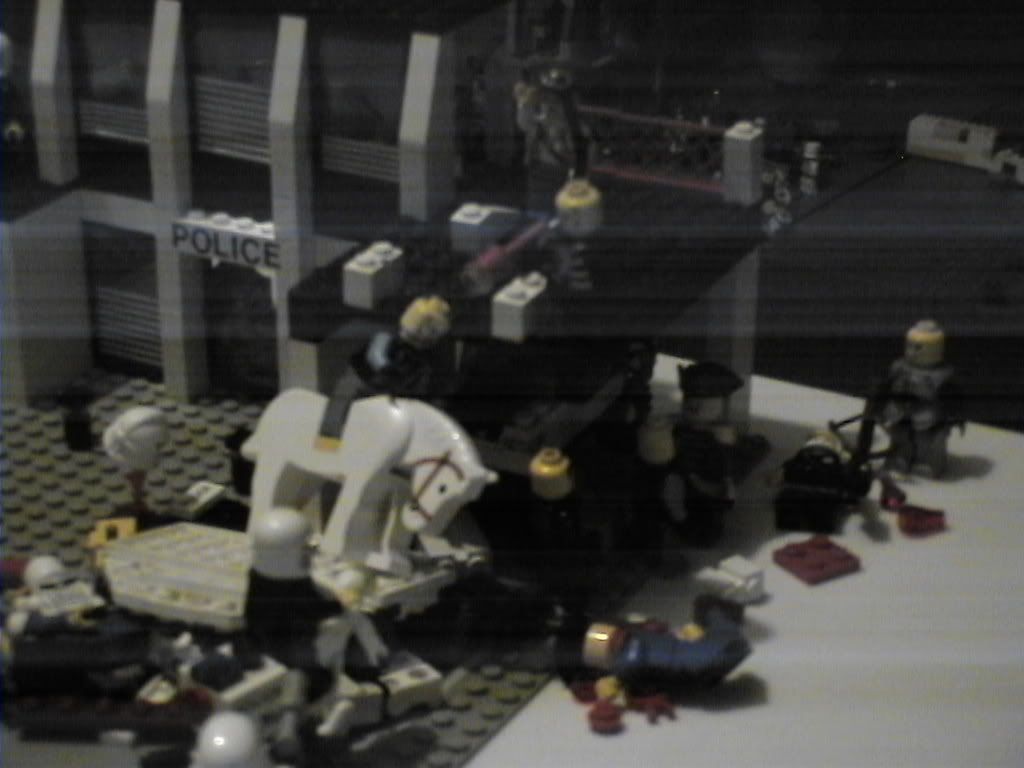 An Invader is killed.
Invaders move for the garage.
Basil uses his heroic feat to kill the remaining Invaders.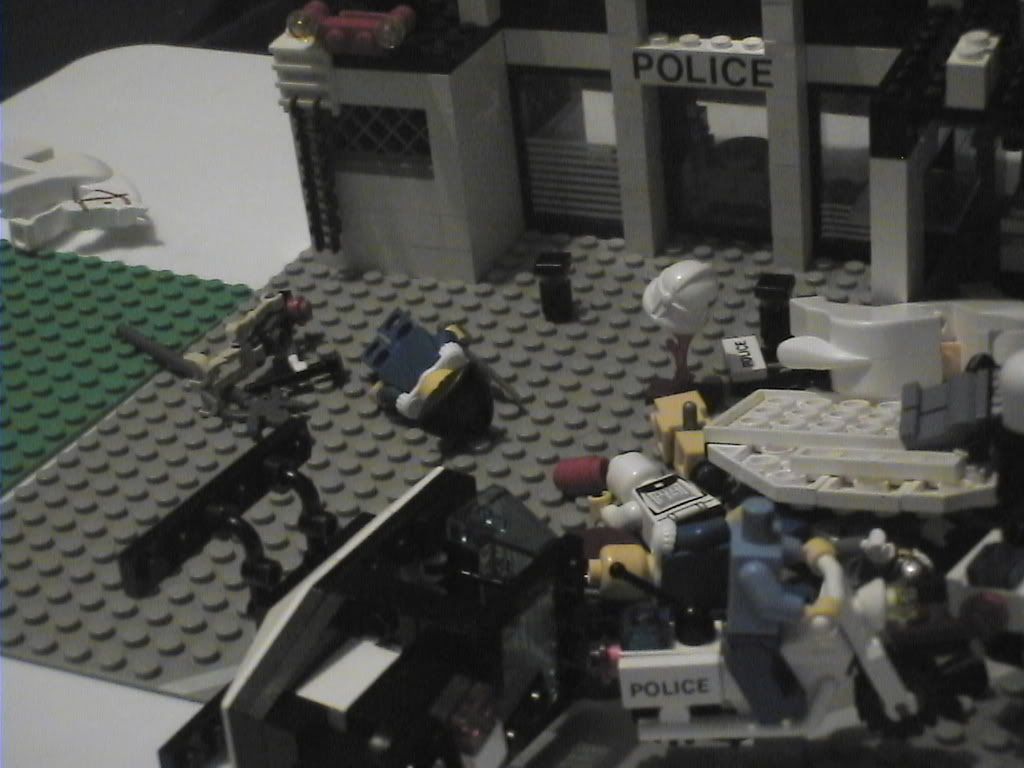 Overwatch of the landscape after the battle.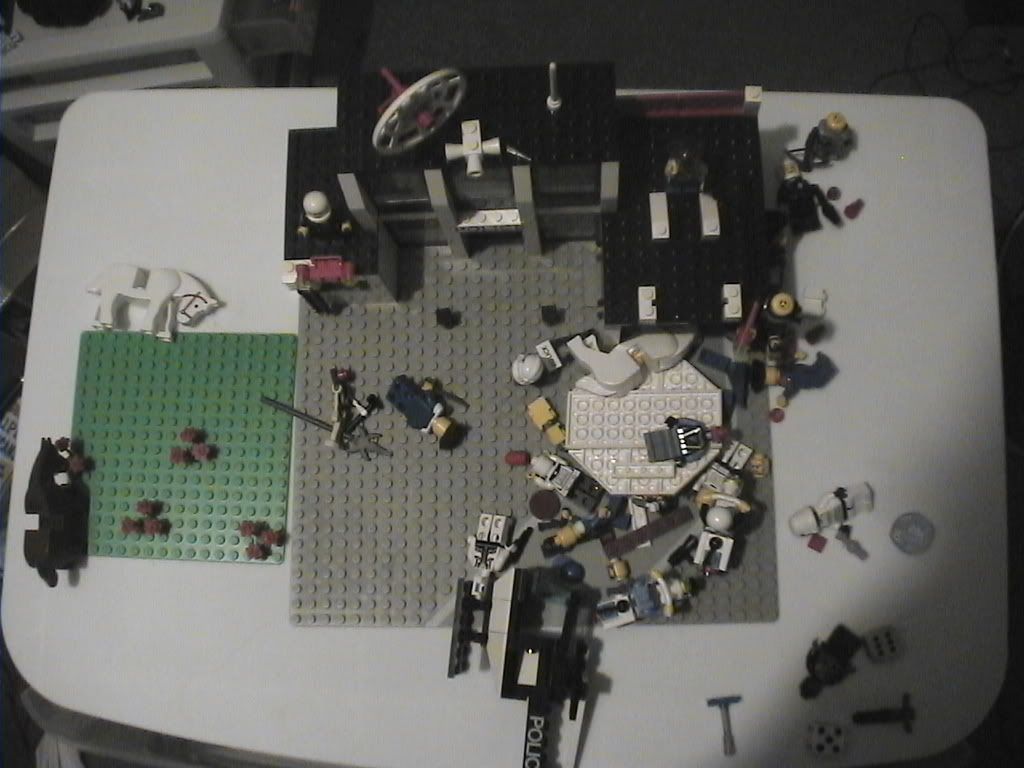 [/img]