In this match, my cousin Ryan and I squared off, throwing two small armies of figs at each other on tiny battlefield. With near-identical armies, this match had a much more tactical flavor than many battles.
Ryan and I took two baseplates each and constructed a number of structures on our half. My side included a small castle, some outdoor furniture, and a forest, while Ryan's half was dominated by a tall platform, with a few smaller structures scattered around at ground level.
Ryan's goal was to use his domination of the high ground to pick off my units at leisure, and use that height advantage to negate the ample cover that litter my side of the field. His initial deployment left only a few troopers on top of the platform, while the rest waited on the ground below to prevent my men from taking cover under the platform during the first few turns.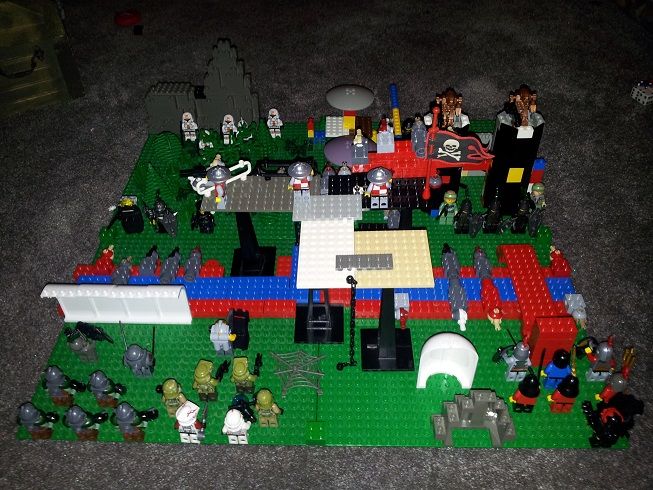 My plan was in many ways the opposite of Ryan's. I had a large corps of melee troopers placed on my left flank, and planned to sweep them along the battlefield crushing Ryan's men as they went, with the melee and heavy armor troopers supporting the offensive by thinning out the opposition and tying up Ryan's reserves so the melee squad wouldn't be overwhelmed.
1st Turn
I won the roll-off and got the first turn. My first action was to clear the platform of enemy infantry, something my ground troops easily accomplished. Given the battlefield's small size, the extra range granted by the platform's height wasn't the strategic advantage Ryan thought it was, but by focusing my ranged firepower against it, I'd drawn more of Ryan's men away from my main assault.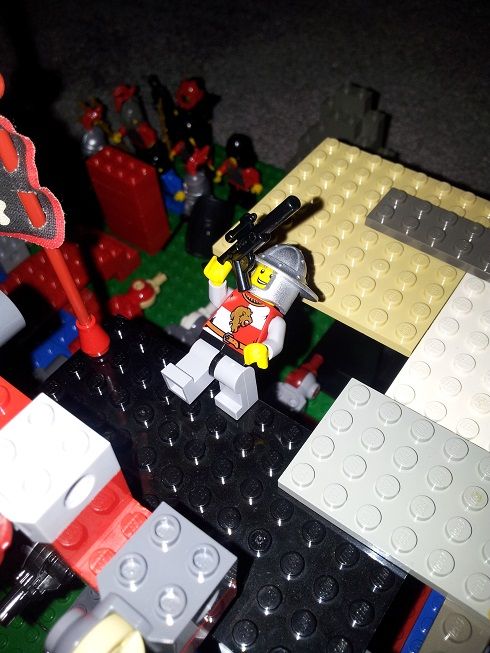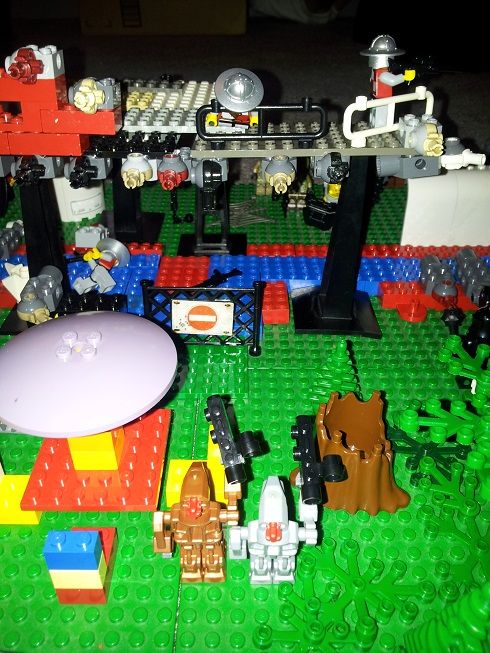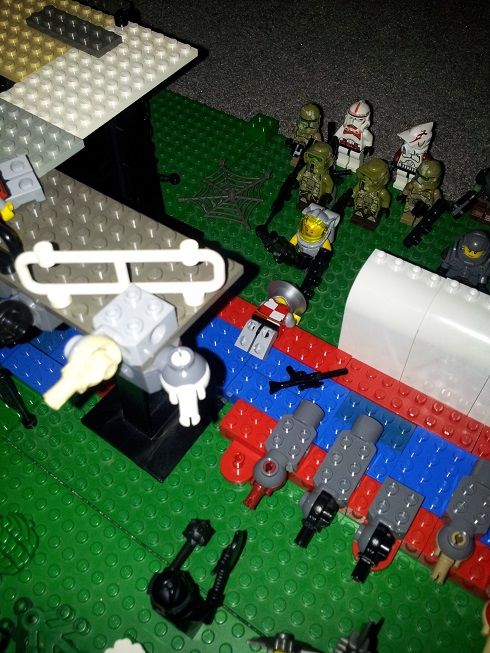 My heavies began their advance. The massive white wall Ryan had built to shield his men from my riflemen wound up being a severe impediment to his plans, as it isolated many of his men and prevented them from contributing to the larger battle, while letting my soldiers concentrate their fire on the rest his army. The combined threat of my heavies and a nearby rifle team was sufficient to keep Ryan from mobilizing the men from behind the wall until late in the battle, by which point it was too late for them to help.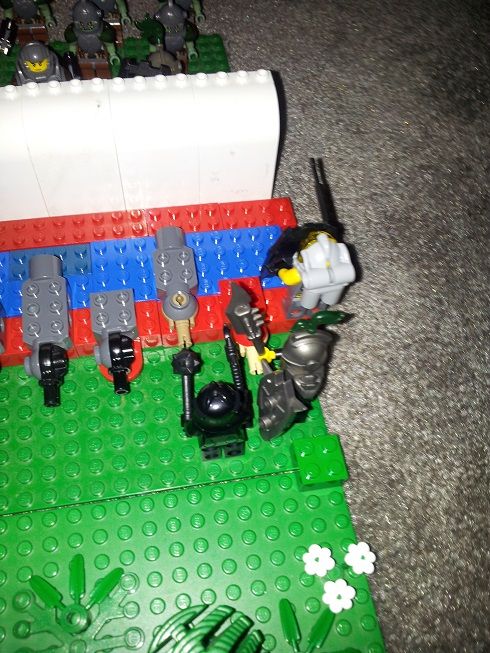 My melee force began its advance, while remaining ranged units picked off a number of Ryan's nearby melee units.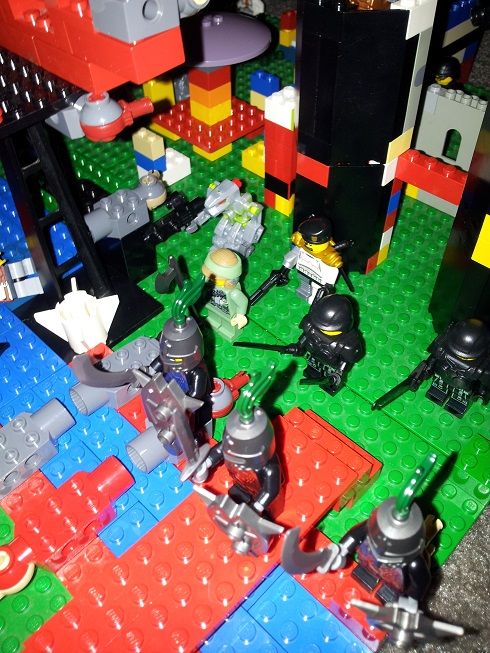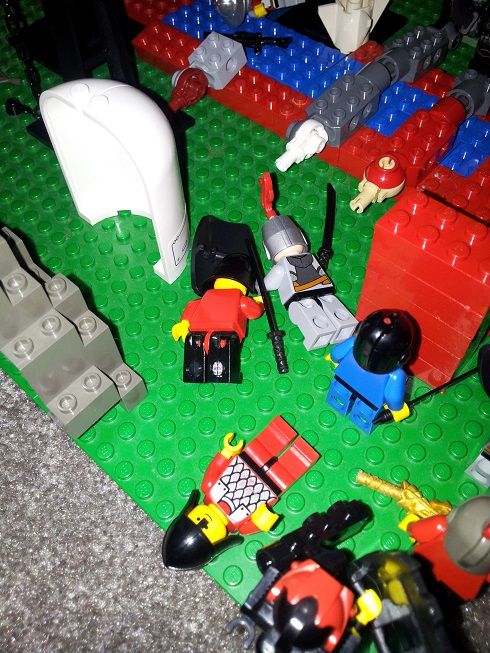 My hero, Colonel Adam Denton (cliché: Cybernetic Super-Soldier), leapt up to the now-deserted platform, and picked off another one of Ryan's soldiers. Recalling how the platform came to be empty in the first place, he then dropped prone to avoid any return fire on Ryan's turn.
Said return fire was instead used to snipe one of the melee troopers charging toward Ryan's men. Only a handful of Ryan's men were able to shoot, as most of his ranged firepower was busy cowering behind that wall. Of the few shots fired, only one scored a kill.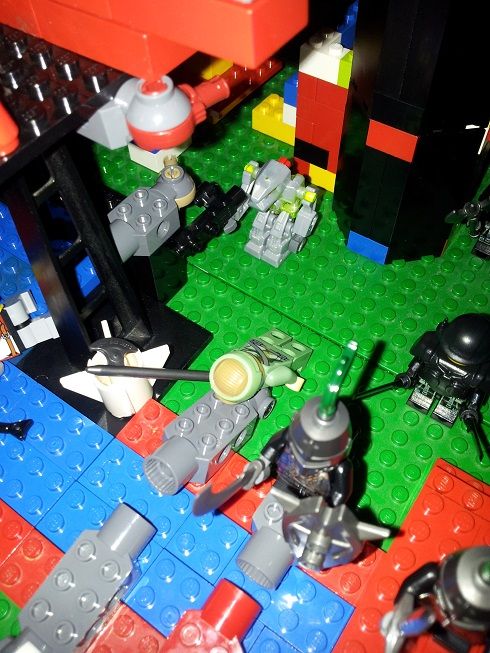 Ryan next sent his melee infantry forward to engage mine. Excellent parry rolls prevented them from scoring any kills, and a successful counterattack dropped one of Ryan's men in his tracks.
A few of Ryan's men made a half-hearted effort to drop one of my heavies, but the handful of shots fired didn't deal nearly enough damage to breach his armor. Ryan's hero attempted to replicate Denton's incredible leap, but a crit-fail on his attempt (and a critical success on my opposed roll), meant he put too much force into the jump, and overshot the platform and landed face first in front of my infantry.
2nd Turn
My Melee troopers quickly eliminate their opponents and continue the advance, clearing the left flank of hostiles.
After nearby rifle troops pick off any available redshirts, a pair of my melee troops move up to Ryan's downed hero and unceremoniously hack him apart. Lucky for them, the tangle of support struts under the platform blocked any response fire from Ryan.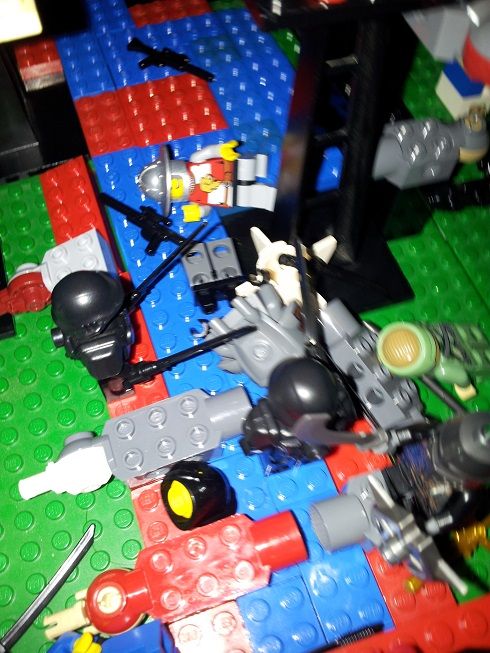 I next sniped a few of the soldiers who'd dared to fire upon my heavy infantry. Noting Ryan's string of failed ranged attacks, I decided to concentrate my fire, using large volleys fired by two or three riflemen to guarantee a kill.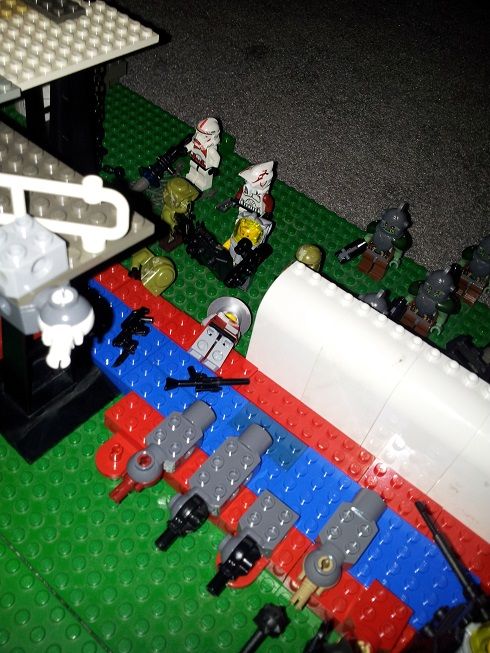 Ryan dispatched several soldiers to the chain leading up to the platform, intending to send the whole lot after my hero the next turn.
He also sent the rest of his ranged units into battle, marching them single file along the far edge of the field to avoid my now feared rifle squads.
3rd turn
Ryan's heavy had fled to some nearby ruins, using the wreckage to prevent me from engaging him with more than one or two soldiers. I quickly sent a CC trooper after him, to lock him in CQB for a few rounds.
I diverted a few of the hero-killing melee troopers to charge Ryan's men and prevent any attack on his hero. With no redshirt around, Denton was vulnerable, and I was determined to prevent any harm from befalling him. A combination of melee troopers and a hail of sniper fire successfully dropped all of the soldiers attempting to scale the platform's chain, and overkill damage picked off one unlucky orc.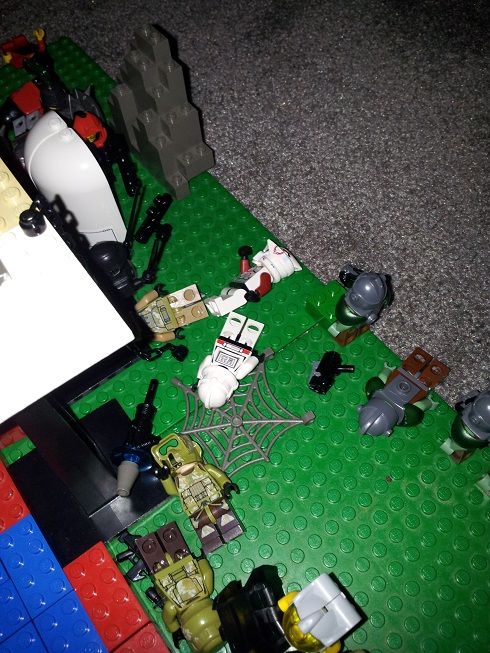 Denton used his feat to prepare 1d6 extra response actions, on the off chance Ryan managed to get anyone on top of the platform somehow.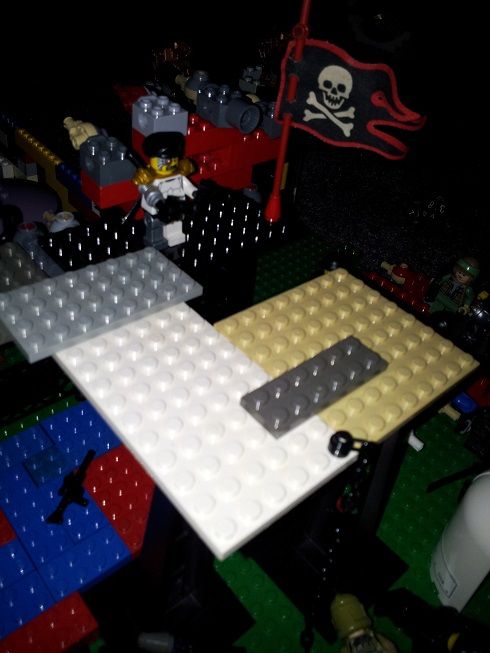 I also eliminated one of Ryan's heavies, via means I don't exactly recall. It was probably thanks to the squad of riflemen who'd been lurking in the forest.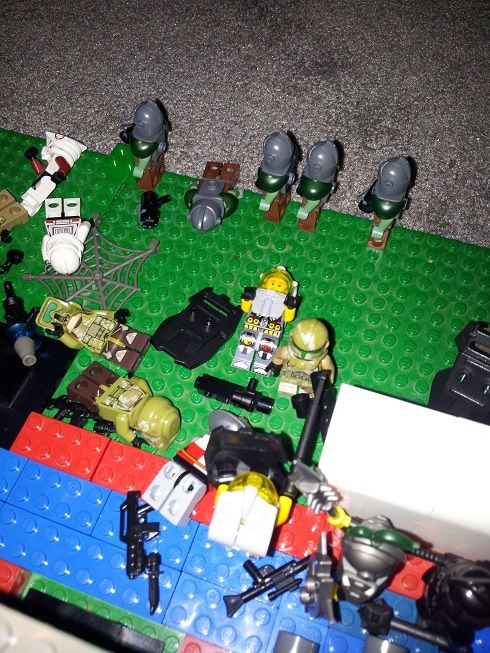 Ryan, running out of troops, opened up with his handful of remaining gunmen. Unfortunately for him, he tried to bit off more than he could chew, scattering his shots over a bunch of separate targets rather than concentrating fire on a few high value enemies. His panicked shots score 0 kills.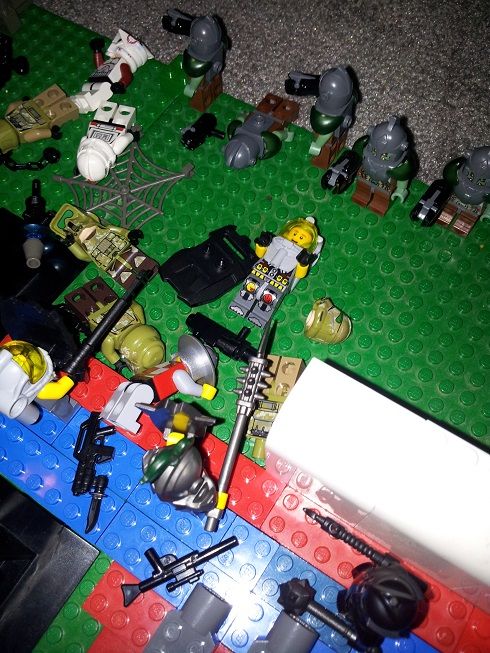 4th Turn and beyond(note: several photos from this point onward are missing. I'll try to summarize the missing content as best I can).
On the right flank, several massive volleys of rifle fire lay waste to Ryan's men, and the heavies finally waded into battle (the heavies as a whole moved too slowly to contribute effectively in this battle, I'll have to give them some transport or employ them defensively in future fights).
In the center, my infantry demolish some the debris shielding Ryan's heavy, and dispatch him with a massive combined attack on the next turn.
Colonel Denton fired the last shot of the battle, using a feat to send a single bullet right through the eye slit of Ryan's final heavy.
Final Kill Count:
Me: 24
Ryan: 1
Battlefield Overwatch:
This match ended up being a crushing victory for me, mostly because I noticed and ruthlessly exploited the holes Ryan left in his defenses. When Ryan hesitated to react to my sudden assault on turn one by holding the bulk of his infantry in reserve, it gave me just enough room to shatter the rest of his army without interference. By the time he prepared a counterattack, he'd lost too many men to be able to exploit any gains he made, and wasn't able to put enough damage to slow my assault.