Olothontor and I had a serious playtesting session during which we revised the Brikspace rules quite a bit. Our second game, while cut short, was a lot more balanced at fluid than the first. So, without further ado...
The First Public Brikspace Game
!
Here's the initials setup: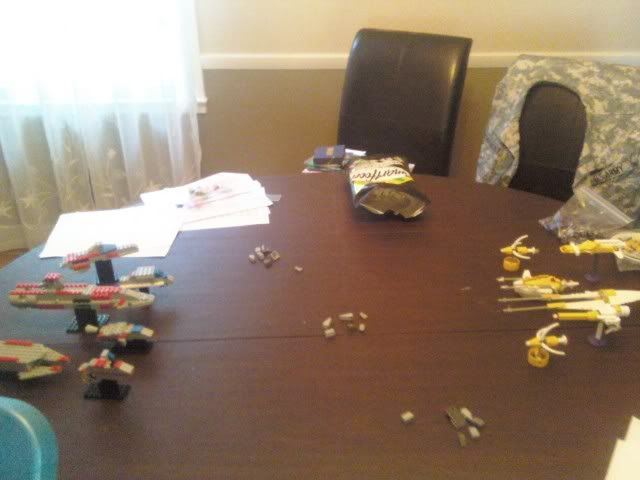 And closeups of the fleets... I'm red, Olothontor is the yellow fleet.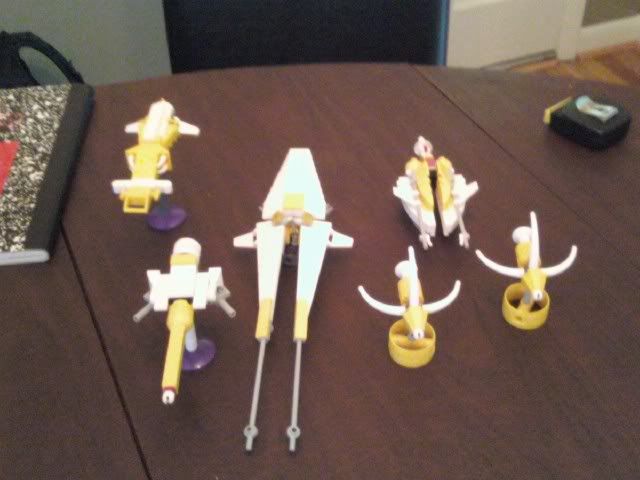 Now, a quick note. For the rest of the images, the fighters and missiles will be hard to make out. I've highlighted them:
red
for my Fighters & Bombers,
yellow
for Olothontor's, and
green
for any Missiles.
So, turn 1. I won the initiative roll. Even after moving, we're far away. All I can do is launch Fighters & Bombers and take potshots. One of these hits managed to knock off a Sensor Package from a Frigate. Here's how everything stands at the end of my turn: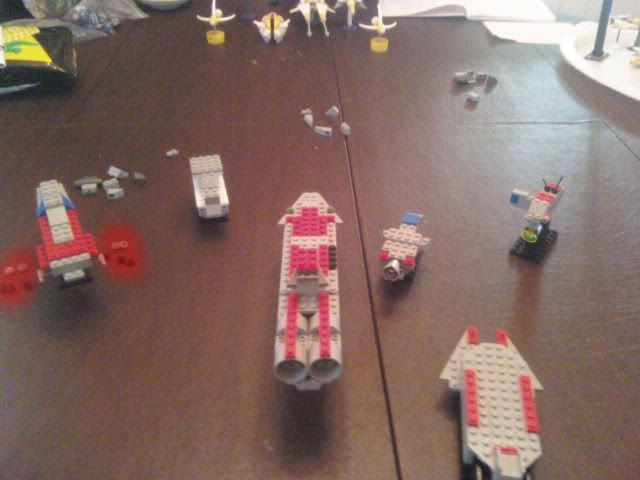 Olothontor launches every fighter in his holds, and sends some Missiles my way. Potshots cripple my Missile Barge early on.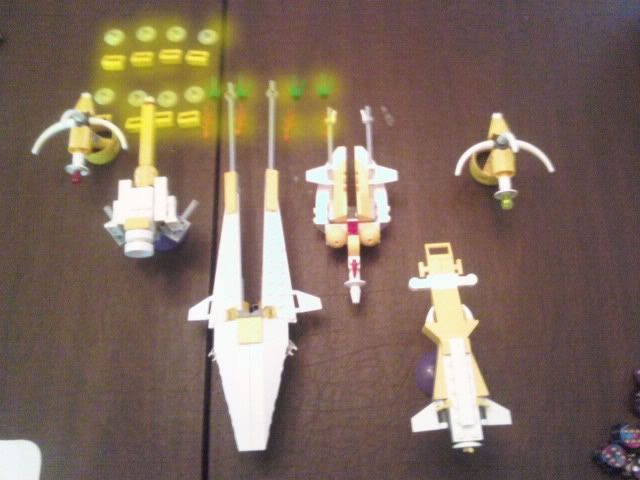 Turn 2. I release the rest of my Fighters & Bombers, and send some retaliation Missiles and continue to barrage the Frigate, taking its engine down. Missiles directed at the other Frigate start to wear it down as well.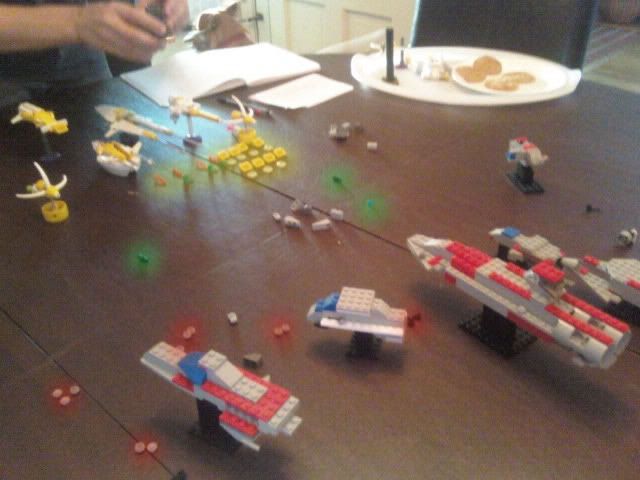 Olothontor retaliates. First, he scatters the Fighters that a Shrapnel Missile was sent at. He starts picking off my Fighters/Bombers, and they drop pretty fast. Both Frigates come under fire; one is even destroyed.
It's my turn again. More missiles are directed at the good Frigate, and a Burst is sent towards the Missile Barge, but it hits Olothontor's Flagship and Freighter as well. My Flagship starts to lay down the wood, directing fire at the Missile Barge.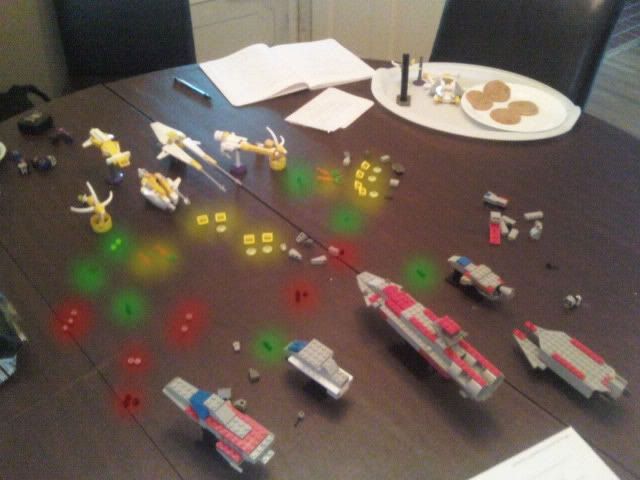 Olothontor starts to close in with his Fighters & Bombers: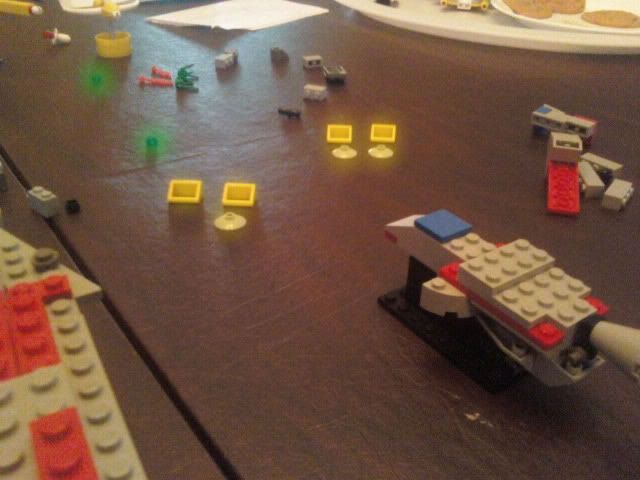 Missiles start raining down; my Missile Barge is destroyed, and my Carrier, Flagship, and other Frigate are hit. The Frigate goes down, along with some of Olothontor's own Fighters and Bombers. Some ineffective potshots are directed at my still-operating Flagship.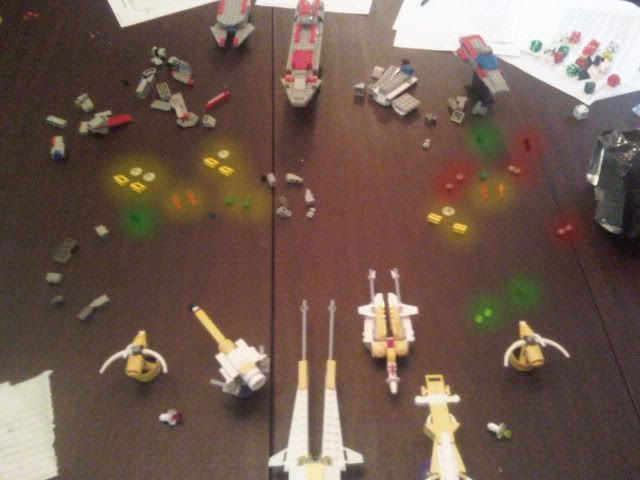 Turn 4. Missiles take down a Frigate and Missile Barge, and start smacking around his Carrier and Flagship. Through some crazy luck of being in the right place at the right time, a lone Fighter takes down the other Frigate.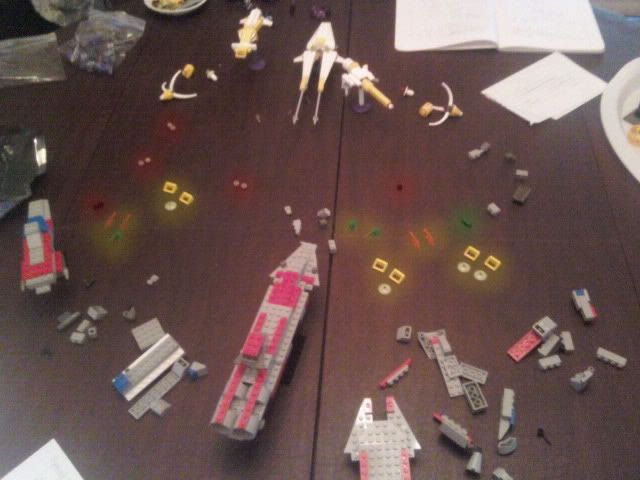 It's a last-ditch effort to finish the game, as Olothontor's dad is coming soon. He launches a Sub-Space Nuke, harming my Flagship and several Fighters, along with some of his own Bombers: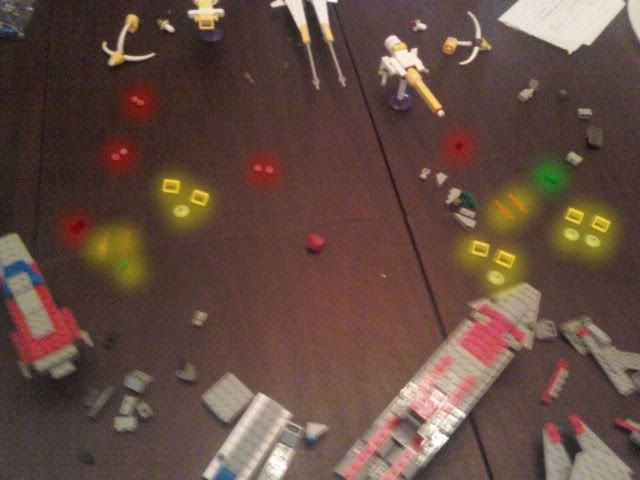 Some shrapnel rains down on my Flagship just as the game is prematurely ended.
The final battlefield, Olothontor poised for the win: