After the rout of the Conglomerate of Salt Miners, Arghbeard's Arrmada, and the Blue Bandana Knights, the nefarious Megabeard managed to create a foothole in the Brikverse. Now, the Nega-Portal at it's full power is corrupting all normal ABS into an inferior form. However, the Rainbow Wall still manages to keep the corruption largely in check. But now...
Megabeard, Skadword, and his minion Patrack gather at the Nega-Portal for their next plot.
"Patrack, you will use our Seeworld frigate and its anti-monument laser to destroy the Rainbow Wall."
"Duh... I got it!
Also, Pirate Jim is wandering the area, blissfully unaware of the various horrors he suffers daily.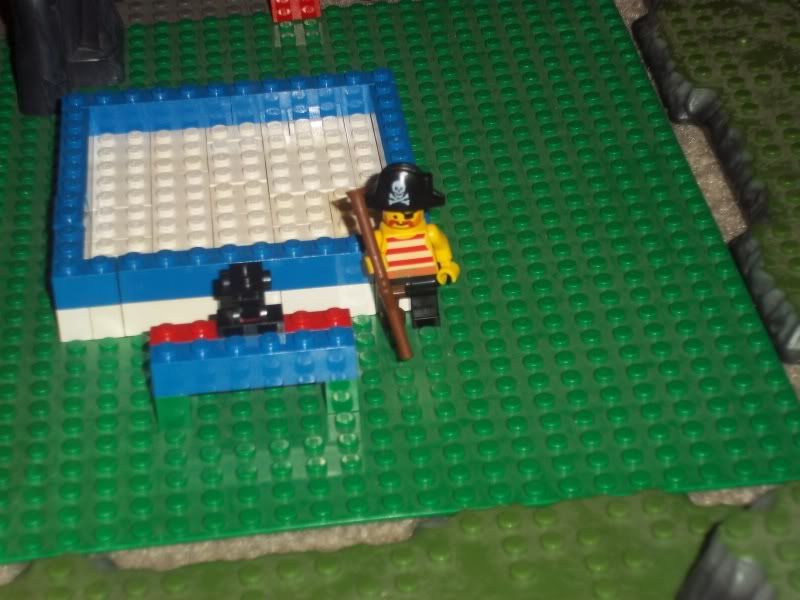 To ensure the Seeworld Frigate makes it safely to the Rainbow Wall, Skadword has dispatched the Seeworld knight Tuna Tophat with a horde of zambehs to guard the path.
However, two forces soon arrive. On the left is the Blue Bandana Swordsman and his knights.
On the right are the Police, led by The Sheriff. He and the Swordsman got into an argument (Like always), leading to violent battle. The location was a result of koincidence.
The Battlefield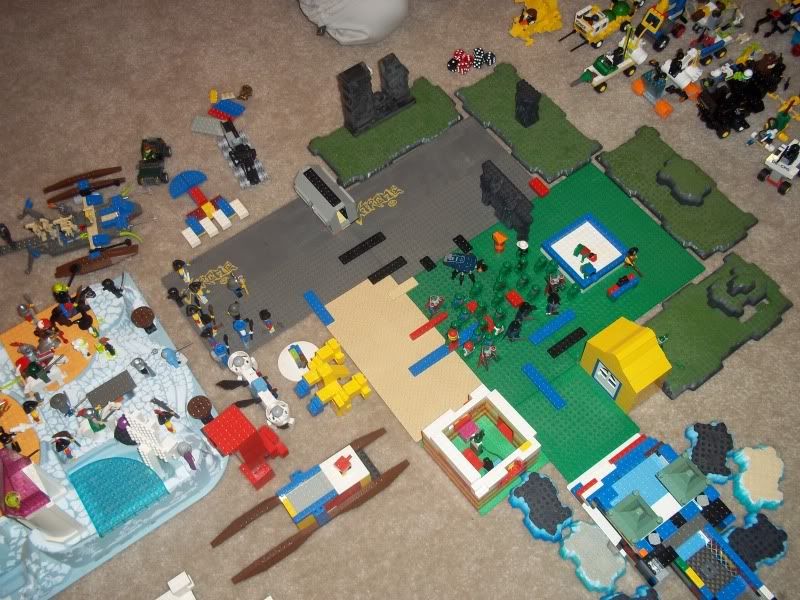 Turn 1
The Zombies, Knights, and Police all move ahead. The police vehicle runs over a wall.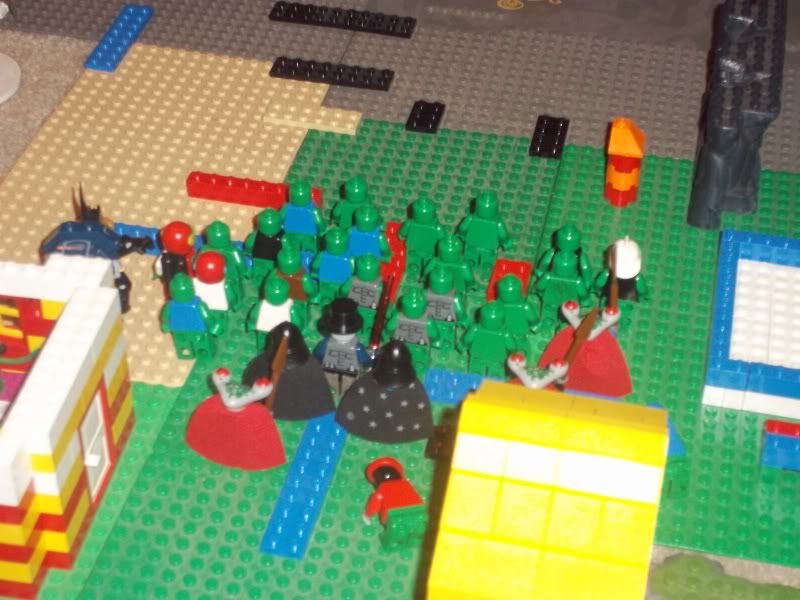 Turn 2
Megabeard arrives from the Negaverse to provide aid to Tuna Tophat! He disentegrates a Knight's flier and sends hideous Negalings to assist the zambehs.
The Negalings proceed to gang up and destroy The Sheriff, and a crawler.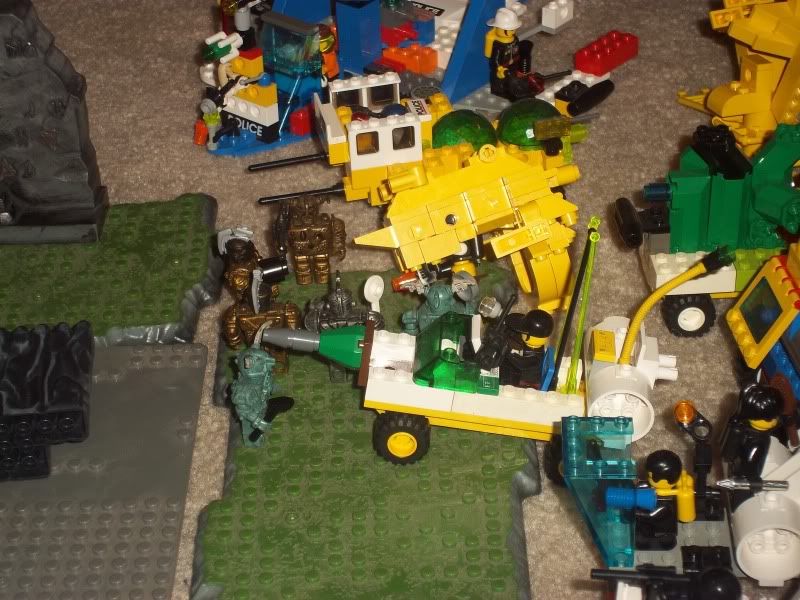 The enraged Police run over some Negalings, and shoot at the others. Their flier decides to land straight into the field, crushing Jim the Pirate!
The giant and mech allied with the Blue Bandana knights attack the zambehs, and fail. The red giant somehow screws up stepping on the scarab.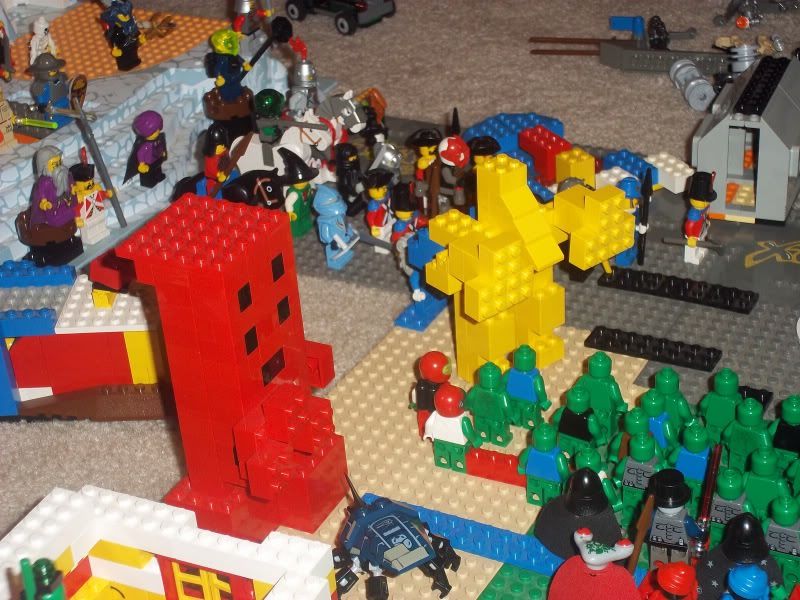 Turn 3
The Squid Barons and a Fish Knight charge at the flier, disabling it. Two Leapers kill the crew.
Tuna Tophat uses a Stupendous Feat to use his Farce powers and throw the mech into the Police.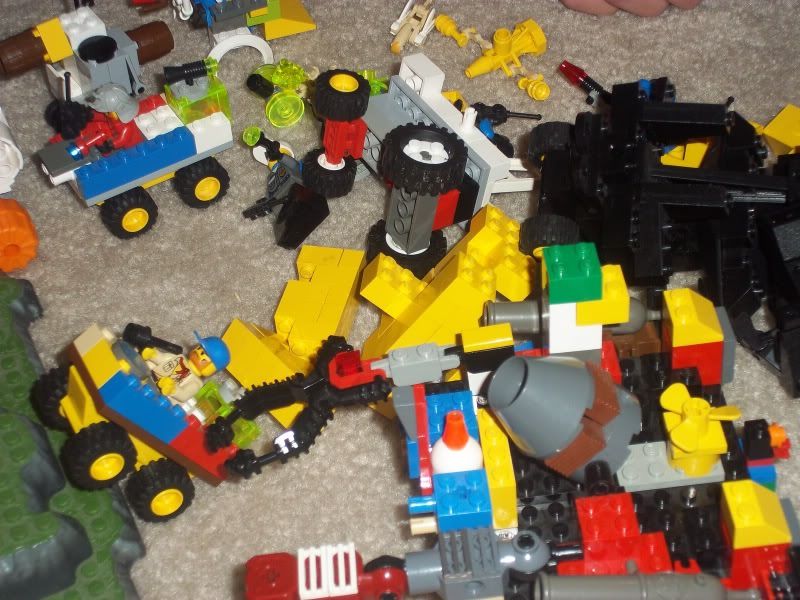 Zambehs attack the knights, and two Graspers aid in plucking one knight far away.
The Sheriff's pet Besseh is enraged, and throws his damaged vehicle at the disabled flier! It causes a massive explosion wiping out the nearby Seeworld warriors. A robot also blows up and kills off the remaining Negalings.
The Blue Bandana Knights engage in combat with the zombies.
The one with the broom humilatingly kills a Manly-Manbie.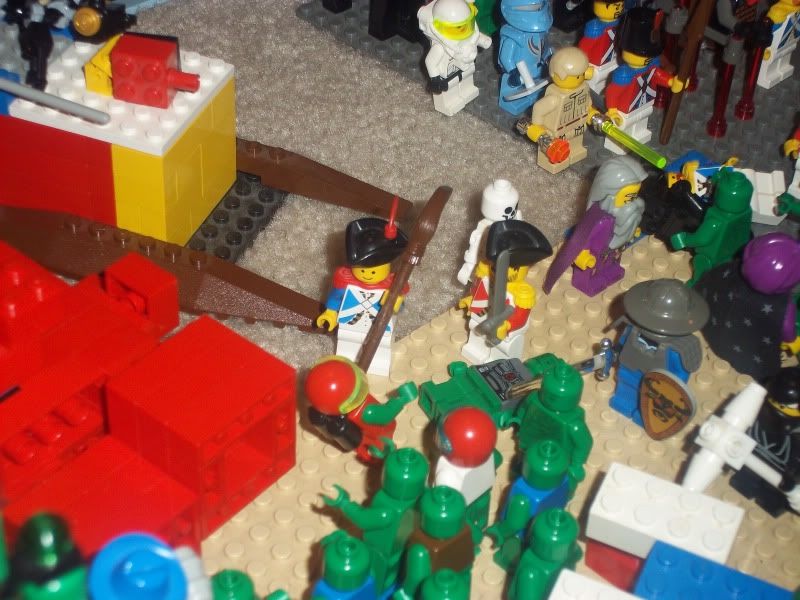 Finally, the Blue Bandana Swordsman tries a Stupendous Feat to bring a Stalagmite onto the zombies... but accidentally made one fling onto his own soldiers.
Turn 4
The Seeworld Frigate arrives at the Rainbow Wall.
And proceeds to use its anti-monument laser to utterly destroy it!
Aftermath
Megabeard reappears before Patrack, congratulating him for this victory. The dopey Patrack only looks on vacantly. With the Nega-Portal's corrupting powers now unhindered, what will happen now?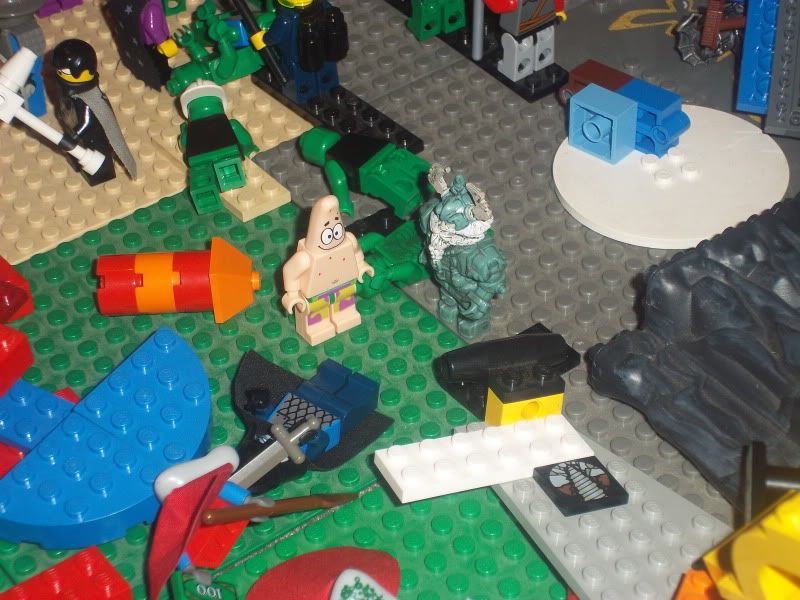 The Horde wins!