My roommate, his friend, and I sat down yesterday for a 3-way battle royale. We simply ran 1 hero and 9 other dudes on a fairly big map: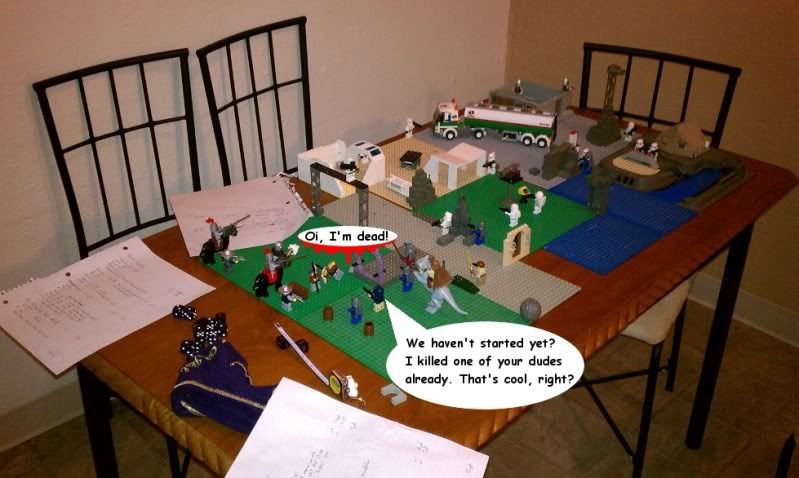 Points of interest where the cannon (18" range, 2D6 explosive damage) and the fuel truck (kablooey). What follows is more-or-less a highlight reel as there were periods of intense slaughter followed by periods of poor rolls (with intense laughter).
Han Solo was present on my roommate's team, but he was just a stand-in as Rebel Scum since he already had his custom jedi hero. 4 CP worth of crappy stats didn't stop Han from being awesome though... throughout the game, he survived a dozen assassination attempts and even killed some dudes himself: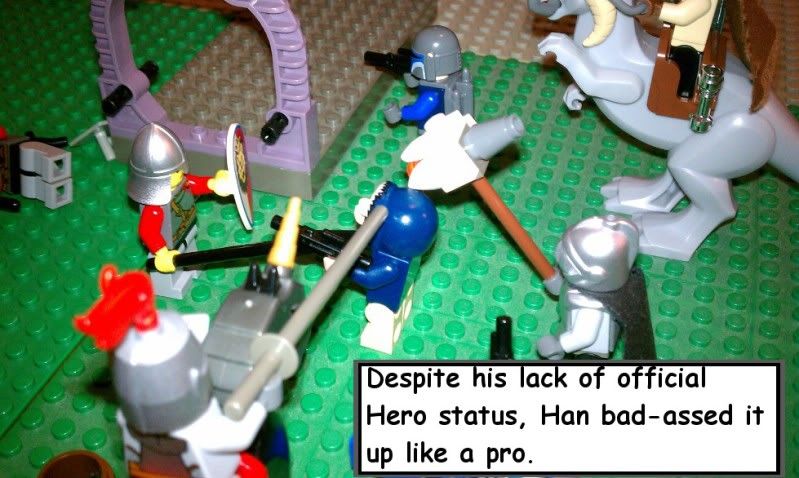 Some deaths and stuff later, my crossbowman decided to jump onto a tanker to a get a shot at a few Dime-A-Dozen Troopers. This went poorly: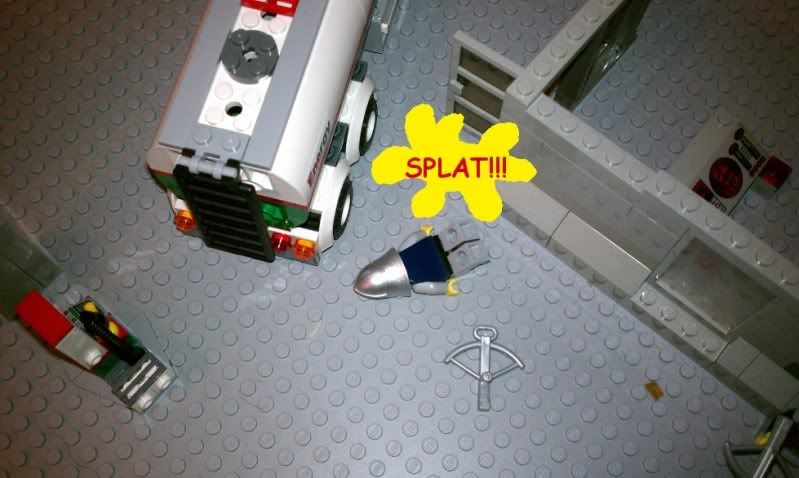 In a similar act of hilarity, Sir Big McLargeHuge found himself surronded, so tried for a whirlwind mauling of the people around him. Unfortunately, the hammer went flying off on its own only to land impotently and uselessly on the grass (just like Axl Rose); everybody laughed (again, like Mr. Rose).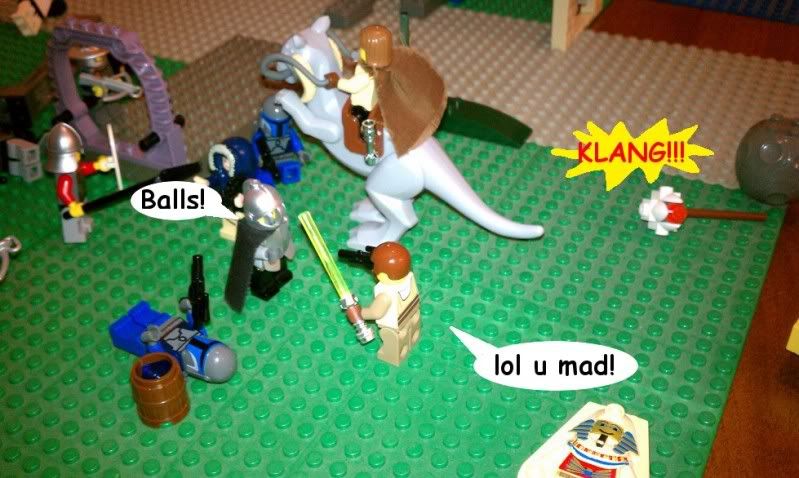 My dwarf (who started inside the gas station) decided that the best cure for stubborn Han Solos was a semi truck. He promptly ran out and hijacked one.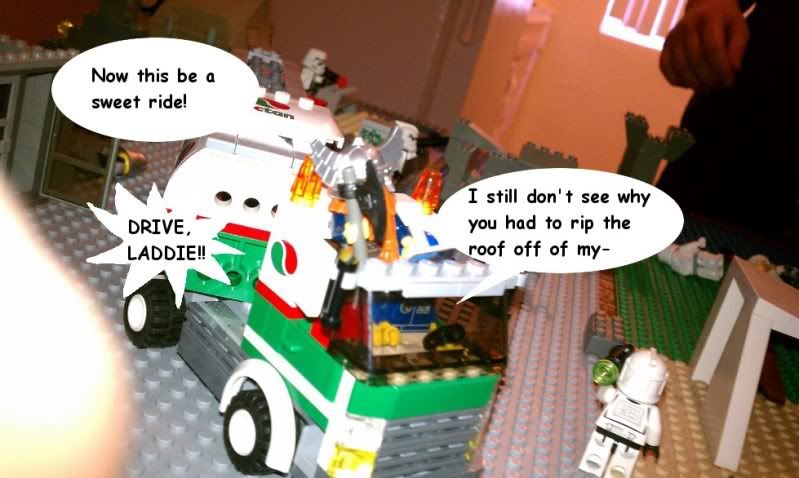 ...which was an awesome move, beacuase Johnny the Jedi had just arrived to watch one of his troopers shoot the tanker truck for sport. The fact that it wound up killing most of the enemy trooper's forces, a dwarf and a crossbowman was purely coincidental.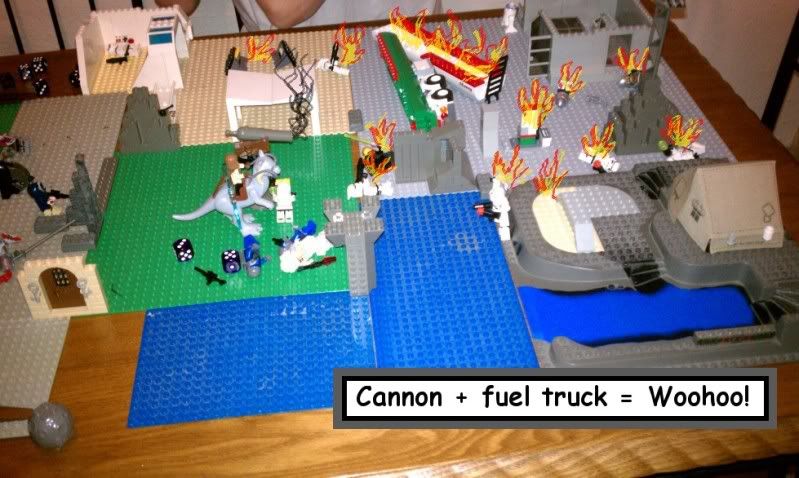 At the end of the skirmish, Han, Some Dude, and Johnny the Jedi strode triumphantly through the charred and scattered remains of their foes.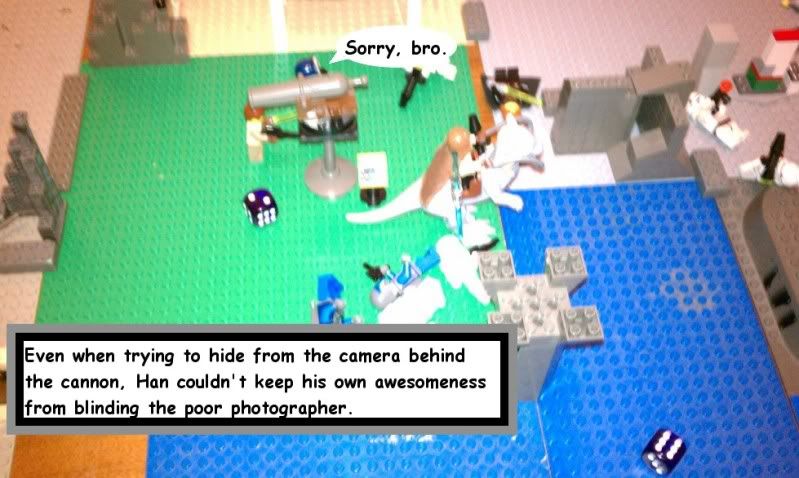 Surely, they will never have to face retribution from a powerful, bitter enemy...