Twas the night before Christ*mas, and all through the house, not a creature was stirring...
... save for some zombies.
Some of you mentioned you'd like to see this, so I thought I'd post. Enjoy the carnage...
A mere day after all Laporte f*orces pull out of the Bemidji area, three Laporte Helghasts (the Heavies) await at Fugates Station in order to save Laporte ambassadors Spike and Lady from enemy hands. According to intel from King Dillon, a representative from the Immortal Empire and two of his trusted soldiers will be bringing them back to Fugates Station in return for safe transporation back to the Immortal ship hanging over the planet's atmosphere.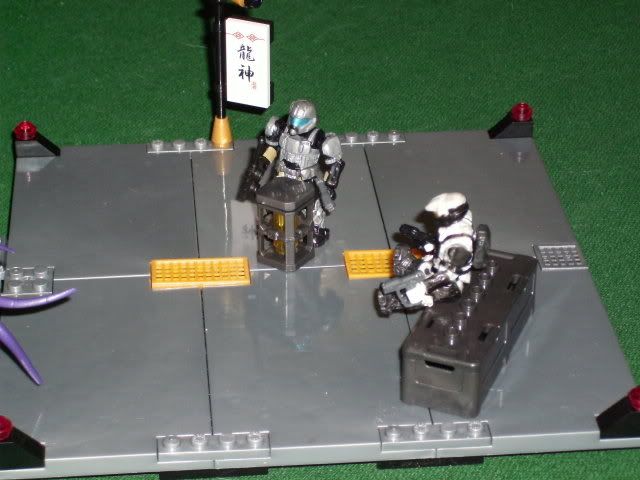 In charge of the small group is Captain Badass (an expert with dual-weapons), and Sgt. Hancock, who is in charge of communications. The third man, an alien Hunter, is armed with a plasma blaster.
Fugates has undergone major transformations since the last battle there, namely the walls and ceiling being removed, presumably because building materials were needed elsewhere. Fugates Station is now merely a waypoint for Laporte f*orces, and also a point of defense along Hwy 71, which serves as a major means of transportation between Laporte and Bemidji.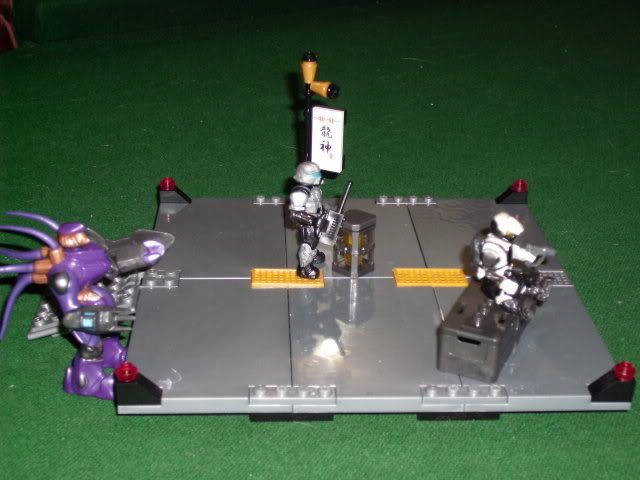 The sound of rapid gunfire suddenly causes the three soldiers to turn their attention to the southwest. Whom has fired their weaponry?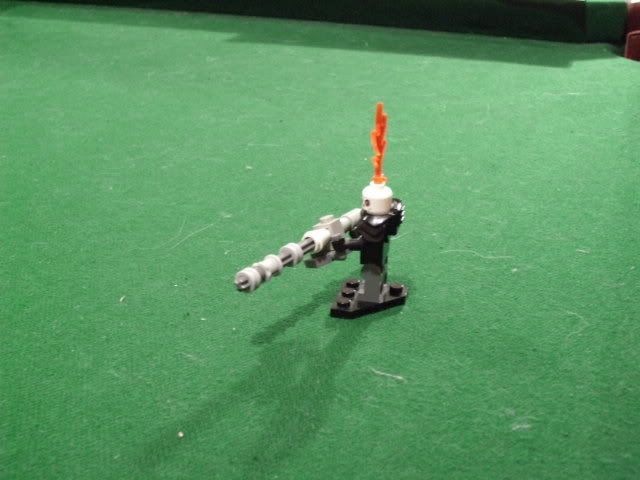 Ohhhh shit...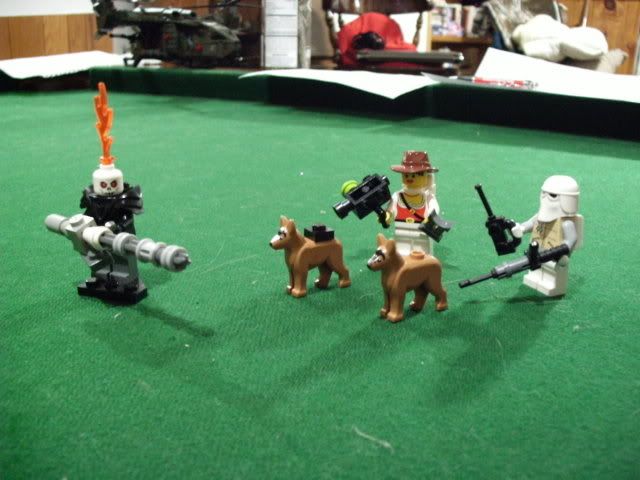 Warhead emerges from hiding, carrying the Manly-Fuckin-Mini-Gun in his hands, followed by his Immortal Bitch and Corporal Dogmeat. IB is wielding a camcorder and binoculars, and Dogmeat a sighted speargun and radio, handcrafted in order to get back in contact with the Immortal ship heading towards their position.
Between them are the Laporte ambassadors, Spike and Lady, seemingly unharmed and in good spirits.
"Emperor Warhead, it seems you're a man of your word," Captain Badass says, weapons held at the ready. "Come aboard and we'll take Spike and Lady into our protection."
"A very small waypoint you have here," Warhead remarks as he and his men bring Spike and Lady up the ramp. "Are you not concerned for your own safety here?"
"We have our orders," the Hunter replies.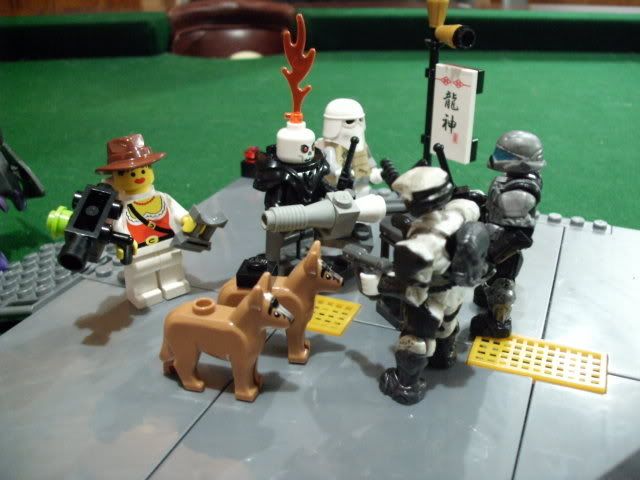 "Now then, as I understand it, you are awaiting transportation from the Immortal ship that has come to pick you up?"
"They have yet to coordinate our position," Warhead replies to Captain Badass. "Once they do so, we'll be teleported off-world and out of your hairs. Your ambassadors have been unharmed... they were actually quite friendly."
"Yes, well, we also have an extraction team on the way as well..."
"Uh... guys?" IB asks, looking towards the west.
"What?"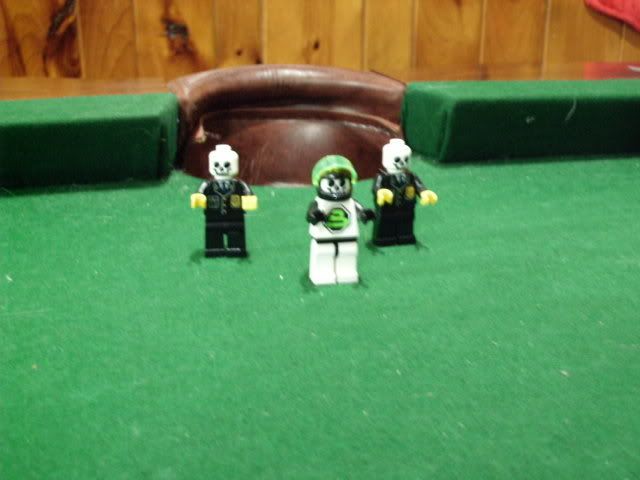 From the west approach three clearly undead monstrosities. Apparently two police officers tried to pull over an out-of-control biker and got more than they bargained for.
"There's more from the north," the Hunter speaks up. Three pirate cosplayers slowly stumble forward, two of them twins, led by Captain Hook.
And to the east, three turned-Brittanians and the redneck who turned them shamble towards Fugates Station.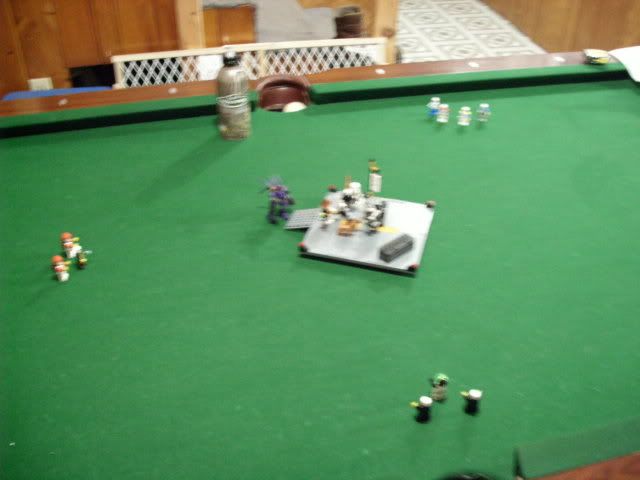 "Hmmm... brings back memories of Brik-Toria," says Warhead.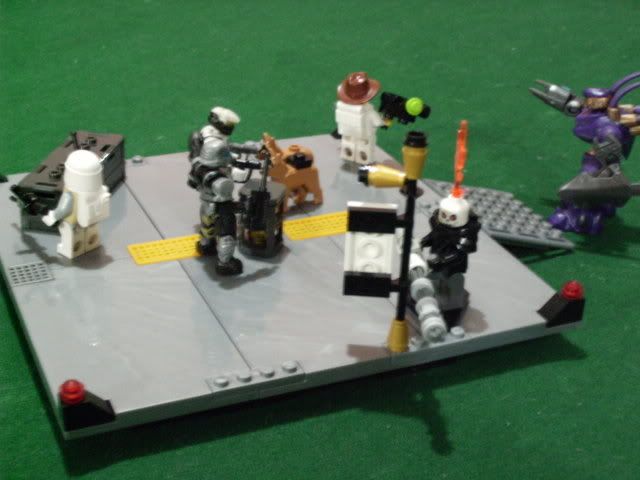 "Sir, we still have five minutes until extraction can come and pick us up!"
"We'll just have to hold 'em off, men," Captain Badass tells Hancock. "Emperor Warhead... will you stand with us?"
"Really? I've got nothing better to do at the moment..."
With that, Warhead and his men take positions, Warhead towards the east, Corporal Dogmeat to the west, and IB to the north.
The Corporal's first speargun shot flies true, smashing the biker zombie back into one of the undead cops. Both are still alive, however, as is evident by their still-madly twitching limbs.
The Hunter brings the ramp up to prevent the pirate zombies from climbing right up towards them. It won't hold them off completely, however; they can climb up straight onto Fugates Station quite easily, even though it will take them time to do so.
Warhead opens fire with the MFMG...
... and completely obliterates a zombie that stumbled into range.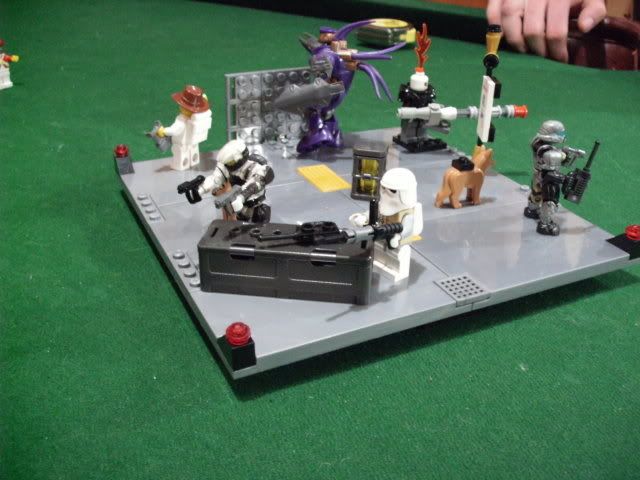 "What's behind us, in the center?" Corporal Dogmeat asks as Captain Badass joins him at his side.
"An explosive. One of the artifacts we've dug up from our mining operations."
"... I see," Dogmeat replies, firing his speargun again.
He misses by a small margin.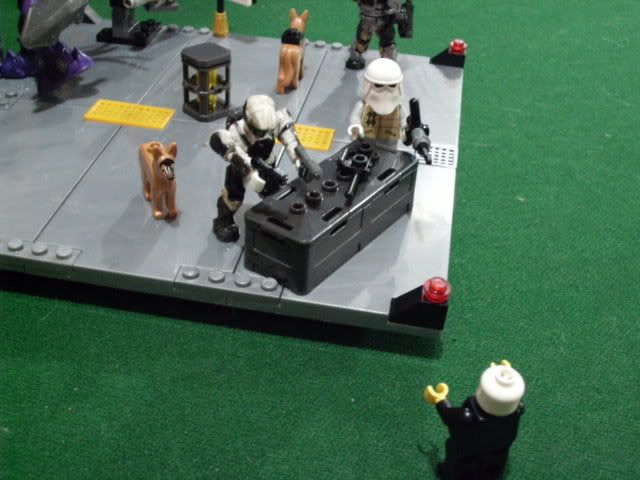 "Let me show you how it's done, kid."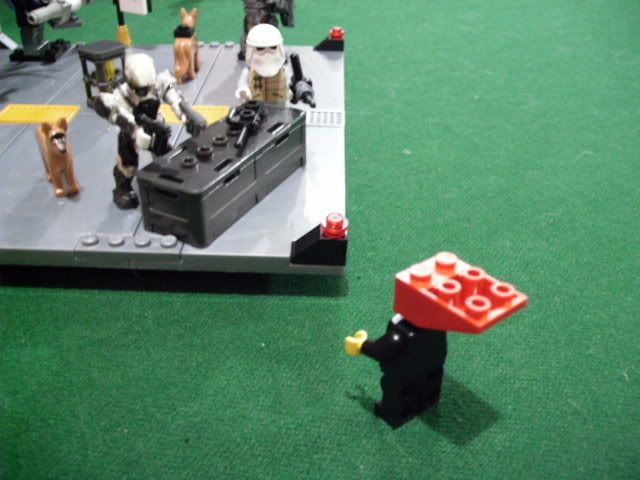 Two well-placed shots from Captain Badass blow the zombie's skull to bits.
"Nice shooting!"
The enemy's at the gates, quite literally. The Hunter takes aim with his plasma weapon. At this close range, what can happen?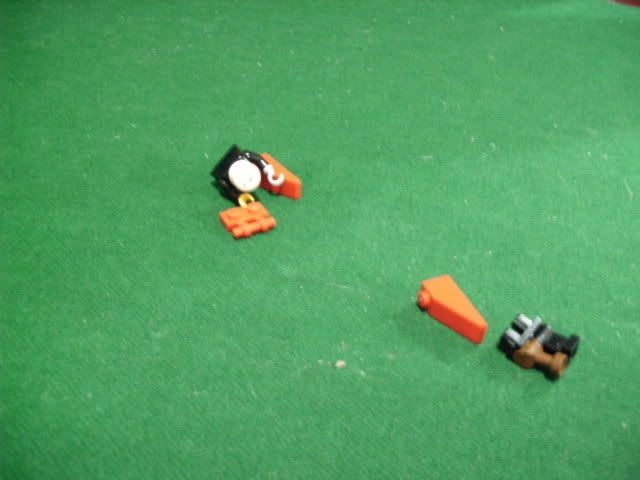 Ewwww....
Despites its injuries, the mutilated zombie begins to crawl back towards its attacker.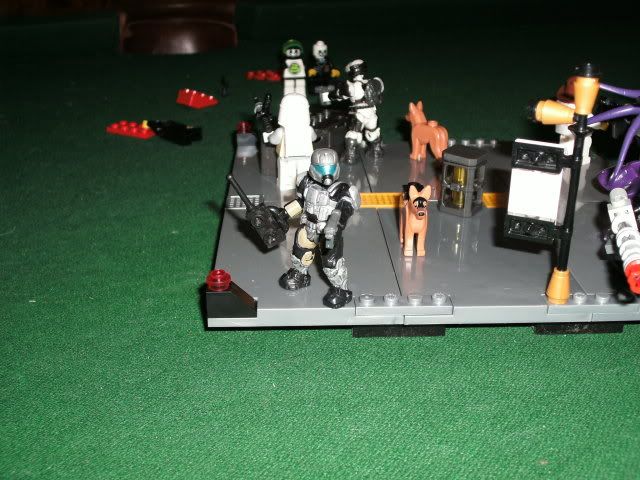 "Evac, how long before pickup? We've got hostiles approaching from three sides!"
"A few more minutes, Hancock, we've just gotten into the air!"
"
Dammit
!"
Out of frustation, Hancock aims his pistol at the closest zombie and fires.
His shot is true, but it doesn't kill the undead revenant. He does manage to knock it down though and buy some time.
Warhead continues to unload on the approaching corpses. He aims a little too low, however, and only manages to rip up a small portion of the ground in front of the zombie coming straight towards him.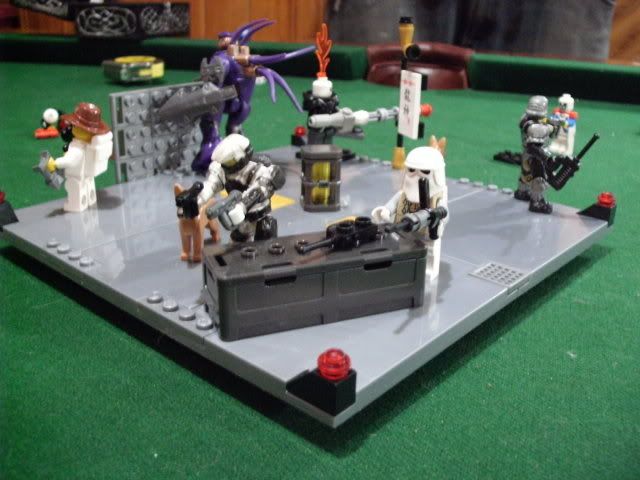 "Hey... what's in the box?" Dogmeat asks.
"Ammunition, mostly, but not a lot. We weren't expecting trouble from you guys."
"Well, I've got an idea. Let's push it down and make a barrier, so these guys will have to move around it!"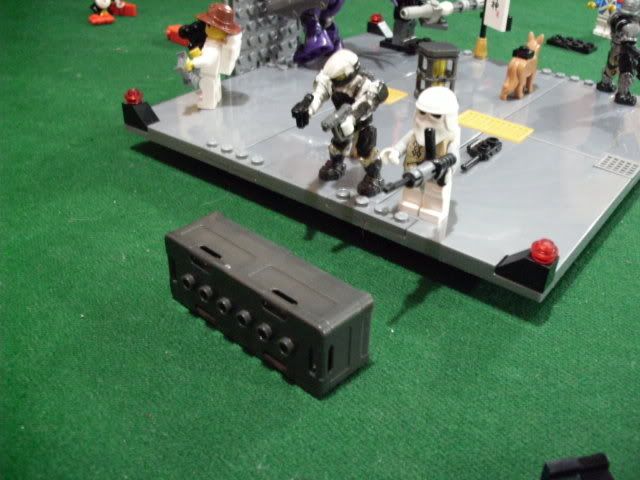 The Immortal Bitch unleashes a surprise on the twin zombies from the north: her camcorder is actually the outer casing for a high-caliber pistol! She fires and manages to catch one of the twins by surprise, but fails to kill him, merely sending him spinning towards his fellow cosplayer.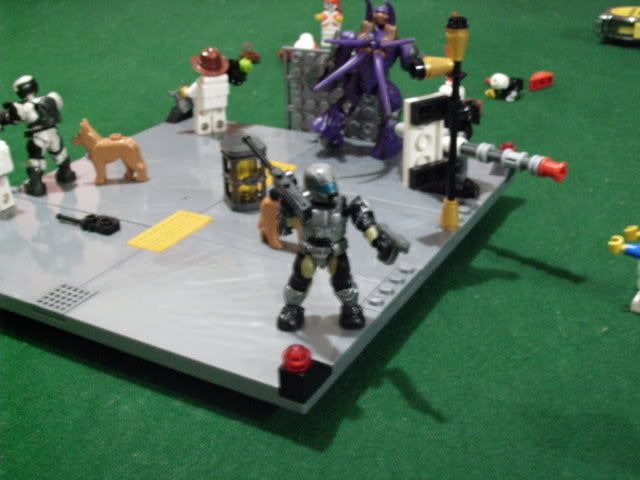 "Seriously, guys, it's getting a little hairy out here!"
"Just a few more minutes, Hancock, we're almost there!"
Hancock grits his teeth under his helmet, aims, and pulls the trigger.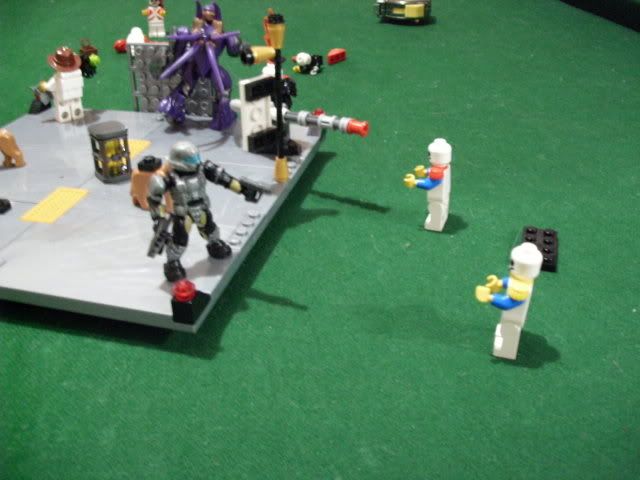 CLICK-CLICK!!!
"SHIT!!!"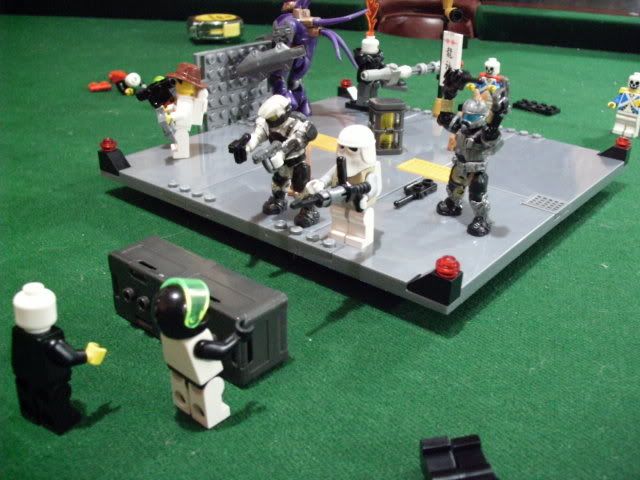 Turning around and expecting an ammo box to be waiting for him, Hancock is enraged to see the box lying on the ground with two hungry corpses marching towards them.
While he throws a temper-tantrum, Spike begins loudly barking and growling at the zombie that Hancock shot earlier, which has regained its footing and begins its slow march yet again.
"Got my back?" Captain Badass asks.
"Copy that," Dogmeat replies, the two of them ignoring Hancock's wild flailing and gesturing.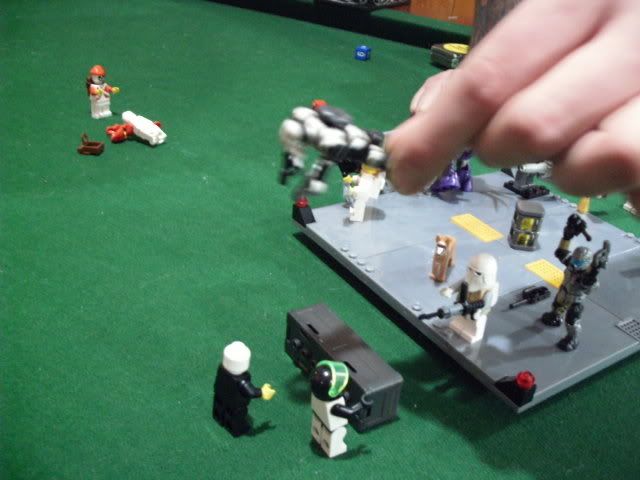 Captain B.A. leaps into the air, twirling head over heels--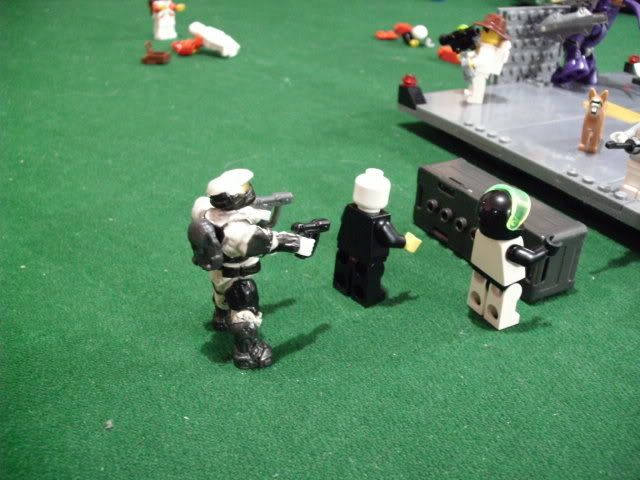 And lands right behind the two zombies.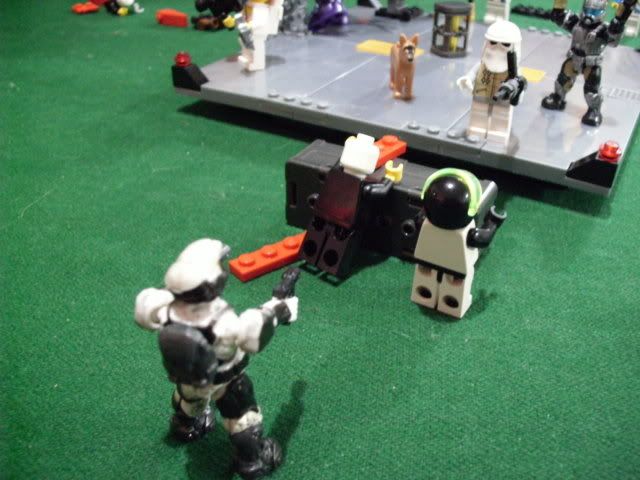 He easily dispatches one of them with two well-placed shots to the head.
The Hunter finishes off the disembowled zombie.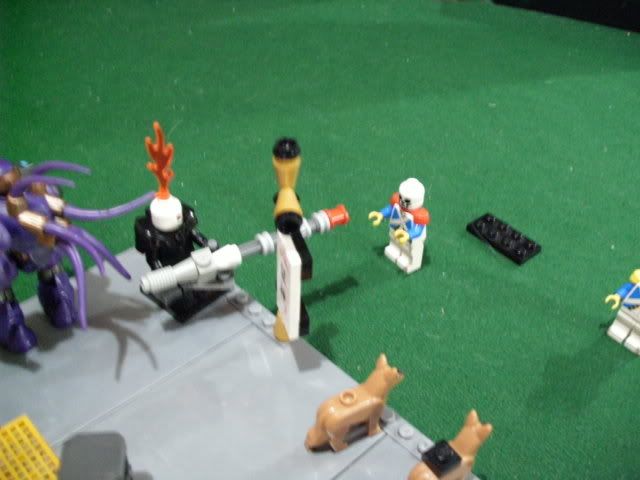 Warhead rips into the zombie that now stands directly before him. At this range, he can't
possibly
miss!
He doesn't, and completely shreds the undead into dog chow. However, at that moment, the MFMG's barrels freeze up: Warhead's been firing the weapon for too long, and the minigun has overheated! Some tinkering will be needed in order to get it back into working condition, as soon as it cools down.
IB joins Dogmeat and opens fire with her camcorder-pistol, only to have the jury-rigged weapon completely fall apart when she pulls the trigger. Apparently she hadn't tested the firing-mechanism properly before arrival.
Dogmeat attempts to help out, firing his speargun at the biker zombie. He misses.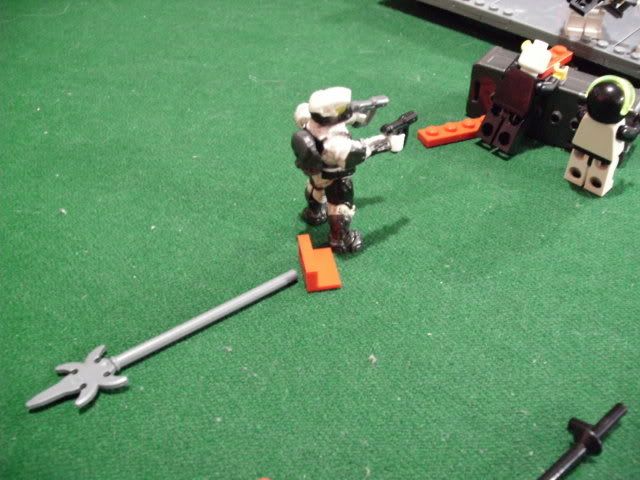 And instead the spear slices into Captain Badass's shoulder .
"AAAAAARRRRRRRRGGGGGGHHHHHHHHHH
WHAT THE

FUCK

?!!!
"
Spike and Lady both hold the line and threaten the zombie that now stands before them. But does he really want to eat them? Maybe he just really likes dogs? He is smiling...
Corporal Dogmeat doesn't have time to regret firing upon Captain Badass. The biker zombie finally reaches upwards and--in a stunning critical--bites into his lower half and tears him apart at the waist.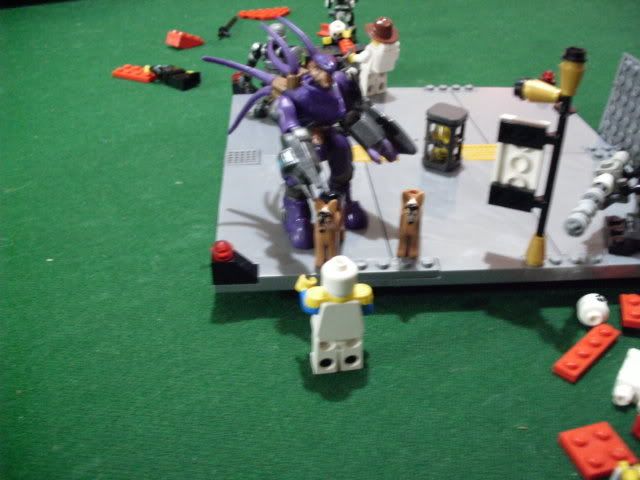 The Hunter joins Spike and Lady on the eastern side. He takes aim, and fires.
At point-blank range, the zombie is knocked back, but isn't killed. Boy, these guys are thick-headed!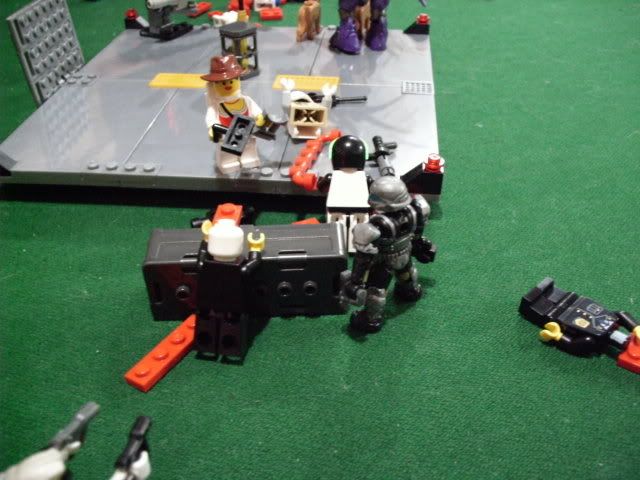 Sgt. Hancock risks life and limb in order to retrieve ammunition for his pistol.
Thankfully, the Captain is there to back him up.
Even with the protection offered from his helmet, the biker zombie isn't able to withstand two armor-piercing bullets to the back of the skull.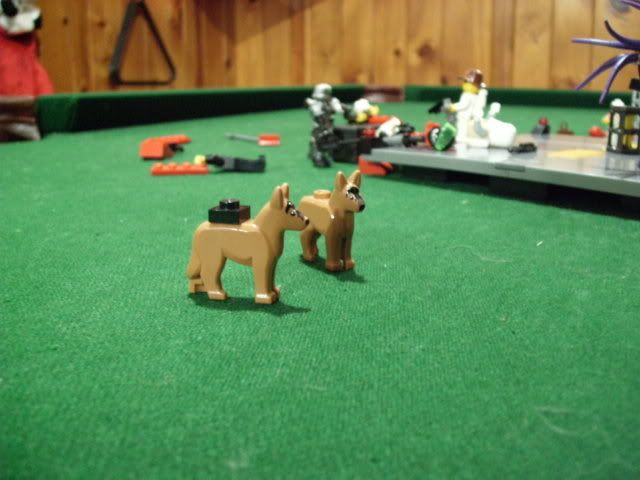 Spike and Lady head south of Fugates Station and attempt to grab the eastern zombies' attention.
It works!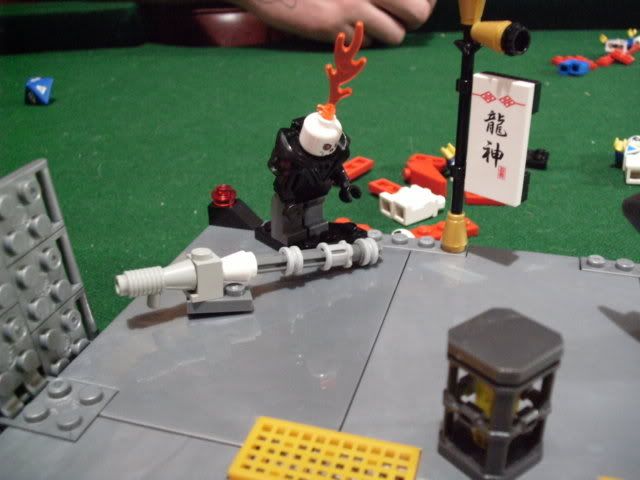 After mentioning to the Laporte Hunter that "I've encountered these things before... you have to shoot them in the head.
Most
of the time," Warhead begins working on getting the MFMG back into working order. Meanwhile, a plan begins to develop inside his twisted head...
Sudden groaning and the sound of snapping jaws catch IB by complete surprise. Turning around, she discovers to her horror that Captain Dogmeat isn't completely dead... he's been turned into one of the undead, albeit ripped in half. Screaming with rage, she begins hammering him in the skull with what remains of her camcorder, but fails to do any real damage.
The zombies on the north side advance, facing no resistance.
Hancock retrieves some spare clips for his pistol.
With nothing else to do, he heads forward to support Spike and Lady, just as the squawk comes over the radio that evac is immediately upon them.
"Thank God for that!"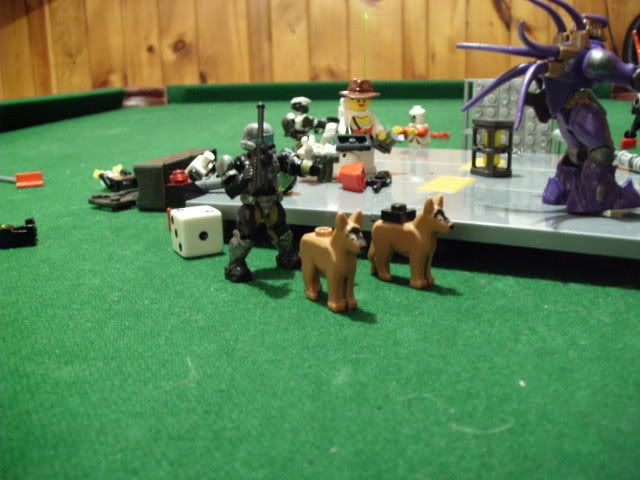 Spike and Lady decide to join him, luring the zombie towards him.
Laporte's evac finally shows up. Nikoli the Pilot can't believe the carnage he sees below.
"Holy SHIT!!!"
He wastes little time in landing in a safe spot. And Hancock doesn't mix words to either the Laporte Helghasts or the Immortals.
"GET TO DA CHOPPAAAAAA!!!"
http://www.youtube.com/watch?v=jlMZ825IOqQ
Captain Badass heads towards the northern section and opens fire on one of the two zombies. Both his shots miss, however. One of them actually destroys a landing light and sends a thick steam of neon-green electricity into the air.
The zombie's undeterred. It stumbles forward.
Right into the electrical storm.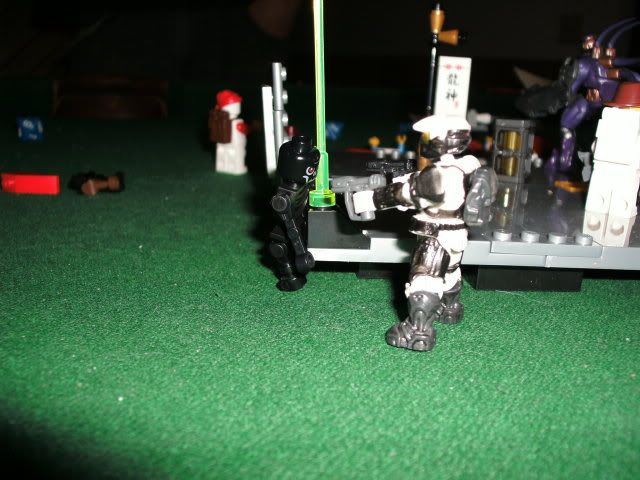 He's toast.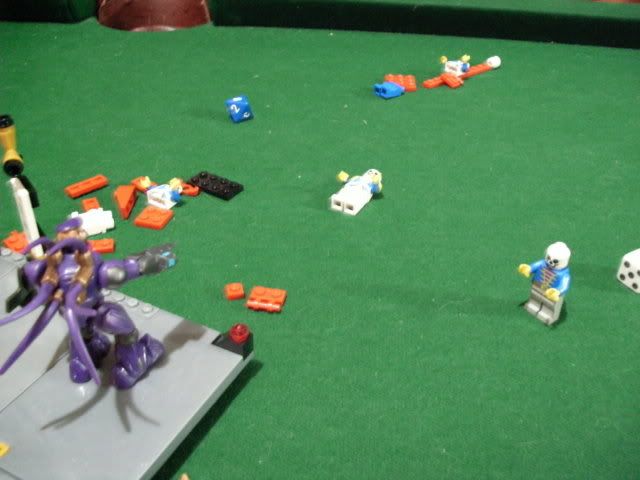 The Hunter sends the Brittanian zombie back onto the ground with another shot to its thick skull.
Warhead can't take it anymore. "
Fuck
this," he thinks, and ignoring the burning sensation in his hands, he grabs hold of the MFMG by its barrel...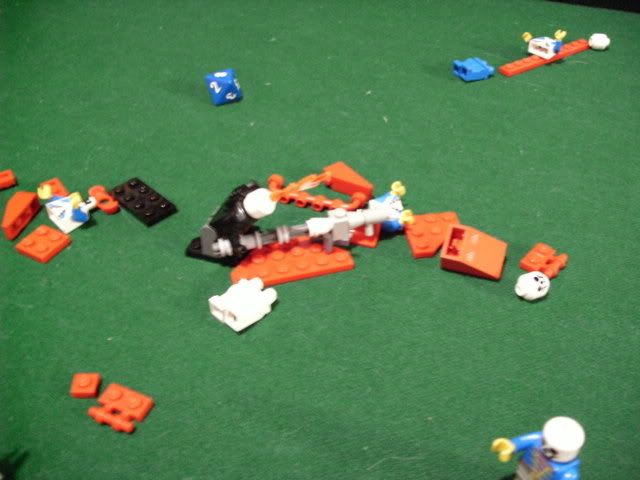 And in an epic display of badassery, he splatters the fallen zombie twelve ways to hell.
Maybe that's all the MFMG needed... it's able to fire again after Warhead's bloodlust has been sated!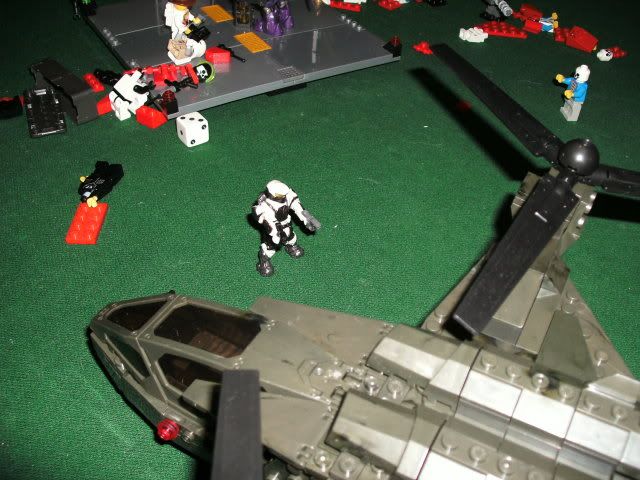 Hancock escorts Spike and Lady onto da Choppa. Captain Badass holds back in order to make sure his men make it to their way out safely.
The Hunter begins to activate the explosive in the center of Fugates. "You might want to run...
really fast
," he tells IB.
As the countdown begins, he begins waving his arms and screaming his head off in an attempt to catch the last pirate zombie's attention. Hey, he succeeds!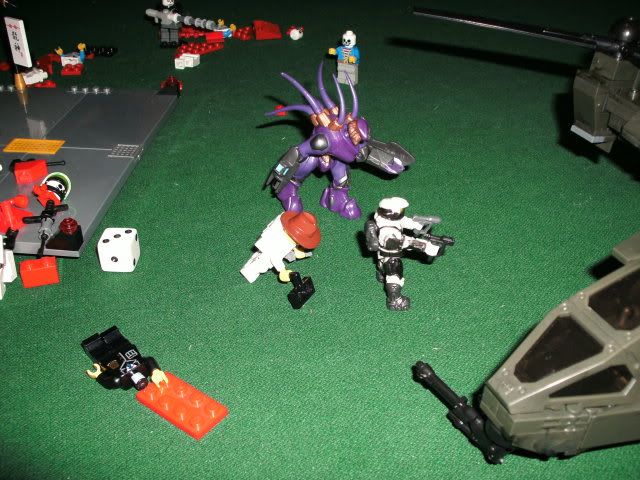 Both he and IB then make a break for it.
Warhead's been on a roll so far. Rushing forward, he swings the MFMG back in an attempt to paint the ground red with zombie blood.
But... can it be?! Have the dice gods conspired against the almighty Warhead?! The weapon proves a little too heavy on one side for such a move, and he trips onto the ground... catching the zombie's eye.
It immediately pounces on him and attempts to bite through his armor!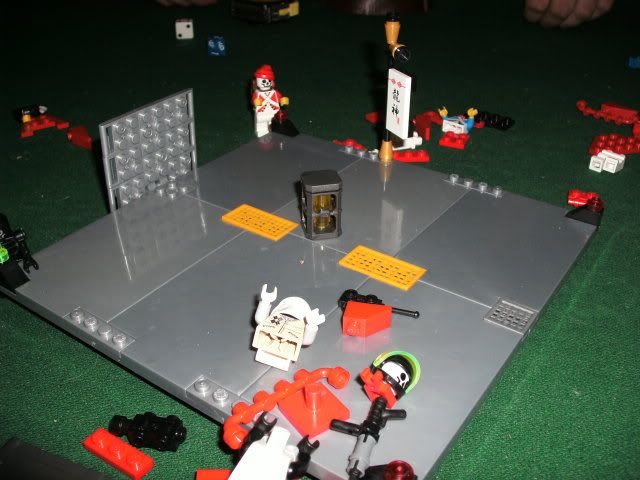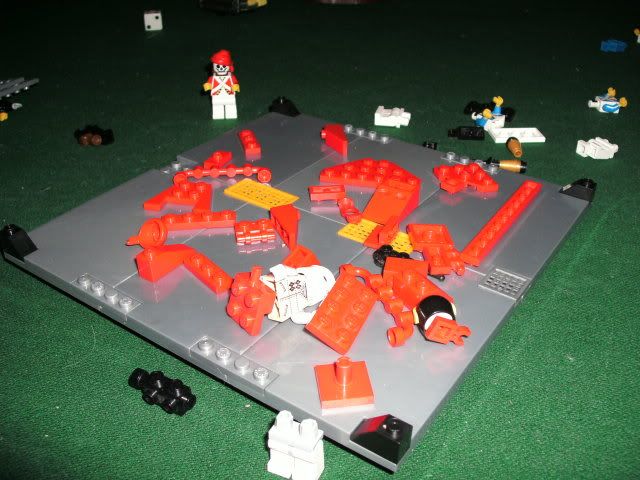 The explosive goes off, and Fugates lights up into flames. Zombie Dogmeat, who was still undead, is burnt to a crisp. The fire also consumes the Immortals' radio, cutting off their contact with their own evac ship.
See that zombie standing in the background?
He's really motivated. He manages to stagger all the way around Fugates and falls into pursuit of the fleeing Helghasts and Immortals!
The Hunter isn't about to stand for it. He turns around and rams his great fist right into the zombie's face!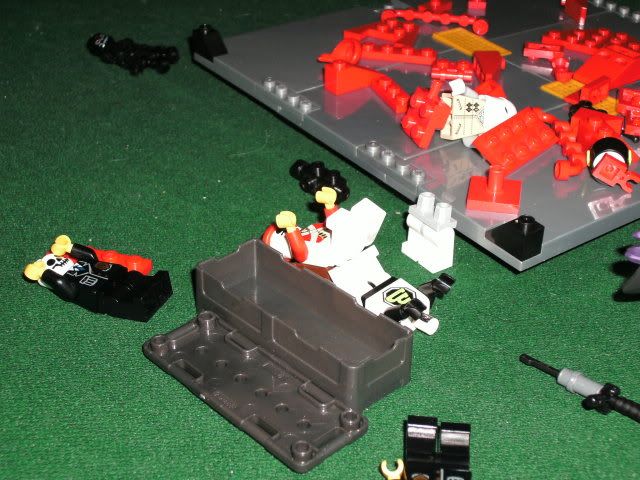 The mighty blow sends the undead corpse flying head over heels over a fallen brethern! He's fallen and he can't get back up!
Captain Badass, seeing Warhead in trouble, steps up to the plate.
The zombie's finally put out of its undead misery.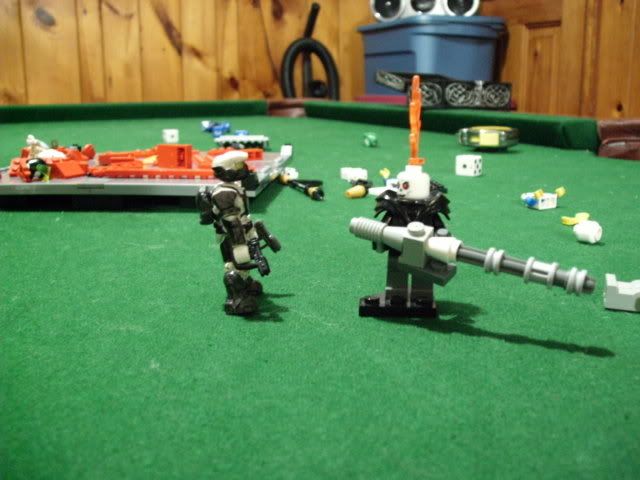 "You have my gratitude for saving me, Captain."
"No problem, my friend."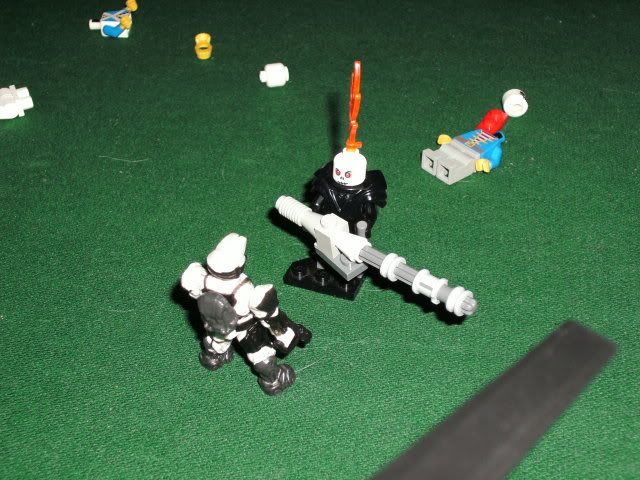 "You Laporte Helghasts are obviously much-better trained than the Northern Bemidji Alliance. Perhaps we can work out an alliance between us? There are benefits, after all, to joining with the Immortal Empire..."
"... I'm not sure what King Dillon would think of such an alliance. But for right now..."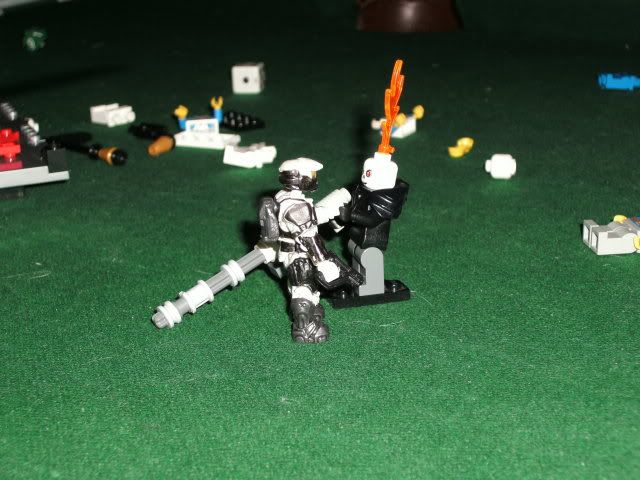 "You're my brother-in-arms, Warhead!"
"Agreed! A keg of Maniac Beer for all of us once we get back to our Immortal ship! But first..."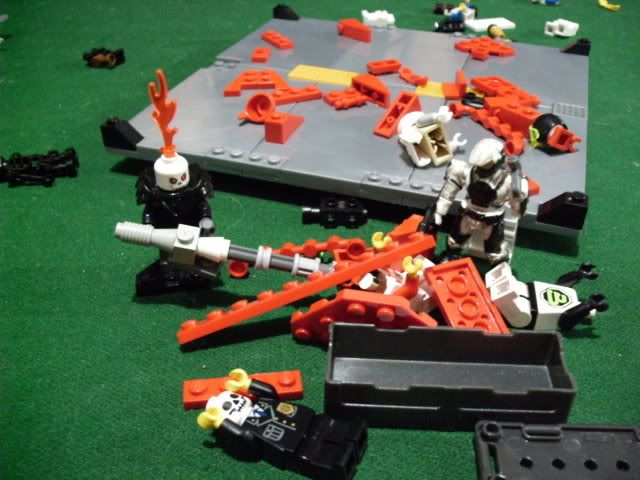 And thus, the final zombie was put to rest.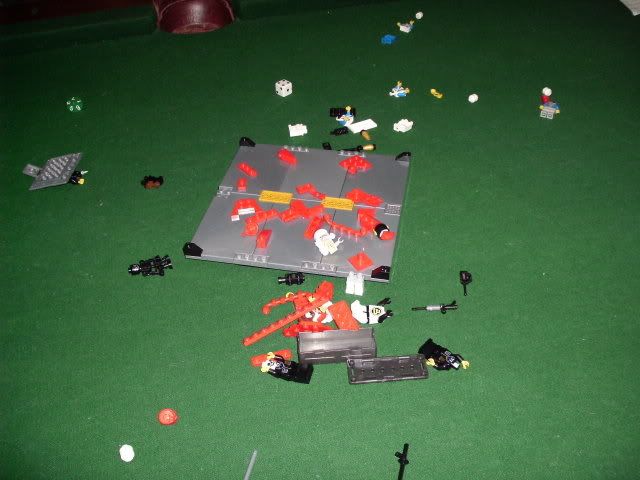 Fugates Station was abandoned after the battle, left to become just another smoking wreck as evac took the Laporte Helghasts and the Immortals back to base. Without a radio to contact their ship, Warhead and his IB were able to construct a new one with the help of the Helghasts and teleport back to safety.
Shortly before departing, King Dillon has a chance to meet Warhead face-to-face, and agreed to joining the Immortal Empire. A diplomat would be sent to Warhead's ship in order to set and agree to terms with their newfound allies.
Unknown to either the Laporte Helghasts or the Immortals, however, the Northern Bemidji Alliance was already planning an offensive on their hated foes against one of their most important locations available to them...
Hope you enjoyed! If you have any helpful comments regarding camera work, it'd be much appreciated, I'm not too happy with some of these pics. Thanks!