So I decided to go build some civilian ships, as a diversion from the typical dreadnought madness.
The first one is a small Trattorian freighter. Most major Trattorian shipping corporations use larger models, but smaller companies and startups favor these.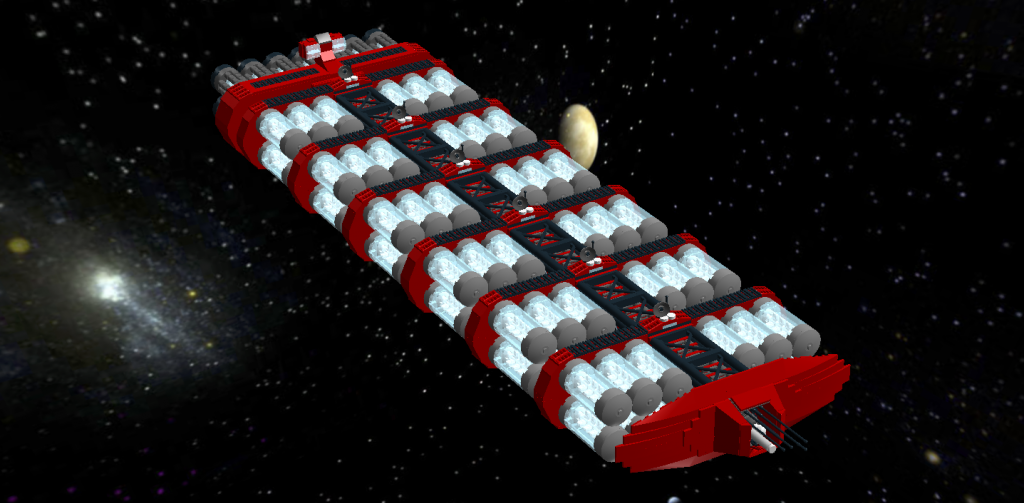 The second is an AMScythia antimatter transport.
AMScythia is a huge antimatter conglomerate, generating more revenue than some entire star empires. Once a startup founded by some enterprising physicists a few centuries ago, it then monopolized the Scythian market for antimatter, before venturing outward and dominating the entire brikverse's antimatter trade. To keep up with demand, the corporation built dreadought-sized transports each capable of carrying 72 giant canisters of antimatter. A column of 42 military-grade shield generators run through the spine of each one, to protect their obviously volatile cargo. These are not absolute restrictions, however- depending on the circumstance, one could add or subtract canister-modules from the ship.
As can be seen, these transports are larger than some dreadnoughts, thus demonstrating the wealth and the might of the AMScythia conglomerate.