In a far off land there lived a man and his son. The man was once a chieftain of great warriors, but a neighboring kingdom defeated his clan in battle and took him and his son from their land. In the new land they were called Rivernors for their people dwelt north of the great river that separated the nations. Stripped of their titles and privileges, the man and his son were forced into servitude. In time, the king of the new land forgave the chieftain of his crimes, but would not allow him to return to his land north of the river. The man, eager to prove his willingness to cooperate, used his talents to create weapons for the king's armies. At night, the man would teach his son the ways of their people. Hunting, fishing, fighting, he taught his son everything he knew in the hopes that one day, his son would become a man and together they would return to their home north of the river. The man's name was Almos. His son was Arpad.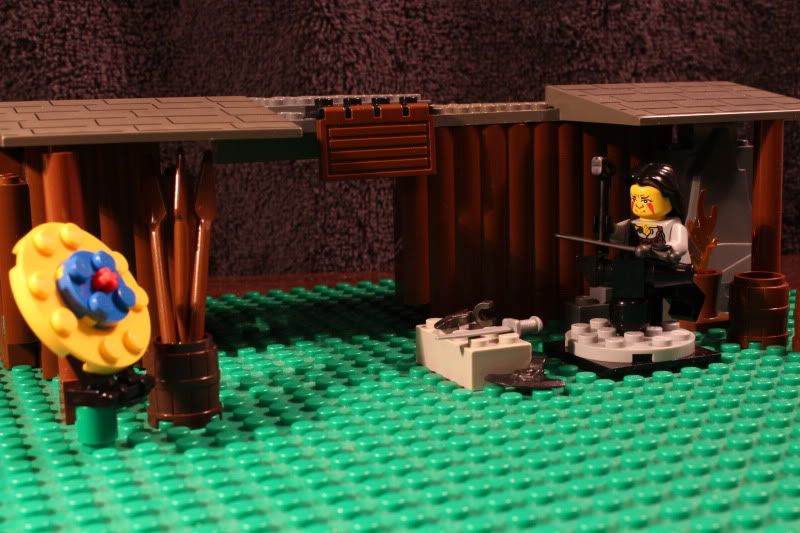 Like every other day, Almos is found forging weapons at his anvil. His house is little more than a shack and his furnace is just a fire barely kept alive. Almos doesn't complain, as the current condition he finds himself in is much better than the prison cell he once knew.
"What a lovely day."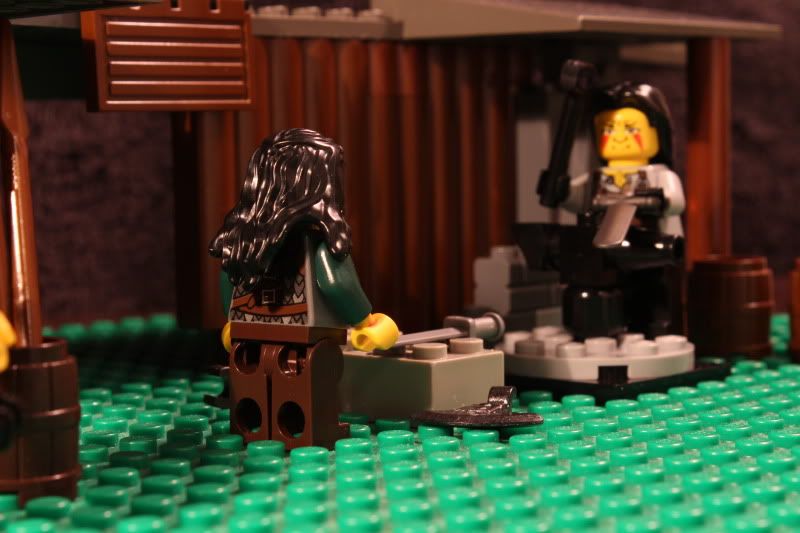 "Father, I'm going hunting. Will you join me?"
"You know I have to get this order finished before the week is out. Have you finished your chores, boy?"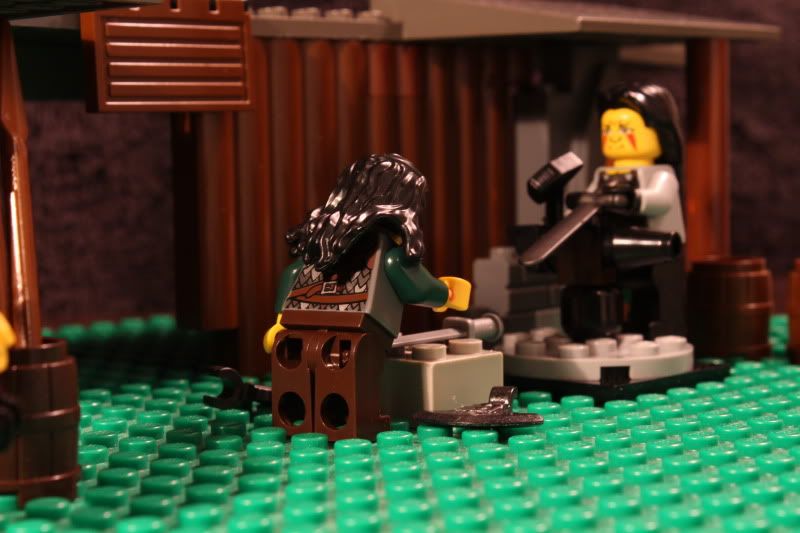 "Of course I have, father. Now I'll be needing this for the hunt..." says Arpad as he picks up a newly forged sword.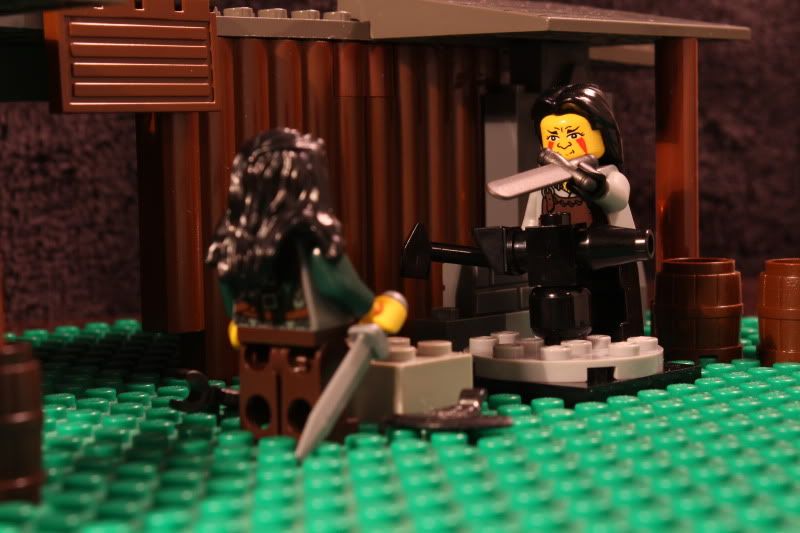 "Put that down, Arpad. Whoever heard of hunting with a sword?"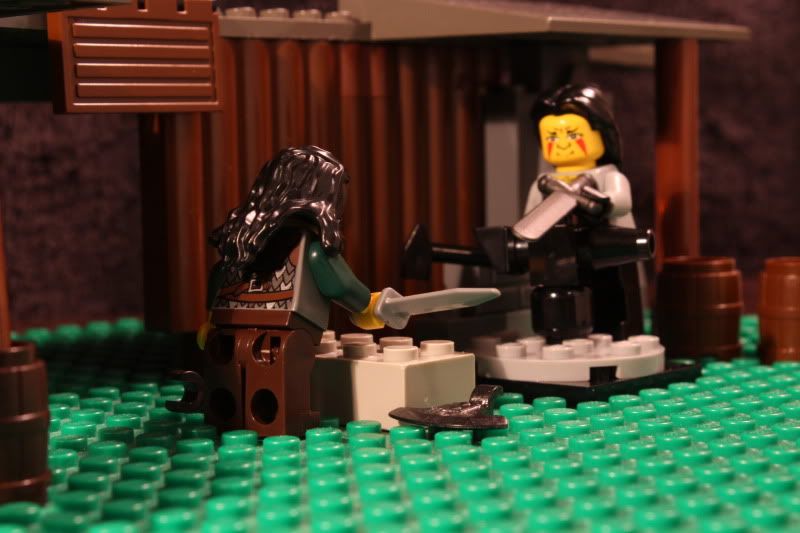 "I thought it would be easier to skin the pelt with it." Arpad set the sword down.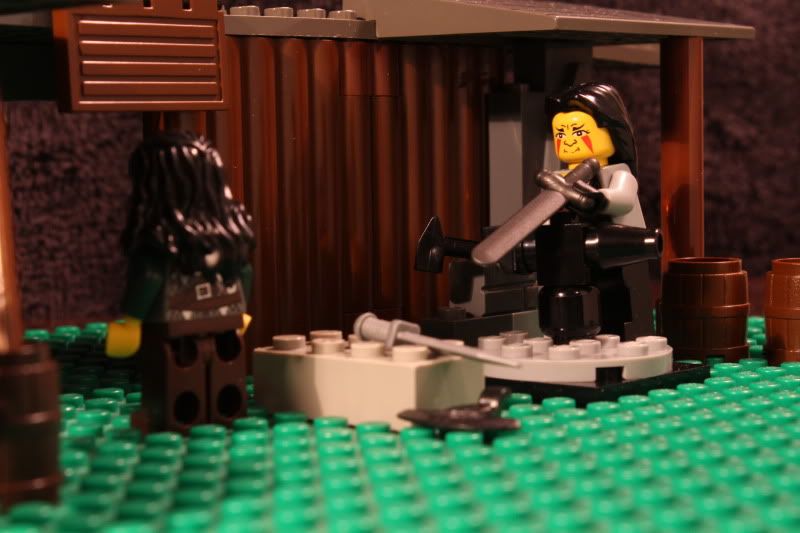 "Ridiculous. There's a knife near the fire place. Wash it off when you bring it back."
"Yes, Father..."
"Silly boy..."
Later, as the sun began to set...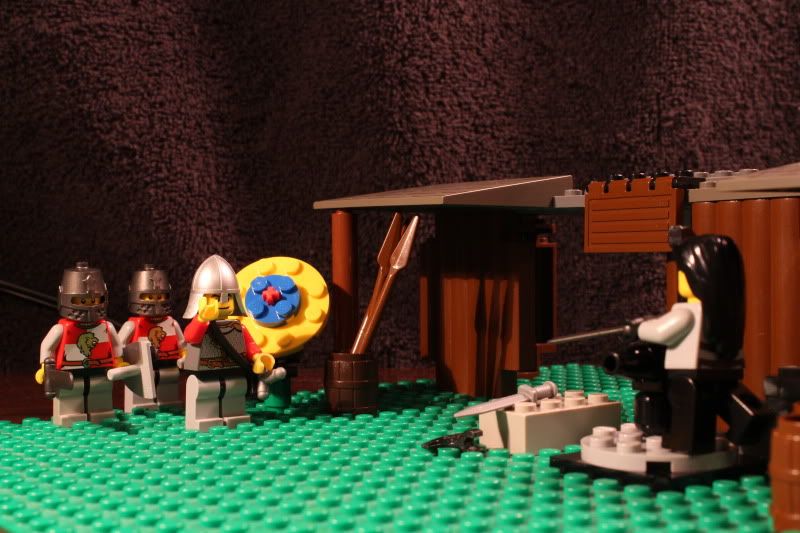 "You there, Rivernor!" says an approaching soldier.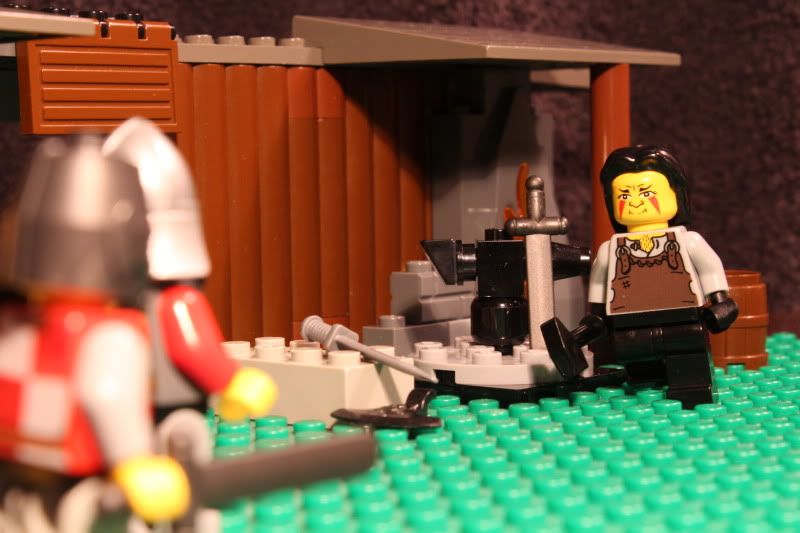 "Hail and welcome, good sirs. May I help you?"
"Save the pleasantries, Almos. You're under arrest."
"Under arrest? What is it that I'm supposed to have done this time?"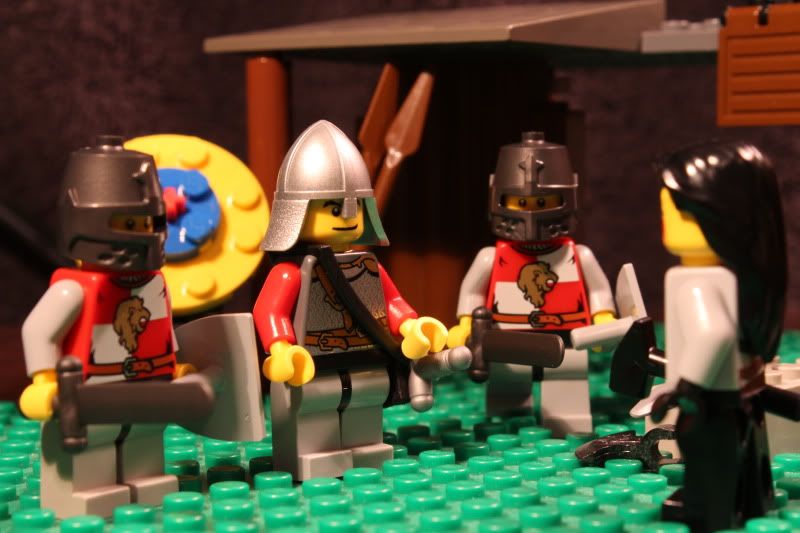 "Doesn't matter. If Prince Leopold says you're under arrest, then its my job as thief taker as to clap you in irons. Now..."
"...put these on."
*Sigh* "As you wish..."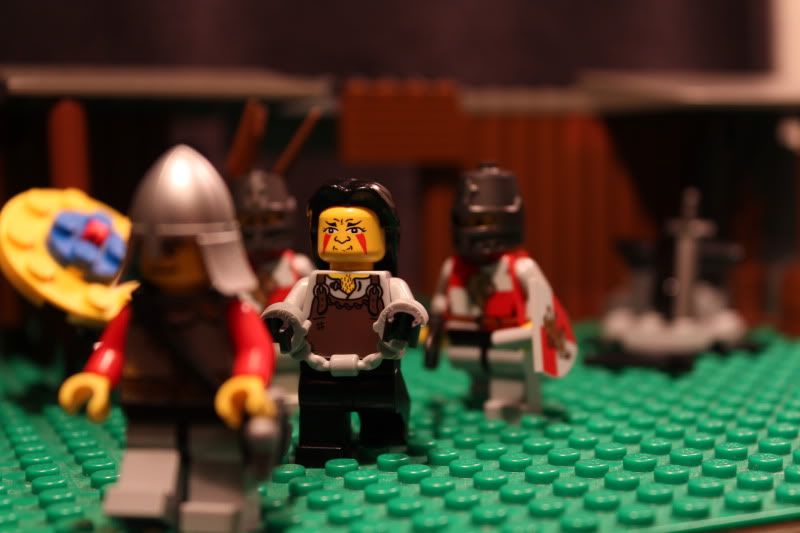 Almos is lead away from his home toward the castle.
Later that night...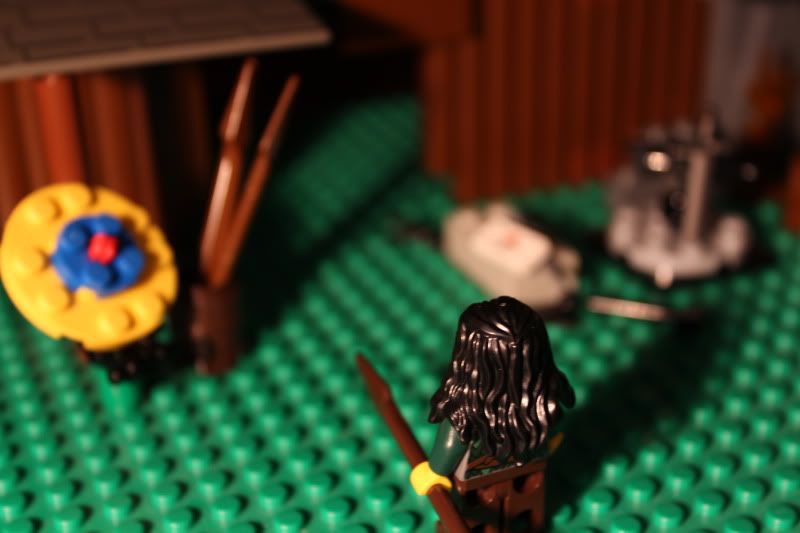 "Father! You won't believe what happened! There were hardly any animals in the forest!"
"Father?"
"What's this? A letter..."
Arpad, your father is under arrest again. You won't be seeing him again. Stay at home and be a good savage, if you can. Signed, Thief Taker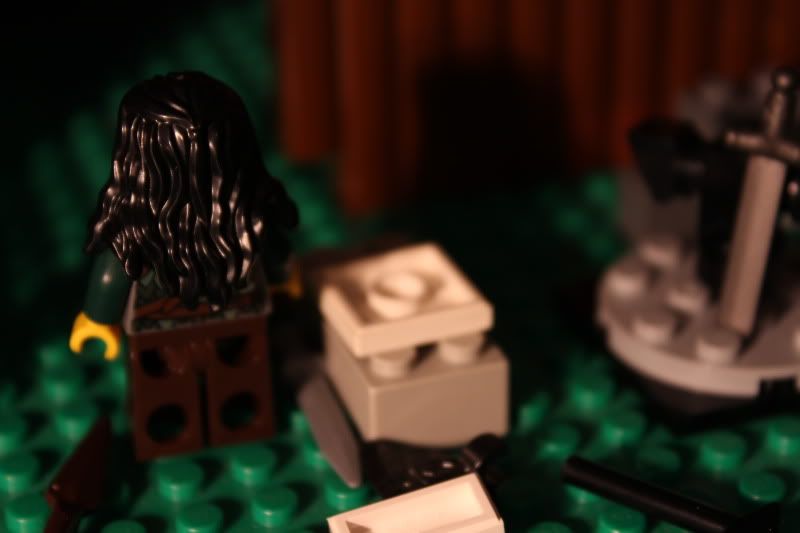 "I'll give them savage..."
"Bum dee doo... I really hate this job...."
*CLUNK*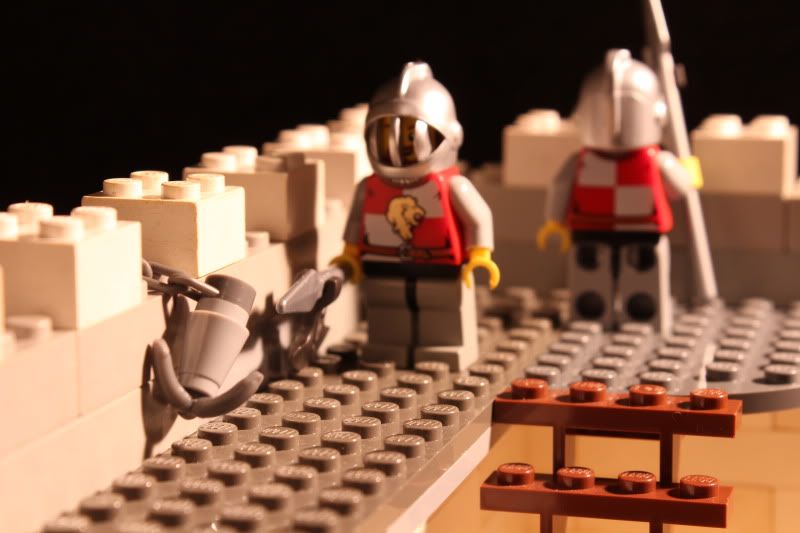 "What's that?"
"Somebody thinks their clever enough to pull a fast on me, eh?"
"AAAHHHHHhhhh......"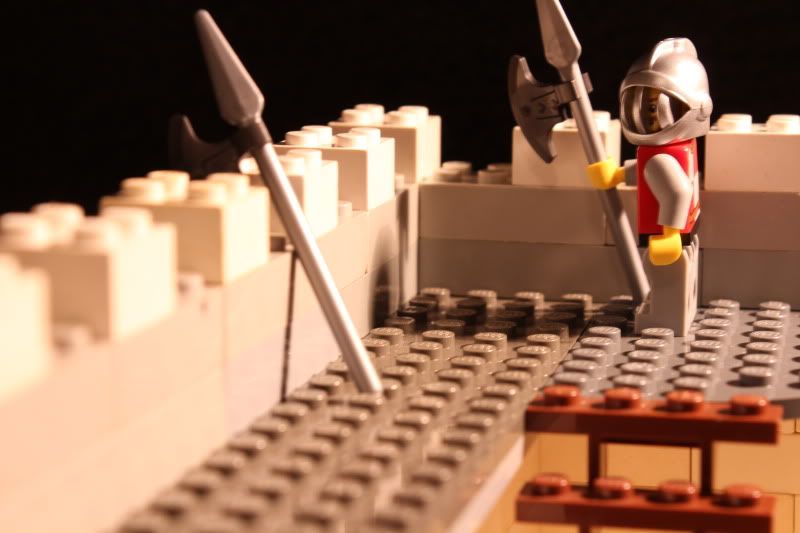 "Charlie, is that you?"
"Now where's he gone off to?"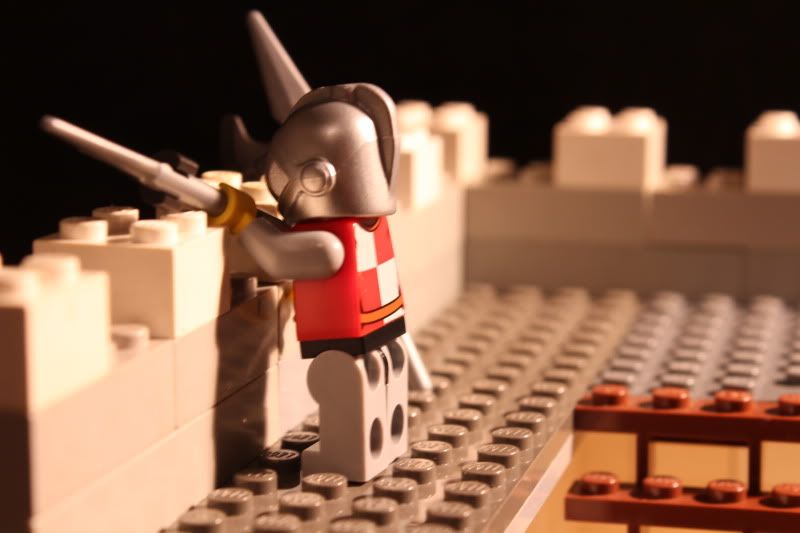 "Charlie?"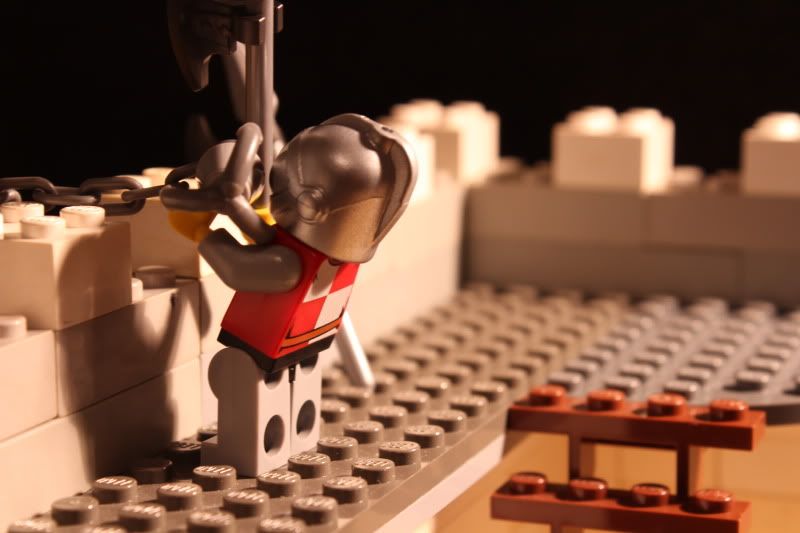 *SMACK*
A moment later...
"Foolish boy..."
"Look alive, men! The little savage has come for the old one!"
"You hear that?" says one guard to the other. "He's here."
"We better catch him before master thief taker steals all the glory again."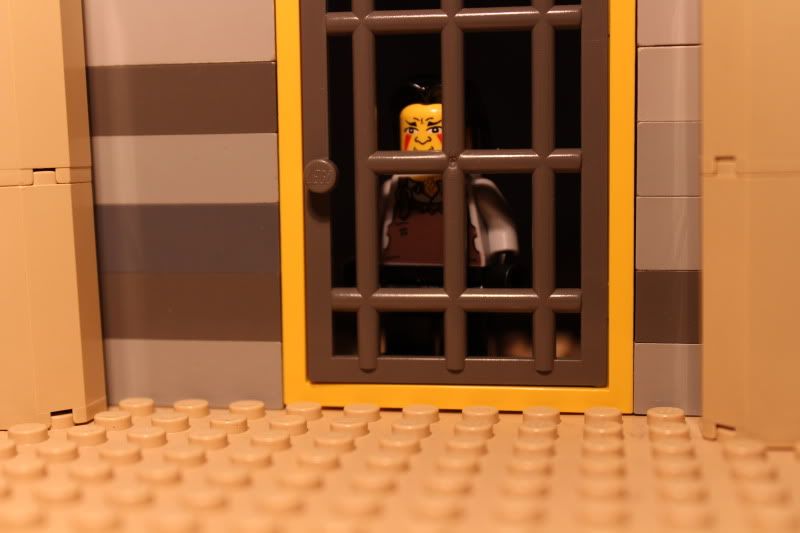 "... that foolish boy..."
*THUD*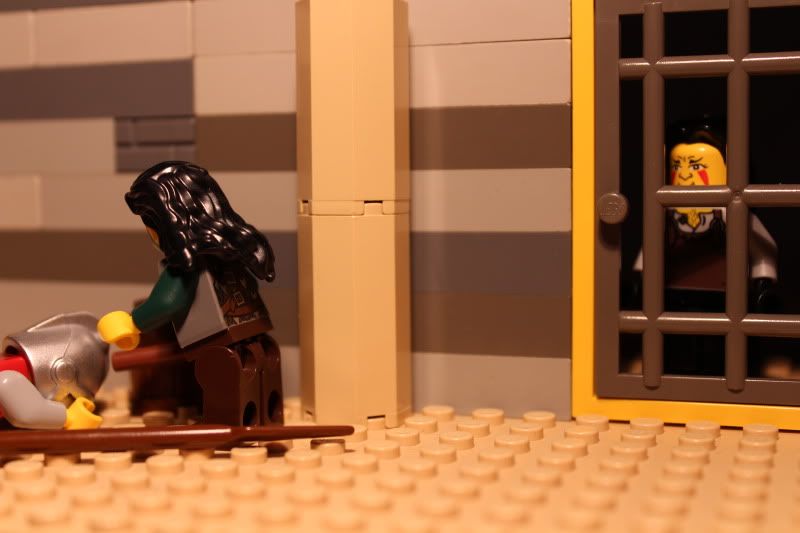 "Foolish because I'm getting the best of these guards or because I'm dumb enough to come for you?"
"You shouldn't be here, son. Run!"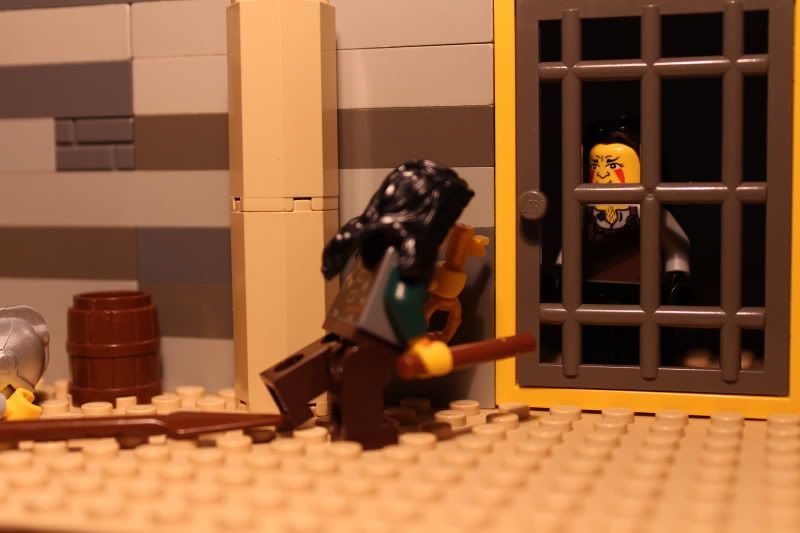 "Talk softer. I don't want them to hear us."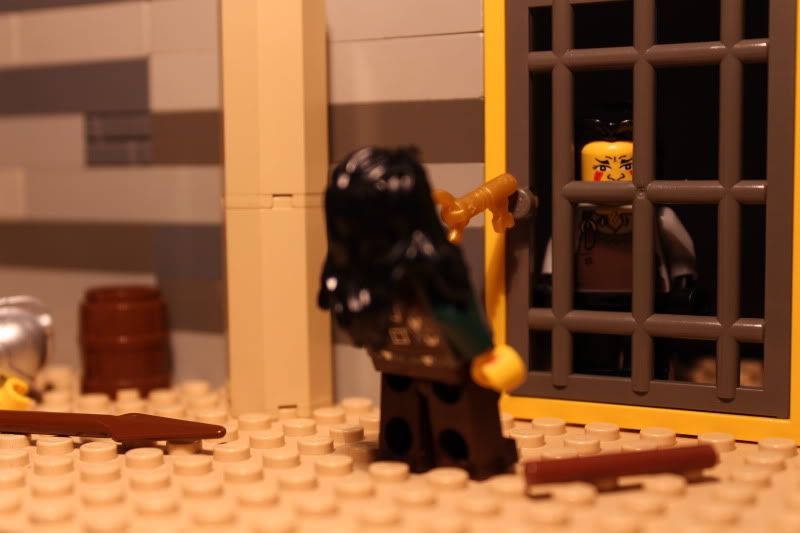 "Did you really decide to take on the whole castle with just a stick?"
"Well, I don't want to get arrested for killing, now do I?"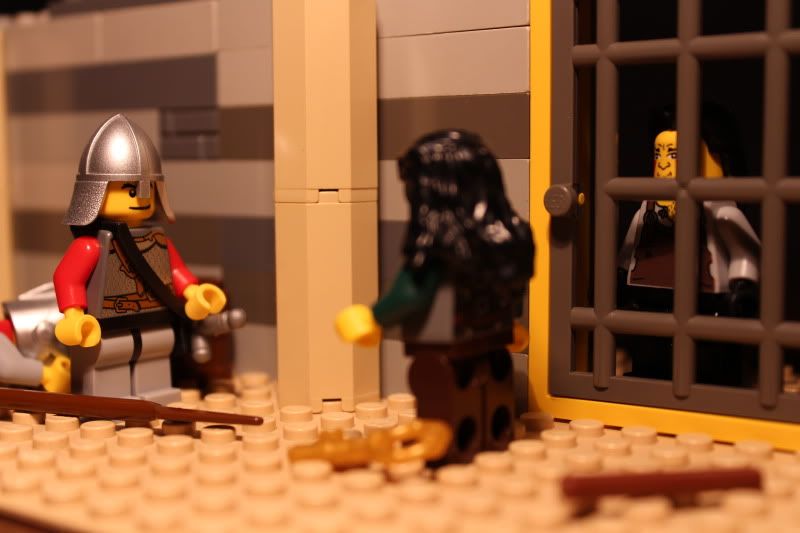 "No, but you're going to prison regardless of your stick, savage."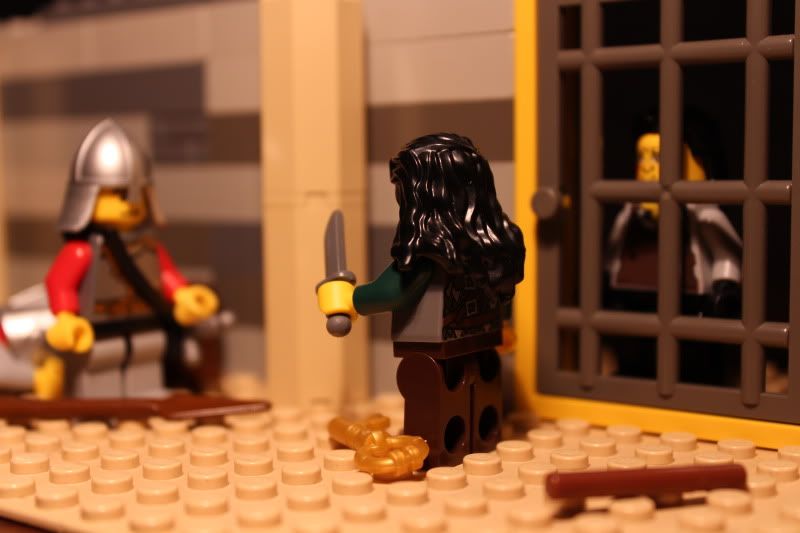 "It will be worth it if I get the chance to gut you..."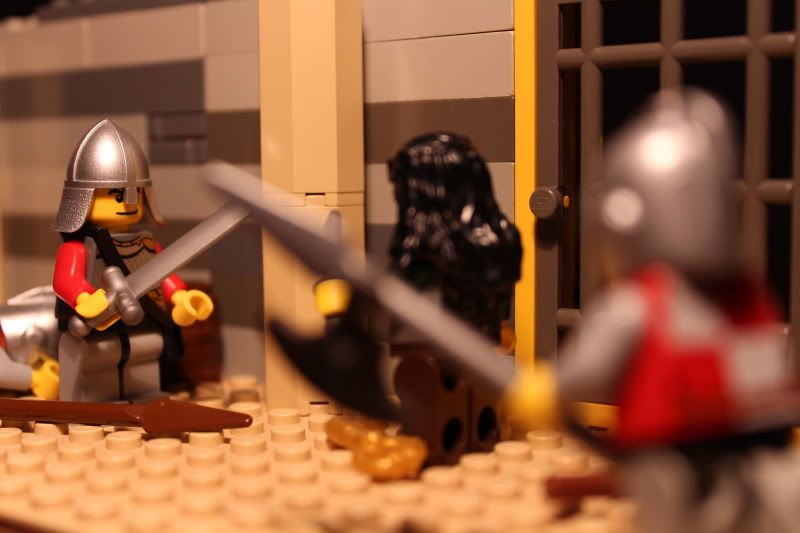 "Now, now. Mustn't lose that temper of yours. You might hurt yourself."
"I'm sorry, father..."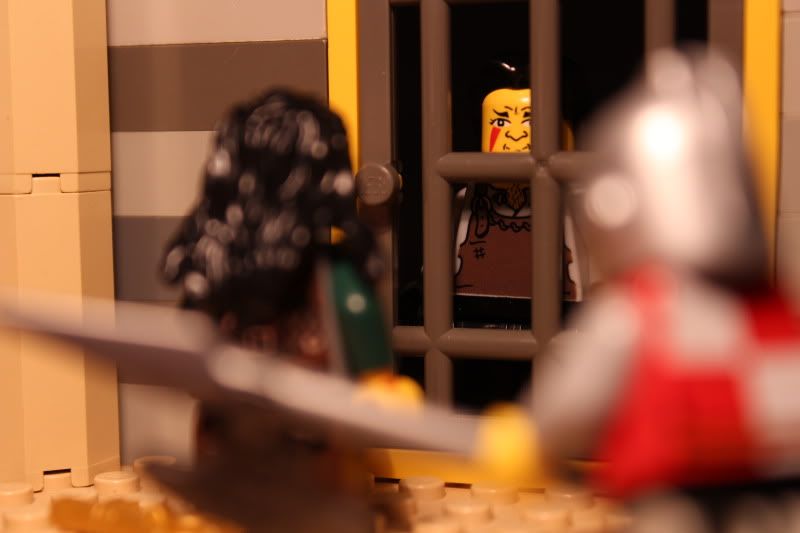 "No, Arpad, it is I who should be sorry."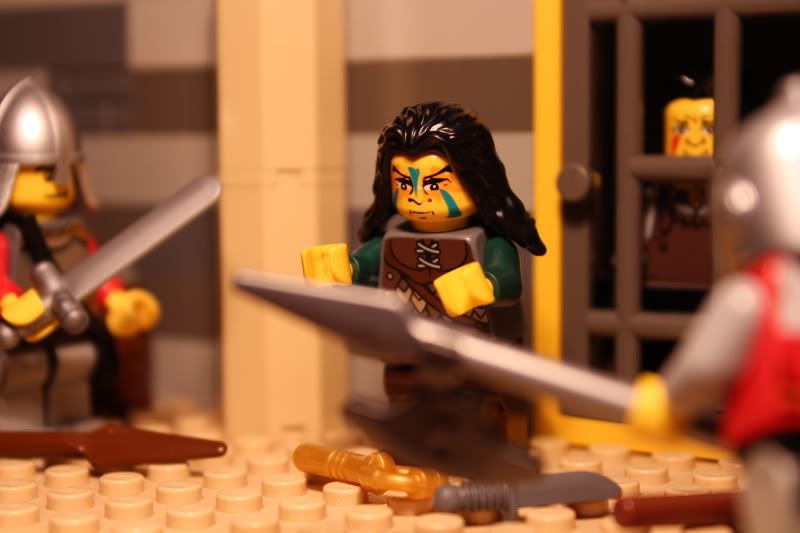 "All right. You've beaten me."
"Clap him in irons, men."
After his capture, Arpad spends the night in prison.
He is woken up very early the next day and brought to a room in the castle. Prince Leopold enters the room with the thief taker in tow.
"Here he is, mi'lord. Just as you wanted. Will there be anything else?"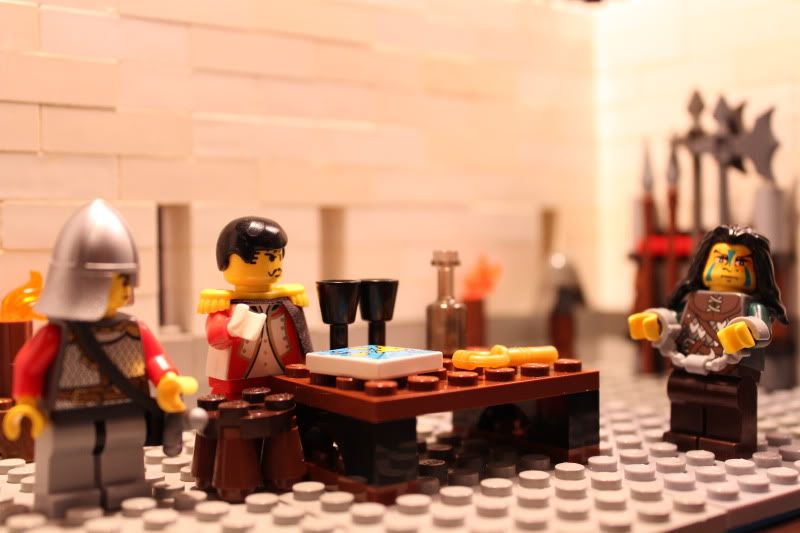 "No, leave us."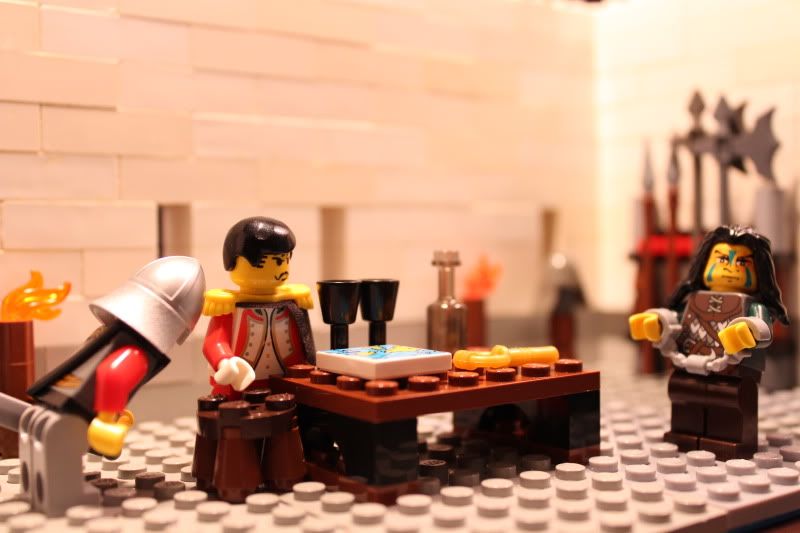 "Yes, your excellency."
"Remarkable... simply amazing..."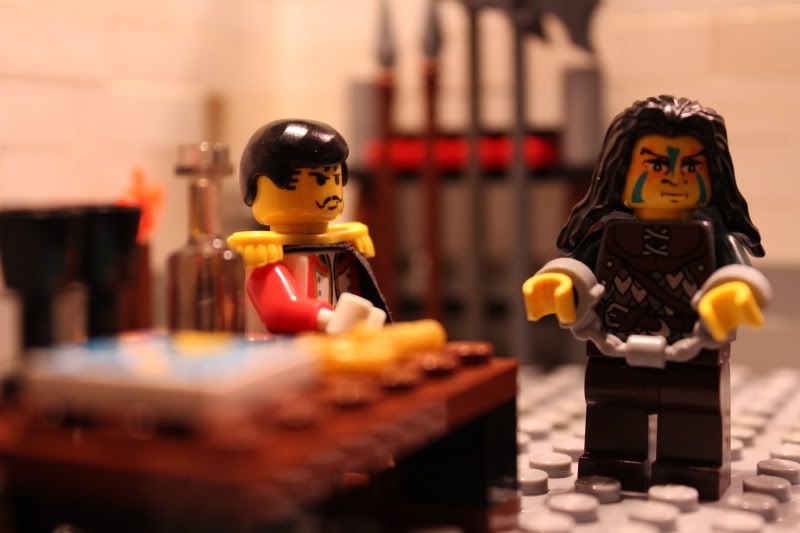 "You managed to slip past twenty of my best men, all for the sake of your father's wretched hide."
"It truly is remarkable. Care for some wine? It's a good vintage."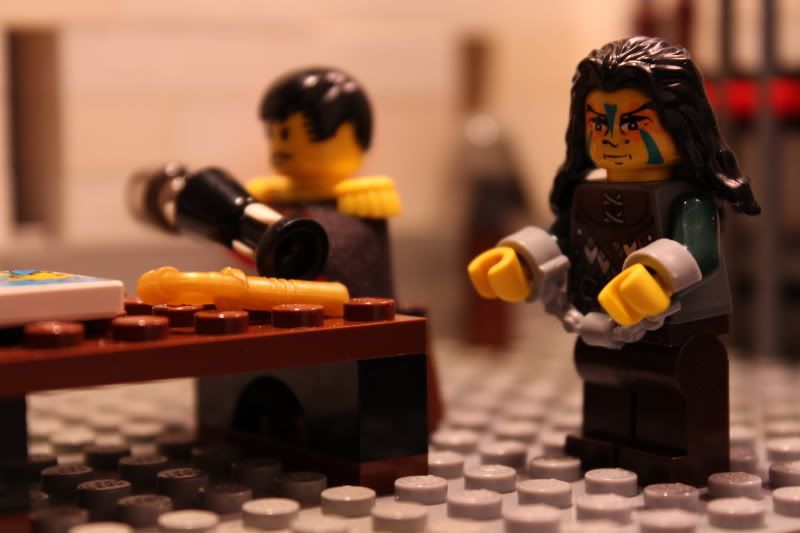 "An Emberek warrior does not take anything into his body that will taint his mind and judgement."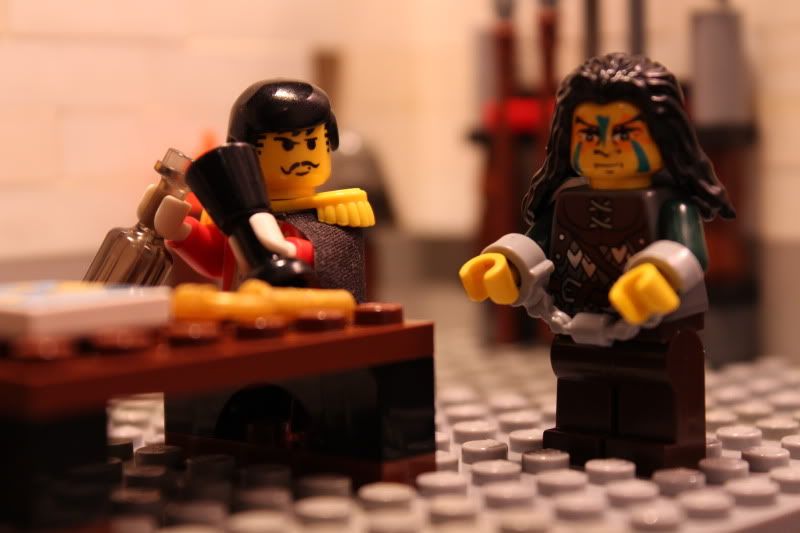 "Of course, your father has raised you in those savage traditions."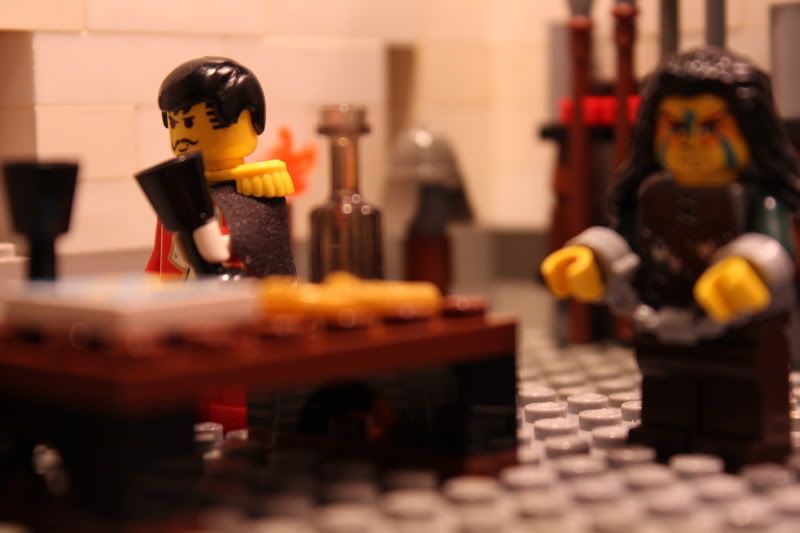 "And that word, Emberek. So much work just to say one little word..."
"Why have you brought me here?"
"So brash, have you no manners at all, savage? Very well..."
"There's a beast on the loose in my father's forest. I don't expect you to know this, but the soldiers can't be bothered with it, due to the war with Arakkia."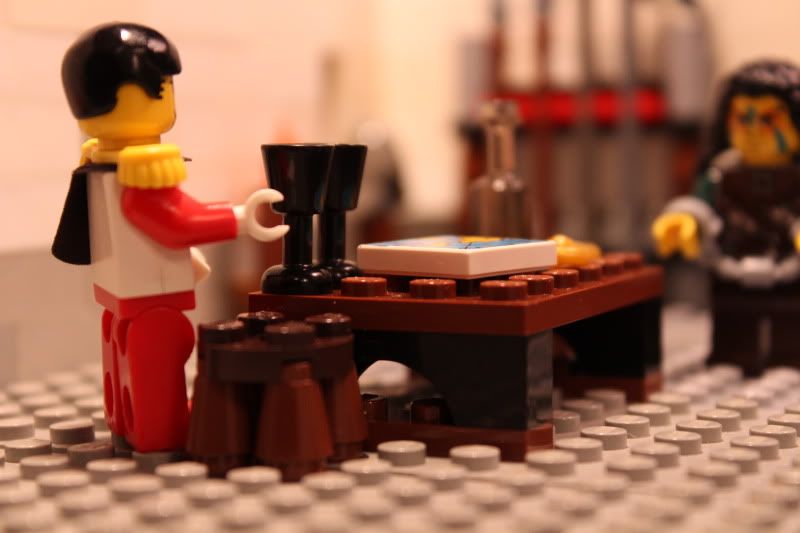 "I've heard you're a good hunter. And, as a savage Rivernor, you're also something my soldiers are not. Expendable..."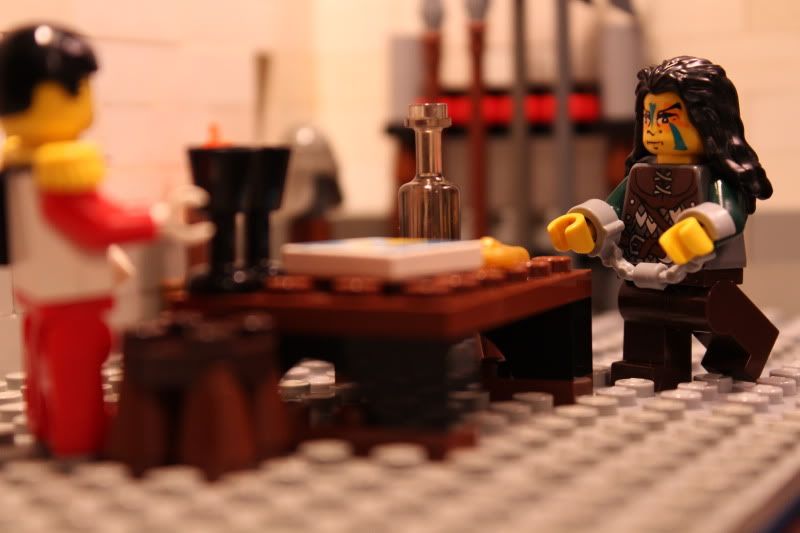 "You taunt me, but only because I am bound in these chains! I'll never help you or your kind! You who stole my father and I from our homeland! Release me and face me like a man!"
"Bravo! Bravo! Now we see the beast come alive! Such fury. Such power!"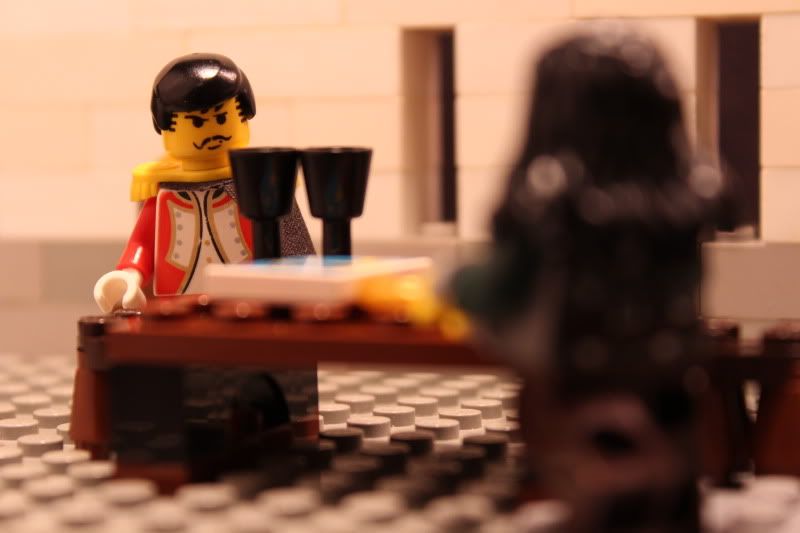 "Say all you want. Your words mean nothing to me. You will take care of my little problem..."
"... or else your dear, savage father won't live long enough to see the sunset. Is that the headsman's axe I hear being sharpened?"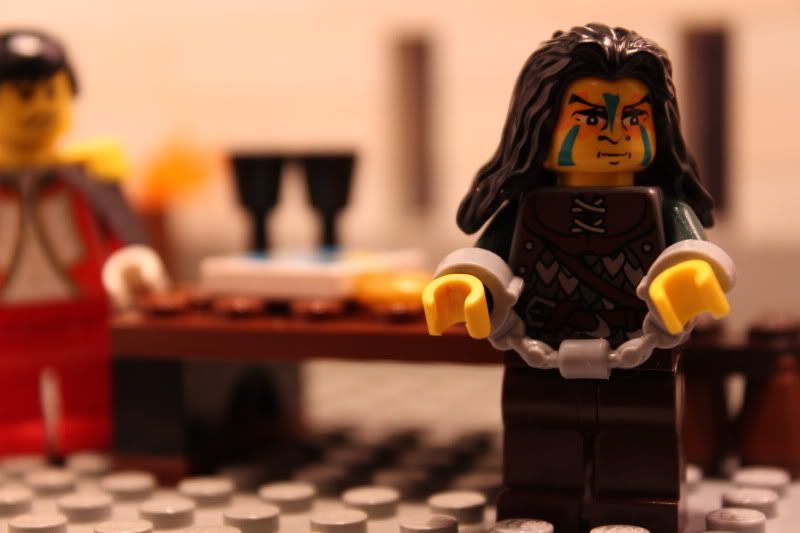 Arpad thought about the task. There were no animals in the forest when he was hunting. It may have been because of the beast the prince needed dead. Though he hated him, Arpad knew killing the prince would only bring more trouble. His pride was not worth his father's life.
"Fine. I'll do it."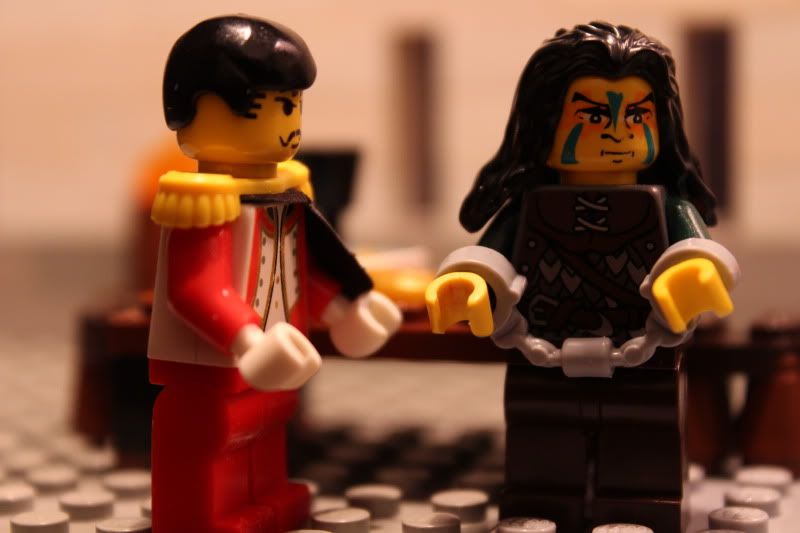 "Now there's a good boy..."