Okay so james+burgundy is having a large star ship contest which a lot of you expressed interest in, but lamented at not having enough parts to build something large enough to qualify. Well, as the local expert on building large star ships I figured I could leave you with some tricks for building these things even if you don't have a ton of pieces.
If you look at the ship I built, you'll notice that it's constructed in a fairly standard fashion. Bricks on top of eachother normally, right angles in places.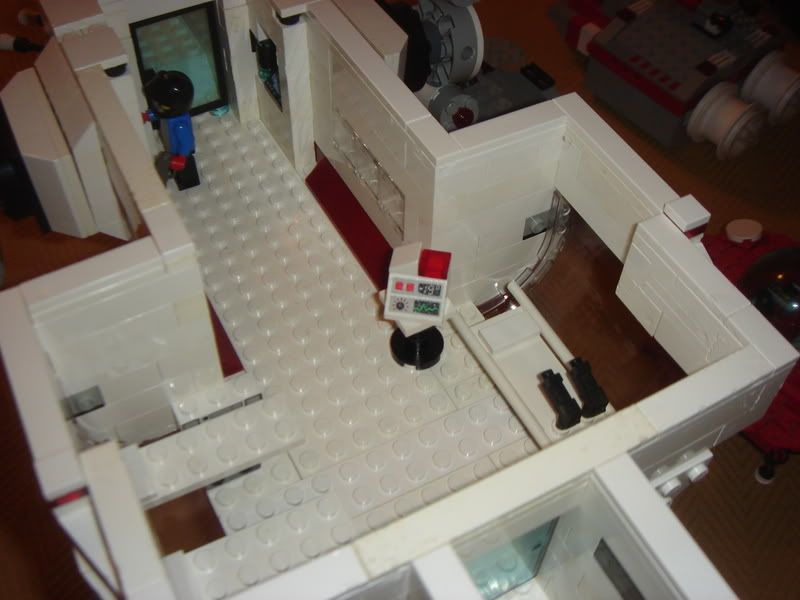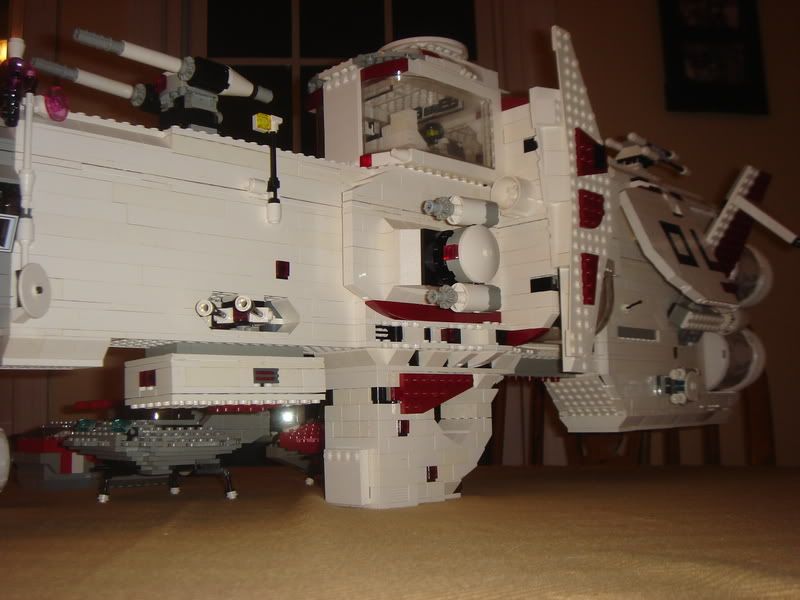 This is not the optimal construction technique for building a star ship. This uses a lot of bricks and makes it quite hard to get angled and varied shapes onto your ship. It also makes the ship very heavy. You'll notice that most of the things not done at right angles on the ship are not structurally important pieces, and that they make the ship look way better than if they weren't there. Additionally they were built with some SNOT techniques.
Here you have the cannon nose which was constructed with Technic bricks: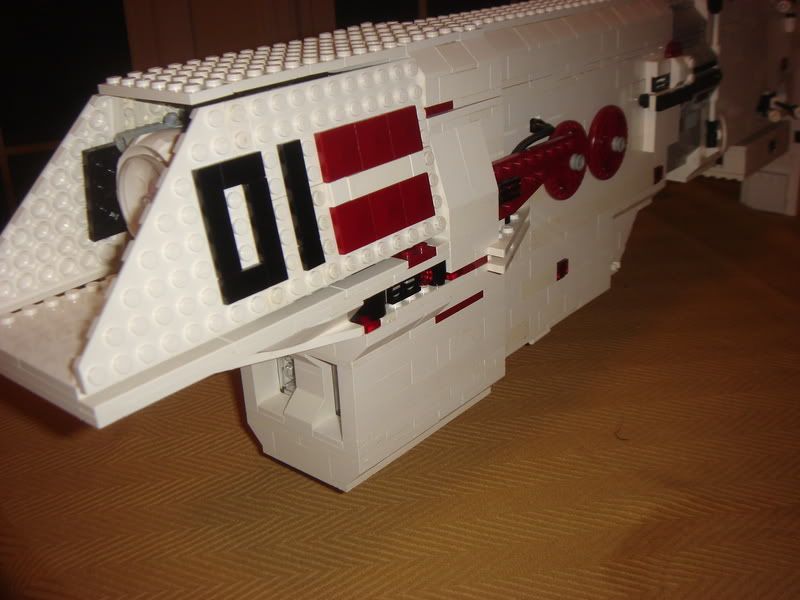 Or the rear stabilizers and armour plates which were done with Technic as well.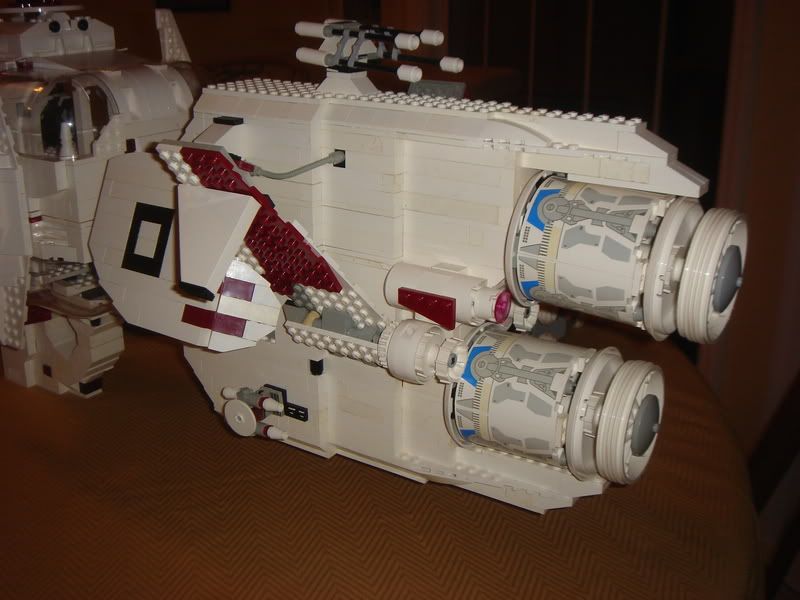 Technic is great for angling stuff, and angles always make a ship look better, unless you're a dimmy and put them on the inside where no one can see them. D:
But knowing just that doesn't help you to build a large ship if you're low on parts. But what can help you is that if you build entire sections of the ships hull in this manner you can cut down on parts by using plate walls instead of normal brick walls. For example, the Asmodeus:
I reference this ship a lot because it was built with great technique. The ship is massive but you don't find much traditional brick on top of brick construction. Instead, the walls are made with plates hung at angles by a Technic frame on the inside.
Now if you don't have a lot of Technic, a good substitute is the Star Wars hinge pieces. You can do the same thing with them, although it might be a little flimsier. For a new ship I'm working on, a Czech-Republican battle barge, I will be using this technique because I have a lot of plates but not enough regular bricks to complete the ship. Here are some pictures: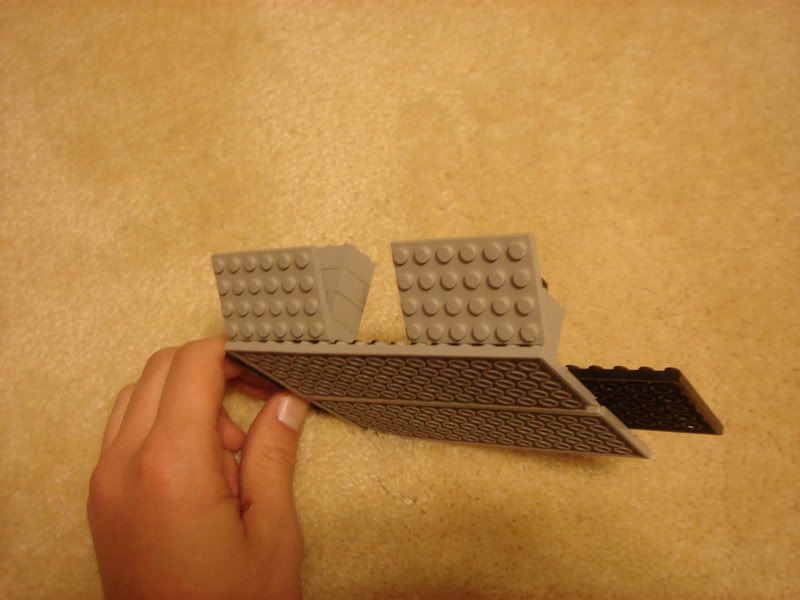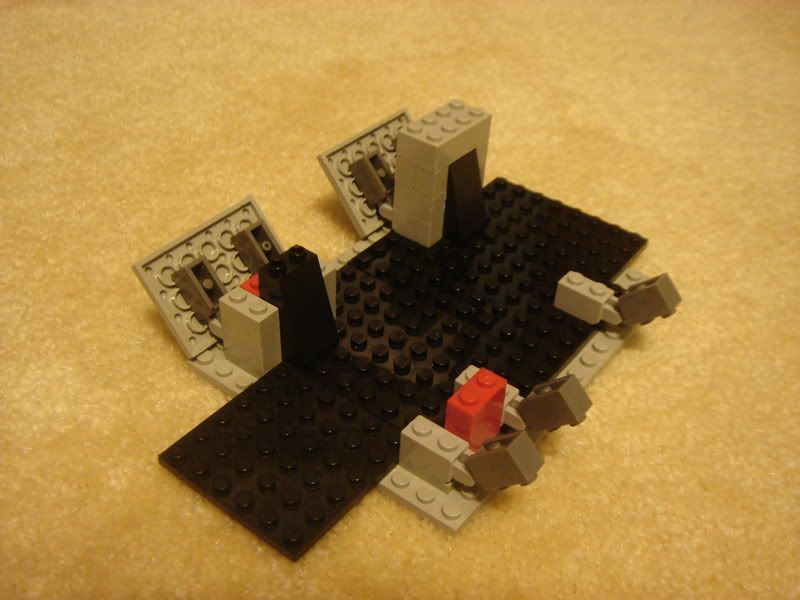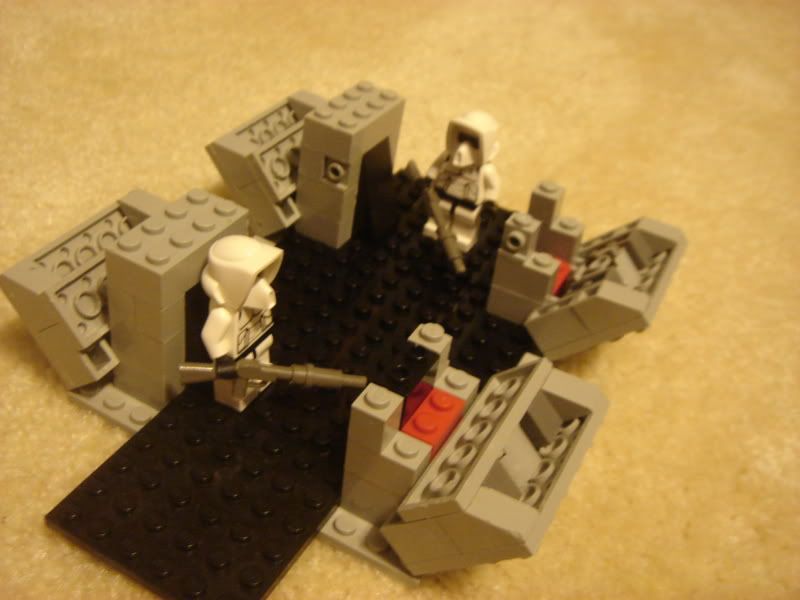 See, good angles and walls, but held up by Star Wars hinges not standard construction. This also makes it easier to add detail to the outside of your ship. There are holes between the plates because I want to put ramps in those spots to disembark from the ship. Right now it's clearly not gotten very far, but the section you're looking at will be a sort of neck between the front and the back main cargo and engineering sections.
So yeah, I hope this helps you. Making walls out of plates instead of bricks will save a lot of parts, let you angles the walls which looks sexy, will make the ship lighter, and will let you put detail on the sides more easily as well.
Other members please feel free to post your own advice for anything you may find helpful -- like how to build weapon turrets or engines, anything you can think of.