Recently a Volkswagen was catapulted from a railgun and smashed into my Base at Mach 6. I took pity on it so I rebiult it (Yes, I know I forgot the door, just pretend there's a hatch on the ruff). Then I saw Almighty Benny's post in the community built army forum.
Vehicles: Any old thing that looks evil or dangerous fastened to a frame with wheels and an engine. Expect 'Frankensteined" versions of dirty muscle cars, motorcycles, trucks, school busses, or whatever.
Picture as an example a rusty old Ford Mustang with at least 4 machine guns attached and spikes sticking out all over the place. Throw in a skeleton chained to the hood for good measure and you're looking at a typical P.A.C.M.A.N. Legion vehicle.

Since this sounded undeniably awesome, I modified the Volkswagen into the Post-Apocyliptic Battle Volkswagen (of Doom).
Here it is: EDITED EDITED EDIT: Changed the pics to links to pics again from Blitzen (Blitzen resized them for me), they were way too big. (thanks Blitz)
It has one .70 cal machine gun turret on the top, rust pieces in various places, and a skeleton chained to the front "for good measure". I am planning to add spikes but I haven't yet. It also has a veritable armory inside, with knives and explosives and all minifigs could wish for.
Here is the .70 cal machine gun. It is belt-fed, has a 1100 rpm rate of fire, and it is awesome.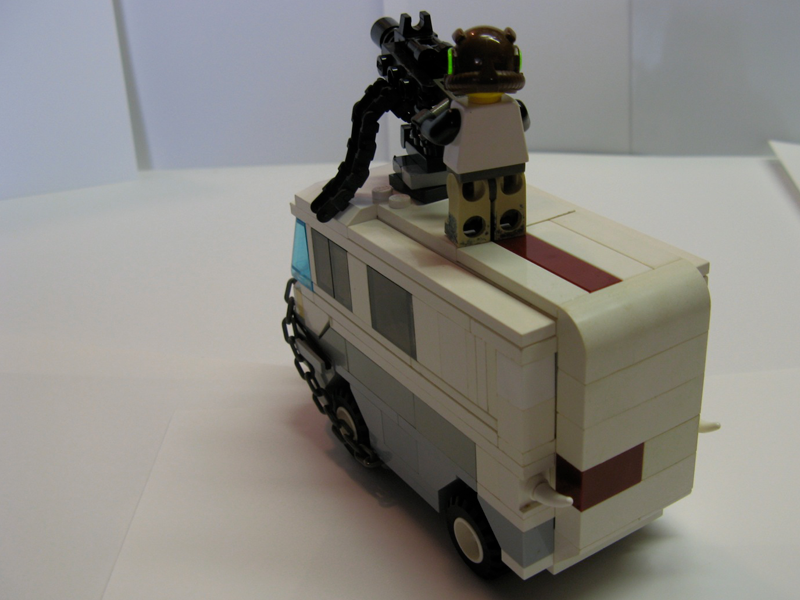 The inside is complete with jump jets, a gun, knives, a chainsaw, and a plunger with quintuple dynamites strapped together. And some spikes for mounting on the front later.