This is for Forum Signatures by ME. If you want James Burgundy to do some,
here is his thread
Here are some examples of signatures by me. When requesting a signature, remember:
1) state what text you want in it, if any. This does not have to be your name.
2) give a theme, e.g. heavy metal, grunge, blood, video game
3) If you have a render in mind, or a certain image, tell me
4) I will take all signature requests seriously, so don't waste my time
5) I'll try and make several versions, of which you can pick one
6) I can do different resolutions: Most are 400x150 px , but like adrian's, if I feel I need more space, I will do a 450 x 200 px. The smaller ones, e.g. the magi sig, are the smallest size.
The gallery
GreenDay:
Chain-mail:
Death Head:
Clearup:

Magi:
Saw:

Zombpie:

BlocParty:

Bllodd:
Star:

AdriantheGeek: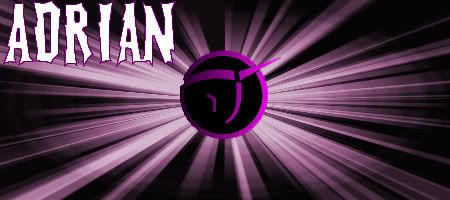 Adrian2:
Deadpond1:
Deadpond2:
Deadpond3:

Anti-Triage:

Ghost Biker 1:

Ghost Biker2:

Radiation:

RideTheLightning:

RideTheLightning2:

Charged Snow (Reflect):

Charged Snow 2:

Luke:
Luke2:
Davoth:

A signature takes less than a day, to 3 days to make. If I'm busy, be patient.