The BrikVerse knows many factions and planets, and amongst those that have remained pretty well hidden from the great Empires is the nation of New Prussia, which consists of but a sole planet. (I'm basically posting these because Warhead asked me about my modern factions)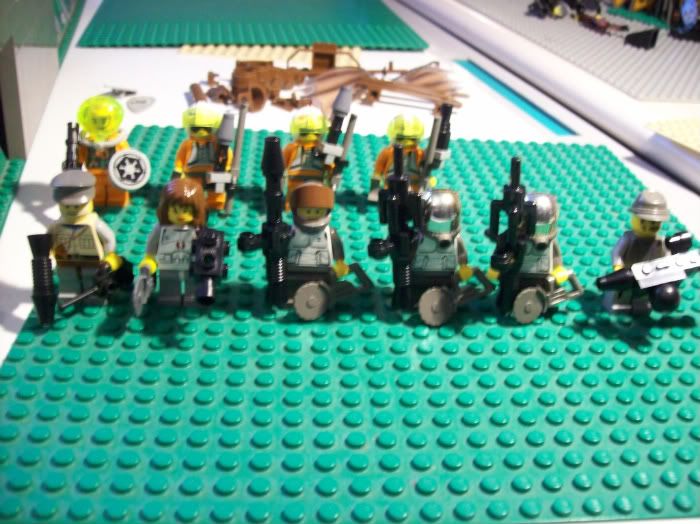 They're not much because I'm mostly into fantasy as you know, and these guys were basically put together from bits of leftovers I thought about but didn't manage to implement in my fantasy armies. The trooper torsos didn't work as well for white knights as I thought. There's 12 figs total if you count the astrodroids.
From left to right: a general with a very basic blaster, Miranda Oneshot, who's remains were recovered by an unknown person after her death in the fantasy realm and brought to New Prussia, where they were put to good use. She received a robotic arm on which several weapons may be mounted, currently a short-ranged powerful hand cannon. Though small and insignificant when compared to the bigger forces in space, the nation of New Prussia at least boasts good technology. The trooper to the right, for example, carries a modernised Panzerfaust.
The standard troopers are highly skilled and well-equipped with heavy fast-firing laser rifles. These are a new design and replace the bowcasters they used to use. Their enclosed helmets keep headshots from doing extra damage to them. Up until now New Prussians have been given circular saws for use in CC, also because they often have to explore the dense woods around their capital of Germanicum, but the nation is taking steps to arm their infantry with beamsabres instead, if they can get their hands on the materials. The sniper's heavy rifle can switch between a single heavy shot and repeating fire.
The Dutch (why else would they wear orange) squadron are a useful addition to the New Prussians' limited forces, as it was during the time of the ancient Holy Roman Empire. They are prized mostly for their yellow transparent technology which they use on their helmets, also to protect against headshots. The big difference with the Prussians is that they still use gunpowder weapons; enhanced rifles. The two guys on the left have a grenade launcher attached to their gun and the third guy's gun has an attachment that fires shotgun rounds. (At first these were supposed to be the opposing faction, but then I decided to put the two of them together because they were already so small)
The Heavy carries another example of the New Prussians' solid technology: an anti-blaster round shield that may not only block, but also deflect. He's armed with a small bazooka that can be used on troops as well as light vehicles, but can't really be called heavy.
The planet they named New Prussia is big and seems uninhabited except for some indiginous tribal aliens they had to wipe out, but there's little organised resistance at all and the planet seems very rich: the perfect base to build up a powerful empire capable of contesting with the others.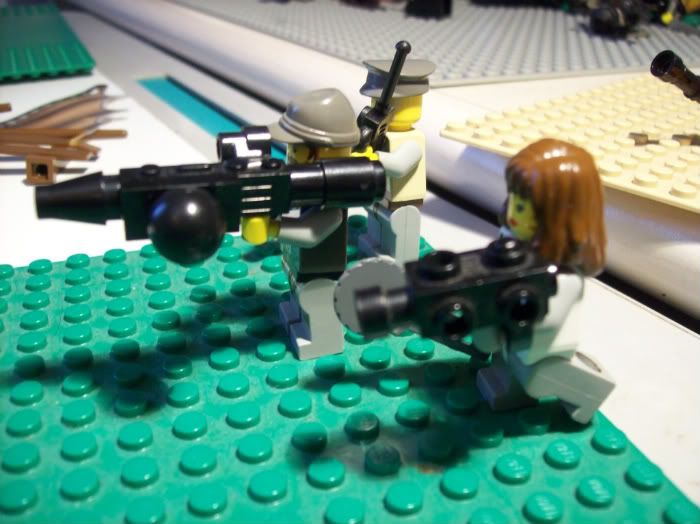 The New Prussians are trying to expand their dominance fast, because they realize full well their monopoly over the planet won't last when other, more powerful factions discover it... and they aren't too proud to realize their weakness at this time.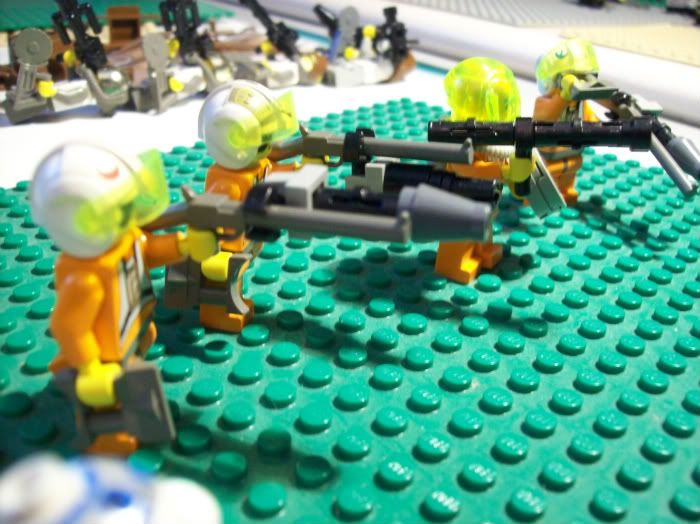 They'll have to find and capture the planet's most valuable resources quickly in order to expand their power and build machines of war. Luckily, the Deutsche Grundlichkeit is on their side... organisation won't be a problem.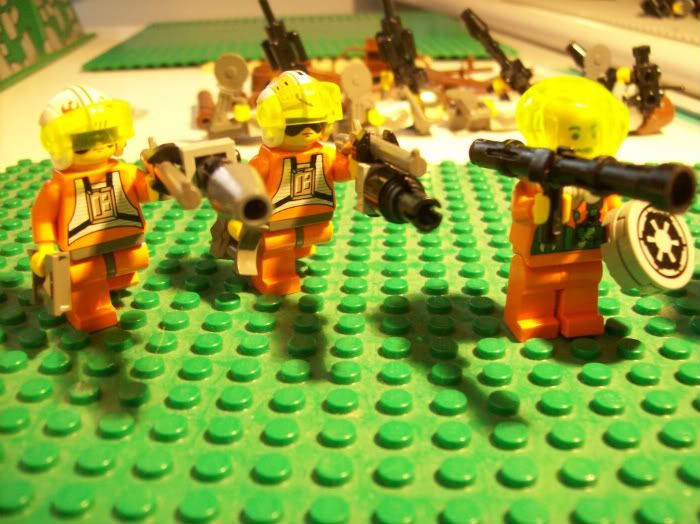 Time, however, is.
And the Dutch may not stay their friends forever, when both factions don't require each other as much as they do now anymore and a balance must be found in the power that'll have to be divided between them... The guy on the right is using his goggles: In-game they may use their action to look through it and give the commanding player information about the stats of enemy minifigs.
Medical astro droids help keep the number of casualties low, because every loss is keenly felt.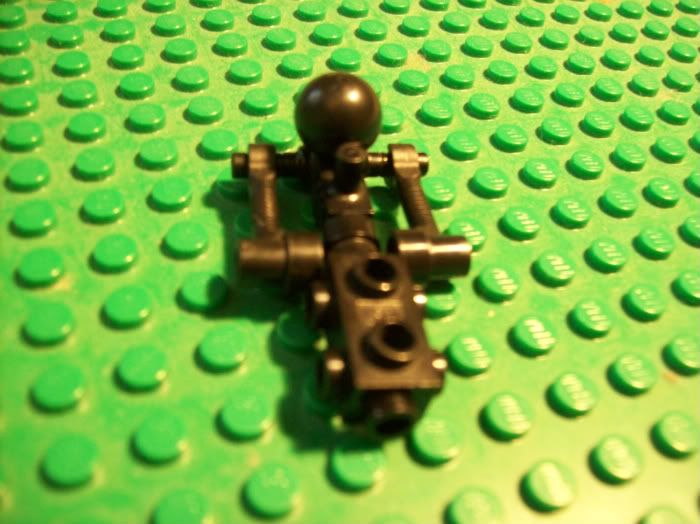 So, no vehicles yet as I'm also working on setting up my next forum battle, but they at least have this microspace destroyer, their mothership
the Bismarck
, yay!
It's currently tasked on patrolling and surveying the space around New Prussia, luring or chasing enemy ships away without drawing attention to the existence of their people. But it's only one ship, and it's only a matter of time until they are discovered...
The backstory is also there because I told Warhead these would fight his Immortals to the death when he asked me
Oh and by the way these are in no way meant to depict nazis of any kind or anything...