I've had battles with Professor Ken several times before, but I always seem to lose to him (possibly because I suck at BrikWars). But now, a victory has emerged!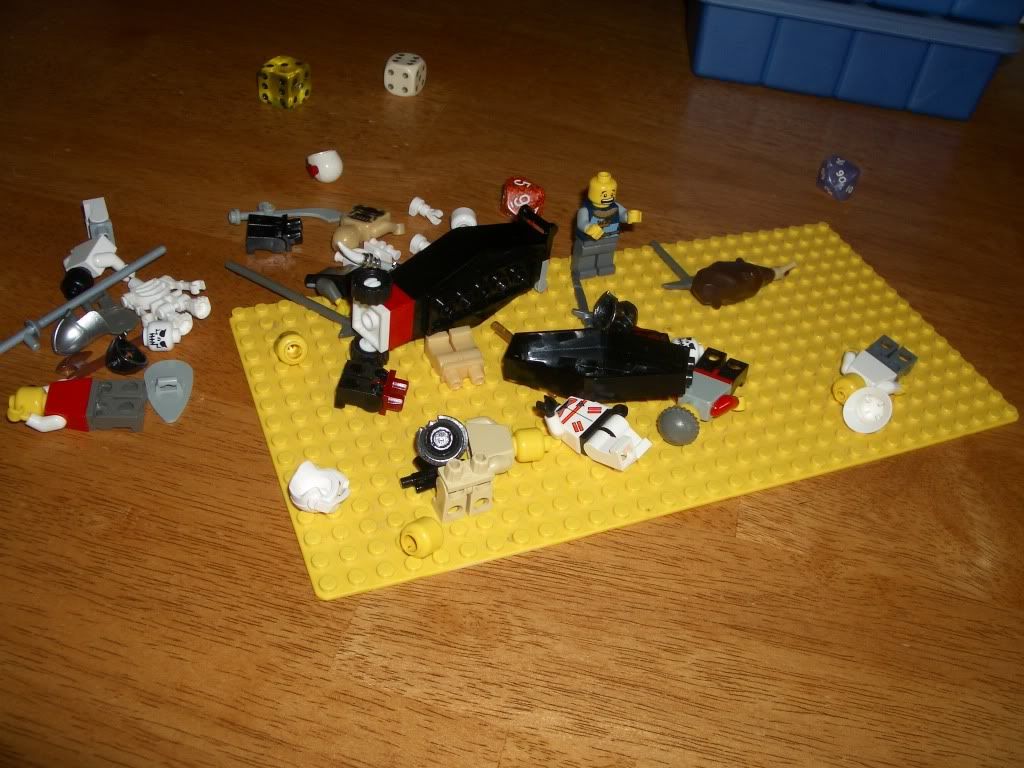 As you can see, both Professor Ken and I used 6 units each. We played on a small board. Both of us used fairly random units, but one of my guys was a random skeleton in a coffin. Screamy (the only living guy in the picture) wheeled him around at half speed, trying to crush his enemies under the coffin's weight.
I killed one of Ken's figures first, but he quickly regained the upper hand with the blaster of his Frenchman, who kept on running backwards instead of fighting honorably (but then again, he's French). At one point, his gun jammed on a skill roll of 1, then turned out to be working properly after all (another 1) before finally exploding on its next user, my Obi-Wan (yet a third 1 -- and these all happened in a row)
In the meantime, the skeleton in the coffin was eventually wheeled close enough to C-3P0, who wielded his heavy club with prodigious skill, crushing a random figure of mine, the Skeleton (who fell, dismembered, back into the coffin before shutting the door), plus one of Ken's figures through massive Overkill, before his hand fell off from the strain.
Eventually it was down to just the dismembered droid and Screamy, who finally hit someone with the coffin, rolling enough 6s to smash the coffin open and shred C-3PO with skeleton shards, ending the short skirmish.