The Junkmen are a race of different types of people who banded together in order to create a great society of garbage. The Junkmen live on two planets that orbit around each other and have a bridge in between them. The first planet (Ragtagdonia) was the starting point where a man rose to power. This man known as Ted became the president of Ragtagdonia and told the people to make another planet completely out of garbage. This process took hundreds of years due to other planets aiding in the construction of the planet by donating the garbage of their planets. The president died during the construction of the Junk planet and was replaced by his son Ted II. Ted II following his fathers plans ordered the construction of a bridge between the two planets that had then built and orbit around each other. The construction of this bridge took a hundred years and during this time Ted II had grown very old. Many Ragtagdonians moved to the junk planet and this then required a government to be put in charge of the junk Planet. Ted II put one of his most trusted officials Cain Kleis. Ted II named the planet Junklord and left it in the hands of Kleis. Soon after Ted II suffered a fatal heart attack and died. Ted III, Ted II's grandson. Then took over presidency of Ragtagdonia and of dealing with relations with Kleis.
Kleis however held no loyalty to Ted III and turned against him. Ted III having no idea what to do hired mercenaries that he paid with money gained through a deal with certain planets that had been made to to take care of the garbage that the planets produced. These mercenaries were hired from Valvdaria, and Halodz. The Valvdarians Agreed to help due to the deal made to take care of their trash in the past, and the Halodz agreed purely for the money. Junklord having no defences was quickly taken back and the take over ended with a quick shotgun blast to the face of Kleis. The marine who fired proclaimed "My name is Halo, and I dosen't afraid of anything."
Ted III put a close friend of his in charge of Junklord and decided that he would keep rule over both worlds but keep his associate there as to not have to bear all of it alone. The man who took over the prime minister position of Junklord was a younger man named Jim Huntz. Jim and Ted III together decided to fix up the junk planet, mostly comprised of waste, and fill it with more useful materials which could be refined or converted into weapons or appliances. And so the planet of Junklord was turned into the biggest recycling facility in the galaxy. Ted III created a military to protect the two world, but still enlisted mercenaries to help out, including those who stayed after the war in order to more effectively help in the efforts to protect the planets.
(I will have Pics for the storyline soon)
A few of my more know Mercs
-Halo
Halo Doesn't afraid of anything. Halo volunteers for suicide missions along with his friend Scares and a random UNSC Flamethrower unit. Halo doesn't even fear death, upon dying for the first time he prompted death to a challenge for his life back and swiftly kicked death in the balls.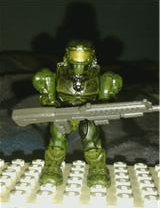 -Scares
Unlike Halo Scares is afraid of things. In fact Scares is afraid of almost anything. Upon joining Halo's team, Halo asked if he doesn't afraid of anything, and scares had to lie and say the reason they called him scares is because he scares everyone else. Halo Quickly became good friends with scares and replied to this comment with "Everyone but me because I doesn't afraid of anything." Scares regrets saying that every day of his life.
-???
The third person within Halo's attack force is a UNSC Flamethrower unit. Not much is known about this guy, except that he will follow his orders to a T.
-Paco and Lopez
Paco and Lopez are two elites that went along with Halo's group but could only speak Spanish and therefore never quite understand what Halo says, so when he runs into battle they often stay behind confused about what they're supposed to do.
-The Gruntz
The Gruntz specialize in repairs and engineering. They are normally seen around wrecked vehicles or tending to machinery back at base. There are many many Gruntz, and their only combat ability is to jump on people and sometimes explode.
The Valvdarians




-Gordon


The leader of the valvdarians, who walks into battle with his trust crowbar. Gordon is a superb leader who is also working to free his home of the Combine.


Original creations.
-Robo Pants
The Robo Pants are robotic walking pants created by the junkmen