A small-scale Brikwar I had with my brother. He had just bought a bunch of Lego buildings and wanted to break them to incorporate into one of his projects, and so we decided to break them in the most entertaining way possible; disintegration through weapon discharge.
The battle begins in the middle of a Renaissance fair on the planet Miscellanica, where a Legavan expeditionary force has just landed to determine the planet's suitability for colonization. Unknown to the Imperium, an odd force of unlikely allies has formed through a series of mistaken shuttle tickets and Divine interventions, and so even as the Legavan platoon scopes out the town, they are forced to respond to an unexpected threat...
Such a peaceful setting. But not for long. A light Legavan Skyfighter streaks low over the rooftops as elite Kommandos advance on foot. Behind the greengrocer's store, another menace moves forward as well, seemingly driven only by a desire to flatten the best-armed enemy in the vicinity (my philosophy is that if I can't think up a motive, why bother?).
Behind the grocer's a strangely familiar figure grins dashingly. Could it be... but no, it's just Franz, a professional Stunt Double.
And this is...
0.o
Having witnessed his titanic struggle with the Master Chief and 40k Space Marine, the immensely entertained Gods decided to grant Fett his life, reasoning that anyone so impossibly awesome could only breed more awesomeness as time went by. They also rewarded him with a new toy.
A big toy.
The toy is a Basilisk War Droid. Just so you all know, this was built by my little brother, so he gets credit. Those of you who played KOTOR2 might be a little confused right now, but this MOC is loosely based off of this picture, from the SWM collectible miniatures game: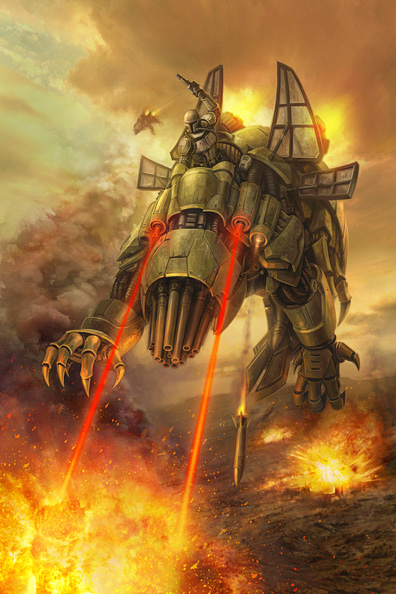 This could present problems for the Kommandos.
Nobody knows where the Blobs came from, what exactly they are, or how and why they form allegiances. This one has, for whatever reason, aligned itself with Fett and Franz for the time being. It's Psykic power may prove quite useful.
I was feeling lazy, so most of my figs you've probably seen before. An elite Blue Corps pilot flies the Skyfighter, while a Heavy Mercenary prepares to leap off of the roof, relying on his jetpack to keep his brains from splattering all over the pavement/grass/bureau top.
A Jet Corps Kommando advances, alongside a Kommando of the elite Brown Guard, and a slightly demented individual known as 'Splode, a distant relative of the elite Kommando Det.
Just for the record, the camera I used was broken, so some of the pics may be a bit... iffy. Meet a new breed of soldier, the Spectre Heavy Trooper, an experiment in genetic engineering and specialized armor alloys by the Legavan Imperium. He's carrying a Plasma Burst Cannon.
An unnamed Sniper peers through a window, readying his tactical coilgun.
Krazed Kate was extremely ticked to be selected for a peaceful scouting mission, and stands fervently hoping that some opportunity for violence will present itself.
One of the feared White Blade Kommandos of the Imperium, this particular individual carries the Fishblade, a legendary weapon said to have been crafted by an ancient race of carp-worshippers, now extinct.
Franz starts off the party by leaping up to grab the bottom of a nearby fire escape. He carelessly hefts the Dumbells of Doom in his other hand as he pulls himself up.
"Imperium scout force Delta-9 to command. We have encountered a large, heavily-armed mechanized unit of unknown allegiance and hostile intent. Advise."
"Delta-9, you are authorized to use all necessary force to neutralize any obstacle to your mission. If possible, obtain some sort of schematic, we want to know what we're dealing with here."
"YES! Oh sweet flying shrapnel yes, this is the best thing that's happened all month!"
"Keep this channel clear Kate..."
"Erm, any recommendations on how to neutralize that thing?"
"Duh, blow it up."
"Nobody asked you, Splode."
"Target the joints, try to disable it one system at a time."
"Heehee... heeheeheeheeheeeee..."
"Kate, I said keep this channel clear."
The Blob doesn't last long. Who is responsible for this sudden eruption?
Ah, the quad-linked LMGs of the light support Skyfighter. Wait... doesn't Fett have a response action...?
"Rocket impact! My craft is going down! Ejecting..."
Hm, maybe armor would have been a good investment after all.
Someone's property values are about to go way down.
Impact! No pilot though... did he eject in time?
Ooh... there's the other wing. Poor guy.
After a successful ejection and subsequent impact with a solid wall, the Pilot is out of action.
The Sniper fired a moment ago, but the picture I took was crummy, so we'll just move on. the Kommandos move up and spread out, fearing the Basilisk's area-effect weapons.
Seeing no targets in range, Krazed Kate runs down the stairway in search of something to slaughter.
The Basilisk's deadly Shredder Claws make a grab at the Heavy Mercenary, but he manages to parry with his Minor Nova Sword (Minor means it's blocking powers are slightly reduced. It can only block one attack per turn, and cannot block anything with force or mass equivalent to a 5-ton charging metal aardvark).
Oops, that's right. It has two hands.
An up-close and personal view of the Basilisk's Phase-Pulse Cannons, charging to fire...
The Jet Kommando bails, but fails to get behind cover. The cannons fire and... he lives?
Yes, thanks to one of the most amazing armor rolls I've ever had. Wasn't enough to save the chicken, though.
In an amazing stunt, Franz swings the bottom of the fire escape to vault up onto the next level. A flawless move... well, almost flawless.
Sorry about that, lady.
The Spectre finally moves out into the open, firing a concentrated stream of plasma at the Basilisk's Phase Pulse array.
"Confirmed, direct hit on target. Forward cannon assembly has been disabled. Preparing to target port cannon."
Unfortunately, Splode's Anti-Armor charge isn't nearly as precise, and after a wildly inaccurate shot, an old man is forced to dive for cover as his cart explodes.
"...oops."
The Sniper takes a completely ineffectual shot at one of the Basilisk's hand joints.
Yeah, I realize the shot is a bit low... bad camera, again.
The Jet Kommando makes a dive and snatches up his chainsword, sliding under the Basilisk's outstretched claws.
"HEEHEE, HAHAHAHAHAHAHAAAAAA!"
Kate's fire destroys the droid's remaining rocket and knocks off some armor plating.
Meanwhile, the White Blade leaps onto the Basilisk's head and faces off against Fett. Only recently brought back from the dead, Fett is feeling a little sore around the midriff, and isn't quite up to his old strength, not by a long shot. It's going to be hard to beat off the furious assault of the Fishblade-wielding Ninja.
Parrying the Fishblade with his Beskar'Gam, Fett's other hand draws his customized Disruptor Pistol, and uses it to blow out the White Blade's guts. Ah, good old Boba
.
Always watch the other hand.
The Civilians get a turn. Seeing an opportunity for some easy money, a young boy turns his hat backwards, for effect, and knifes the old man as he gets up to survey his cart. There's got to be some money in these pockets...
Meanwhile, the owner of a nearby vending stall prepares a fish to slap oncoming marauders, even as she gives the Brown Guard Kommando a minor concussion with a well-thrown apple.
The legendary Cowlvary make their charge, but with 4" of move, they get nowhere fast. Still, one of them manages to take a stab at the Basilisk's tail.
Even as his wife hits the fire escape below, an enraged husband assaults Franz, who fails to notice.
Other civilians take what they can and run.
An explosion of gore marks the impact of two mass-driver projectiles, and the Spectre is gone for good, along with Splode. Their weapons, oddly, survive the concussive shockwave.
The Basilisk moves forward, ignoring the charging Cowlvary to the rear. But wait... where's the rider?
Oh.
Punching a hole in the inn wall, the Basilisk withdraws a struggling Sniper... and puts an end to his struggles.
Franz still hasn'e noticed his assailant, who grimly clings to the Barbell as Franz leaps to the roof.
The Jet Kommando attempts to saw off one of the Basilisk's propulsion wings, with no success.
Krazed Kate has better luck, her Heroic Feat putting her in perfect position for a coup-de-gras shot...
A shot that penetrates solidly. Fett, favored as he is with the BrikGods, cannot truly die, but he'll be immobilized for awhile while his brains reconstruct.
"Of all the, take that, wench!"
The Basilisk's limited computer AI attempts to activate a self-destruct mechanism. Kate may be psychotic, but she's not suicidal (well, not quite). She thrusts her chaingun into the mass of circuitry and manages to demolish the arming mechanism.
The War Droid can no longer self-destruct.
Franz leaps to a village rooftop. But, where did his companion go?
Ah. A good throw, but an inch short.
The Jet Kommando attempts to cut off the offending hand with his chainsword, but again fails to get the job done. Meanwhile, Kate fails an attempt to hack into the Basilisk's control console, and the Brown Guard Kommando stages an ineffectual attack on the other hand with his Disruptor Pistol.
The Jet Kommando is sent sprawling as the hand he's clinging to swings to grab up the Brown Guard. Amazingly, the claws fail to penetrate the Kommando's armor, though they immobilize him for the time being.
Leaping gracefully to a chimneytop, Franz hurls his dumbells...
Ow. Even Kate can't take that well.
She drops into deep la-la land as the dumbell sails on...
...lodging itself in a nearby tree.
"Alright, forget this stupid chainsword, I want some real firepower!"
Sadly, the hit fails to penetrate the droid's armor roll.
And the Brown Guard's armor finally gives out.
Hm? What did he throw this time? A plate. It missed to badly to merit the dignity of a photograph.
Clutching some newfound loot, a young lad fetches himself an apple and settles down to watch.
The last member of the Cowlvary begins a prolonged charge at Franz.
And the other kid settles down for a snack as well.
Finally, a perfect shot! The Basilisk is down after a plasma bolt incinerates its power core.
A proud warrior.
Snatching up Nova Sword and Disruptor Pistol, Franz persues and is met by a bolt of roiling plasma.
"I love this thing!"
The bolt is parried successfully, but Franz is knocked on his rear end by the resulting explosion.
He retaliates by hurling his MNS through the roof, directly below the Kommando's feet (fell a few inches short in the range roll, so this is what happened).
Unfortunately, the Kommando merely fires his jet pack and floats to safe footing.
He then repositions and returns fire.
And Franz is gone...
VICTORY FOR THE LEGAVAN SCOUTS!
"Delta-9 to command, I'm going to need extraction for two Kommandos, one incapacitated, ASAP. Also request a reclamation and erasure team, over."
"Roger that, Kommando. Good work."
My main disappointment in this battle was the relative cohesion of the buildings afterward... we probably should have had the Basilisk ram the grocery, or something.
Again, sorry about the pics.