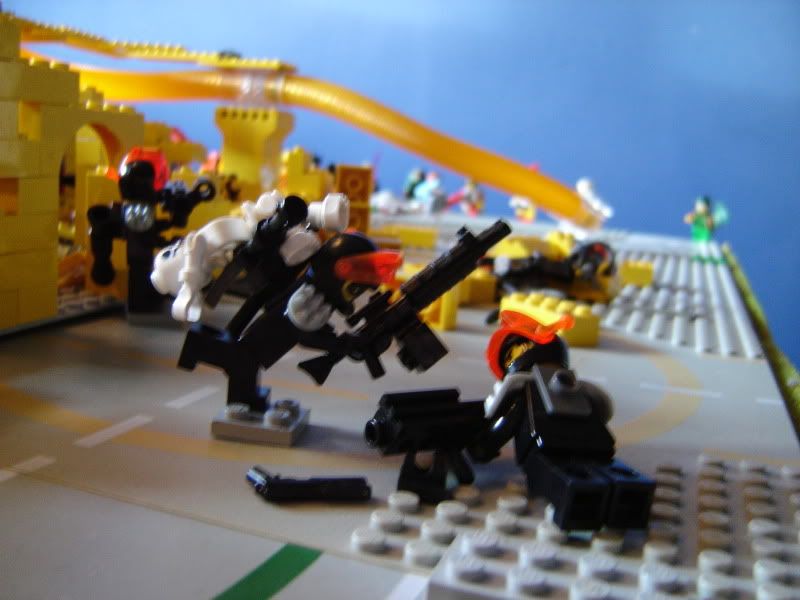 Krus manages to find a suitable Skeleton for added armour and dives out to give BFenix a hand.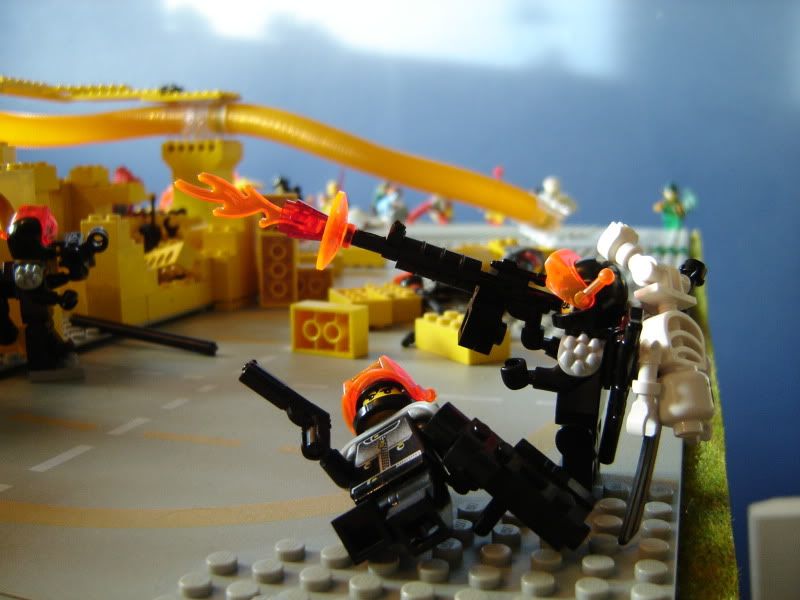 BFenix grabs the Colonels sidearm while Krus takes a shot at a deadly threat...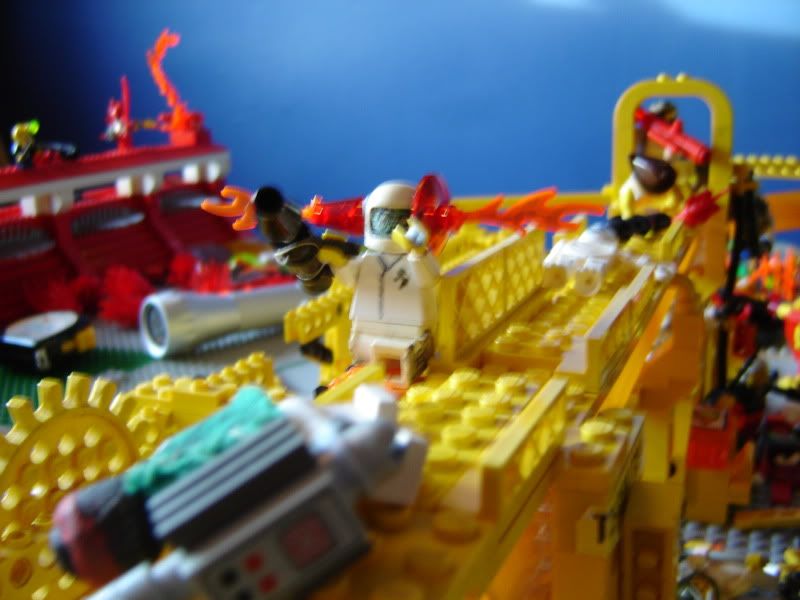 The Scav takes a head shot through and through.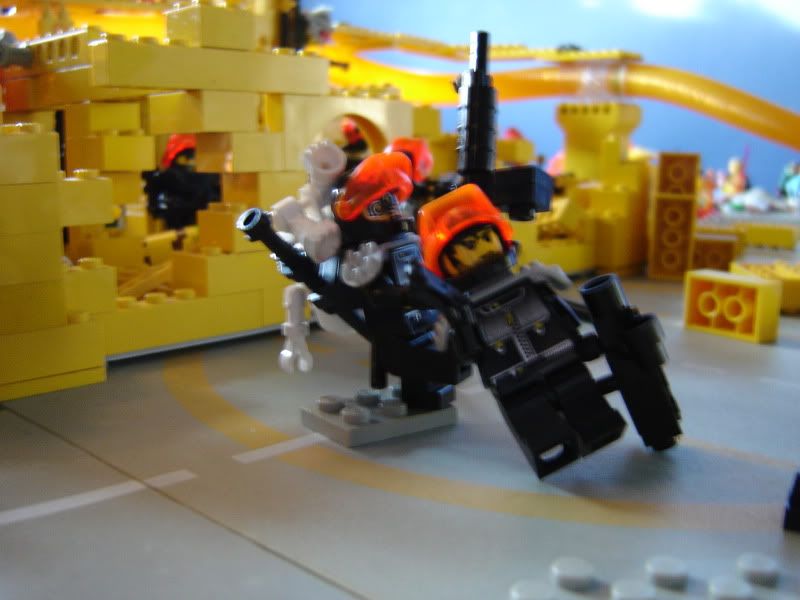 Krus then drags BFenix back towards the building.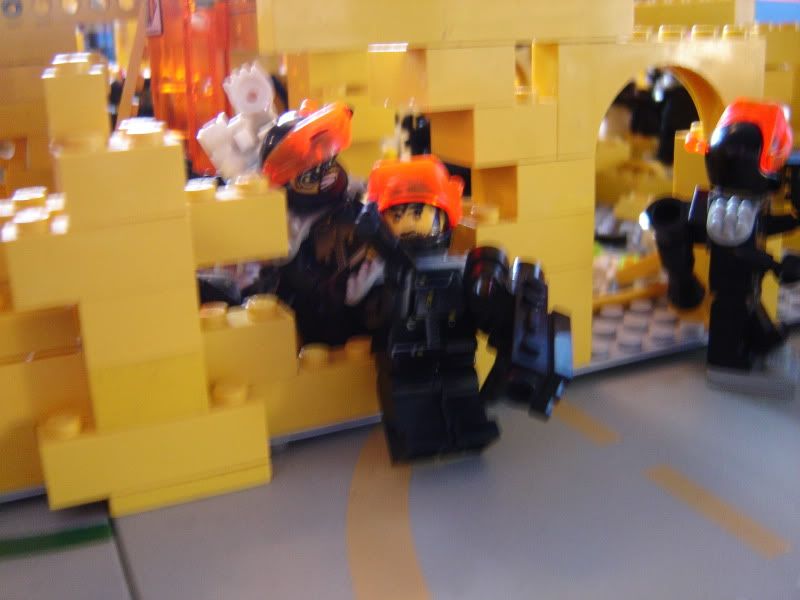 But is unable to drag him inside.
Master Sergeant Ecabob once more strikes a pose any War Propaganda leaflet would be proud of. "I'm going to the APC men, I may be some time... COVERING FIRE!!!!" Something beyond mere training inside the troopers responds automatically to the call. Units within 10" (6"+D6") gain an extra action or the option to act AND have a response action. (Sgt Ecabob rolled a Crit Success!)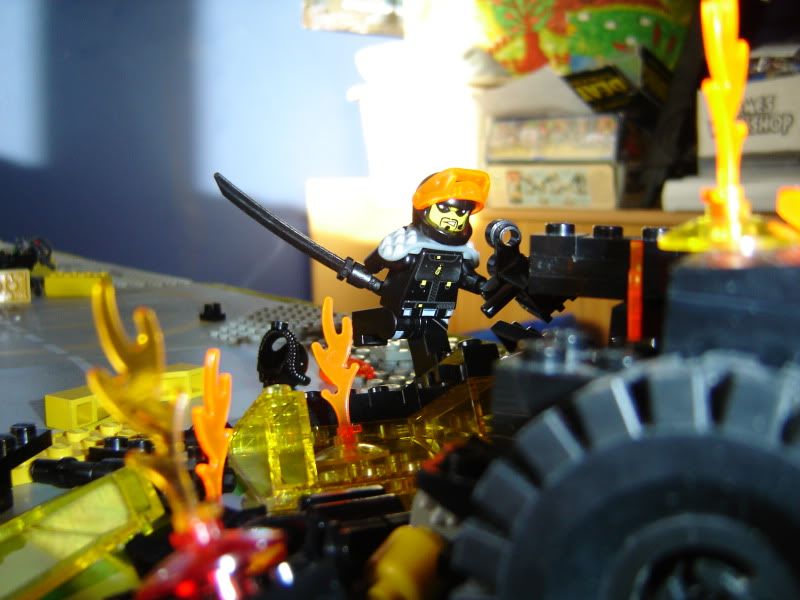 He then bravely rushes from the cover of the building...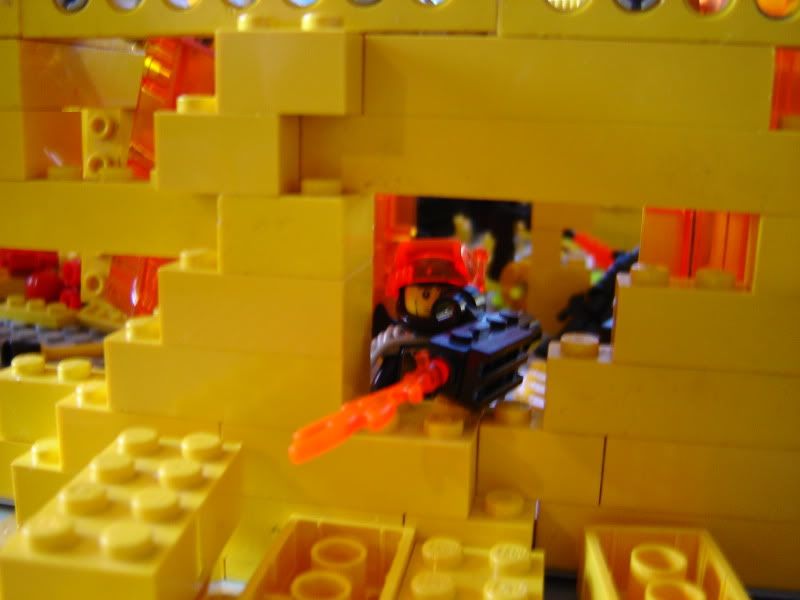 Silva using his extra attack picks his target.
This time it's armoured hair didn't save it.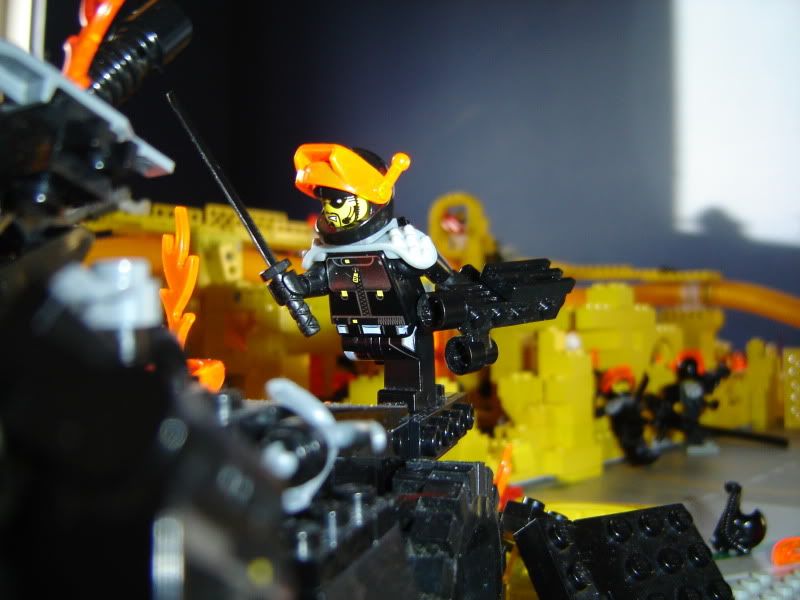 Sgt Ecabob gains the roof of the APC without incident...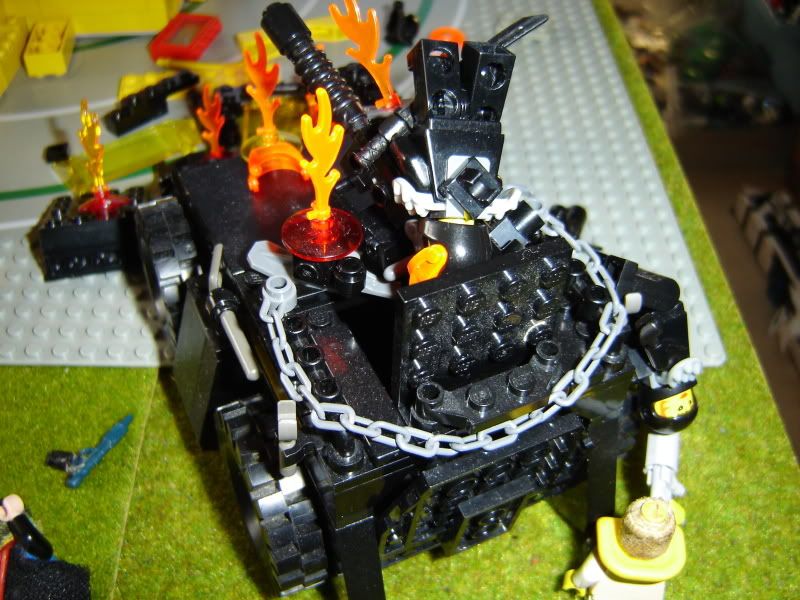 ...and then leaps inside before...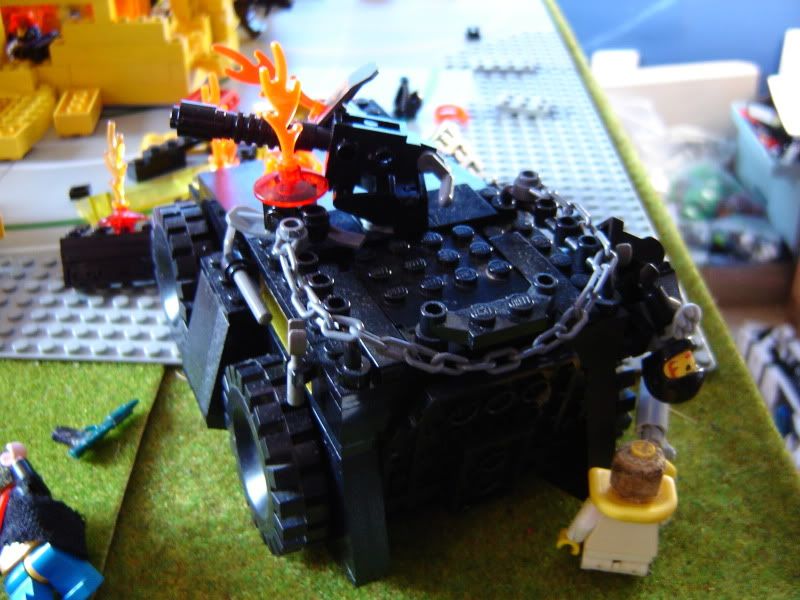 Firmly securing the hatch. (Bugger that lot, you could probably wait until the shooting stops, eh?)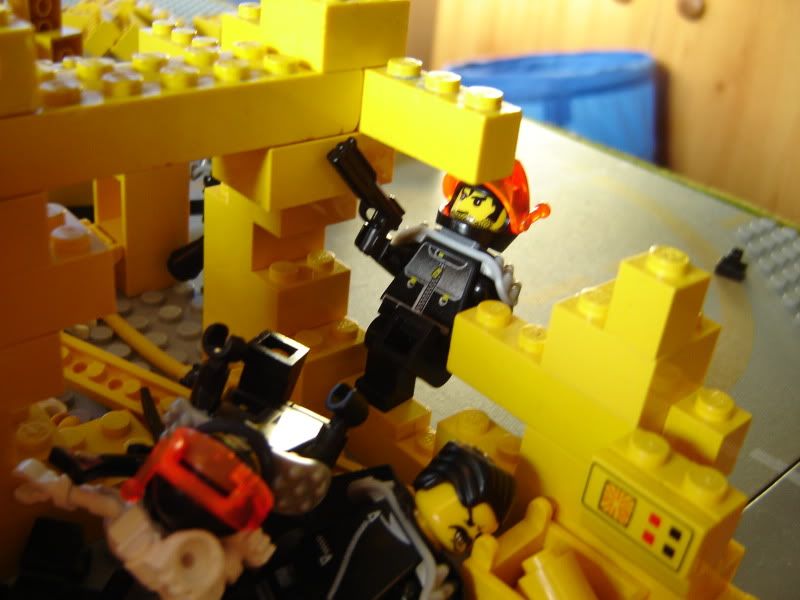 Having enjoyed being saved by Krus, BFenix then shakes off the effects of the shot. To show his gratitude he then proceeds to kick Krus out the way as he brings his weapons up and fires.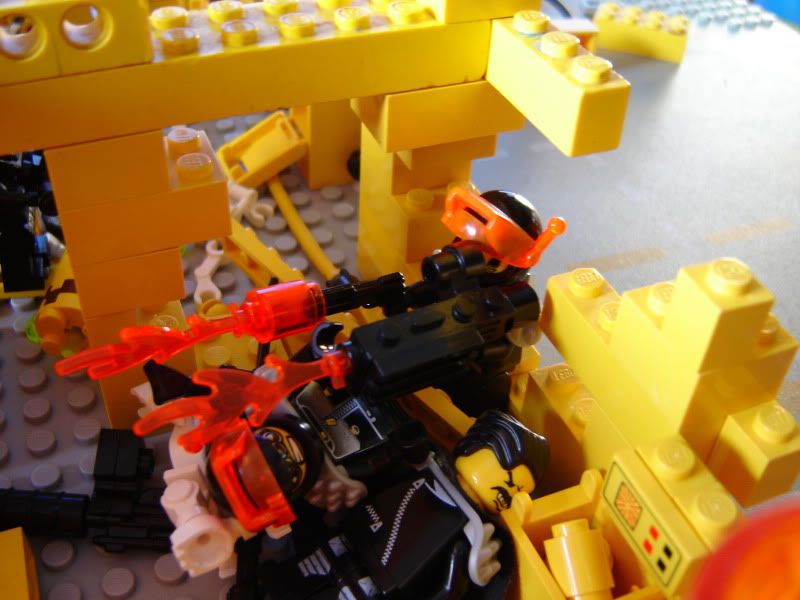 Duel guns blazes away at something.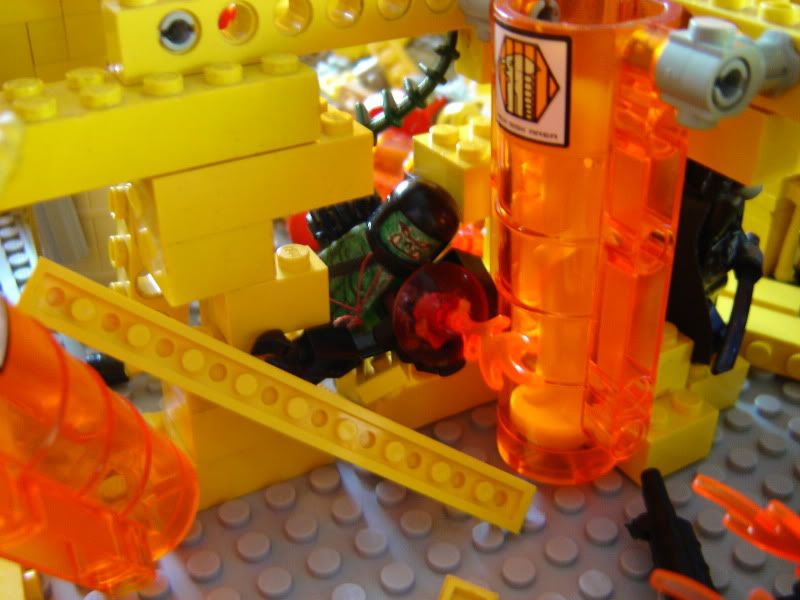 A large Scav had almost broken through. The Blaster rifle misses but the pistol hits. The Mutant falls back stunned but isn't dead.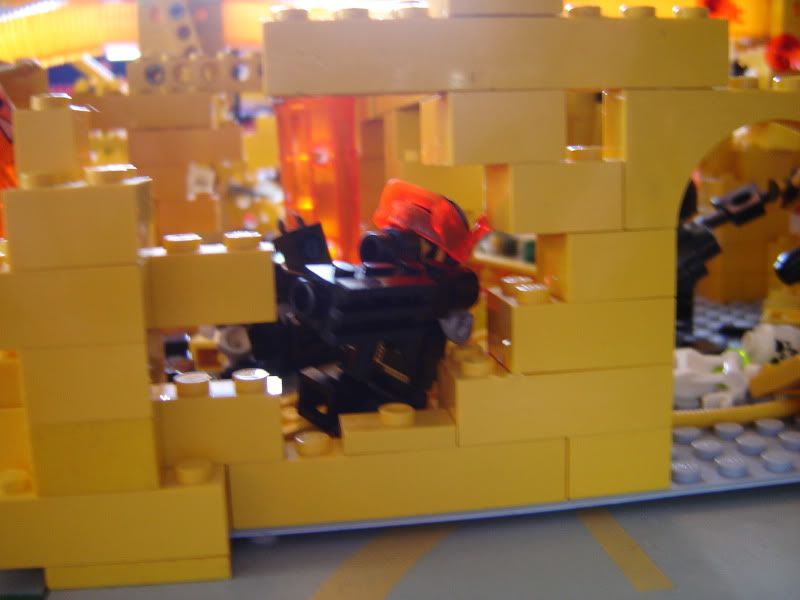 Unconcerned and ignoring Krus' heart felt abusive cursing, BFenix settles down ready to respond to anything.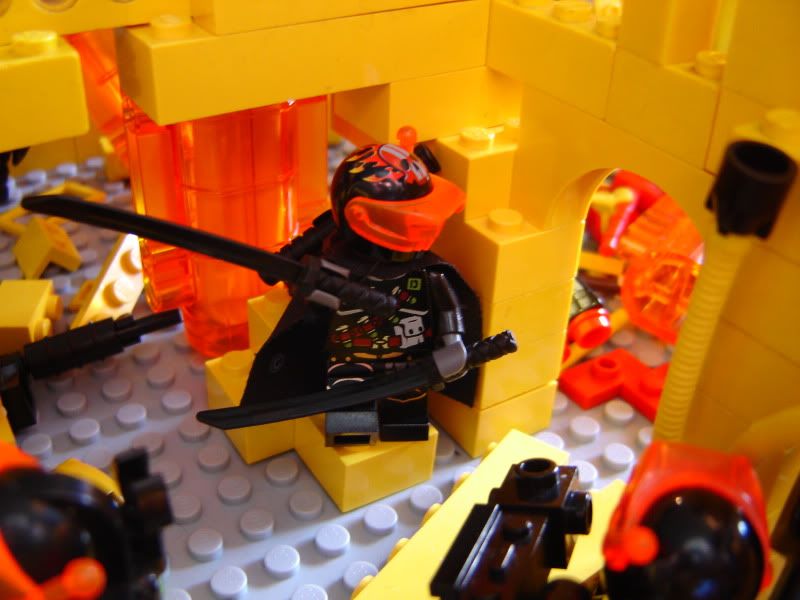 CrazyHorse slings his SMG and draws his Katana...
Blood fountains as he decapitates the Scav with his chainsaw stuck in the ground...
His other blade skewers the cheeky Scav kid, like a kebab.
He then turns to defend himself from the next attackers, blood soaked and gory with the Scav kid still twitching on his blade so as to provide some cover.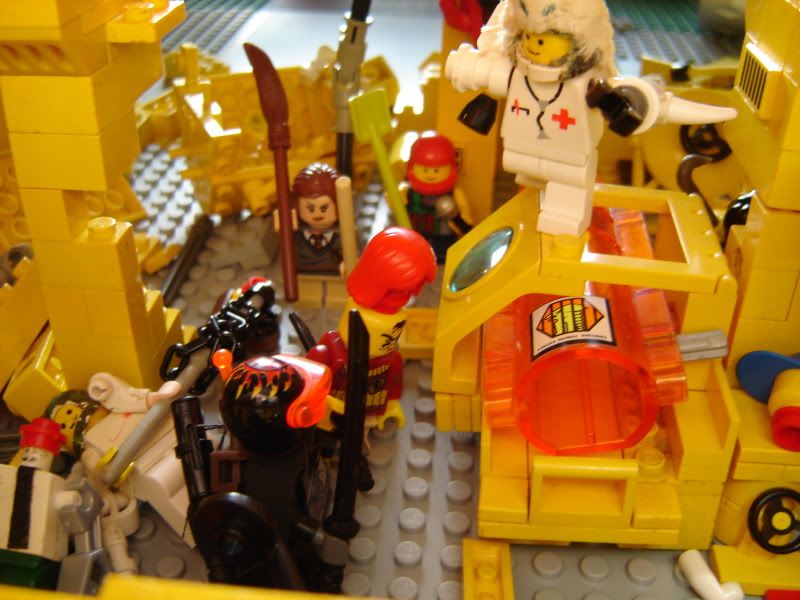 Then he spots his new enemy... Peach Hermione Granger!.. and another Scav kid armed with, a spade and a microphone?.. Oh, and a explosives vest. (Dun-Dun-Duuh!)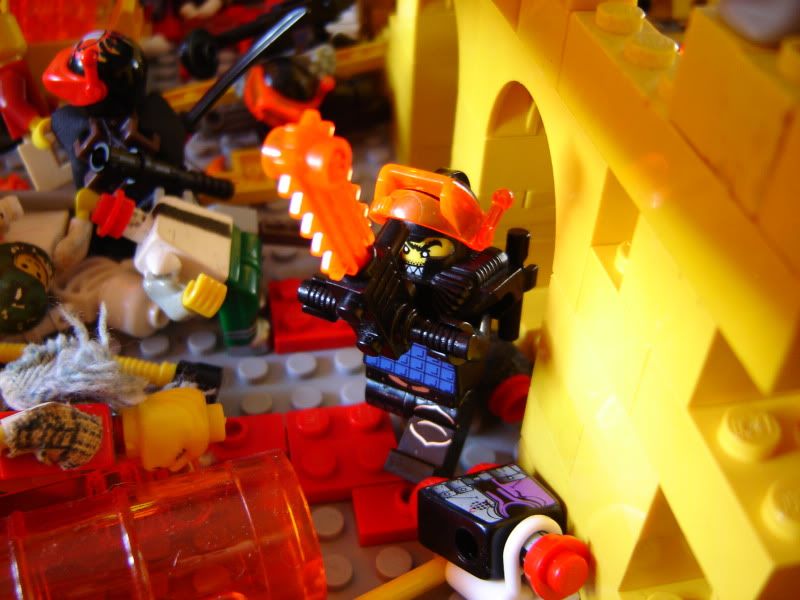 TerrorKhan Berserker Moron has his blood up! With a blood curdling scream he charges out into the factory floor...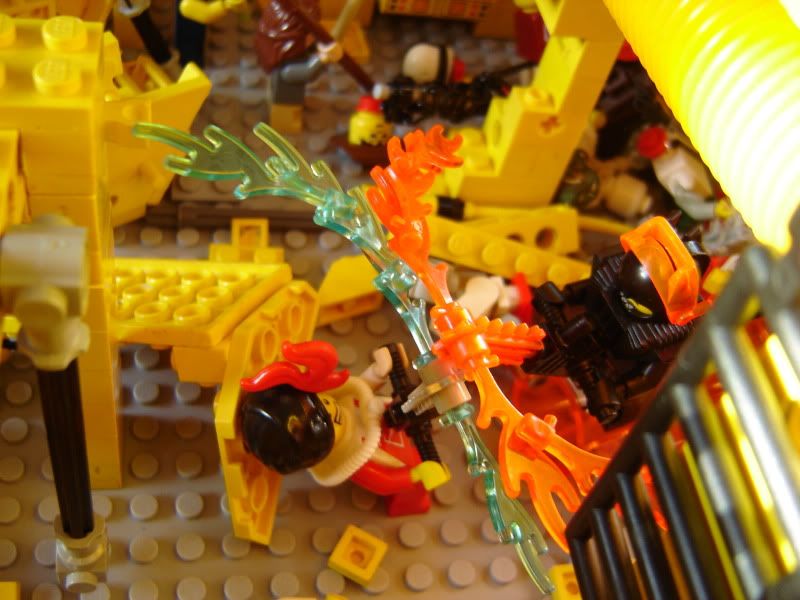 ...and heads straight for the Chainsaw wielding Scav, a challenge he is unable to resist.
SKKKRRRREEEEEEEEEEEEEEEEEEEEEEEEEEEeeeeeeeeeeeeeeee!!!
Sparks fly as both chainsaws collide!..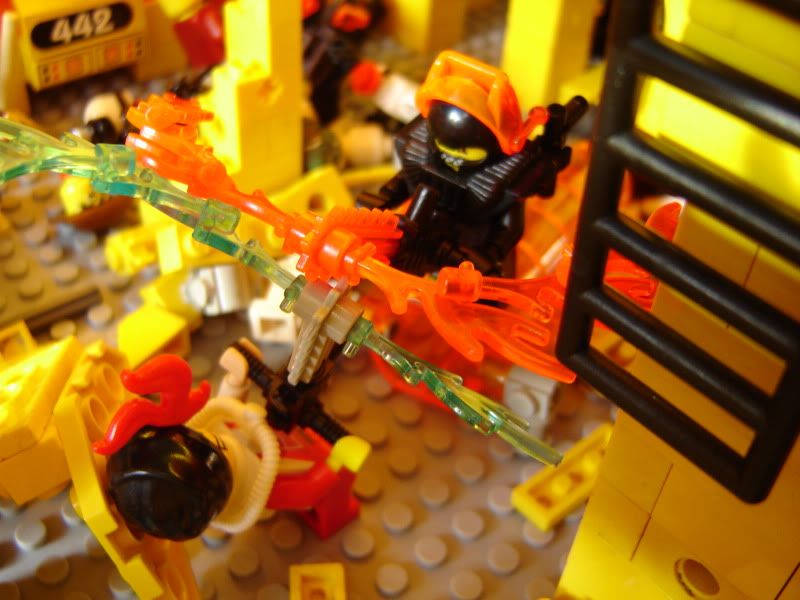 ...but with the inevitability that nothing can stop an
OTC
something has to give...
SKKKKREEEEEEEEEEEEEEEEEEEEEEeeeeeeeeee!!!
*SHREAD!!!*
...and today it's the Scav's arms! (Well, what can you expect with a Peach hand?)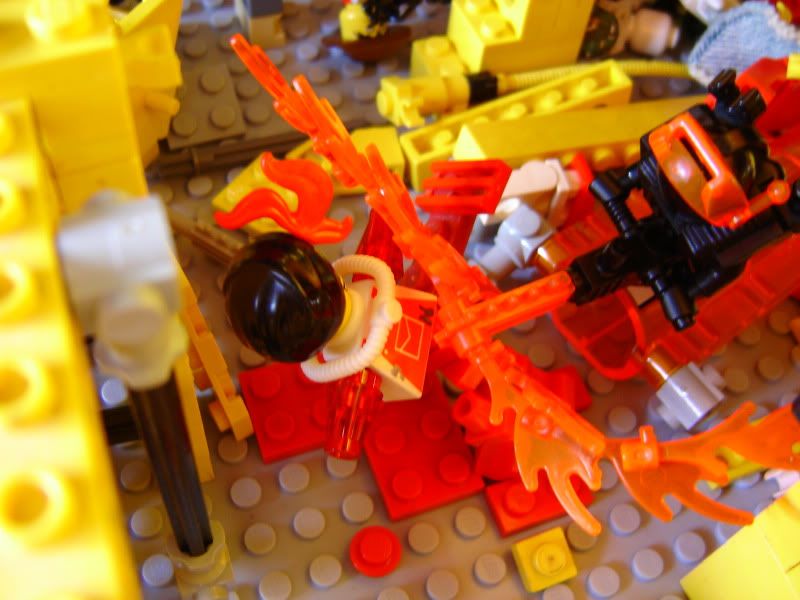 AAAAaaaaaaargh!!!
Laughing insanely Moron takes his time dismembering the unfortunate Scav...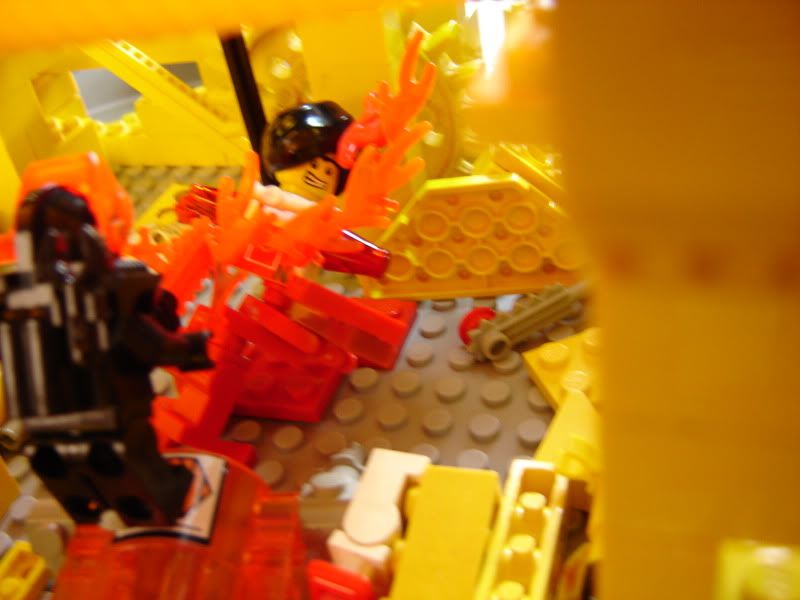 SKKKKREEEEEEEEEEEEEEEEEEEEEEeeeeeeeeee!!!
*RIIIIIIP!!!*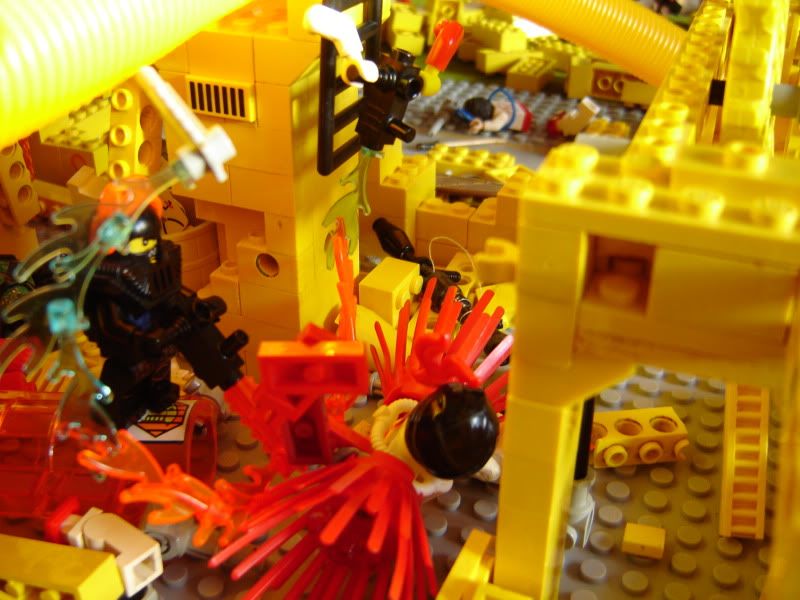 MWAH-HAHAHAHAHAHAHAHAHAHAHA!!!
AaaaaghiiiIII

III

IIII

EEE

EEEeee

eee

eee...
This guys off the fuckin' leash!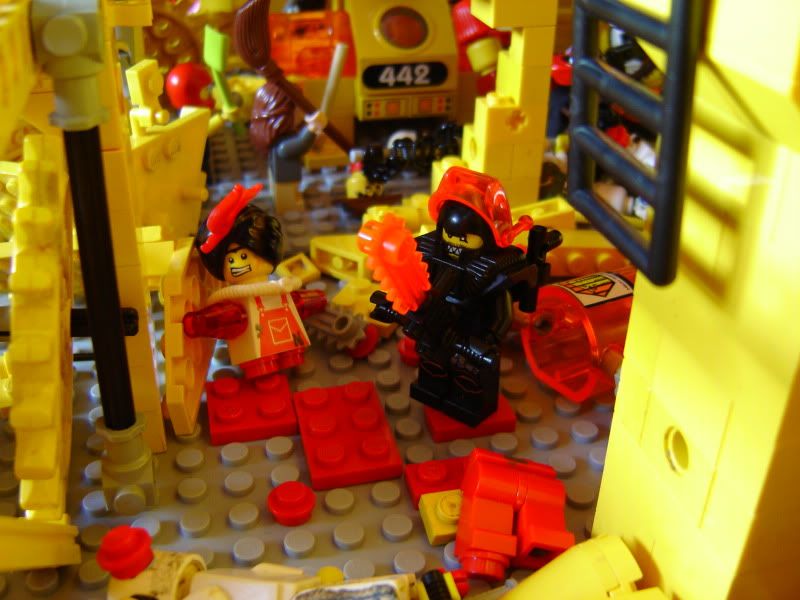 It's bloody work in the TerrorKhan, but someone has to do it. WATCH OUT!..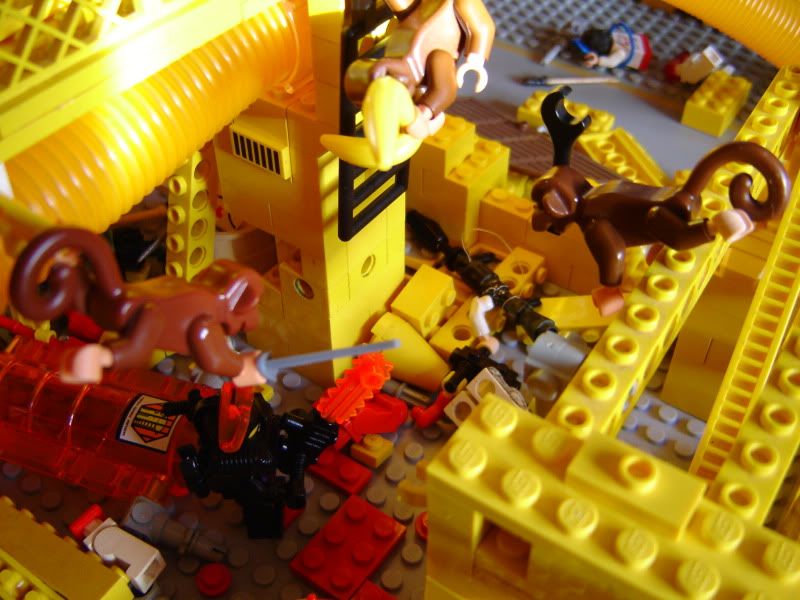 Gahh! MUTANT MONKEY SNEAK ATTACK!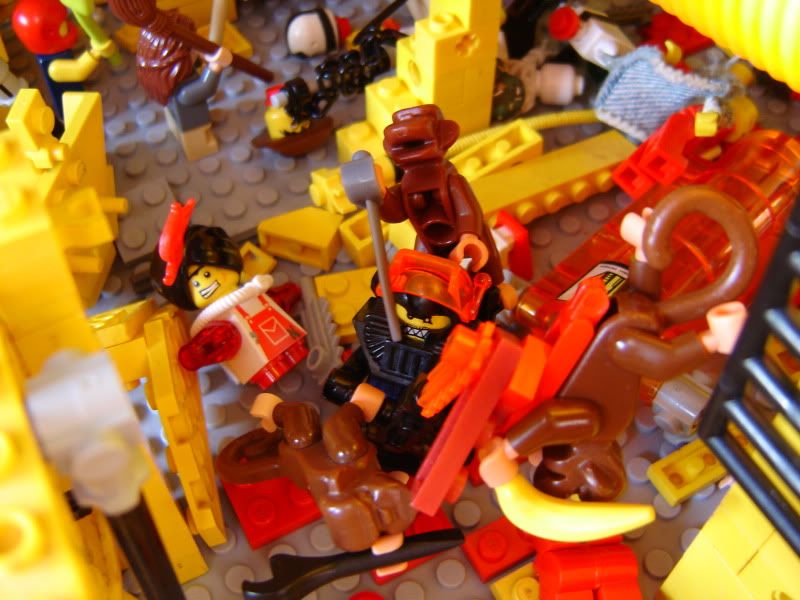 For all their frenzied stabbing and bashing they just can't breach Morons armour.
Killer, no longer hindered manages to get up and give a large Scav the good news to the back of the head with his Chainsaw bayonet.
I don't care how big you are, that's gotta' hurt.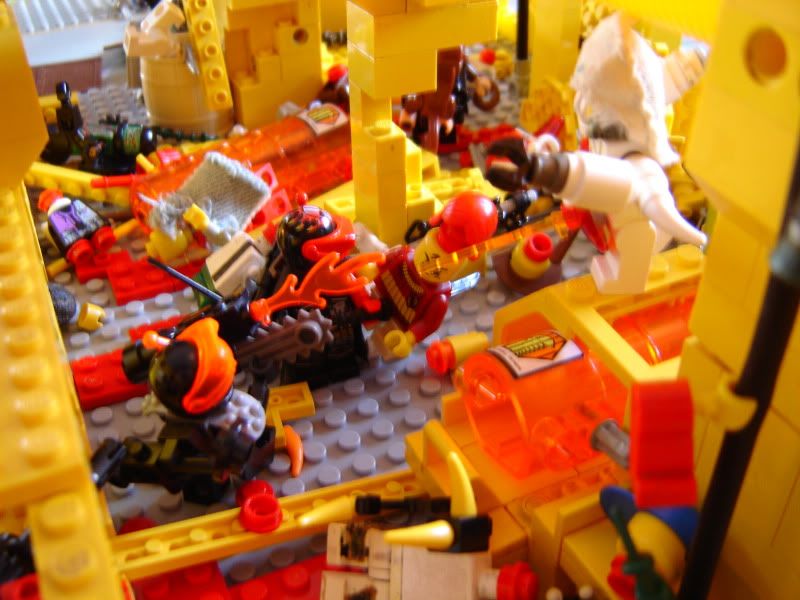 He then fires into the onrushing Scav heavy, but it just grunts and keeps coming.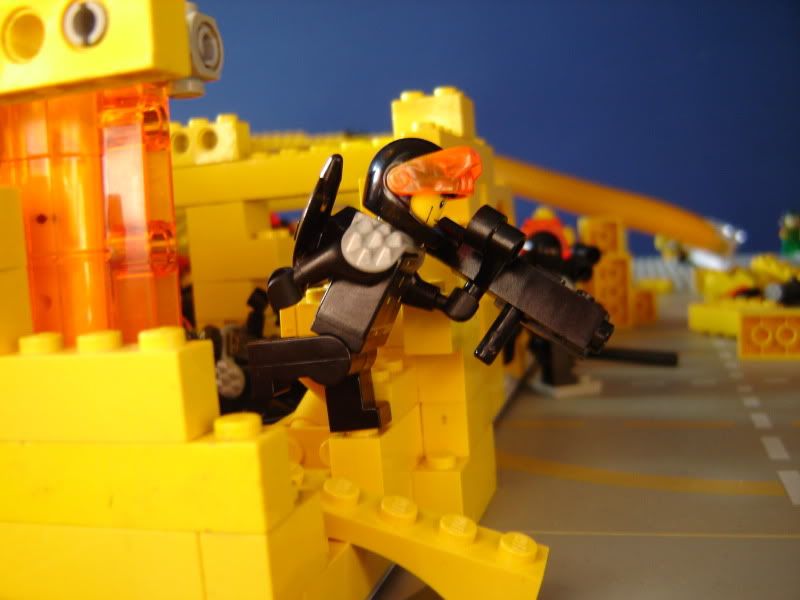 Silva selflessly risks his neck and leaps out of the building to go rescue Piltogg...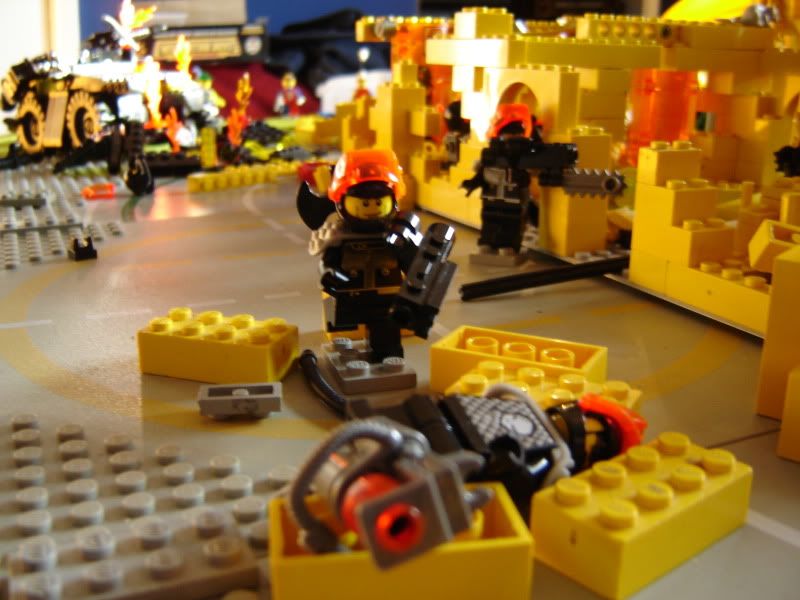 and ends up running out of movement too short to help. Without panic he sets up a response covering fire action. (Remember, he was one of the troops effected by Master Sgt Ecabob's officer based Hero Feat).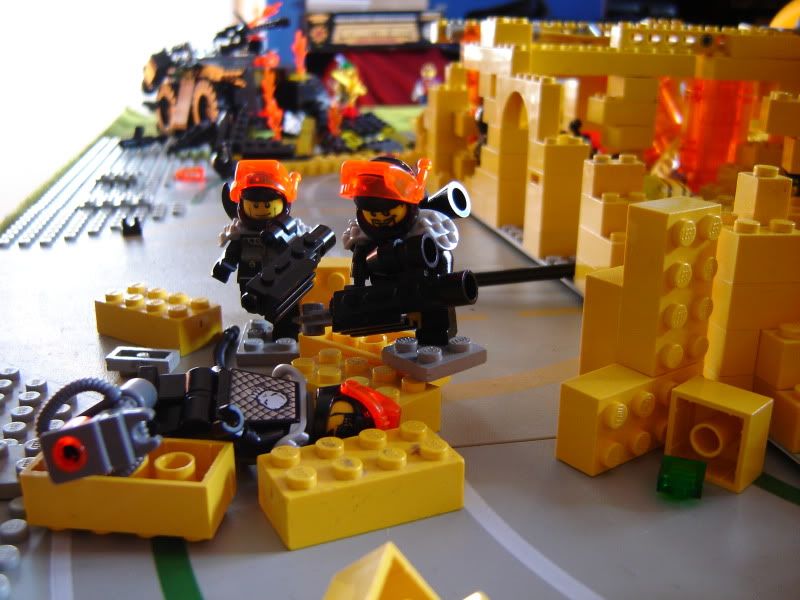 Trooper R.J. G'o'D shows him how it's done!..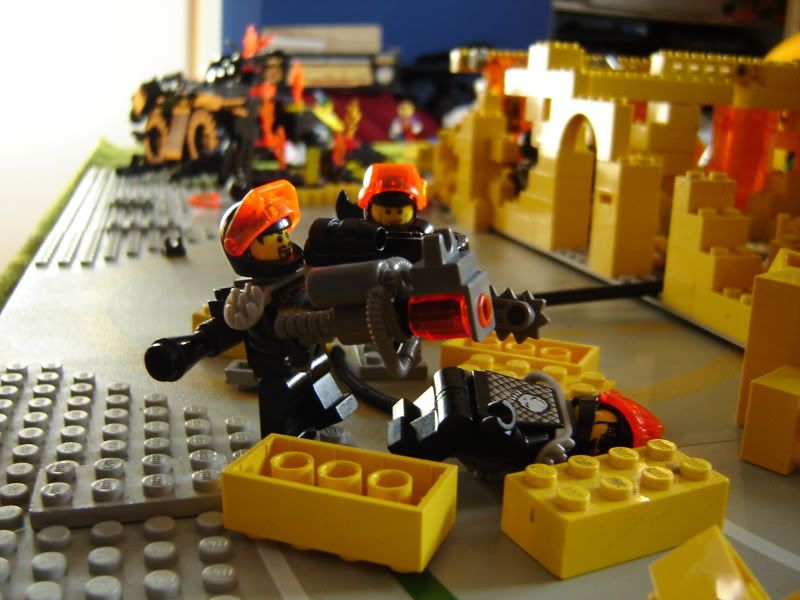 Jumping over Piltogg he grabs the Plasma Weapon.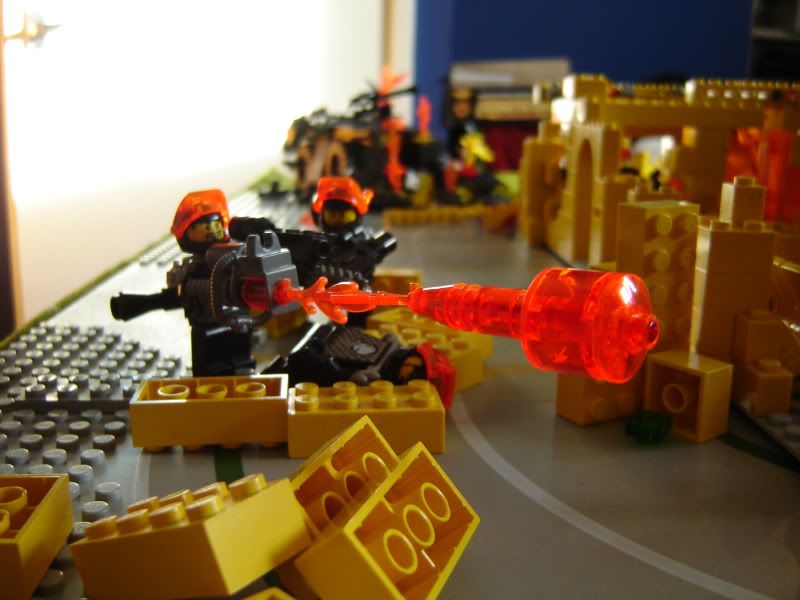 And Fires!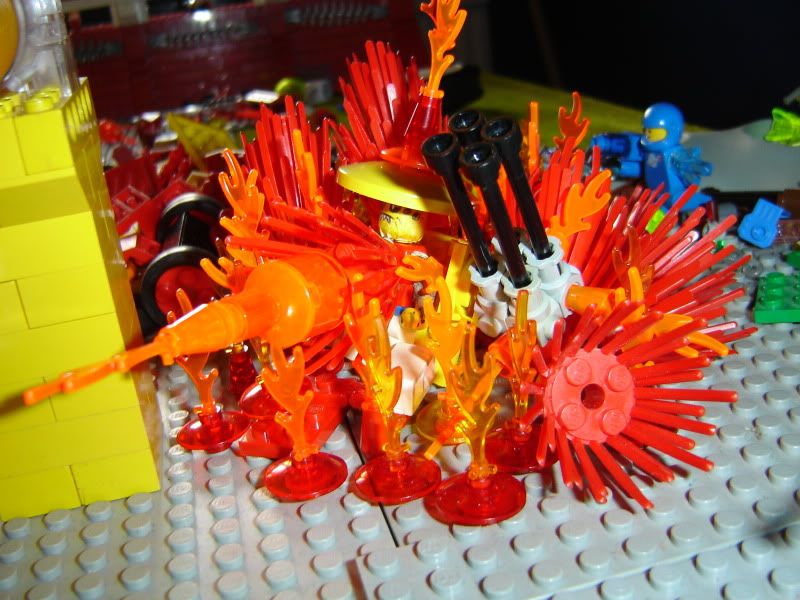 FA-WOOOOOOOOOMP!!!
The shot hits the Crab right where the armour
used
to be.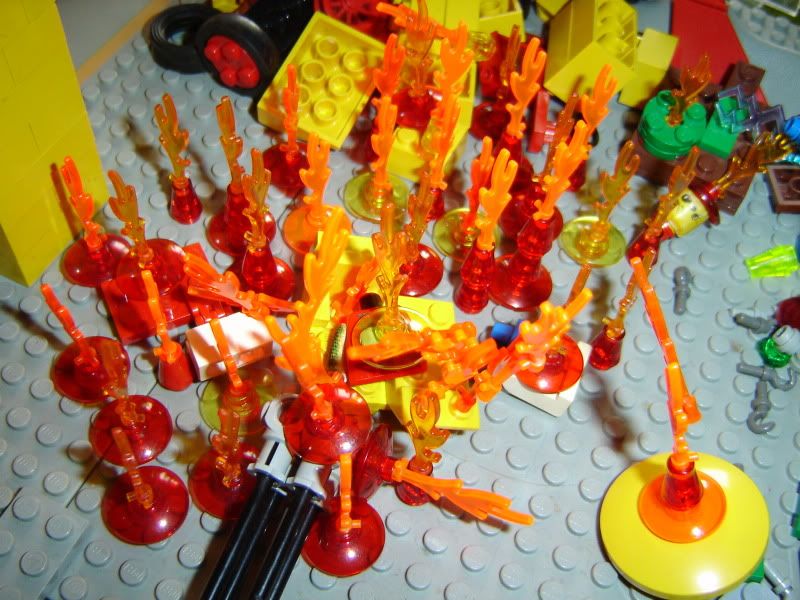 Not much remains as fires roar through the strewn wreckage.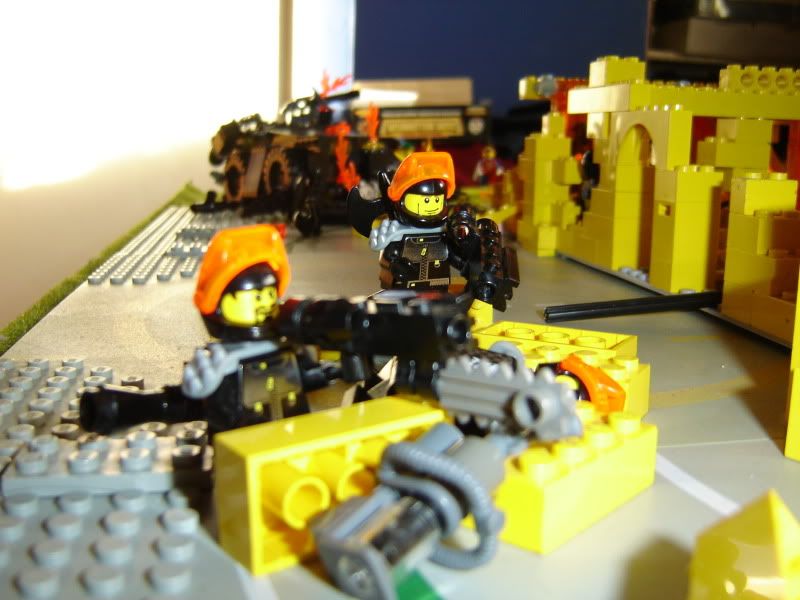 With a pleased look on his face R.J. G'o'D gets into some cover and prepares a response action. (Note the Plasma Weapon has no power left and so the weapons Plasma chamber is all clear).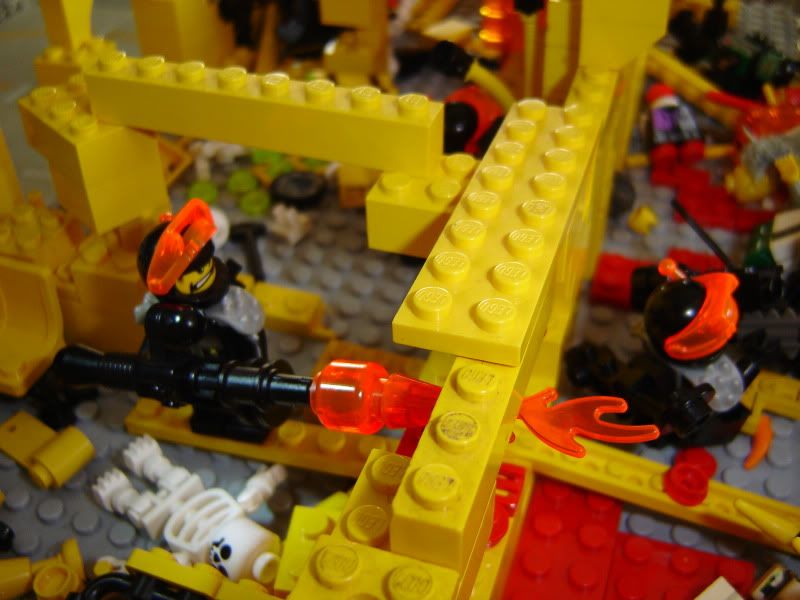 DAKKA! DAKKA! DAKKA!
Freed from the grasping claws of the Scav F!SH goes full-auto!!!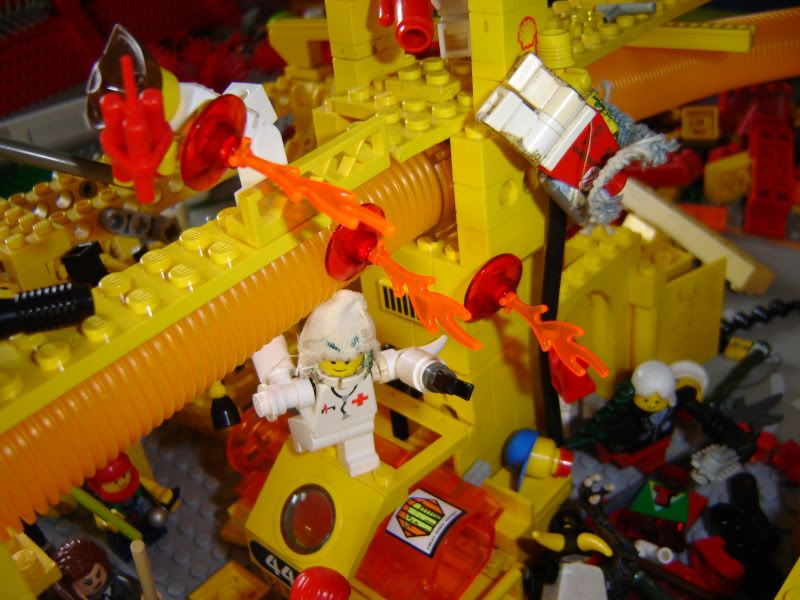 Two shots miss their mark but the third strikes the Scavs arm holding the Dynamite.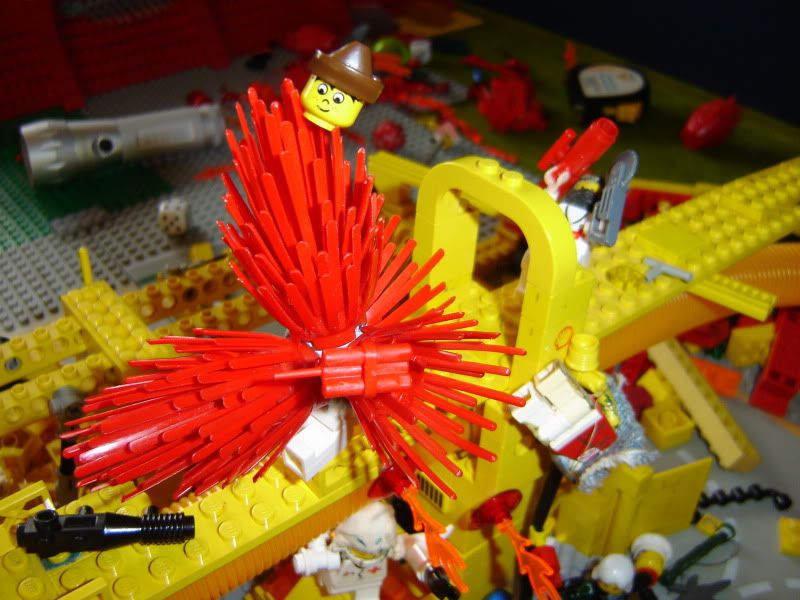 KAA-BOOOOOOOOOMM!!!
Which explodes. I guess it wasn't as stable as Dynamite then.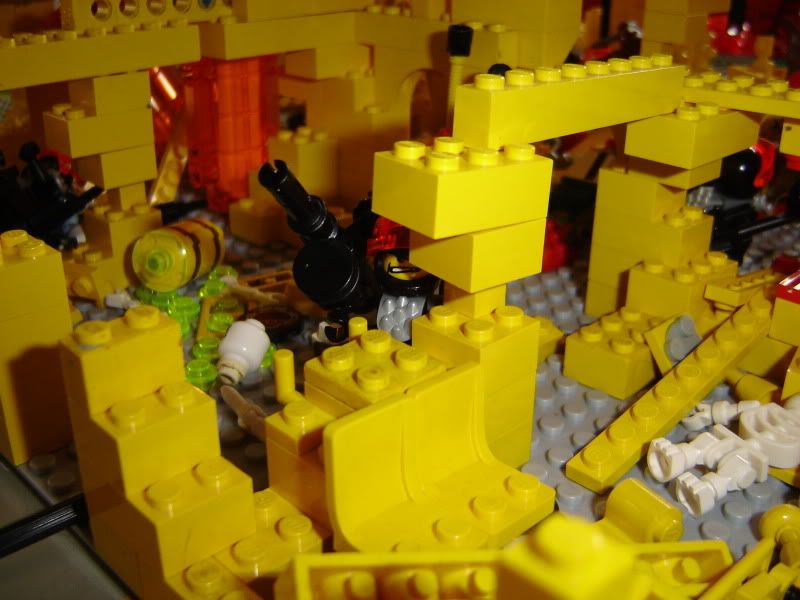 F!SH prudently withdraws to a safer location.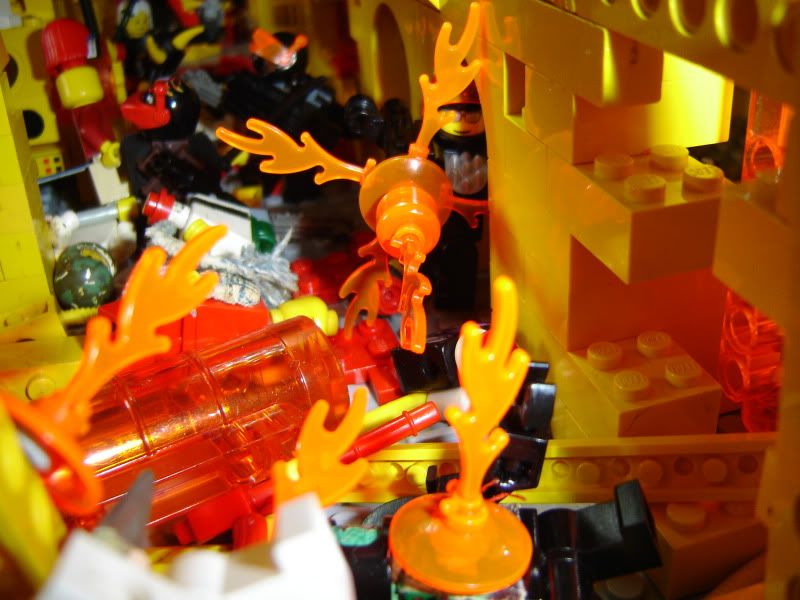 Aoffan (Ross) steps into the door way and unleashes AutoShotgun hell.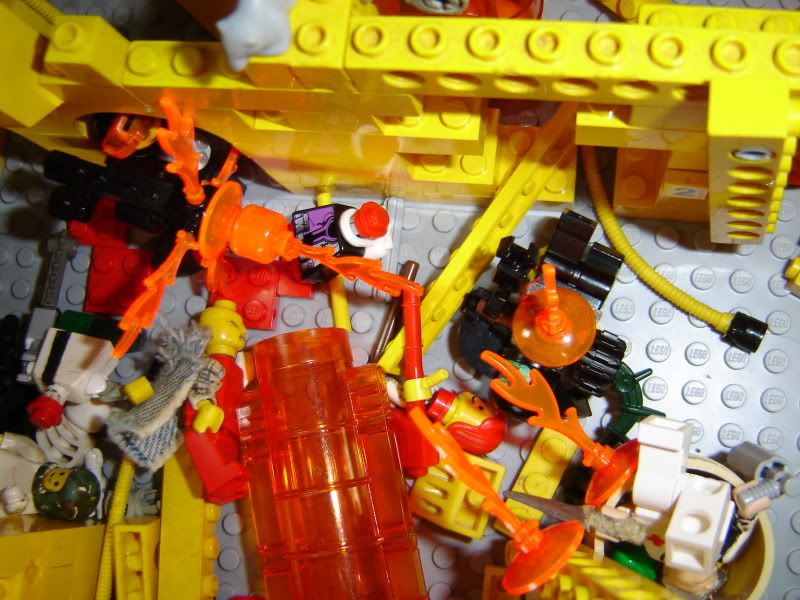 Two shots miss the big Scav behind the barrel but the one helpless on it's back is easy meat.
He then withdraws into the room and changes weapons.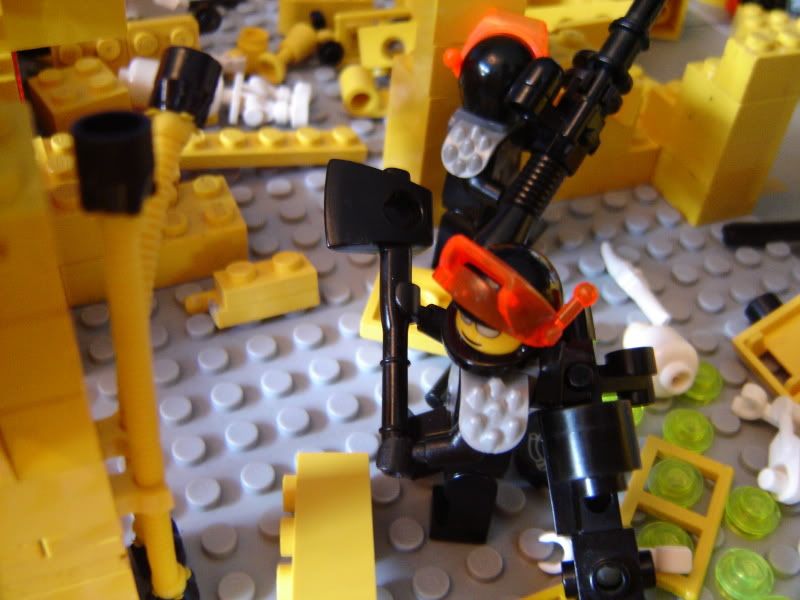 "Bring it on!"
+ + + + + THE SCAV TURN! + + + + +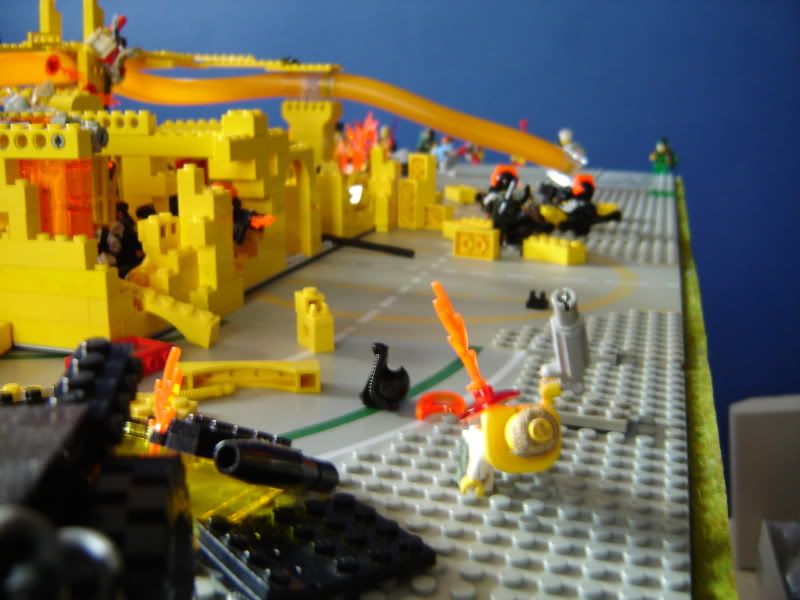 The first Scav to approach the ruins is quickly dispatched by BFenix.
"HAH! That's for shooting me you asshole!"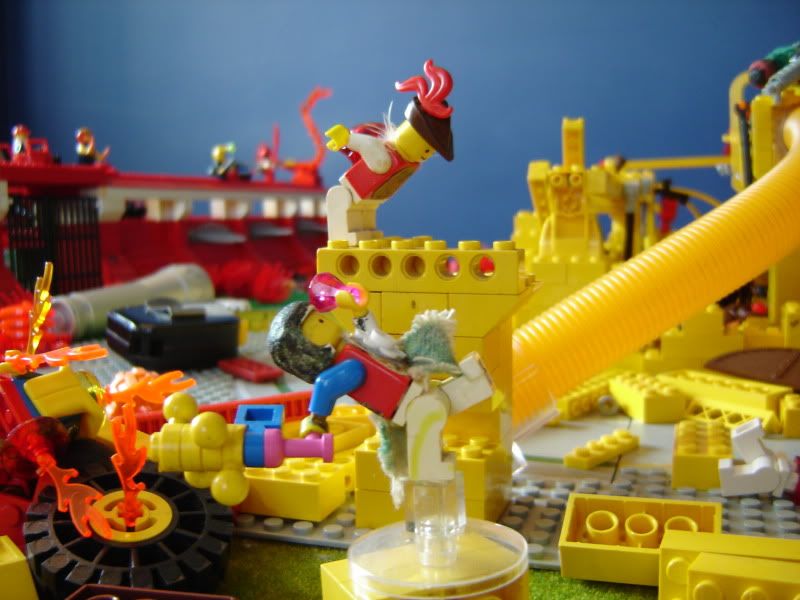 The Left Flank Wallies:
"Tra-Lee-la-lee-la!"
Pansy traipses across the battlefield singing gaily and thinking of rainbows and unicorns... In the background Chicken Man clucks and pecks for food.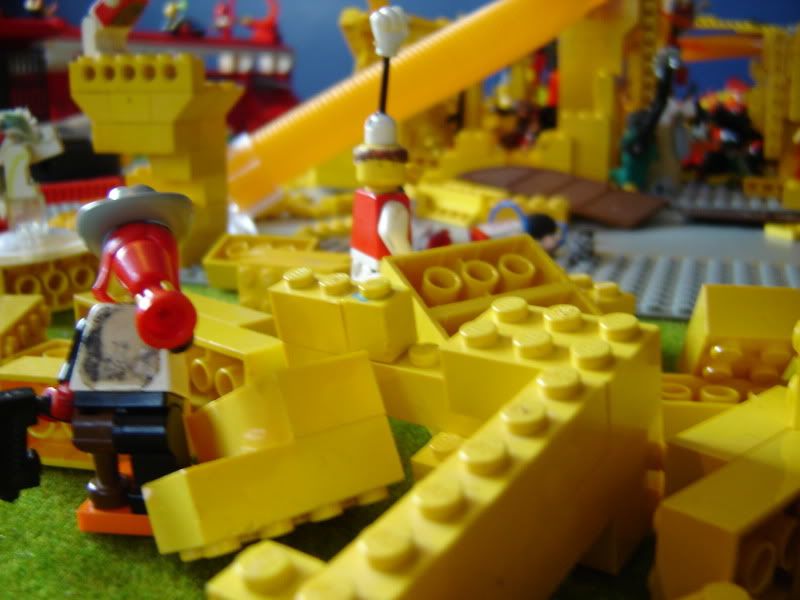 Sue-Ellen Ewing is well on her way to the Betty Ford Clinic so has another for the road, she shambles about drunkenly. Mr Smarty waves to the folks in the Forum, why? Only Smarties have the answer. (Groan!)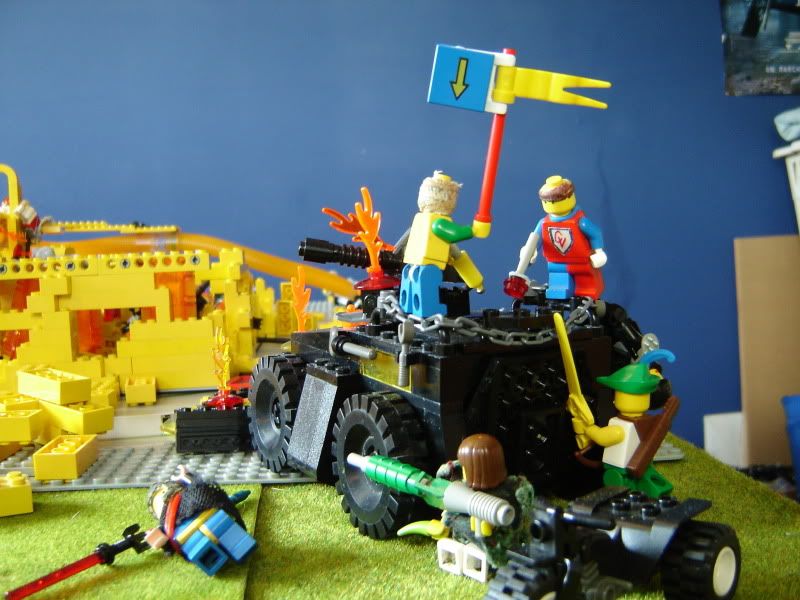 Mr Visible, that's the one with the banner that has an arrow pointing at him, and Captain Vincible try to get the APC's hatch open. Vincible fires his mega-gun... small sparks whoosh out from the end like a childs toy and a
*Vuuum, vuuUUM! VOOO-UUUUM!*
can be heard. Slimey takes up a sniper position and ignores the others while Dapper Hood tries to force the door... fat chance.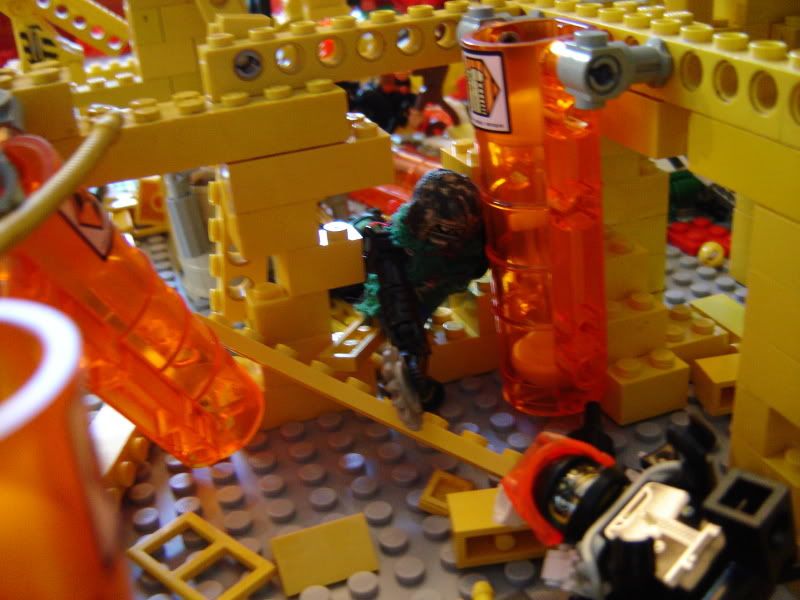 Another large Scav tries to force his way in but the hole proves to narrow and he's stuck for now. But not for long.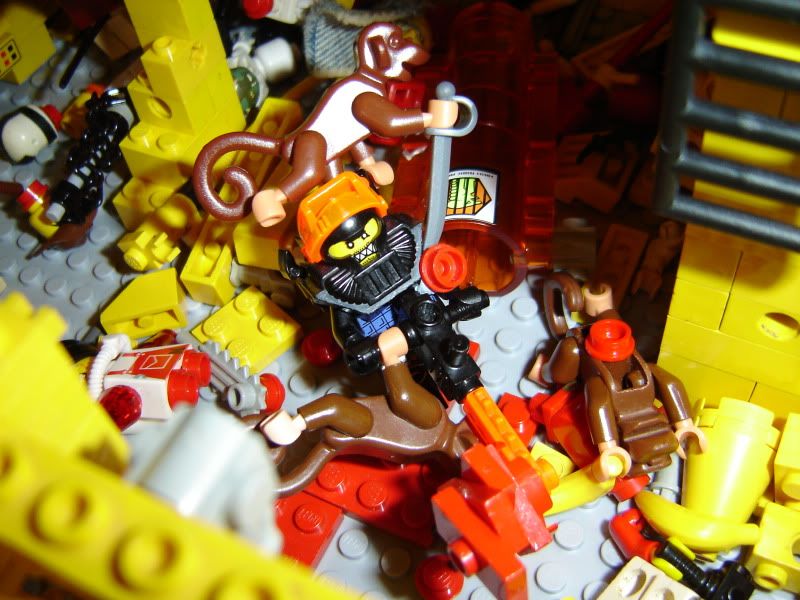 Moron manages to kill another Mutant Monkey but the other finally manages to jab his blade into his arm. The TerrorKhan is wounded but Berserk, he'll only feel it on a failed skill roll each turn.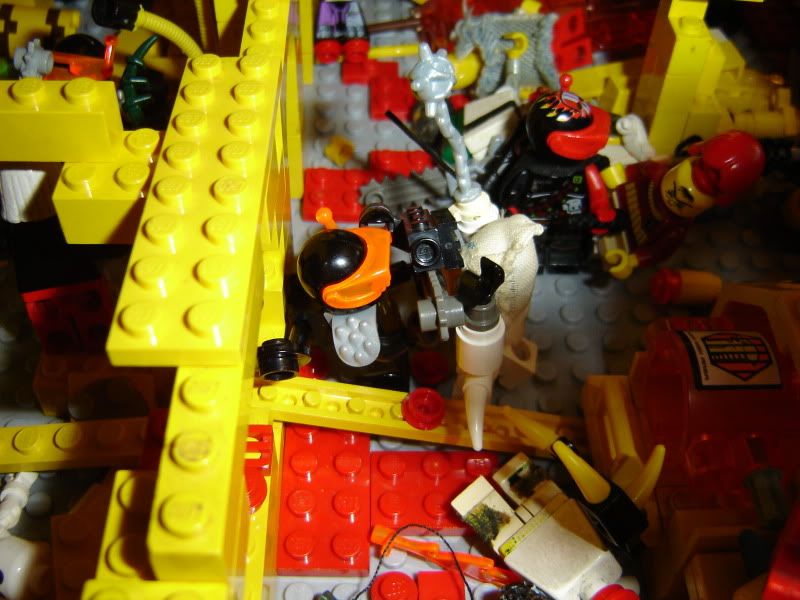 A large Scav smashes Killer, who fails to block.
BONK!
The blow hits but fails to do enough damage to kill him but Killer is sent to the floor disrupted again and drops his weapon.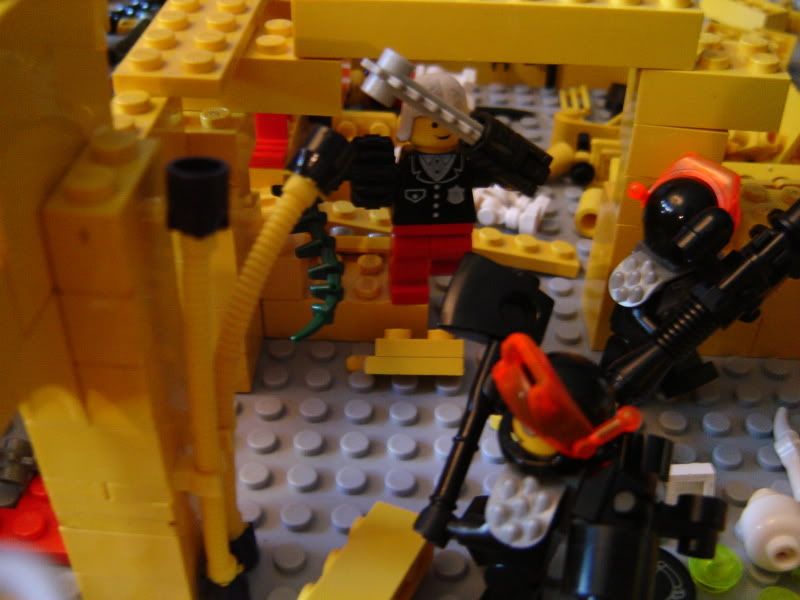 Another large Scav rushes into the room with Aoffoan (Ross) and F!SH in it, she attacks!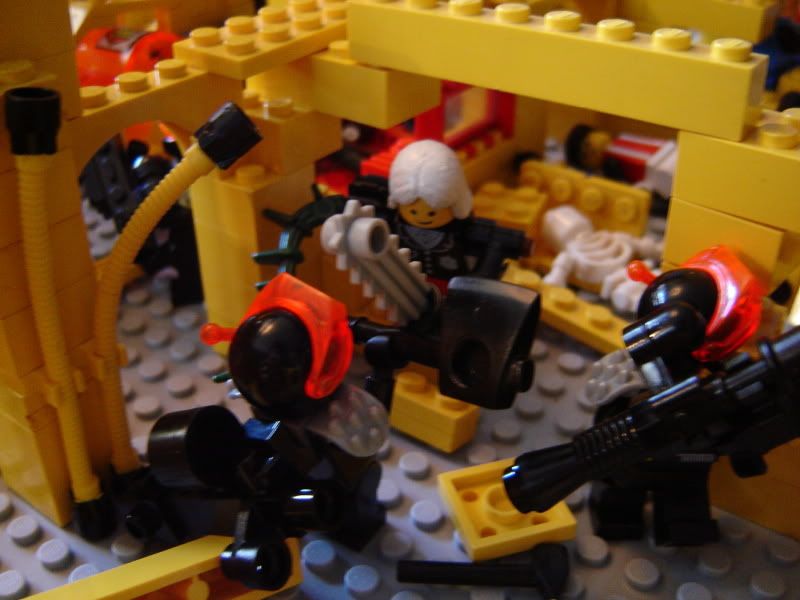 Aoffoan (Ross) Blocks the attack but doesn't manage to counter. Stalemate!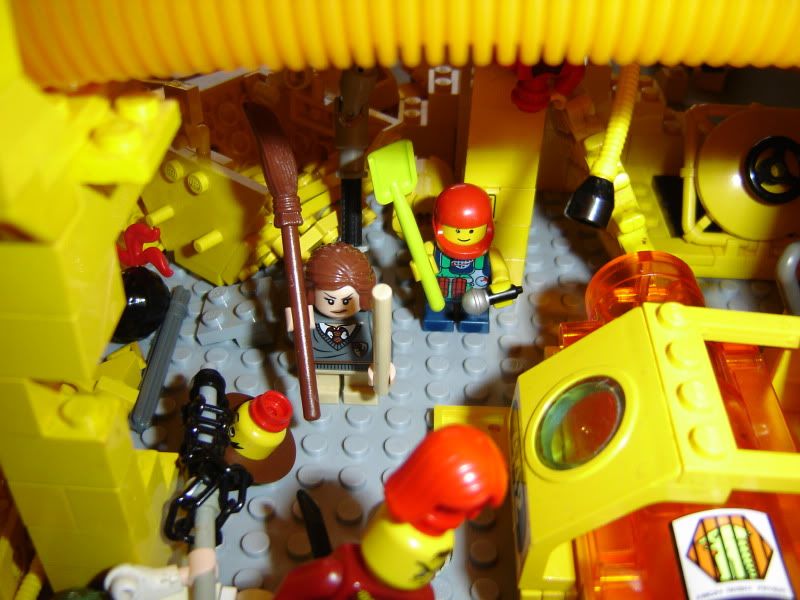 Granger uses a spell to augment her Scav mates singing, it's a critical Success with another Critical for the range!..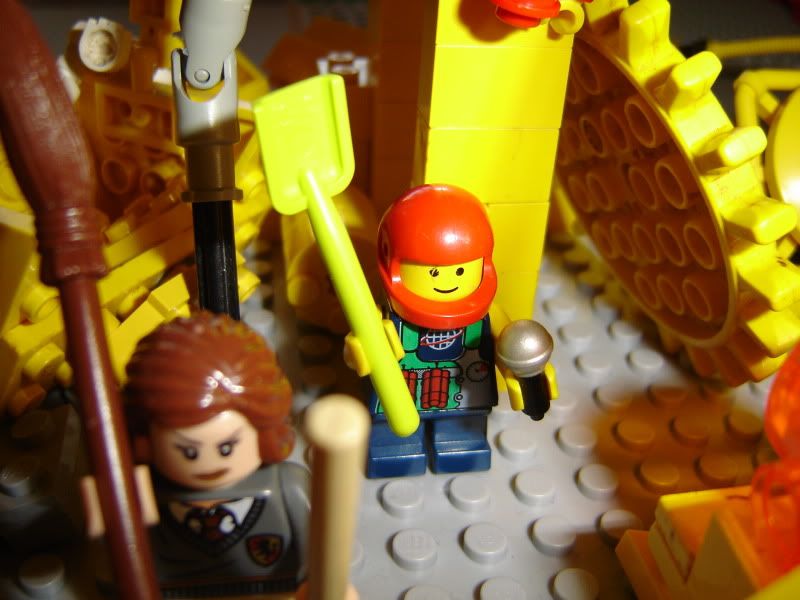 Unable to riposte or parry CrazyHorse succumbs!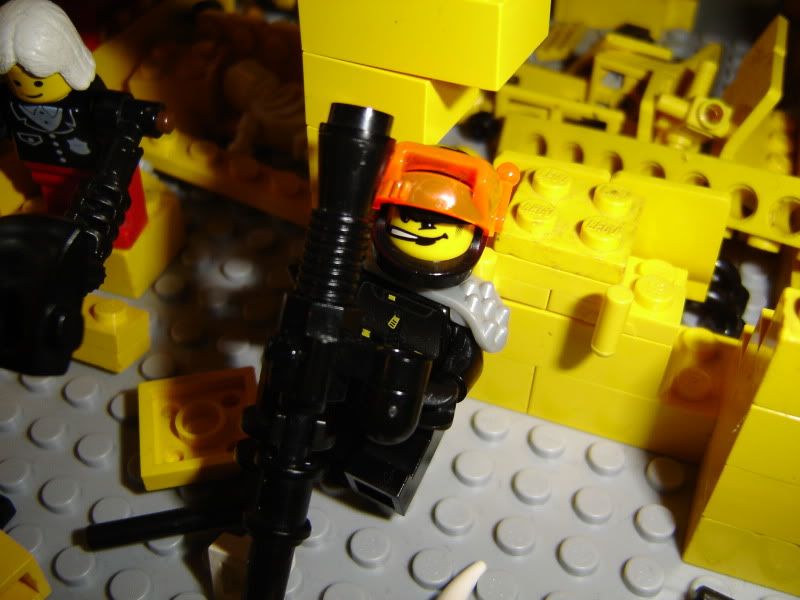 As do F!Sh and...
Moron, I guess being Fearless has it's limits!.. They're in pain and disrupted.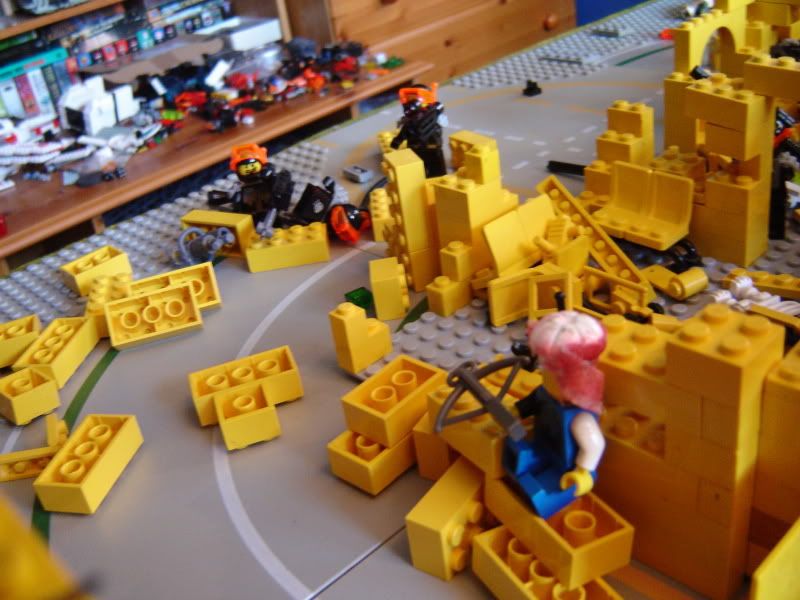 A Scav takes a shot at R.J. G'o'D but misses.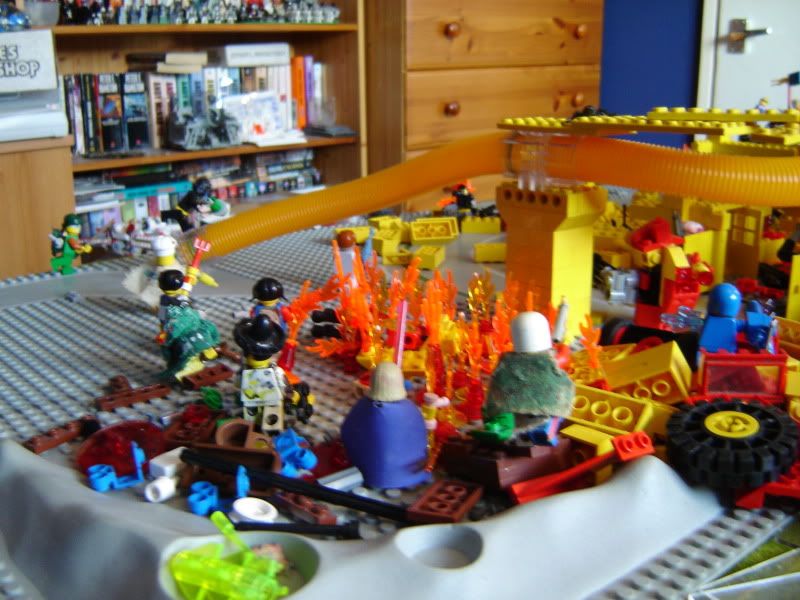 The Right Flank move up, they have to go around the curtain of flame blocking their path.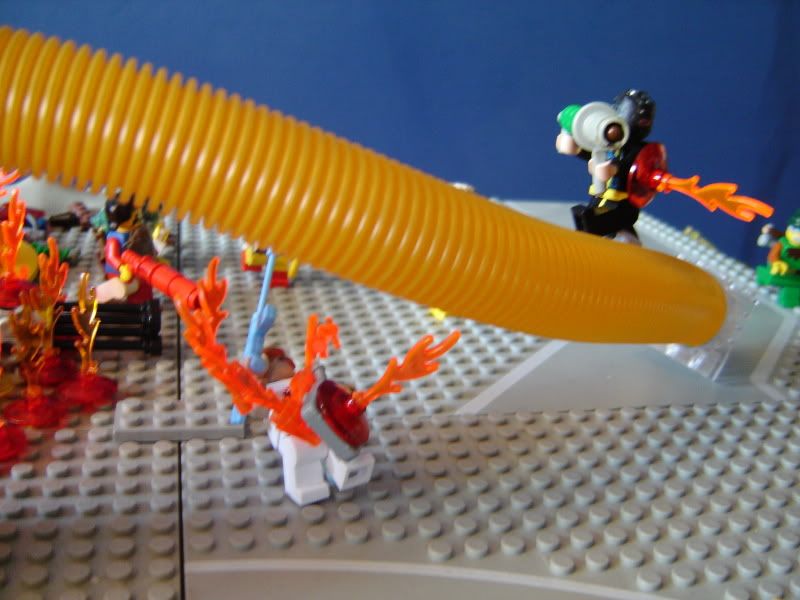 Silva and R.J. G'o'D take down two more Scavs with response fire. A Cobi mutant take a hit to the fuel can he was carrying.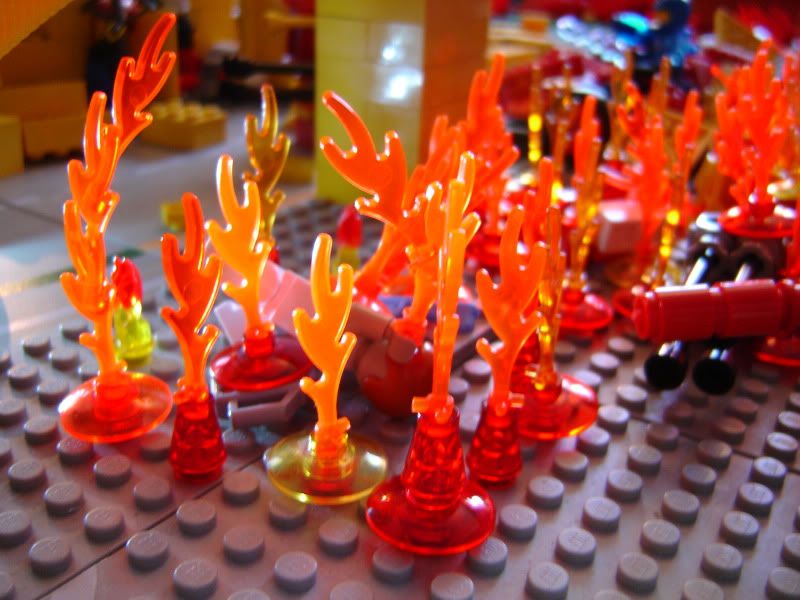 WHOOOOOO
OOOOOOSH!!!
Burn!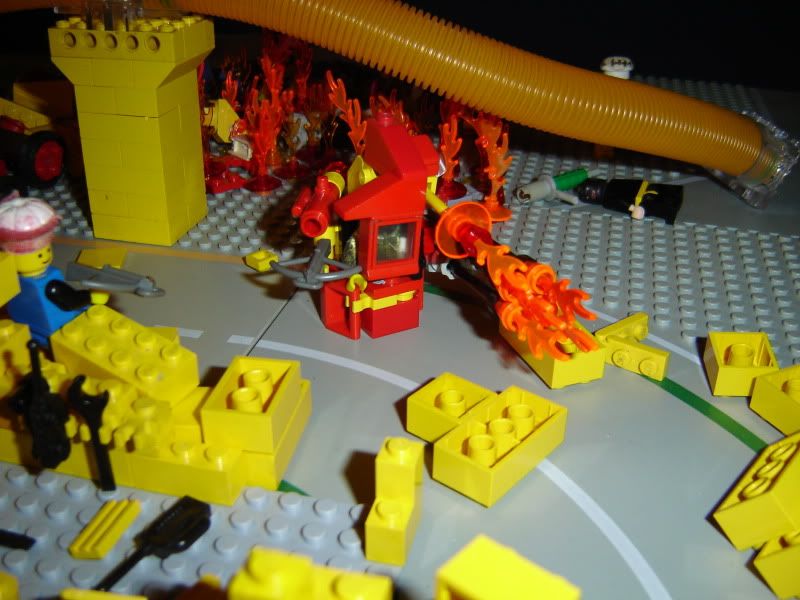 The last Crab again waddles forward guns blazing! Shots tare towards Silva and R.J. G'o'D!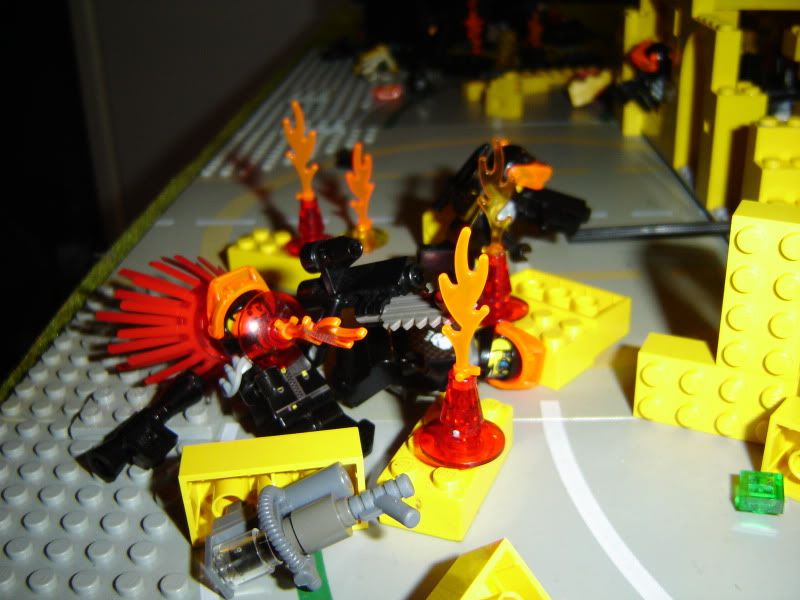 Silva manages to bail but R.J. G'o'D takes a head shot!
...um...
MEDIC!!!
+ + + A NEW CHARACTER ENTERS PLAY + + +
A survivor of a lost patrol shows up. An Immortal Manaiac, fully healed after the ambush by raiding Scavs. He has been searching for a way back to base ever since.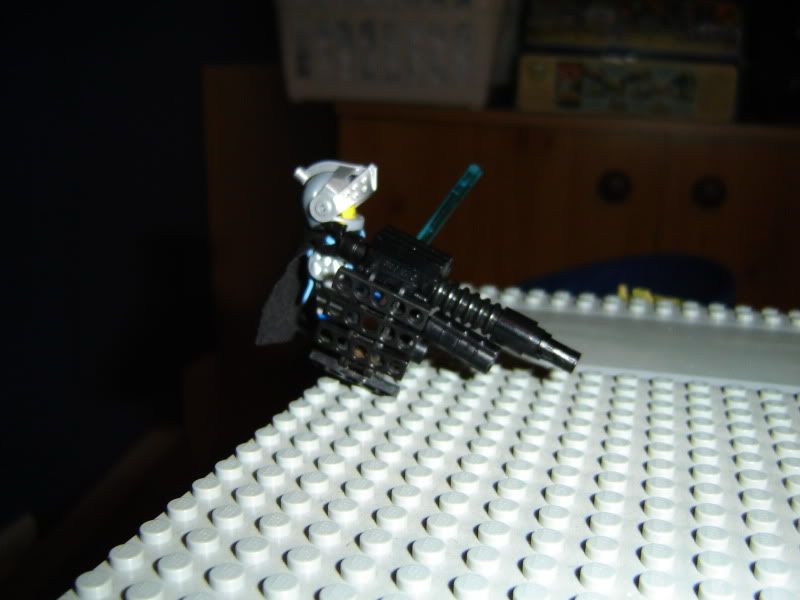 His name is BOOMER!.. go on, I dare you to ask him why.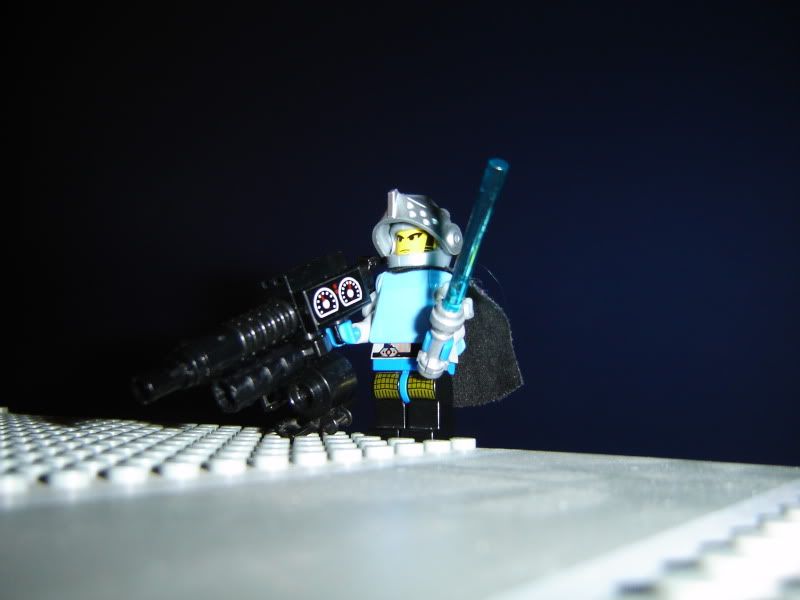 He just happens to look a bit like Rayhawk, funny Koincidence that really...
Warhead sent by PM wrote: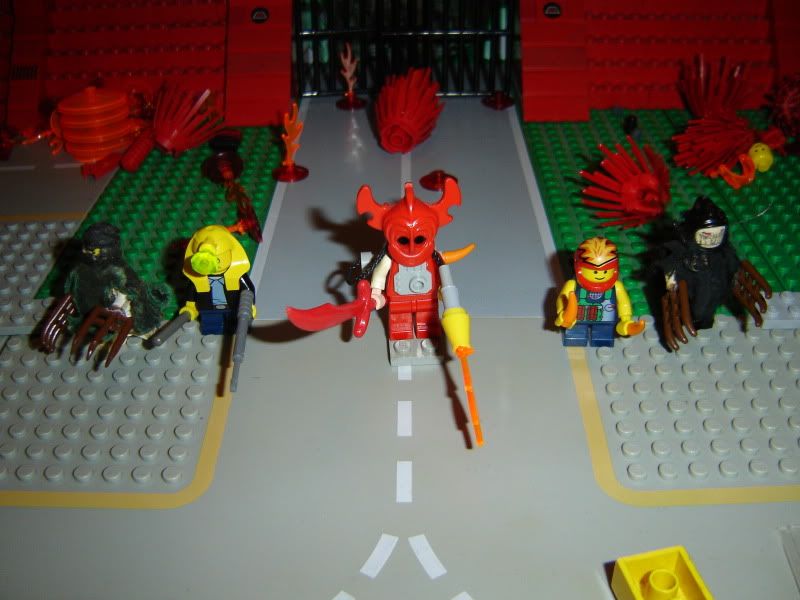 The last of the Scavs show up too. The Clan Shaman.
+ + + CRAP OVERVIEWS + + +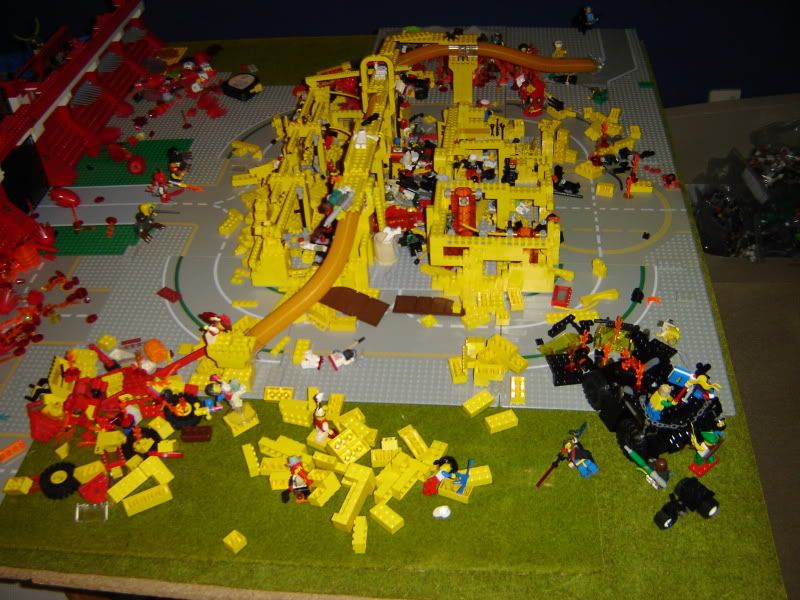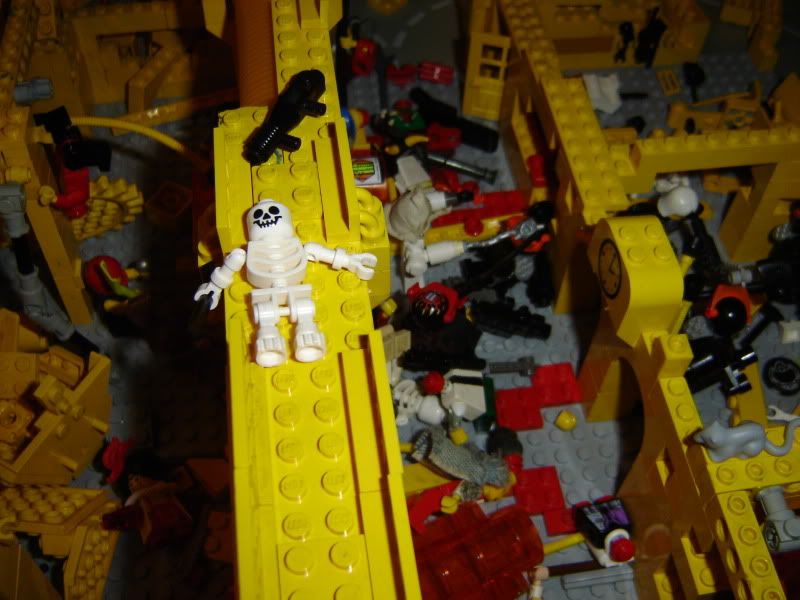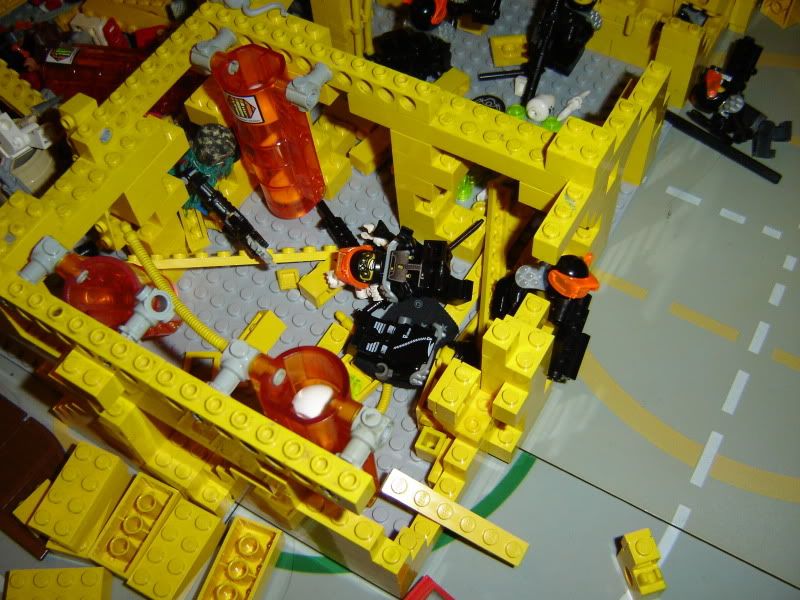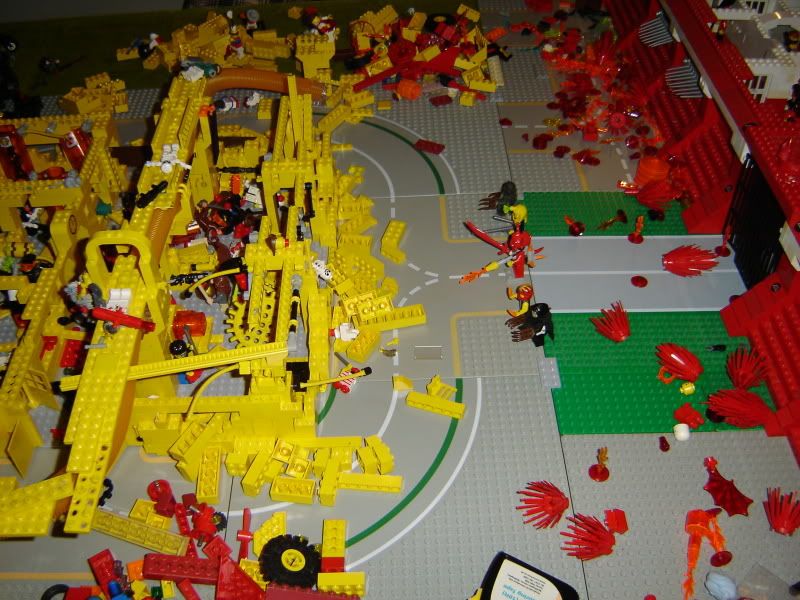 RIGHT LADS ORDERS PLEASE!!!