I thought it would be a good idea to have a thread that's seperate to my Fantasy armies (Elves, UnDead & etc) especially for Steampunk Walkers, Victorian Sci-Fi, Lost Tribes, Dinosaurs etc etc.
As far as the story-telling goes there is a mysterious valley somewhere in an alternative Victorian Sci-Fi universe and this valley not only has evidence of a supposedly vanished civilisation with strange artifacts, treasure & etc, but also is the habitat of huge lizards of monstrous size.
Groups/factions/persons to be found in the valley are, archeologists, treasure hunters/tomb raiders (not always the same thing as archeologists), dinosaur hunters, adventurer/explorer types, Troops from nations especially interested in the valley and finally of course people from the 'vanished' civilisation.
There will be machines, - some intelligent and near sentient, - and others that aren't at all. Walking machines will be greatly in evidence firstly because I like them, and secondly because the terrain is too challenging for wheeled vehicles. There will be some fliers too, but only small ones and none too many because they take up a lot of playing room on a gaming table with their speed and distance they can cover in a turn cycle.
At the moment it will be walkers that I'll be working on. 'Dinosaur Hunter' you've seen enough times already and I don't plan on taking any new photos until the present refit is complete.
The little scout walker is very likely to have at least one more like it built and they will be armed.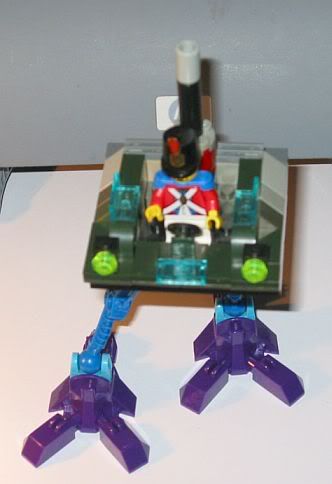 Alien tech and artifacts are particularly prized, - especially weapons......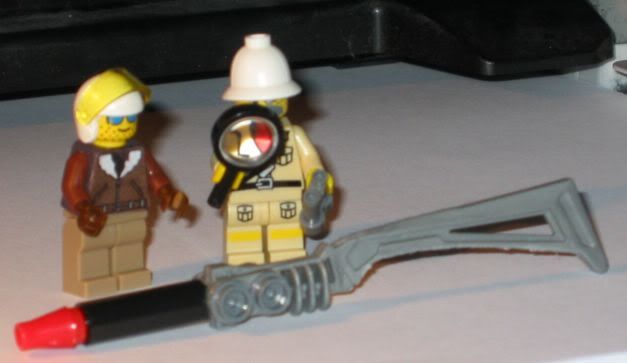 These huge weapons often get cut down, modified and fitted to freelancer vehicles operating in the valley. When its refit is complete 'Dinosaur Hunter' will have one, but I plan on having a diceroll system, taking into the weapons great age and mysterious science, to determine whether or not they will actually function or do something strange instead each time they are used.
The mysterious weapons and machines of the 'vanished' civilisation in the valley though simply don't work in the hand of anyone else. I intend to devise some sort of gem or crystalline devices that function by the strange magical science known by these people.
I plan on exchanging flames for gems on this aerial skiff, but the flames will do for the moment as a way of showing that something unworldly is going on.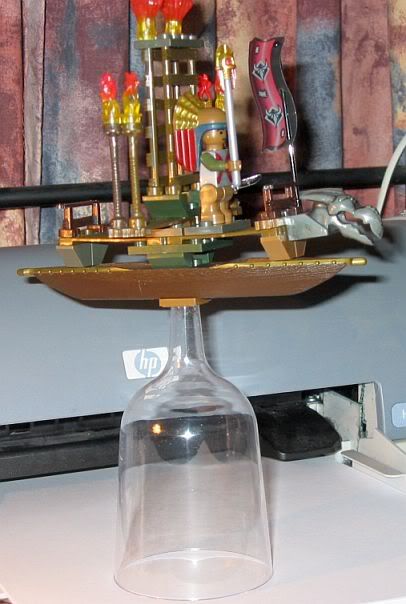 More minifigs are going to be needed and I've found a few scruffy types to kick things off. Some of the Indiana Jones minifigs would suit nicely, but a lot of those seem to be commanding high prices at the moment. Mostly I'm going to keep on converting joblot down-on-their-luck minifigs that I buy from time to time. The pilot, 'Sly Bob' who is often seen with the Major is made from spare minifig bits and his jacket is a custom decal. I cut his bonedome helmet down from an ordinary motorcycle helmet.