As per the original idea on the Wiki -
http://brikwars.wikispaces.com/ShadowHawks
I had a ton of these guys but not all the right parts so some changes had to be made to get the best out of what was to hand.
1x Lord ShadowHawk (Champion)
1x Polearms Unit
1x Crossbow Unit
1x Great Sword Unit
1x Halberdier Unit
1x Peasant Bowmen Unit
2x Captains (Minor Heroes)
1x General (Hero)
1x Huntsman Ranger (Character)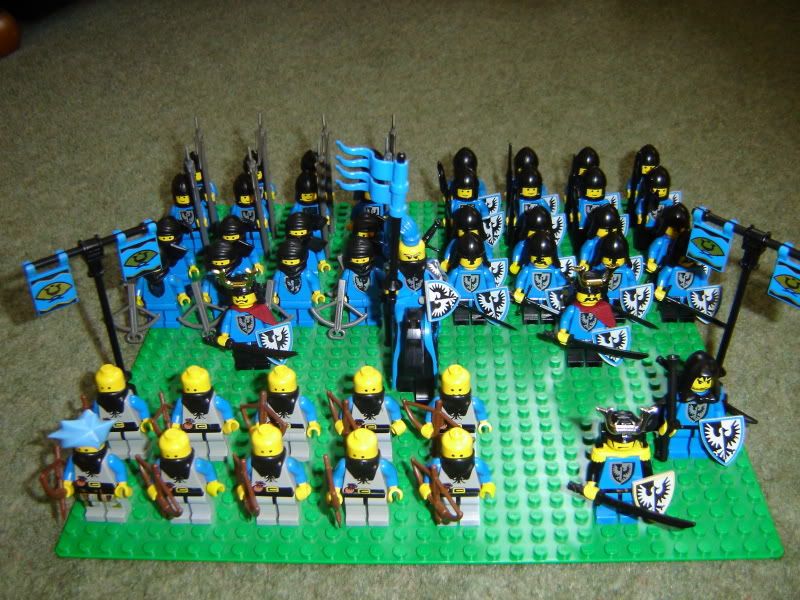 Where they fit in to the Medi-Evuul campaign is that they are one of the many Principalities bordering the Empire and have been a major thorn and rallying point of contention against the Empire over the years. They do have Kindred Knights included in the Empires forces but resent the living hell out of the Empire and see it as indentured servitude. Sorry, no Samurai cavalry here.
Of course this leaves lots of scope for a players choices without placing too many limitations, I hope. I went for a kind of Haradrim in blue feel, no there is no war elephant.
These will be included in the Medi-Evuul world campaign.