Warhead wrote:"Wit? Can yah noe tak a joke eh, ma'lady? Have a nice day! Who dinna' ken thone similey an' it'ul fair antagonise them Frog bastids an'aw, hahahaha!"

Awesome Mech is awesome. Great idea!
A very good point and well made too
Thanks for the nice comments
Well as it happened 'Smiley' is a Mk 1 prototype Steam Powered Trooper and he was sent out to the Dinoreich garrison, 'fer a wee bita 'a laugh ye ken...' A proper Mk 2 Steam Powered Trooper was sent out shortly afterwards and he looks to be a much more serious bit of kit.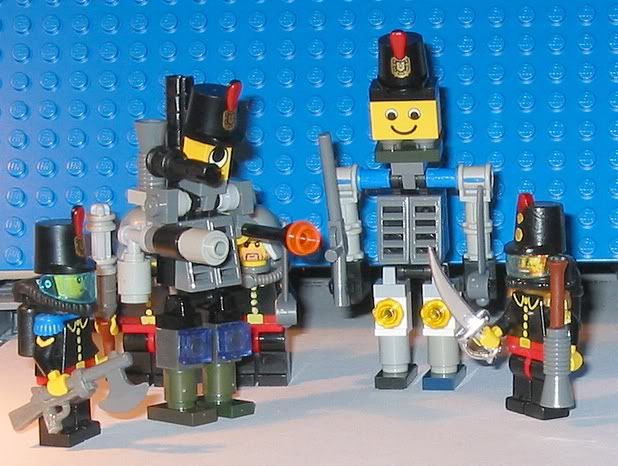 Flamer (far side), 2 pounder cannon (lower near side) and steam ball bearing catapult (top near side).
The steam ball bearing catapult is a peculiar invention of the New Glasgow naval shipyards. Boiler steam pressure is used to fire worn out ball bearings that would otherwise be thrown away at a considerable velocity. Not really as good as a machine gun, but it would certainly keep enemy heads down.
'Smiley' will have his uses though, troopers on patrol have already discovered that he makes very good mobile hard cover; - not to mention that he doesn't seem to mind at all if he carries all the heavy kit.