Dinoreich today: Great excitement has seized the Garrison at Despond, - the rumor that a former Yellow Sector Ironclad is to be transfered to the White Sector has been proven true. 'King Harold', the last of the 'Monarch' class of Dreadnoughts is presently in orbit above Dinoreich..........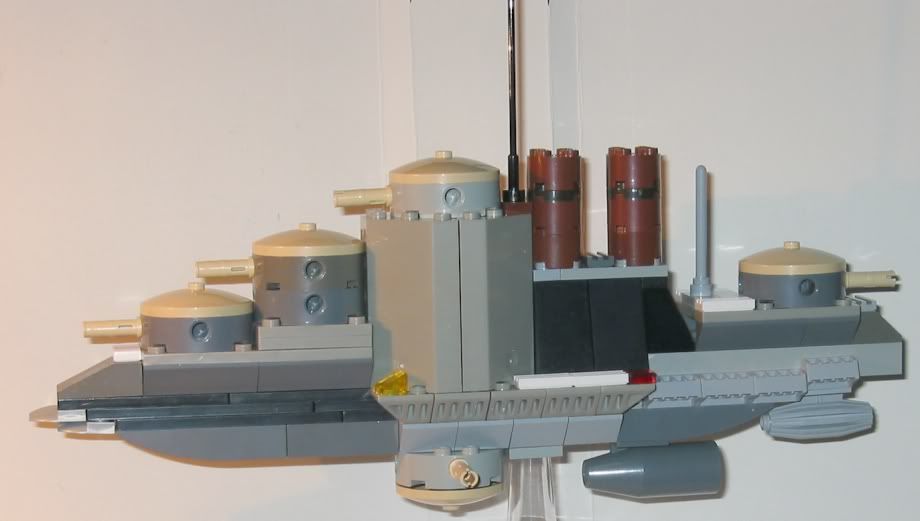 Yes at last the White Sector has a heavyweight capital ship to call its own. I built 'King Harold' in pretty much its original condition save for a more modern (relatively speaking) auxillary engine having been fitted during some past overhaul. These old battleships rely on the ferocity of their broadside to cower the foe, but unfortunately the 'Monarch' class was never particularly fast or manoverable which means that faced with a modern adversary they are either shot to sphincters before they can bring their guns to bear, or the else the foe beggars off well out of range while the elderly Ironclad is still manovering for a broadside.
After having been a training ship for countless Yellow Sector Naval cadets and then finally doing duty as an orbital gun battery above a prison colony 'King Harold' was sent to the White Sector more as a joke than anything else. Nobody ever expected that the ancient Dreadnought would be put back into service; - surely not even White Sector Command was that optimistic!