The battle hasn't happened yet, but I'm posting here because it will.
My wife and I are friends with another couple that we talked into Brikwars-ing with us. The day before yesterday, they called to tell us of a buy 2 get 1 free special at Toys R Us. They purchased the Millenium falcon, Hogwarts Castle and Helms Deep for about $100 per box. Not bad, especially since he's the head of PR at his company and can afford the bigger sets. I would have taken advantage of that sale, but we purchased a DSLR camera and have to wait until we get more funding for LEGOs.
After talking excitedly like two freshmen at their first college party for a few minutes, I declared war on him and told him to begin preparing for battle. I'm not sure if he has his castles up, but he'll have some pretty tough units to beat. We decided to only go medieval/fantasy on this one, so no Star Wars or modern units.
This is my army: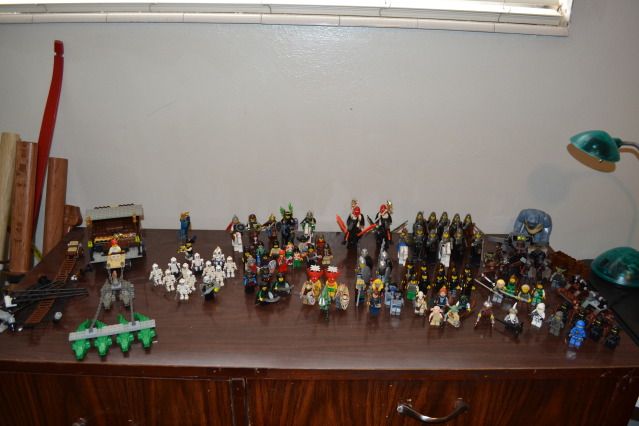 86 out of 87 units are pictured here. I have a Demi-God that I'm going to bring. I had to take Quest for the Magic Chicken down for this one. Luckily I have pictures of the last turn so I'll be able to set it up again.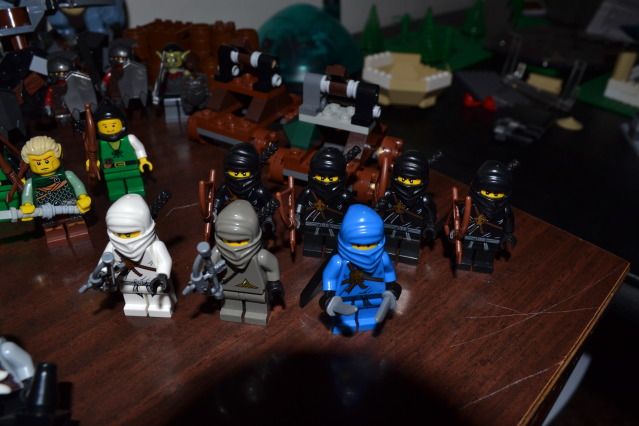 NINJA
Four Archers and three master assassins. Two of the master assassins have bows while the blue one carries throwing knives. My wife got me the blue guy a couple years back because my favorite color is blue and we're both ninja in real life. Not kidding. Ask me what we did on our third date sometime. Two catapults are behind them.
ELVES
Two archers, two swordsmen.
GOBLINS AND ORCS
Blood thirsty guys. Oh yeah....
MING CAVALRY
Ten horsemen armed with lances and katanas. Led by one of my undying heroes, although he'll be mortal for this battle. I know some of you are probably rolling your eyes right now and thinking, "Who does this Nagirrac think he is? The katana is a Japanese weapon. Why would the Chinese use them?" If you must be historically accurate, just remember that General Qi Ji Guang (pronounced: Chee Jee Gwang) of the Ming dynasty was commissioned to drive out the Japanese pirates from the Chinese coasts and adapted katana techniques for the two handed Chinese sword and the Miao Dao (looks like this:
http://www.wle.com/products/W-GL-151X.html
). Satisfied?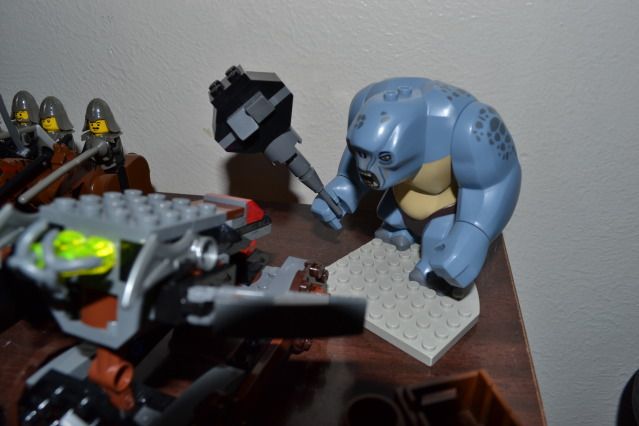 TROLL AND BALLISTA
TROL SMASH N KIL!
MING INFANTRY
Ten spear men led by their undying commander who can possibly die during this battle. Make sense?
Now look at that determination!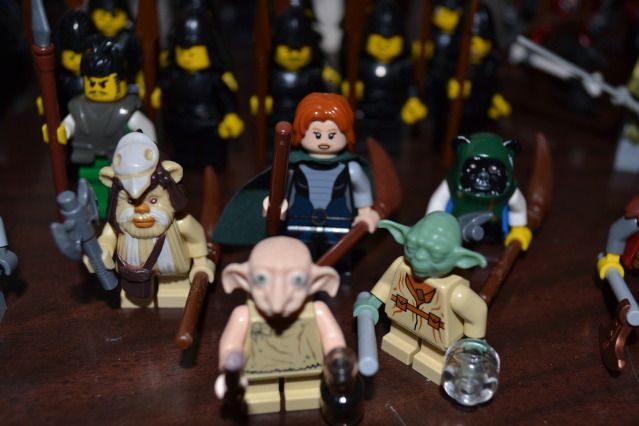 SOLIRA, DOBBY, A HOUSE ELF THAT LOOKS LIKE YODA AND FLYING WOMBATS
Solira leads this crack team of magic users against the forces of Dumbledore and Hogwarts (because my buddy owns that set). The wombats carry axes and fly on brooms.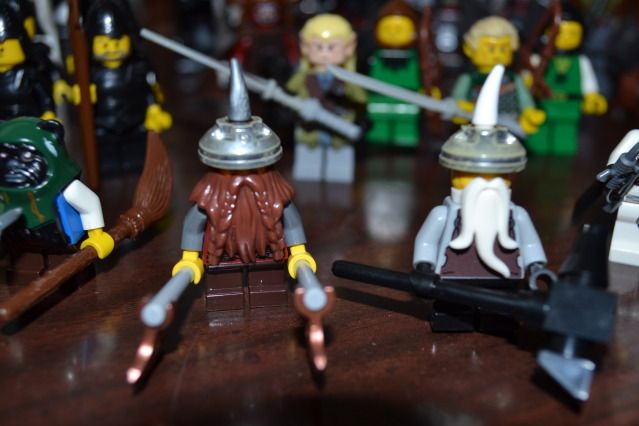 DWARVES
Hammers and axes, blood and glory.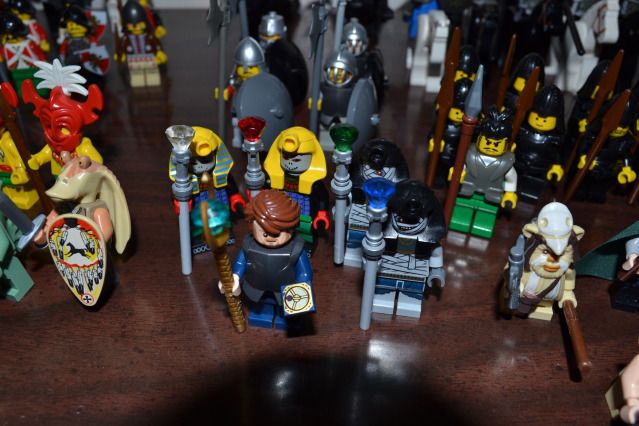 A WIZARD AND SOME EGYPTIAN WIZARDS
Gettin' really creative with the names here... They cast magical damage by using magic.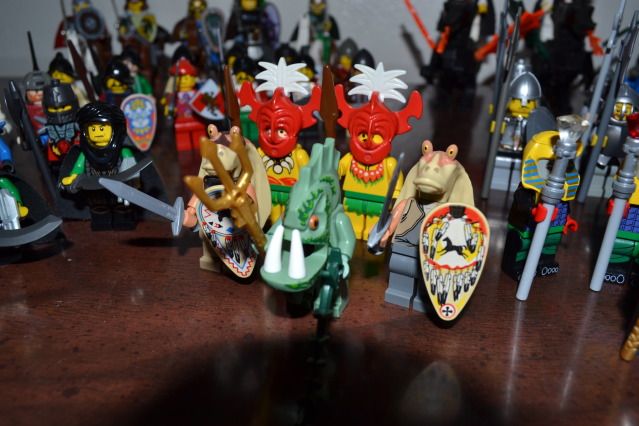 PA'TOPU, GUNGAN SWORDSMEN AND SPEAR MEN.
Pa'Topu is armed with a trident and a vine. The Gungans love a good melee. Pip! Pip! Cheery-o!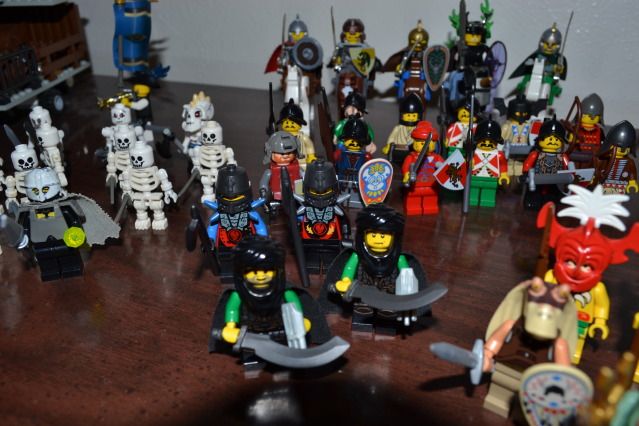 SOME SWORDSMEN AND AXEMEN
Yep. I kinda stopped caring about naming the people at this point.
I also forgot to take a picture of my halberdiers. They're somewhere in the pictures, just look for them.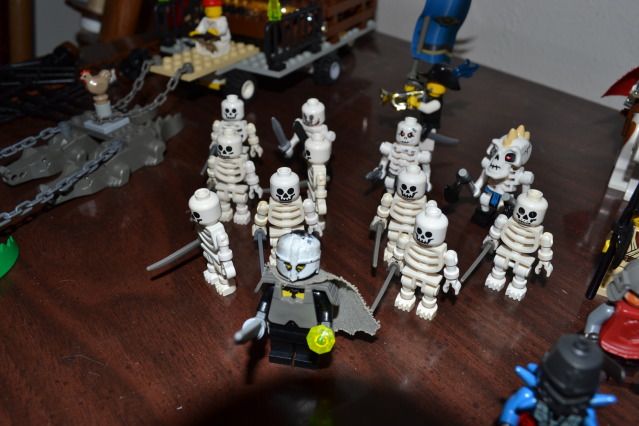 KELEX AND THE UNDEAD
This time, the necromancer carries an augmented crystal to carry out the work of death among his foes.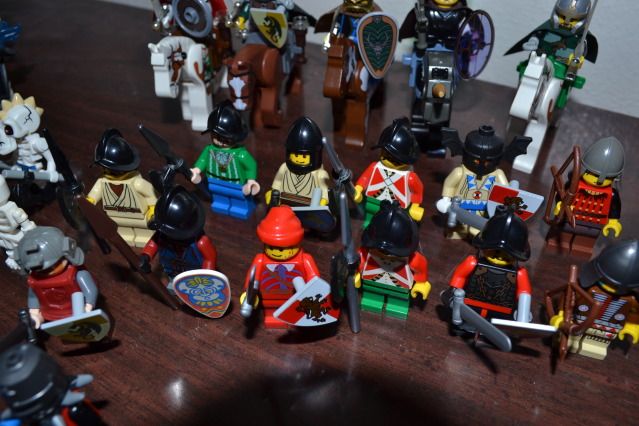 LEVIES
These guys suck. I imagine they'll die pretty quickly.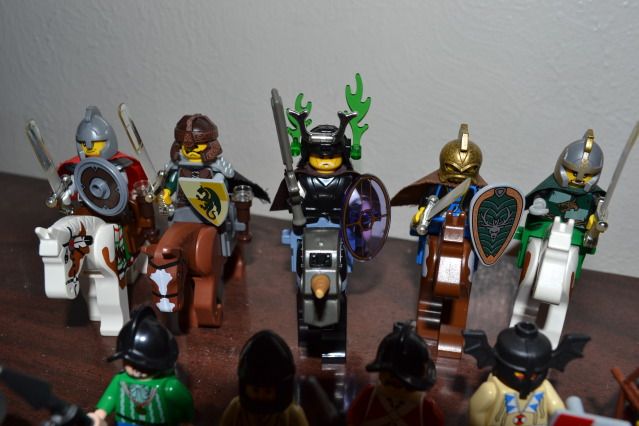 TAIZU EMPEROR AND HEROES
The emperor has come to lead these men and has brought heroes from around the surrounding lands.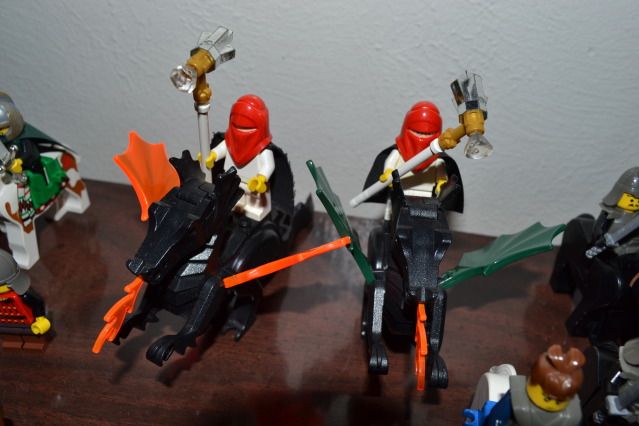 DRAGON RIDERS
Armed with hammers of justice, these mounted/flying units should reduce my enemies to smithereens.... SMI-THER-EENS....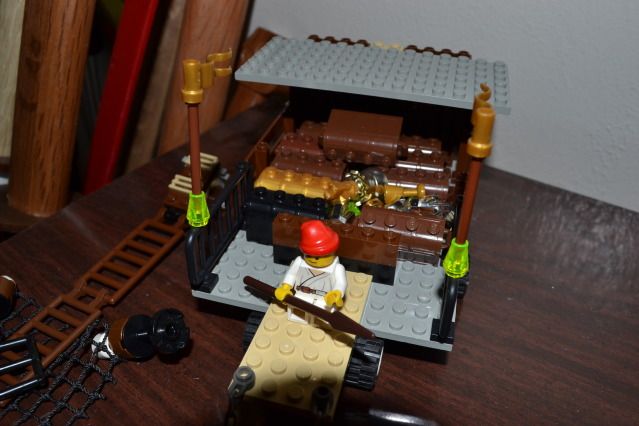 TREASURE CART
A crocodile drawn treasure cart may prove a sufficient enough bribe to get an early surrender. If it works, I'll execute my friend's heroes anyway.
Ladders and climbing nets lay next to the cart.
Yep, I'll post the results of the battle soon. Very soon.... Mwa ha ha ha ha ha.... MWA HA HA HA HA HA HA HA HA HA!!!!!!!!!