When the widely known sculptor, Ben Gazi, started a series of giant statues depicting the Dragon God and his battle with Death, the entire Dragon Priesthood is up in arms, mainly due to the poor quality of the workmanship. Some cutthroats and mercenaries have shown up to protect Ben as he labors on his really cruddy looking art, and the Black Flame with a company consisting of Dark Spearmen and a company of Braagvosi Arquebusiers led by the famous Amadeus Von Brag. The Priesthood sent one of their finest battle skilled Dragon Priests to lead a company of Zealots, with a small riot's worth of pissed peasants and two Beasts of the Wrath.
The two morally opposed armies on either side of the construction site.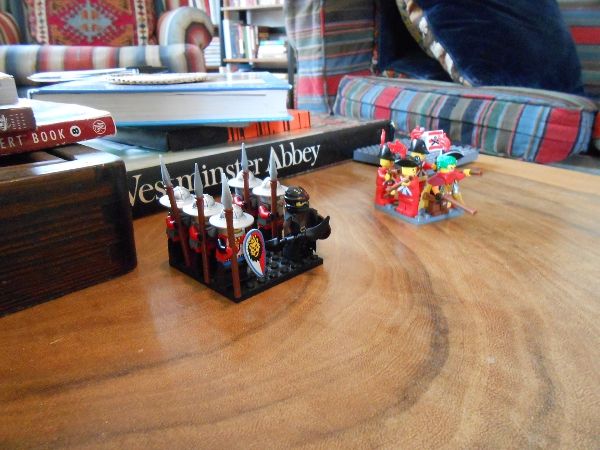 The troops from the Red Company, sent to protect freedom of speech.
The Dragon Priest's army, supplemented by rioting peasants and Beasts of the Wrath.
Close up on the Wrath Beast, these are highly pose-able and also fairly fragile, I included them mainly so that I can prove that I do not completely suck at making creatures, the statues are stupid on purpose.
Defender's fortifications, with one archer and several halberdiers guarding the gate.
Ben the sculptor and his bodyguard, Sen.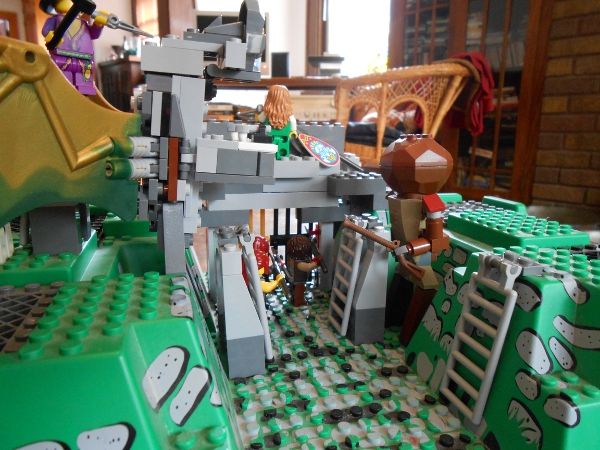 The statues, the objective of the Dragon Faction is to destroy both statues and kill the sculptor as a warning.
Initiative rolls, Dragon D6 is for the Dragon Faction of course.
TURN 1
The Dragon Zealots moves up, the Priest fails a heroic feat for speed.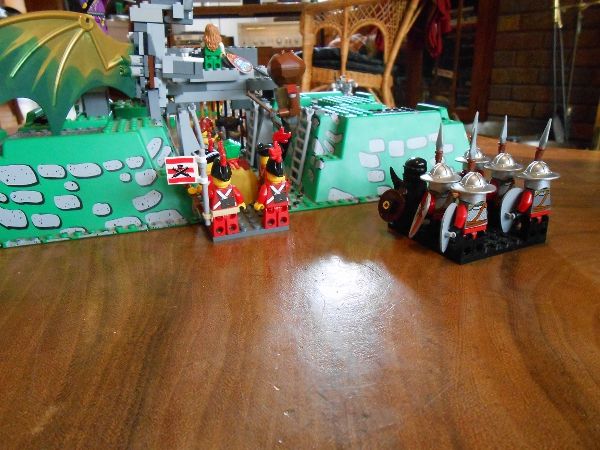 After a successful feat for speed, the Braagvosi move to take point on the hill, while the spearmen move to flank.
The Crossbow Wench misses a shot.