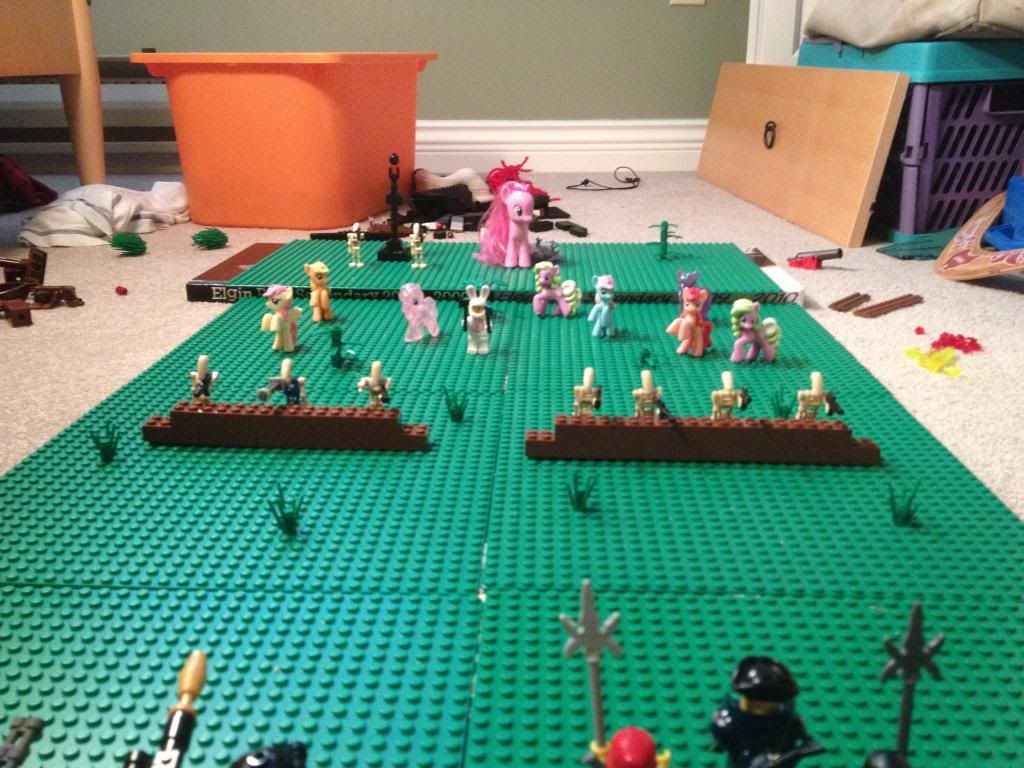 The enemies on the close horizon, a group of poniys, a razgrizzly and briktoid.
General Blut's forces.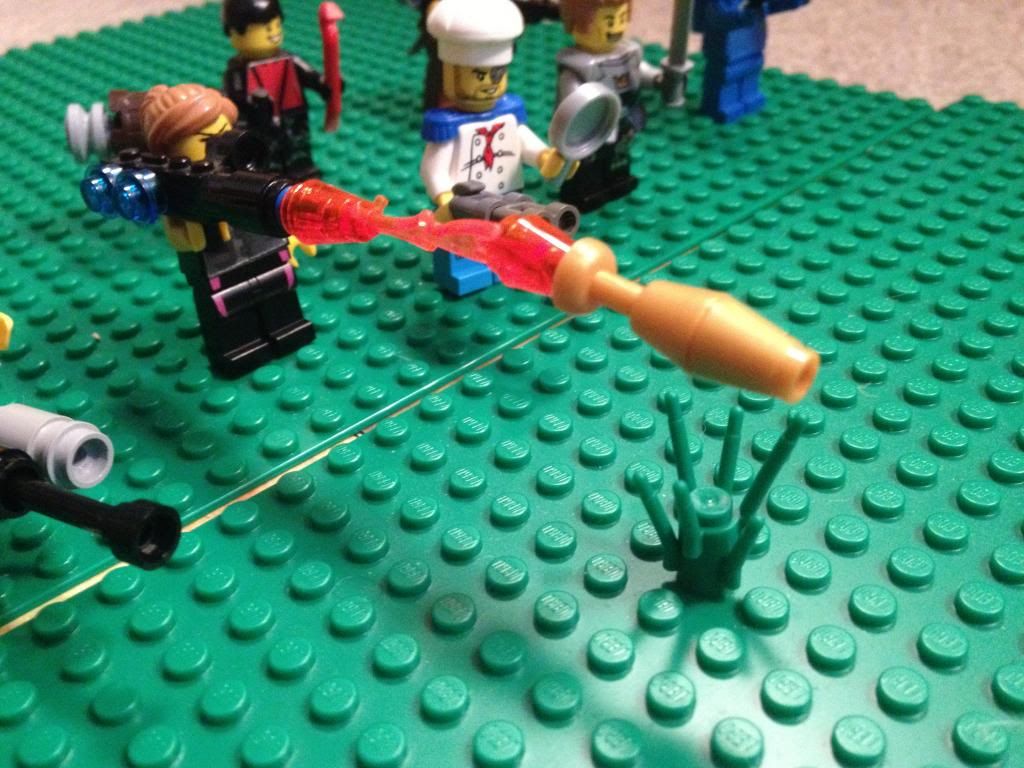 Eva fires a rocket at the briktoid wall.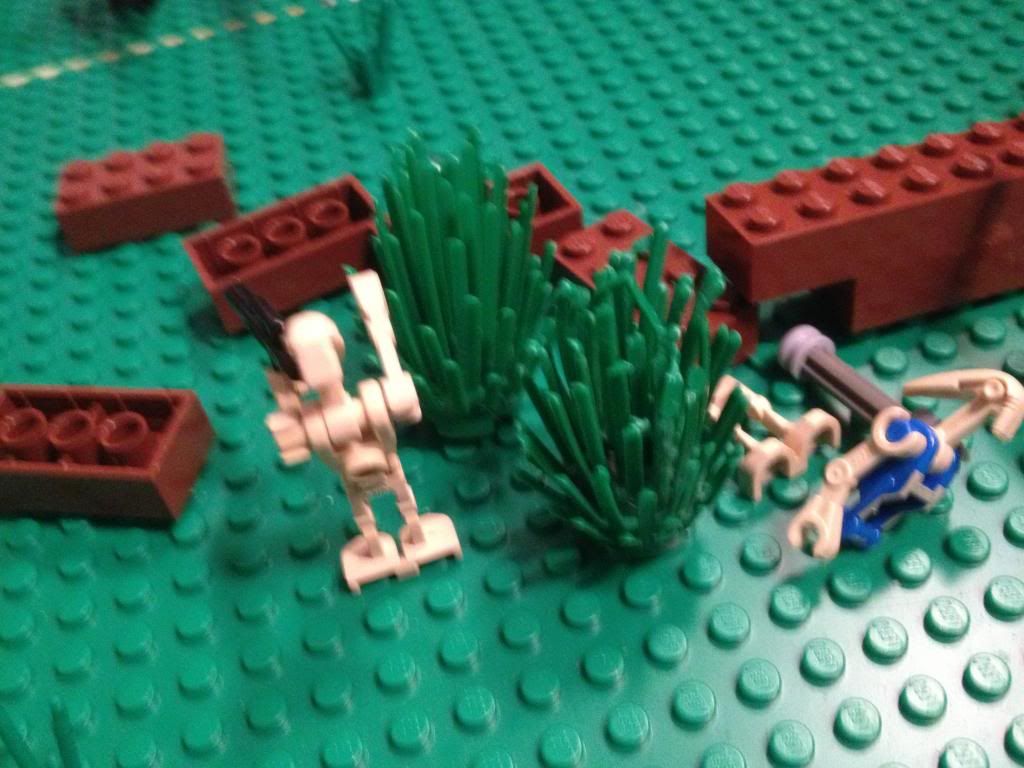 Success!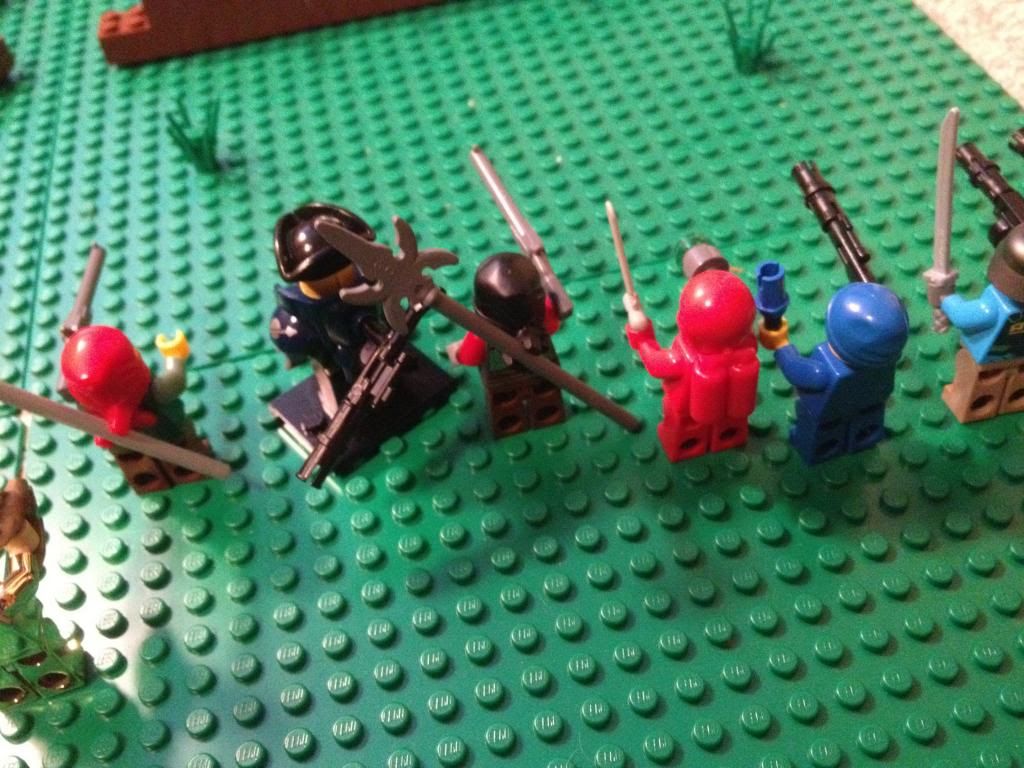 Forces move up.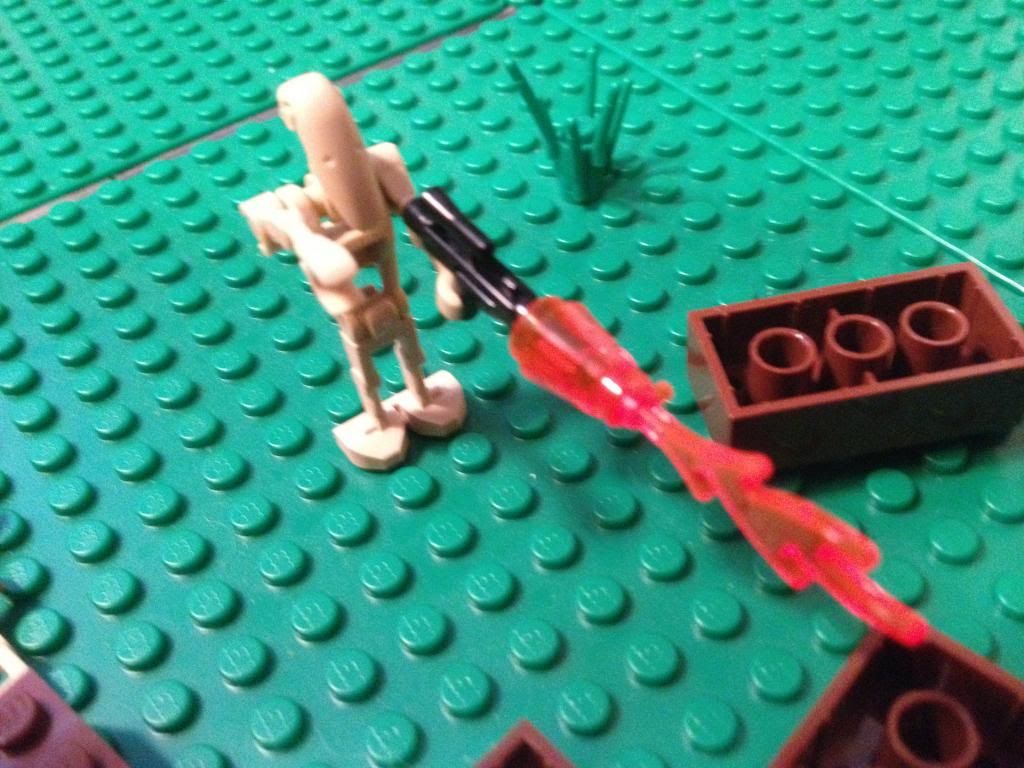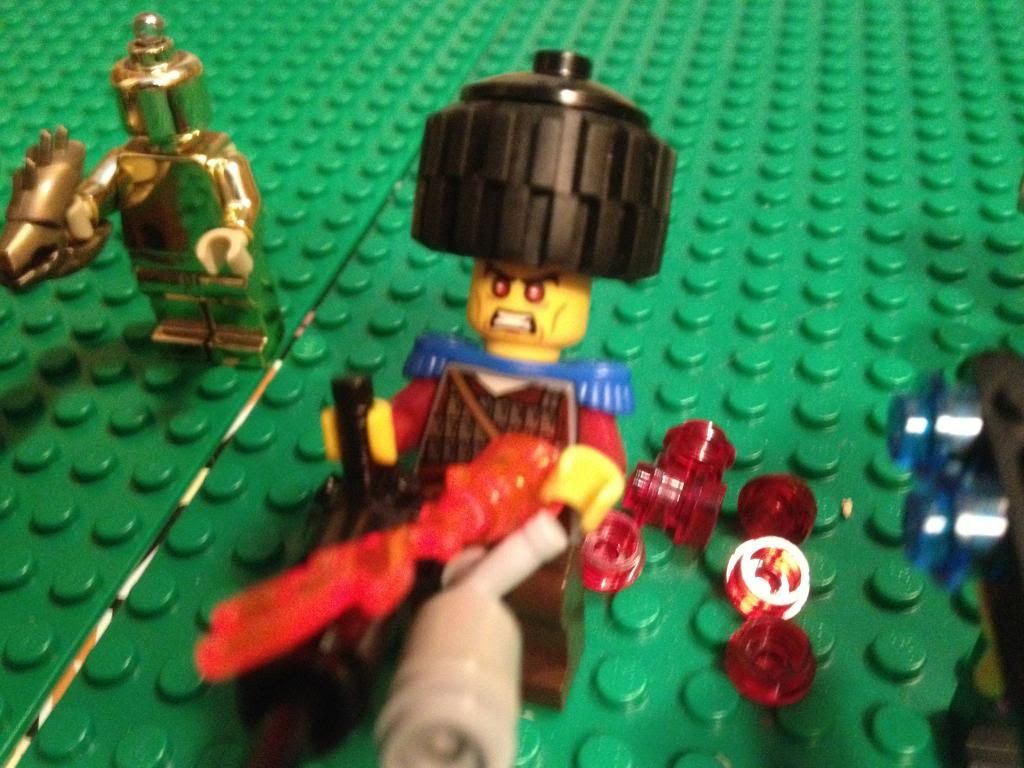 Hardax takes a shot to the vital organs, and kicks the bucket.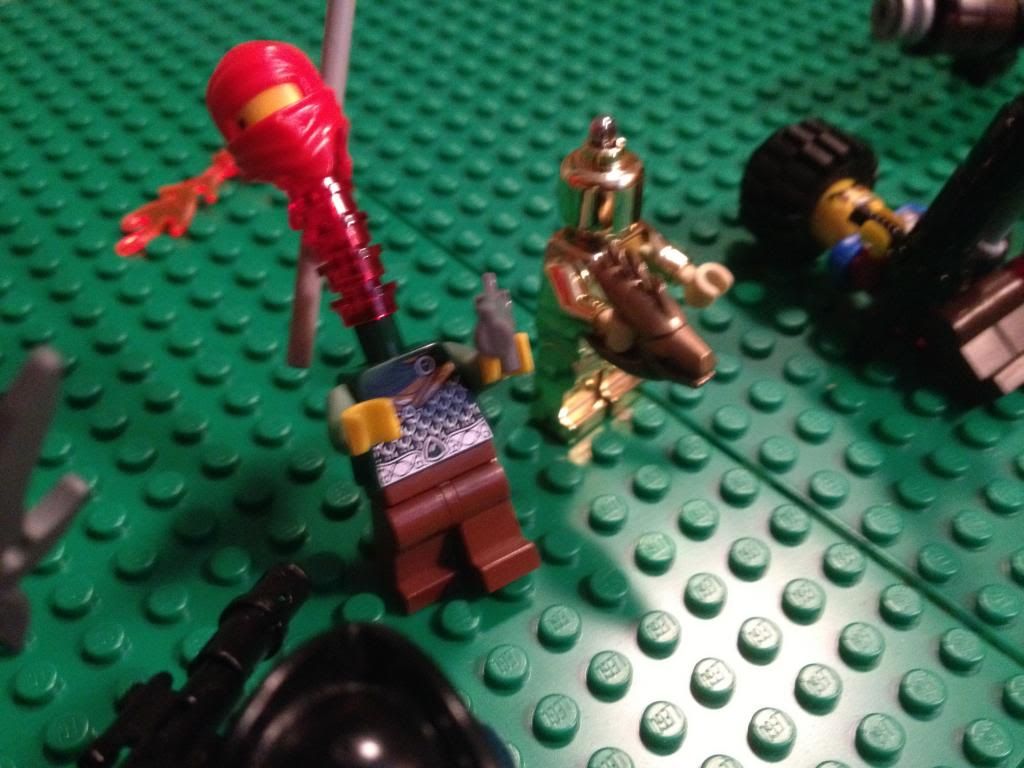 Shang is killed before Zhou.
"Wake up son, tonight we dine on yellow flesh!"
"Okey dokey Loki."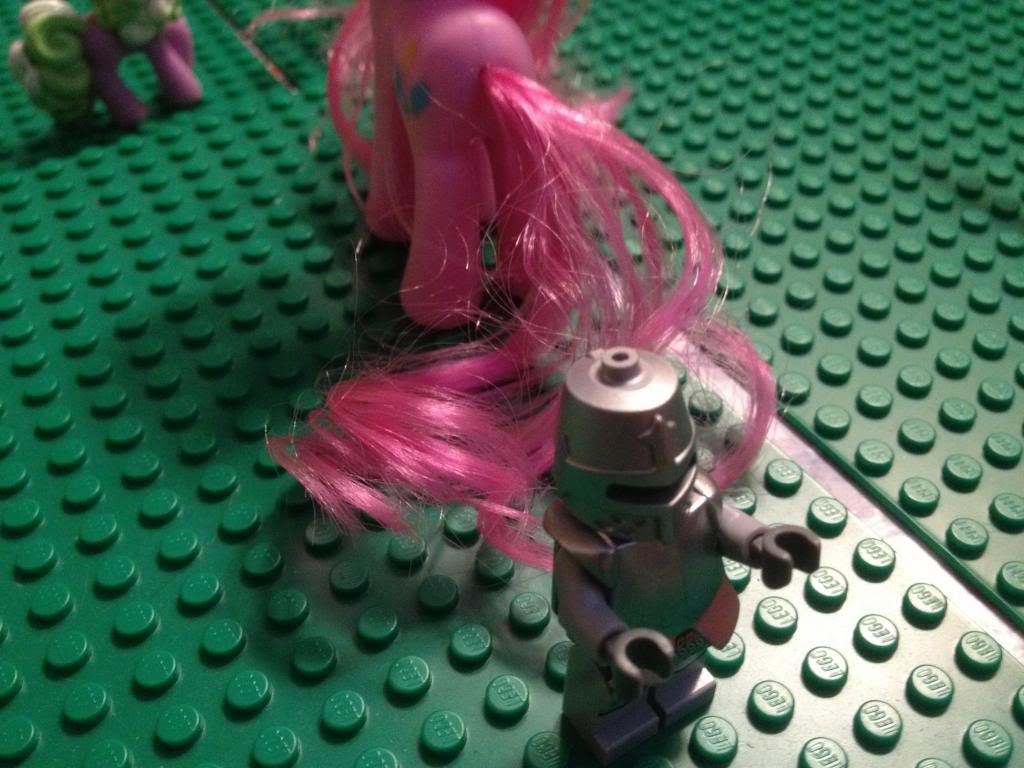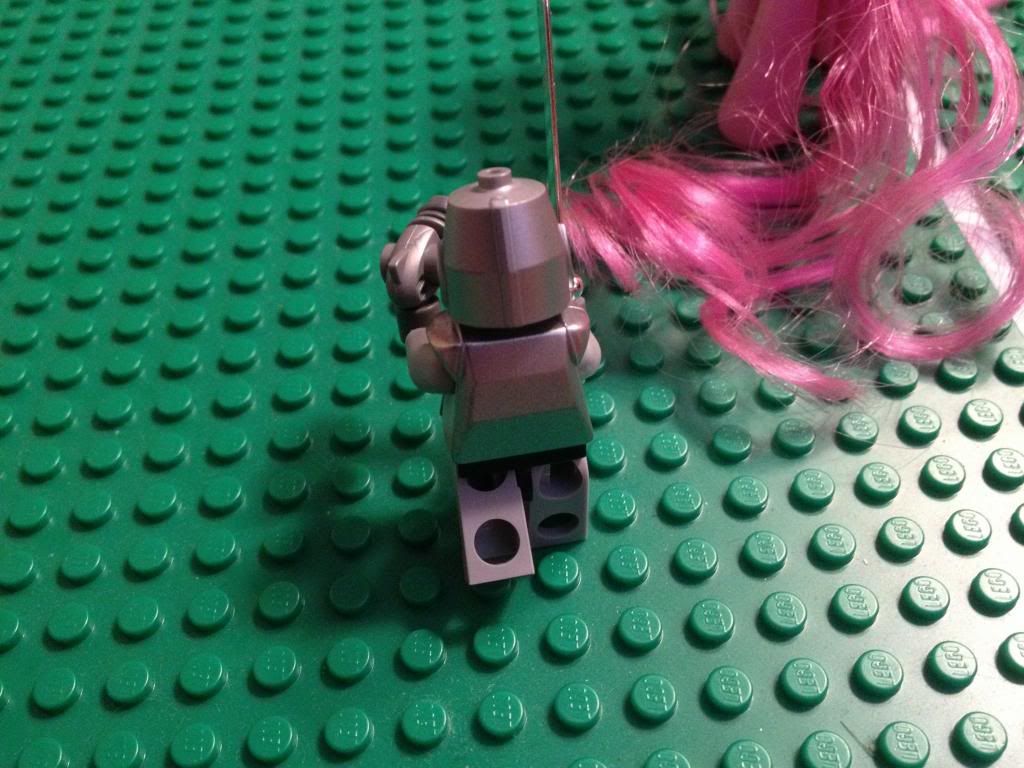 Pinkie and Silva head towards the carnage.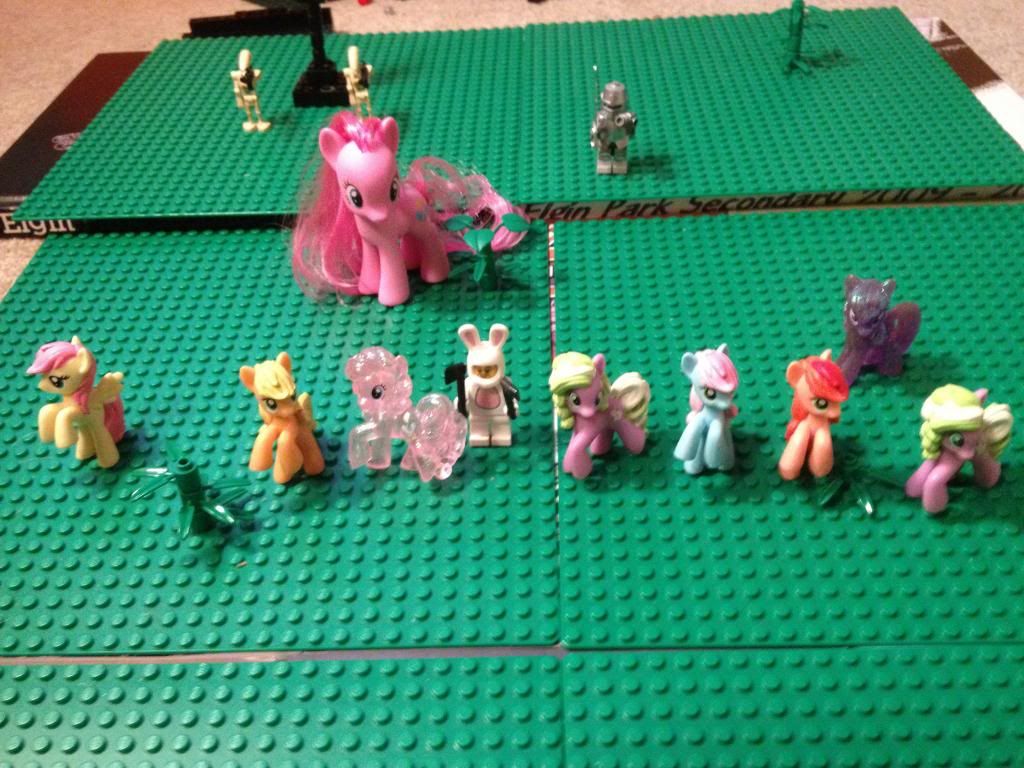 The penises take line formation, with Sparkley Twilight covering the rear.
Needlers are effective.
"Split your lungs with blood and thunder,"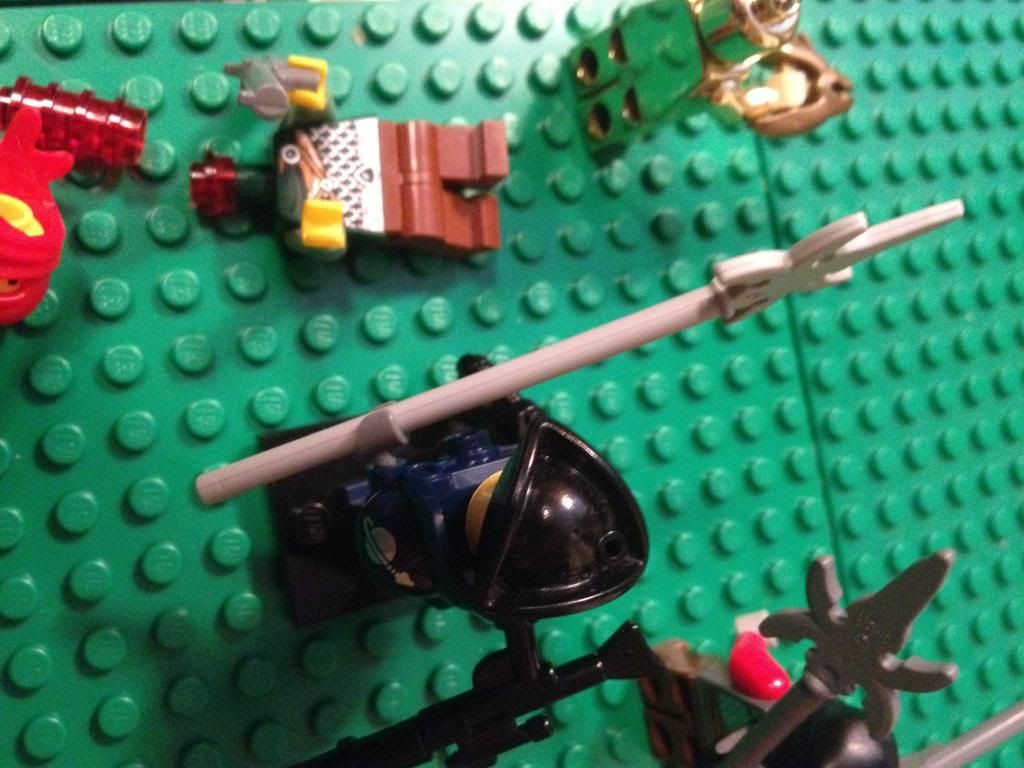 "When you see the pink poniy."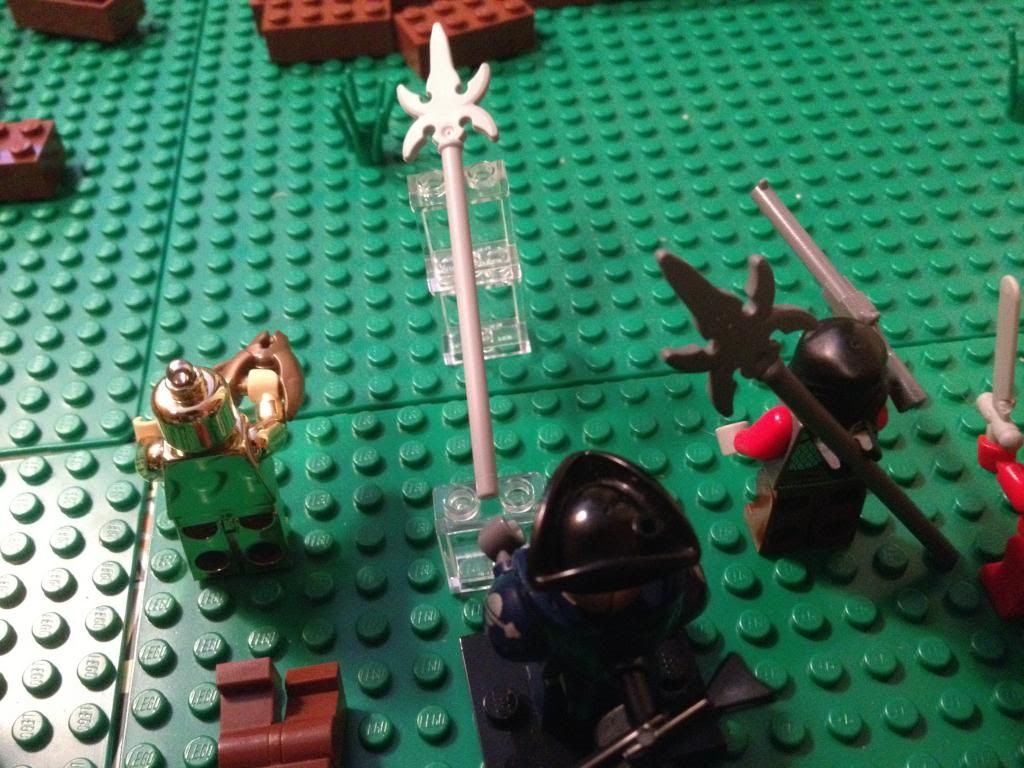 "The ivory leg is what propels me,"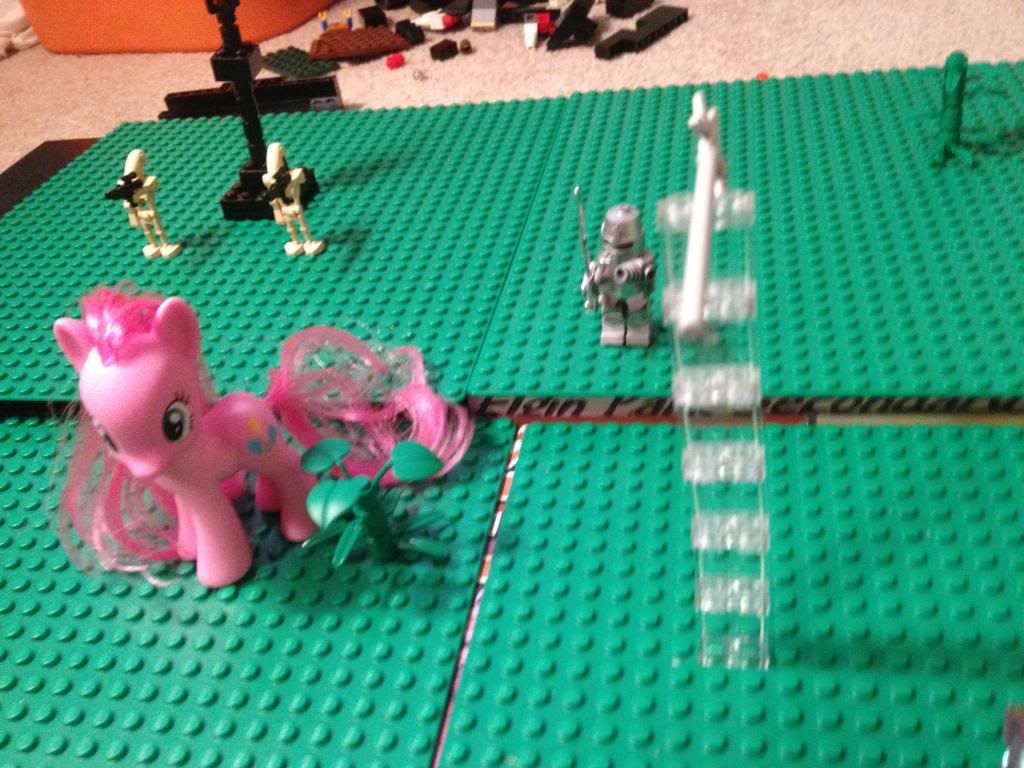 "Harpoons thrust to the sky."
"Aim for his crooked brow,"
"And look him straight in the eye!"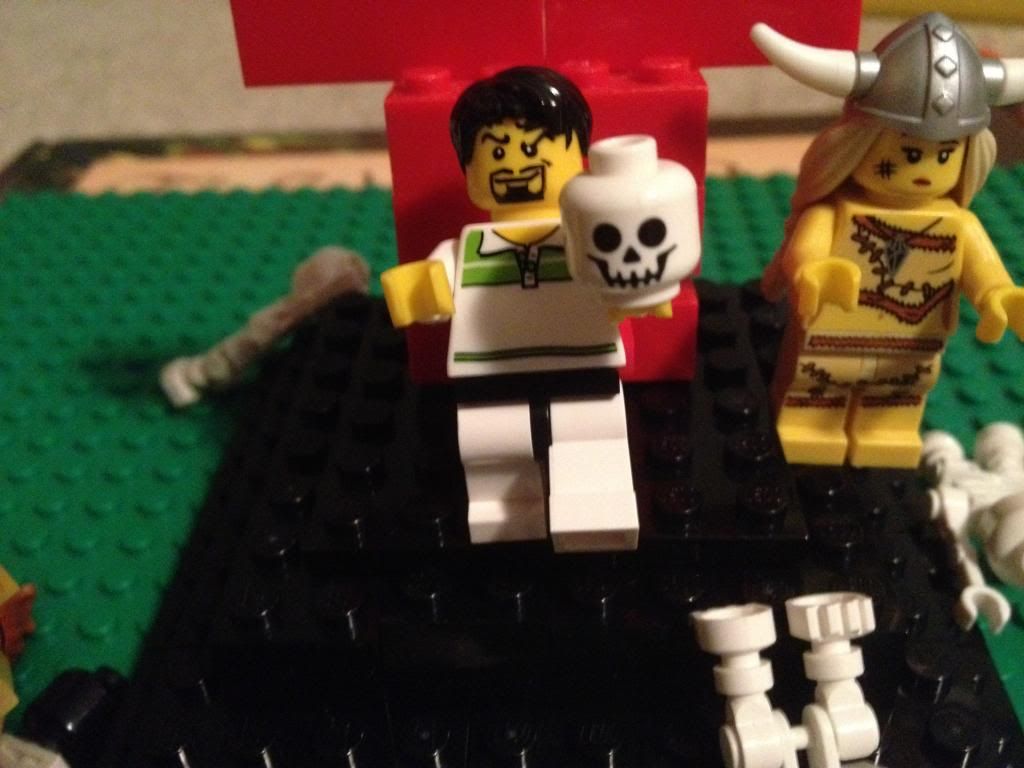 Scythe gets pissed off now that one of the two girls in the brikverse willing to have sex with him is dead (failed feat).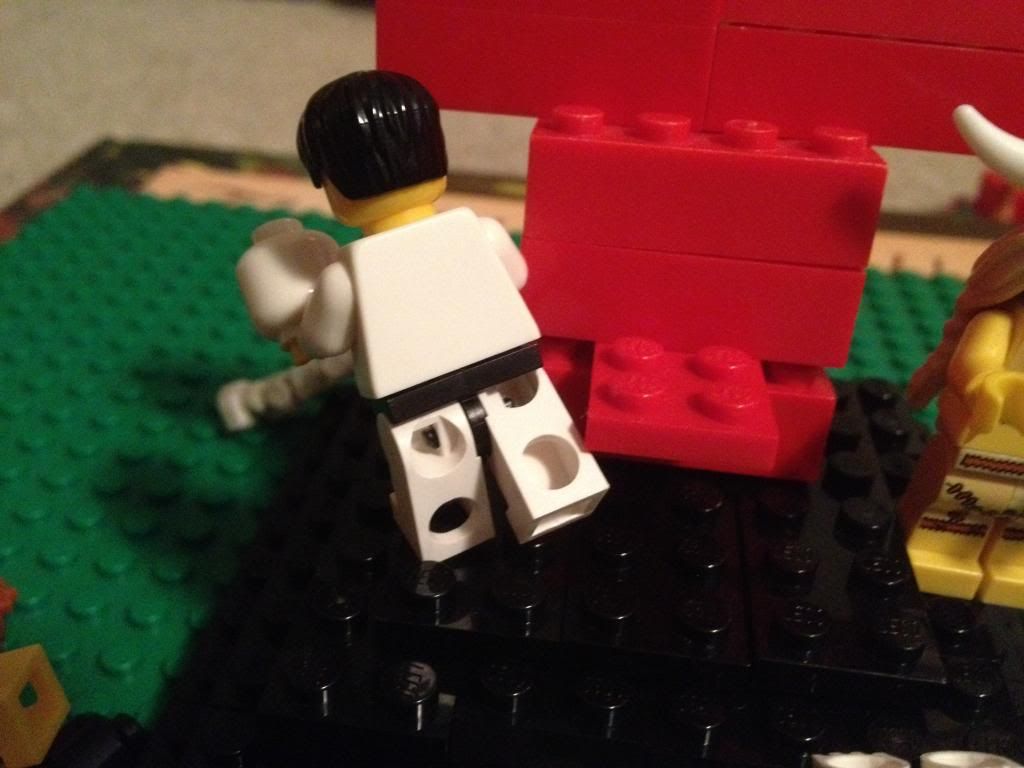 The consequences will never be the same.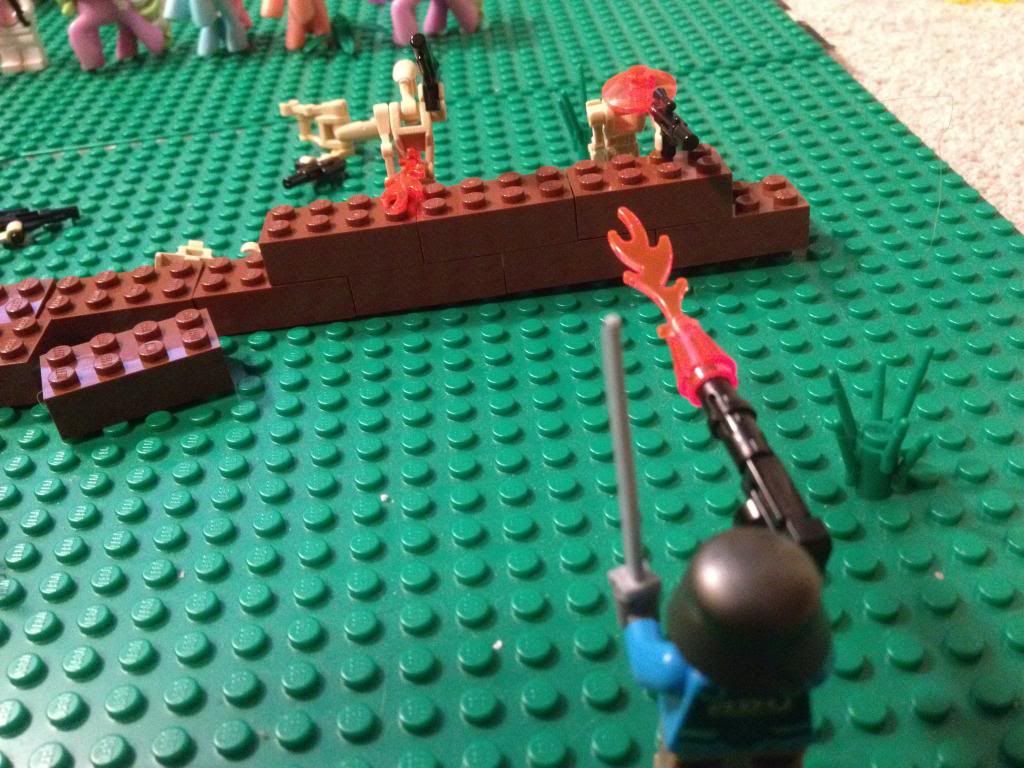 Steve takes out two briktoid with his SMG.
And a DSM takes out another.
Overwatch.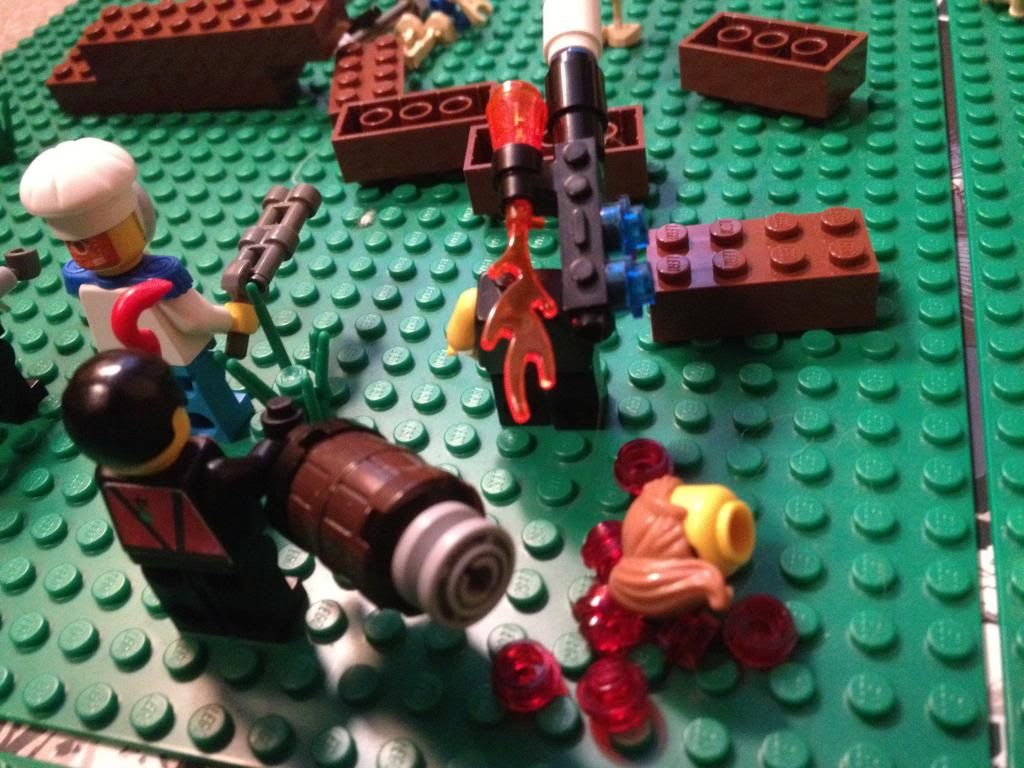 A briktoid shot goes through Eva's sights.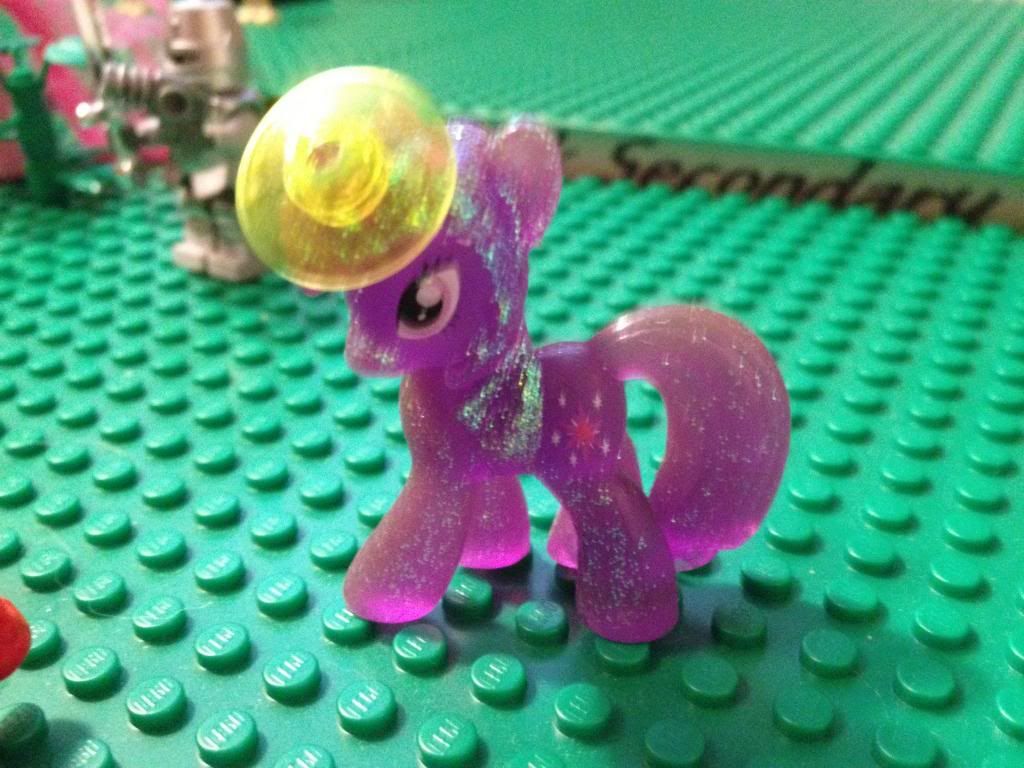 and Sparkley's magic fizzles.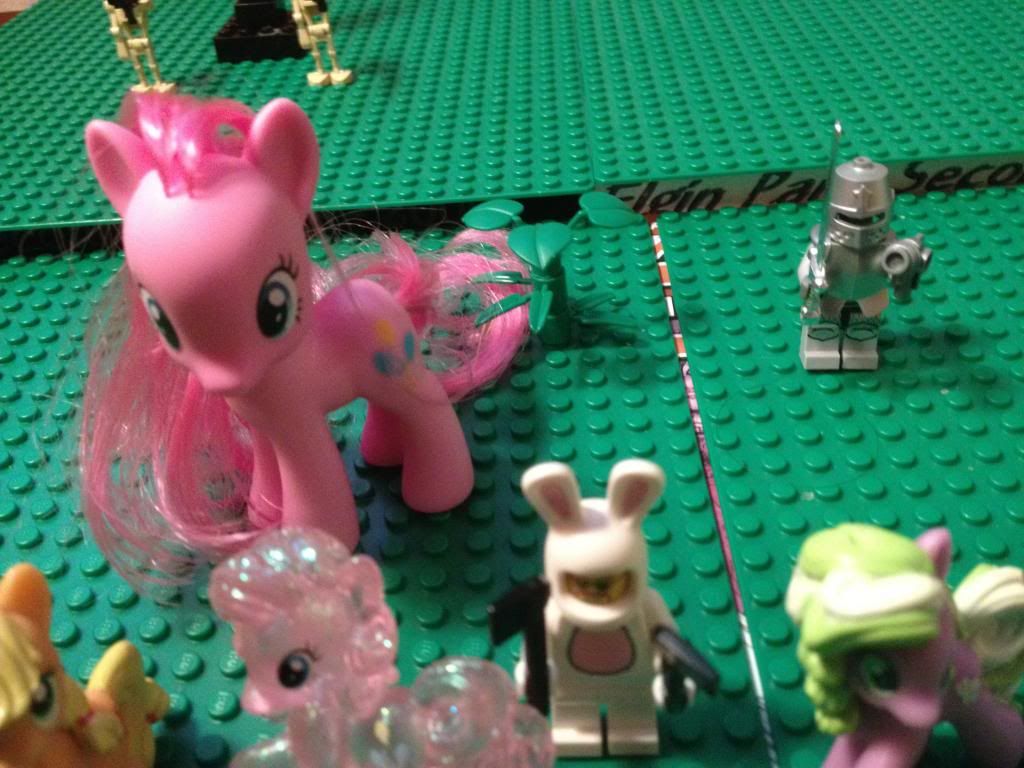 "Pinkie Pie Style!"
A DSM takes out the last briktoid, avenging Eva.
Jeremiah goes down on Eva's corpse.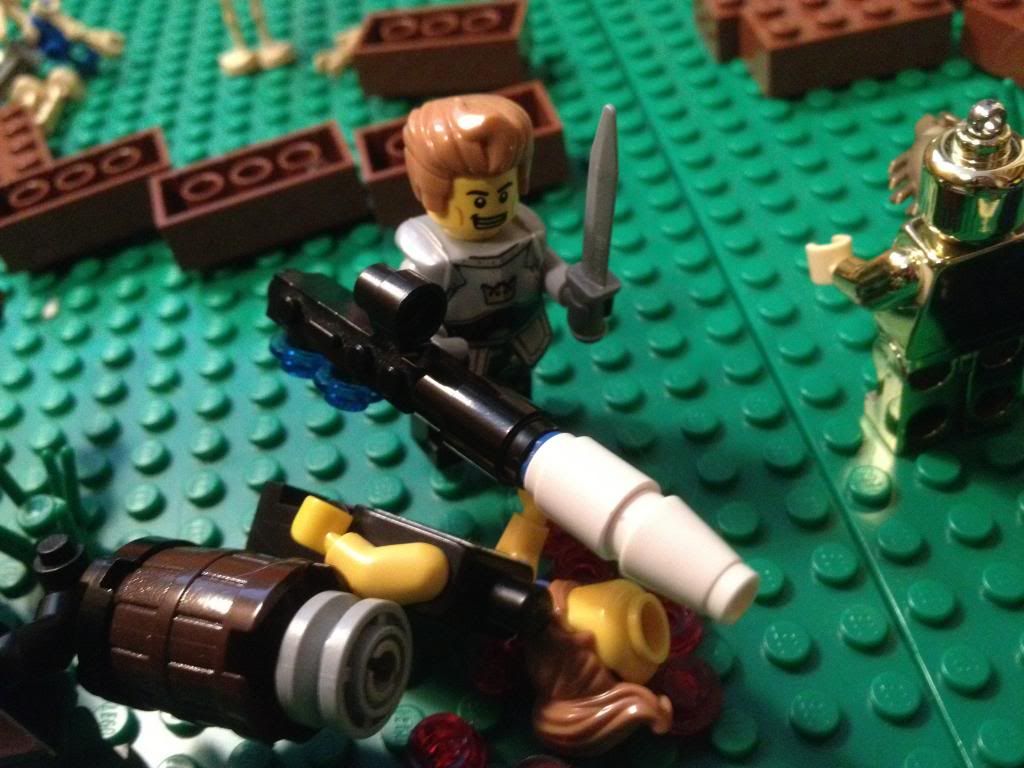 Taking the rocket launcher,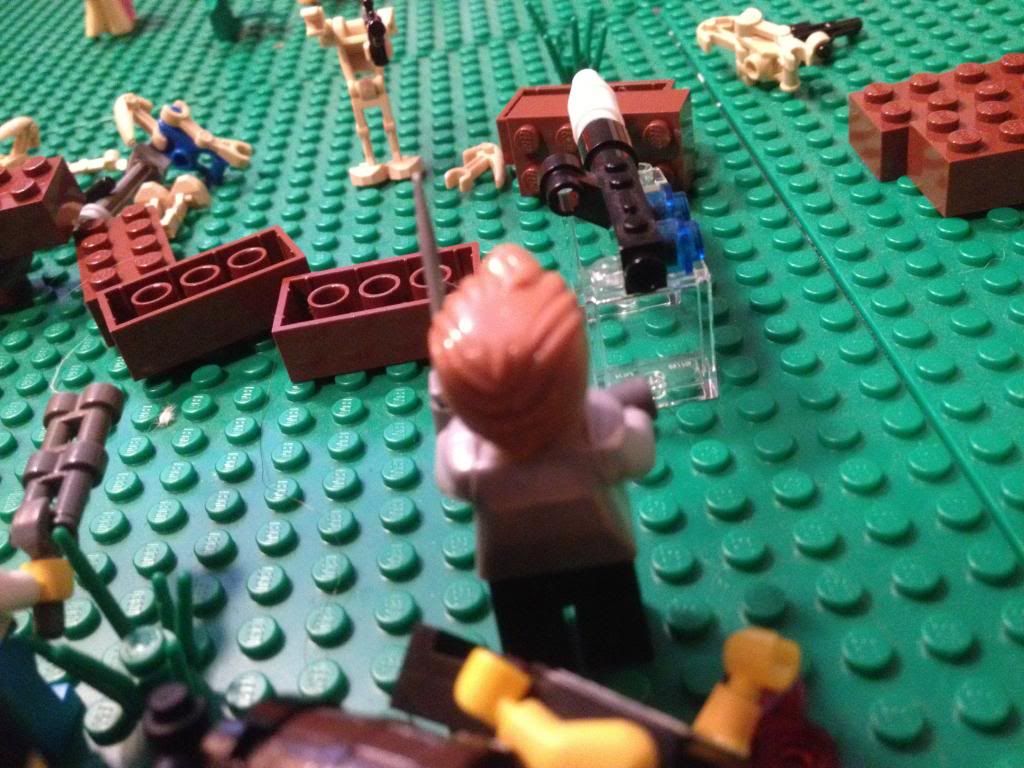 and tossing it like a common puppy.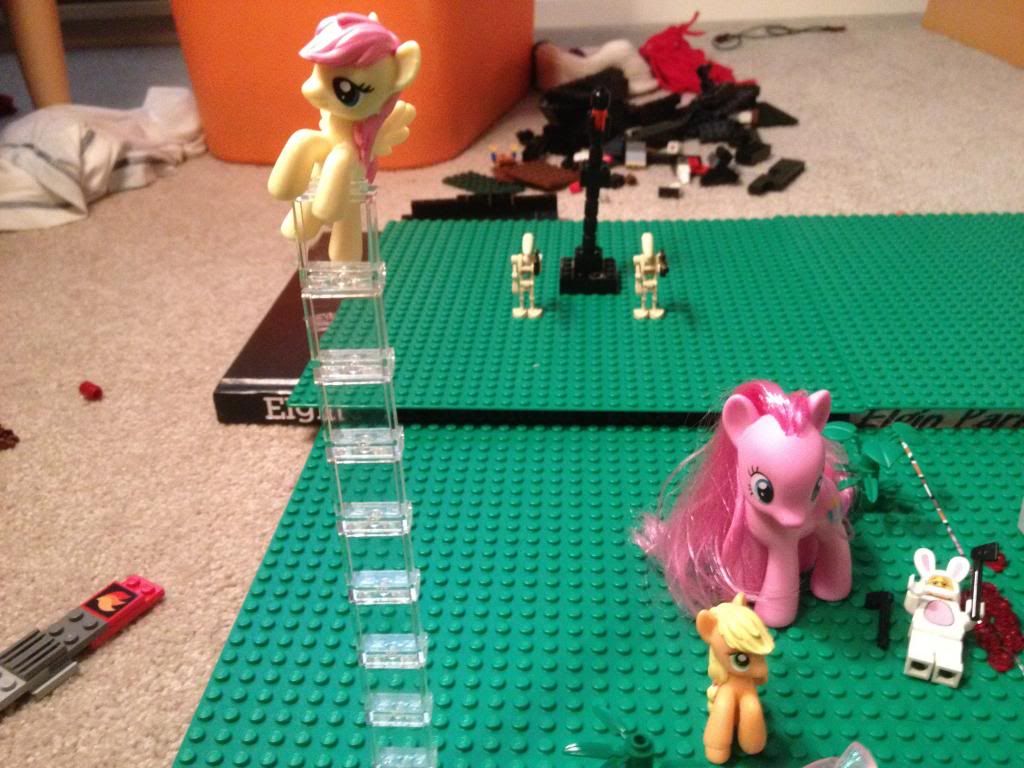 Cootershy flies high in the air, preparing for the kamikaze to end all kamikazes.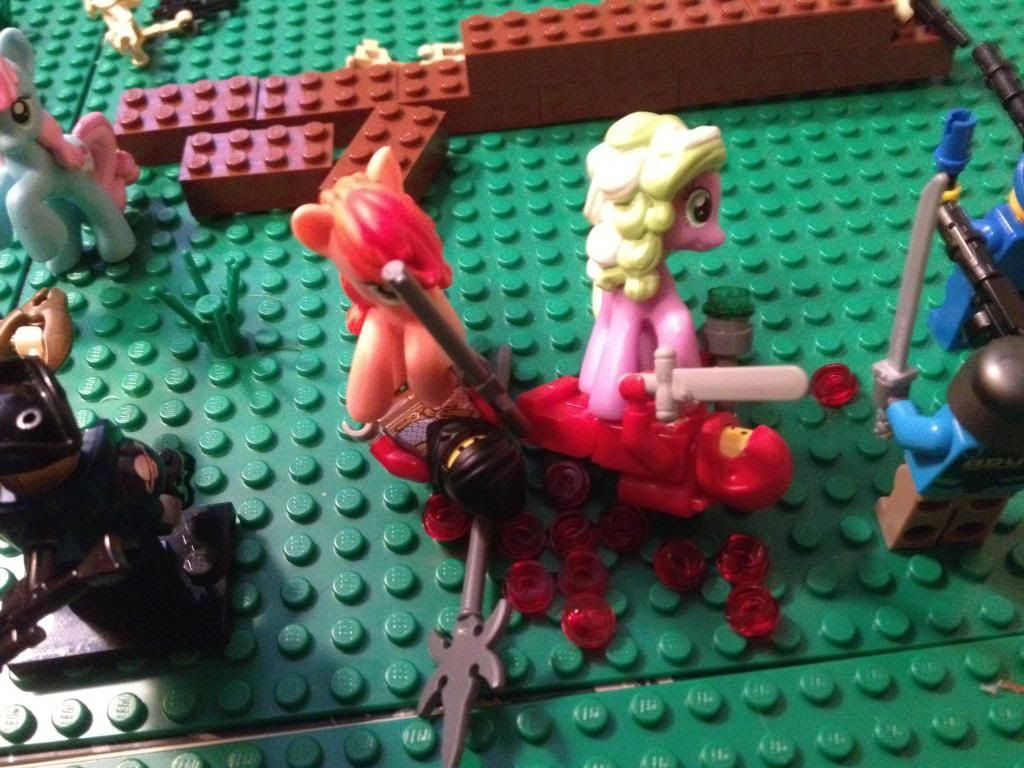 The poniys charge, and already two mercs are killed.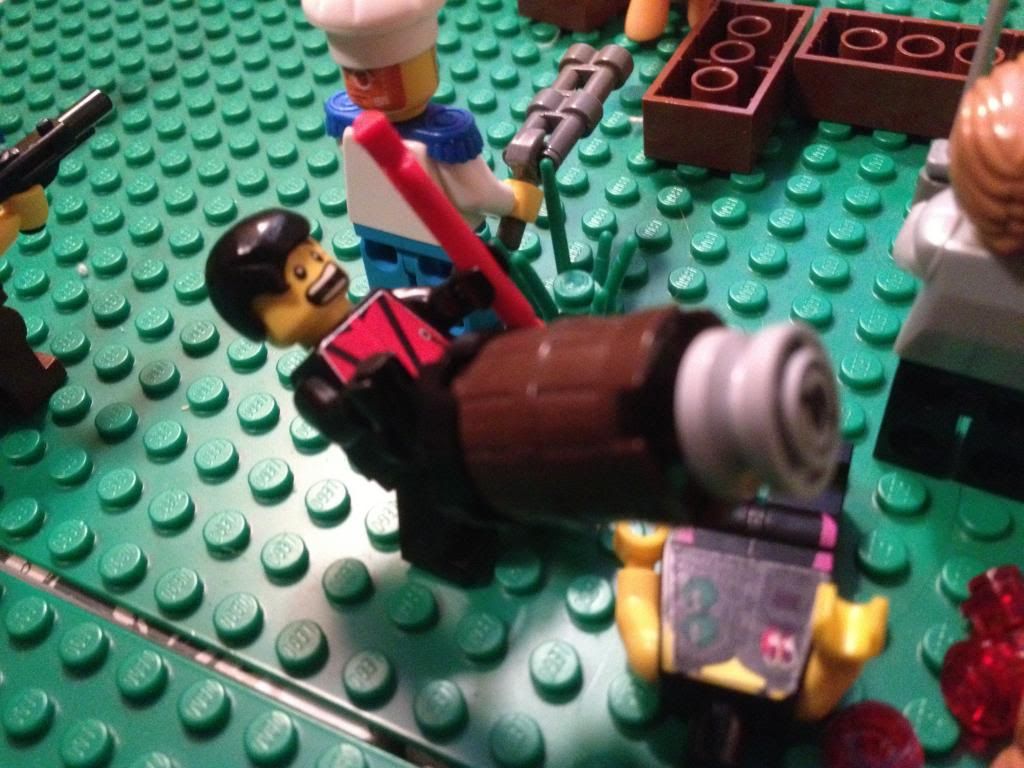 What's wrong?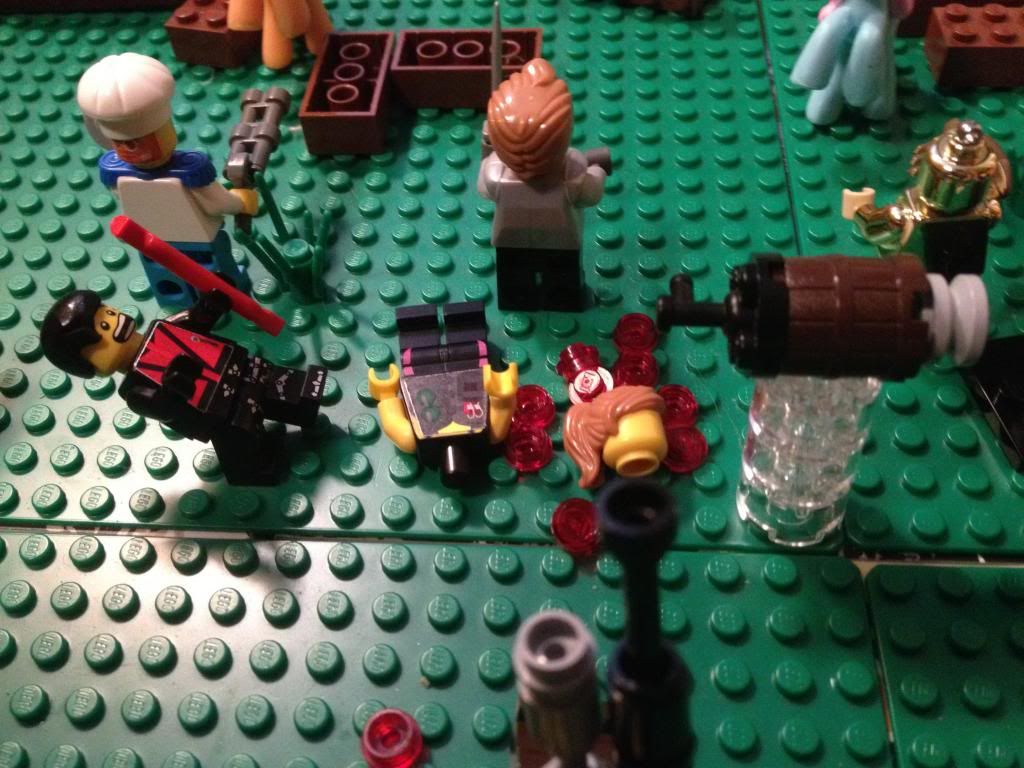 THE BEER?!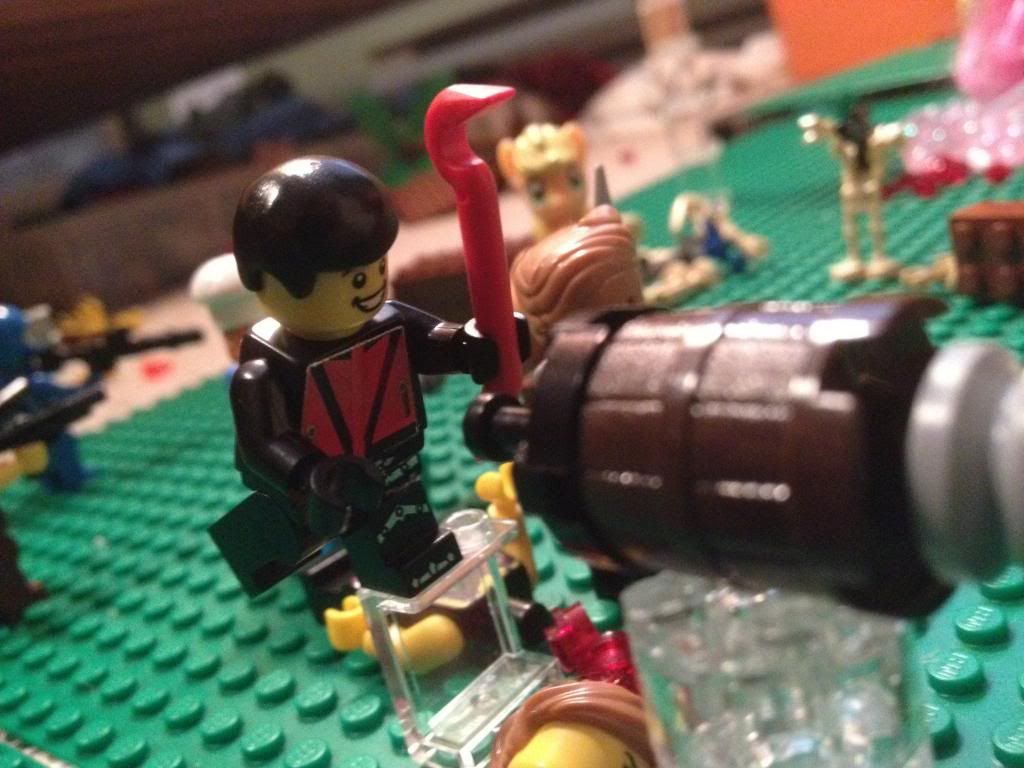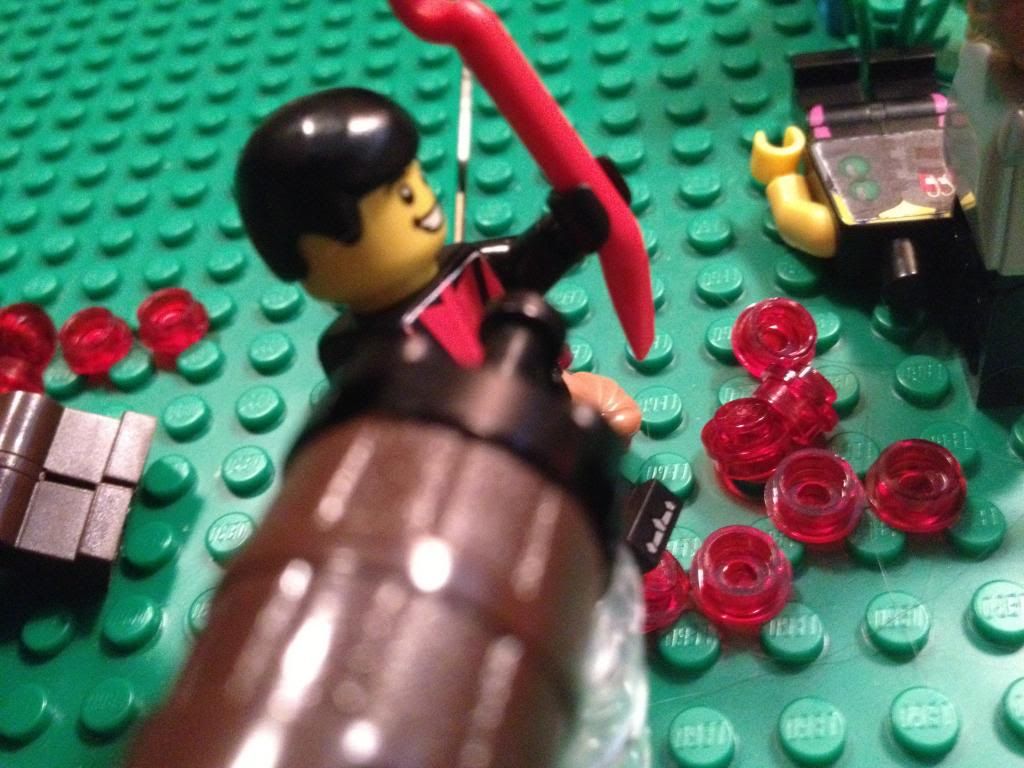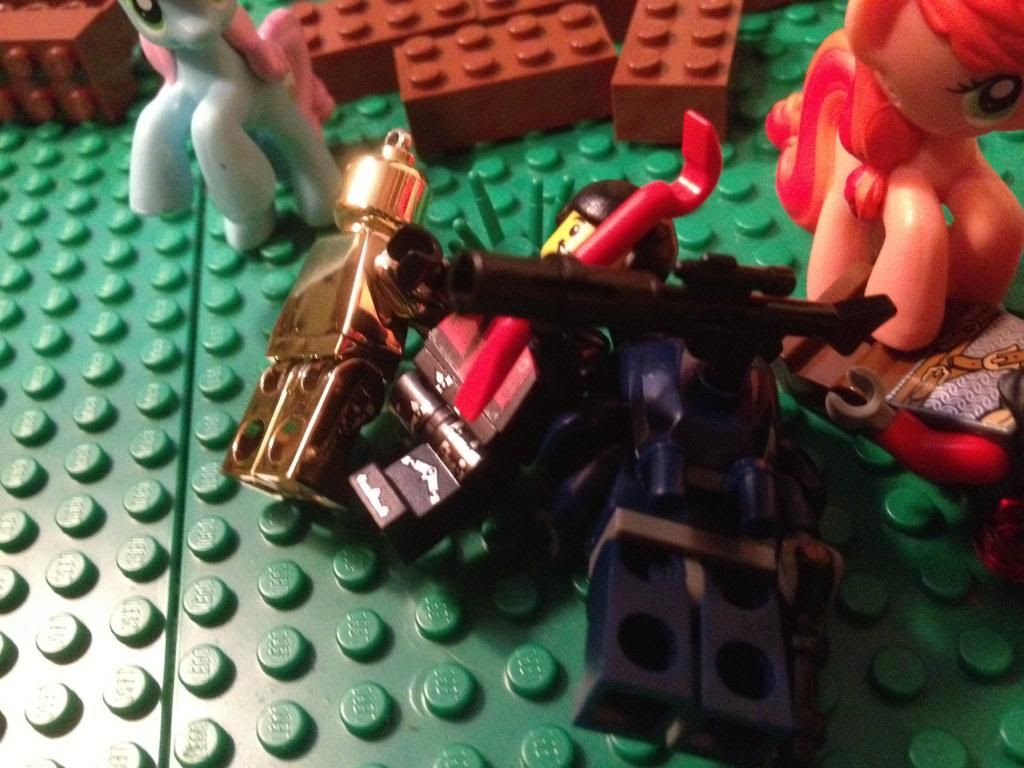 Dance Commander's beer betrays him, and physics makes him disrupt Blut and Golden Nightmare.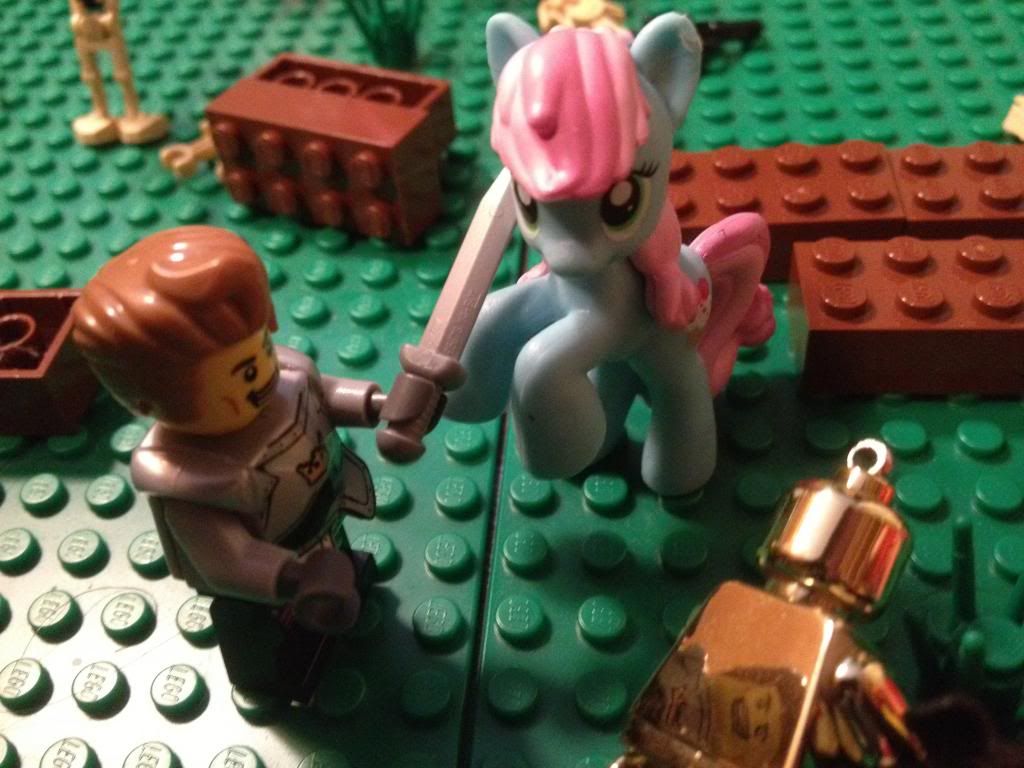 Jeremiah and the earth poniy square off, but neither can kill the other.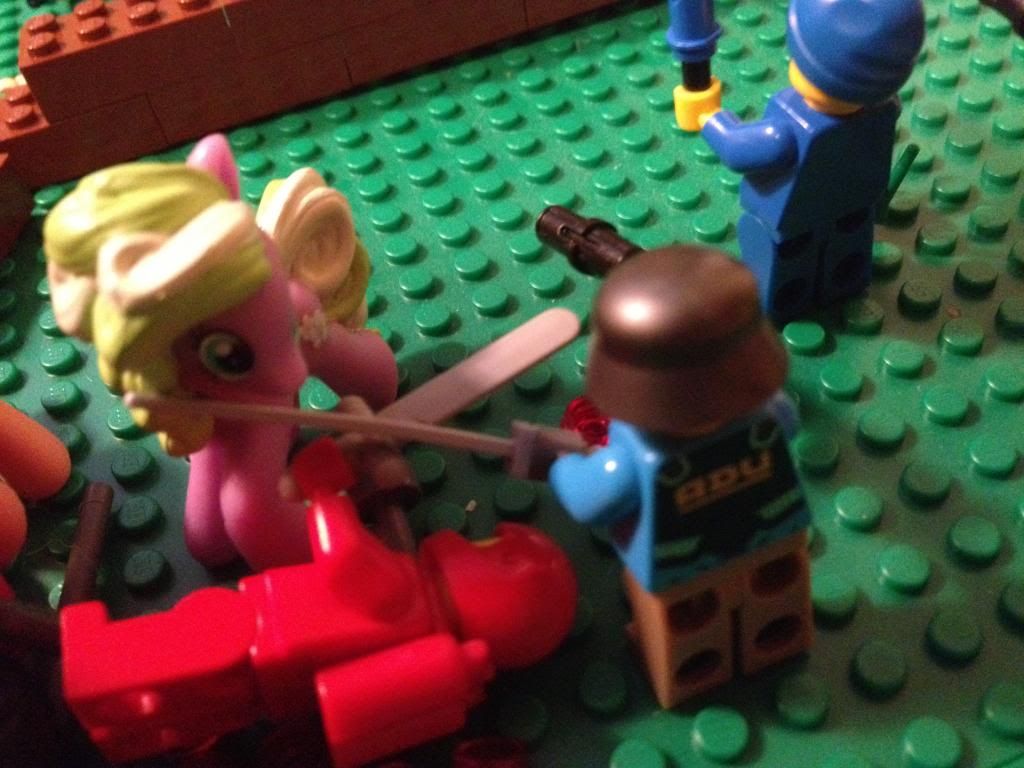 And Steve's katana is useless.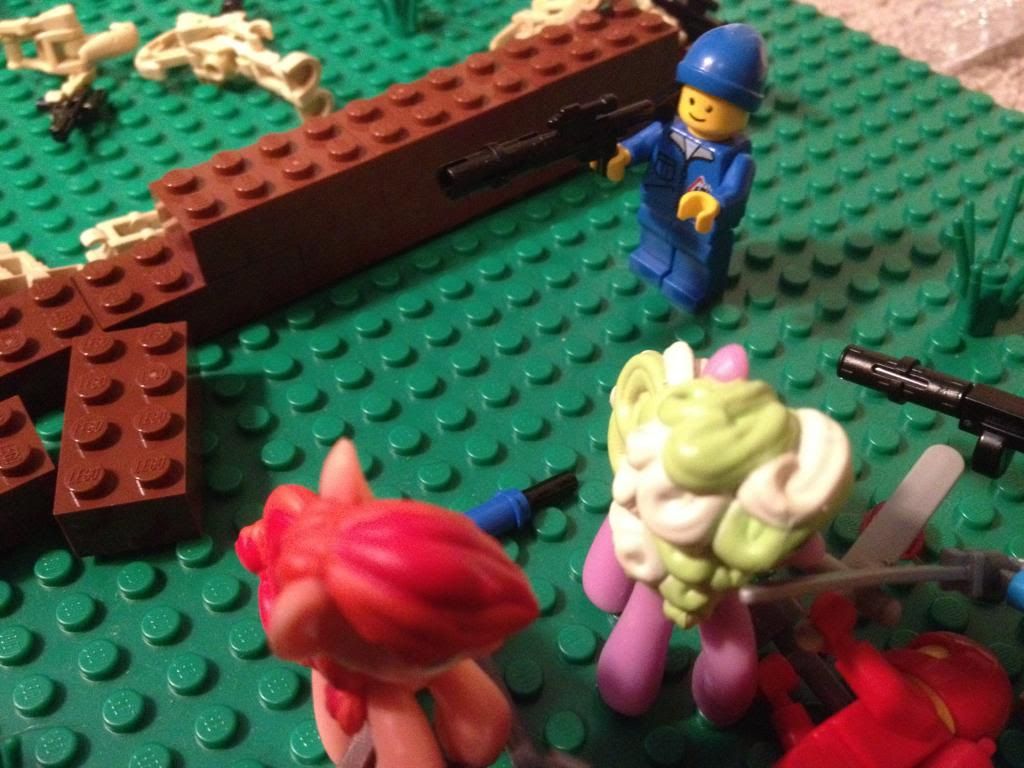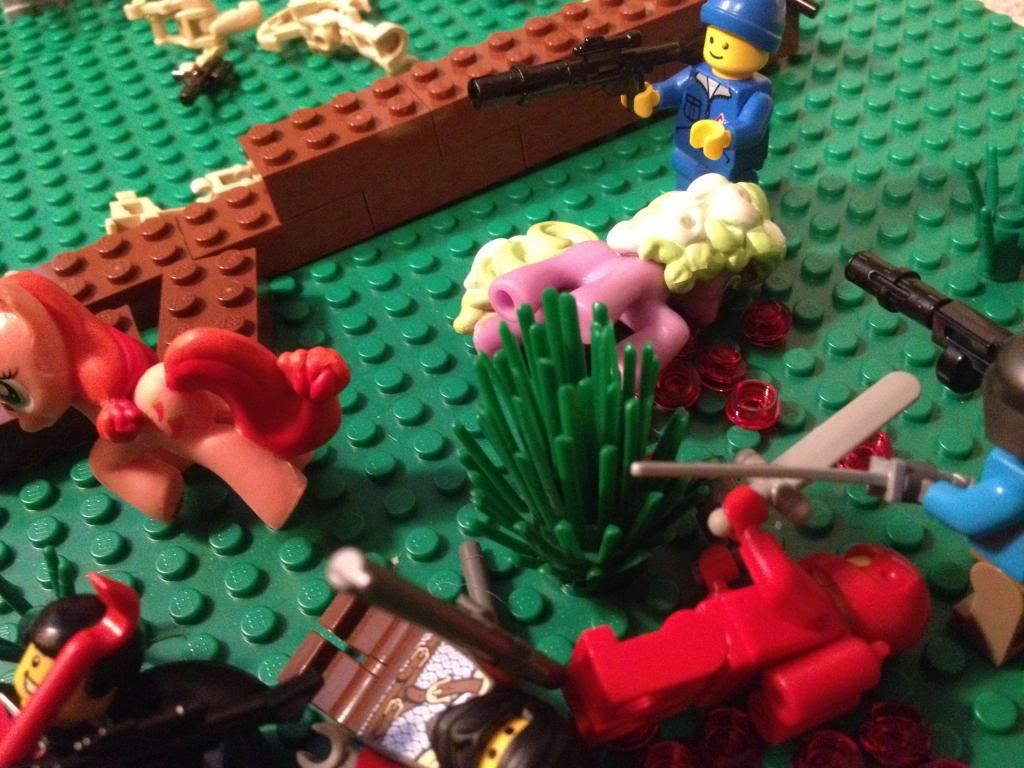 Blue helps him out though.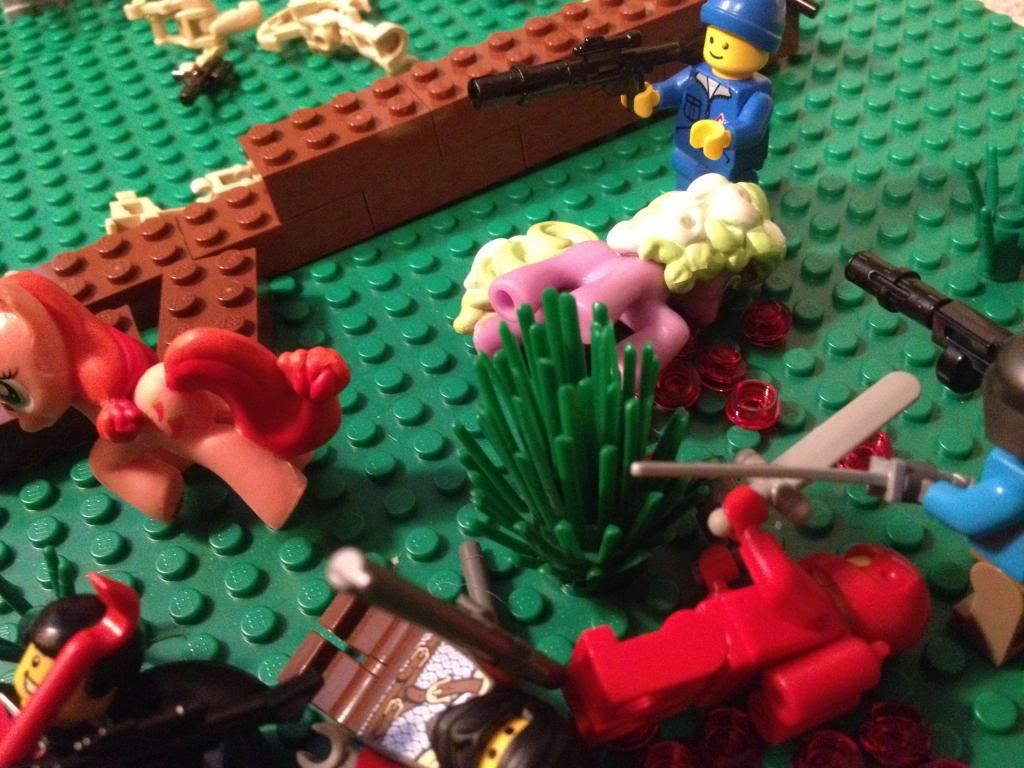 Applejack is a tough motherfucker.
Not even the frying pan (heroic weapon) does anything.
Alos kills her in one shot though.
Dance Commander, Blut and Golden Nightmare all get up.
Just when the Shadowscythe herself shows up, skirt and all.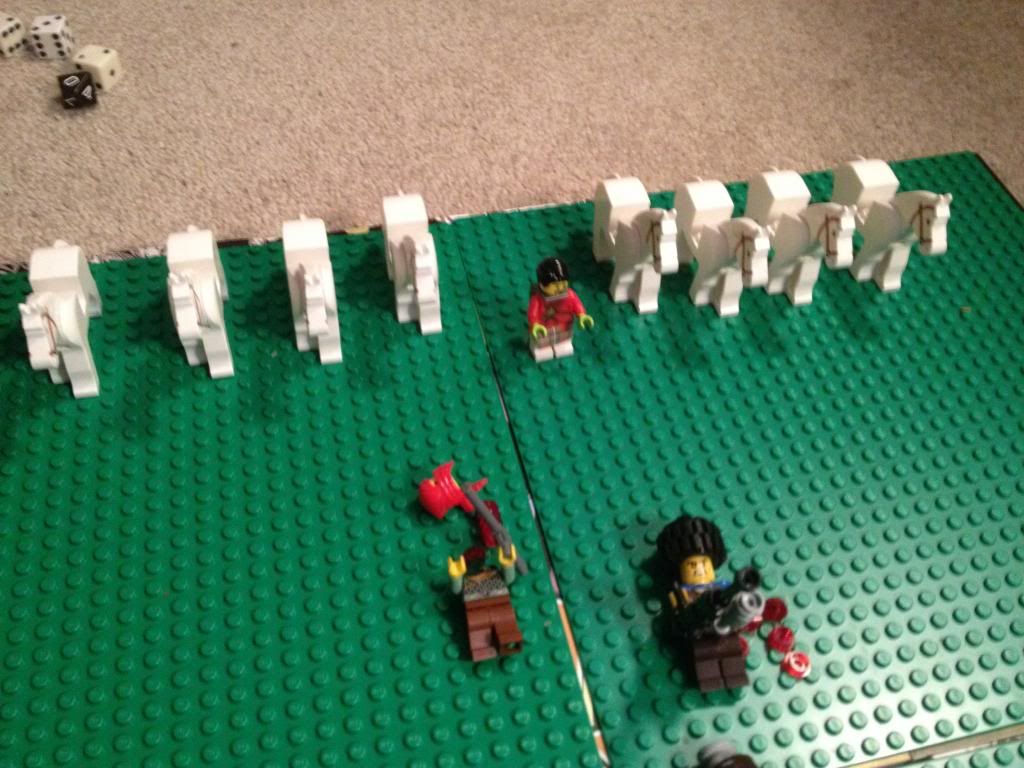 Along with eight stampeding horses.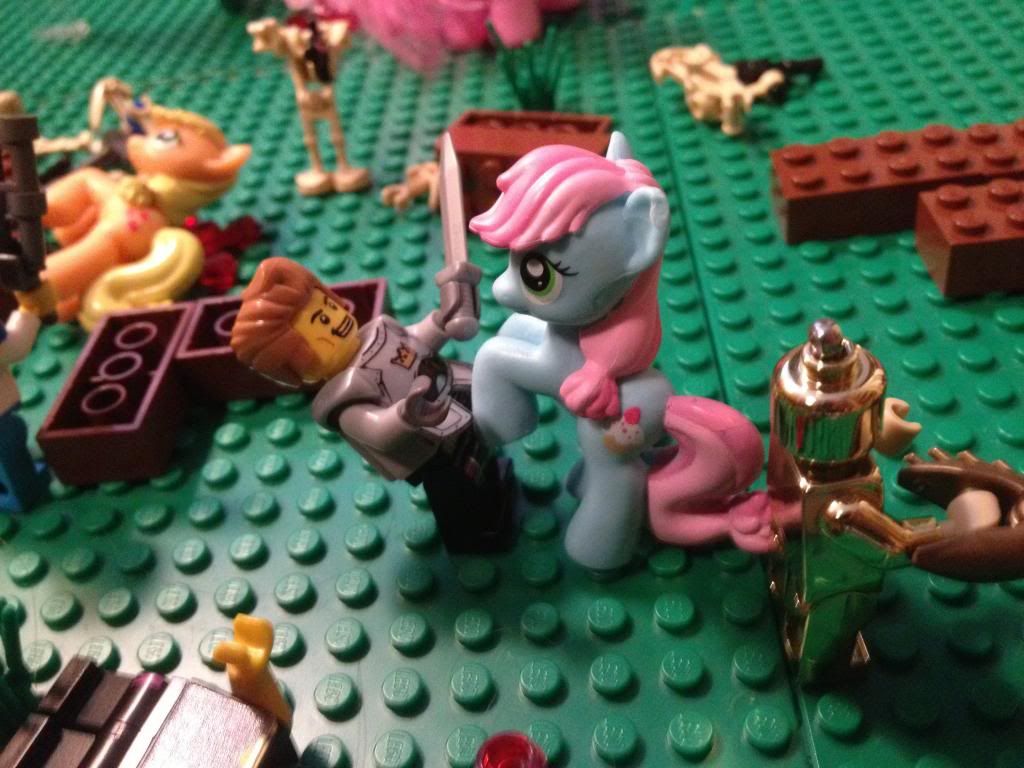 The Poniy can't get past Jeremiah's armour and Jeremiah can't do enough damage to beat the poniy's toughness.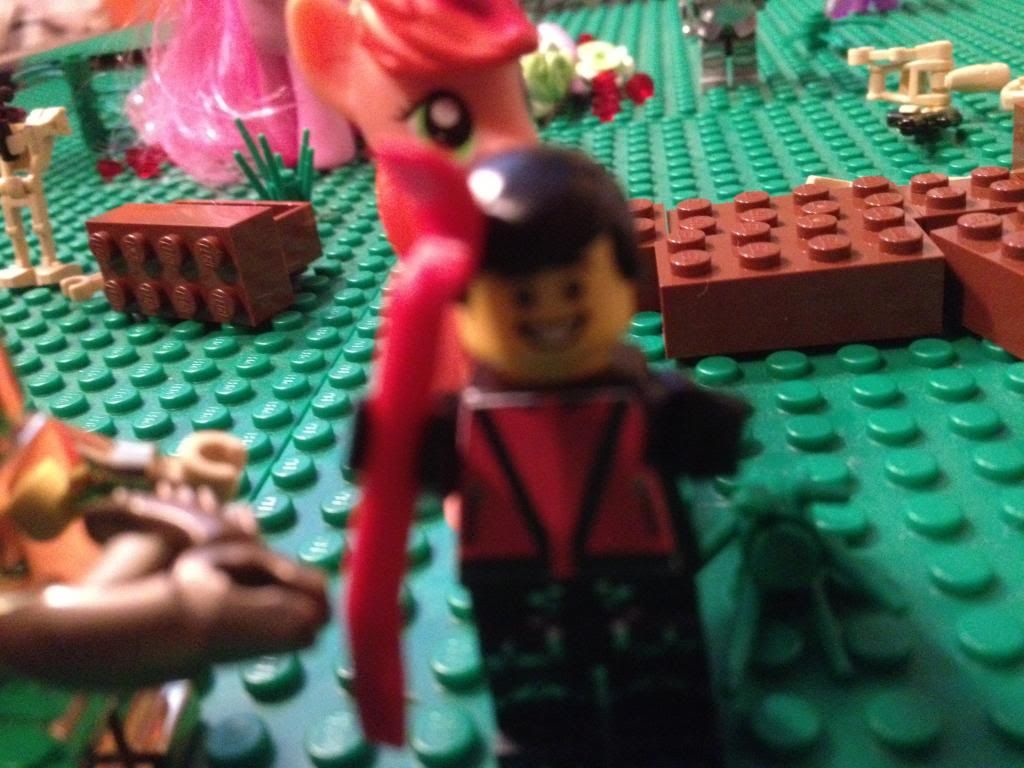 Dance Commander, look behind you!
Too late.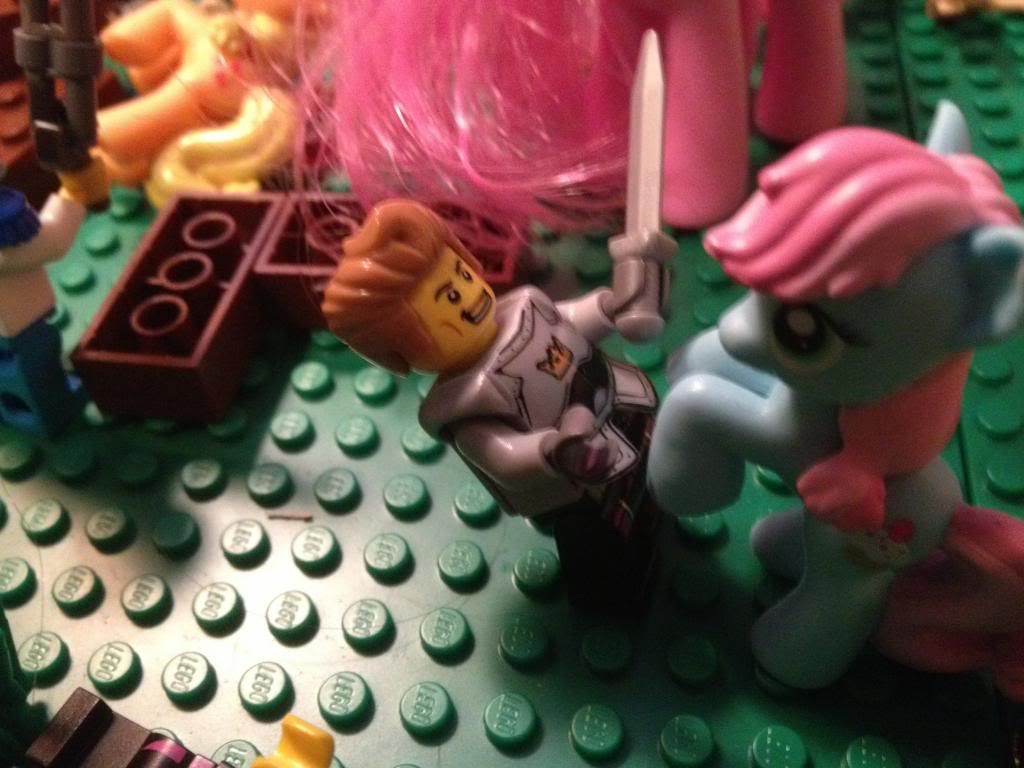 Jeremiah is distracted by the cotton candy THC smell before he realizes he's covered in a brushable mane.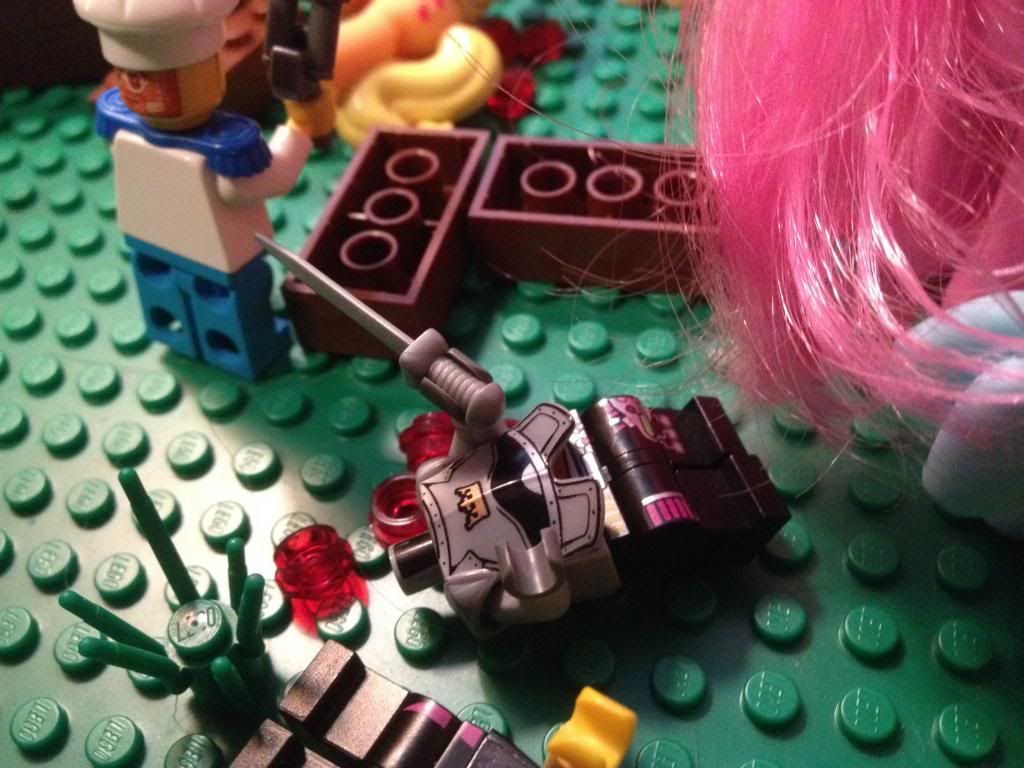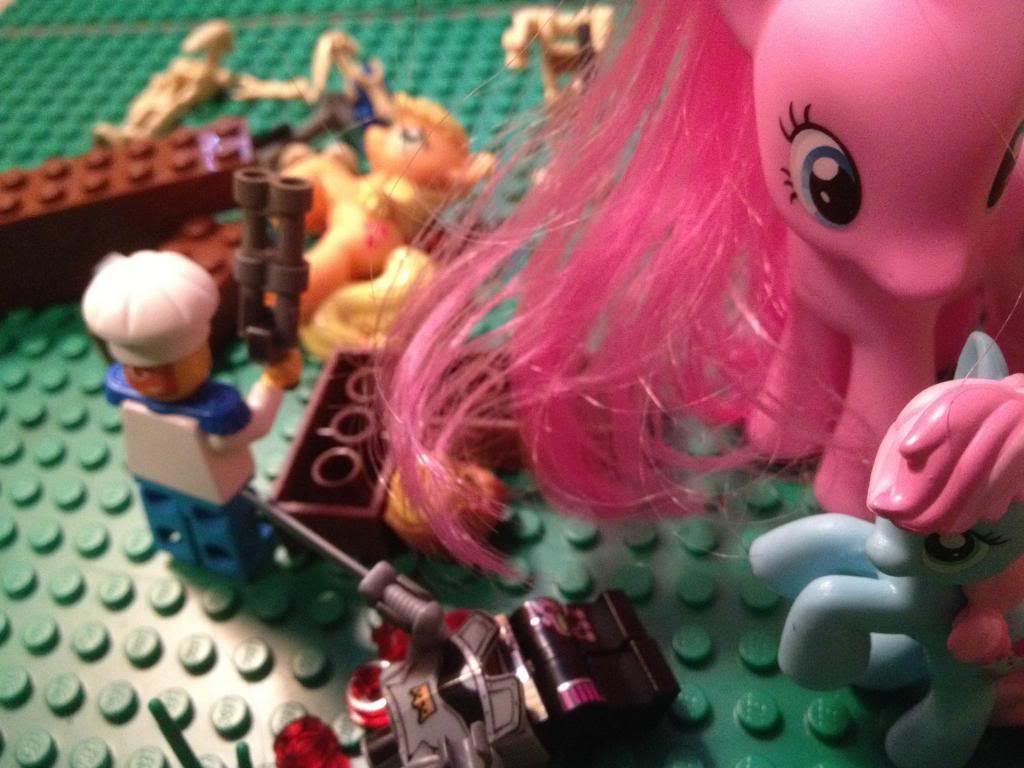 "PARTY!"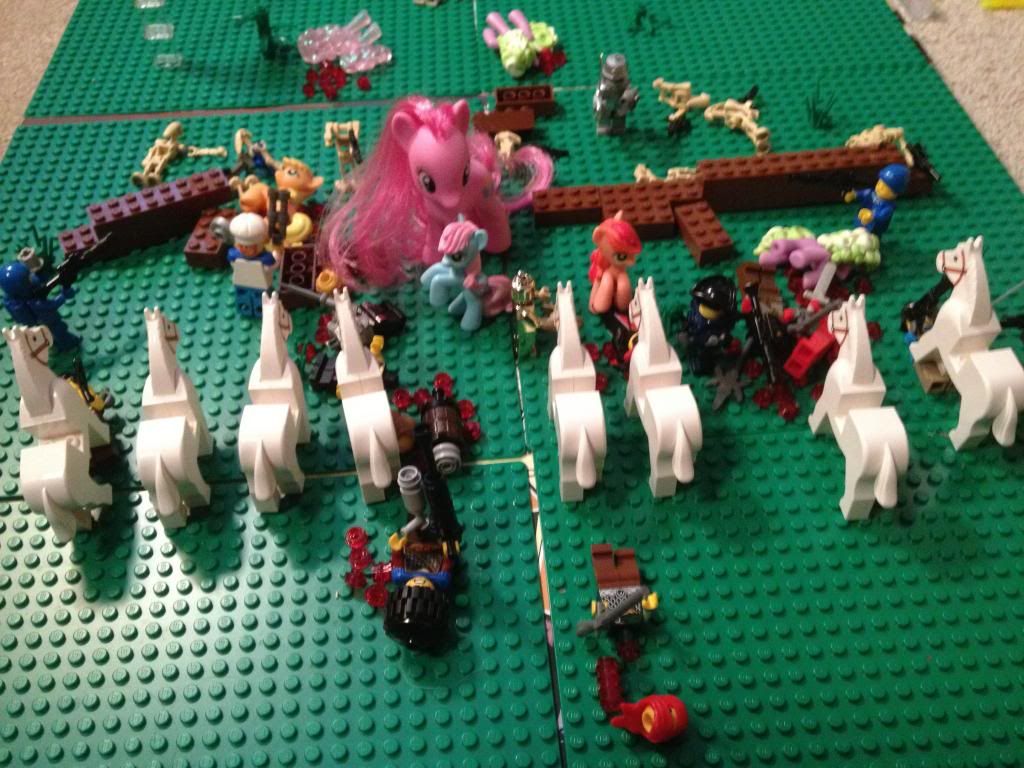 The horses being to stampede, avoiding their poniy counterparts.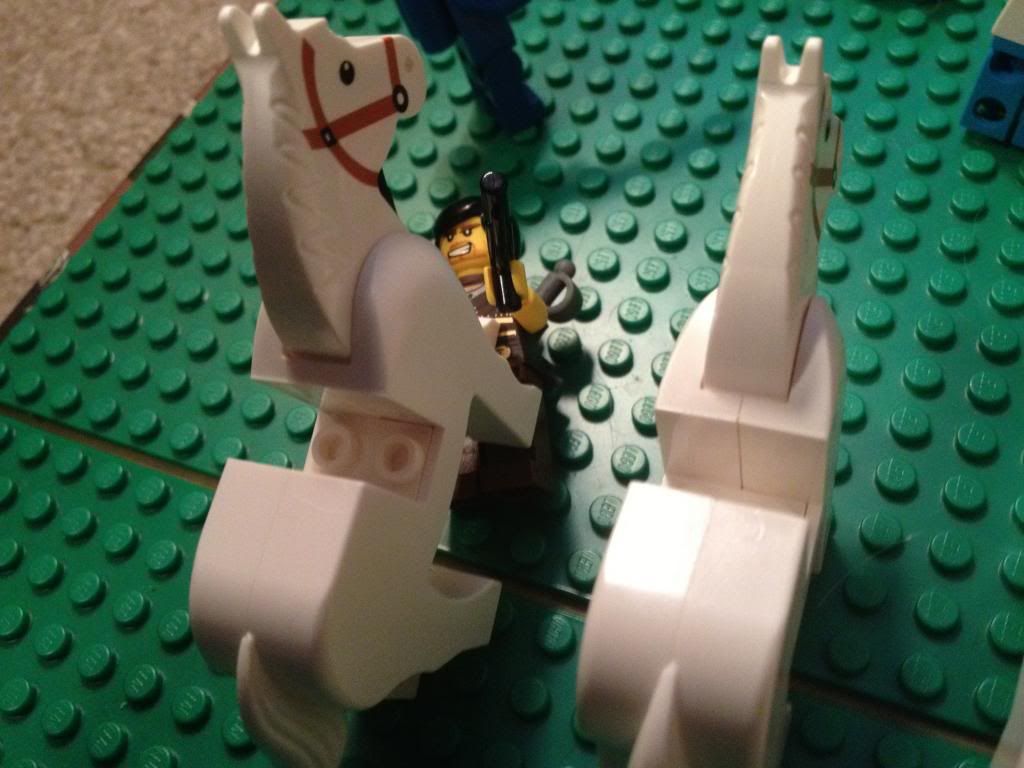 Akos dies.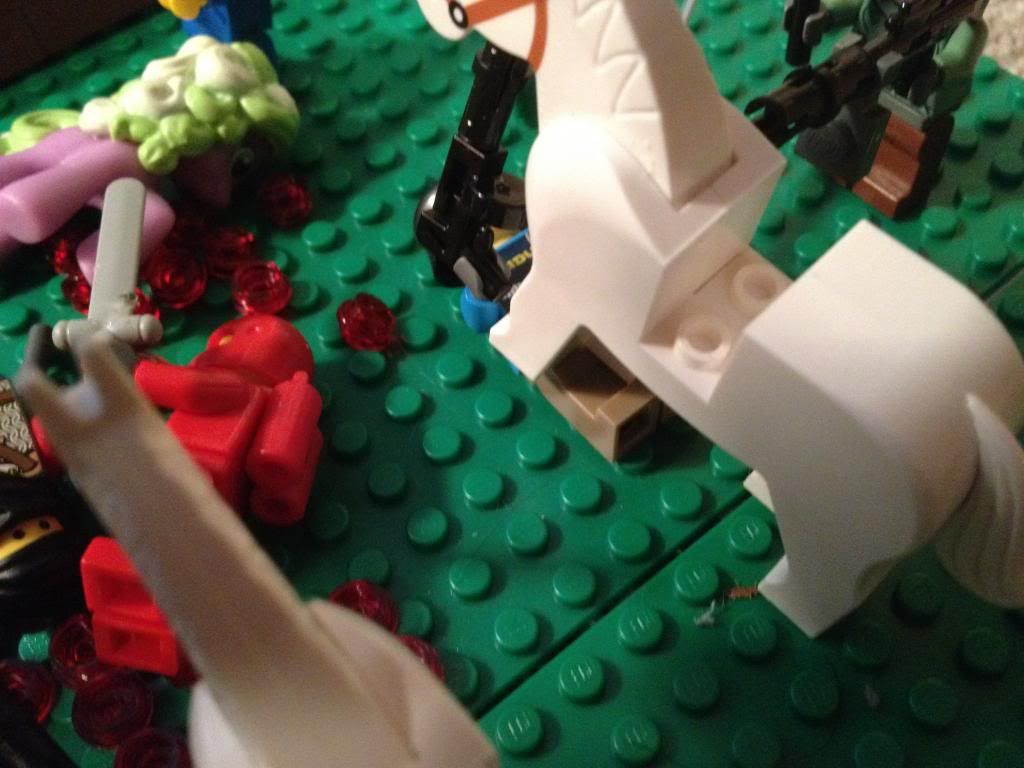 And Steve bites the dust.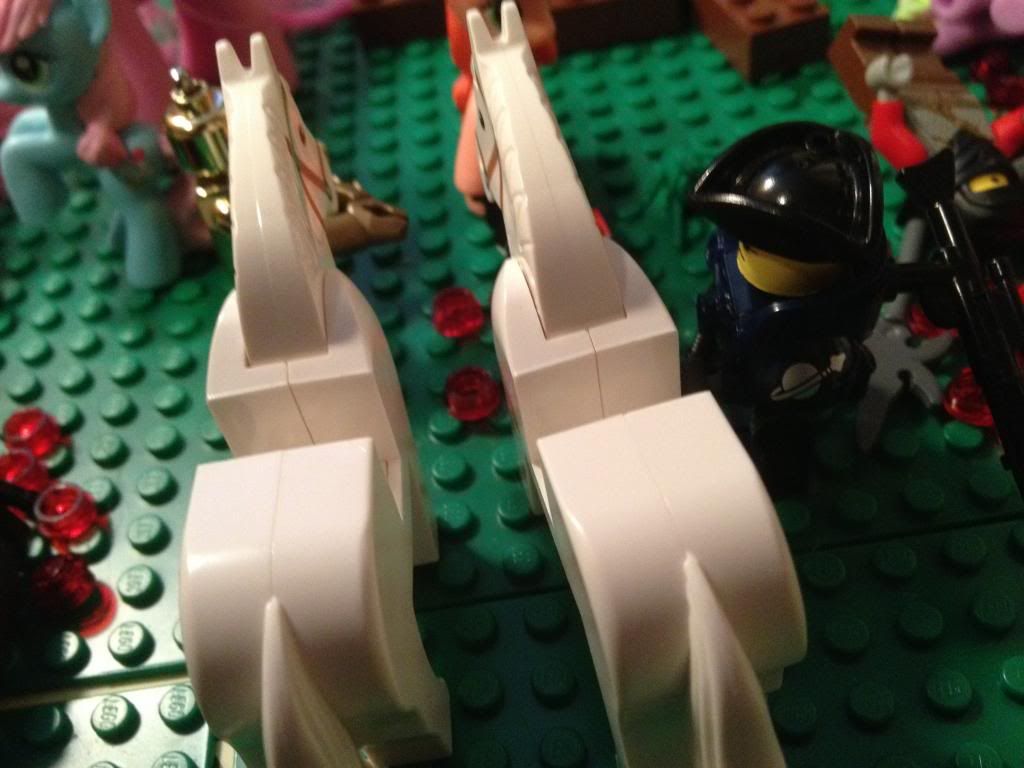 The horses avoid Blut however.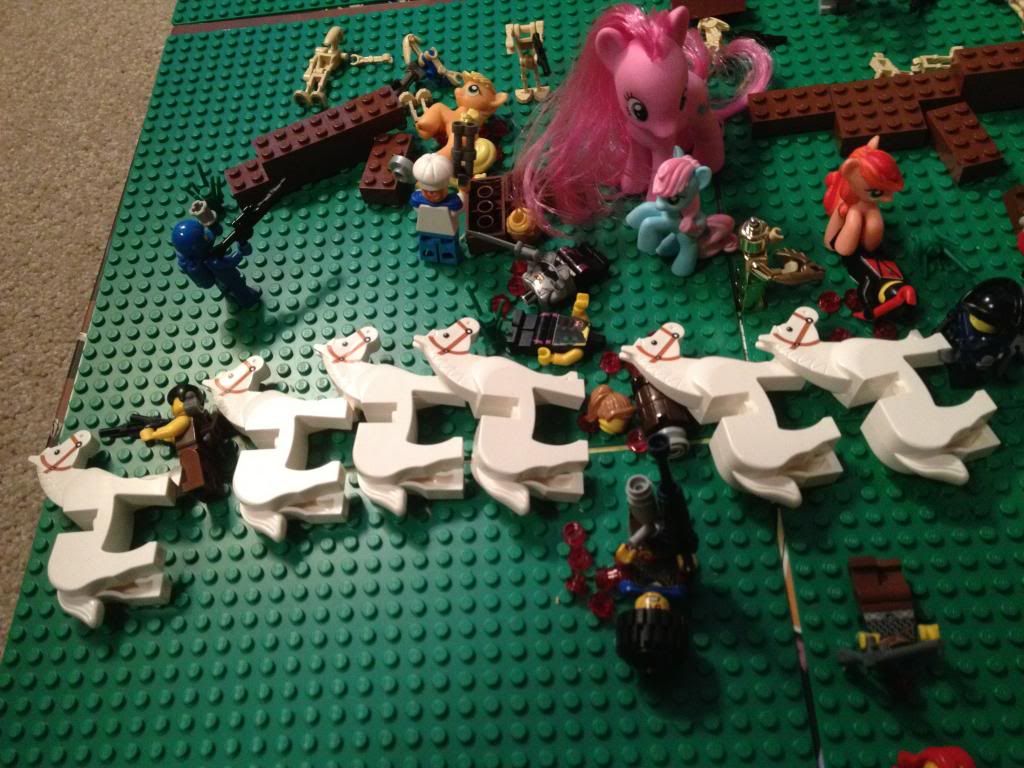 Who cleverly pushes most of them over.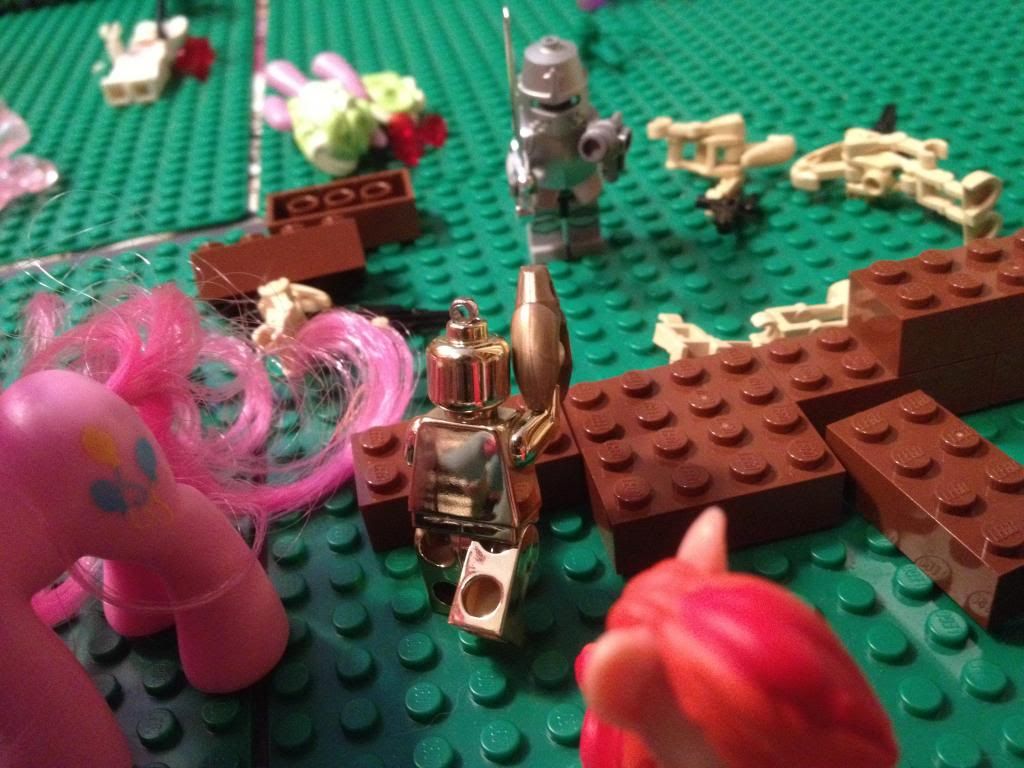 INTERLUDE DUEL (I rolled for this)
Gold: You bastard! Finally you will perish at my hand.
Silva: Ok.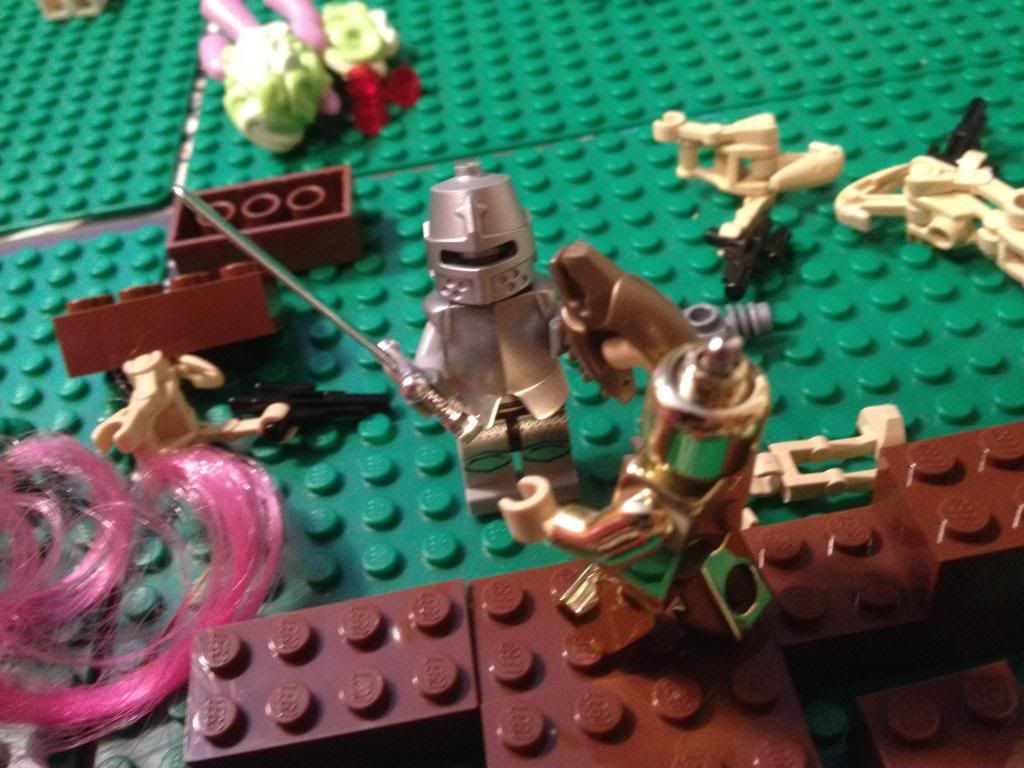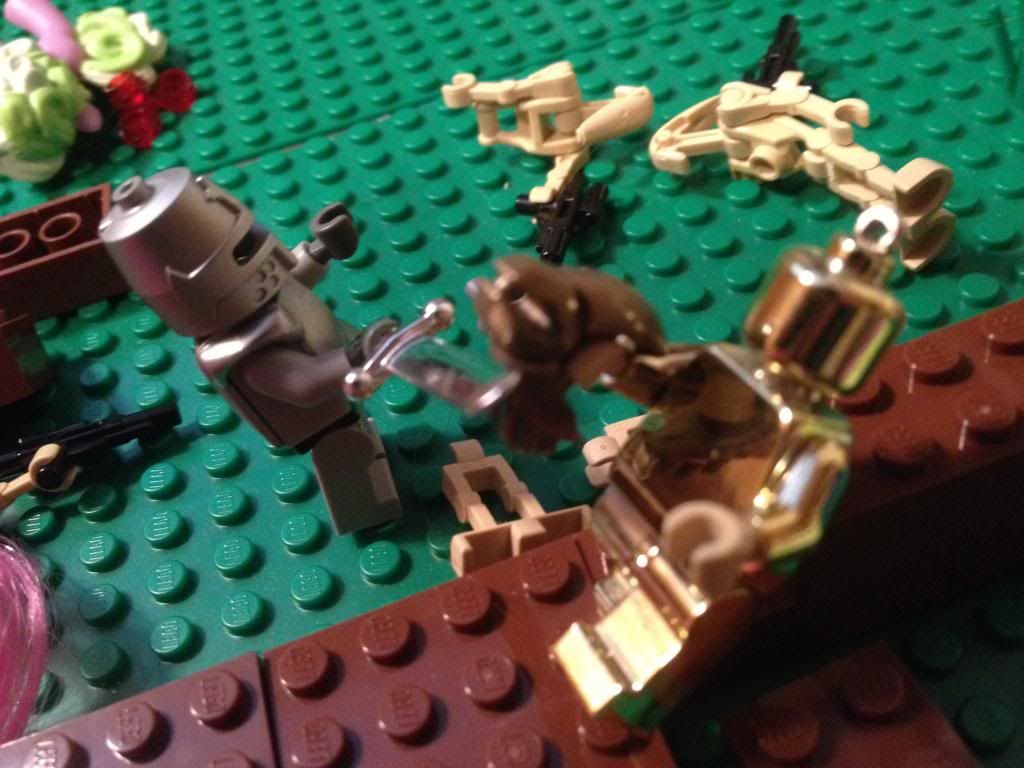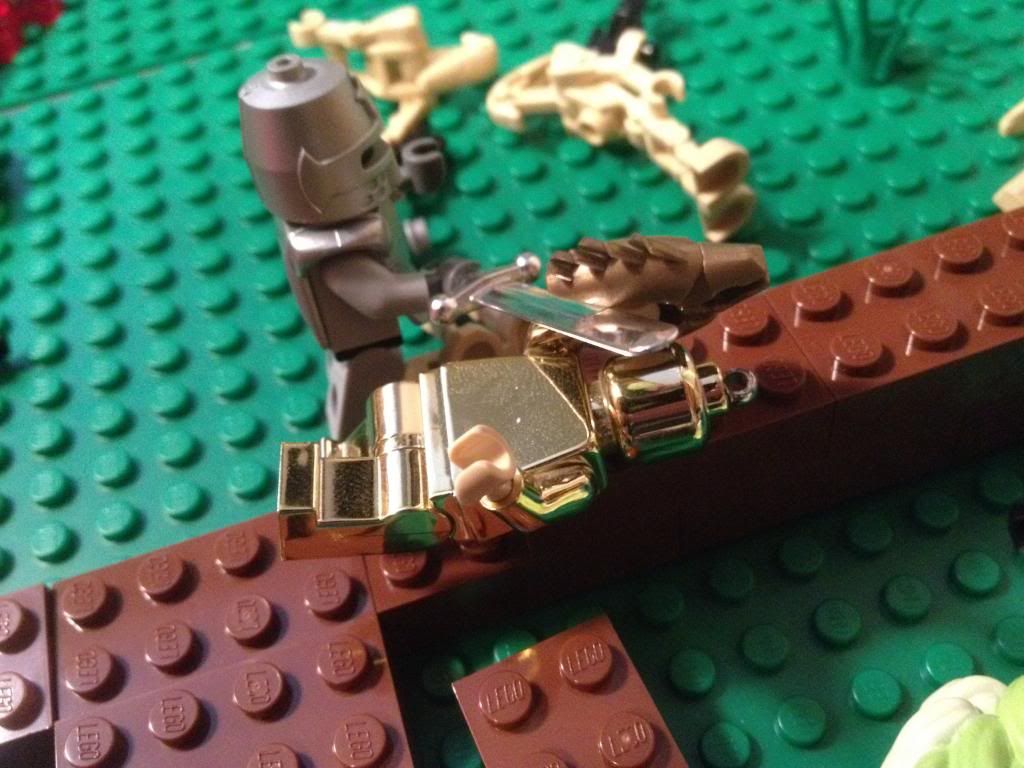 Silva: NOT! ;3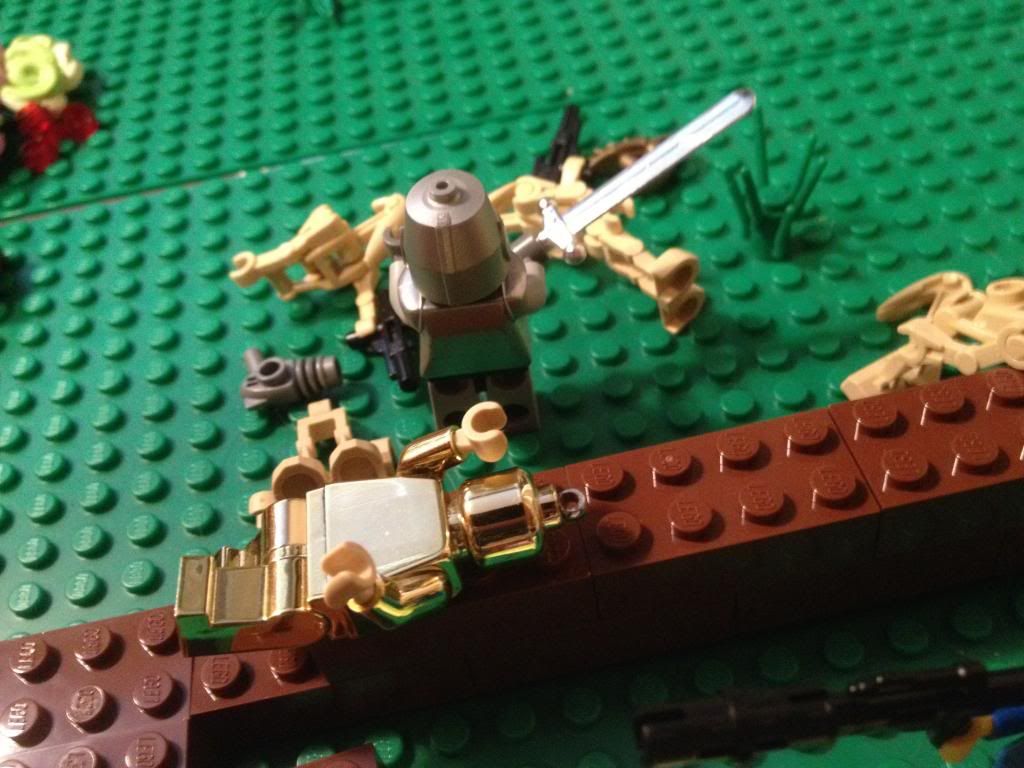 Gold: I'm not dead yet.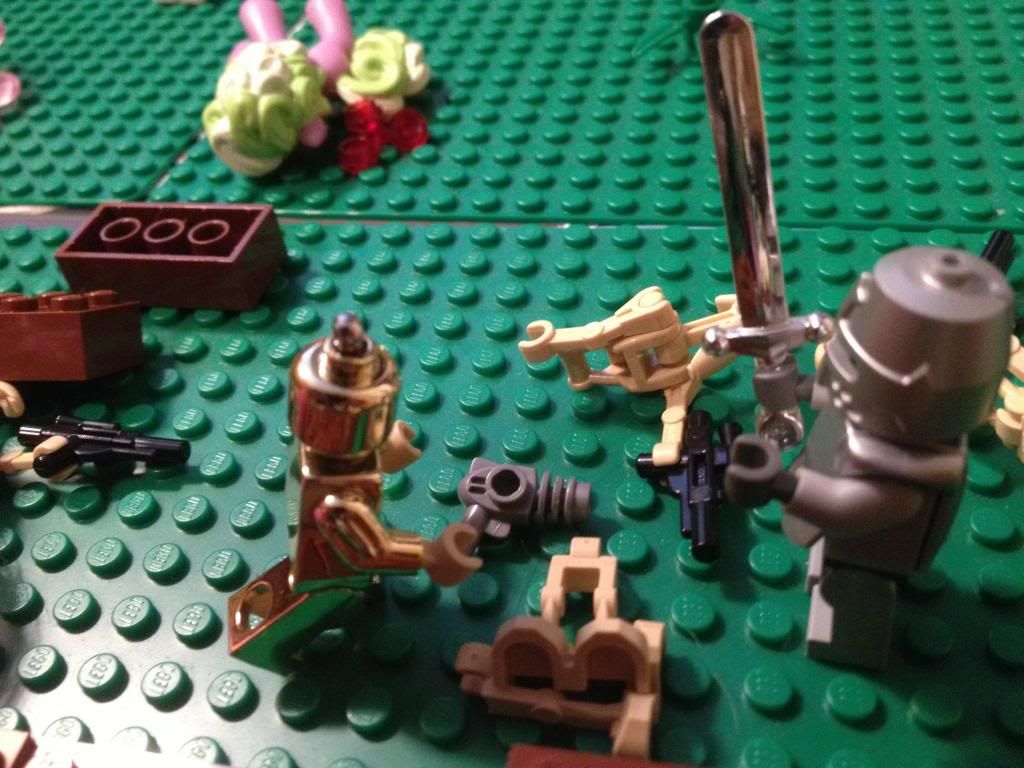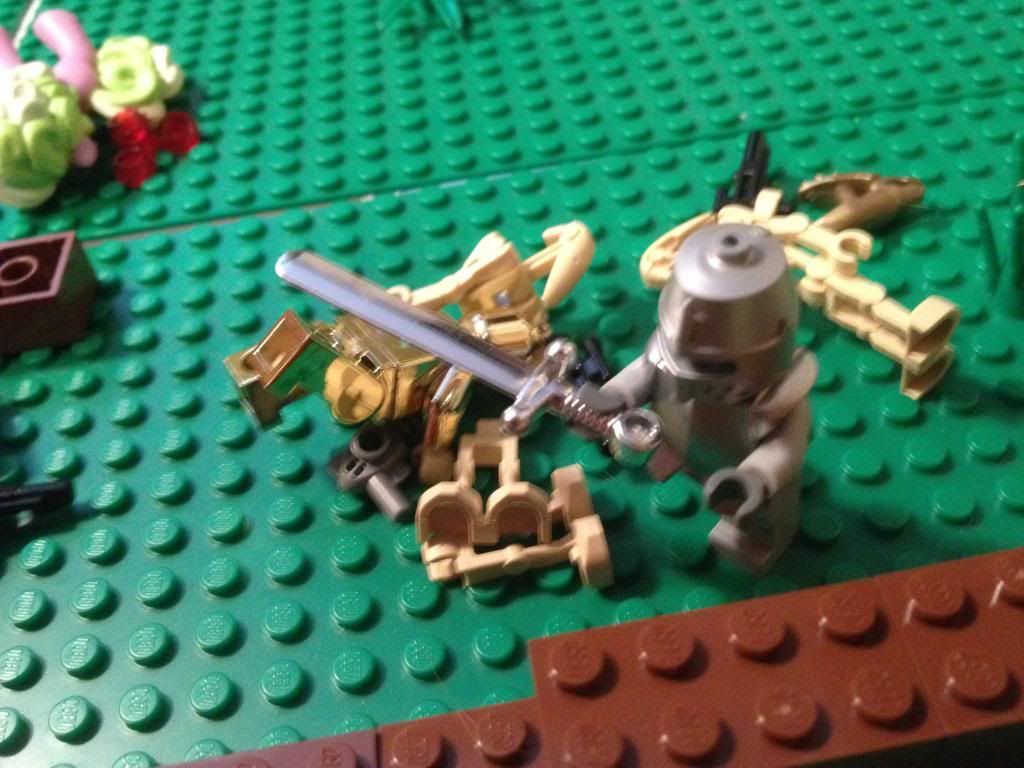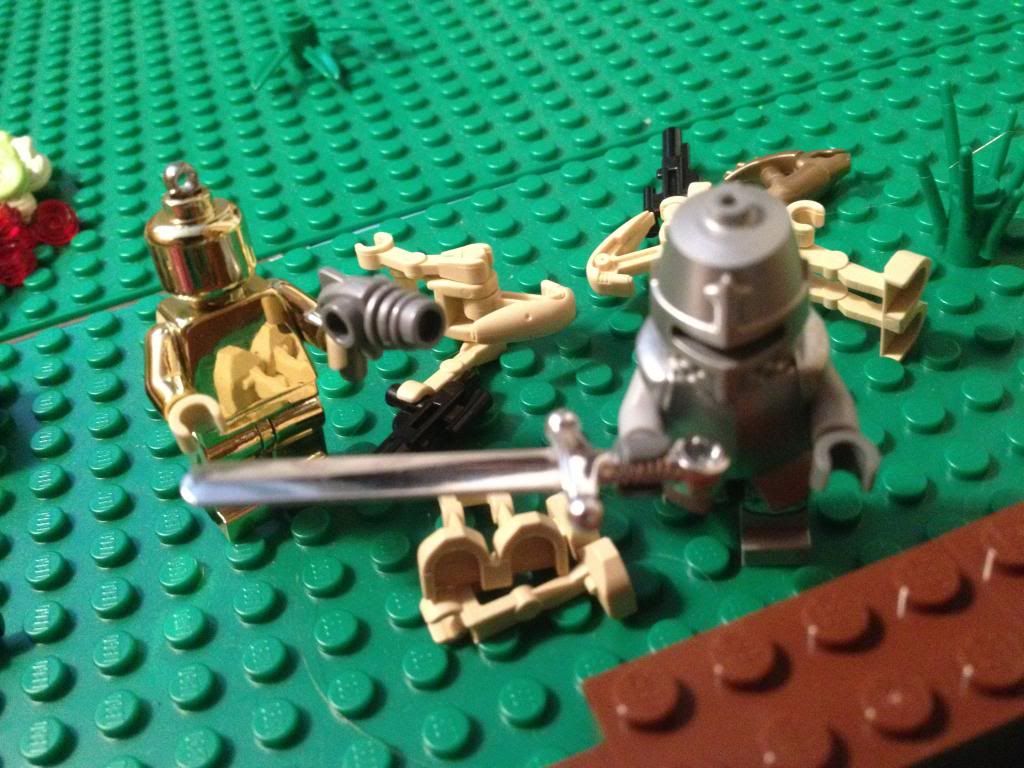 Silva: Oopsy daisies.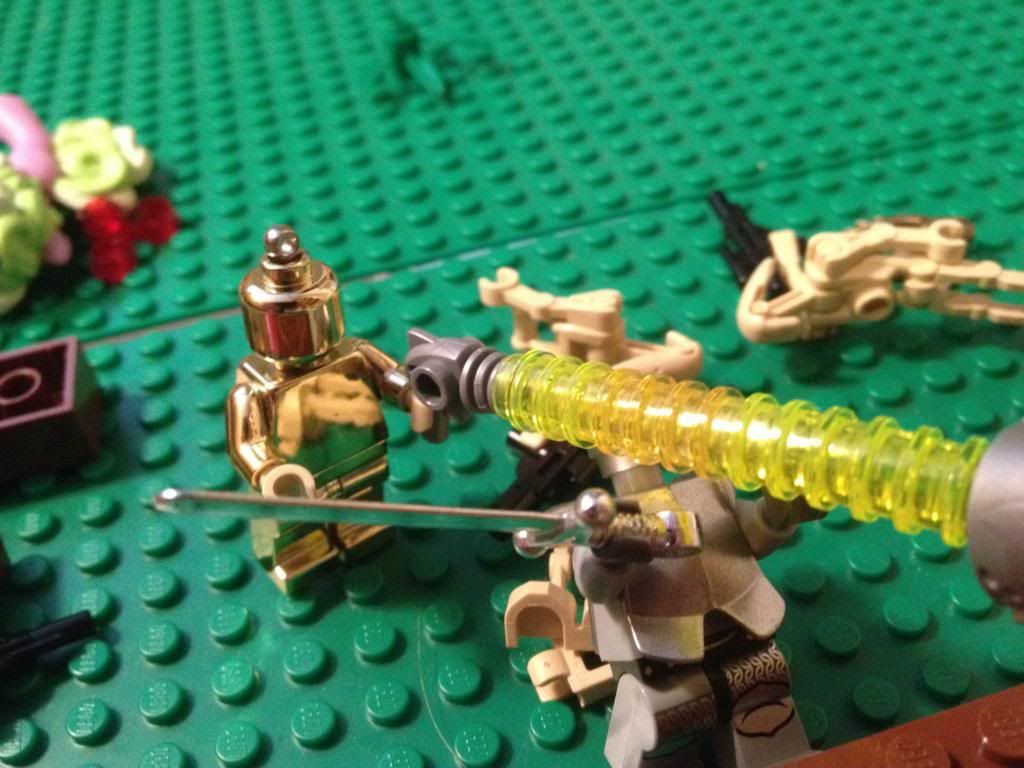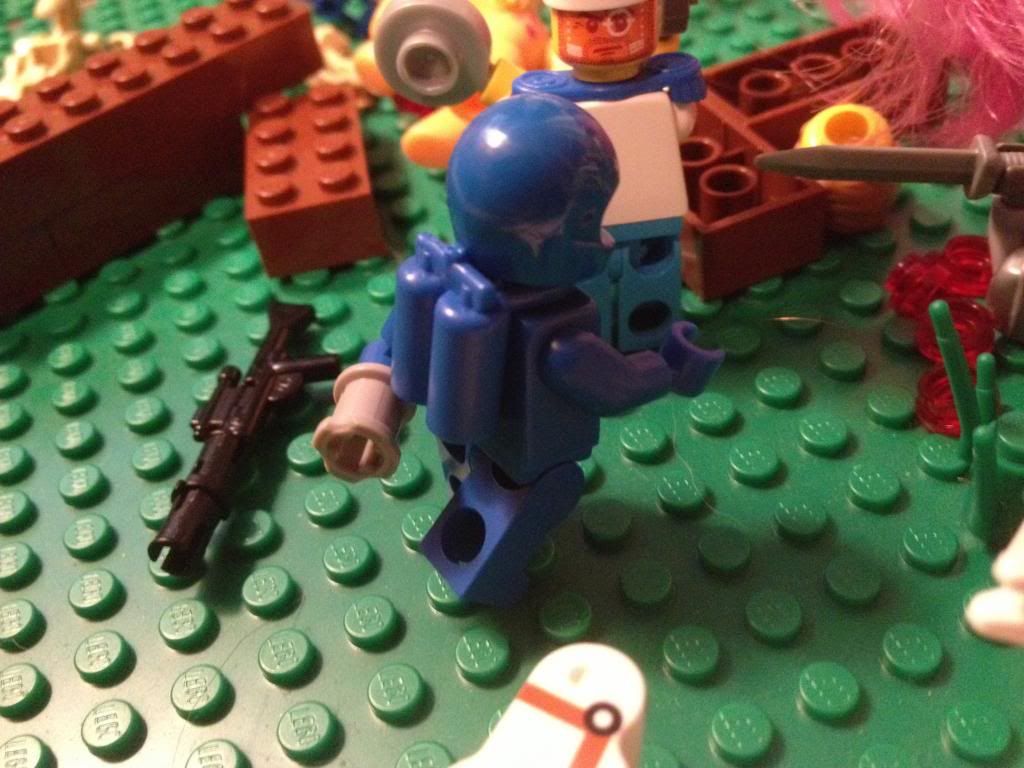 A DSM risks life and limb, putting his grenade to his air tanks.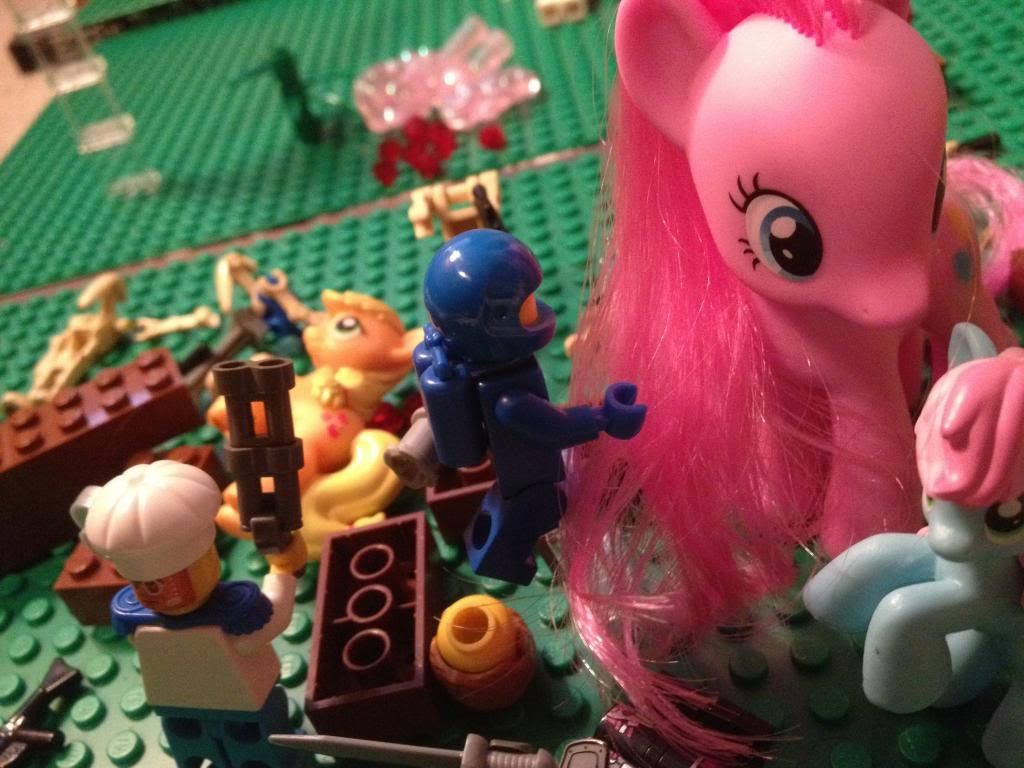 "Smile you son of a
"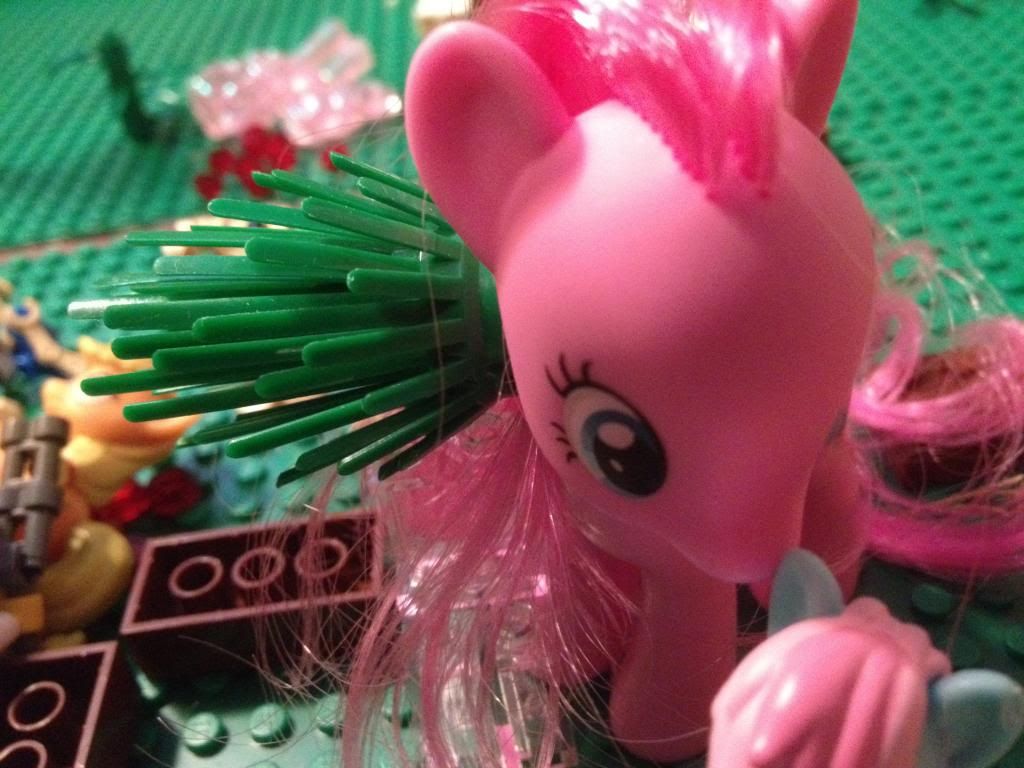 Pinkie seems to have been unaffected by the blast.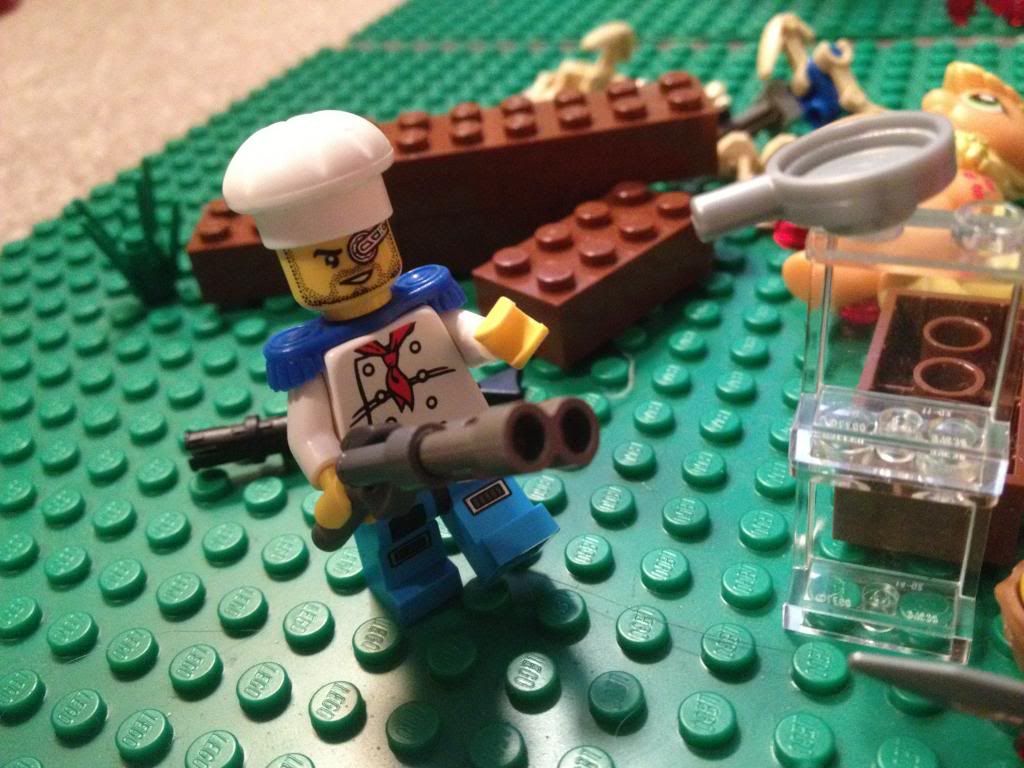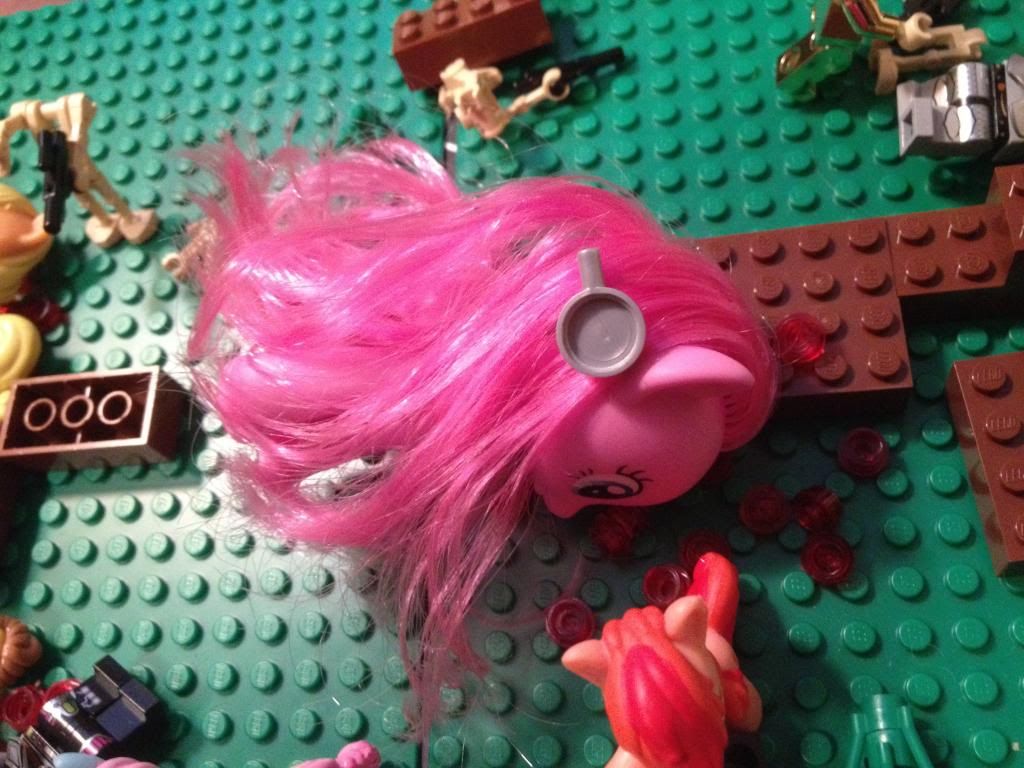 The old scatter pan trick, deadliest move in the brikverse.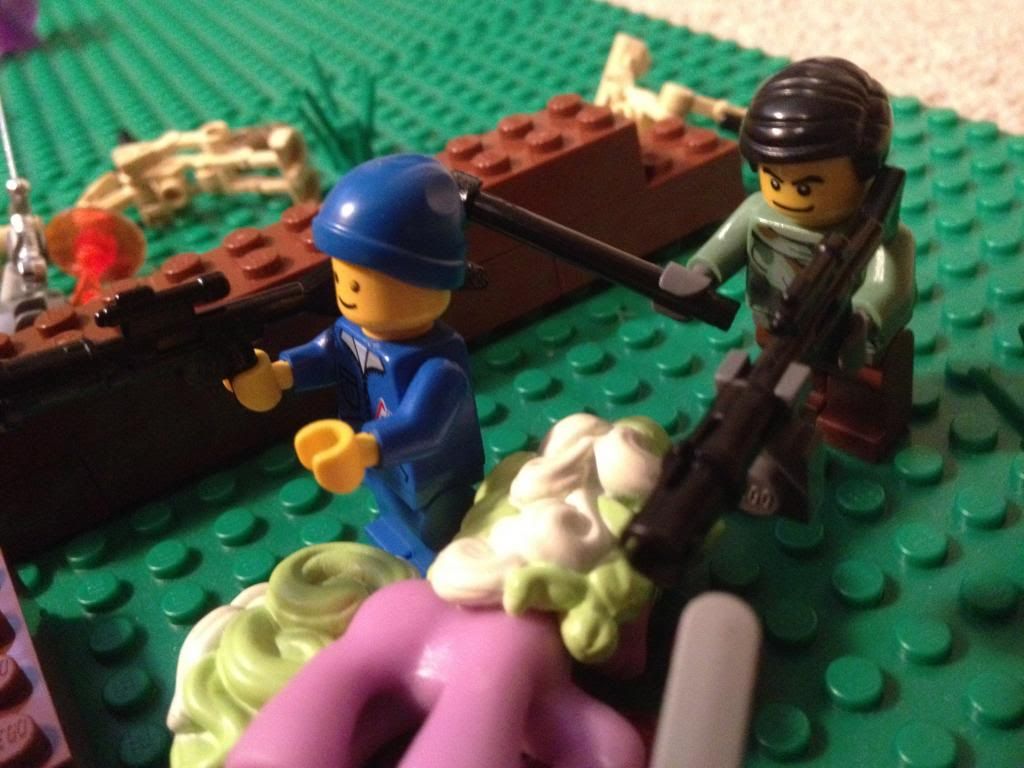 Kerrick decides to betray his allies.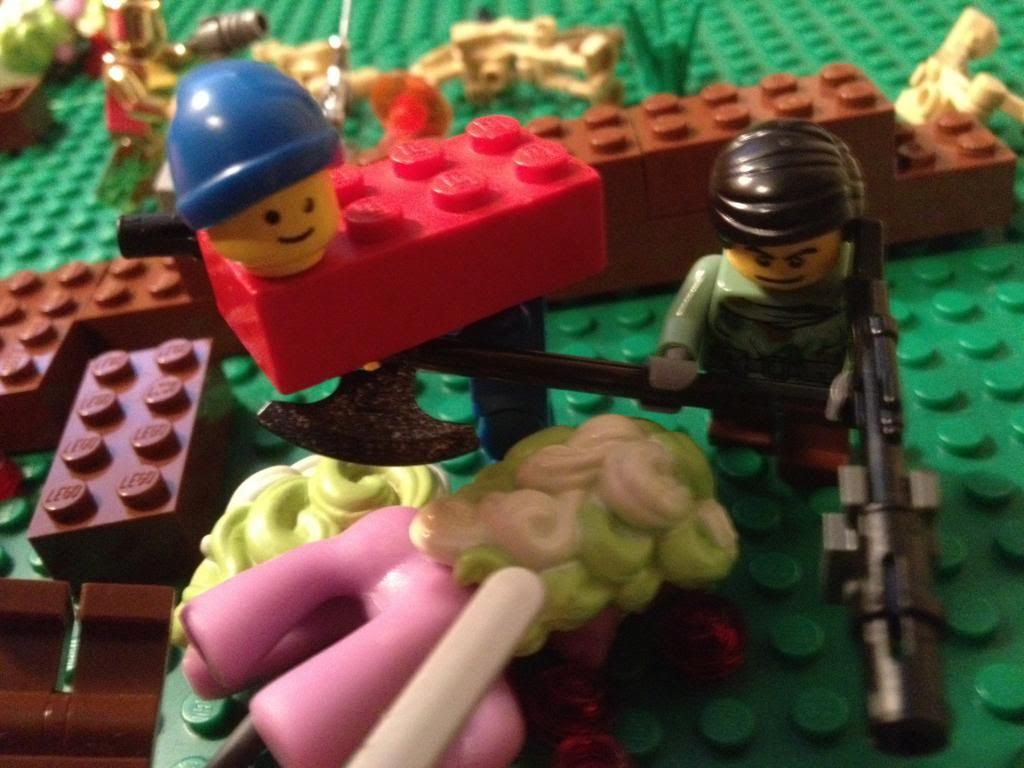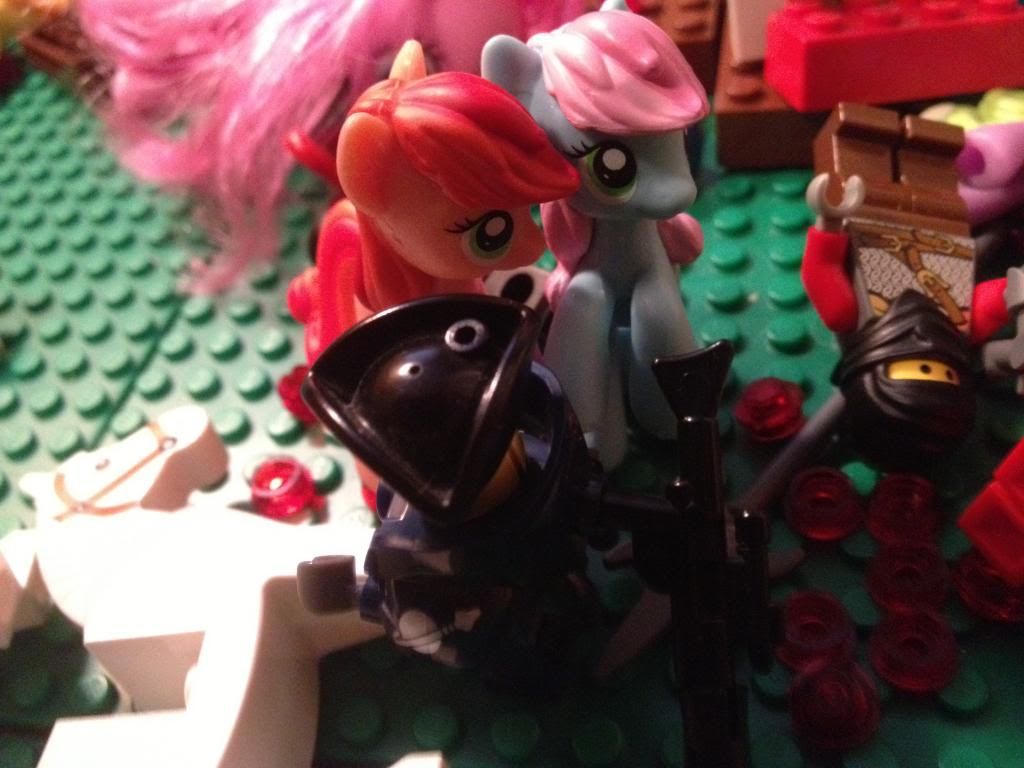 Two poniys gang up on Blut.
"No! I get to kill the bastard."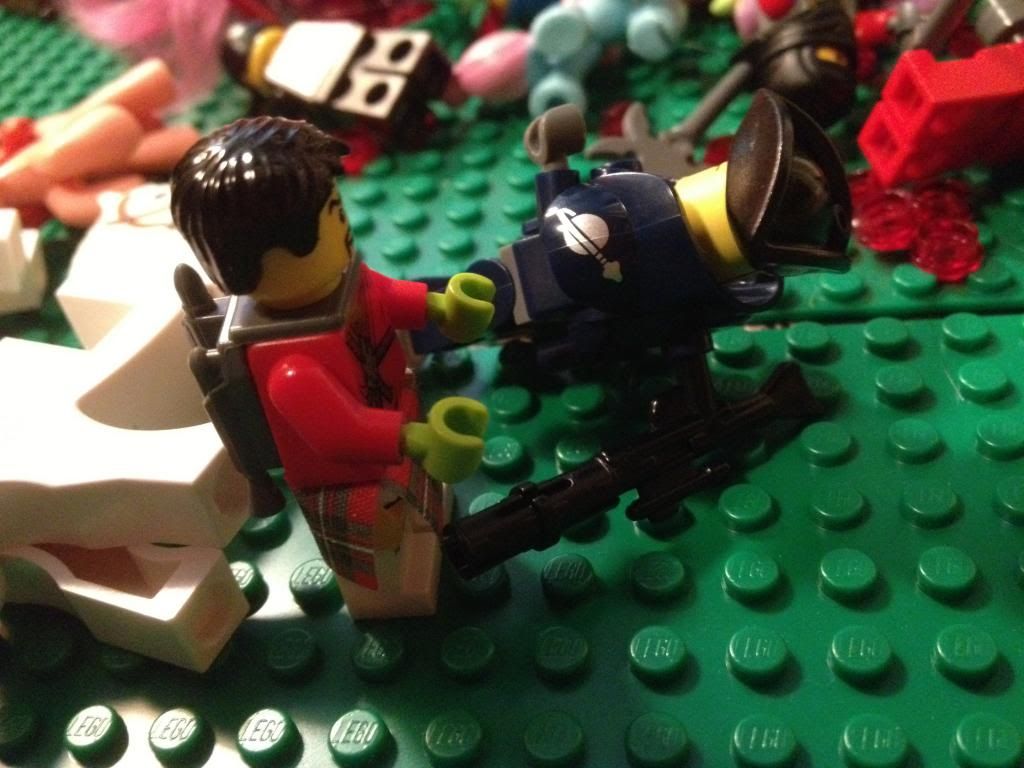 General Blut: The poniys! Join me and we can kill them!
TheShadowscythe: Maybe in hell!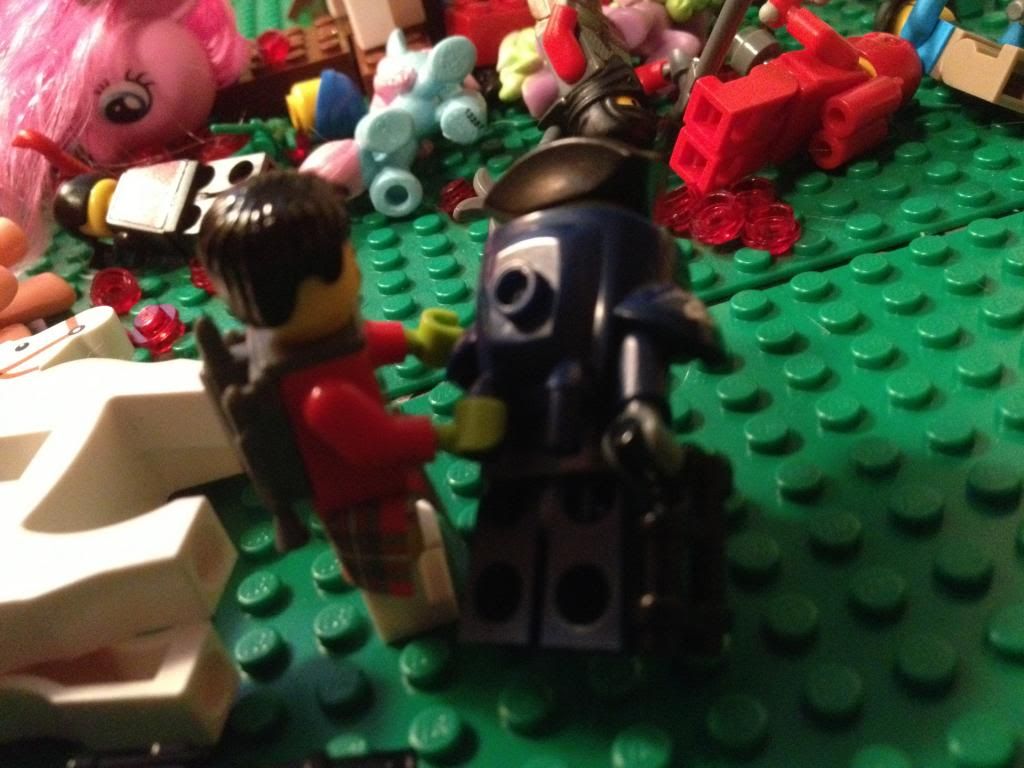 Scythe tosses the bastard into orbit.
"Kerrick! You're next!"
Cootershy stands up for her best friend, killing herself in the process.
"Poniys for life!"
Golden Nightmare finishes off Kerrick.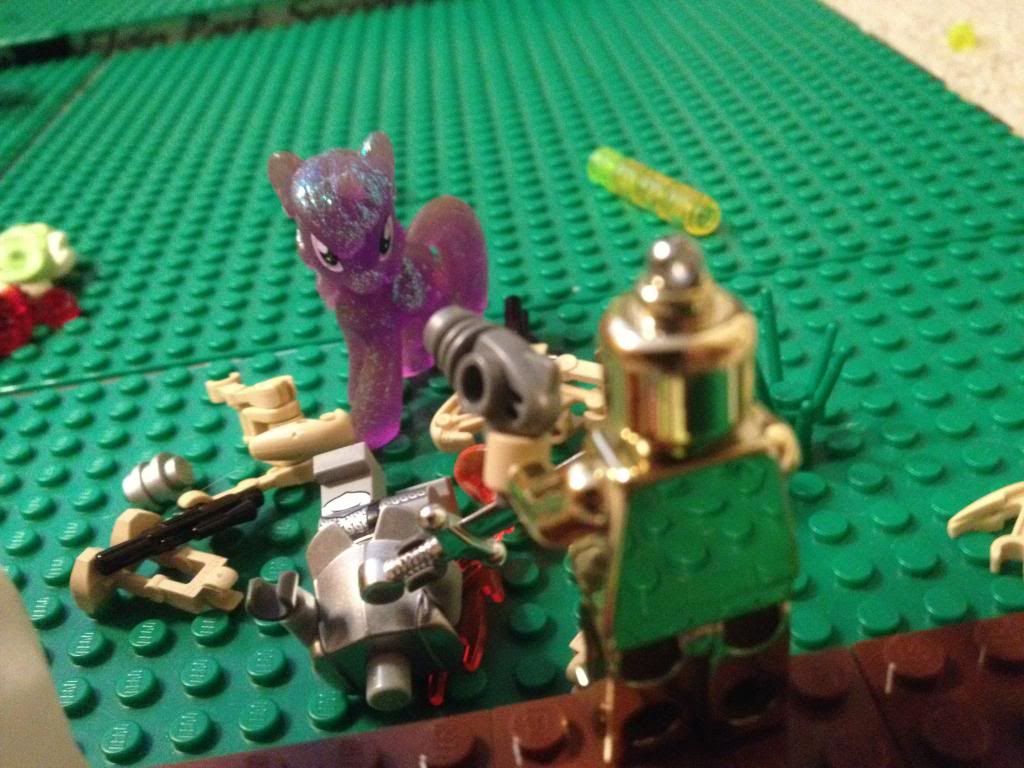 Sparkley Twilight: Time to die Golden. Time to die.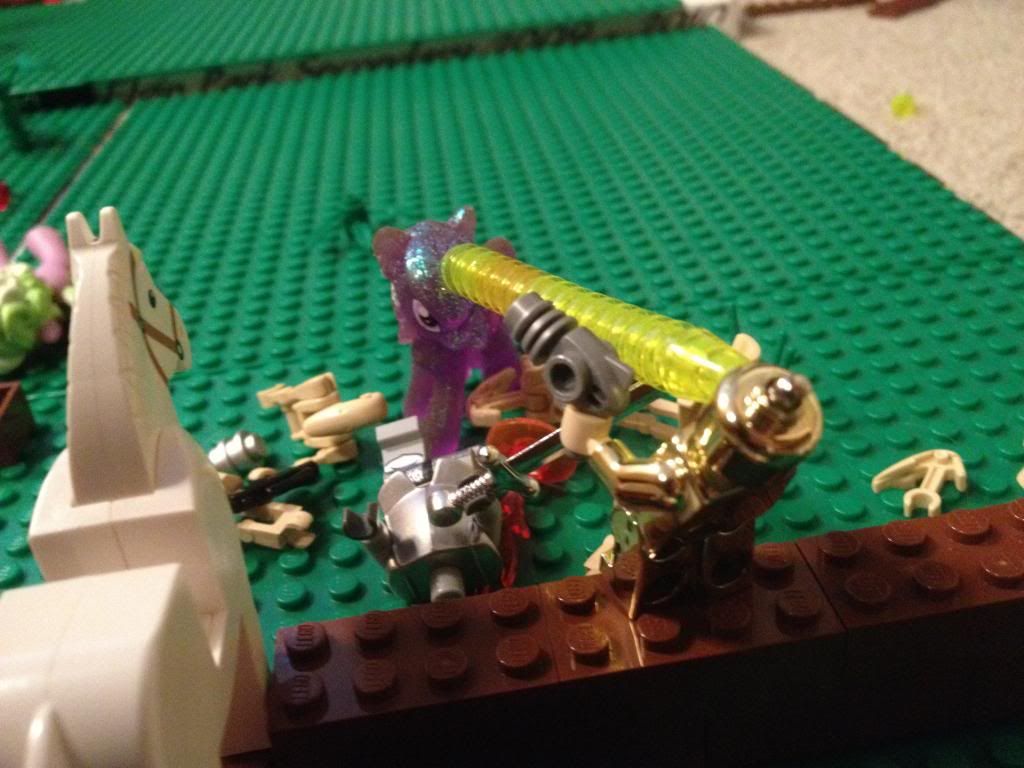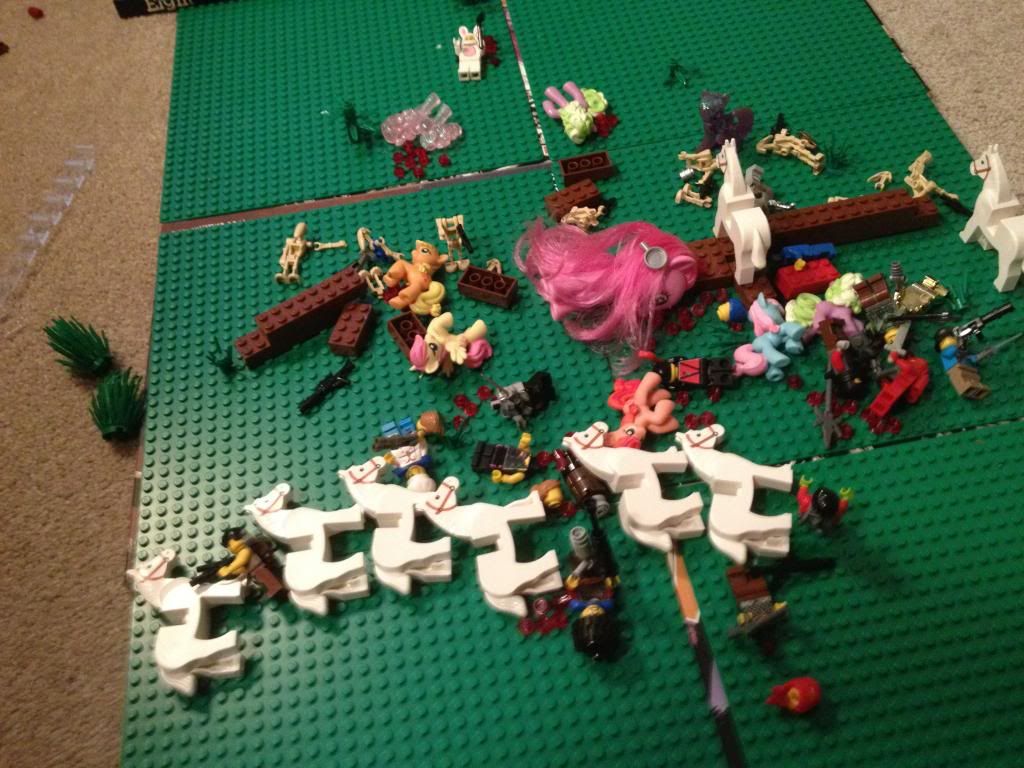 End result: Poniy victory.