FINAL ROUND
Alternate title: A day of Crits and Roses
ORKS: Zahru II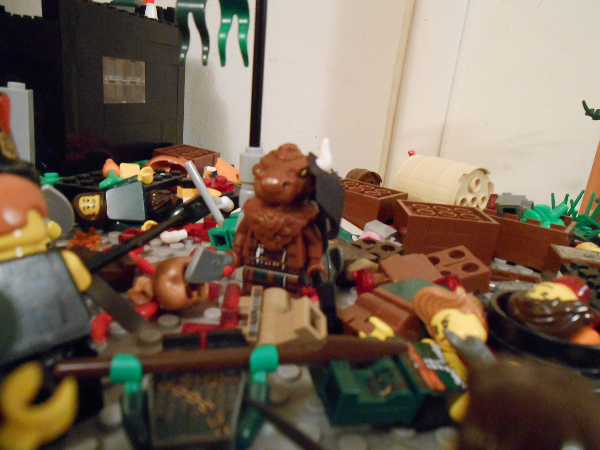 As Nitros looks around, a slow realization dawns on him.
Everything is covered in blood.
AND BLOOD...
IS RED
Nitros the Great Bull enters a blood rage, costing 1 of his HP, but allowing him to continue attacking as long as he kills his previous foe, he fluffs an attack with the cleaver.
But the hammerswing makes up for it, with around 3 crits on a bland D6 of damage, he smashes through both the spear civilian, and both Heroic HP of the Butcher.
He continues his spree with the brutal murder of a ranger.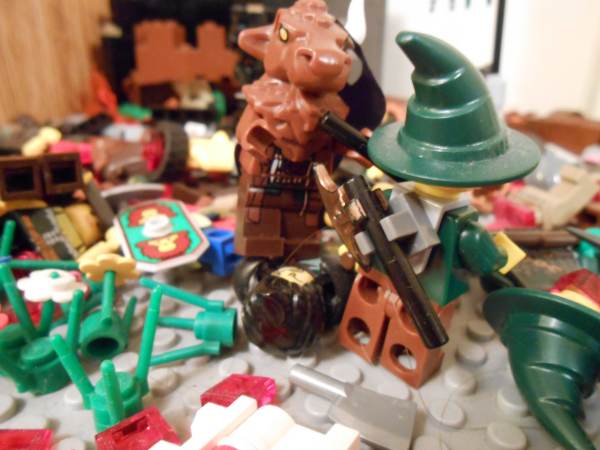 The Spree ends when he fails and drops the cleaver, then doesn't do enough damage to kill the other ranger.
His normal attack, however, does.
DAMIEN VERSINIX HERO OF LOWTOWER: mgb519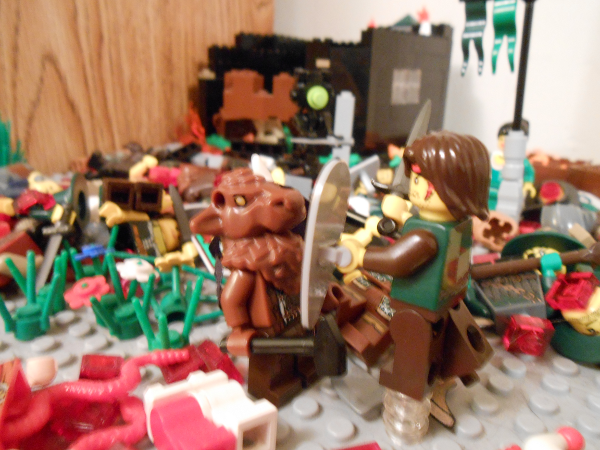 With a flying leap and a shield bash...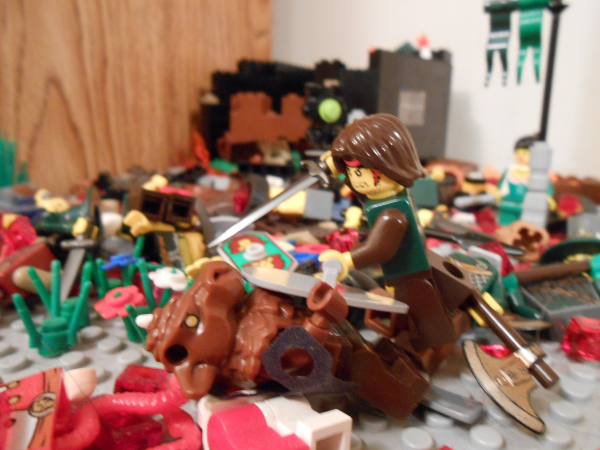 He pins the gravely wounded bullman helplessly to the ground.
and cleanly takes a load off of his shoulders. He holds the head up as a sign of victory, giving a +1 mod to all none of his men.
ORKS ELIMINATED
CIVILIANS: lawmaster
The last civilian attacks the Smeerpstrosity after re-arming herself with a sword and shield.
The Smeerp counters, killing the last civilian, but critically fails with the club, smeerping himself across the landscape.
CIVILIANS ELIMINATED
SMEERPS ELIMINATED
RLF: Aoffan23
The rabbits see that they have completed their objective, and see the prowess of the Lowtower Hero, they make a snap decision.
The decision was to turn tail and run like scared rabbits, which makes sense when you think about it.
THE END
AFTERMATH AND OVERVIEWS
The Ranger sits on the throne of Lowtower, pondering what his boss will think about this.
The head of the Great Bull waves proudly in the strong western winds.
The post battle bloodscape, used so much I had to go out and buy another bucketload from pick-a-brick.
This quadrant is where two idiots choked to death on rabbits and another died was strangled to death with their own crossbow.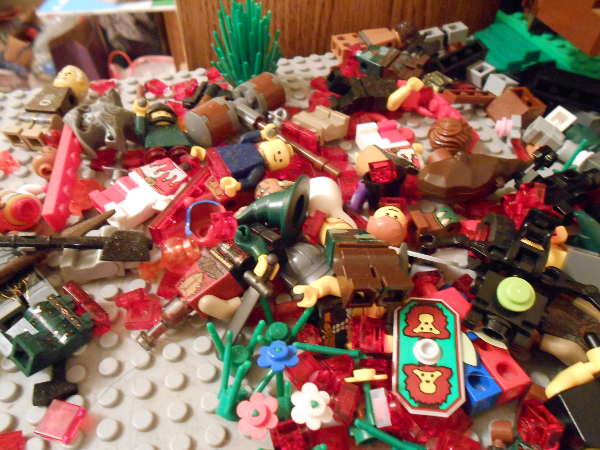 This quadrant is where almost all the killing went on, the bodies are piled 2 layers thick here.
The Outpost, where almost nothing happened as everyone died before getting there.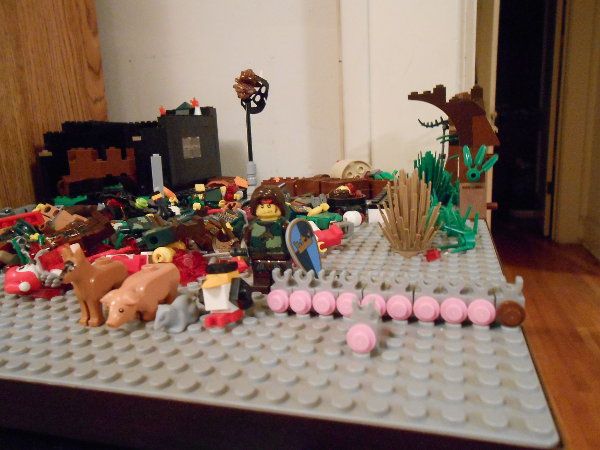 The Survivors, including the rabbits freed by the RLF who left the battlefield.
Full killcount and objective screen will be up soon, and a full epilogue will be posted for the Soap Opera contest.
FINAL KILLCOUNT
Lowtower: 4
Civilians: 8
Orks: 14
Battle Jesters: 7
Rabbit Liberation Force: 2
Smeerps: 2
OBJECTIVE FULFILLMENT
Lowtower Defenders:
Objective, Protect the Keep
FAILED
and the Tribute
FAILED
. Secondary: Keep the heir alive
FAILED
, help the peasants
FAILED
.
Useless Civilians:
Objective, Protect the food
FAILED
, Survive
FAILED
. Secondary: Help Lowtower
PARTIAL SUCCESS
.
Ork Raiders:
Objective, Steal or destroy the food in the market area
SUCCESS
. Secondary: Loot the Keep
FAILED
Slaughter the Civilians
SUCCESS
.
Battle Jesters:
Objective, Loot the Keep
SUCCESS
. Secondary: Kill the civilians
SUCCESS
.
RLF:
Objective, Free the rabbits 10/15
CLOSE ENOUGH
Smeerps:
Objective, Kill the rabbits 5/15
YOU MADE A SUPER-SMEERP, WHO CARES