Chaingun Faeries are rare mythological creatures found all over Pekab (on the rare occasions that they are found, that is) that always come in threes - there is a rule about Faeries always coming in threes (see Disney's Sleeping Beauty for an example of this). Two will always have bright green transparent chainguns while the third, acting as squad leader, will have a pink wand which strangely can either fire a short burst of energy or be welded like a short blade (acting as both a pistol and a knife, essentially). Some have been hired by various Secret Police forces in the countries of Ekk for riot control (they don't mess around there).
Standard Faerie (18 CP)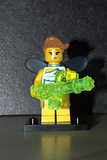 Skill:
1d6
Move:
4" [8" when flying]
Armour:
5
Specialities:
Compensating
Special Rule:
May only fire when on the ground, obviously.
Equipment:
Chaingun:
Size 2, Use 4, Range 8", Damage 1d10 - subject to Machine Gun rules.
Leader Faerie (20 CP)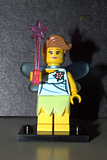 Skill:
1d6+1
Move:
6" [8" when flying]
Armour:
1d6+2
Specialities:
Leadership
Equipment:
Wand
CC Attack: Size S, Use 2, Range CC, Damage 1d6
Ranged Attack: Size S, Use 3, Range 6", Damage 1d6
Note:
2001 rules enables flight at 1CP for 2" with minimum of 5" to stay airborne.