I still hadn't received orders from everyone, but here's Round 4 anyway.
Round 4
Villagers
- Scribonius
Part of the barn suddenly falls down, crushing a wolf and a raider.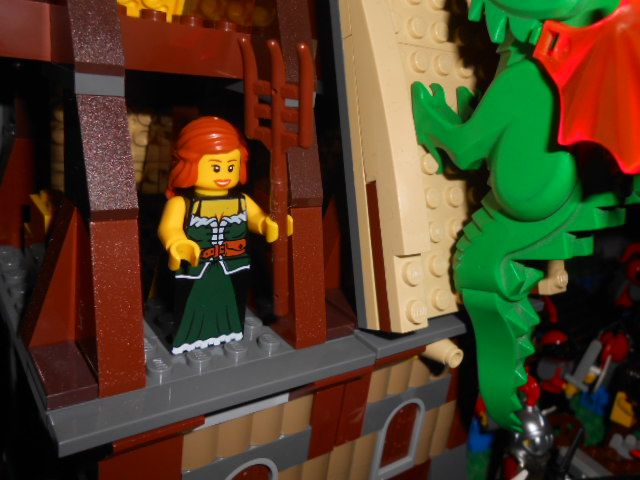 The mom approves of the destruction she's just caused.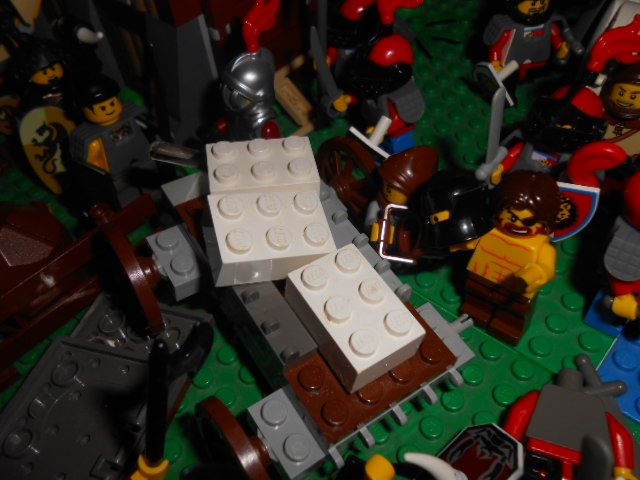 The kid uses the bucket and puts out the fire.
Haircules uses the severed head as a projectile, but it splatters on a Falx's shield.
He then picks up some fallen swords and jumps onto the bridge.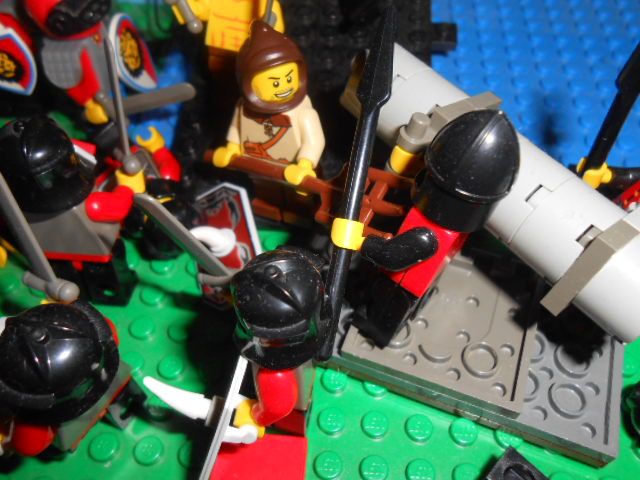 The peasant nearly impales one of the javelineers, forcing him to drop the ram.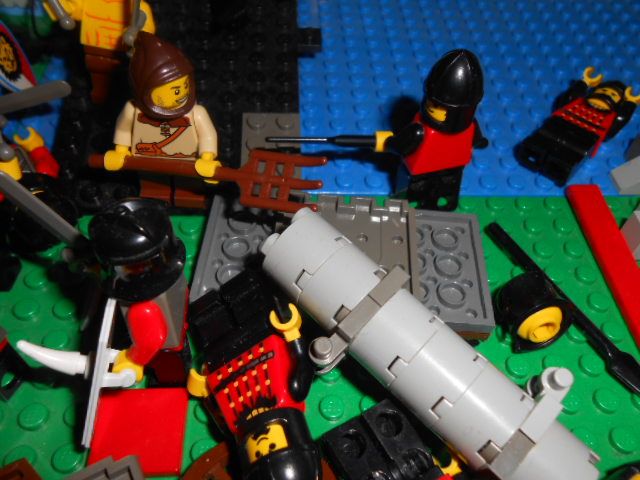 The other javelineer prepares for the end.
The peasant girl runs towards the horse.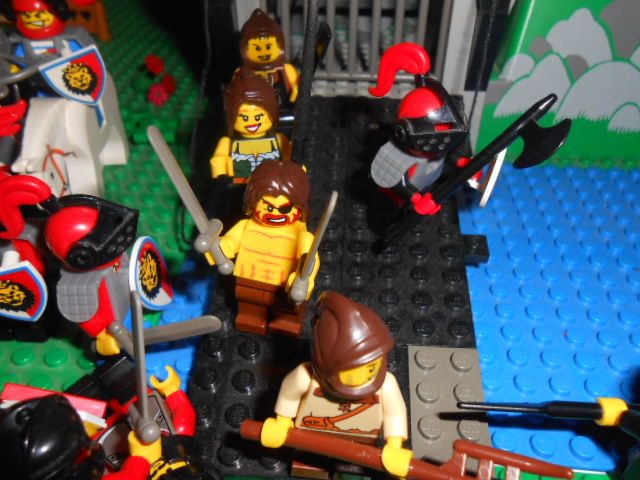 Haircules is joined by the cart driver and the woodcutter.
Draklon Raiders
- darkpaladin
The champion jumps onto the dragons' back, trying to commandeer it.
"I have a dragon on my shield!" he claims.
"So does every castle faction! I was discontinued before that sigil even existed!" the dragon bellows as he casually shakes the raider off.
The champion falls down, causing severe back trauma (- 1 HP).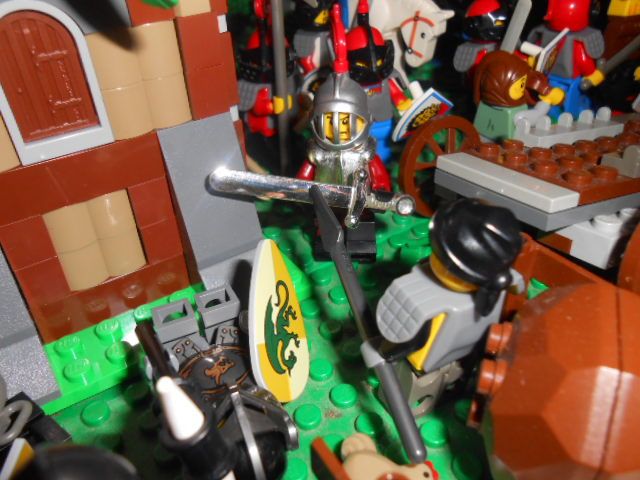 Godfrey holds off the officer.
The final trooper hacks apart another owl.
Crimson Crusaders
Marcriss runs and attacks, but is scooped up by the javelin and incapacitated by a lot of damage.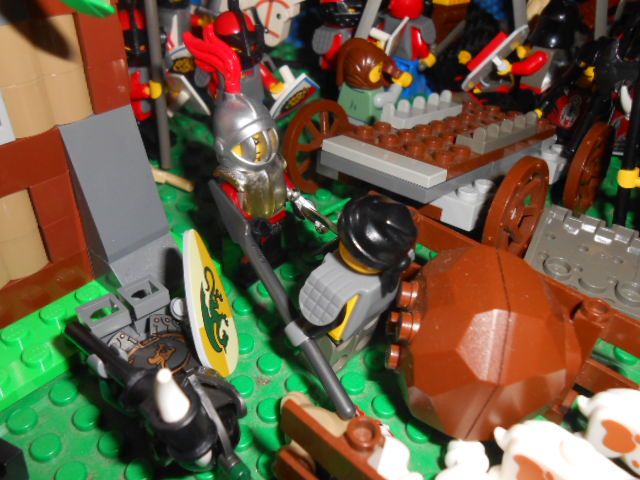 The fight between Godfrey and the officer continues to go back and forth.
Egon can't find someone to backstab, so he settles for slashing them in the face.
(+1 XP, +1 G for Egon)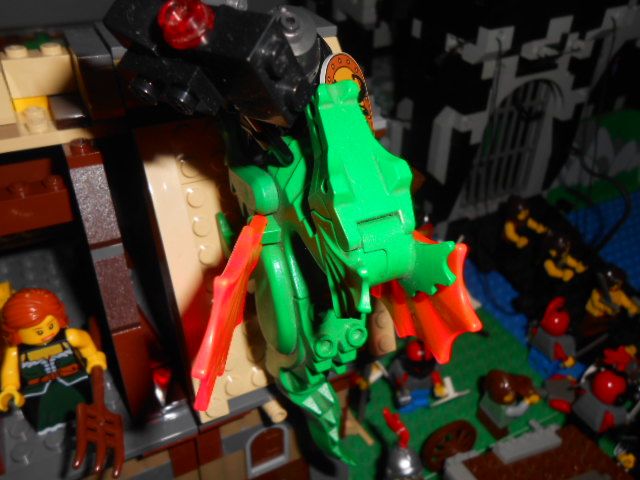 Banhawk the Stubhammer tries to commandeer the dragon as well.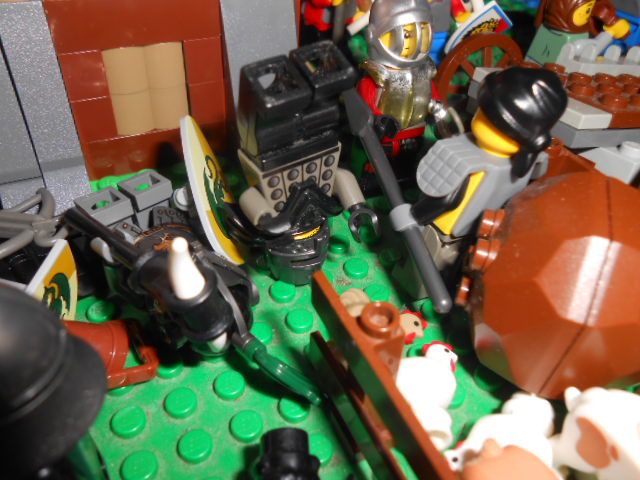 He's incapacitated by the fall.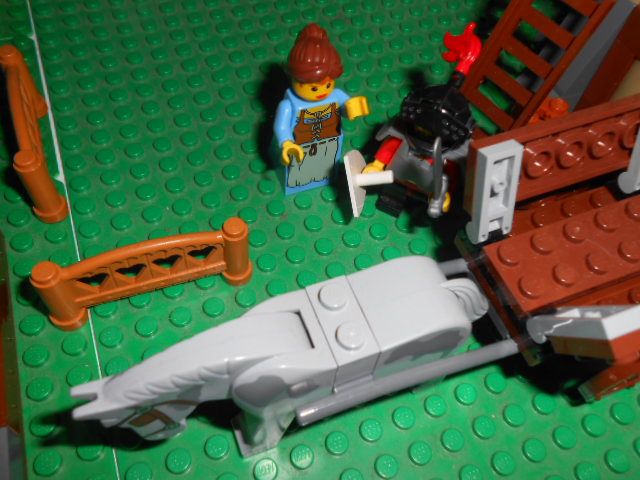 Almond the Cunning suddenly takes great interest in the horse.
Yagan the Young fires, hits, but damage fails him.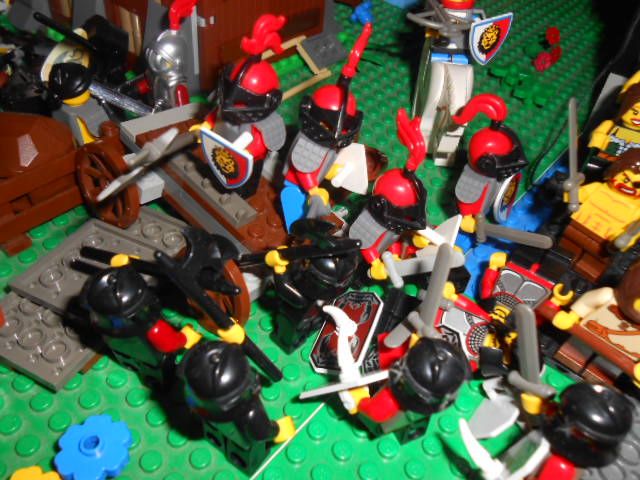 No idea what they were supposed to do, but Alamar and Jarvis get on top of the wagon and attack the death seekers, who prove to be tougher than the regular folks.
Barad the Ungiving hacks through a swordsman with terrifying force.
(+1 XP, +1 G to Barad)
Falx raiding force
- Apollyon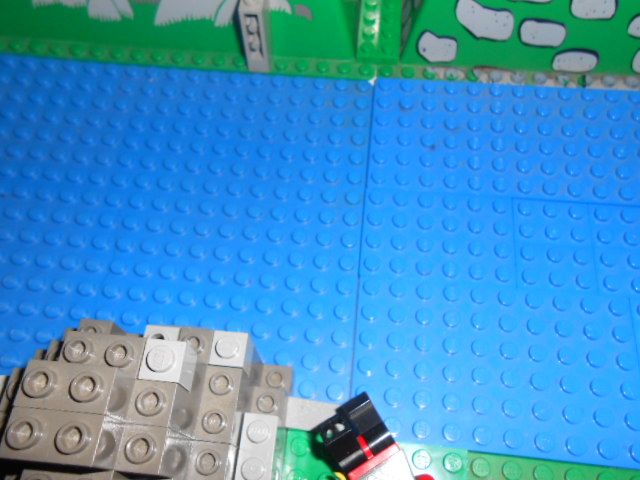 Croses is trying to escape the water... but he still doesn't appear.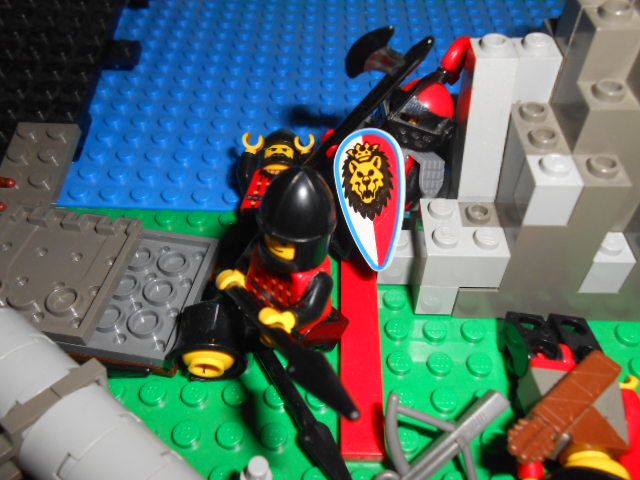 The javelineer runs, leaving behind the incapacitated Marcriss.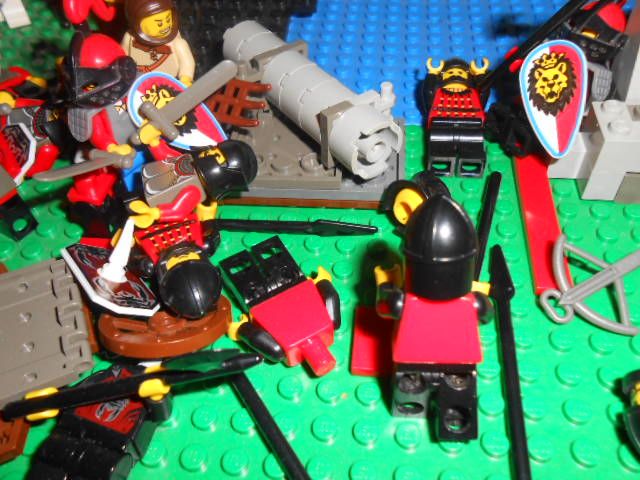 He tries to throw the ram, but one guy isn't really enough to do so.
A swordsman attacks Barad.
A death seeker charges Haircules, but misses wildly...
He's then cut to bits by a combined effort.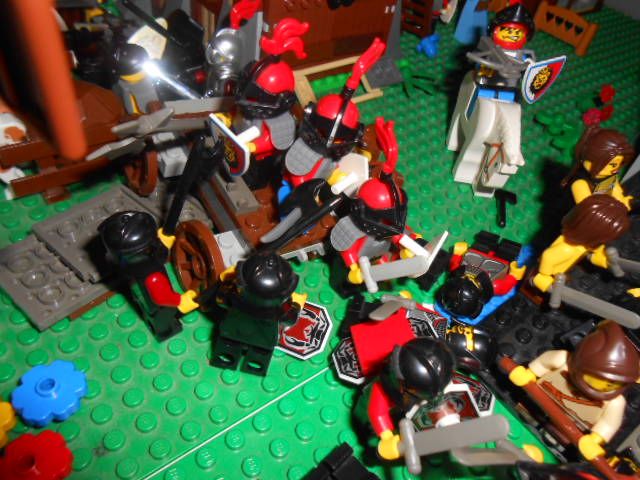 The death seekers keep fighting the knights.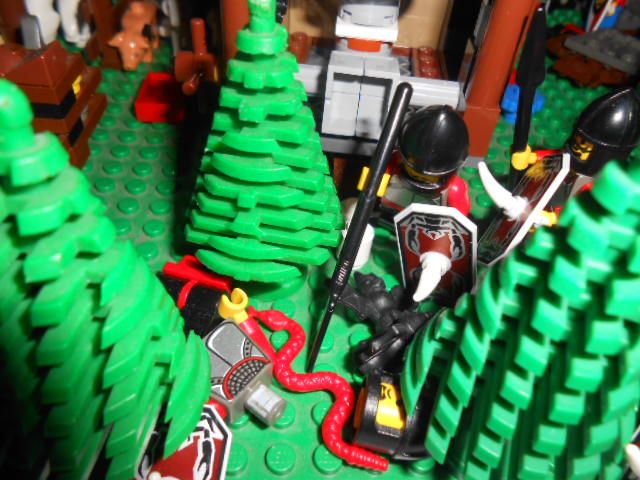 The snake is killed.
The other spearmen advance, damaging the wolf.
Black Knights
- me
A massed volley kills the only 'safe' target to shoot at, the javelineer.
The spearmen come down to the portcullis.
Which then opens.
Animals of Farthing Wood
- Zahru 88
The animals peck the last soldier and the champion, further wounding the champion (1 HP left).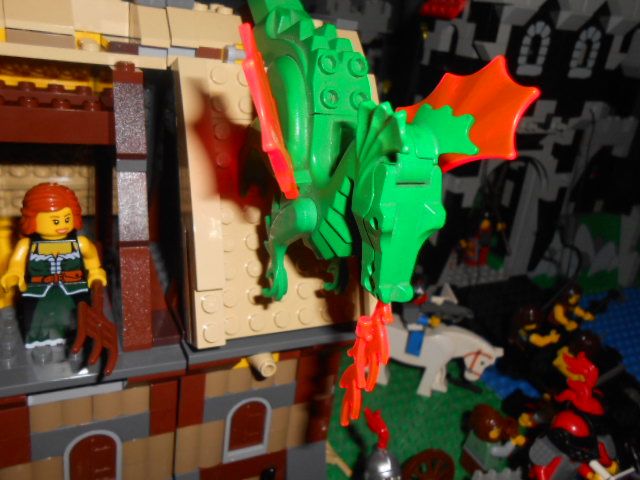 The dragon breathes fire. It's not very effective.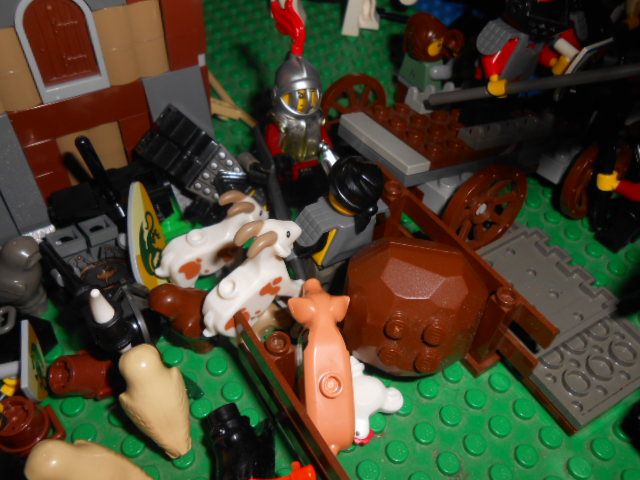 The officer survives the goats' and the pigs' attempts to devour him.
Jesus the Fish Ninja
- Kalvinator
They all advance *yawn*
Cleric - NPC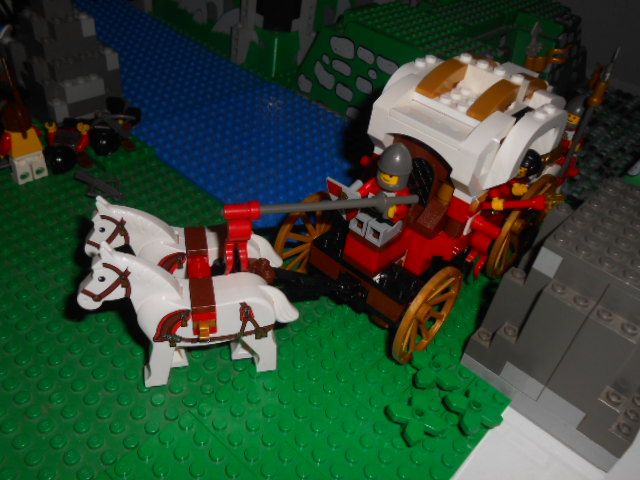 The wagon slowly rolls onward...
Overviews