Hey, Yes, new guy here. Just played my first game of Brik Wars a few days ago and have some pics to show, so I thought I would give a battle report.
The game was between me and my Ex, but at the moment we are on good terms.
It happened at her apartment, and we had a very small number of minifigs since I could not get into my storage: Here is the scenario:
The Humans and Orcs of Zonapartmento Plane had come together to negotiate the exchange of the Serpent Staff of Stoplight, a potent magical weapon which could temporarily stop time in the hands of a skilled Minifig, and poison people it attacked. The orcs owned the staff, but couldn't use it because they were sucky at magic.
The negotiations lasted for an hour or more, and finally they agreed to the exchange of a dozen horses, a chest of gold, and a big ruby as their price. Everyone went to the river to relax before arranging the exchange.
As they were coming back they saw that a group of Goldeen, (That's the yellow Minifigs to everyone but me.) were coming to raid the camp and steal the staff! Already girded for battle both men and orcs rushed to fight off the intruders!
The first couple turns of the battle were boreing as hell, so I am just going to skip that part.
The action starts on turn four: at the beginning the Gray Technomancer with the laser gun does a use test to mount the horse, and does so, but nothing else important happens. On my round my three guys, that's the Goldeen, fire off their rocket launcher, scoring a direct hit on the orcs and tossing them out of formation, but due to a sucky roll for damage not killing anyone.
I also blast the butter churn made of a spear and barrel into individual pieces and send it flying, unfortunately no one is injured by the flying bits either.
This is me eyeballing the shot: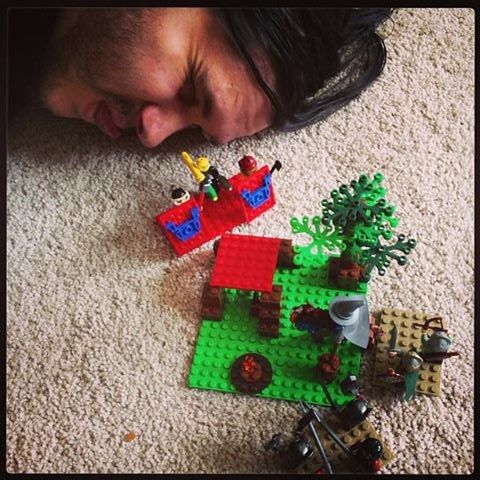 Next round the grey robed technomancer, who's name is withheld at the request of J.R.R. Tolkine's estate, takes his horse and maneuvers for a clear shot at the guy with the rocket launcher, and slices his head off with a laser beam. First blood goes to Zon.
Next round my guy that I call 'Fireman Sam' moves up and grabs the Serpent Staff of Stoplight. Fireman Sam also happens to have some native magical talent, and makes a successful use roll to activate the staff. This grant's him and his unit and extra turn of actions. Fireman Sam uses this advantage to rush in and hit 'Grey Mage' with the staff, successfully poisoning and killing him.
Following round, everyone maneuvers for advantage, no one manages to score any hit's.
Next turn, one of the orcs, who I am going to call Scragga, mounts the Horse with her Halberd, and attacks my other minfig, Joe. She lops his arm off and he exanguinates.
Fireman Sam is now alone, last man standing. He takes and angry inch step back and tries to kill one of the warriors attacking him, the one with the sword. Fails. In fact EVERYONE fails all their rolls that turn. We also have a What I Say Goes roll to see if a laser gun can punch through Fireman Sam's honking huge shield. Roll says it can but the orc that has picked up the laser gun can't figure out how to fire the thing and misses his opportunity.
Next round, Fireman Sam takes another Angry inch to gain some room and attacks Scragga who has rode in behind him. He hits and scores another kill. However, turning to fight that threat leaves him open to a head shot by the orc with the laser gun who has figured out how to turn off the safeties on the gun and 'Fazap!' Fireman Sam get's it the same way Poor Rocket Rob did.
This is me fake crying over my defeat:
End result, TPK goldeen, orcs and humans win and reclaim the staff, plus getting a rocket-launcher with one unfired rocket.
Also: my ex says she might like to play again some time with larger forces and a better battlefield. She has even indicated that she might like a larger game with multiple people. I will keep you all posted on the results of this experiment.