The Exterminator-Zupponn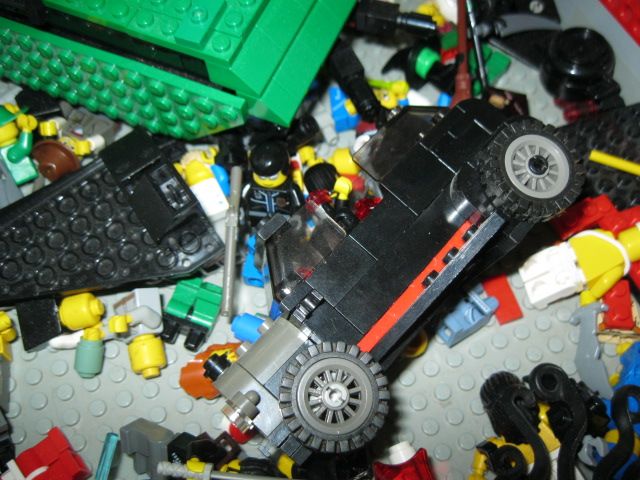 The exterminator throws the car at Ozzy (-1hp).
Police- Lawmaster
Jenkins tries to arrest Max Damage, who refuses to submit. Jenkins fires his shotgun in response, but doesn't do enough damage.
Metal Cultists- Heavyfishcannon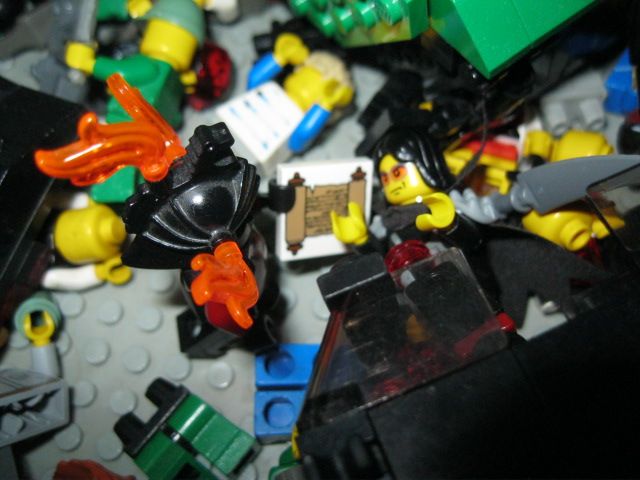 Ozzy signs a deal with the devil to get t he car off of him.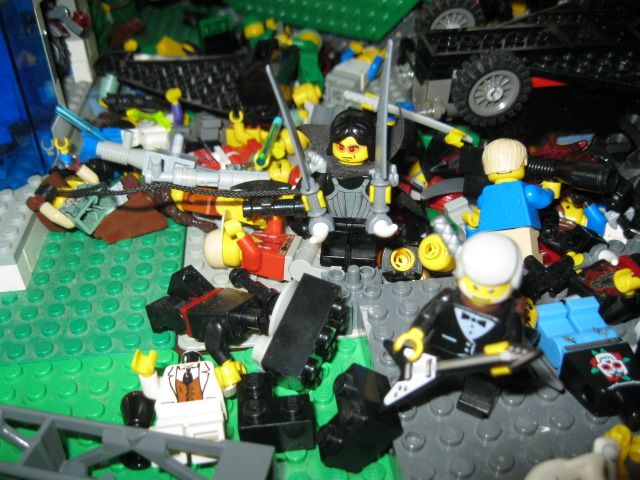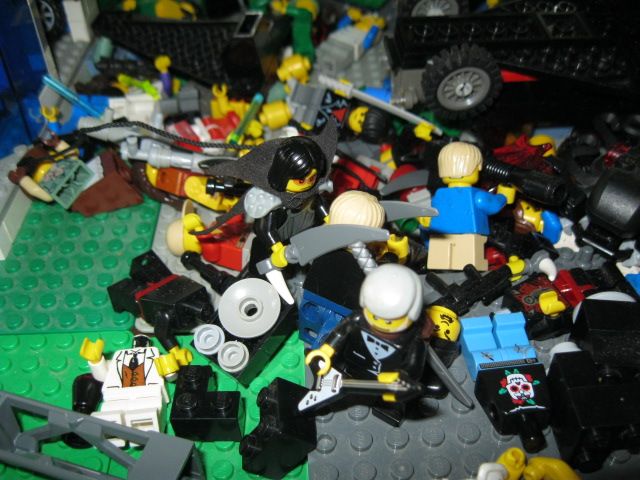 Ozzy then tries to kill the Dos Briquis guy. The Dos Briquis guy successfully inspires the Exterminator to redshirt for him (-1hp).
Army- SVGK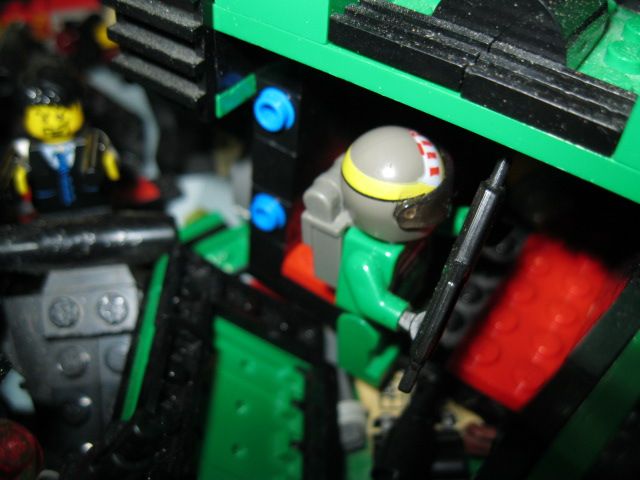 The soldier tries to shoot Buzz Saw, but his gun jams.
Metal Fucking Santa- Brikboyz
The elf kills the last mummy
Faction eliminated- Mummies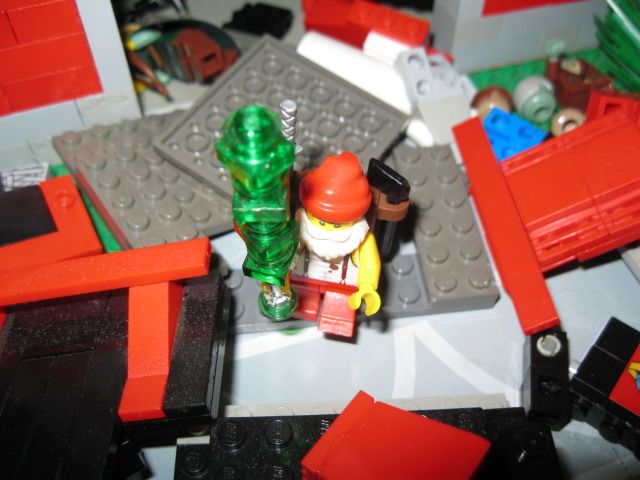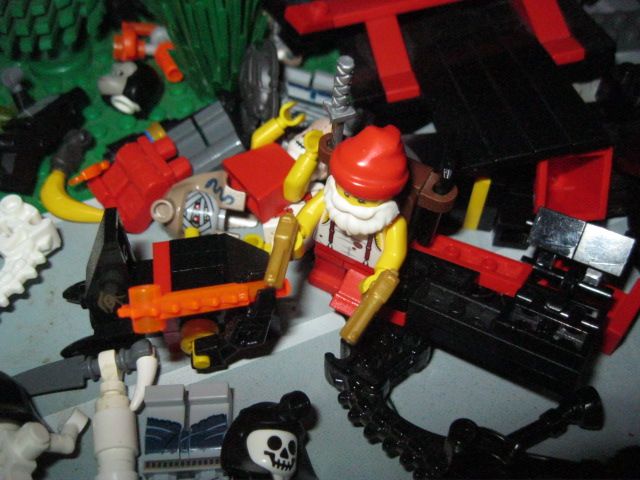 Santa loots weapons and items from the battlefield and stores them in his sack.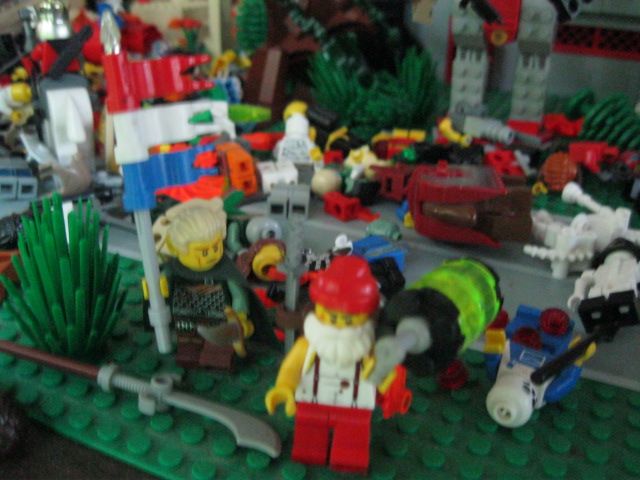 He and the elf then wander off the battlefield.
Objective completed- spread some holiday cheer
Kevin-MGB519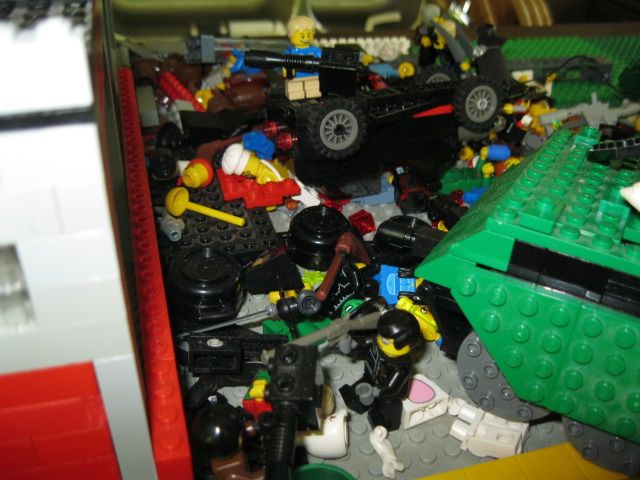 Seeing an opportunity to cause mischief, Kevin fires a rocket, which kills Jenkins and injures Max Damage (-1hp).
Faction eliminated- Police
The Most Interesting Man in the World- Alex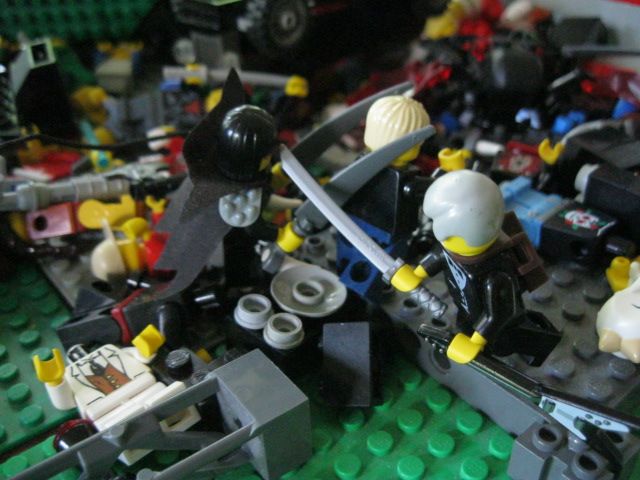 The Dos Briquis guy hits Ozzy with his sword, but doesn't do enough damage to kill Ozzy. He tries to hit him with the guitar, but just breaks the guitar.
B.A. Team- Kalvinator
Tommy Gunn and Buzz Saw combine fire on the soldier, but can't kill him. Max Damage is still disrupted from the explosion.
Survivalists- Keldoclock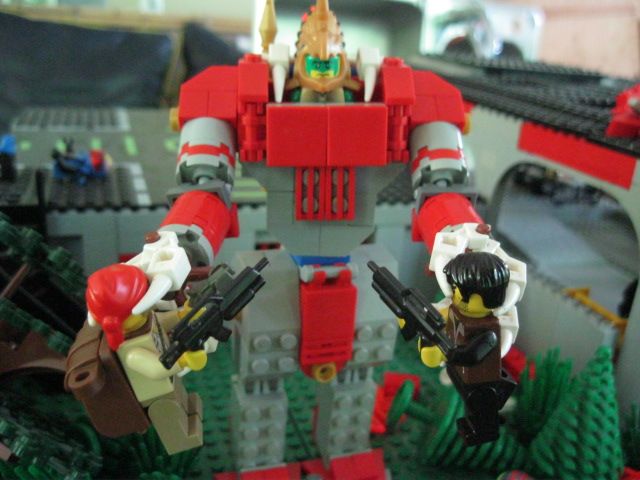 The veteran survivalist tosses an assault rifle to Bad Max. He then pulls out an smg from his pack. He fires at the Azmech pilot but misses with one gun. Bad Max drops his gun by accident.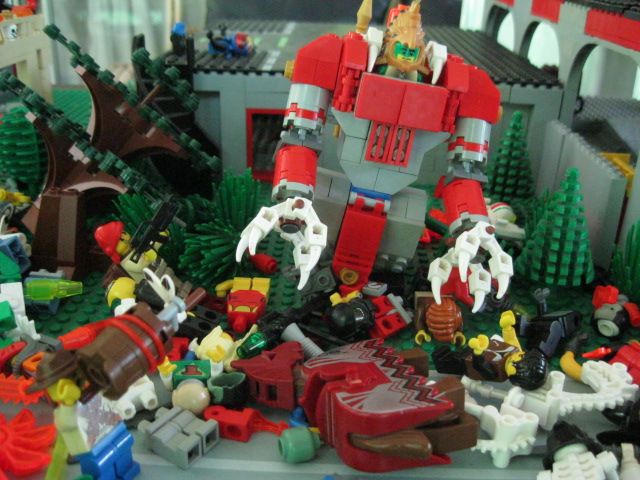 The survivalist marksman uses his poison-tipped-pneumatic-blowgun to kill the pilot. The other two survivalists are released as the Azmech falls. The pilot manages to hit the marksman as he dies but doesn't do enough damage to hurt him.
MacGearver stabs Conquest (-1hp). He then successfully wraps the chain around Conquest's neck, attaches the end to his saw and revs the blade, choking Conquest to death.
Faction eliminated- the Four Horsemen of the Brikpocalypse
Azteks- Runswithlegos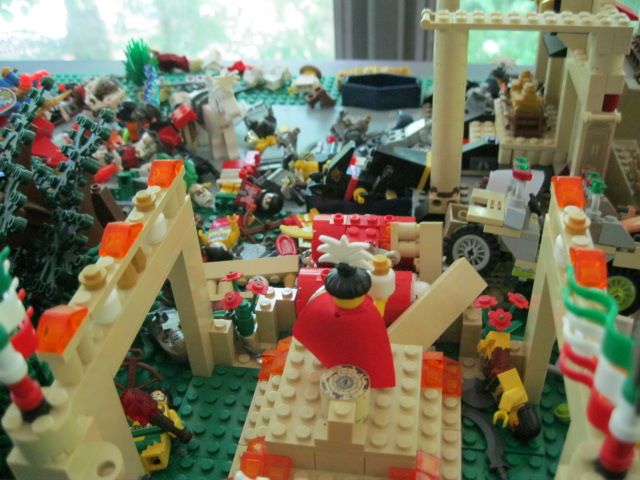 Briktezuma looks out at the glorious carnage before him. It's a good day to die. He then looks at the powerful artifacts in his hands and is told by Quetzalcoatl that he must return them to his people so they aren't lost forever. Dying on the field of battle will have to wait for another day.
Briktezuma and the temple are then transported back to Teknotechlan.
Quetzalcoatl- Pwnerade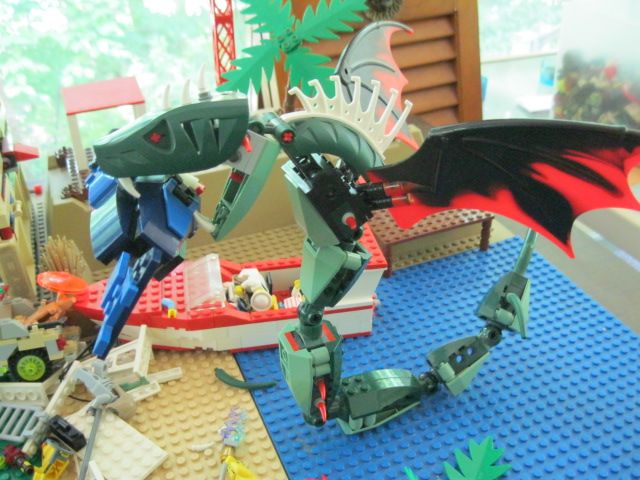 Quetzalcoatl grabs the giant fish and flies off.
Conclusion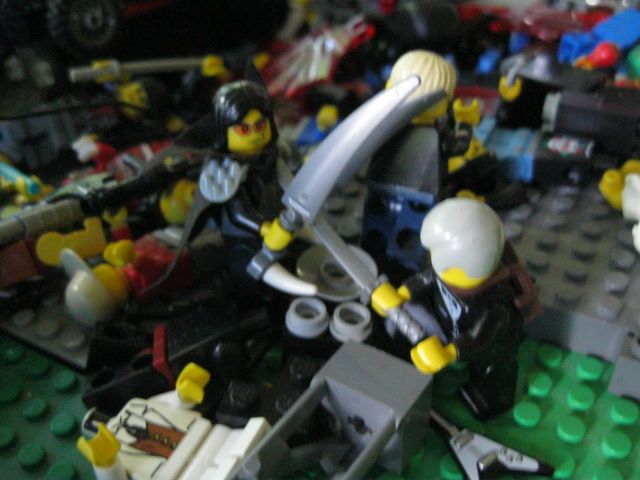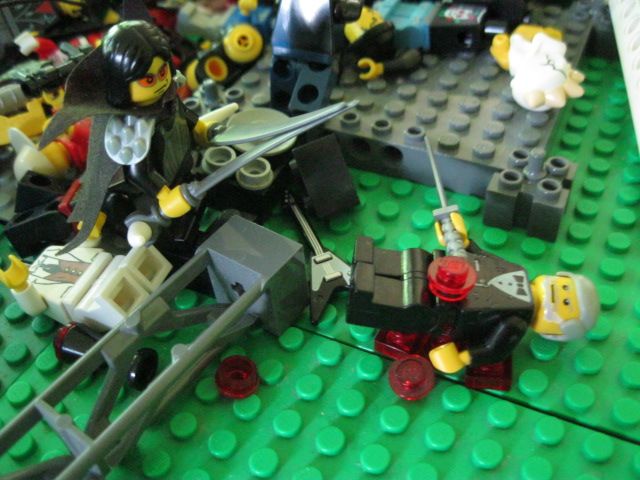 The Dos Briquis guy attacks Ozzy, but gets killed by Ozzy's counterattack. Lying in a pool of blood, which smells like cologne, he utters "I don't always die, but when I do, I mysteriously return in the next battle."
Faction eliminated- the Most Interesting Man in the World?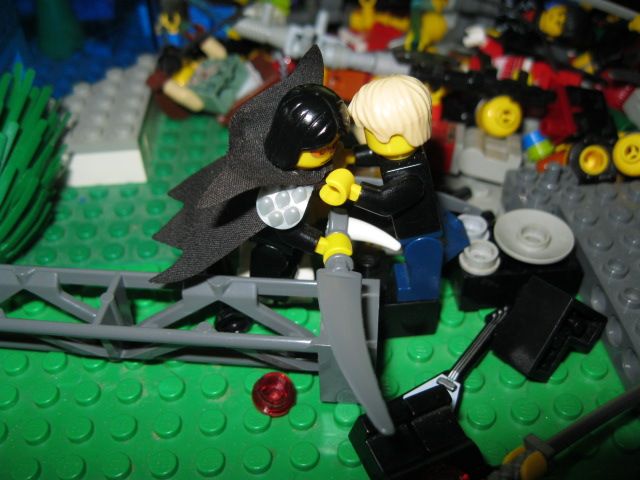 Ozzy then attacks the Exterminator, who survives and unsuccessfully tries to rip off Ozzy's head. The Exterminator then self-destructs, sacrificing himself for the greater good.
Kevin and Max Damage shoot rockets off at each other, with Kevin getting injured by one (1-hp).
Before Max Damage can get another rocket off, he's gunned down by Bad Max, Kevin's uncle.
Tommy Gunn and Buzz Saw finish off the last soldier.
Faction eliminated- Army
They then drive off in a stolen police car to establish a new hideout.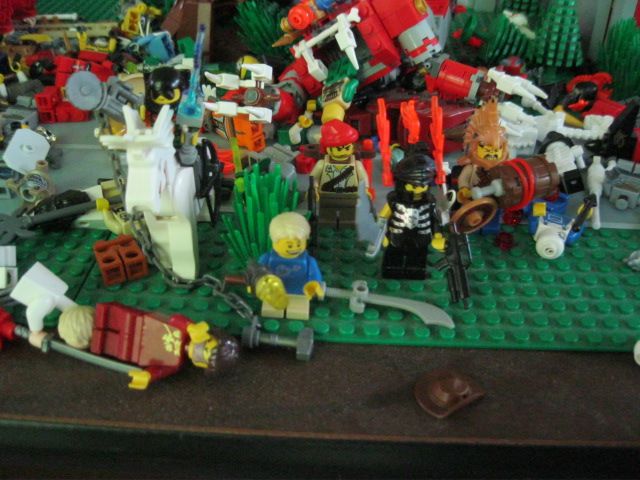 After gathering trophies from their fallen enemies, the survivalists prepare for the next Brikpocalypse, because there always is one.
Objective completed- Survive the Brikpocalypse
Kill Count:
The Most Interesting Man in the World (Eliminated?): 7
Psy+the Band (Eliminated): 3 (Self Inflicted)
Civilians (eliminated): 14+2 (Self Inflicted)+ 1 cow
Police: 6+3 (Self Inflicted)
Looters (eliminated from map): 10
Azteks: 17+2(Self Inflicted)+1 Giant Fish
Mummies: 12 + 1(Self Inflicted)
B.A. Team: 16+1 Killer Rabbit+1 horse
Survivalists: 20+2 horses
Major Patriotism (Corrupted and Eliminated): 4
Metal Fucking Santa: 7+1 fighter
Kevin McCanister: 6
The Exterminator: 4+1 (Self Inflicted)
Zombies (Eliminated): 1+1 (Self Inflicted)
The Master (Eliminated):0
U.S. Army (Eliminated): 2+1 pterodactyl+1 tiger-man+1 blood dragon
Corrupted Spacemen (Eliminated): 10+10 corruptions
Xaman Ek: 0
Quetzalcoatl: 2
The Killer Rabbit (Eliminated): 11
Metal Cultists: 2+1 Brikthuloid abomination (Self-Inflicted)
Mad Scientist+Lab Creations (eliminated): 3
Four Horsemen: 3+1 (self inflicted)
Sgt. Cortex and Duke Ossum: 2
Overviews: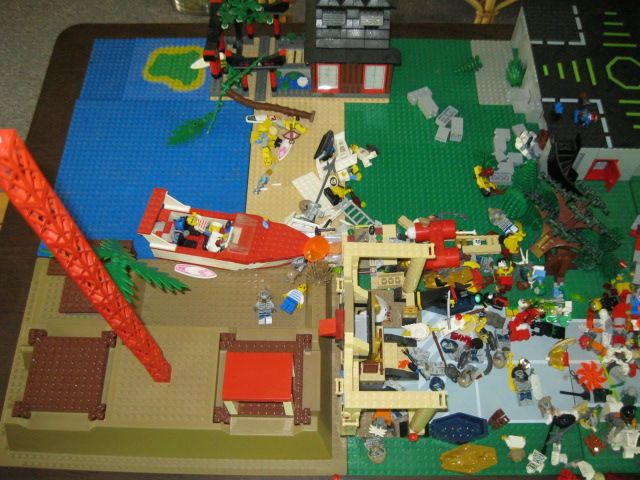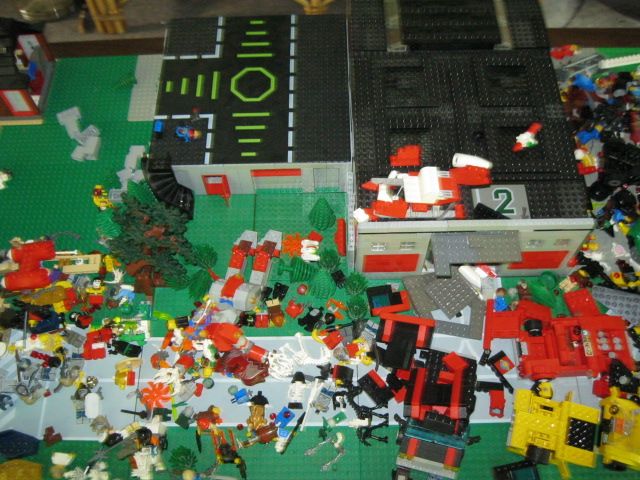 Thank you to everyone for playing and look out for my next battle, "The Temple of Boom" later this summer!